COMMENT
We hope that the majority of you will agree, that no matter what the character of a person is, and no matter how he conducts himself in society, there is no justification for taking the life of anyone. NK
Jack Straw was contacted by post to alert him to serious criminal conspiracy in Sussex involving the local police and council authorities to pervert the course of justice. He failed to respond, but we assume that having been alerted to the potential scandal that such an investigation would reveal, it appears that he may have looked the other way. What is not clear is if he contacted Sussex Police and/or Wealden District Council - and if he did what the exchanges might have been.
Three years later Wealden attempted to bankrupt the complainant and when that failed to stop him helping citizens with planning cases, where he was successful with most of those, including potential citizens arrests, a disgruntled former member of the council may have been persuaded to help discredit the informant before his investigations could be pushed home. For sure the officers of this Council appeared to know what the outcome of a trial would be before the trial, suggesting that the whole thing was rigged.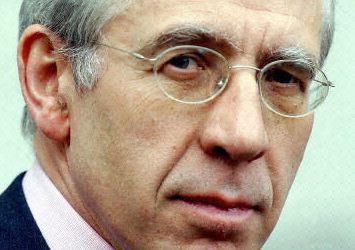 New Labour Home Secretary Jack Straw - Explanations Wanted
Police shooting: £5m cost of justice Wednesday 23rd May 2001.
The three-year investigation into the shooting of James Ashley has cost £5 million and resulted in five unsuccessful prosecutions. The lengthy, laborious and expensive legal process was shrouded in secrecy and has been called a farce. Home Secretary Jack Straw is said to be deeply unhappy over the delays.
The officers may have been cleared of acting with criminal intent but the James Ashley matter is far from closed. There are still disciplinary hearings to come and the police officers, who have had the case hanging over the heads for several years, are considering civil action to compensate them for the "punishment".
The family of James Ashley, angry no one is being brought to justice for his death, plans to sue Sussex Police. Many questions over the way the force operates were raised during the trials. Sussex police were described as displaying "corporate incompetence" and "fundamental failures".
The way complaints against the police are handled has also been severely criticised. Yesterday, at Wolverhampton Crown Court, Superintendent Christopher Burton, 44, Acting Chief Inspector Kevin French, 48, and Detective Inspector Christopher Siggs, 42, were formally acquitted of misconduct in office following the raid at a flat in Western Road, St Leonards, on January 15, 1998, which led to the shooting of suspected drug dealer James Ashley, 39, who was naked and unarmed.
Nigel Sweeney QC, prosecuting, said the Crown believed there was no realistic prospect of securing convictions against the three officers and offered no evidence. He said: "In our view, recent events mean that there is no longer a realistic prospect of conviction in this case and that there is nothing that can be done to restore such a prospect. Accordingly, although we are deeply conscious of the pain and frustration this will cause to the family and friends of James Ashley, it's our duty to face up to that reality."
Finding the three officers not guilty, Mrs Justice Rafferty said Sussex Police still bore a "heavy burden" over the fatal shooting.
Ashley, described in court as a "violent, dangerous and ruthless drugs dealer", was naked in bed with his girlfriend when officers burst in. He was shot by marksman PC Christopher Sherwood, a member of Sussex Police Special Operations Unit, who always claimed he believed Ashley was coming at him with a gun and he fired in self-defence. PC Sherwood was cleared of murder earlier this month when his trial was halted at the end of the prosecution case when the judge ruled there was no evidence on which the jury could convict. He became only the second British police officer to be charged with murder and an alternative allegation of manslaughter. Last month PC Robert Shoesmith was acquitted of misuse of public office after the prosecution offered no evidence at the Old Bailey. Legal restrictions stopping the trials being fully reported were yesterday lifted.
The collapse of the trials and the phenomenal cost of the investigations has led to harsh criticism of the Crown Prosecution Service and questions over why the case was brought in the first place. In a statement, the CPS said yesterday: "The decision to prosecute was made after lengthy consideration by the service and the prosecution counsel and, of course, the case was successfully argued before the district judge. "What has changed is that continual review of the evidence has now persuaded counsel that it would be wrong to put this case before a jury. Hence, we offered no evidence." After the raid, Kent Police were called in to investigate the alleged criminal aspects of the shooting while the now retired Chief Constable of Hampshire, Sir John Hodinott, looked at the actions of Sussex Police's senior officers.
The Kent inquiry, codenamed Moonstone, was headed by its then Assistant Chief Constable Barbara Wilding, who has since been appointed to the Metropolitan Police. Insiders estimate the investigation alone cost more than £2 million with the costs of a series of court hearings adding £8,800 a day to the bill. To add to the cost, two high-ranking officers travelled to New Zealand to interview a retired Sussex officer who kept observation during the police raid. The investigation has led to a deep rift between Sussex and Kent officers. The report from Kent Police was kept secret but was known to be highly critical of the way the armed raid was conducted. It maintained there was insufficient intelligence to warrant the armed operation but the court findings now call into question the whole basis of the report.
Sussex Police officers said the report stained the reputation of the force and complained about the way they had been treated. One insider said: "Those involved were left for five hours in a room, waiting to be interviewed. Some still had blood on them. The Kent officers never showed up and we learned later they had gone to the scene of the shooting." The Wilding report was never made public yet it is thought to have formed the basis of the case against PC Sherwood. Outside court yesterday, Mrs Wilding, said: "The extent of the fundamental failures in Sussex Police, described in detail by the Crown and endorsed by the judge, has resulted in the current situation where it is impossible to prosecute in these circumstances."
Sussex chief constable Paul Whitehouse, who was suspended for three weeks by Sussex Police Authority for statements he made in the wake of the shooting, yesterday praised the work done by his officers. He said: "Of course there are many lessons to be learnt for ourselves and for the police service from the events of January 15, 1998, and this is a continuing process. "But I ask people to bear in mind that the police operation mounted in Hastings that night was part of our unceasing effort to tackle serious crime and drugs issues on behalf of the people of Sussex. "It only compounds the tragedy if such events as this are allowed to undermine confidence in Sussex Police, of the public in its police service and of officers and staff in the organisation they serve. This must not be allowed to happen."
In an email message to all Sussex officers yesterday Mr Whitehouse paid tribute to the "bravery" and "dedication" of officers. Margaret Johnson, chairman of Sussex Police Authority, said there was relief after the officers were cleared but many issues had been raised. She said: "The authority shares the relief of all the officers, their families and colleagues who have been involved in this case, that the criminal charges have finally been dismissed and that a not guilty verdict has been entered in each case.
"The Sussex Police Authority has long been concerned about the length of time that the due process has taken. There are a number of outstanding issues still to be addressed and you will appreciate that until such time as those outstanding issues are resolved, we are not in a position to say too much at this time."
Only one officer is now left in limbo following the collapse of yesterday's trial. Mr Whitehouse's deputy, Mark Jordan, has been suspended for three years from his £80,000 a year position. He is still waiting for a disciplinary hearing over the part he played in the armed raid. The precise nature of the allegations against him have still not been disclosed. He was suspended by Sussex Police Authority after accusations he authorised the release of firearms for the Ashley operation when there was insufficient evidence, which he has denied. His case is scheduled to be heard on January 7. Close friends say he intends to return to work if he is vindicated despite his long absence from the force. PC Chris Sherwood's suspension has also been lifted and he is now considering whether or not to return to his job. An insider said: "He has lost the most productive years of his life and he will never get them back. "Years have gone by and at huge expense. There is no proper independent review of cases to stop them in their tracks. Our system allows them to go on and on." He said the officers were reluctant to speak openly because an inquest into Ashley's death had not been held.
Sussex Police came in for harsh criticism in court yesterday. Mr Sweeney spoke of "corporate failings" by the force. Mrs Justice Rafferty said the family of James Ashley had been caused misery but acted with dignity throughout the hearings. She said: "Those within Sussex Police who are viewed as responsible for the implementation, monitoring and good practice of firearms procedures bear a heavy burden." Sussex Police is now facing the prospect of being sued by James Ashley's two children. Their solicitor, Brian Jackson, said the children would be fighting for compensation for the loss of their father.
Mr Jackson said: "The family of James Ashley hoped those responsible for his death would be successfully prosecuted. "Their hopes, and faith in justice, have been cruelly dashed. People will be left bewildered by this, as are the children of the deceased. Mr Ashley's children are now pursuing a negligence case against Sussex Police to obtain compensation for the tragic loss of their father."
Outside court the dead man's brother Tony, an insolvency officer for Customs and Excise, said: "We felt like we were the accused." The 32-year-old, from Liverpool, added: "We reject the suggestion by the judge that he was into drugs. We have been fighting this for three-and-a-half years and we have not got justice." James Ashley's sister, Pauline, 38, from Liverpool, said: "We still mourn the unacceptable and unnecessary loss of a much-loved son and brother. "We feel it is our right to emphasise the real victim in this case is James Ashley. We call on the Home Secretary to initiate an independent review into the appalling standards of policing in Sussex." The legal chapter on the death of James Ashley may now be finally reaching its conclusion. But the effect on his family and the officers involved and the questions raised about how the legal system works will continue. A Sussex Police spokesman said the James Ashley case would "run and run". He said: "The incident has certainly rocked those involved."
John Whitaker "Jack" Straw (born August 3, 1946, Buckhurst Hill) is a British Labour Party politician. He was Home Secretary from 1997-2001, becoming Foreign Secretary after the 2001 UK general election. He has been the Member of Parliament for Blackburn since 1979.
COMMENT
We hope you might agree, that no matter what the character of a person is, and no matter how he conducts himself in society, there is no justification for taking the life of anyone. NK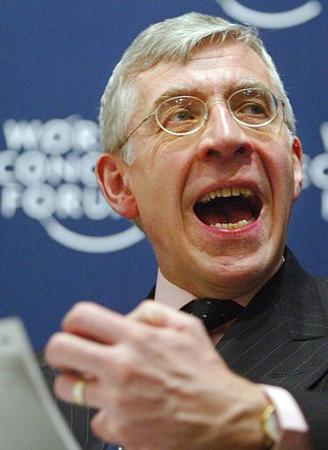 Jack Straw - So many lives for so little oil
Secretary of State
In office after the 1997 UK general election, he brought forward the Regulation of Investigatory Powers Act 2000, increased police powers against terrorism and proposed a reduction in the right to trial by jury. These policies were deemed excessively authoritarian by his former students' union which in 2000 banned him from the building - a policy which lapsed in 2003. However, he also incorporated the European Convention on Human Rights into British law and pressed for action on institutionalised racism in the police revealed by the Stephen Lawrence case. He was embarrassed by newspaper revelations that his teenaged son Will Straw was dealing cannabis. William was cautioned by police after his father turned him in. Further embarrassment to Straw occurred in 2000 when his brother, also named William, was convicted of sexually assaulting a 16 year old girl.
Expected by commentators to be demoted to Transport Secretary after the 2001 UK general election, there was some surprise when he was instead appointed Foreign Secretary succeeding Robin Cook. Within months Straw was confronted by the September 11, 2001 Terrorist Attacks. He was initially seen as taking a back seat to Tony Blair in the 'war against terrorism'. According to polls, Straw is - along with Tony Blair, Gordon Brown and John Prescott - one of the few British government ministers who is recognised by a majority of the British public. On November 26, 2003, he made an unannounced visit to Iraq.
In the run up to the 2005 UK general election Straw faced a potential backlash from his Muslim constituents over the Iraq war - the Muslim Public Affairs Committee attempted to capitalise on anti-war sentiment with 'operation Muslim vote' in Blackburn but Straw was re-elected on just a slightly reduced majority despite their best efforts. Speaking moments after his re-election during the BBC's election night coverage Jack Straw called MPAC an 'egregious group' and expressed disappointment at their campaign tactics, which he saw as overly aggressive. Straw enjoys a reputation for involved local campaigning in his constituency despite his cabinet post, often spending many hours in the run up to elections literally standing on a soapbox in a high street area taking questions from the crowd and responding to criticism with a microphone.
On October 13, 2005 Straw took questions from a panel of (mostly anti-war) individuals in a Newsnight TV special on the subject of Iraq, addressing widespread public concerns about the exit strategy for British troops, the insurgency in Iraq and inevitably the moral legitimacy of the war. On several occasions Straw reiterated his position that the decision to invade was in his opinion the right thing to do, but said he did not 'know' for certain that this was the case. He said he understood why public opinion on several matters might differ from his own - a Newsnight/ICM poll showed over 70% of respondents believed the war in Iraq to have increased the likelihood of terrorist attacks in the United Kingdom, but Straw said he could not agree based on the information presented to him. He stated he could not 'know' the answer to this question with certainty either.
Rt Hon Jack Straw MP Recorded FAX & POST 0171-890 4399
The Secretary of State for the Environment & Transport
Eland House
Bressenden Place
London
SW1E 5DU
15 March 1999
Dear Mr Straw
NO RIGHT OF APPEAL FOR THE MAN IN THE STREET?
Please find attached copy of letters to the Planning Inspectorate and the Legal Aid Board.

If my experience is the standard against which other applicants seek justice from the planning system, then the British system appears to discriminate between those who can afford legal representation and those who cannot.

It appears that the British Government have engineered a system whereby only those of sufficient means may exercise their Civil Rights. I am one of the disadvantaged.

Can you please explain to me how the failure of the Planning system and the Legal Aid scheme to allow me to proceed to a fair hearing can be determined as anything other than depriving me of my rights as guaranteed under Article 6 of the Convention for the Protection of Human Rights and Fundamental Freedoms.

I look forward to your reply.

Yours sincerely

Nelson J Kruschandl – APPELLANT IN PERSON
Copies to:

Human Rights Court
Mayo & Perkins
Legal Aid Board

Enclosures: Lttrs Plang Insp 2-2-99, 10-2 99 & 15-3-99
Lttr Legal Aid Board 15-3-99
Rt Hon Jack Straw MP
The Home Secretary
House of Commons
London
SW1A 0AA
9 November 2000
Dear Mr Straw
Formal Complaint against Wealden District Council
FALSIFYING EVIDENCE or CRIMINAL NEGLIGENCE?
There is evidence to suggest that a member of the Sussex Police allowed the local authority to use Police headed paper to write whatever they wanted as an official Police response to complaint, so as to clear the Council of impropriety.

The matter is one of grave concern. Where four members of the public complain in similar terms I would expect the Police to respond positively to the weight of similar case evidence, not look the other way. In this matter, Mr Whitehouse has liased with the Council's new Chief Executive and taken sides, without making any effort to look into the matter. The official response is that while a crime may have been committed, this is not a matter in which the Police wish to become involved or believe they should be involved.

However, what is clear is that a crime has been committed and is waiting on the shelf while other members of the public become victims as more evidence is falsified and the right to a fair hearing is quite simply not a right at all. It must surely be in the public interest to investigate the allegations thoroughly.

I am bringing this matter to your attention because you have the ultimate responsibility and have been quoted in this respect. My concern is that with the current budgetary constraints, the justice system is suffering, where intellectual crimes are being swept under the carpet to stay within budget. On this point I may or may not be correct, but one thing I would ask: If I am to challenge the Police on this matter, how am I expected to mount such a challenge?

I look forward to hearing from you.

Yours sincerely



Nelson J Kruschandl – COMPLAINANT
C.C. Rt Hon Norman Baker MP
Rt Hon Charles Wardle MP
Rt Hon Nigel Waterstone MP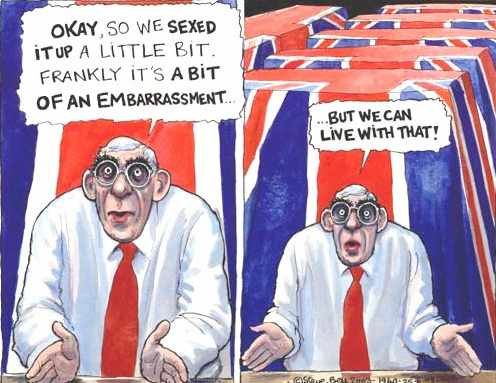 I'm okay Jack
IRAQ DECEPTION
The 45-minute claim was false - Wednesday October 13, 2004
After two years, one war and at least 16,000 deaths, the Government finally admits to lie.
Humiliating climbdown: Jack Straw,
Britain's Foreign Secretary, formally withdrew the infamous 45-minute claim
Tony Blair's claim that Iraq was within 45 minutes of launching weapons of mass destruction ­ a central plank of his case for war ­ fell apart yesterday as the Foreign Secretary formally withdrew the infamous claim and revealed MI6 had abandoned its source for the bogus intelligence.

In a humiliating climbdown, Jack Straw told MPs in a special Commons statement that MI6 has severed ties with the sources for both the 45-minute claim and intelligence that Saddam Hussein had produced a biological weapons agent in 2000.

The decision to lay to rest the most notorious intelligence claim in the case for war increased pressure from Labour and opposition MPs for the Prime Minister to make a full personal apology for the decision to invade Iraq "on a false premise".

Sir Menzies Campbell, the Liberal Democrat deputy leader, said: "The withdrawal of the 45-minute claim drives a horse and cart through government credibility."

"The building blocks of the Government's case for military action are crumbling before our eyes."

The party's leader, Charles Kennedy, wrote to the Prime Minister yesterday accusing him of "avoiding answering" questions on the absence of WMD following the conclusion by the Iraq Survey Group that Saddam Hussein possessed none and may have destroyed his stockpiles a decade earlier.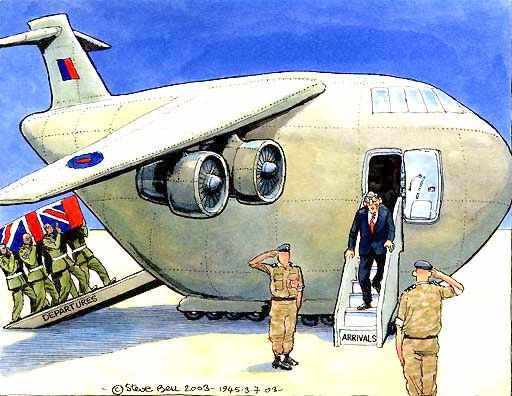 Oil be alright Jack!

Mr Kennedy called on Mr Blair to make a personal statement today on the findings, when he appears at the dispatch box to answer Prime Minister's questions.

"The Iraq Survey Group Report shows beyond doubt that we went to war in Iraq on a false premise. The Prime Minister must not avoid these questions any longer and he should not bypass Parliament," he said.

Mr Straw said yesterday the Prime Minister had accepted in his speech at the Labour party conference that "some of the information on which we based our judgements was wrong" but he defended the dossier and assessments of the Joint Intelligence Committee (JIC).

"That dossier accurately reflected the views of the JIC at the time that it was signed off by them," he said. "Far from the dossier being some confection, it was based on the best judgements not just of ourselves but of the wider international community. Everybody assumed Saddam had these weapons."

The withdrawal of the claim caps a remarkable fortnight of backtracking by Governments on both sides of the Atlantic. At the Labour Party conference, Mr Blair went some way towards apologising for the faulty intelligence used to justify the war. Donald Rumsfeld, the US Defence Secretary, said there were no concrete links between Iraq and al-Qa'ida. And last week, Patricia Hewitt, the Trade Secretary, went even further by actually saying "sorry" for the way intelligence such as the 45-minute claim was used.

Yesterday, the Foreign Office also took the extraordinary step of releasing a document indicating that Dr Hans Blix, the former UN chief weapons inspector, believed a draft of the UK's 2002 dossier on Iraqi weapons may have understated the extent of Saddam's chemical weapons capacity.

According to an internal memo dated September 2002 about a discussion with Dr Blix about a draft of the dossier he thought the document, two weeks before its publication, "did not exaggerate the facts".

But the decision to publish the internal memo from the UK mission to the United Nations in New York was seen at Westminster as a diversionary tactic and an attempt to "undermine" the inspector who became a vocal critic of the Government's case for war.

Robin Cook, the former foreign secretary, pointed out that Dr Blix did not return to Iraq for inspections until the end of November 2002."What he is saying in September reflects what was around in the ether at the time. But not his subsequent statements after he was in Iraq," Mr Cook said.

Sir Menzies Campbell, the Liberal Democrat deputy leader, said: "By releasing this document the Government is seeking to undermine Dr Blix. But this is hardly likely to wash with public opinion in this country. If the people of Britain are asked who they believe over the subject of WMD in Iraq then Dr Blix is likely to come top of the poll."

Yesterday, in a Commons statement Jack Straw said John Scarlett, the MI6 Chief, had formally dropped the source of intelligence on the 45-minute claim and a "liaison service" which came up with the false claim that Saddam Hussein had produced a biological weapons agent in 2000. The same liaison service had passed on information from a source reporting that Iraq had developed mobile facilities to produce biological weapons agents, which was also subject to doubt.

Mr Straw told MPs: "The Chief of SIS (Secret intelligence Service) has now written to the Intelligence and Security Committee (ISC) to inform the committee that, as a result of further investigation by SIS, both these lines of intelligence reporting have been formally withdrawn."

The formal climbdown follows criticism in the Butler report on intelligence published in July of the 45-minute claim. Lord Butler disclosed that M16 had withdrawn the intelligence from a source as it was now considered unreliable.

Information about Iraqi production of biological agent - believed to have been passed to MI6 by the intelligence service of another undisclosed country - was also criticised in the Butler Report as "seriously flawed".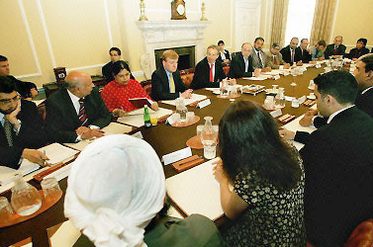 This site is protected under Article10 of the European Convention on Human Rights and Fundamental Freedoms.
FAIR USE NOTICE
This site contains copyrighted material the use of which has not always been specifically authorized by the copyright owner. We are making such material available in our efforts to advance understanding of environmental, political, human rights, economic, scientific, and social justice issues, etc. We believe this constitutes a 'fair use' of any such copyrighted material as provided for in section 107 of the US Copyright Law. In accordance with Title 17 U.S.C. Section 107, the material on this site is distributed without profit to those who have expressed a prior interest in receiving the included information for research and educational purposes.
For more information go to: http://www.law.cornell.edu/uscode/17/107.shtml. If you wish to use copyrighted material from this site for purposes of your own that go beyond 'fair use', you must obtain permission from the copyright owner.
CONSERVATIVES
CAROLINE ANSELL - CHARLES CLARKE - CHARLES HENDRY - CHRIS GRAYLING - DAVID BLUNKETT - DAVID CAMERON
DAVID MILIBAND - ERIC PICKLES - GEOFFREY JOHNSON-SMITH - GEORGE OSBORNE - GORDON BROWN - GREG CLARK
GREGORY BARKER - JACK STRAW - JOHN GUMMER - JOHN PRESCOTT - KENNETH CLARKE - KIM HOWELLS DR
MARGARET BECKETT - MARGARET THATCHER - NICK CLEGG - NORMAN BAKER - NUS GHANI - PATRICIA HEWITT
PHILIP DUNNE - PHILIP HAMMOND - SAJID JAVID - STEPHEN LLOYD - TERESA MAY - TESSA JOWELL - TONY BLAIR - VINCE CABLE
THIS SITE CONTAINS MANY EXAMPLES OF THIS COUNCIL'S UNREASONABLE BEHAVIOUR - With thanks to Action Groups across the country for the supply of real case history and supporting documents. *THAT THE PUBLIC MAY KNOW*
Vicarage Lane, Hailsham, East Sussex, BN27 2AX T: 01323 443322
Pine Grove, Crowborough, East Sussex, TN6 1DH T: 01892 653311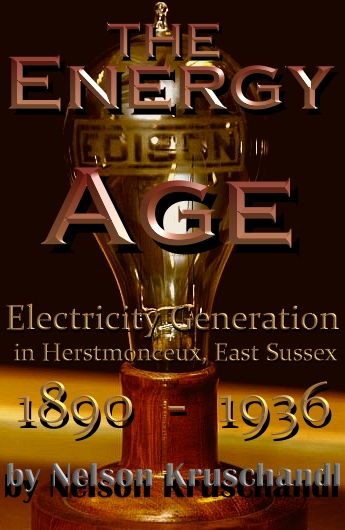 We take electricity for granted, but without these
pioneers we would not have lighting or computers.
Published by Lime Park Heritage Trust
(all proceeds go toward the restoration of this monument)
WE ACCEPT NO RESPONSIBILITY FOR THE ACCURACY OF ANY FEATURED LINKS
This site is protected under Article10 of the European Convention on Human Rights and Fundamental Freedoms.
FAIR USE NOTICE
This site contains copyrighted material the use of which has not always been specifically authorized by the copyright owner. We are making such material available in our efforts to advance understanding of environmental, political, human rights, economic, scientific, and social justice issues, etc. We believe this constitutes a 'fair use' of any such copyrighted material as provided for in section 107 of the US Copyright Law. In accordance with Title 17 U.S.C. Section 107, the material on this site is distributed without profit to those who have expressed a prior interest in receiving the included information for research and educational purposes.
For more information go to: http://www.law.cornell.edu/uscode/17/107.shtml. If you wish to use copyrighted material from this site for purposes of your own that go beyond 'fair use', you must obtain permission from the copyright owner.