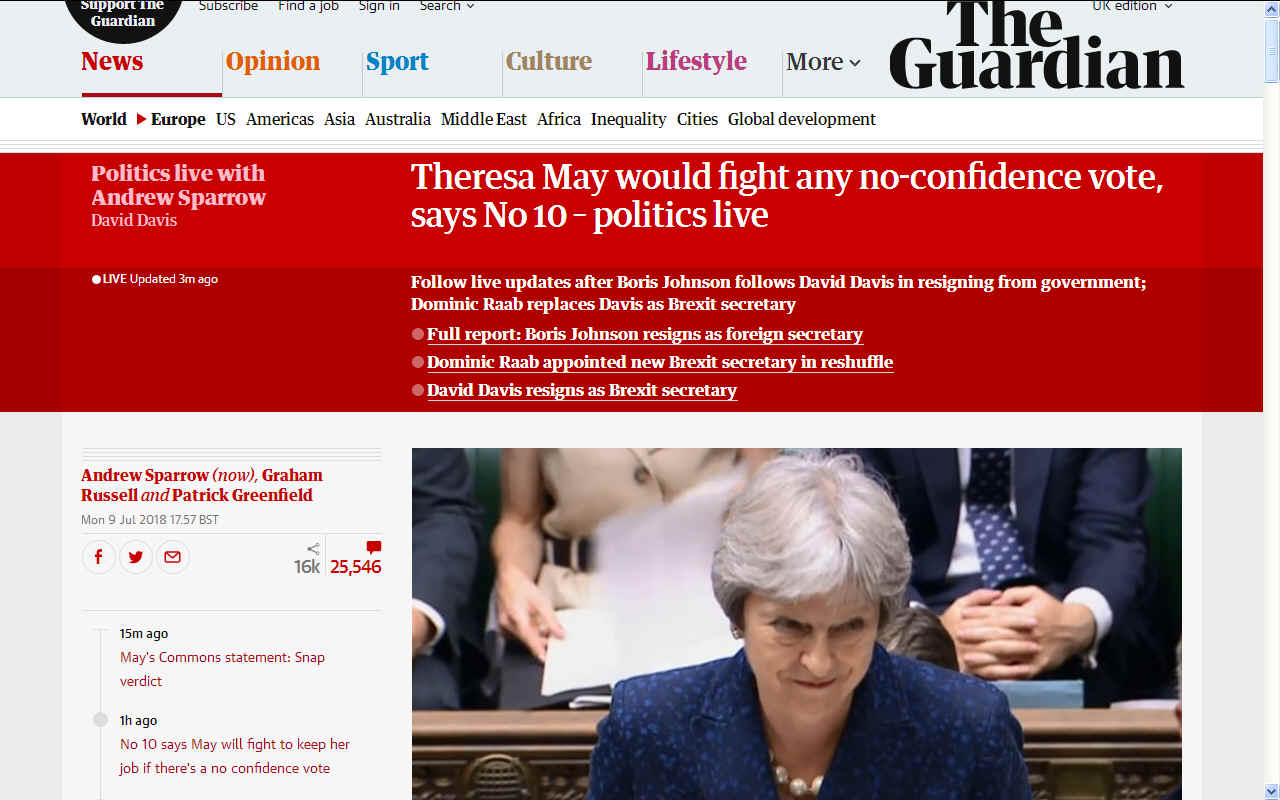 BREXIT JULY 2018 - THE GUARDIAN
Boris Johnson has resigned as foreign secretary, becoming the third minister in 24 hours to walk out of the government rather than back Theresa May's plans for a soft Brexit.

The prime minister hammered out a compromise with her deeply divided cabinet in an all-day meeting at Chequers on Friday but after consulting friends and allies Johnson decided he could not promote the deal.

Pressure on the foreign secretary had been mounting since fellow pro-Brexiter David Davis resigned as Brexit secretary on Sunday night, swiftly followed by his No 2 at the Department for Exiting the EU, Steve Baker.

A Downing Street spokesman said: "This afternoon, the prime minister accepted the resignation of Boris Johnson as foreign secretary. His replacement will be announced shortly. The prime minister thanks Boris for his work."

Friends said Johnson had been finalising his resignation letter, but Downing Street announced his departure before he had completed it.

After the Chequers summit, it emerged that Johnson had referred to attempts to sell May's Brexit plan as being akin to "polishing a turd".

As the flamboyant public face of the Vote Leave campaign, his departure will deepen the sense of crisis around May, and increase the chances that she could face a vote of no confidence.

One senior Brexiter suggested more resignations could follow if May sticks to her plan for a "common rulebook" with Brussels: "They'll keep going, one by one, until she either junks Chequers or goes."

Johnson's resignation was announced on Monday afternoon as Labour MPs were being briefed about the government's soft Brexit plan by May's de facto deputy, David Lidington.

Lidington, a potential candidate to succeed Johnson, emerged from the meeting in Westminster apparently unaware of the latest resignation.

Johnson was due to host a summit about the western Balkans on Monday afternoon but was instead holed up in his official residence with close advisers, considering his position.

He was ridiculed last month after avoiding a vote on a third runway at Heathrow, a proposal to which he had long-held objections. The trade minister Greg Hands resigned rather than obey the Conservative whip and vote for the airport's expansion.

May appeared before a packed House of Commons, cheered loudly by Tory MPs as she arrived minutes after news emerged of Johnson's resignation. She acknowledged the resignations of Davis and Johnson at the beginning of her statement on Friday's Chequers agreement, briefly thanking Davis for steering through the "most important legislation for generations" and Johnson for showing passion in promoting "global Britain to the world".

She did not elaborate on the turmoil engulfing her government in detail, saying only that "robust views had been exchanged around the cabinet table, as they have been around the breakfast table". She said she expected cabinet members to conform to collective responsibility now that a soft Brexit policy had been agreed.

Other ministers supporting hard Brexit took up their places on the frontbench, including Andrea Leadsom, Liam Fox and Penny Mordaunt. Michael Gove arrived late, unable to get a seat on the frontbench initially, before sitting on the benches reserved for cabinet members after Jeremy Corbyn had spoken. But there was no sign of either Johnson or Davis in the chamber.

Speaking after May, the Labour leader said there was a crisis in the government, accusing her of presiding over "two years of soundbites, indecision and cabinet infighting", adding that "more and more people [are] losing faith that this government is capable of delivering a good Brexit deal and that is just within her own cabinet."

Brussels reacted coolly to news of Johnson's and Davis's departures. Donald Tusk, the president of the European council, said their resignations did nothing to "solve the mess caused by Brexit".

He added in a Tweet:
Donald Tusk (@eucopresident)

Politicians come and go but the problems they have created for people remain. I can only regret that the idea of #Brexit has not left with Davis and Johnson. But...who knows? July 9, 2018
His comment reprised his previously stated hope that the UK might change its mind on leaving the EU.
Another EU diplomat said: "The question is can [May] pull it through. The stability of the government is called in question and now we will see what happens. But even if the government were to fall … we have no other option to deal with this or the next government."

May was due to address her backbench MPs in Westminster after her Commons statement.

If 48 MPs write letters of no confidence to the chair of the backbench 1922 Committee, Graham Brady, May will face a vote of no confidence.

Many of the prime minister's supporters believe she would win such a contest and cement her authority, but if she lost, May would face a leadership challenge, with Johnson among the potential candidates.

Asked whether May would contest a no confidence vote, a Downing Street source said simply: "Yes." He added that the prime minister believed she had secured the backing of the cabinet at Chequers.

"The Chequers agreement was the product and the subject of a formal meeting of the cabinet, and assent was recorded as part of that, in the way that cabinets do record these decisions." He refused to give further details. Asked whether May was confident that the rest of her cabinet backed the Chequers position, he added: "There is no reason to think otherwise."

In Davis's resignation letter, he said he believed May's proposal for a UK-EU free trade area governed by a "common rulebook", "hands control of large swathes of our economy to the EU and is certainly not returning control of our laws in any real sense".

Later on Monday, Davis expressed regret that Johnson had resigned. He said he had resigned because he could not agree with the government's Brexit negotiating position, but added that Johnson did not need to do so. "I'd have to be the champion of the policy which I didn't believe in, so that doesn't work. Somebody else can do a better job than me under those circumstances. I don't think it's central to the foreign secretary. It's a pity, but there we are," Davis told LBC radio.

Johnson and his allies are concerned about the risk that Britain's ability to strike trade deals with non-EU countries will be severely limited under the Chequers approach. Brexiters have also been angered by what Baker told the BBC was "childish" briefing from No 10 over the treatment of pro-Brexit ministers at Chequers.

Labour's deputy leader, Tom Watson, said: "Theresa May's government is in meltdown. This is complete and utter chaos. The country is at a standstill with a divided and shambolic government. This prime minister can't deliver Brexit and has zero authority left."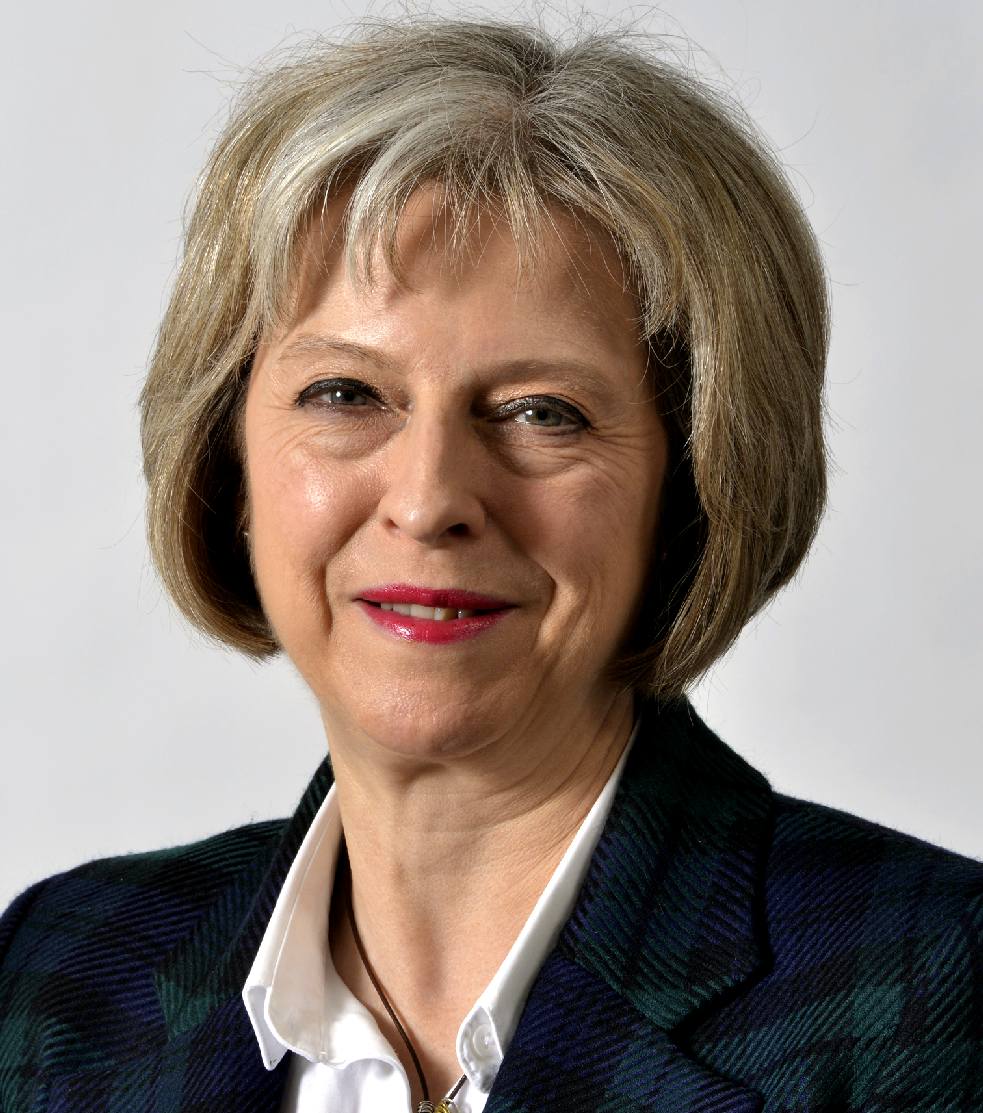 ABOUT THE PM
Theresa Mary May, PC, MP (née Brasier; born 1 October 1956) is the Prime Minister of the United Kingdom and Leader of the Conservative Party, in office since July 2016. She has also been the Member of Parliament (MP) for the Maidenhead constituency since 1997. May identifies as a one-nation conservative and has been characterised as a liberal conservative. She is the second female Prime Minister of the United Kingdom and Conservative Party leader, following Margaret Thatcher.

The daughter of a vicar, May grew up in Oxfordshire. From 1977 until 1983, she worked for the Bank of England, and from 1985 until 1997 at the Association for Payment Clearing Services, also serving as a councillor for Durnsford in Merton. After unsuccessful attempts to be elected to the House of Commons in 1992 and 1994, she was elected as the MP for Maidenhead in the 1997 general election. From 1999 to 2010, May held a number of roles in the Shadow Cabinets of William Hague, Iain Duncan Smith, Michael Howard and David Cameron, including Shadow Transport Secretary and Shadow Work and Pensions Secretary. She was also Chairman of the Conservative Party from 2002 to 2003.

After the formation of a coalition government following the 2010 general election, May was appointed Home Secretary and Minister for Women and Equalities, giving up the latter role in 2012. Reappointed after the Conservative victory in the 2015 general election, she went on to become the longest-serving Home Secretary since James Chuter Ede over 60 years previously. During her tenure she pursued reform of the Police Federation, implemented a harder line on drugs policy including the banning of khat, oversaw the introduction of elected Police and Crime Commissioners, the deportation of Abu Qatada, the creation of the National Crime Agency and brought in additional restrictions on immigration.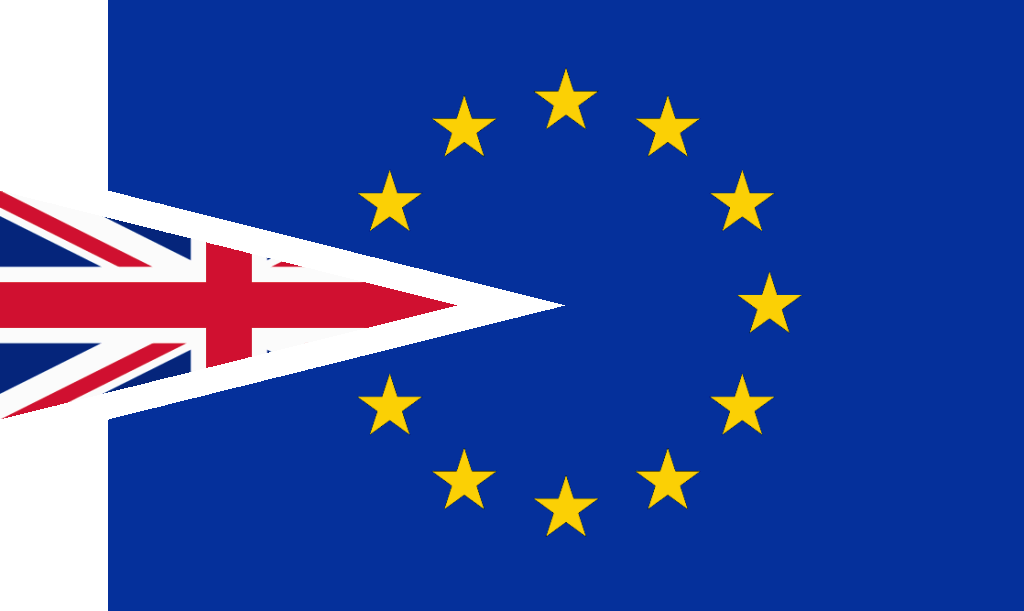 Following the resignation of Prime Minister David Cameron on 24 June 2016, May announced her candidacy for the leadership of the Conservative Party and quickly emerged as the front-runner. She won the first ballot of Conservative MPs on 5 July by a significant margin, and two days later won the votes of 199 MPs, going forward to face a vote of Conservative Party members in a contest with Andrea Leadsom. Leadsom's withdrawal from the election on 11 July led to May's appointment as leader the same day. She was appointed prime minister two days later, the second woman to hold both offices. On becoming Prime Minister, May became the first woman to have held two of the Great Offices of State.
It will be interesting to see if Theresa is any more effective at providing housing for those who are being bounced about by landlords who should operate more responsibly. If they don't behave themselves, fresh legislation should force them to act compatibly with Article 3 and protocol 1 Article 1 of the HRA 1998. We wonder what Nus Ghani has in store for Wealden on the affordable housing front, that if not tackled soon may become the item on Jeremy Corbyn's agenda to undo Theresa's Conservative Government.
How can anyone renting a property peacefully enjoy that property in the knowledge that their landlord will turf them out to be able to put their property back onto the housing market at much inflated prices, rather than face the perils of a rent assessment, when any raise in rents would be tested against what is reasonable.
This process constitutes mental torture to the victims of most modern Landlords.
Landlords can escape their social responsibilities by evicting a tenant and getting in another one. They will of course repeat the process again and again unchecked - adding to rampant inflation and defeating any moves towards a Circular Economy.
There should be a mechanism where landlords have to register the number of tenants who have occupied their properties. If any landlord is abusing the trust that the state has allowed them in operating unchecked in a free market, penalties should be applied.
It might be appropriate to maintain a register of Landlords, so that they may be struck off the register and not allowed to so trade for whatever period a court might ban them for. At the end of the day, renting property out for a living does not take a genius, it just takes money to earn money from those with lesser social status. It is a parasitic business, like leaches feeding off the blood of their hosts. A little less bloodletting please!
THE GUARDIAN - Ex MI6 chief Sir John Sawers tells of the sorry state the UK will be in after the divorce with the EU that is popularly referred to as Brexit. According to Sir John, we will suffer a lack of confidence, with the value of the pound already down by 15% as negotiations continue.
CHERRY HOMES

FAO: The Rt Teresa May MP
Prime Minister
House of Commons
St Margarets Street, Westminster
London
SW1A 0AA
16 January 2017

Dear Prime Minister,
TRULY SUSTAINABLE HOUSING
Please find attached copy of our letter to Sajid Javid MP, the communities Secretary, dated the 14th of January 2017.

The content of this letter speaks for itself, though as the Prime Minister and former Justice Minister, and bearing in mind the housing shortages at present, we thought that you might like to add your thoughts as to the proposal that genuinely 'low costs housing' planning applications, might benefit from zero fees until such point in time as the affordable housing units are built and occupied.

We are also keen to stamp out corruption in local politics with more stringent rules relating to conflicts of interest and routine criminal prosecutions for officers and members of councils who abuse their positions of authority.

This should include the prosecutions of police officers (even high ranking Constables and Detectives) who fail to investigate reported crimes against decent honest citizens and so a fair society.

The failure to investigate crime is in effect, perpetuating and protecting those abusers, where, because they are council employees in positions of power where the ordinary man in the street would expect impeccable conduct, are at the moment granted immunity from criminal statute – because the reported crimes are never investigated – let alone the perpetrators brought to trial.

We look forward to hearing from you on the above at your earliest convenience.

Yours most sincerely,




Cherry Homes
for Utopia Tristar Partners
www.cherrymortgages.com - build@cherrymortgages.com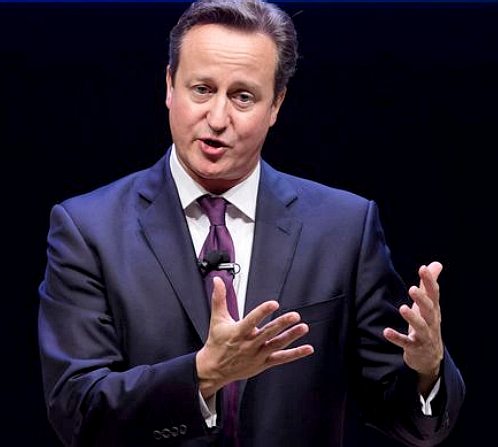 CHAMELEON DAVE - is quoted as saying that he had: "always believed in governing with respect", promising to implement further devolution to Wales, Scotland and Northern Ireland. What about respect for human dignity David? Is it right to allow the wealthy to treat those who would normally buy their own home but cannot because of the shortage of affordable housing - like cattle?

Adding: "Governing with respect means ensuring the nations of our United Kingdom have their own governments as well as the United Kingdom government. Both are important. "And indeed with our plans, the governance of these nations will become powerful with wider responsibilities."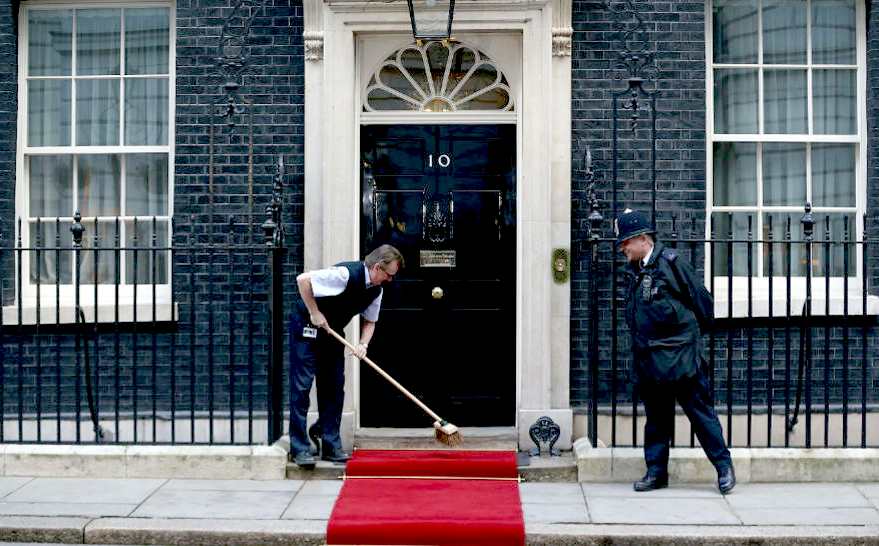 "That's another fine mess they got us into. Sweep it under the carpet luvee." "Maybe we need a bigger carpet."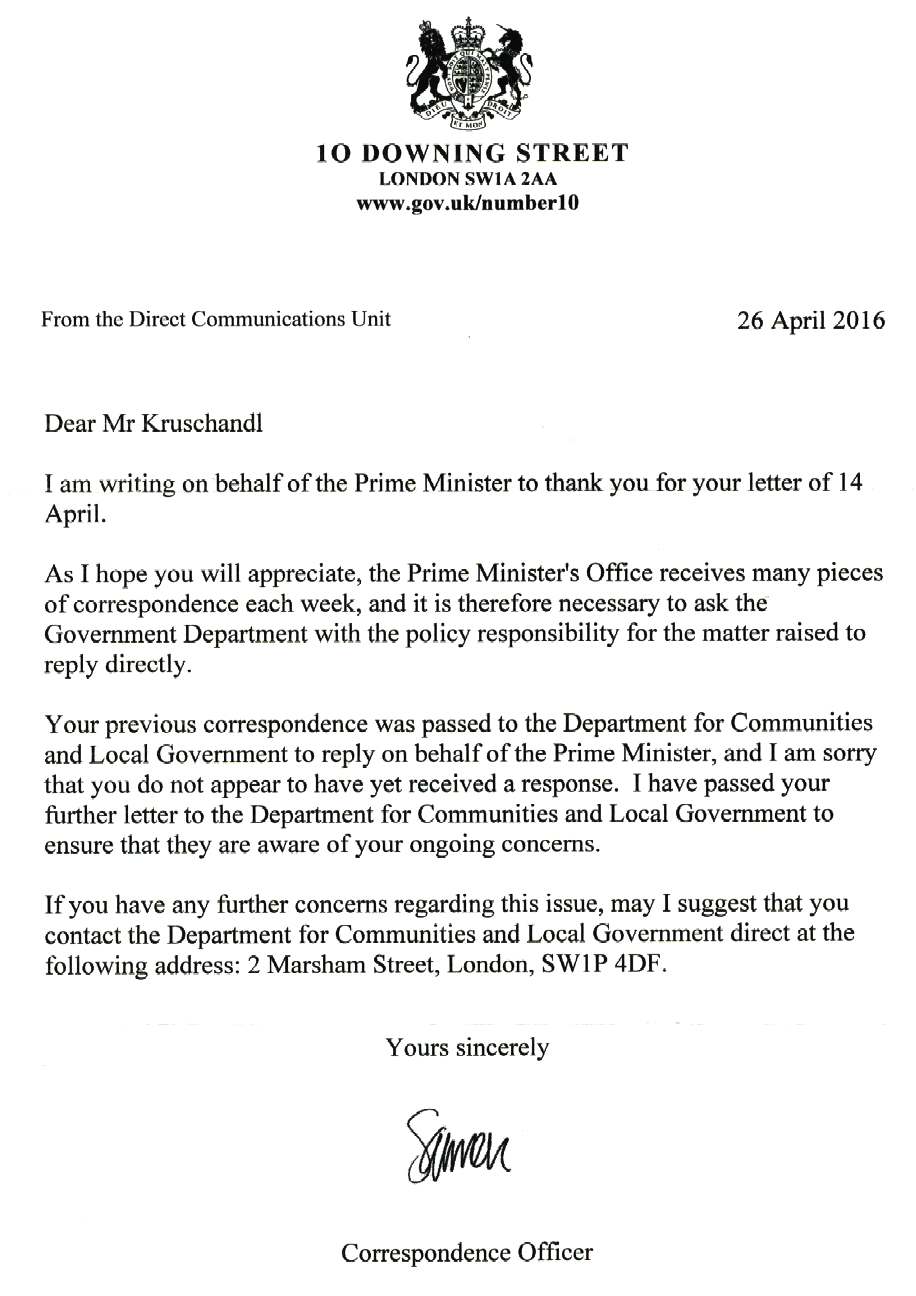 F.A.O. Rt Hon Theresa May MP RECORDED POST
The Prime Minister
House of Commons
Westminster, SW1A 0AA 13 December 2016


Dear Prime Minister,
A COURSE OF MALICIOUS CONDUCT

I wrote to your predecessor, David Cameron, about this matter last in April 2016.

The former PM last replied on 18th of March 2016 to say that the Minister for Communities and Local Government would reply – but I've heard nothing from there.

I should though mention that I contacted the Rt Hon Eric Pickles MP in July of 2012 and he confirmed in a letter that it is not for him to correct any defective Local Land Charge, but for the council concerned. It is this malfeasance in public office that is at issue together with the systematic destruction of archive documents.

This matter is far more serious than a simple catalogue of errors by an aberrant local authority. It is a conspiracy to pervert the course of justice and hide the manner in which they duped Inspector Dannreuther in January of 1987 and of course the Secretary of State.

Wealden District Council also duped several High Court judges, including Dame Butler-Sloss. The case is an example of abuse of a position of trust that I believe it is in the public interest to expose, in order that such misuse of authority cannot cause such long-term financial loss to any other citizen in the UK. No wonder there is a housing shortage.

I feel sure that Her Majesty would not want anyone in her country to be subjected to this kind of misuse of authority.

I am of the opinion that this matter should be investigated at the very highest level, though the ball is in the court of Sussex Police at the moment.

Please find enclosed copy letters to Giles York (13-12-16) and David Whibley (12-12-16) that speak for themselves. The date of sending is wrong on the Whibley letter, it should have been the 12th of December of course.
Your humble servant,





Nelson Kruschandl (Informant and Victim)
LINKS
https://en.wikipedia.org/wiki/Theresa_May
http://www.tmay.co.uk/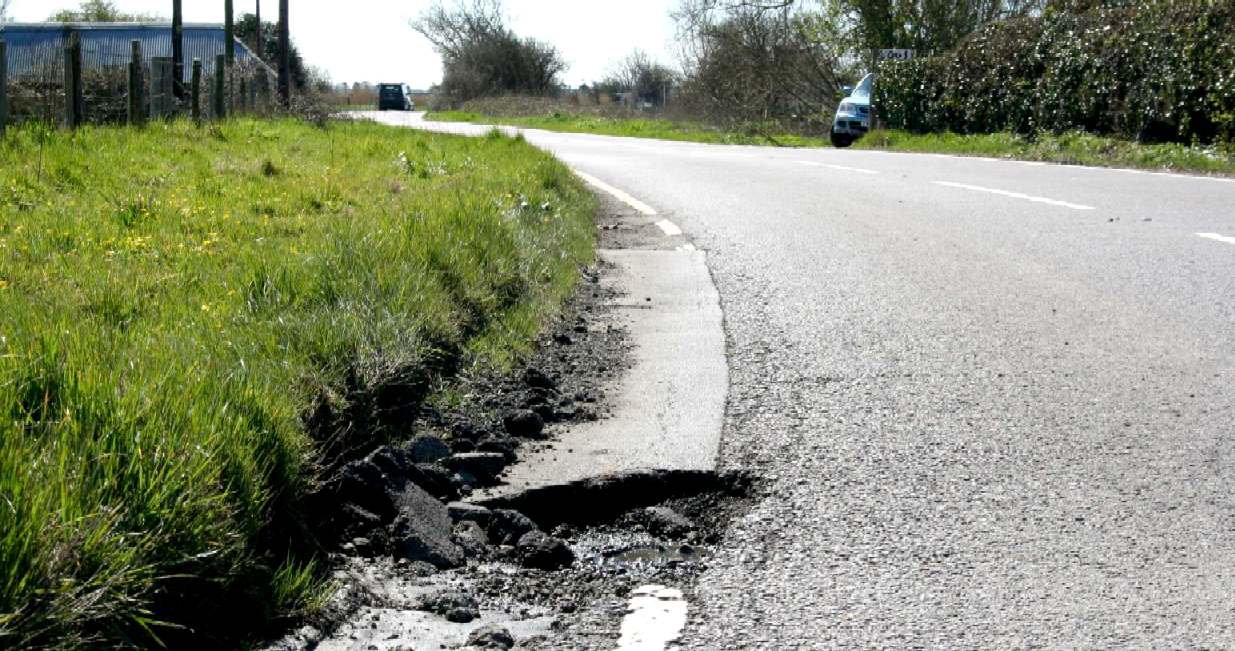 POTHOLE POLITICS - Will Theresa's politics be any better than David Cameron's. The state of the roads is a solid indication of how well any administration is working. Quite obviously, from the state of the roads in Sussex, we have a long way to go. This is a B class road and so it may be argued is less important than our A class roads and motorways. But, it is also true that important people are more likely to live out of towns that are serviced by B class roads. Those company executives and other business persons are the ones that need to get to work safely to earn the money for the UK that keeps the wheels turning.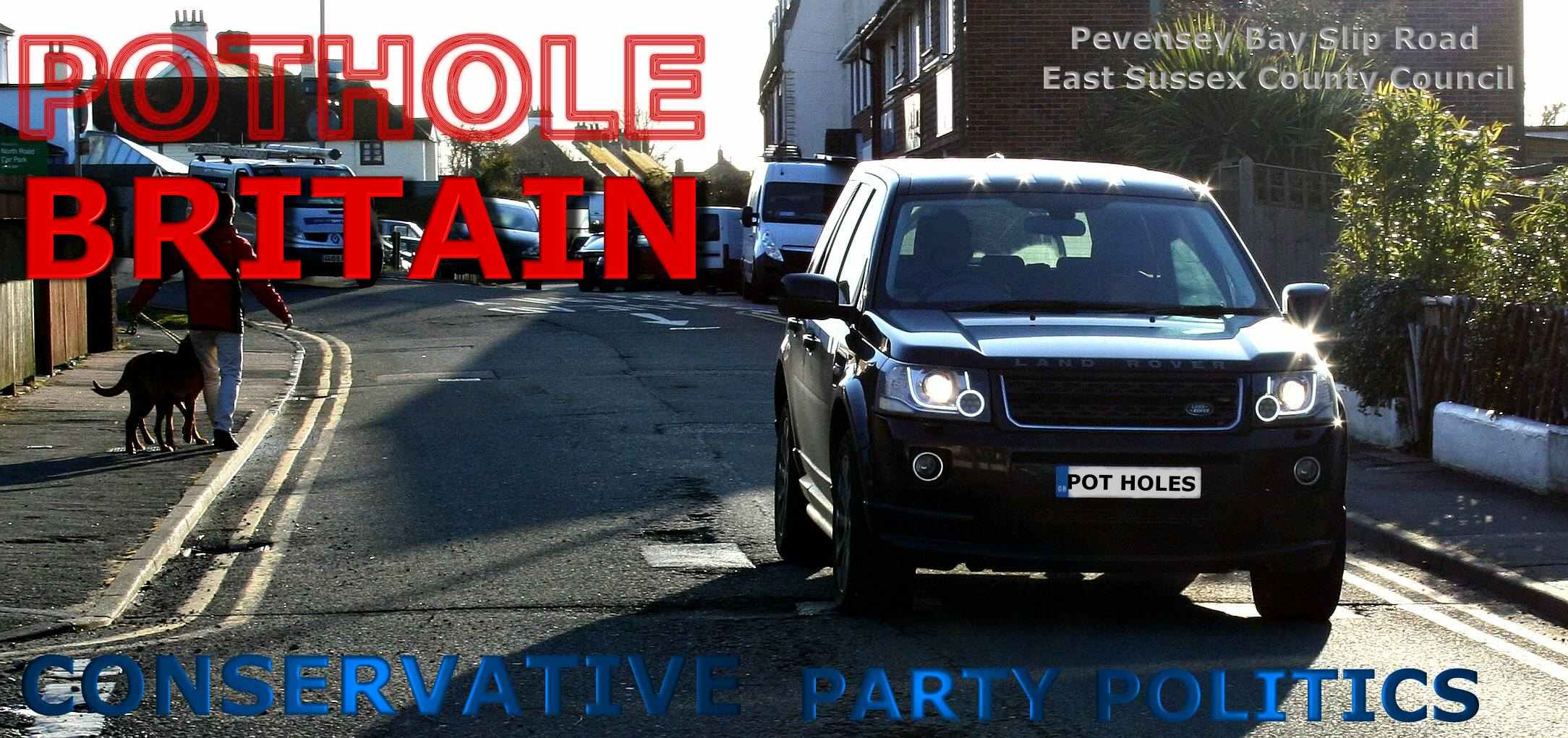 PEPPER ALLEY - You'd have a job to avoid any pedestrian who had tripped over one of these potholes, especially where this is a two lane road during the rush hour traffic. But what happens if your suspension collapses and causes your car to slew into the other lane or even mount the pavement. The Government and councils are putting lives at risk by failing to provide us with roads to a reasonable standard. It is criminal negligence, with thousands of motorists coming a cropper in repair bills to their injured motor cars.
WE ACCEPT NO RESPONSIBILITY FOR THE ACCURACY OF ANY FEATURED LINKS
This site is protected under Article 9 and Article10 of the European Convention of Human Rights and Fundamental Freedoms.
FAIR USE NOTICE
This site contains copyrighted material the use of which has not always been specifically authorized by the copyright owner. We are making such material available in our efforts to advance understanding of environmental, political, human rights, economic, scientific, and social justice issues, etc. We believe this constitutes a 'fair use' of any such copyrighted material as provided for in section 107 of the US Copyright Law. In accordance with Title 17 U.S.C. Section 107, the material on this site is distributed without profit to those who have expressed a prior interest in receiving the included information for research and educational purposes.
For more information go to: http://www.law.cornell.edu/uscode/17/107.shtml. If you wish to use copyrighted material from this site for purposes of your own that go beyond 'fair use', you must obtain permission from the copyright owner.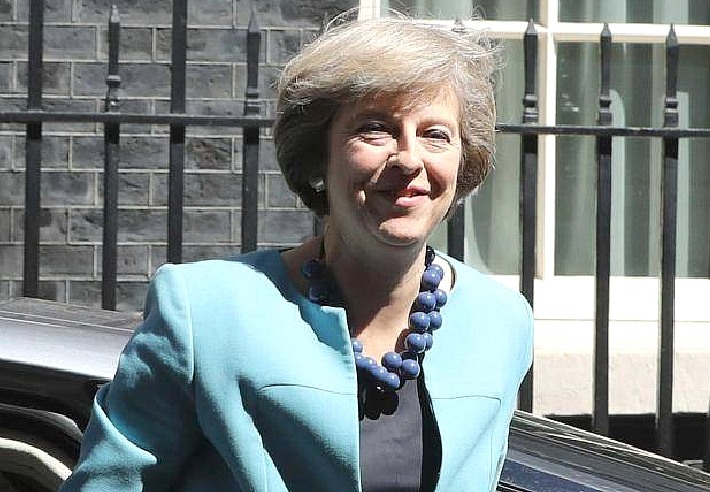 CAROLINE ANSELL - CAROLINE LUCAS - CHARLES CLARKE - CHARLES HENDRY - CHRIS GRAYLING - DAVID BLUNKETT
DAVID CAMERON - DAVID MILIBAND - ERIC PICKLES - GEOFFREY JOHNSON-SMITH - GEORGE OSBORNE - GORDON BROWN
GREG CLARK - GREGORY BARKER - JACK STRAW - JOHN GUMMER - JOHN PRESCOTT - KENNETH CLARKE - KIM HOWELLS DR
MARGARET BECKETT - MARGARET THATCHER - MARIA CAULFIELD - NICK CLEGG - NORMAN BAKER - NUS GHANI - PATRICIA HEWITT
PHILIP DUNNE - PHILIP HAMMOND - SAJID JAVID - STEPHEN LLOYD - TERESA MAY - TESSA JOWELL - TONY BLAIR - VINCE CABLE
CONSERVATIVE CABINET 2017-2018
Theresa May - Prime Mnister

MP for Maindenhead

Damian Green

MP for Ashford

Philip Hammond

MP Runnymede & Weybridge

Boris Johnson

MP Uxbridge & South Ruislip

Amber Rudd

MP Hastings & Rye

David Davis

MP Haltemprice & Howden

Gavin Williamson

MP South Staffordshire

Liam Fox

MP North Somerset

David Lidlington

MP for Aylesbury

Baroness Evans

MP Bowes Park Haringey

Jeremy Hunt

MP South West Surrey

Justine Greening

MP for Putney

Chris Grayling

MP Epsom & Ewell

Karen Bradley

MP Staffordshire Moorlands

Michael Gove

MP Surrey Heath

David Gauke

MP South West Hertfordshire

Sajid Javid

MP for Bromsgrove

James Brokenshire

MP Old Bexley & Sidcup

Alun Cairns

MP Vale of Glamorgan

David Mundell MP

Dumfriesshire Clydes & Tweeddale

Patrick McLoughlin

MP Derbyshire Dales

Greg Clark

MP Tunbridge Wells

Penny Mordaunt

MP Portsmouth North

Andrea Leadsom

MP South Northamptonshire

Jeremy Wright

MP Kenilworth & Southam

Liz Truss

MP South West Norfolk

Brandon Lewis

MP Great Yarmouth

MP

Nus Ghani

MP Wealden

Huw Merriman

MP Battle

David Cameron

Former Prime Minister