These are the stories making headlines all over the world. So much information reaches us each day it is difficult to sift out what is and is not important.
June 7 2007 - A 27 year old German man leapt at Pope Benedict XVI, jumping over a protective barrier and grabbed at the Pope-mobile in Rome.

Pope Benedict XVI
It took eight guards to pull the unarmed offender away from the jeep who was within touching distance. After several seconds of struggling, security agents forced him to the ground. The Pope was not hurt and did not even notice what was going on behind him. A Vatican spokesman said: "He was clearly deranged but did not want to kill or harm the Pope, he only wanted to draw attention to himself."
News A to Z directory, please click on the links below to find your favourite news or to contact the media to tell your story:
There was a time when you had the time to enjoy the simple pleasures in life. Now we rarely speak to our partners and have to schedule time to touch base on the important issues. No wonder the divorce rate is rising and no wonder our values are changing to reflect the disposable society we are creating.
Instead of helping our neighbours, some of them we fear, simply because we don't understand their culture and they ours. Whereas, the world is shrinking due to globalisation and free information exchange, much of which is achieved via the internet.
If you've ever fancied building yourself a dream house, or doing a conversion, and your council (or neighbours) start to give you a hard time, then this site may be useful to you. We reveal many of the tricks council officers get up to when enforcing as a result of neighbour complaints and the Old Boys Act. We also reveals the inner workings of council chambers and committee rooms (see evidence transcripts) and how distorted or misreported facts can cause serious injustice.
My life's in ruins, says teacher cleared of having hotel sex romps with 17-year-old pupil - 4th October 2007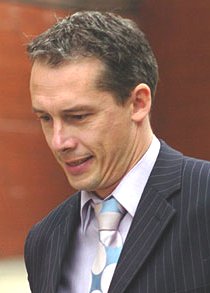 Cleared: Teacher Andrew Riley outside court yesterday
Send a press release:
Sending a release to PA PR Services
Contact The Press Association news desk on: T: +44 (0) 20 7963 7000 E: information@pa.press.net

To send a potential news story for consideration by PA editors, e-mail copy@pa.press.net.
Please note that all attachments will be ripped out as these e-mails are directed into PA's news system. Any press release copy needs to be copied and pasted into the e-mail itself. Content sent to copy@pa.press.net will be considered by the newsdesk and may be passed to a reporter to be followed up.
PA does, however, distribute full-text press releases directly to newsrooms on their PA Mediapoint service. To include a press release on this service, please contact PA's partners direct :PR Newswire Business Wire Medialink na europe
The Press Association 292 Vauxhall Bridge Road, London, SW1V 1AE
More information is available on this site, or by contacting Martin Huckett: T: +44 (0) 20 7963 7849 E:mailto:martinhu@pa.press.net
News A to Z directory: please click on the links below to find your favourite news or to contact the media to tell your story:
WE ACCEPT NO RESPONSIBILITY FOR THE ACCURACY OF ANY FEATURED LINKS