Tuesday, 5 September, 2000 - MP goes to tribunal over MI5 files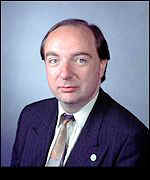 Norman Baker MP Lewes
Liberal Democrat MP is to take the intelligence agency MI5 to a tribunal to get legal access to files they might hold on him. Norman Baker wants to use his rights under the Data Protection Act to uncover any information on him the security service might have collated.
He told BBC Radio 4's Today programme that MI5 have argued they have a blanket exemption from the legislation on grounds of national security. But Mr Baker believes the service should work on a case-by-case basis. He said: "I think it is important to establish a principle. "The data protection legislation applies to the security services as it does to any other organisation run by the state which holds information on an individual."
'Test the limits'
He added: "I think it is entirely appropriate to test the limits to which information on individuals can be held without those individuals knowing. "If there is information held on people whose files are closed ... it is perfectly proper for that information to be given out to those individuals.
According to Mr Baker, M15 intends to register with data protection legislation.
A spokesman for the Home Office told BBC News Online: "We cannot comment on Norman Baker's action while the case is ongoing. "But we do not have a blanket exemption. Only those files which safeguard national security are exempt." "All of the operation of the security intelligence agencies are governed by statute. We have independent judges appointed as regulators into MI5 and MI6 activities," he added.
'Myths and misunderstanding'
On its website MI5 dismissed as "myths and misunderstanding" claims that it routinely monitors the activities of politicians, or high profiles figures such as members of the royal family. It states: "No member of the public is permitted to see any Security Service files, except for historical records which have been declassified and released by the Public Record Office." It says that "the Service only investigates individuals whose activities fall within its statutory remit under the Security Service Act".
"Confidentiality is essential to protect details of investigational and operational techniques and to maintain the effectiveness of the Service," it added. MI5 is embroiled in a high-profile court case over the activities of its former officer David Shayler. He is charged with breaking the Official Secrets Act after allegedly giving classified information and documents to a newspaper, which then accused MI5 of bureaucracy, incompetence and a lack of accountability.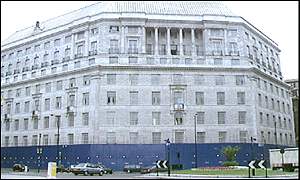 MI5: The public is not allowed access to files
Biography
Norman Baker MP for Lewes was born in Aberdeen in 1957.
The younger of two brothers, he moved to Hornchurch Essex in 1968 before attending London University, where he secured a degree in German as well as running one of the college bars.
Between university and his election in 1997, Norman held a variety of jobs, Regional Executive Director of Our Price Records, clerk at Hornsey railway station, manager of a wine shop and teacher of English as a Foreign Language.
From 1989 to 1990, Norman worked in the House of Commons as the Lib Dems Environment Campaigner and through 1991 worked as a constituency organiser for the Lib Dem MP for Eastbourne.
He was first elected to his local councils - Lewes District and Beddingham Parish - in 1987, almost ten years to the day before his election to Parliament. His district election unseated the Tory leader. In 1989, he secured a large swing to take the county council division of Telscombe for the first time for the Lib Dems. In 1991, as group leader, he led the Lib Dems to victory in the District Council elections and became the first ever Lib Dem leader of the Council, a post he held from 1991 to his parliamentary victory in 1997.
From 1993 to 1997, he also chaired the Economic Development and Public Transport sub-committees on East Sussex County Council. He also represented the County within the Assembly of European Regions, chairing the Tourism and Rural Affairs Committee.
His 1997 victory in the Parliamentary contest for Lewes was his second attempt at the seat. In 1992 he had secured the highest ever Lib-Dem vote and in 1997 became the first ever Liberal or Lib Dem MP and the first non-Conservative, for Lewes since 1874.
In 1997 he won the Best Newcomer MP award for his contribution to environmental issues. He has since also twice come runner up in the annual Channel 4 awards - once in the Best Questioner section and once in the Best Opposition MP section.
In 2001 he was named "Inquisitor of the Year" in the Zurich/Spectator Parliamentarian of the Year Awards.
In February 2002 he finally won the Channel 4 Opposition MP of the Year Award.
In July 2003 Norman won the RSPCA Lord Erskine Award in recognition of his tireless campaigning in the field of animal welfare. The award is in memory of Lord Erskine who successfully steered Richard Martin's Bill ' to prevent the cruel and improper treatment of cattle' through the House of Lords.
24 April 2006

Norman Baker (Lewes): To ask the Leader of the House, if he will list (a) the websites operated by his Office and (b) the reports placed on the internet in March 2006, indicating in each case whether paper copies were also made available.
Geoff Hoon:
www.CommonsLeader.gov.uk is operated by the Office of the Leader of the House of Commons and managed by the private office staff.
Contact Norman at:
Norman Baker
23 East Street
Lewes
East Sussex
BN7 2LJ
Tel: (01273) 480281
Fax: (01273) 480287

WE ACCEPT NO RESPONSIBILITY FOR THE ACCURACY OF ANY FEATURED LINKS
This site is protected under Article10 of the European Convention on Human Rights and Fundamental Freedoms.
FAIR USE NOTICE
This site contains copyrighted material the use of which has not always been specifically authorized by the copyright owner. We are making such material available in our efforts to advance understanding of environmental, political, human rights, economic, scientific, and social justice issues, etc. We believe this constitutes a 'fair use' of any such copyrighted material as provided for in section 107 of the US Copyright Law. In accordance with Title 17 U.S.C. Section 107, the material on this site is distributed without profit to those who have expressed a prior interest in receiving the included information for research and educational purposes.
For more information go to: http://www.law.cornell.edu/uscode/17/107.shtml. If you wish to use copyrighted material from this site for purposes of your own that go beyond 'fair use', you must obtain permission from the copyright owner.
CAROLINE ANSELL - CHARLES CLARKE - CHARLES HENDRY - CHRIS GRAYLING - DAVID BLUNKETT - DAVID CAMERON
DAVID MILIBAND - ERIC PICKLES - GEOFFREY JOHNSON-SMITH - GEORGE OSBORNE - GORDON BROWN - GREG CLARK
GREGORY BARKER - JACK STRAW - JOHN GUMMER - JOHN PRESCOTT - KENNETH CLARKE - KIM HOWELLS DR
MARGARET BECKETT - MARGARET THATCHER - NICK CLEGG - NORMAN BAKER - NUS GHANI - PATRICIA HEWITT
PHILIP DUNNE - PHILIP HAMMOND - SAJID JAVID - STEPHEN LLOYD - TERESA MAY - TESSA JOWELL - TONY BLAIR - VINCE CABLE
THIS SITE CONTAINS MANY EXAMPLES OF THIS COUNCIL'S UNREASONABLE BEHAVIOUR - With thanks to Action Groups across the country for the supply of real case history and supporting documents. *THAT THE PUBLIC MAY KNOW*
Vicarage Lane, Hailsham, East Sussex, BN27 2AX T: 01323 443322
Pine Grove, Crowborough, East Sussex, TN6 1DH T: 01892 653311