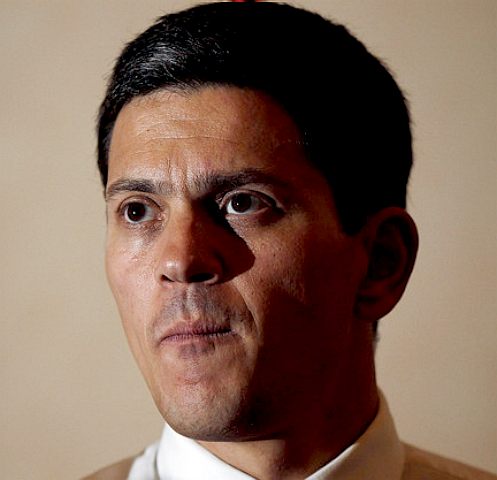 HUMAN RIGHTS PROTECTOR - David Miliband became the President and CEO of the International Rescue Committee on 1 September 2013. At the IRC, David will be overseeing humanitarian aid and development programs in 40 countries, a global staff of 12,000 and 1,300 volunteers, and an annual budget of $450 million.
David Wright Miliband was born on the 15th of July 1965. He is a former Labour Party politician who was the Member of Parliament (MP) for South Shields from 2001 to 2013, and was the Secretary of State for Foreign and Commonwealth Affairs from 2007 to 2010. He and his brother Ed, (the former Leader of the Labour Party), were the first siblings to sit in the Cabinet simultaneously since Edward, Lord Stanley, and Oliver Stanley in 1938.

David was born in London and studied at Oxford University and the Massachusetts Institute of Technology, after which he started his career at the Institute for Public Policy Research. Aged 29 he became Tony Blair's Head of Policy whilst the Labour Party was in opposition, and he was a major contributor to Labour's manifesto for the 1997 election, which brought the party to power in a landslide victory. Blair subsequently made him head of the Prime Minister's Policy Unit from 1997 to 2001, at which point Miliband was elected to Parliament for the seat of South Shields.

Miliband spent the next few years in various junior ministerial posts, including at the Department for Education and Skills, before joining the Cabinet in 2006 as Environment Secretary. His tenure in this post saw climate change consolidated as a priority for policymakers. On the succession of Gordon Brown as Prime Minister in 2007, Miliband was promoted to become Foreign Secretary. At the age of 41, he became the youngest person to hold that office since David Owen 30 years earlier. In September 2010, Miliband narrowly lost the Labour leadership election to his brother Ed. On 29 September 2010, he announced that to avoid "constant comparison" with his brother Ed, and because of the "perpetual, distracting and destructive attempts to find division where there is none, and splits where they don't exist, all to the detriment of the party's cause", he would not stand for the Shadow Cabinet.

On 15 April 2013, Miliband resigned from Parliament in order to take up the posts of President and CEO of the International Rescue Committee in New York City, which triggered a by-election. To our mind this was one of the best things that could happen for David and for the IRC. Things got even better for important world issues when David joined the Global Ocean Commission. Why? Because he and his family have struggled against huge odds to overcome oppressive discrimination since the Second Word War, and for that reason will be sympathetic to such wrongs. David also has a broad understanding of global economic issues such a climate change.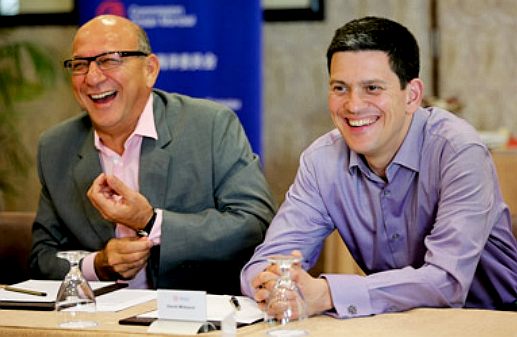 ALASTAIR CAMPBELL - press secretary to former Prime Minister of the United Kingdom, Tony Blair, nicknamed Labour politician David Miliband "Brains" after the Thunderbirds character.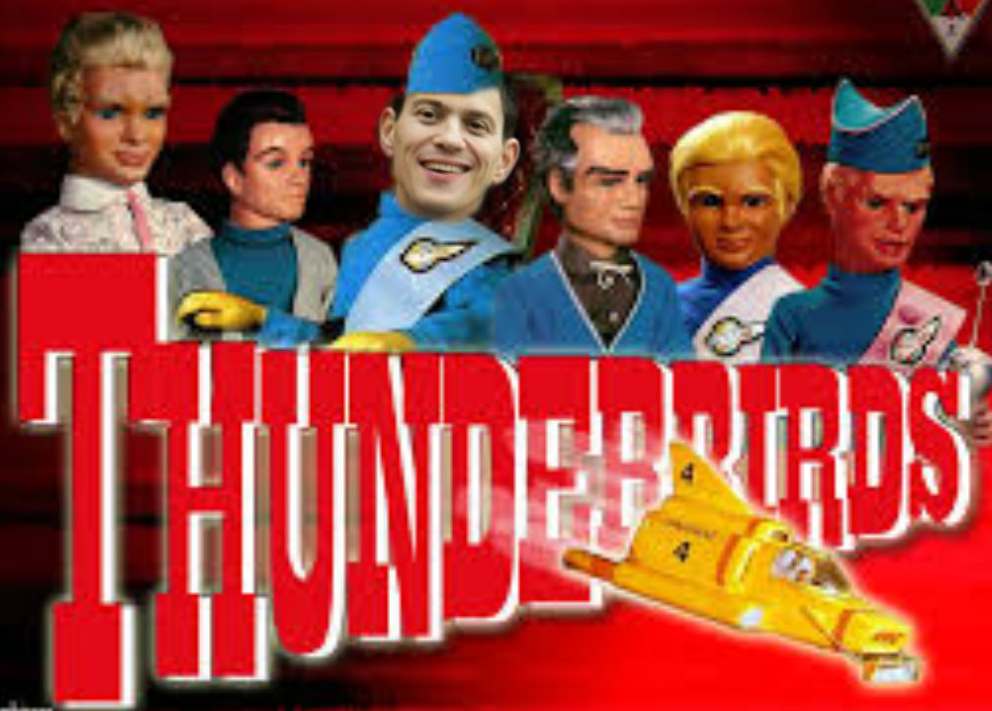 ANDREW MARR, JULY 2013 IB TIMES - Observing of Miliband's reputation as intellect of the Blairite left, Marr told him: "The IRC was set up by Einstein. You were always called Brains." "Not in that league," Miliband managed, modestly.

The camera tactfully stayed off the departing politician as Marr alluded to the TV puppet show of the 1960s. "It's called International Rescue - the Thunderbirds jokes are inevitable," Marr added. "And you've heard them all before."
EDUCATION
David Miliband was educated at Primrose Hill Primary School, in Camden and Newlaithes Primary School, in Leeds. In September 1976, he passed the entrance examination to the newly independent Bradford Grammar School and in 1978 to 1983, following his father's return to London, transferred to Haverstock Comprehensive School in North London. He obtained four A-levels (grades BBBD), and won admission to the University of Oxford. He studied at Corpus Christi College, Oxford and obtained a first class honours degree in Philosophy, Politics and Economics. From 1988 to 1989 he took a master's degree in Political Science at Massachusetts Institute of Technology, where he was a Kennedy Scholar.
EARLY LIFE
Born in London, Miliband is the elder son of Jewish immigrants, Belgian-born Marxist sociologist Ralph Miliband and Marion Kozak from Poland. He was given the middle name of "Wright" after the American sociologist C. Wright Mills, a friend of his father, Ralph. He has said "I am the child of Jewish immigrants and that is a very important part of my identity." Both his Polish Jewish paternal grandparents lived in the Jewish quarter of Warsaw. His paternal grandfather, Samuel, a trained leather worker, fought for the Red Army in the Polish–Soviet War of 1919–1921 before moving to Belgium. His paternal grandmother, Renia (later known as Renée), also moved to Belgium, where she first met Sam, and the couple married in 1923. The German invasion of Belgium in May 1940 split the Miliband family in half: Ralph and father Samuel fled to England, while Ralph's mother Renée and baby sister Nan stayed behind for the duration of the war. They were not reunited until 1950. During his visit to Poland in June 2009, Miliband went to his family tomb in the Jewish Cemetery in Warsaw. He said of Poland, "My mother was born here, her life was saved by those who risked theirs sheltering her from Nazi oppression", and that he is "one of the million Britons who have Polish blood".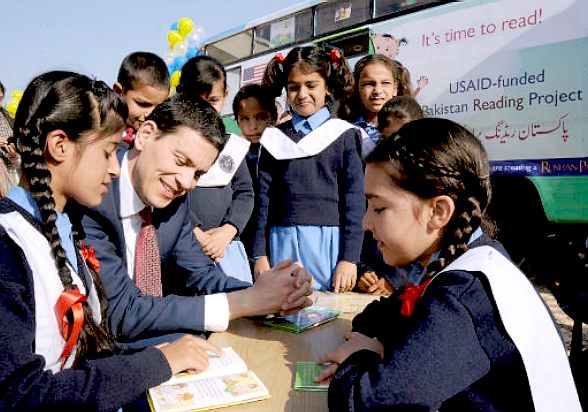 DAILY MIRROR, MARCH 2013 - MPs last night expressed sadness at David Miliband's shock decision to step down as an MP to work for a US charity .

Mr Miliband will step down as South Shields MP this morning to take up a "dream job" in New York - as exclusively revealed by the Mirror. .

The former Foreign Secretary - and brother of Labour leader Ed - intends to step down with immediate effect, triggering a by-election in May.

A source said: "David has landed a dream job in charge of a charity in New York and wants to take it. But it means leaving politics." He is thought to have confided in just a handful of close allies about his decision.

Ed Miliband spoke to his older brother for a "little while" and was reported to have wished him well with "sadness".

It is believed he will take up a senior role with the charity International Rescue Committee with immediate effect. His departure will be seen as a major blow to the right of the Labour Party.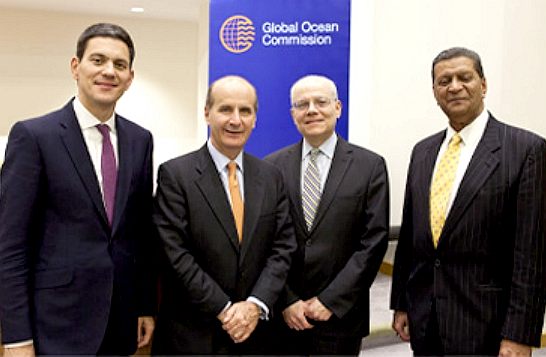 SEPTEMBER 2014 UN CLIMATE SUMMIT - The United Nations headquarters in New York hosted the largest gathering of world leaders ever to address climate change. It is an enormously important event, intended to catalyse action ahead of next year's Paris conference – where leaders have pledged to reach a new global climate agreement, and a great credit to secretary general Ban Ki-moon and his team.

But the summit is guilty of a major sin of omission: the ocean, over two-thirds of the planet, is completely absent from the programme. It is neither one of the eight "action areas" on which governments and other key players are invited to announce bold new commitments, nor one of the "thematic sessions" where states and stakeholders will share solutions. The summit is keeping its feet firmly on dry land and is highlighting the huge gap between scientific knowledge and political action.

The Global Ocean Commission is dismayed that the ocean appears to have been relegated to the status of an afterthought, something to bring up occasionally in the context of other, apparently more essential, concerns. This is particularly shocking coming at the end of a year in which the ocean has been consistently listed among the most critical elements of the climate change challenge, by the International Panel on Climate Change (IPCC), the World Meteorological Organisation (WMO), and numerous scientific studies and reports – including our own report released in June.

Science is showing us that there can be no solution to the climate challenge without a healthy ocean, which is currently in sharp decline. The ocean absorbs a quarter of man-made CO2 emissions, and has taken on 90% of the extra heat generated since the industrial revolution. Without the ocean to clean up our mess, the impacts of climate change would already be far more severe.

This is where the alarm bells about ocean health should start ringing: human pressures on the ocean – both its chemical composition and its immeasurable biodiversity – are undermining its ability to carry out the essential services on which we all depend. The latest edition of the WMO Greenhouse Gas Bulletin warns that the increasing acidification of the ocean has caused its capacity to absorb our carbon emissions to drop to 70% what it was at the start of the industrial era, and this could fall to just 20% by the end of the century.
Advertisement

Alarming current rates of ocean acidification, unprecedented in 300 million years, are directly caused by that fact that it takes in 4 kg of CO2 per day per person on the planet. It is therefore right that the overriding goal of negotiations must be to reduce carbon emissions as much, as rapidly and as equitably as possible. But, in parallel, we must boost resilience to climate change. This includes taking urgent steps to reverse ocean decline and stimulate its recovery.

Sea creatures are not only valuable for food, they are directly involved in the climate equation. A study we commissioned earlier this year found that deep-sea life alone absorbs 1.5bn tonnes of CO2 and buries half a billion tonnes of carbon on the seabed every year – a sequestration service worth US$148bn, compared with the paltry US$16bn that high seas fishing fleets get for their annual catch.

This adds up to a convincing climate argument for taking rapid steps. It is ludicrous to perpetuate a situation where governments and businesses are scrambling to try and reduce their carbon emissions, while we carry on squandering a natural resource that is providing that service for free.

By omitting the ocean, the summit is sending a very negative message. As an event billed as an opportunity to catalyse commitments to action in the areas most important for keeping global temperature increase below 2C. Yet the message is painfully clear: despite the science, for some at least the ocean is not a top priority for climate action.

It is not enough for the ocean to be an un-credited crosscutting issue; it must be front and centre as the world puts together its long-awaited plan of attack.

The ocean is both a victim of, and a fundamental part of the solution to, climate change. It is completely out of step with reality not to highlight it as a major concern at the upcoming climate summit or at forthcoming climate negotiations and meetings. Even at this eleventh hour we believe it can and must be done.
BUSINESS INTERESTS
On 21 December 2010, the Office of David Miliband Limited was formed with Miliband and his wife Louise as directors.
According to the Financial Times, "much of Mr Miliband's time has been spent on his lucrative directorships and speaking roles, which he would be expected to give up if he returned to frontline politics…as of January 2013, David Miliband has made just short of £1m on top of his MP's salary since he failed to win the Labour leadership in the summer of 2010."

David Miliband is one of six members of the Global Advisory Board of Macro Advisory Partners, which advises multinational corporations, sovereign wealth funds, investors and governments.

In January 2012, David Miliband joined the Board of Directors of Mauritius-based private equity group, Indus Basin Holdings. IBH operates Rice Partners in the Punjab region of Pakistan. It specialises in managing the end-to-end supply chain for major global users of rice.

According to the Financial Times, "Mr Miliband's jobs include advisory roles with VantagePoint Capital Partners, a Californian group; Oxford Analytica, a UK advisory company; and Indus Basin Holdings, a Pakistani agrochemical group. He is also a member of the advisory board to the Sir Bani Yas academic forum, which is hosted by the Ministry of Foreign Affairs of the United Arab Emirates. Despite supporting Arsenal, Mr Miliband is vice-chairman and a non-executive director of Sunderland. As a speaker he commands a fee of up to £20,000."

Miliband is also on the Advisory Board of VantagePoint Capital Partners.

David Miliband is a member of the Trilateral Commission, founded and chaired by David Rockefeller.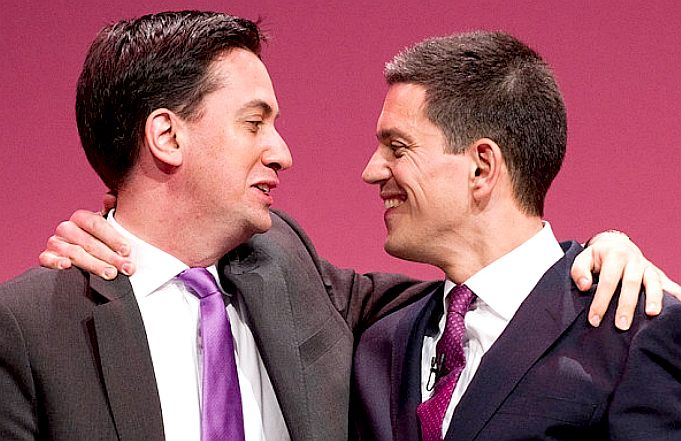 DAVID MILIBAND - quit British politics admitting he had wrestled long and very hard about an offer of a frontbench post, but sensed such a return would be so distracting to the Labour unity created under his brother's leadership that it would damage him, his fragile relations with his younger sibling and the party's chances of election in 2015.

The news, leaked from his local South Shields party to the Daily Mirror, prompted the predictable array of political reaction. His closest allies such as Tony Blair tried to give him a cheery send-off, adding the departure was time out, not time over.

Lord Mandelson said if he could come back twice to cabinet, the fluid state of politics meant Miliband could yet return. The Conservatives disinterred New Labour once more just so that it could one more time pronounce its death, the most repeated burial in modern politics.

The left in the unions, the interest group that did most to block David Miliband's hopes of the Labour party leadership in 2010, welcomed the demise of the best and boldest of the Blairite zombies.
PERSONAL LIFE
Miliband is married to Louise Shackelton, a professional violinist formerly with the London Symphony Orchestra. Shackelton and Miliband have adopted two newborn sons from the United States, the first in December 2004 and the second in October 2007, and currently live in New York. In an interview with CNN in 2009, Miliband stated that he grew up in a secular setting and describes himself as an atheist with a "huge respect" for people of faith.
LINKS & REFERENCES
The Colbert Report guests David Miliband
The Guardian politics 2013 David Miliband feared being a distraction
Global ocean commission the commissioners David Miliband
Mirror news David Miliband could return UK politics
International Rescue David Miliband
United Nations climate change summit 2014
Blogs Telegraph news Tom Chivers science David Miliband joins International Rescue
Daily Mirror UK news David Miliband quits mps reaction
http://vpcp.com/
http://www.ipcc.ch/
http://en.wikipedia.org/wiki/Brains_%28Thunderbirds%29
http://www.mirror.co.uk/news/uk-news/david-miliband-quits-mp-reaction-1787480
http://blogs.telegraph.co.uk/news/tomchiversscience/100209268/david-miliband-joins-international-rescue/
http://www.un.org/climatechange/summit/
http://thecolbertreport.cc.com/guests/david-miliband
http://www.theguardian.com/politics/2013/mar/27/david-miliband-feared-being-distraction
http://www.globaloceancommission.org/the-commissioners/david-miliband/
http://www.mirror.co.uk/news/uk-news/david-miliband-could-returning-uk-5680973
http://www.theguardian.com/profile/davidmiliband
https://twitter.com/dmiliband
http://www.rescue.org/david-miliband
http://web.mit.edu/
http://lso.co.uk/
http://www.ft.com/home/uk
http://trilateral.org/
http://www.macroadvisorypartners.com/
http://en.wikipedia.org/wiki/David_Miliband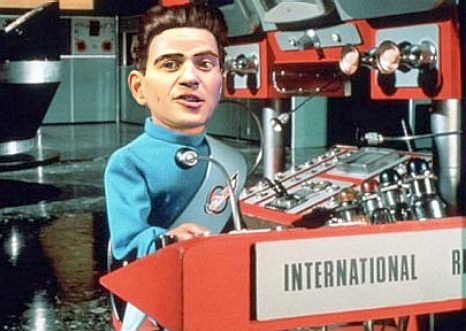 DAILY MIRROR, MAY 11 2015 - David Miliband has a break clause in his contract as chief executive of the International Rescue Committee and has insisted he remains committed to the Labour cause.

It emerged as the former Labour minister took brutal revenge on his younger brother with a searing attack on Ed's "backwards" leadership.

David only joined the International Rescue Committee as chief executive in 2013, but is understood to have a five-year 'break clause' in his contract, which would allow him to return to British politics in 2018.

And he made clear he is still committed to the Labour cause. "The passion I've got for Britain and for Labour is undimmed – it's a strong as ever," he said.

"I don't know what the future holds. What I know is the values and commitments I've made are ones I hold dear and I want to see through."
CAROLINE ANSELL - CAROLINE LUCAS - CHARLES CLARKE - CHARLES HENDRY - CHRIS GRAYLING - DAVID BLUNKETT
DAVID CAMERON - DAVID MILIBAND - ERIC PICKLES - GEOFFREY JOHNSON-SMITH - GEORGE OSBORNE - GORDON BROWN
GREG CLARK - GREGORY BARKER - JACK STRAW - JOHN GUMMER - JOHN PRESCOTT - KENNETH CLARKE - KIM HOWELLS DR
MARGARET BECKETT - MARGARET THATCHER - MARIA CAULFIELD - NICK CLEGG - NORMAN BAKER - NUS GHANI - PATRICIA HEWITT
PHILIP DUNNE - PHILIP HAMMOND - SAJID JAVID - STEPHEN LLOYD - TERESA MAY - TESSA JOWELL - TONY BLAIR - VINCE CABLE
WE ACCEPT NO RESPONSIBILITY FOR THE ACCURACY OF ANY FEATURED LINKS
This site is protected under Article10 of the European Convention on Human Rights and Fundamental Freedoms.