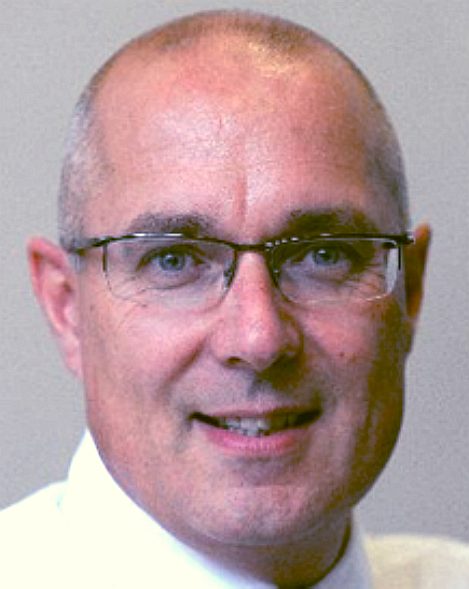 Argus editor: Michael Beard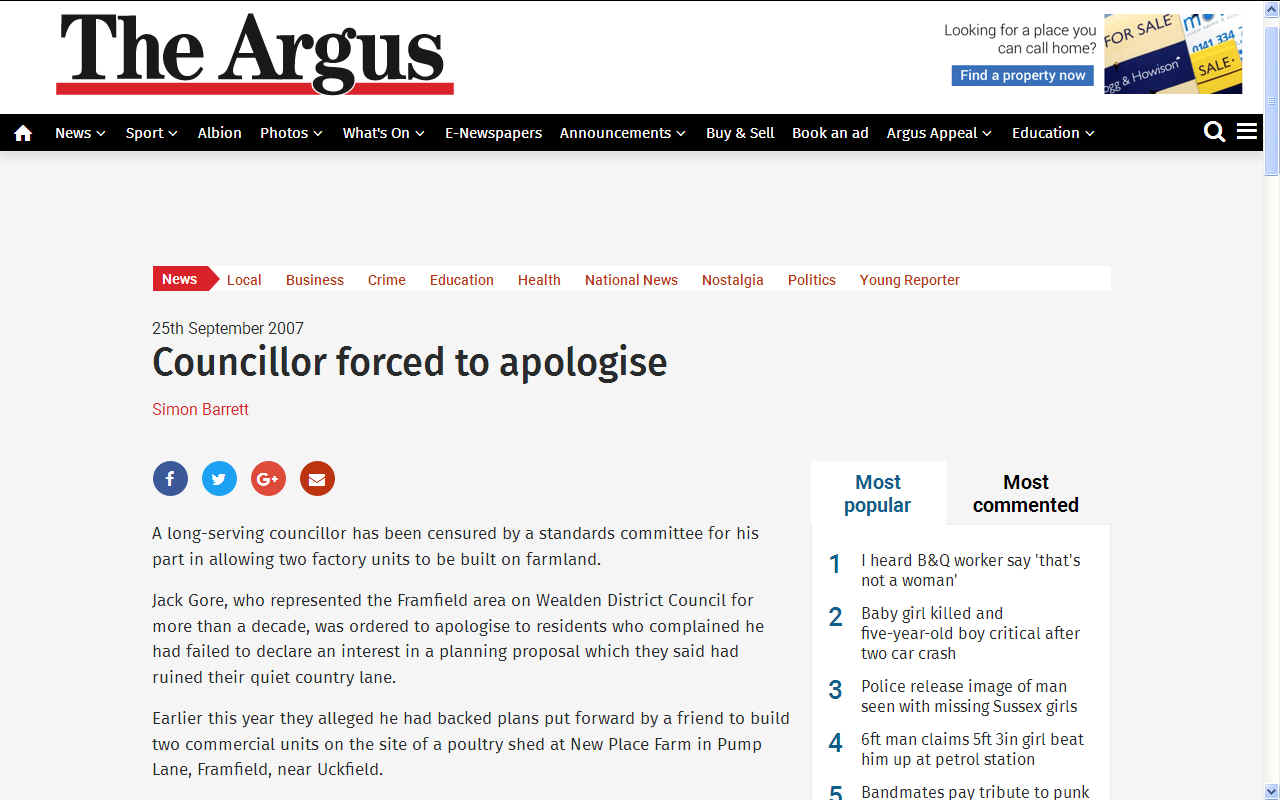 THE ARGUS 25 SEPTEMBER 2007 - CAUGHT OUT & FORCED TO APOLOGISE

A long-serving councillor has been censured by a standards committee for his part in allowing two factory units to be built on farmland.

Jack Gore, who represented the Framfield area on Wealden District Council for more than a decade, was ordered to apologise to residents who complained he had failed to declare an interest in a planning proposal which they said had ruined their quiet country lane.

Earlier this year they alleged he had backed plans put forward by a friend to build two commercial units on the site of a poultry shed at New Place Farm in Pump Lane, Framfield, near Uckfield.

They said he should have declared both a personal and a prejudicial interest in the proposals and should have had no part in the vote which approved the plans in September 2003.

The council's standards committee yesterday ruled that Mr Gore had failed to make the necessary declaration.

A council spokesman said: "Mr Gore has been censured by the committee and asked to apologise."

Residents around the site of the units formed the Pump Lane Preservation Group to seek action after the planning permission was granted four years ago.

They said they had gone from looking at woodland to looking at huge factory units and their country lane had become a muddy road.

The group reported Mr Gore to the Standards Board for England because of an alleged friendship with the site's owner Raymond Edmondson, who it claimed was a Tory party fundraiser.

Mr Gore, 75, this week admitted that he had failed in his duty to declare that he was friends with Mr Edmondson at the development control north sub-committee on September 25, 2003.

He said: "I failed to declare an interest. I have admitted that and I have apologised."

He did not stand for re-election to the council this May after serving for 12 years. During that time he had spent four years as chairman of the planning committee and two as chairman of the council.

Councillor Ann Newton, who has replaced him as Framfield's representative, said: "Jack was an extremely popular councillor. Everyone was saddened that this has happened to him. Anyone who knows him knows that this was nothing more than a mistake. He is not the type of person who would abuse his position in any way." By Simon Barrett
The Argus breach Court Order
It was revealed in 2008 that the Argus newspaper breached an Order of the Hove Crown Court which prevented publication on a blanket basis, concerning the so-called Herstmonceux Bunny Boiler case. This Order was made specifically by Judge Cedric Joseph to preserve the rights of the parties, to a fair hearing. It begs the question, if such an Order was made and breached, could the parties have received a fair hearing?
In other cases where sexual assault is alleged and the claimant is under 16, the court normally prohibit reporters from entering and if they do so, the court bailiff will take away their notebooks. In this case Judge Cedric Joseph was retiring and had reserved the case to himself for some reason. It is unclear if there is any masonic connections between the girl's family and the trial judge, but that has been raised as a suspicion by the accused while dealing with another matter.
It could be that Sussex police were feeding information to the Argus Group to help them gain a conviction against their victim, and from what we have heard about the level of corruption in this beleaguered force, that sounds quite plausible. Giles York was the Chief Constable at the time, taking over from Paul Whitehouse after the James Ashley murder by armed police - also based on false information. Paul Whitehouse was forced to resign after David Blunkett pushed him to leave following the dreadful revelations by Hampshire and Kent police following the investigation of the shooting.
If the Sussex police were using the media in this way and if that proves to be the case, then we have a potential conspiracy to pervert the course of justice.
Rather importantly, the prosecutions chief witness, Dr Melanie Liebenberg, misled the jury as to so-called medical evidence, that it turns out was junk science. This witness for the Crown, must have known that what she was saying was false, unless she was totally incompetent. The partial notch she alluded to rape is in fact a commonly occurring feature in the hymen of all females of all ages. The jury were told by this witness that she could not think how such a mark could be present other than through sexual activity. That was a lie. She must have known from information in reports from a colleague: Dr Elizabeth Jane Carter in another case involving Sussex police, that these marks are naturally occurring. The marks that are not naturally occurring are full width lacerations of which there were none. This was only a common notch or mark that most females present with.
Having established the absence of any laceration scars and being unable to open the hymen with labial traction the next step in the examination stage is to use a colposcope to measure the hymen to vaginal wall distance. This stage uses precise measurements to establish if there has been penetration. Melanie Liebenberg must have known that this stage would reveal to a clinical standard that the claimant was intact and had not been the subject of multiple penetrations as claimed. It appears that she deliberately left out this stage, or failed to record the results and make them available to the defence, knowing it would likely lead to a conviction. She was helping the police, much the same as in the case of Sarah Ward, the woman convicted of being an IRA bomber on boot polish, where the forensic scientists failed to mention that polish gives the same result as explosives.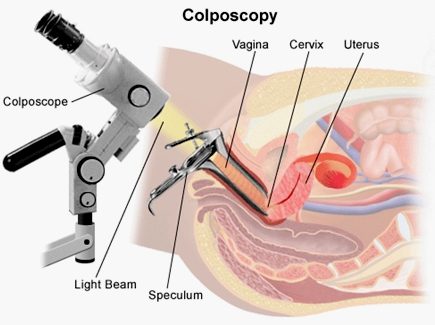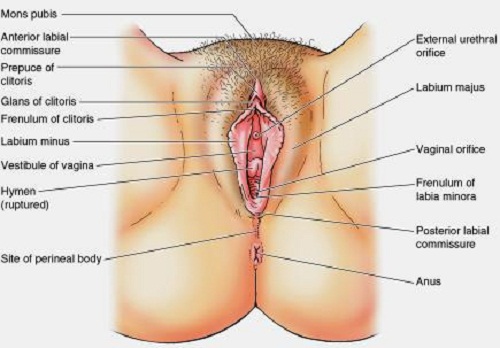 FRAUD - Tears and the like in the hymen are full width if caused by trauma, leaving scar tissue, rather than partial (a smooth small indentation) as in naturally occurring features. This was not explained to the jury, who were left believing that there was no explanation for the 'notch' other than penetrative sex. Tailoring the evidence by not completing a procedure leads to fraudulently obtained convictions.
Then if we go deeper (if you'll pardon the pun) we find that the vaginal labia could not be opened even with labial traction. Now we are not experts, but that sounds to us as though the girl was intact. I.e. a virgin. This is hardly what you'd expect to find by way of evidence where the aged Judge, Cedric Joseph, told the Jury that this was merely a sample charge or more like 30-40 sexual episodes. If there had been even one or two sexual episodes the hymen would be open. Doctor Liebenberg must have known this, but did not want to say so, or conduct any more tests that would deprive her police chums that chance of sending this poor chap to prison for something that he did not do.
The fact remains that howsoever this news group came to publish mid-trial, we now know that the mother of the complainant was the daughter of a prominent mason, a former head at Tyrian Lodge in South Street, Eastbourne, the same lodge that has many police members (it is 100 yards away from the old police station in Grove Road. Sounds suspicious? You bet.
Did you know that there is no right of appeal in the United Kingdom. That's right, we violate the fundamental principles of law in the quest to save money, forsaking those poor innocent souls who have been wrongly convicted. They call it Noble Cause Corruption. The Justice System (that it is) knows they are convicting innocent men and women, but they don't care about that 2.5%, or higher numbers, because in allowing the police to investigate only what they want to, instead of what they should, the conviction rate rises.
The Criminal Cases Review Commission (CCRC) is the only route back to the appeal court in Merry Olde England, where a single Judge filters out application to the appeal court and ticks a box on the Appeal Form to take away time served. It's a bit of a gamble for those incarcerated. In this case Sir Christopher Holland had not made it clear if he'd ticked the box. Possibly, deliberately, but the Judge/Court failed to respond in time to allow the appellant to fill in the forms that were all ready to go within the 14 days allowed. Worse, the appeal barrister Michael Harrison failed to challenge the Appeal Court who were refusing to provide certain information (transcripts) or the single judge who had fudged the box ticking. In addition, Mr Harrison had not investigated the medical issues and so did not know about the virginity issue, nor had he looked at the work diary of the psychiatric nurse to realise that that the dates were all wrong and that Cedric Joseph had wrongly summed up to the Jury as to whose diary was in question. The Judge said it was the defendant's when nothing could have been further from the truth - it belonged to the mother of the claimant, and this woman had hidden it in her loft to prevent the police seeing it.
The diary only came to light when the mother of the claimant was being questioned on the stand. At this point the Court had no choice but to order discovery. Sussex police obliterated the colour code, only providing poor quality monochrome copies, knowing that this meant the defense could not challenge other assertions as to menstruation cycles.
You could not make this stuff up. Imagine then the mental torture of the wrongly convicted as he waited in prison in the hope that right would out at some point in time. But it was never to come. Michael Harrison had not provided the transcript of Judge Joseph's summing up to the appellant, so he did not know how this Judge had misled the Jury until two years into his sentence. The first glimmer of hope was when he discovered caselaw that was on point while in prison in Norfolk, thanks to a library service where one could order books, etc.
The prison service had denied the appellant a justice laptop, bouncing him from High Down to Lewes Prison, then to Maidstone Prison, then finally to Norfolk where they continued to deprive their prisoners justice facilities, monitoring privileged documents illegally.
In maintaining his innocence, he was locked up in his cell for 23.5 hours a day, allowing him exercise and locking in the block for a time for refusing to work, where appellants are to be treated as innocent and he elected education, that was also finally denied to him.
Prison in England is no fun if you are innocent and assert your rights to be treated as such. It is much easier to go with the flow and attend so-called corrective courses, save that these course bring a person into close contact with real offenders, as they reveal details of their crimes. Indeed, such courses have been shown the increase re-offending rates, being physchobabble based.
RELEASE
Finally on release it looked like there may be an appeal in the offing, with another barrister, Stephen Field taking up the baton, though not challenging either the medical evidence or incorrect diary summing up.
Unfortunately, the CCRC openly discriminate between cases, so that where there were two near identical cases that had been referred to the appeal Court by themselves, in this case they were not consistent within their own parameters. It is of course unlawful to discriminate in the United Kingdom, being an Article 14 violation. The only explanation that we can think of for this about-face is that the CCRC may have masonic connections. Indeed, Her Majesty Queen Elizabeth is the Grand Patron of the The Royal Masonic Benevolent Fund. What hope then for anyone trying to prove innocence, where the state openly violates Articles 13 and 17 of the European Convention of Human Rights.
MOTIVE: PETITION & ROBIN HOOD ADVOCATE
Why then do you suppose the Sussex police would have it in for this defendant? If we were to tell you that this victim of injustice had fallen foul of the Gestapo like Wealden District Council (WDC) in 1986 when they enforced against residential use of a historic generating building now a Museum, lying to Inspector Raymond Portal Dannreuther (Secretary of State), then in 1997 the appellant joined with others to demand an investigation in a Petition, but that the police failed to investigate the complaints of 12 unrelated members of the public, instead providing blank police paper to this council's officers to write their own letter of exoneration. Ian Kay's father was a member of Tyrian Lodge, in Eastbourne. Ian Kay was also the Assistant District Planning officer at WDC, having involvement in the generating buildings case from a Tree Preservation matter in 1984. The TPO was another ruse by Wealden to disadvantage the incumbent.
Nothing would have come of that, but for the fact that their target kept raising the non-investigation by Sussex police as a crime - and that would appear to be the case. It is a crime not to investigate a report of a crime, making those in the Sussex police involved in such cover up, criminals.
Then in 1999 Sussex police chums, WDC, suffered a major blow to their administration when proof positive surfaced as to this council's lies to Inspector Raymond Michael in 1997. Where the corrupt council had been caught red-handed, spending taxpayer's money to nurse a lie, they were somewhat embarrassed by the revelations of an archaeological survey, but rallied in delaying planning applications to put the matter right.
Also, their victim was helping other victims of what appears to be a corrupt planning administration, winning a number of appeals against this council. So they tried to bankrupt their target in 2003, and that is where the mother of the claimant as to sexual allegations comes into the frame. The defendant had become engaged to the daughter of a councillor who cannot be named. All the while he was engaged to be married to the councillor's daughter WDC were happy to do a deal, but as soon as the engagement was called off, things turned nasty again.
No longer represented by the councillor, WDC appears to have worked with Sussex police to concoct a case based on the vulnerability of the councillor's daughter and granddaughter, who were fond of the defendant but seeking revenge for calling off the engagement, so it appears were willing to be coached as to what to say and then lie on oath. It appears that where there was no case to answer from what were unsupportable allegations, they could make it convincing if they could find a witness who was willing to overlook the virginity and say something other that what any other professional would be bound to say under the Hippocratic Code of conduct that all doctors owe to any member of the public, not just a patient of theirs.
Their luck was in. Not only would Doctor Liebenberg provide what amounts to false testimony, but a teacher had conveniently lost her notes and a school friend had wrongly put forward her interpretation of what the claimant was saying to cover up the socially awkward truth that her mother had been dumped.
To make matters worse, the claimant suffered from a disorder that made her seek attention and was prone to suggestion, such that with repeated coaching, as those around her made suggestions to correct defects in her developing story, she latched onto the suggestions, over time most likely believing the concoction herself. Coaching is of course illegal, but that is what social services did. When social services tried approaching other girls that the claimant said were also victims of abuse, such story was roundly refuted by the other girls. Memories can be implanted. They are known as Screen Memories [Loftus].
Once implanted, the false suggestions become mixed in with real memories. These are recollections of early childhood that may be falsely recalled or magnified in importance to mask another memory of deep emotional significance, such as her mum's fiancée leaving the family and calling off the engagement. The poor girl must have been in a dreadful emotional state, and that Sussex police, apparently at the behest of Wealden District Council, did their best to secure. Imagine also that if the girl started believing suggestions that were implanted, that her mother and grandparents would also believe the false allegations. Several years on it would be almost impossible to separate fiction from fact. It took two years before the trial. Also of significance, is that the investigating officers did not believe the claimant. They gave her a further two weeks to invent something more plausible, where the object of any investigation is to secure the crime scene - something they never did. The police never secured the claimant's computer or video collection, both of which would have been telling. Whether negligent or deliberate the results were devastating to the right of the defendant to a fair trial.
Desperate to reinforce what was a case that could easily have been undone, had barrister Julian Dale followed the instructions of his client to challenge the medical evidence, Sussex police enlisted the help of local radio stations and newspapers to publicise the allegation and investigation, hoping that other females might jump on the bandwagon, but nobody could jump on that bandwagon as this man was innocent. Indeed, the opposite was true, those approached were willing to testify as to the good conduct of the accused - and for that reason were not interviewed. No statements were taken from anyone who had a good word to say about the defendant. It appears that the defendant's solicitor, Timothy Stirmey may also have been in the conspiracy frame where he wrongly advised that character witnesses would not help the defendant. Would you believe that? This was said to two witnesses who wanted to give evidence, but Mr Stirmey refused to take their statements.
The CCRC said that the claimant was convincing. They did not investigate the delays in obtaining video evidence from the complainant, or the coaching of social services. The claimant's grandmother worked for social services.
EXCLUSIVE
The exclusive rights to this story are available to any media or film group, together with copies of all the documents and the victim's prison diaries.
ARGUS NEWS ARTICLE VERBATIM
Herstmonceux inventor jailed for sex attacks - 10:20am Tuesday 29th April 2008

An inventor who planned to break the world land speed record in a solar-powered car has been jailed for sexually assaulting an 11-year-old girl.

Nelson Kruschandl, who was also going to sail around the world, was sentenced to seven years.

Kruschandl, 52, who lived at The Old Steam House, a former Victorian electricity station at Lime Park, Herstmonceux, near Hailsham, carried out the attacks from 2003 to 2005.

The girl, who is now 15 and cannot be named for legal reasons, said she went to Kruschandl's home to use his recording studio.

She told the jury: "To start with I used to just sing. Then he asked me to go to his room for a cuddle. He laid next to me and touched me and I did not know what to do.

"I did not know that what he was doing was wrong."

She added: "He said it was all right and to relax and chill out. He knew my age.

"He would say it was a secret between us and if I told mum she would not understand.

"He said I was special and that he loved me."

She said more intimate touching took place on later visits.

Kruschandl sent the girl a Valentine's Day card two years running.

The second card read: "Valentine, you take my breath away, feel free to do the same with my clothes." The card showed cartoon characters without clothes.

The attacks came to light after the victim told friends who informed teachers at their school in June 2006.

Kruschandl denied four charges of sexual assault and indecent assault but was found guilty after a trial at Hove Crown Court in February.

He was jailed for seven years when he appeared at Brighton Crown Court for sentence.

He was also made the subject of a sexual offences prevention order for ten years and was banned from working with children under 16.

Judge Cedric Joseph said Kruschandl had abused his position of trust with the girl and her mother.

Kruschandl yesterday challenged part of the order which would have prevented him publishing details of his court experience in the future either in a book or on the internet.

Michael Harrison, defending, said the order breached Kruschandl's right to freedom of expression.

Judge Joseph varied the order to allow publication on condition it did not lead directly or indirectly to Kruschandl's victim or family being identified.
http://www.theargus.co.uk/news/2232714.print/
The Argus report on sexual assault conviction Tuesday 29th April 2008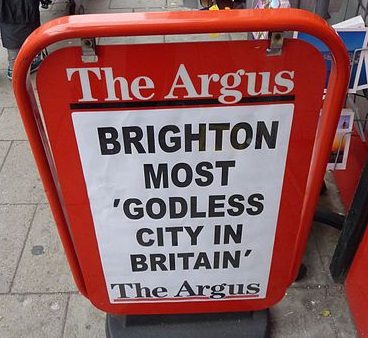 Unfortunately, the Argus and other articles by the Hailsham Gazette (Beckett Group Newspapers) and Sussex Express did identify the claimant, according to Crown prosecutor Henrietta Paget, when calling for a longer sentence. Ms Paget told Judge Joseph that the publication by the Beckett Group and other local papers mid-trial, was Mr Kruschandl's fault. We don't see how? The newspapers knew they were not allowed to publish and the damage was done.
It is unclear where this leaves the Argus and what action the Police might take to ensure publication of this nature is prevented by over eager Reporters and Editors, who perhaps have an eye on sensationalism to generate headlines to sell newspapers, rather than the damage that could be inflicted on the persons affected. This is the subject of much media attention following the revelation of multiple suicides at Bridgend in Wales, in part attributed by some to the sensationalist newspaper reporting. The latest girl to take her own life by hanging being 16 year old Jenna Parry.
APPEAL
What is remarkable from the above article is that there is no mention of penetration, which was the serious charge that had to be disproved. Had this been a balanced report, we feel that members of the public who knew the accused well would then have known for sure that the allegations could not have been true.
New forensic evidence has come to light, but the English Appeal system does not allow referral to the Court of Appeal directly and the Criminal Cases Review Commission are not bound by Article 6 (under current statute). A referral to the CCRC in 2010 resulted in them refusing to refer or investigate the matter further, decided in February of 2013. Thus the conviction has been referred to and is currently lodged with the European Court of Human Rights - the trial is thus ongoing.
DIARIES
During his time in Prison as an appellant, Kruschandl kept diaries, making particular note of all the ruses that the Ministry of Justice use to thwart appellants who are trying to pursue their appeal, the first of which is to charge them for photocopying, knowing that prisoners only earn a few £pounds a week. Nelson Kruschandl says that he will publish his diaries officially, and in the meantime will not try to prevent anyone else publishing an unofficial version of his diaries, provided that the claimant in this case is not identified. the paradox here is that if the public knew who the claimant was, they would understand better the motive for revenge. We're afraid you'll just have to wait.
FALSE ALLEGATIONS
Statistics for false allegations reveal that a staggering 76% are totally without merit, according to figures from the Metropolitan Police. Of the 24% that are investigated (and prosecuted) a high proportion are shown to be false, either during a trial or after conviction on appeal. One of the reasons for this is the compensation paid to [real] victims and the immunity from prosecution and/or identification at all, that the Crown offer to witnesses in such cases. It is a recipe for claims. A veritable gold mine for women out to avenge being dumped.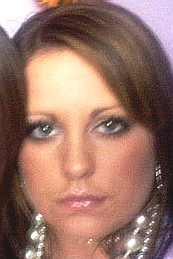 Jenna Parry, Suicide victim Bridgend
Readers will know the Government, after consideration of Lord Goldsmith, are considering moves to protect the identity of those accused of sexual offences, much the same as their accusers. This is because of the rise of innocent men being convicted by Juries, and only after serving considerable time in prison, is new evidence found to render guilty verdicts unsafe.
This could leave news hounds eager for material to print, out in the cold. However, the moral implications are clear. Allegations of a sexual nature ruin lives. See the links below to sample cases in 2007, where publication and subsequent scandal have ruined lives. The accusers inevitably get away scot-free. The newspaper hounds and the editors that helped ruin lives, on occasion even sway public opinion to deliver an incorrect verdict, also find themselves in the clear.
These are some of the examples of women falsely accusing men who were innocent. What is wrong with our legal system?
FACT: Girls making allegations are coached. YES, this is true, they are instructed how to give evidence and cosseted, sometimes isolated via a video link to make it easier for them to appear sweetness and light.
Barristers are loath to question hard, for fear of looking like bullies to a Jury.
Music teacher cleared of rape too late - Died in Prison

Head teacher cleared of assault - 3 October 2003

CONVICTION QUASHED OVER 'MADE UP' VAMPIRE CLAIM - May 19, 2006

Man freed after girl revealed as serial liar - 12th September 2006

Woman jailed for false rape claim - 15/11/2006

My life's in ruins, says teacher cleared of having hotel sex romps with 17-year-old pupil - 4th October 2007

Man freed after six years in jail for double rape because 'accuser was

£20,000 payout for woman who falsely accused her father of rape after 'recovered memory' therapy - 19th October 2007

Taxi driver ruined after false claims of rape - 27 April 2007

BBC Rough Justice - 12 April 2007

Was another man's life ruined by a Bunny Boiler? - February 2008
"These girls are every mans worst nightmare". - Warren Blackwell 2006
PUBLIC COMMENT
Here's what readers have had to say!
This is scandalous. I think that if the members of the jury knew just how slow the appeals process is they would be much less inclined to find people guilty when there is 'reasonable doubt'. In practice it is very difficult when people are found guilty on this kind of case where there is NO evidence; if there is no evidence in the first place then where is the 'fresh evidence' that may be required for an appeal to go ahead going to come from? These cases only seem to win on appeals when a false accuser admits to lying and that is very rare. Unfortunately as Mr Carrington-Jones has said there could be many innocent people in prison now as a result of convictions on non-evidence. Where will his compensation come from? Will the woman be charged? - Lily, Hull
Compensation is rightly due to this poor chap, but should the public pay the price of the crimes committed by these lying women? Shouldn't they be made to pay, even if it means their being financially ruined for life? And surely it cannot be the case that parole cannot be considered unless and until a prisoner "admits" the crime for which he/she has been found guilty? - Jim, London
Attorney General Lord Goldsmith is to step down after six years in office - June 2007
He said he will leave his post next week - as Tony Blair quits after 10 years as prime minister.
Lord Goldsmith said he had been "immensely privileged" to serve what had been a record period of time for a Labour attorney general.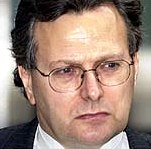 Tony Blair praised the work of Lord Goldsmith and said he could look at his time as attorney general with "personal and professional pride".
Lord Goldsmith said he had wanted to move on for some time and had told Mr Blair and Gordon Brown he believed that now was the right time to make that move.
In his resignation letter to Mr Blair, the government's legal adviser acknowledged the "challenge" of advising on the legality of the war in Iraq.
There was controversy over his advice that the 2003 invasion would be legal under international law amid claims he changed it under political pressure - something which he vehemently denies.
In his letter, Lord Goldsmith wrote of the past six years: "It hardly needs saying that during that period we have faced a host of challenges, many of them raising important legal questions.
"These include two conflicts in Iraq and Afghanistan, the fight against terrorism, the balancing of individual rights and collective security, continuing constitutional reform and the great progress towards peace and stability in Northern Ireland.
"I have been privileged to play my part in meeting these challenges."
ARGUS HISTORY
Founded in 1880, and for many years known as the 'Evening Argus', it is owned by Newsquest (since 1999, part of the US Gannett media group) which had in 1996 bought the Argus and its sister Westminster Press titles from the provincial papers group's parent, the Pearson Group. Like many of the UK's local and regional newspapers, the Argus has suffered from a declining circulation – as audited by the ABC circulations and ratings group. It has fallen progressively, from a peak of 100,000 in the early 1980s to 38,223 in the second half of 2004.
In the period December 2010 to June 2011, the paper had an average daily circulation of 24,949. In 2010, the average issue was read by 27,656 people,the average readership is now roughly about 20,000. In October 2012 the Argus's cover price was increased by 45% to 65p on weekdays and 85p on Saturday,taking readership to a all-time low,but attempting to make more money because of the increased cover price.The Newsquest-owned Brighton Argus started 2013 with ABC sales figures showing it was the biggest faller,sales fell 19.6 per cent year on year to 19,199.
Newsquest has launched Argus Lite, which is a daily free edition for distribution to commuters at some Sussex railway stations to compete with free daily newspapers from London, notably Metro. It also publishes free weeklies, including the Brighton and Hove Leader, the Mid Sussex Leader, the Uckfield Leader and the South Coast Leader for door-to-door delivery to homes.
CONTACTS:
Editorial
Editor
Michael Beard
editor@theargus.co.uk

News editor
Frankie Taggart
frankie.taggart@theargus.co.uk

Sports editor
Chris Giles
sports@theargus.co.uk

Picture editor
Richard Taylor
pictures@theargus.co.uk

Letters to the Editor
Send a letter here

Website editor
Mary Kalmus
mary.kalmus@theargus.co.uk
Sales and Promotions
Sales and distribution manager
James Trudgian
james.trudgian@theargus.co.uk

Digital sales
Chris Snowdon
chris.snowdon@theargus.co.uk

Group advertising manager
Stephen Lowe
stephen.lowe@theargus.co.uk

Group print manager
Ian Hunter
ian.hunter@theargus.co.uk
The Argus Achievement Awards 2007 sponsored by EDF Energy are your chance to toast the good people of Sussex and honour the remarkable work carried out by so many people in the community.
A magnificent night was had by all who attended the sixth annual Argus Achievement Awards to honour the courageous and selfless people of Sussex. Ruth Lumley was at the Brighton Hilton Metropole to speak to those special people who have made a difference.
The guests of honour at Thursday's glittering Argus Achievement Awards night were all winners in the eyes of everyone who attended.
All the finalists were invited to enjoy a drinks reception, a meal and entertainment from Brighton samba band Barulho, before BBC News 24 presenter Nicholas Owen took to the stage to compere the evening.
He said: "In February The Argus, supported by EDF Energy, launched The Argus Achievement Awards for the sixth year. The response was overwhelming but there could only be three shortlisted for each category and eventually the judging panel narrowed the nominations down."
Achiever of the Year was presented by Mr Owen's former ITN colleague Carol Barnes. It was won by Lorraine Snow, 50, whose determination has turned around the lives of so many young people.
She spent seven years building up a youth centre near her home in Whitehawk, Brighton, to provide a club to keep teenagers off the streets.
It became known as The Crew Club and their new club building was officially opened by Prince Philip last month.
She said: "I was not expecting it. It's great for the club and the young people.
They will all be reading the coverage in The Argus and will be really excited about it."
The Angel of the Year award was presented by Frank le Duc, deputy editor of The Argus, and was won by Frances Tarr, a senior staff nurse at the Sussex Rehabilitation Centre in Brighton, who provides specialist wound care for amputees.
She said: "It is marvellous for Sussex Rehabilitation Centre and great for the patients and my team It has all been down to a great team effort."
The third award was Pupil of the Year, presented by John Richards, head of social markets at EDF Energy. Aaron Odedra, 16, won the award for making a positive contribution to the community and to Falmer High School where he is a pupil.
He said: "I am very surprised and very happy. I think it is nice to know you are making a difference at school."
Actress Avril Gaynor presented the Parent of the Year Award to mum in a million Peggy Ferris, 59, who six years ago discovered she had a malignant brain tumour.
The tumour was removed but Peggy, of Old Salts Farm Road, Lancing, found out she had breast cancer in 2005, then her brain tumour returned. Despite going through operations and gruelling treatment she has carried on fostering children without a thought for herself.
Peggy said: "I feel so overwhelmed and I cannot believe it. There are so many people more deserving than me.
"To have all my friends and family round me is just amazing. It has been a lovely, wonderful evening."
Charity of the Year was won by Extratime, an after-school club at Hillside in Portslade, started by Becky Jenner and Marian Tipler, who both have severely disabled children. The award was presented by local author Peter James, whose DS Roy Grace novels are based in Brighton.
Becky said: "We are flabbergasted but very excited to have won. With our charity we have just got on with the work we needed to do, but it is important to us and to many people living in Brighton and Hove. We need to attract new funding all the time so this award is fantastic."
Good Neighbour of the Year went to John Roberts who has worked harder than most to serve his community and has overcome depression and disability. The award was presented by Oliver Heath, of BBC's Changing Rooms. John, 44, said: "I couldn't believe I won It's lovely that people are now recognising what I do."
The judges found it hard to choose a courageous child from all the nominations so all four finalists received an award.
They were Ellie Courant, three, who tragically died on February 16 at Chestnut Tree House Children's Hospice in Poling, near Arundel, after an 18-month battle against a cancerous brain tumour.
She never grumbled throughout her illness and inspired everyone around her.
Ten-year-old Laura Greenfield always dreamed of being able to swim like a mermaid and finally got her wish last year after she underwent an operation which allowed her to breathe properly.
She is believed to be the only person in England born with a condition which paralysed her vocal cords, leaving her unable to breathe without a tube.
Brave Lucy Porritt, nine, was born with Sodium Valporate syndrome, which left her with weak muscle tone and bones. She has undergone many operations.
Charlie Burnett, 11, was born with Apert's Syndrome which affects the head, face and limbs. She spent much of her early childhood in Great Ormond Street Hospital and also had many operations.
The children's awards were presented by Southern FM breakfast show presenter Danny Pike, and the room fell silent as Ellie's parents, Lorraine and Gary, asked to say a few words about their daughter.
Lorraine said: "It is now eight weeks since our precious daughter left usWe miss her beautiful smile, her cheeky sense of fun and most of all her hugs and kisses.
"Ellie was only two years old when she was diagnosed with a brain tumour. She taught us so much throughout her illness.
"Gary and I are honoured to accept this award not just for Ellie but for all her little friends she made through her treatment."
Trevor Allen, headteacher of Dorothy Stringer School in Brighton, was the winner of Teacher of the Year.
Dorothy Stringer won School of the Year at last year's awards and Trevor's infectious enthusiasm for teaching made him the perfect winner this time round.
He was presented with his award by celebrity chef Momma Cherri. He said: "I am part of the best community of people which you could ever wish to be part of.
"The award reflects the community we have built at Dorothy Stringer."
The ninth award was Beyond the Call of Duty, presented in honour of Jeff Tooley, who was killed by a hit-and-run driver in Shoreham seven years ago.
His mother Veronica presented Warren Cooper with the award. He was nominated after he gave up his job and put his life on hold to find treatment for his brother Neil, who was diagnosed with terminal cancer.
Sadly, Neil died but Warren's research and fund-raising mean he had ten months extra with his wife Wendy and their baby daughter Caitlin.
School of the Year went to St Andrew's Primary in Hove which received an "outstanding" in all areas of its last Ofsted inspection. The award was presented by journalist and author Lynne Truss.
The Adam Faith Local Hero Award was given to Brian Wembridge and Geoff Wicker, the firefighters who lost their lives in the Lewes fireworks factory explosion.
Michael Beard, the editor of The Argus, was invited onto the stage to read the nominations and present the award to East Sussex Chief Fire Officer Des Prichard.
Mr Prichard said: "On behalf of the families I would like to thank everyone who recognised the courage of Brian and Geoff.
"They were very good friends of mine and this is a tribute from the public of East Sussex who have recognised their contribution and sacrifice."
The Contribution to Sussex Award was given to Derek Hunnisett, who has been involved with charities in Sussex for more than 40 years.
Mr Hunnisett, 75, received the award from Martyn Willis, managing director of The Argus, for his contribution to the community.
Mr Hunnisett started his career as a barrister and became involved in buying property in London with his father.
In the Sixties he diversified into retailing and when the famous Hanningtons store in Brighton hit financial trouble he stepped in. The store traded successfully until 2001.
Mr Hunnisett has also been a director of the Martlets Hospice in Hove for nine years and a member of the Development Council of the University of Sussex, with particular interest in the Medical School.
He is vice-president of the Rocking Horse Appeal and his charity work continues in his avid support of The Argus Appeal, helping the paper raise money for individuals and charities across Sussex.
A lover of astronomy, a black belt in judo, a racehorse owner and a steward at Brighton Racecourse for more than 20 years, his talents and interests know no bounds.
Mr Hunnisett said: "I feel very surprised as my family and I were kept in the dark about it, but it's very pleasant. I feel very honoured."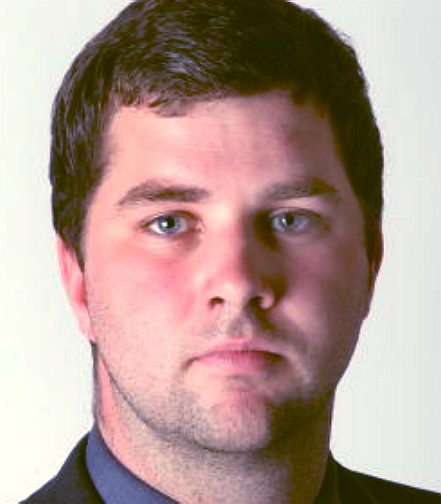 Young journalist of the year nomination for: Bill Gardner
A - Z of Sussex officer investigations
The above is just a few of a number of persons likely to be investigated in respect of certain cases brought against Wealden Action Group members, with the backing of known Masons, councillors, police or planning officers, many of which are themselves Masons.
Its all too easy to set someone up. Nurse a wild allegation, coach and craft a claim of abuse, use a disturbed child or family as an excuse to go after someone who has had the nerve to stand up against the powers that be. When this happens, it makes a mockery of Freedom of Speech, but it shuts down a would be protagonist and preserves the status quo. The law as it stands allows accusers to remain anonymous, while those accused are easy targets for the press as circulation boosters. Lord Goldsmith is considering a change in the law to protect those wrongly accused, especially those more likely to come up against such accusation, such as Teachers. But will he follow through?
And what of the status quo? Global Warming, Government Corruption, Unaccountability, War and Famine. Is this what you want to hear day in and day out? Would you rather see an international society where everyone is treated fairly and decently?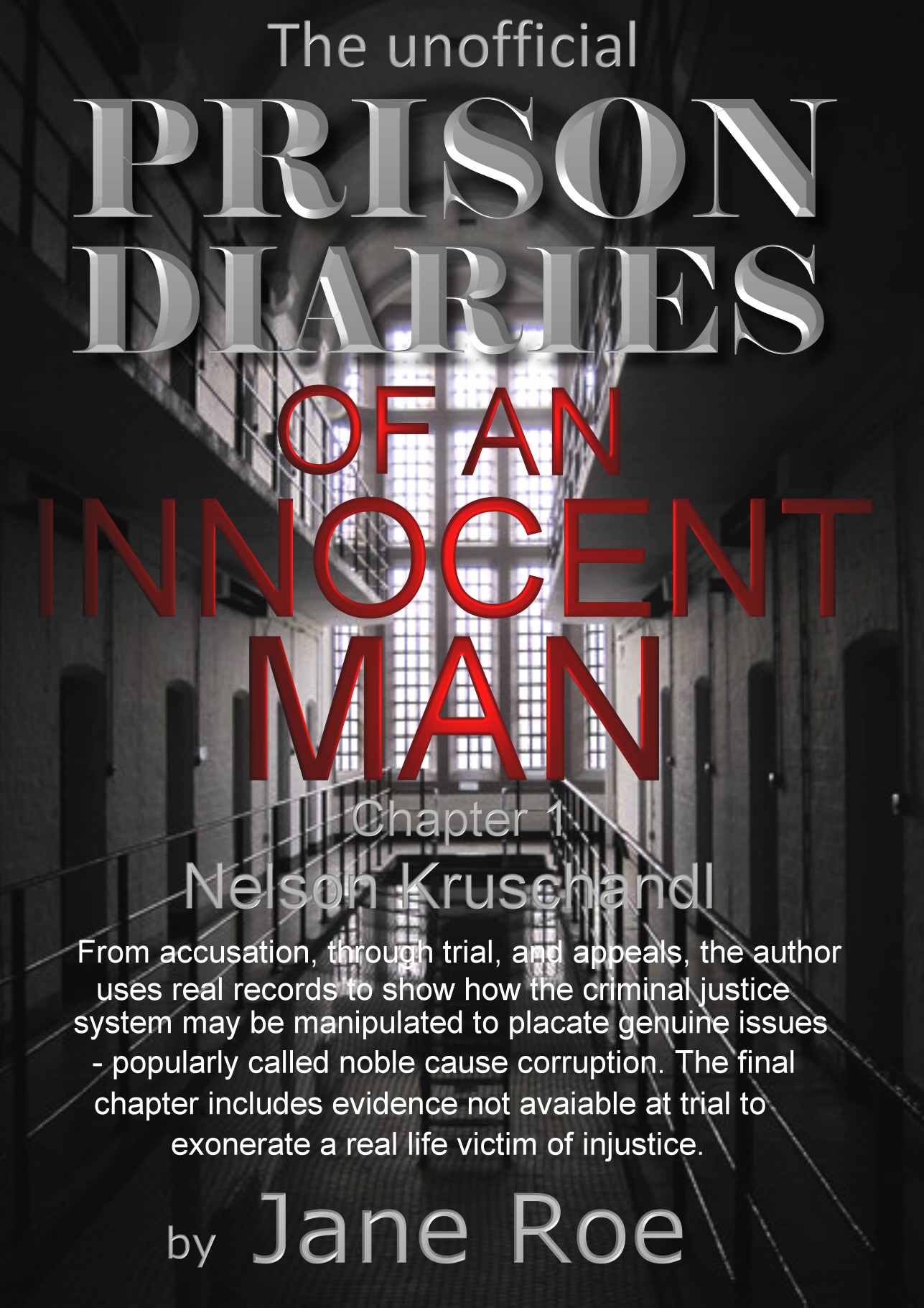 His barrister didn't challenge the so-called scientific evidence produced at trial. He should have. It was junk science. [Junk science is bogus forensic information that the police use to gain a conviction, where they have a weak case.] His barrister didn't show the jury the accused' diaries, he should have, because the girl's mother reminded the accused to send Valentines cards every year - which she, err, seems to have forgotten to mention to the court.
You'll have to wait for the subjects appeals in the ECHR to conclude before this book is published. Maybe then we'll see an official version in 2016/2017? European appeals take 4 years on average, from the date of lodge. But first you have to exhaust any domestic remedy. He has finally, as of February 2013.
F.A.C.T. (Falsely Accused Carers and Teachers)
PO Box 3074
Cardiff CF3 3WZ
Tel: 029 2077 7499
E-mail: info@factuk.org
Website: www.factuk.org
Campaigning organisation and support group which provides help and advice to falsely accused and wrongly convicted carers and teachers throughout the UK. The website contains a range of information, leaflets, books and links.
Guidance for education staff and volunteers in schools
Website: www.lg-employers.gov.uk/conditions/education/allegations
This website has guidance on: 1) staff facing an allegation of abuse; 2) preventing 'abuse of trust' for education staff; and 3) the conduct of education staff working with young people.
ARGUS JOURNALISTS START TWO DAY STRIKE - 18th November 2010

Journalists working for Brighton and Hove's daily newspaper The Argus started a two-day strike this morning.

They are protesting at plans to switch three news sub-editor jobs to Southampton in a move that will lead to six staff losing their jobs in Brighton.

They are also asking the company to end a pay freeze that has lasted almost three years.

Pictures of the strike by photographer Rob James can be seen below.

A skeleton staff is working at the Argus offices in Crowhurst Road, Hollingbury, today.

And Newsquest, the company that owns The Argus, expects to be able to produce the paper for tomorrow and Saturday.

On a website about the strike which has been set up by Argus journalists, they said: "Newsquest, the American-owned company which runs The Argus, is proposing to move the paper's sub-editing operation to Southampton.

"This follows years of cuts, which have seen the loss of more than 100 jobs at The Argus and the closure of its printing press.

"We believe a local paper can only be properly produced by local journalists – who know the difference between Patcham and Patching, and where Brighton ends and Hove begins.

"Sub-editors are experienced journalists responsible for laying out and designing pages, creating headlines and identifying and correcting mistakes before the paper goes to print.

"It's hard to put a price on their local knowledge and skills, but Newsquest seems happy to throw them away in the name of short-term cost savings.

Needless damage

"This is why NUJ (National Union of Journalists) members based at The Argus are striking – to highlight the needless damage being inflicted on your newspaper.

"Last year Newsquest's top executive awarded himself a 21 per cent pay increase.

"And the chief financial officer of parent company Gannett recently boasted: 'Newsquest makes a lot of money.'

"Despite this jobs continue to be cut at The Argus, where staff have suffered a pay freeze for more than 1,000 days."

The staff picketing the paper's Hollingbury offices won support from across the political spectrum.

Hove Conservative MP Mike Weatherley urged Newsquest to reconsider moving more jobs to Southampton.

He said: "It is easy to take for granted the importance of a locally relevant daily newspaper.

"Knowing what the public want to read – and then being able to provide it – is all about local knowledge.

"The Argus has been a central important publication for many decades and I am concerned that some of that essential local content will get lost with the proposed changes.

"I urge the newspaper owners to consider alternative options."

Genuine commitment

Labour peer Lord Bassam of Brighton, the former leader of Brighton Borough Council and now the Opposition Chief Whip in the House of Lords, gave his backing to the striking journalists.

He said: "Argus reporters deserve the support of local people for their genuine commitment to local news.

"I hope the campaign is successful.

"Even in the era of cyber communications we need a local paper.

"Over many years The Argus has been a valuable community service reflecting on the issues of the day.

"As a local politician the paper helped me communicate and develop a rapport with residents across the city.

"The paper has played an invaluable campaigning role over many years on subjects as diverse as city status and pensioner poverty.

"Keep up the good fight."

Given the criticisms that The Argus sometimes levels against Brighton and Hove City Council, it may be surprising to learn that the council's Conservative leader Mary Mears also lent her support.

She said: "As a city, we have managed to weather the economic storm relatively well, in part due to initiatives such as our Be Local Buy Local campaign.

Disappointing

"So it is disappointing that Newsquest have decided to relocate the Argus sub-editing function out of Brighton and Hove in favour of Southampton.

"Supporting local business is one of my key priorities as council leader and so any loss of local jobs is a real source of regret for me.

"Last year the council unanimously passed a motion supporting the city's local written media and expressing concern at the growing regionalisation of press coverage in general.

"Unfortunately, this latest move by Newsquest seems to be another example of this.

"The Argus is a real Brighton and Hove institution and, although they clearly need to move with the times (and the economic realities), it is a great shame that they seem to be gradually locating their operations out of the city.

"For the sake of strong local democracy, I believe that Brighton and Hove needs a genuinely local newspaper with journalists and editors who have an in-depth understanding of local issues.

"I hope that Newsquest can be persuaded to reconsider this decision."

Green councillor Sven Rufus and Liberal Democrat councillor Paul Elgood are among others to have sent messages of support.

Labour group leaderCouncillor Gill Mitchell and Green councillor Ben Duncan were among a number of members of the council who visited the striking journalists to give their backing to the strike.

Keep jobs local

City University professor of journalism Roy Greenslade, a former Argus journalist and ex-Daily Mirror editor who lives in Brighton, has written about the strike on his Guardian media blog.

He said: "Brighton Argus journalists were on the picket line today after voting to stage a two-day strike in protest at a two-year freeze on wages and the removal of subbing jobs.

"Their major slogan was 'Keep jobs local', a reference to the fact that the paper is to be subbed largely from Southampton in future.

"I somehow doubt that the National Union of Journalists would have voted for this action in normal circumstances.

"Their employer, Newsquest/Gannett, has got away with plenty of cutbacks in the past by claiming that plunging profits have necessitated editorial budget reductions.

"But Gannett's chief financial officer, Gracia Martore, put a lie to those claims last month when she told US analysts that Newsquest was making profits. Healthy profits.

"Here's a verbatim account of what she said on 15 October: 'Let me once and for all dispel the myth that Newsquest doesn't make money.

"'Newsquest makes a lot of money.

"'In fact, their margin, as I have said a couple of times, is consistent with the margin that our local US community publishing operations generate.

"'So their margins are in the high teens to low 20s. And they have consistently made money throughout the years, even in a year like last year when revenues were under as much pressure as they were.'"

Unacceptable

Professor Greenslade adds: "No wonder Newsquest's journalists in Brighton, Blackburn, Darlington and Southampton have taken, or are planning to take, industrial action.

"As for the pay freeze, that's altogether unacceptable in the light of Martore's admission.

"It is even worse than that because Newsquest/Gannett bosses have been receiving rises while their hard-pressed employees have not.

"I understand there is some embarrassment at Newsquest about Martore's statement and hints that she overstated the true situation.

"But Newsquest/Gannett cannot have it both ways.

"Either she told the truth to analysts, meaning that Newsquest's executives have been telling porkies to their newspaper staffs.

"Or she was 'economical with the truth' when addressing sceptical US analysts.

"Either Newsquest is making bumper profits and should not have imposed a pay freeze.

"Or it is scraping by, in which case the company's chief financial officer should come clean."
http://www.brightonandhovenews.org/2010/11/18/argus-journalists-start-two-day-strike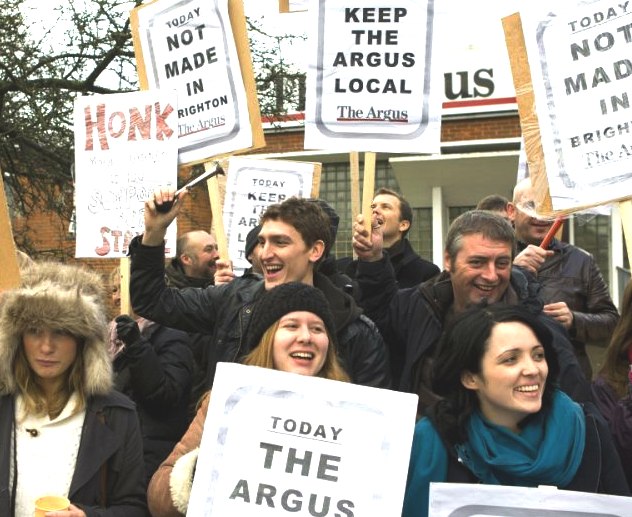 News A to Z directory, please click on the links below to find your favourite news or to contact the media to tell your story:
Flashers go free as CPS admits it boobed
A pair of women arrested by police after flashing their breasts at a CCTV camera have had charges against them dropped.
Abbi-Louise Maple, from Worthing, and Rachel Marchant, from Shoreham, were taken in by officers on July 16 after the pair lifted their tops and exposed themselves to a camera outside the Aquarena in Brighton Road, Worthing.
The woman were later charged with outraging public decency and ordered to appear in court.
But yesterday the Crown Prosecution Service (CPS) decided to drop the case, which would have cost the public purse £10,000 a day if it had gone to a crown court trial.
A CPS spokesman said: "The Chief Crown Prosecutor, Sarah Jane Gallagher, in consultation with Sussex Police, has subsequently reviewed the case and she has decided that to continue with the case would not be in the public interest.
"The case has therefore been discontinued."
The girls had told The Argus they were a bit "tipsy" when they flashed and said they thought they would give the camera operator a treat.
Abbi-Louise, who has aspirations to be a glamour model, said: "We thought he'd go, 'Oi, oi' and it would have made his day.
"Breasts are everywhere these days - on the beach, in magazines, everywhere."
The man behind the lens was not amused and subsequently reported them to the police who arrested the women as they walked home.
The two friends, both aged 21, were kept at Worthing police station for four hours after their arrest.
They appeared before magistrates in Worthing where the prosecutor told the court the girls flashed near a children's play area when a group of 15-year-olds had been walking nearby.
The cheeky pair had denied the charges.
Critics had accused the CPS of wasting court and police time and taxpayers money.
Speaking after the case was dropped, Abbi-Louise said: "I'm really pleased and just relieved it's all over.
"It's been silly but the law does what it has to do sometimes, whatever they think is right.
"They should be out catching rapists and perverts not two young girls having a bit of fun.
"It was ridiculous. The CPS made a right boob of themselves.
"I'm surprised they dropped the charges so quickly but they must have realised how silly it was.
"I'll be going out for a few drinks to celebrate but will be keeping well clear of any CCTV cameras. I've learned my lesson."
Their solicitor, Chris Chatterton, called it a "common sense decision."
He said: "We're all delighted. It's great news but never should have got this far in the first place."
Did the CPS made a common sense decision or should the women have faced a judge and jury? Have your say. Leave your comments at www.theargus.co.uk.
LINKS
http://www.theargus.co.uk/news/10352143.Argus_reporter_nominated_for_top_award/
https://www.facebook.com/brightonargus?ref=stream&hc_location=stream
http://www.eastbourneherald.co.uk/news/local-news/inventor-jailed-for-molesting-11-year-old-1-1418804
Eastbourne Herald inventor jailed for molesting 11 year old
http://www.eastbourneherald.co.uk/news/local-news/man-faces-prison-for-sex-assault-1-1416322
http://gold-moneu.blogspot.co.uk/p/nelson-worked-for-time-at-jewellers.html
WE ACCEPT NO RESPONSIBILITY FOR THE ACCURACY OF ANY FEATURED LINKS