TEACHER CLEARED OF RAPE TOO LATE

Graeme Paton - Published: 21 April 2006

A teacher who died in prison after being convicted of raping one of his pupils has been posthumously cleared by the Court of Appeal.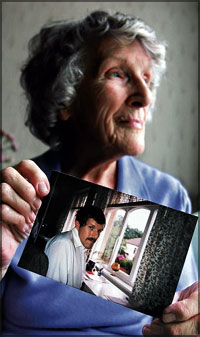 Molly Gee, 88, who has been awarded £62,493 by the appeal court
after battling to clear her son Darryl's name


Darryl Gee was jailed in 2001 despite scant evidence to corroborate his accuser's claims, which related to alleged incidents more than a decade earlier.
The music teacher, who protested his innocence, died in his cell from an undiagnosed blood cancer. He had served 18 months of an eight-year sentence.
This week, campaigners described the case as one of the worst miscarriages of justice they had seen after the Court of Appeal in London quashed his conviction.

It comes as government guidance designed to speed up investigations into alleged abuse of pupils is introduced in schools. Unions say this will reduce the risk of innocent teachers being smeared by false allegations.
Chris Keates, general secretary of the NASUWT, said: "This is an extreme and tragic illustration of the consequences of malicious allegations and underlines the need for these new procedures."
Mr Gee's 88-year-old mother, Molly, awarded £62,493 costs by the court, said the case should be a warning to other teachers.
"It all boiled down to one girl's word against his, and the jury believed her," she said. "That's all it took to send my son to prison and it has left me very angry and grief stricken. I don't think anyone should have to work alone with a child – it is just too easy for an allegation like this to be made."
Mr Gee, a supply teacher who taught brass instruments, was found guilty at Leeds crown court in January 2001 after being accused of raping and indecently assaulting a pupil in a Huddersfield school in 1989. He died aged 55 in August 2002, a month after a second appeal failed.
His conviction was eventually quashed when his mother alerted the Criminal Cases Review Commission, which asked a leading psychiatrist to report on his accuser. The study cast doubt on her mental state. It also emerged that the girl, now 26, made similar allegations against another man, whose conviction was quashed earlier this year.


What is wrong with British justice system where allegations of sexual assault are concerned? It all these cases it boils down to one girls word against the person accused. Heaven forbid the accused should lead an unusual lifestyle. A Jury would not understand this!! This could be one failing of the Jury system, they are ordinary men and women. Perhaps justice is more important than to trust to Juries? The statistics speak for themselves.
---
BBC Two Winter/Spring 2007
Stan Collymore, Ingrid Tarrant, So Solid Crew's Megaman, Michael Portillo and Sara Payne join the jury for BBC Two's The Verdict
A former England football player, one of Britain's most successful businesswomen, a mother who campaigned for the law to be changed following the murder of her daughter and a rapper who spent time in prison on a murder charge are amongst the line-up of high profile jurors taking part in BBC Two's ambitious television event, The Verdict.
The full line up, announced today, is:

Jeffrey Archer – former Tory MP and author;

Honor Blackman – actress;

Stan Collymore – footballer;

Jennifer Ellison – actress;

Jacqueline Gold – head of the Ann Summers empire;

Alex James – Blur band member;

MegaMan – So Solid Crew member;

Dominic McVey – millionaire teen entrepreneur;

Patsy Palmer - actress;

Sara Payne – mother who campaigned for Sarah's law;

Michael Portillo – former Conservative MP and broadcaster;

Ingrid Tarrant – separated from TV presenter Chris Tarrant.
The 12 jurors are sitting in judgement on a four day trial in a real courtroom, presided over by a real judge, with real barristers prosecuting and defending.
The jury will then retire to the jury room to begin their deliberations.
But the cameras will be there, observing for the first time the dynamics of a how a jury reaches it verdict.
The Verdict, which is being produced by RDF Television, part of the RDF Media Group, will be stripped across four nights on BBC Two, to be shown early next year.
A BBC Three switch-over programme will follow the jury back to their hotel to find out how they have reacted to each day's proceedings.
The case features the rape trial of an internationally famous footballer, Damien Scott, and his friend, James Greer.
Scott and Greer are fictitious characters, but in the weeks leading up to the case the actors playing them have experienced what is like to be arrested, interviewed under caution by real policemen and examined by real forensic experts.
The trial is totally unscripted so that when the witnesses appear in the witness box, they give evidence about experiences that to them, to the jury, and to viewers will seem all too real.
The judge is the highly respected and recently retired His Honour Neil Denison QC .
Jane Humphryes QC and George Carter-Stevenson QC are acting for the Defence and Joanna Greenberg QC is the Crown Prosecution Service barrister.
The barristers are free to prosecute and defend the case in exactly the same way as they would a real trial.
Roly Keating, Controller of BBC Two, says: "This is a hugely ambitious project which brings the law to life in a completely new way.
"It will be fascinating to follow the twists and turns of the case, see the dynamics and power struggles within the jury, learn about the jury system with its inherent flaws and strengths - and engage with the whole experience even more deeply on broadband."
Stephen Lambert, RDF Media Group's Chief Creative Officer, said: "We are delighted that such a wide range of high profile individuals have agreed to serve on our jury.
"It is fascinating to see how they interact and how their different backgrounds and assumptions influence their views on the case.
"A huge effort was taken by everyone involved in the production to ensure that the jury experience was as authentic as possible.
"We were amazed by how seriously our jury treated their task and how emotionally involving it became for all of them."
This series will be accompanied by an extensive broadband service that will offer audiences high volumes of extended material, background videos, witness interviews and documentary evidence to allow viewers to form their own judgement as the case progresses.
Brief biographical details for the jurors
Jeffrey Archer
Former Tory politician and best selling author – served two years in prison for perjury.
Honor Blackman
Actress best known for her role in The Avengers and as Pussy Galore in Goldfinger.
Stan Collymore
Former Premiership footballer.
Jennifer Ellison
Actress and performer who starred in Brookside and is currently appearing in Chicago in the West End.
Jacqueline Gold
Chief Executive of Ann Summers and Knickerbox – regularly voted one of Britain's most powerful and inspirational women.
Alex James
Blur band member and Independent columnist, now lives on an organic farm with his wife and three young sons.
MegaMan
Founder member of chart-topping rap collective So Solid Crew – recently acquitted of murder after three trials and spending 18 months on remand in Belmarsh Prison.
Dominic McVey
21-year-old entrepreneur - imported micro-scooters to the UK and became the country's youngest self-made millionaire at the age of 14.
Patsy Palmer
Actress, best known for her role as Bianca in EastEnders.
Sara Payne
Mother who campaigned for Sarah's law following the murder of her daughter by a known paedophile.
Michael Portillo
Former Tory MP, journalist and broadcaster.
Ingrid Tarrant
Journalist and tv presenter, separated from husband Chris Tarrant.
Biographical details for the legal team
The Judge – His Honour Neil Denison QC
His Honour Neil Denison QC was considered one of Britain's most prominent judges. He was the Common Sergeant of London from 1993 until 2001 when he retired and was replaced by Judge Brian Barber QC. He was called to the bar at Lincoln's Inn in 1952 and became a bencher in 1993. He was a Recorder of the Crown Court from 1979 to 1985. Notable cases include the Salon killing, where a wife killed her husband's girlfriend in a beauty salon, a Muslim father who murdered his daughter in an honour killing and a man who smashed his wife's skull with an axe.
Jane Humphryes QC (1st Defence)
Jane Humphryes is a specialist in serious crime of all kinds. She is experienced in prosecuting and defending a wide range of criminal cases, although more recently nearly exclusively defending, including murder and attempted murder, money laundering, fraud, rape and indecent assault and police disciplinary proceedings.
George Carter-Stephenson QC (2nd Defence)
George Carter-Stephenson is a specialist defence advocate with a varied and wide-ranging practice extending over all types of criminal cases and disciplinary proceedings. He is extremely experienced in dealing with highly involved and complex cases, including serious fraud. Notable cases have included the Damilola Taylor first murder trial, the Millennium Dome Robbery, the Sumurai Sword murder and representing the husband of Joyti de Laurey, the Goldman Sachs secretary found guilty of stealing £4.5m from her bosses.
Joanna Greenberg QC (CPS Prosecutor)
Joanna Greenberg QC specialises in criminal law. She is now best known as a defender, although she continues to do some prosecuting. She has been head of chambers since 2003. Her defence practice has covered all types of crime, including murder, high value fraud cases, very substantial drugs cases and all sorts of sex cases involving serial offenders, witchcraft, child abuse. Listed as one of the "Leaders at the Bar" in Chambers UK client's guide to the UK legal profession, she is described as "an evasive witness's bad dream".
LINKS
---
This site is protected under Article10 of the European Convention on Human Rights and Fundamental Freedoms.
FAIR USE NOTICE
This site contains copyrighted material the use of which has not always been specifically authorized by the copyright owner. We are making such material available in our efforts to advance understanding of environmental, political, human rights, economic, scientific, and social justice issues, etc. We believe this constitutes a 'fair use' of any such copyrighted material as provided for in section 107 of the US Copyright Law. In accordance with Title 17 U.S.C. Section 107, the material on this site is distributed without profit to those who have expressed a prior interest in receiving the included information for research and educational purposes.
For more information go to: http://www.law.cornell.edu/uscode/17/107.shtml. If you wish to use copyrighted material from this site for purposes of your own that go beyond 'fair use', you must obtain permission from the copyright owner.