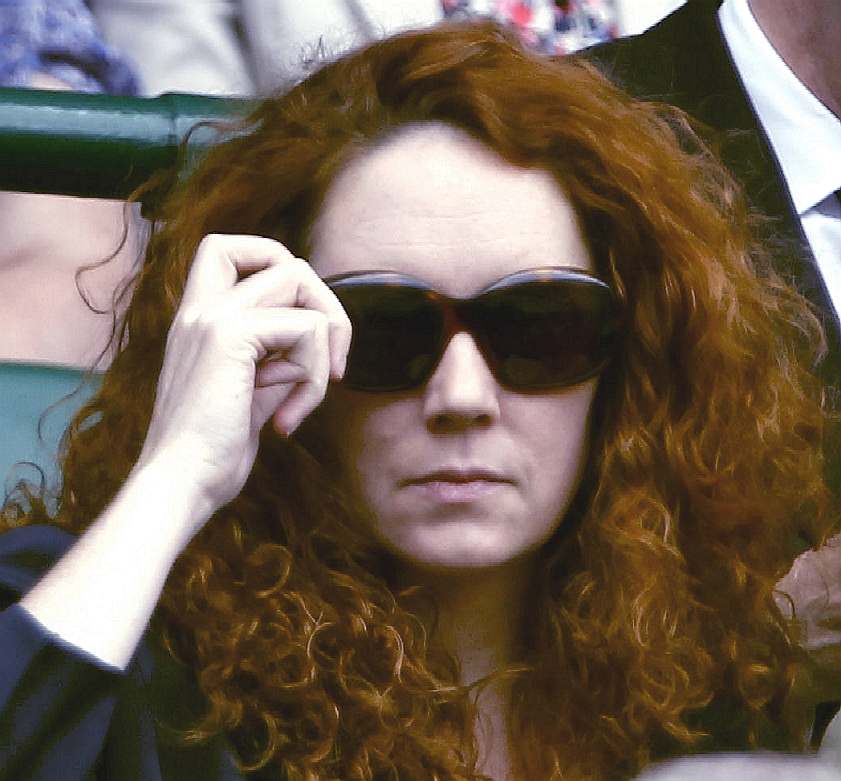 REBEKAH MARY BROOKS
Rebekah Mary Brooks (née Wade; born 27 May 1968) is a British journalist and former newspaper editor. She was Chief Executive Officer of News International from 2009 to 2011, having previously served as the youngest editor of a British national newspaper at News of the World from 2000 to 2003, and the first female editor of The Sun from 2003 to 2009. Brooks married actor Ross Kemp in 2002. They divorced in 2009 and she married former racehorse trainer and author Charlie Brooks.

Brooks is a prominent figure in the News International phone hacking scandal, having been the editor of the News of the World when illegal phone hacking was allegedly carried out by the newspaper. On 15 July 2011, Brooks resigned as chief executive of News International, following widespread criticism of her role in the controversy. On 17 July 2011, she was arrested on suspicion of conspiring to intercept communications and on suspicion of corruption - making corrupt payments to public officials. On 13 March 2012, she was again arrested on suspicion of conspiracy to pervert the course of justice. On 15 May 2012, Brooks was charged with conspiracy to pervert the course of justice. Mrs Brooks said she was "baffled" by the decision to charge her. Mr Brooks said he believed his wife had become "the subject of a witch-hunt". Rebekah Brooks and her husband appeared at Westminster Magistrates Court on 13 June on charges linked to the phone hacking scandal. District Judge Howard Riddle told the defendants they would go on trial at a later date at Southwark Crown Court remanding Mrs Brooks and her husband on bail until the next hearing on 22 June. On 22 June, a trial date for the allegations that she hid documents and computers from detectives investigating hacking and bribing public officials was not set after the court heard that she is due to learn if she is to be charged with further offences in relation to the Met's Operation Weeting.

On 24 July 2012, the Crown Prosecution Service announced that Brooks would be charged, along with six other former members of the staff of the News of the World, with conspiring to intercept communications without lawful authority, from 3 October 2000 to 9 August 2006. In addition to this "generic" charge, Brooks would be charged with four specific counts of conspiracy to intercept communications without lawful authority. These include a charge relating to the hacking of the voicemail of the murdered schoolgirl Milly Dowler.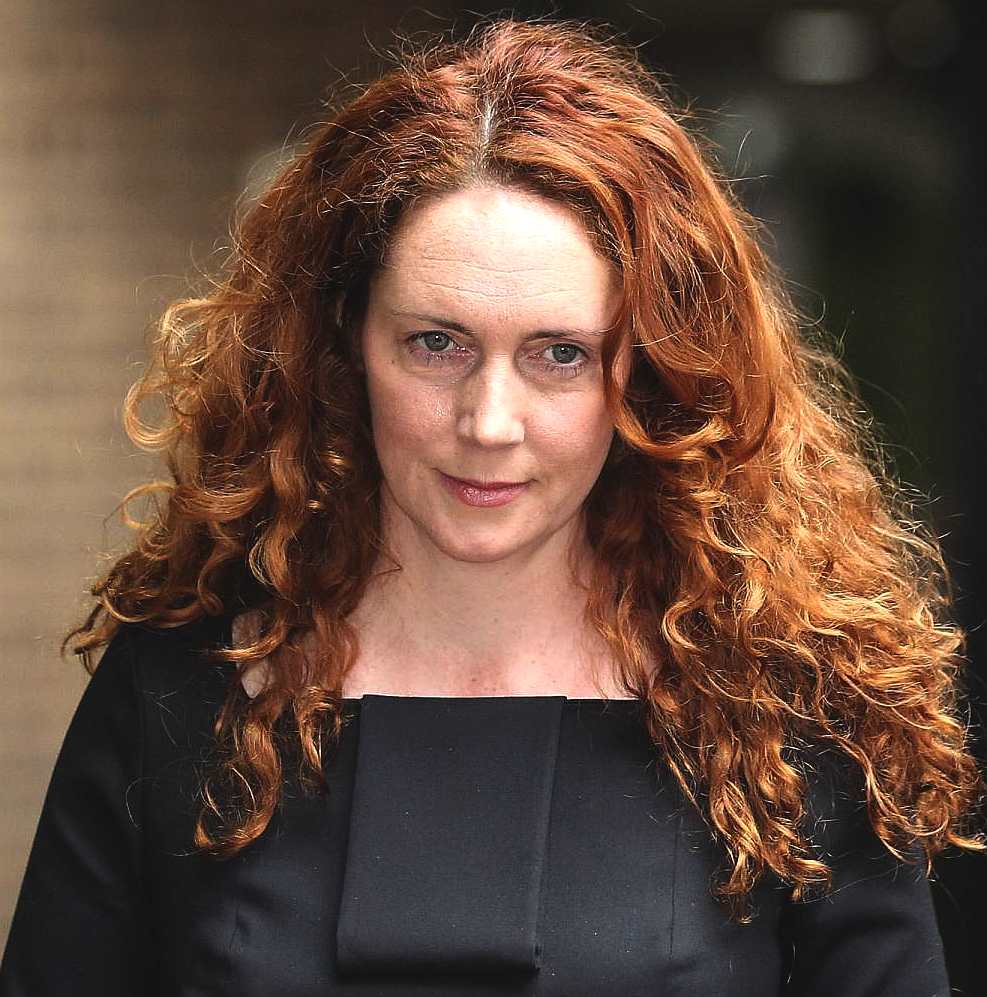 FA CUP: Milan's £28m swoop on hero Drogba BENITEZ: Liverpool plan for place in history books LAMPARD: My love affair with Chelsea ALLARDYCE: Toon joy helps with bung probe hell EXPOSED: The stories they don't want you to know
Get up to the minute football results
Win signed Lampard Chelsea shirt
Win a luxury shopping and spa break
Fully booked Now TV music videos
Fully booked Now TV music videos
Castaway Celebrity Big Brother
HISTORY
The News of the World is a British tabloid newspaper published every Sunday. It is published by News Group Newspapers of News International, itself a subsidiary of Rupert Murdoch's News Corporation, and can be considered the Sunday equivalent of The Sun. The newspaper tends to concentrate on celebrity-based scoops and populist news. But its tone has been raised after the recent change of regime at the paper. Its fondness for sex scandals gained it the nicknames "Sex 'n' Scandal weekly", "News of the Screws" and "Screws of the World". It is Britain's biggest selling newspaper, selling an average of 3,445,459 copies per week in October 2006 [1]. It is also the biggest selling English newspaper in the world. Former editor Andy Coulson resigned on the 26 January 2007 over the royal phone tapping scandal.[2] He has been replaced with Colin Myler, the former editor of the Sunday Mirror who has latterly been working at the New York Post. Previous editors of the paper include Piers Morgan and Rebekah Wade who replaced Phil Hall in 2000.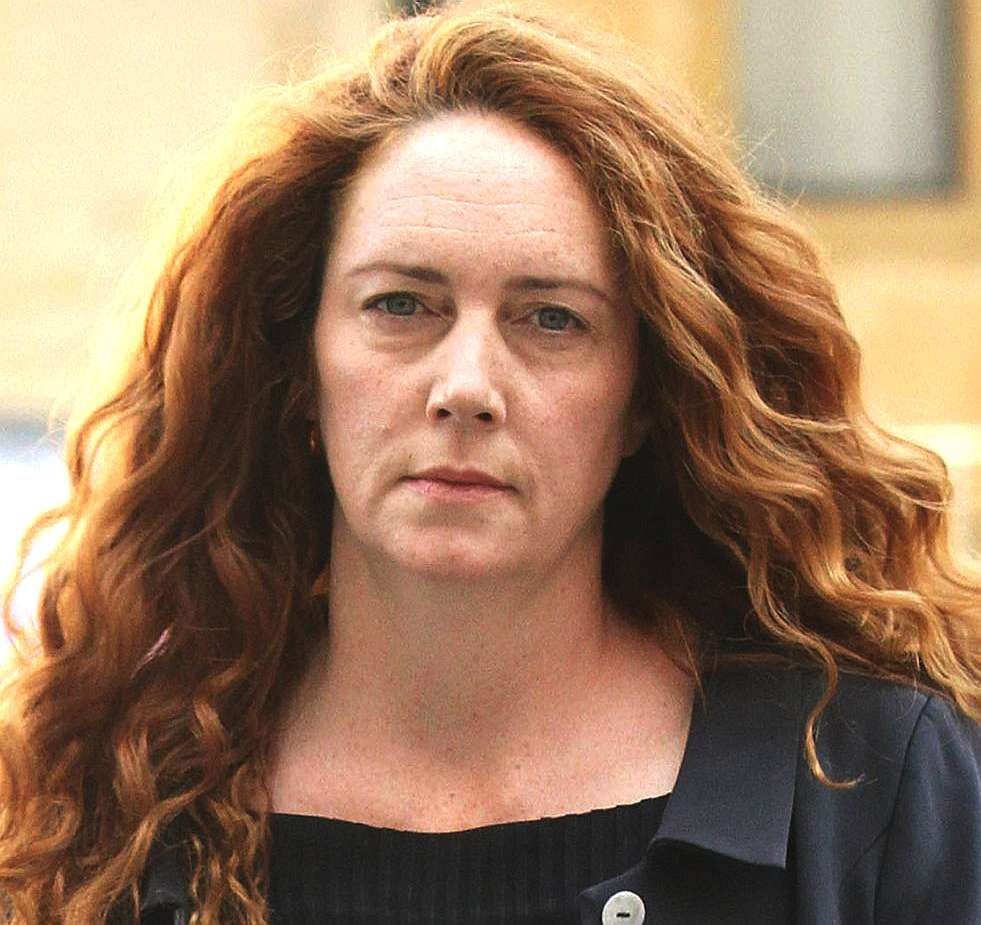 History
The newspaper was first published on October 1, 1843, in London by John Browne Bell. Priced at just three pence, even before the repeal of the Stamp Act (1855) or paper duty (1861), it was the cheapest newspaper of its time and was aimed directly at the newly literate working classes. It quickly established itself as a purveyor of titillation, shock and criminal news. Despite being dismissed as a "scandal sheet" it soon established itself as the most widely read Sunday paper. Initial sales were around 12,000 copies a week. This success encouraged other similar newspapers, of which the Sunday People, the Daily Mail, the Daily Express and the Daily Mirror are still being published.
Its motto was "All human life is there".
Murdoch purchase
The newspaper passed into the hands of Rupert Murdoch's News Ltd. in 1969, snatching the paper from Robert Maxwell's Pergamon Press after an acrimonious year-long struggle. It was Murdoch's first "Fleet Street" acquisition. Maxwell had been supported by the Jackson family (25% shareholders), but Murdoch had gained the support of the Carr family (30%) and then-chairman William Carr. Maxwell accused Murdoch of employing "the laws of the jungle" to acquire the paper and said he had "made a fair and bona fide offer... which has been frustrated and defeated after three months of [cynical] manoeuvring." Murdoch denied this, arguing the shareholders of the News of the World Group had "judged [his] record in Australia."
The newspaper has often had to defend itself from libel charges and complaints to the Press Complaints Commission as a result of certain news-gathering techniques, such as entrapment, and contentious campaigns. Some of the best-known cases have been the "Bob and Sue" case with reporter Neville Thurlbeck, and various cases involving journalist Mahzer Mahmood. [3] [4]
News A to Z directory, please click on the links below to find your favourite news or to contact the media to tell your story:
A - Z of officer investigations
The above is just a few of a number of persons likely to be investigated in respect of certain cases brought against Wealden Action Group members, on the instigation of known Masons, councillors, or planning officers, many of which are themselves Masons.
Full details of this case will be available for publishing in newspapers from 25 April 2008 subject to confirmation. This will include full disclosure of all factors relied on photographs of the officers concerned, the CPS staff, expert witnesses, teachers and the subjects of the allegations, the defendant, alleged victim and family and others, video footage, transcripts and an exclusive from the defendant. The case is to be heard in September 2007 at a Crown Court in Sussex, which we will advise of closer to the time.
Newspapers are warned that interim, they should be exceptionally careful about reporting this matter, due to a Section 39 Order. Those in attendance at Court will already know the identity of the girl and that a Not Guilty plea has been entered on all counts.
Armed with the name of the girl, newspaper reporters will be able to investigate the matter for themselves, for the purposes of balanced reporting at the appropriate time, but should take special care where allegations are already on the table with the police investigating the possibility that such reporting is likely to reveal the identity of the girl concerned to the general public.
This case looks set to be every bit as exciting as the BBC 'The Verdict' drama. It is bound to raise a whole raft of questions as to social issues, how the system works, who it protects, who it doesn't protect and what might have gone wrong within the family concerned. Just who the victim is in these cases is sometimes hard to define.
As for the players, what will happen to them? How will this affect their lives, their family and future, and what are the lesson to be learned? See below for details.
---
F.A.C.T. (Falsely Accused Carers and Teachers)

PO Box 3074
Cardiff CF3 3WZ
Tel: 029 2077 7499
E-mail: info@factuk.org
Website: www.factuk.org
Campaigning organisation and support group which provides help and advice to falsely accused and wrongly convicted carers and teachers throughout the UK. The website contains a range of information, leaflets, books and links.
Guidance for education staff and volunteers in schools
Website: www.lg-employers.gov.uk/conditions/education/allegations
This website has guidance on: 1) staff facing an allegation of abuse; 2) preventing 'abuse of trust' for education staff; and 3) the conduct of education staff working with young people.
---
Send a press release: Sending a release to PA PR Services
Contact The Press Association news desk on: T: +44 (0) 20 7963 7000 E: information@pa.press.net

To send a potential news story for consideration by PA editors, e-mail copy@pa.press.net.
Please note that all attachments will be ripped out as these e-mails are directed into PA's news system. Any press release copy needs to be copied and pasted into the e-mail itself. Content sent to copy@pa.press.net will be considered by the newsdesk and may be passed to a reporter to be followed up.
PA does, however, distribute full-text press releases directly to newsrooms on their PA Mediapoint service. To include a press release on this service, please contact PA's partners direct :PR Newswire Business Wire Medialink na europe
The Press Association 292 Vauxhall Bridge Road, London, SW1V 1AE
More information is available on this site, or by contacting Martin Huckett: T: +44 (0) 20 7963 7849 E:mailto:martinhu@pa.press.net
WE ACCEPT NO RESPONSIBILITY FOR THE ACCURACY OF ANY FEATURED LINKS
PHONE HACKING & POLICE BRIBES QUESTIONS - YOUTUBE
LINKS
http://www.ipo.gov.uk/types/tm/t-os/t-find/t-challenge-decision-results/o40011.pdf
http://www.ipo.gov.uk/types/tm/t-os/t-find/t-challenge-decision-results/o40011.pdf
http://www.uncjin.org/Laws/prisrul.htm
Phone Hacking Rebekah Brooks Bodyguard
http://www.guardian.co.uk/uk/2013/may/03/phone-hacking-rebekah-brooks-bodyguard