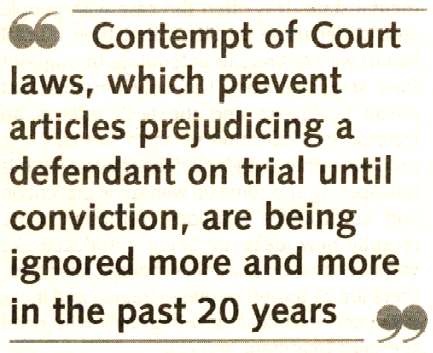 Beckett Group breach Court Order
It was revealed last week (6 Feb 08) that the Beckett Newspaper Group breached a Court Order preventing publication on a blanket basis, concerning the so-called Herstmonceux Bunny Boiler case. This Order was made specifically to preserve the rights of the parties, to a fair hearing. It begs the question, if such an Order was made and breached, could the parties have received a fair hearing?
It is unclear where this leaves Beckett Newspapers and what action the Police might take to ensure publication of this nature is prevented by over eager Reporters and Editors, who perhaps have an eye on sensationalism to generate headlines to sell newspapers, rather than the damage that could be inflicted on the persons affected. This is the subject of much media attention following the revelation of multiple suicides at Bridgend in Wales, in part attributed by some to the sensationalist newspaper reporting. The latest girl to take her own life by hanging being 16 year old Jenna Parry.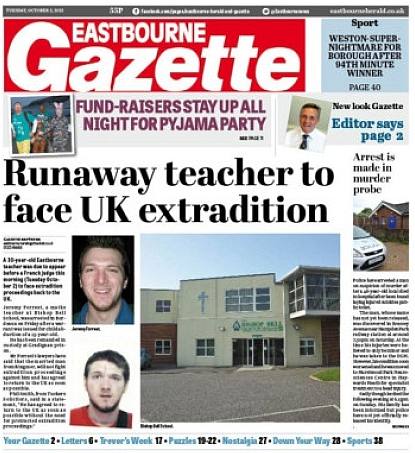 Typical Becket Group Newspapers
Readers will know the Government, after consideration of Lord Goldsmith, are considering moves to protect the identity of those accused of sexual offences, much the same as their accusers. This is because of the rise of innocent men being convicted by Juries, and only after serving considerable time in prison, is new evidence found to render guilty verdicts unsafe.
This could leave news hounds eager for material to print, out in the cold. However, the moral implications are clear. Allegations of a sexual nature ruin lives. See the links below to sample cases in 2007, where publication and subsequent scandal have ruined lives. The accusers inevitably get away scot-free. The newspaper hounds and the editors that helped ruin lives, on occasion even sway public opinion to deliver an incorrect verdict, also find themselves in the clear.
These are some of the examples of women falsely accusing men who were innocent. What is wrong with our legal system?
FACT: Girls making allegations are coached. YES, this is true, they are instructed how to give evidence and cosseted, sometimes isolated via a video link to make it easier for them to appear sweetness and light.
Barristers are loath to question hard, for fear of looking like bullies to a Jury.
Music teacher cleared of rape too late - Died in Prison

Head teacher cleared of assault - 3 October 2003

CONVICTION QUASHED OVER 'MADE UP' VAMPIRE CLAIM - May 19, 2006

Man freed after girl revealed as serial liar - 12th September 2006

Woman jailed for false rape claim - 15/11/2006

My life's in ruins, says teacher cleared of having hotel sex romps with 17-year-old pupil - 4th October 2007

Man freed after six years in jail for double rape because 'accuser was

£20,000 payout for woman who falsely accused her father of rape after 'recovered memory' therapy - 19th October 2007

Taxi driver ruined after false claims of rape - 27 April 2007

BBC Rough Justice - 12 April 2007

Was another man's life ruined by a Bunny Boiler? - February 2008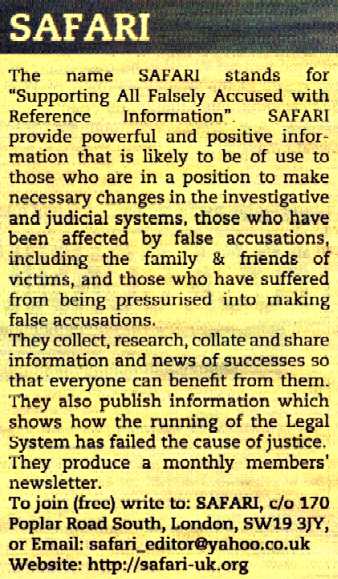 "These girls are every mans worst nightmare". - Warren Blackwell 2006
SAFARI might give you the ammo to clear your name.
PUBLIC COMMENT
Here's what readers have had to say!
This is scandalous. I think that if the members of the jury knew just how slow the appeals process is they would be much less inclined to find people guilty when there is 'reasonable doubt'. In practice it is very difficult when people are found guilty on this kind of case where there is NO evidence; if there is no evidence in the first place then where is the 'fresh evidence' that may be required for an appeal to go ahead going to come from? These cases only seem to win on appeals when a false accuser admits to lying and that is very rare. Unfortunately as Mr Carrington-Jones has said there could be many innocent people in prison now as a result of convictions on non-evidence. Where will his compensation come from? Will the woman be charged? - Lily, Hull
Compensation is rightly due to this poor chap, but should the public pay the price of the crimes committed by these lying women? Shouldn't they be made to pay, even if it means their being financially ruined for life? And surely it cannot be the case that parole cannot be considered unless and until a prisoner "admits" the crime for which he/she has been found guilty? - Jim, London

What is wrong with British justice system where allegations of sexual assault are concerned? It all these cases it boils down to one girls word against the persons accused. Heaven forbid the accused should lead an unusual lifestyle. A Jury would not understand this!! This could be one failing of the Jury system, they are ordinary men and women. Perhaps justice is more important than to trust to Juries? The statistics speak for themselves.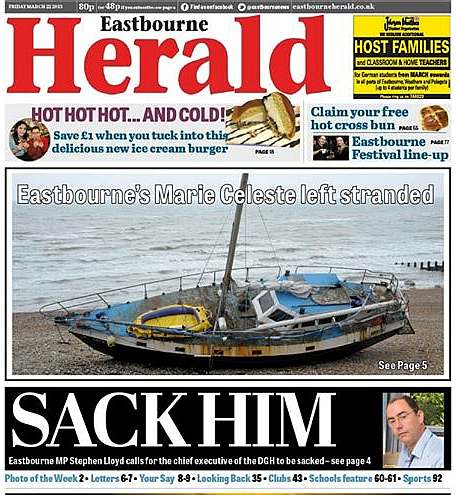 CONTACTS
Choose the recipient from the list below and be sure to give them your contact details or they won't be able to reply to you.


News Room :
Peter Austin
Group Editor
Telephone : 01323 745110
Fax :
Click here to email

Laura Sonier
Deputy Editor/News Editor/Entertainments Editor
Telephone : 01323 722091
Fax :
Click here to email

Annemarie Field
Eastbourne Reporter
Telephone : 01323 745114
Fax :
Click here to email

Claire Watson
Eastbourne Reporter
Telephone : 01323 722091
Fax :
Click here to email

Richard Gladstone
Eastbourne Reporter
Telephone : 01323 722091
Fax :
Click here to email

Matthew Brown
Website Specialist
Telephone : 01323 722091
Fax :
Click here to email

Jo Smith
Seaford Reporter
Telephone : 01323 722091
Fax :
Click here to email

Andrew Bennett
Motoring & Property Editor
Telephone : 01323 722091
Fax :
Click here to email

Juliet Perry
Trainee Reporter
Telephone : 01323 722091
Fax :
Click here to email

Andrew Raeburn
Trainee Reporter
Telephone : 01323 722091
Fax :
Click here to email
Sports :
Ken McEwan
Sports Editor
Telephone : 01323 745113
Fax :
Click here to email

Derren Howard
Deputy Sports Editor
Telephone : 01323 745113
Fax :
Click here to email
Advertising :
Nigel Greaves
Advertisement Director
Telephone : 01323 722944
Fax : 01323 411758
Click here to email

Denise Greaves
Advertisement Sales Manager
Telephone : 01323 722944
Fax : 01323 411758
Click here to email

Harry Ford
Recruitment (online only)
Telephone : 02392 622002
Fax : 02392 690544
Click here to email

Marie Townsend
Property News Sales Executive
Telephone : 01323 745117
Fax : 01323 411758
Click here to email

Erika Williams
Motoring Times Advertisement Representative
Telephone : 01323 745116
Fax :
Click here to email

Zoe Laughton
Key Accounts Executive
Telephone : 01323 722091
Fax :
Click here to email
Internet :
Rose Watling
Internet Administrator
Telephone : 01323 745106
Fax :
Click here to email
Accounts :
Yvette Baulcombe
Finance Manager
Telephone : 01323 745111
Fax :
Click here to email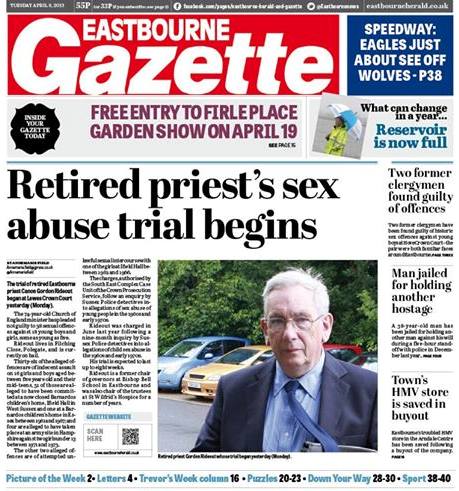 F.A.C.T. (Falsely Accused Carers and Teachers)
PO Box 3074
Cardiff CF3 3WZ
Tel: 029 2077 7499
E-mail: info@factuk.org
Website: www.factuk.org

Campaigning organisation and support group which provides help and advice to falsely accused and wrongly convicted carers and teachers throughout the UK. The website contains a range of information, leaflets, books and links.
Guidance for education staff and volunteers in schools
Website: www.lg-employers.gov.uk/conditions/education/allegations
This website has guidance on: 1) staff facing an allegation of abuse; 2) preventing 'abuse of trust' for education staff; and 3) the conduct of education staff working with young people.
False Allegations Support Organisation (FASO)
Support Organisation for Falsely Accused People (SOFAP)
People Against False Allegations of Abuse (PAFAA)
Unity Injustice - Fighting Family Injustice New site
Families Anti Social Services Inquiry Team (FASSIT)
The Five Per Centers Falsely Accused of Shaken Baby Syndrome
If you have been accused of child abuse by as a result of a 'recovered' memory during psychotherapy or counselling you might find the British False Memory Society website helpful. Similarly if you are a youth worker and have been falsely accused of child abuse you will find the FAYL website helpful.
If you have been wrongly convicted of a crime which you did not commit you will find the innocence web site and the innocent network useful.
SOME PROMINENT CASES:
A - Z of Sussex officer investigations
The above is just a few of a number of persons likely to be investigated in respect of certain cases brought against Wealden Action Group members, on the instigation of known Masons, councillors, or planning officers, many of which are themselves Masons.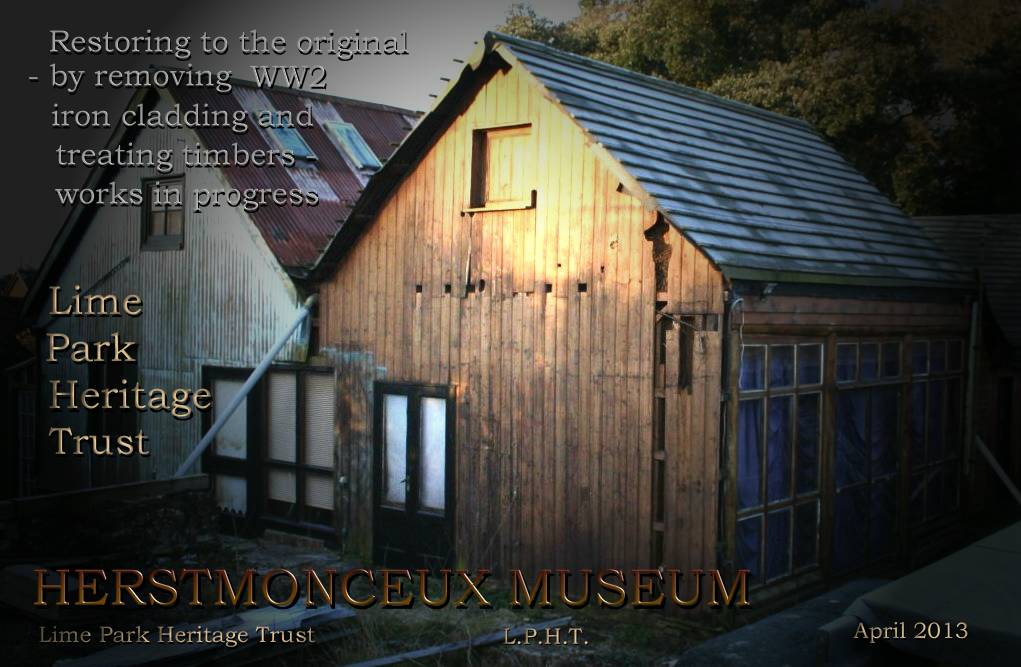 The old Generating Station at Herstmonceux is to become a working museum. Archaeologists prove (Inspector Dannreuther) the Secretary of State was lied to by so-called experts working for Wealden District Council.
Send a press release: Sending a release to PA PR Services
Contact The Press Association news desk on: T: +44 (0) 20 7963 7000 E: information@pa.press.net

To send a potential news story for consideration by PA editors, e-mail copy@pa.press.net.
Please note that all attachments will be ripped out as these e-mails are directed into PA's news system. Any press release copy needs to be copied and pasted into the e-mail itself. Content sent to copy@pa.press.net will be considered by the newsdesk and may be passed to a reporter to be followed up.
PA does, however, distribute full-text press releases directly to newsrooms on their PA Mediapoint service. To include a press release on this service, please contact PA's partners direct :
PR Newswire
Business Wire
Medialink
na europe
The Press Association 292 Vauxhall Bridge Road, London, SW1V 1AE
More information is available on this site, or by contacting Martin Huckett: T: +44 (0) 20 7963 7849 E:mailto:martinhu@pa.press.net
News A to Z directory, please click on the links below to find your favourite news or to contact the media to tell your story:
LINKS
http://www.theargus.co.uk/news/10352143.Argus_reporter_nominated_for_top_award/
https://www.facebook.com/brightonargus?ref=stream&hc_location=stream
http://www.eastbourneherald.co.uk/news/local-news/inventor-jailed-for-molesting-11-year-old-1-1418804
Eastbourne Herald inventor jailed for molesting 11 year old
http://www.eastbourneherald.co.uk/news/local-news/man-faces-prison-for-sex-assault-1-1416322
http://gold-moneu.blogspot.co.uk/p/nelson-worked-for-time-at-jewellers.html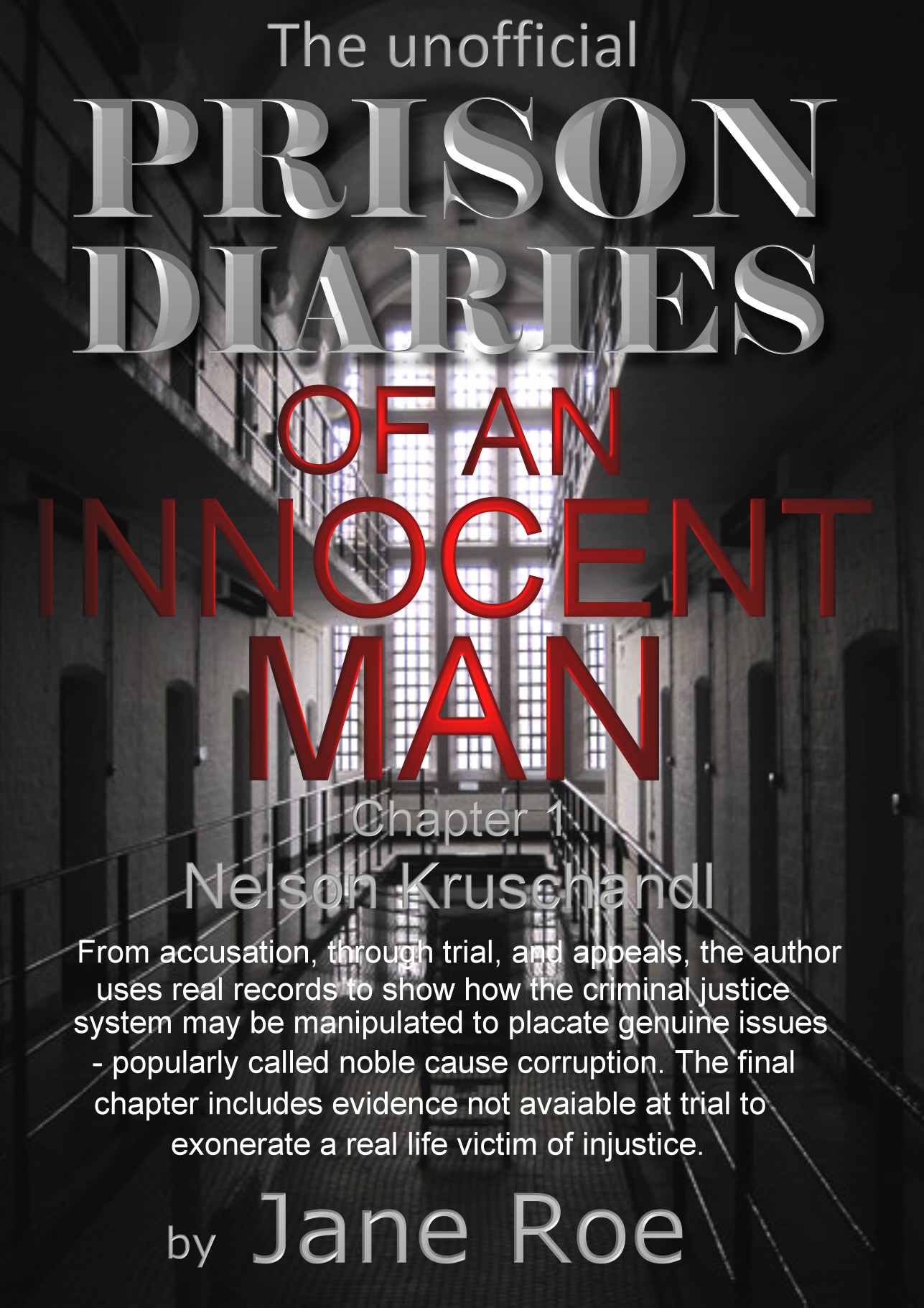 His barrister didn't challenge the so-called scientific evidence produced at trial. He should have. It was junk science. [Junk science is bogus forensic information that the police use to gain a conviction, where they have a weak case.] His barrister didn't show the jury the accused' diaries, he should have, because the girl's mother reminded the accused to send Valentines cards every year - which she, err, seems to have forgotten to mention to the court. The accused was instructed not to venture why by his barrister, but of course he has a good idea. Sadly, that cannot be revealed just yet for legal reasons. He did say he could forgive a 15 year old for some kind of unthinking hormone driven revenge for not doing what she wanted, but not a mature woman - who would have known better.
You'll have to wait for the subjects appeals in the ECHR to conclude before this book is published. Maybe then we'll see an official version in 2016/2017? European appeals take 4 years on average, from the date of lodge. But first you have to exhaust any domestic remedy. He has finally, as of February 2013.
If you would like to know more about this developing story, please Contact Us.
WE ACCEPT NO RESPONSIBILITY FOR THE ACCURACY OF ANY FEATURED LINKS