In 1997 as a result of accumulated complaints of a serious nature directed at Wealden District Council's planning, enforcement and legal departments, a petition was lodged asking for an independent investigation.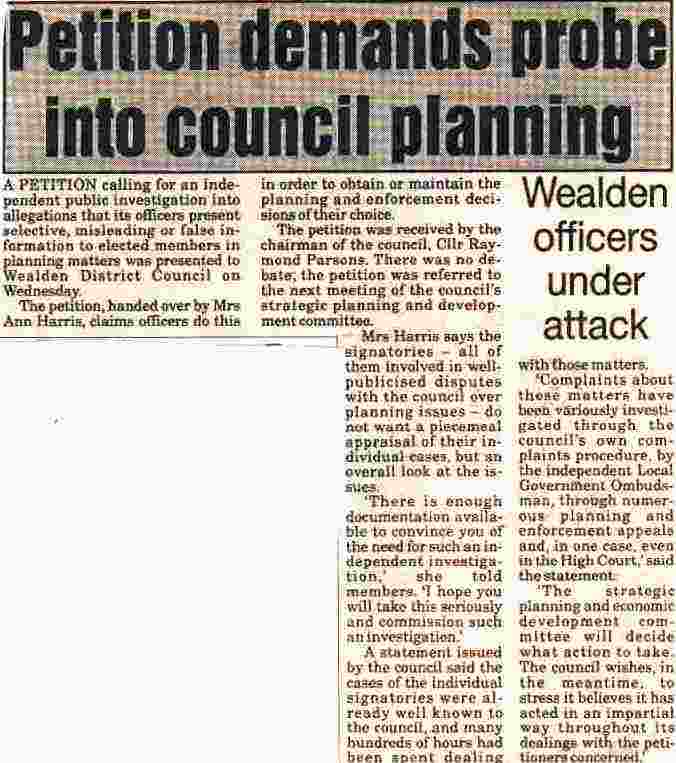 This was never to be. The council took the sting out of the Petitioner's tails by holding an internal inquiry. A panel of three die-hard officer's men were selected to look at complaints through a mesh so fine, the panel were not empowered to investigate any on the matters put before them. Before looking at any evidence, the panel members said they were right behind the officers - hardly an open minded approach.
After much ceremony, the panel gave their colleagues a clean bill of health, except only that serious issues (the subject of the complaints) were handed over to the Police - this act in itself an admission there were matters too hot to handle.
The remaining serious matters were handed to the Police, who failed to conduct any investigation but simply bundled the petitioners complaints on to the CPS, who in the absence of any investigation results looked the other way. The Police then allowed the then Council's chief executive, to write a letter to the council on headed paper. This ruse convinced members they were looking at the result of an full investigation. However, the Police later admitted there had never been one. Later still when the truth was discovered, the replacement chief executive (the former CEO having made a get away) refused to allow Petitioners sight of the suspect Police letter.