Time (officially capitalized TIME) is a weekly American newsmagazine, similar to Newsweek and U.S. News & World Report. A European edition (Time Europe, formerly known as Time Atlantic) is published from London. Time Europe covers the Middle East, Africa and (since 2003) Latin America. An Asian edition (Time Asia) is based in Hong Kong. A Canadian edition (Time Canada) is based in Toronto. The South Pacific edition, covering Australia, New Zealand and the Pacific islands, is based in Sydney. In some advertising campaigns, the magazine has noted that the letters time stand for "Today Information Means Everything."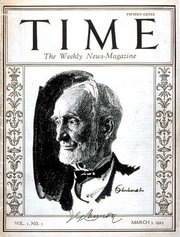 TIME's first cover (March 3, 1923)
History
The first issue of Time was published on March 3, 1923, featuring on its cover Joseph G. Cannon, the retired Speaker of the United States House of Representatives. Preceding both of its major competitors, Time was the first weekly news magazine in the United States. It was co-founded in 1923 by Briton Hadden and Henry Luce. Both had worked together previously at Yale, with Hadden and Luce serving as chairman and managing editor, respectively, of the Yale Daily News. Hadden died in 1929, and Luce became the dominant man at Time and a major figure in the history of 20th-century media. Hadden was a rather carefree figure, who liked to tease Luce and saw Time as something important but also fun. That accounts for its tone, which many people still criticize as too light for serious news and more suited to its heavy coverage of celebrities (including politicians), the entertainment industry, and pop culture. It set out to tell the news through people, and for many decades the magazine's cover was of a single person. People magazine was originally inspired by Time's People page.
Style
Time has always had its own writing style, parodied most famously in 1938 by Wolcott Gibbs in an article in The New Yorker: "Backward ran sentences until reeled the mind … Where it all will end, knows God." The early days of incessantly inverted sentences and "beady-eyed tycoons" and "great and good friends," however, have long since vanished. The magazine has only ever published one official editorial, in 1974, calling for the resignation of Richard Nixon. Time is also known for its signature red border, which only changed once in the magazine's eighty year history—the issue released shortly after the September 11, 2001 attacks on the United States, which featured a black border to show mourning.
Mergers
Time became part of Time Warner in 1989 when Warner Communications and Time, Inc. merged. Since 2000, the magazine has been part of AOL Time Warner, which subsequently reverted to the name Time Warner in 2003.

President George W. Bush became
Person of the Year 2004
Man of the Year
The magazine's most famous feature over its 80 years has been the annual Man of the Year cover story, in which Time recognizes the individual or group of individuals who have had the biggest effect on the year's news. In 1999, this feature was renamed "Person of the Year." Despite the title, the recipient is not necessarily an individual -- in 2003, it was "the American soldier" -- or even a human. In 1982, the home computer was recognized as "machine of the year".
Albert Einstein was Time's person of the century in its last edition of 1999.
Controversy has occasionally arisen due to the designation of hated figures as "Persons of the Year." The distinction is supposed to go to the person who, for good or ill, has most affected the course of the year; it is therefore not an honour or reward. In the past, such figures as Adolf Hitler or Joseph Stalin have been Persons of the Year. The magazine backed down from this policy for its Person of the Year in 2001: the feeling was that the person who had most affected the course of the year was Osama bin Laden, but the editorial board weighed the policy against the risk of inciting outrage, and named Rudolph Giuliani instead.
Time Heroes
Time Magazine has paid "tribute to 29 dazzling people who shine their light on the world..." in their October 11 special issue. Ellen MacArthur was selected for her inspiration in 'Setting Sail for Greatness' and her work with the Ellen MacArthur Trust that takes young children suffering from cancer sailing. Ellen is featured alongside 28 other heroes from all walks of life who have made an impact on the environment they work in. The European Heroes include Anita Roddick, founder of The Body Shop who campaigns for human rights, fair trade and social justice; actress Emma Thompson who is an ambassador for ActionAid since 2001; and Otylia Jedrzejczak of Poland who won a gold medal in Athens in the 200m butterfly finals and has committed to auctioning her medal to help raise money for children suffering from leukemia. The European Heroes were chosen as 'they inspire, create, devote themselves to others, and even risk their lives...' www.time.com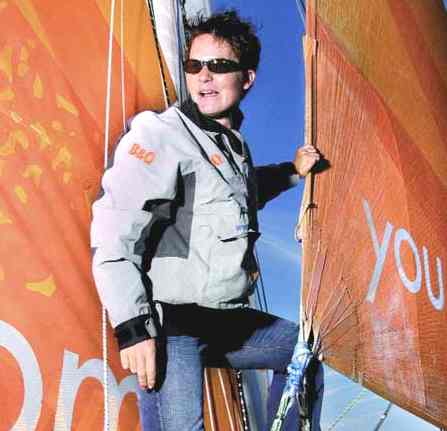 Ellen Macarthur in her element
Time For Kids
Time For Kids is an division magazine of Time Magazine, that's specially published for children and is mainly distributed in classrooms. TFK contains some national news, a "Cartoon of the Week", and a variety of articles concerning popular culture that young ones may be interested in. One annual issue concerning the environment is distributed near the end of the U.S. school term. The publication hardly ever ranges above fifteen pages front and back.
No Time for Charity
It is our experience that Time Magazine is reluctant to share articles it has put together from other research most of which is freely available on the internet. We have a different policy; to share information with others wherever possible and not to make a fuss about it. That said we are a not-for-profit concern, whereas most magazines in print, including Time Magazine are not.
---
ABOUT ELLEN MACARTHUR
Ellen grew up in landlocked Derbyshire, the daughter of two. She became hooked on boats and sailing after her aunt took her on a sailing trip when she was just 4. By the time she'd reached 8, Ellen had her own dinghy, which she used on her local pond. At 18, she was already sailing solo, notably on a trip around Britain. The young Ellen always wanted to go to university, but came down with mononucleosis, which scampered her plans. With time on her hands to contemplate, Ellen decided at this point she wanted to be a professional sailor.
MONONUCLEOSIS


Infectious mononucleosis (pronounced: mah-no-noo-klee-o-sus), sometimes called "mono" or "the kissing disease," is an infection that is usually caused by the Epstein-Barr virus (EBV). EBV is very common, and most people have been exposed to the virus at some time in childhood. Not everyone who is exposed to the virus develops the symptoms of mono, though. As with many viruses, it is possible to be exposed to and infected with EBV without becoming sick.

People who have been infected with EBV will carry the virus for the rest of their lives - even if they never have any signs or symptoms of mono. People who do show symptoms of having mono probably will not get sick, or have symptoms, again.

How Do People Get Mono


One common way to "catch" mono is by kissing someone who has been infected, which is how the illness got its nickname. But what if you haven't kissed anyone? You can also get mononucleosis through other types of direct contact with saliva (spit) from someone infected with the virus, such as by sharing a straw or an eating utensil. Some people who have the virus in their bodies never have any symptoms, but it is still possible to pick up the virus from them. Although experts believe that EBV can spread from people who have the virus but don't have symptoms of mono, people are most contagious while they have a fever.

SYMPTOMS


These begin to appear in 4 to 7 weeks after infection with the virus. The signs are:
constant fatigue

fever

sore throat

loss of appetite

swollen lymph nodes (also commonly known as glands, located in your neck, underarms, and groin)

headaches

sore muscles

larger-than-normal liver and spleen

skin rash

abdominal pain
People who have mono may have different combinations of these symptoms, and some people may have symptoms so mild that they hardly notice them. Other people may have no symptoms at all. Because these symptoms are so general and can be signs of other illnesses, it's possible to mistake mononucleosis for the flu or even strep throat. In fact, occasionally some teens may have mono and strep throat at the same time. When making a diagnosis, the doctor may want to take some blood tests to see if mono is causing your symptoms. But even if the blood tests indicate that you have mono, there isn't much the doctor can do other than advise you to drink lots of fluids and get lots of rest.

THE CURE


There is no cure for mononucleosis, but the good news is that even if you do nothing, the illness will go away by itself, usually in 3 to 4 weeks. Because mono is caused by a virus, antibiotics such as penicillin won't help unless you have an additional infection like strep throat. In fact, certain antibiotics can even cause a rash if you take them while you have mono.
Inevitably, the road ahead was harsh financially. For about 3 years Ellen lived in a 90 square foot shed in a boatyard with only basic facilities. From here she worked and began her sponsorship quest. With only 2 replies to around 2,500 letters, she carried on determinedly. Eventually, after racing solo across the Atlantic, she teamed up with Kingfisher plc. She was just 22. Three years on and she was sailing an 18 footer in one of the hardest ocean challenges; the Vendee Globe non-stop single handed circumnavigation. Ellen finished 2nd after 94 days. She was the youngest, fastest (and smallest) Briton to sail alone around the world non-stop.
Ellen 28, says she is lucky to be doing what she loves. Her French admirers call out her favourite expression: à donf, which means "go for it" and this is what she's been doing all her life. In the grueling world of round the world racing it seems this is what you have to do, in between just getting on with it.

---
Links to other TIME MAGAZINE stories

Atrocity in Beslan [Sept. 13, 2004]
TIME goes inside with the hostages and assesses Russian President Vladimir Putin's handling of the crisis — and the effectiveness of his hard-line policy against the Chechen separatists

It Takes a Little Teamwork [Aug. 22, 2004]
An Olympic scholarship program helped Abdou Alassane Dji Bo chase his dreams

Heroes Ball [May. 23, 2003]
Bono heads the guest list of the great and the good celebrated at a special reception for heroes of our time

AIDS Aid War [Jun. 16, 2003]
Bush and Chirac both promise to fight disease in Africa. Who'll back up the talk with cash?

Can Bono Save the World? [March 4, 2002]
The world's biggest rock star, U2's singer loves the stage. But behind the scenes, he fights a sincere battle for Africa's future

Search all issues of TIME Magazine
SEND A MESSAGE: EMAIL: ELLEN MACARTHUR
---
A - Z of Sussex officer investigations
The above is just a few of a number of persons likely to be investigated in respect of certain cases brought against Wealden Action Group members, on the instigation or encouragement of known Masons, councillors, or planning officers, many of which are themselves Masons.
Full details of this case will be available for publishing in newspapers from 25 April 2008 subject to confirmation. This will include full disclosure of all factors relied on photographs of the officers concerned, the CPS staff, expert witnesses, teachers and the subjects of the allegations, the defendant, alleged victim and family and others, video footage, transcripts and an exclusive from the defendant. The case is to be heard in September 2007 at a Crown Court in Sussex, which we will advise of closer to the time.
Newspapers are warned that interim, they should be exceptionally careful about reporting this matter, due to a Section 39 Order. Those in attendance at Court will already know the identity of the girl and that a Not Guilty plea has been entered on all counts.
Armed with the name of the girl, newspaper reporters will be able to investigate the matter for themselves, for the purposes of balanced reporting at the appropriate time, but should take special care where allegations are already on the table with the police investigating the possibility that such reporting is likely to reveal the identity of the girl concerned to the general public.
This case looks set to be every bit as exciting as the BBC 'The Verdict' drama. It is bound to raise a whole raft of questions as to social issues, how the system works, who it protects, who it doesn't protect and what might have gone wrong within the family concerned. Just who the victim is in these cases is sometimes hard to define.
As for the players, what will happen to them? How will this affect their lives, their family and future, and what are the lesson to be learned? See below for details.
---
CONVICTION QUASHED OVER 'MADE UP' VAMPIRE CLAIM


Paul Lewis - Friday May 19, 2006
The Guardian

A man who was sentenced to eight years in prison in 2004 after a teenager falsely alleged he repeatedly raped her in "vampire" rituals had his conviction quashed yesterday.
Leon Benjamin Forde, 21, of Lincoln, was jailed 18 months ago after the girl claimed he subjected her to a sex ordeal two years previously, when she was 13. But he won his freedom at the appeal court after the prosecution accepted the girl's testimony was undermined by evidence uncovered from a computer diary which suggested she had "made it all up".
Mr Forde later said his time in prison had been "hell".
---
TEACHER CLEARED OF RAPE TOO LATE

Graeme Paton - Published: 21 April 2006

A teacher who died in prison after being convicted of raping one of his pupils has been posthumously cleared by the Court of Appeal.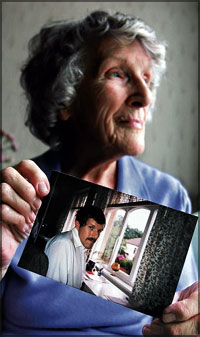 Molly Gee, 88, who has been awarded £62,493 by the appeal court
after battling to clear her son Darryl's name


Darryl Gee was jailed in 2001 despite scant evidence to corroborate his accuser's claims, which related to alleged incidents more than a decade earlier.
The music teacher, who protested his innocence, died in his cell from an undiagnosed blood cancer. He had served 18 months of an eight-year sentence.
This week, campaigners described the case as one of the worst miscarriages of justice they had seen after the Court of Appeal in London quashed his conviction.

It comes as government guidance designed to speed up investigations into alleged abuse of pupils is introduced in schools. Unions say this will reduce the risk of innocent teachers being smeared by false allegations.
Chris Keates, general secretary of the NASUWT, said: "This is an extreme and tragic illustration of the consequences of malicious allegations and underlines the need for these new procedures."
Mr Gee's 88-year-old mother, Molly, awarded £62,493 costs by the court, said the case should be a warning to other teachers.
"It all boiled down to one girl's word against his, and the jury believed her," she said. "That's all it took to send my son to prison and it has left me very angry and grief stricken. I don't think anyone should have to work alone with a child – it is just too easy for an allegation like this to be made."
Mr Gee, a supply teacher who taught brass instruments, was found guilty at Leeds crown court in January 2001 after being accused of raping and indecently assaulting a pupil in a Huddersfield school in 1989. He died aged 55 in August 2002, a month after a second appeal failed.
His conviction was eventually quashed when his mother alerted the Criminal Cases Review Commission, which asked a leading psychiatrist to report on his accuser. The study cast doubt on her mental state. It also emerged that the girl, now 26, made similar allegations against another man, whose conviction was quashed earlier this year.

Read more in the TES including the story of Charlie King. A jury took just half an hour to find him not guilty of sexually assaulting three of his pupils. So why did it take 13 months for the case to reach court?
---
SEX ATTACK LIAR NAMED BY PEER 19th October 2006
A woman with a long history of crying rape who sent an innocent man to jail was named in Parliament amid calls for a change in the law.
Shannon Taylor was unmasked by a peer who told the House of Lords her lies had put father-of-two Warren Blackwell behind bars for more than three years.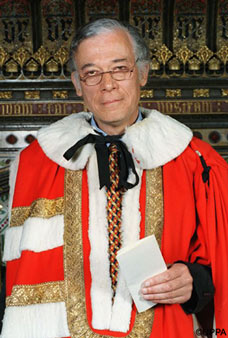 Lord Campbell-Savours
Lord Campbell-Savours used Parliamentary privilege to expose her identity and lambast the 'shabby' police investigation that saw Mr Blackwell imprisoned.
Legal experts praised his decision to speak out to prevent other men falling victim to fake sex attack allegations.
Mr Blackwell, 36, whose loyal wife Tanya never doubted his innocence, was dramatically cleared at the Appeal Court last month after Miss Taylor's background as a serial fantasist was exposed by a Criminal Cases Review Commission investigation.
But although his name was blackened, anonymity laws meant his accuser's was automatically protected, and she became known only as Miss A.
Even the appeal judges wanted to name her - but were powerless to do so - to warn other blameless members of the public.
The Daily Mail led calls for her identity to be revealed before she put another innocent man through torment.
Yesterday, Lord Campbell-Savours - said to be motivated by 'outrage' at the case - stood up and publicly did so.
He asked fellow peers: "Is not the inevitable consequence of the workings of the law, as currently framed, that we will carry on imprisoning innocent people like Warren Blackwell, who was falsely accused by a serial and repeated liar, Shannon Taylor, with a history of false accusations and multiple identities?
"As a result of her accusations, he spent three and a half years in prison following a shabby and inadequate police investigation, and was only exonerated when the Criminal Cases Review Commission inquiry cleared him and exposed her history."
The Labour peer added: "Shouldn't mature accusers who perjure themselves in rape trials be named and prosecuted for perjury?"
Miss Taylor's own daughter backed the decision to disclose her name, saying: "She is a danger and the public needs to be warned. She needs prosecuting for what she did. She is every man's worst nightmare."
Mr Blackwell's ordeal began when his accuser, now 38, claimed she had been seized with a knife outside a village club early on New Year's Day 1999, taken to an alley and indecently assaulted.
She later picked him out of an identity parade and a jury found him guilty, even though there was no forensic evidence against him and he had no previous convictions.
Eventually, the case was investigated by the Criminal Cases Review Commission which found that the woman had made up at least seven other fake allegations of sexual and physical assault, including against her own father. She frequently changed her name and police forces did not realise they were dealing with the same woman.
Her own mother has described her as "a persistent liar, very manipulative and a bully" who frequently claimed to have been beaten, sexually attacked and raped - all of which were untrue. She has a history of mental illness and self-harm.
The original investigation by Northamptonshire Police was exposed as shoddy, with Mr Blackwell's lawyers claiming that normal safeguards and procedures were completely ignored. He plans to sue.
Yesterday, a friend of 63-year-old Lord Campbell-Savours explained why he decided to speak out. He said: "He named her because he was outraged. He doesn't think it's got anything to do with the issue of rape, he thinks it's an issue of perjury.
"This woman made up the story and told lies and he can't see why a person who has perjured themselves should be protected, irrespective of the type of offence.
"Sometimes people have to stick their heads above the parapet in cases where the law is clearly an ass and needs to be reformed.
"He thinks the law around anonymity, particularly where false accusations have been made, needs to be changed."
Welcoming the development, Mr Blackwell, from Woodford Halse, Northamptonshire, said: "It's absolutely fantastic. I didn't think anybody would have the guts to name her.
"This woman needs to be stopped. The fact is, she remains free to carry on crying rape and up till now has been enjoying the full protection of the law. It's absolutely crazy that she could not be named and shamed, because innocent men need to be warned to avoid her like the plague.
"Now I hope she will go on to be prosecuted." But she is unlikely to face charges for perjury or perverting justice.
Northamptonshire Police yesterday claimed there was "insufficient evidence", while Crown Prosecution sources have cited her mental illness as a barrier.
But Mr Blackwell's barrister Anne Johnson said: "There is a clear public interest in her being prosecuted for perjury or the very least wasting police time.
"It's fantastic that somebody of authority has finally come out and named this woman. The issue needs to be aired otherwise nothing will be done."
At Mr Blackwell's appeal last month, Mr Justice Tugendhat admitted that similar tragic cases could follow because of the lies of the 'Miss A', adding that Parliament had not seemed to have considered this possibility when framing the law. Last night the judge said he did not wish to comment on yesterday's twist.
In the 1970s, the Daily Mail campaigned for women in sex cases to be granted automatic anonymity, to protect genuine victims of genuine crimes. Although Miss Taylor has now been publicly named, there is nothing to stop her changing her identity yet again.
Callers to her most recent address were told by her boyfriend that she no longer lived there.
Here's what readers have had to say so far. Why not add your thoughts below?
It is unfortunate that in my opinion women seem to be able to make allegations and men are treated as guilty unless proven innocent. This spills over into family law where this happens all the time. It is time for laws to be changed and the system to be exposed for what it is. I take my hat of to the judge for naming this women. It is about time that more professional people i.e. judges and lawyers started looking at what is right and wrong instead of either following there own political agenda or lining their own pockets.


- Lisa Lipscombe, Burlington, Canada
The sentencing for false accusations of rape should be as harsh, and enforced as harshly, as rape itself.


The USA also needs to wake up to the many false allegations of rape that are putting innocent men in jail.


- Denis, Boston, MA USA
Warren Blackwell and wife Tanya - Guilty until Proven Innocent
Man freed but serial rape accuser remains anonymous12th September 2006
Warren Blackwell and his wife Tanya outside the Court of Appeal
An innocent man jailed for a sex attack was dramatically cleared after it emerged that his 'victim' is a serial liar with a long history of crying rape.
But because of laws that protect her anonymity, judges are powerless to name and shame her, leaving her free to make more false accusations against blameless members of the public.
Mr Blackwell, 36, hugged his loyal wife Tanya and wept as the Appeal Court quashed his conviction.
He described his accuser as "every man's worst nightmare".
Mr Justice Tugendhat admitted, however, that similar tragic cases could follow because of the lies of the woman, Miss A.
"Parliament does not seem to have contemplated this situation.
"There appears to be no means of displacing her entitlement to anonymity."
In the 1970s, the Daily Mail campaigned for women in sex cases to be granted automatic anonymity, but now there are questions about whether the law has gone too far.
Warren Blackwell's nightmare began when Miss A, now 38, claimed she had been seized with a knife outside a village club early on New Year's Day 1999, taken to an alley and indecently assaulted.
She later picked Mr Blackwell out at an identity parade.
There was no forensic evidence against him and he had no previous convictions.
'She needs to be stopped'
Yet Mr Blackwell, from Woodford Halse, Northamptonshire, was found guilty and spent three years and four months behind bars.
Eventually the case was referred to the Criminal Cases Review Commission (CCRC) which assigned Detective Chief Inspector Steve Glover, to investigate. He discovered that the woman:
• Has made at least five other fake allegations of sexual and physical assault to police in three separate forces.
• Was married twice and made false allegations against both husbands - one of whom was a policeman.
• Once accused her own father of sexual assault, but police concluded she had made it up.
• Accused a boy of rape when she was a teenager, only for a doctor to discover she was still a virgin.
• The CCRC concluded that in the case of Mr Blackwell, she had "lied about the assault and was not attacked at all, her injuries being self-inflicted".
The Crown Prosecution Service did not oppose the appeal.
David Farrell QC, for the Crown, said: "This conviction is unsafe. What has come out of the woodwork paints a picture of a woman with immense personal problems with serious difficulties in distinguishing between truth and lies."
If this information had been known at the time of the trial, he added, "this case would not have made it off the ground".
Mr Blackwell said: "Clearly something has to be done about this woman. She needs to be stopped. The prosecution say she is psychiatrically disturbed, but insane people who murder are tried and if found guilty put away."
Mr Blackwell, who plans to sue police over his ordeal, will now have his name removed from the Sex Offender Register.
His accuser has a history of mental illness and self-harm - once inscribing the word 'HATE' on her body with scissors.
However, because she has changed her name at least eight times, and moved between addresses in at least three counties, it seems police never realised they were dealing with the same woman.
For Mr Blackwell, her accusations meant he missed more than three years of family life. His son Liam, ten, and stepdaughter Holly, 16, were three and nine when his ordeal began.
His 36-year-old wife said: "I never doubted him for a second. We were together six years before it happened, and ever since."
---
F.A.C.T. (Falsely Accused Carers and Teachers)
PO Box 3074
Cardiff CF3 3WZ
Tel: 029 2077 7499
E-mail: info@factuk.org
Website: www.factuk.org
Campaigning organisation and support group which provides help and advice to falsely accused and wrongly convicted carers and teachers throughout the UK. The website contains a range of information, leaflets, books and links.
Guidance for education staff and volunteers in schools
Website: www.lg-employers.gov.uk/conditions/education/allegations
This website has guidance on: 1) staff facing an allegation of abuse; 2) preventing 'abuse of trust' for education staff; and 3) the conduct of education staff working with young people.
News A to Z directory, please click on the links below to find your favourite news or to contact the media to tell your story:
Send a press release: Sending a release to PA PR Services
Contact The Press Association news desk on: T: +44 (0) 20 7963 7000 E: information@pa.press.net

To send a potential news story for consideration by PA editors, e-mail copy@pa.press.net.
Please note that all attachments will be ripped out as these e-mails are directed into PA's news system. Any press release copy needs to be copied and pasted into the e-mail itself. Content sent to copy@pa.press.net will be considered by the newsdesk and may be passed to a reporter to be followed up.
PA does, however, distribute full-text press releases directly to newsrooms on their PA Mediapoint service. To include a press release on this service, please contact PA's partners direct :PR Newswire Business Wire Medialink na europe
The Press Association 292 Vauxhall Bridge Road, London, SW1V 1AE
More information is available on this site, or by contacting Martin Huckett: T: +44 (0) 20 7963 7849 E:mailto:martinhu@pa.press.net
WE ACCEPT NO RESPONSIBILITY FOR THE ACCURACY OF ANY FEATURED LINKS