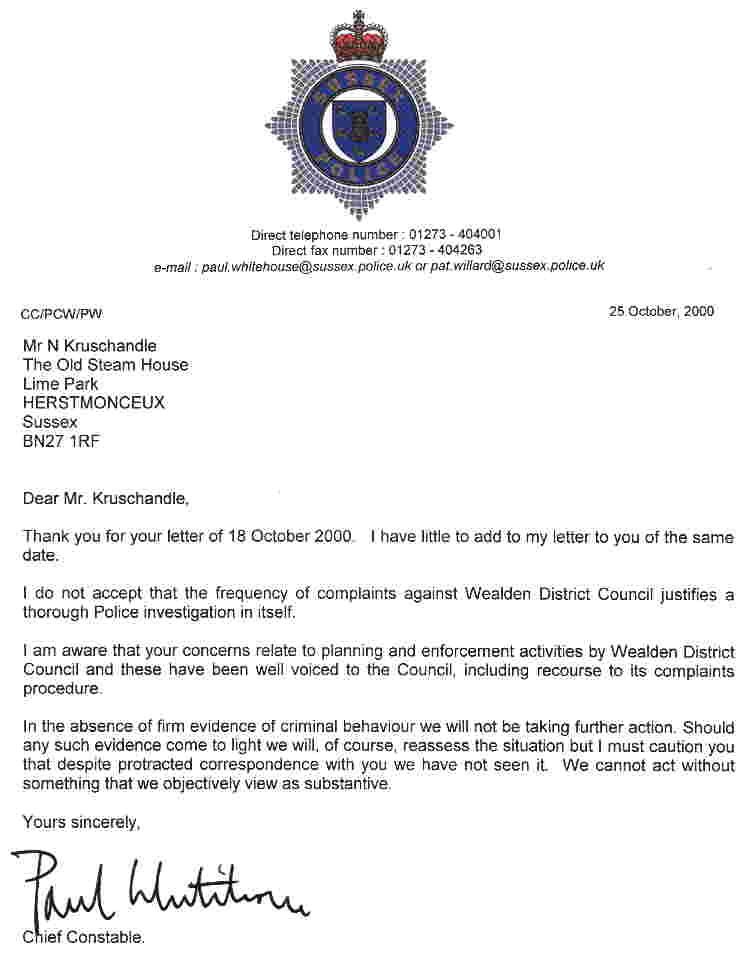 Ken Jones took over the position of chief constable after Paul Whitehouse left disgraced by his handling of complaints as to procedural irregularity ending in the shooting and death of a civilian.
Most recently the new Chief Constable has been giving evidence to the Morris Inquiry. We understand Mr Jones has received a number of complaints from the public concerning breaches of the Human Rights Act occasioned by the Wealden District Council working hand in hand with officers of Wealden D C. This is a new issue for the Police to come to terms with in addition to any complaint of harassment, deception or misuse of public funds.
It appears the Sussex Police may have been assisting Wealden's enforcement officers to evade their duty to ensure a fair hearing, they being required by law to substantiate the reasons for enforcement visits. It appears the Sussex Police may not have been aware of the requirements of Wealden's enforcement officers to provide detailed evidence as to their authorisation.
Most Police forces are part funded by their local authorities. Because of this they should take special care not be seen to be acting to the detriment of the public. Should they do so they leave themselves open to criticism such as masonic ties, or other cosy relationships, normally only revealed by whistleblowers.
However, the Police must act in accordance with the Police Act and Code of Conduct . It is their duty to protect the public and the peace. Not to do so constitutes a crime in itself as in R v Dytham and R v Bowden.
Ken Jones failed to mount any kind of investigation as to the mounting allegations of fraud against Wealden District Council, including the case of Nelson Kruschandl, the well known anti-corruption activist.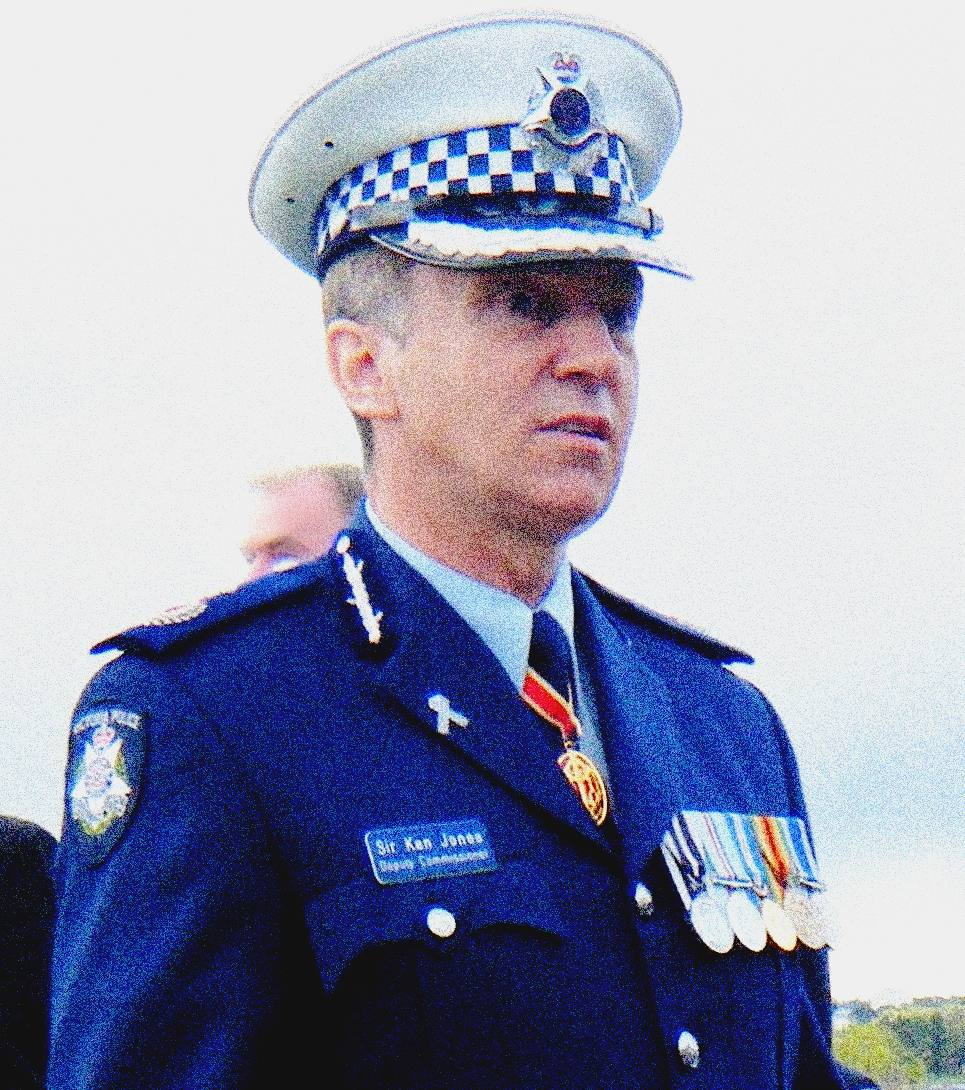 KEN JONES WIKIPEDIA
Sir Kenneth Lloyd "Ken" Jones QPM is a British former police officer. He was a Deputy Commissioner of Victoria Police in Australia, former President of Association of Chief Police Officers for England, Wales and Northern Ireland in the United Kingdom and Senior Investigator of Independent Commission Against Corruption (ICAC) of Hong Kong. Sir Ken Jones is a former President of Association of Chief Police Officers and presently defence & security advisor at the British Embassy in Washington DC. He was awarded the Queen's Police Medal in 2000 and was knighted for services to policing in 2009.
CAREER

With South Yorkshire Police, Jones served in a number of cities including Sheffield, Rotherham, Barnsley and Doncaster gaining experience with community beat duties, specialist detective work and the use of firearms. Whilst there he received three Chief Constable's Commendations. He has commanded both rural and urban divisions. He gained experience abroad working as an anti corruption investigator in Hong Kong and as an election monitor in Zimbabwe. he visited the West Coast of the USA to study the growth of private policing.

Sir Ken has also served in Africa (Zimbabwe-Rhodesia), the United States (as a Fulbright Scholar at UCLA in 1996) and Hong Kong (in the Independent Commission Against Corruption (ICAC)). He was appointed Assistant Chief Constable of the Avon and Somerset Constabulary in 1997.


CHIEF CONSTABLE SUSSEX

In November 2001 he was promoted to Chief Constable of Sussex Police, serving until 2006.
PRESIDENT ACPO

In 2006 Jones became the President of the Association Of Chief Police Officers ACPO He was preceded by Sir Chris Fox QPM (2003 - 2006) and followed by Sir Hugh Orde OBE.
Deputy Commissioner of Victoria Police

On 25 May 2009 it was announced that he had been appointed as the Deputy Commissioner (Crime) for Victoria Police in Australia. He assumed the duties of this role on 1 July 2009.
MEDIA
During the time Sir Ken Jones served Victoria Police Force he became the subject of death threats which came to public light in December 2010. This signalled the start of the complicated relationship at the top of Victoria Police concerning the integrity of the presentation of crime statistics to the public between Jones and Overland. Concerns have been raised about Overland's actions as there is an ongoing investigation into allegations of Overland's own conduct with the former Brumby government, in particular the release of incomplete favorable crime statistics prior to the 2010 election.

Jones had objected to this politicisation of policing. Jones was reportedly the subject of an investigation by the Office of Police Integrity requested by Overland, over Overland's suspicions that he helped media expose the cherry-picked crime statistics. However these reports were found to be untrue and harmful to Sir Ken Jones' career in a report published by the Ombudsman. IBAC Press release, para 5 :
"Mr Kellam's review concluded that the evidence available to OPI and set out in OPI's final investigation report to the Ombudsman did not support an allegation that Sir Ken Jones QPM had engaged in serious misconduct by leaking or facilitating leaking to the media of confidential police information".
This final report cleared Jones of any wrongdoing during his time at Victoria Police Force.
If you have experienced of or been witness to any untoward attention from Wealden District Council, why not contact the Chief Constable:-
Ken Jones QPM
Chief Constable
Police Headquarters, Malling House, Church Lane
East Sussex, BN7 2DZ
Tel. 0845 6070 999
Fax. 01273 404263
Email. ken.jones@sussex.police.uk
Should the Police fail to act, you should contact the Police Complaints Authority or Her Majesty's Inspectorate of Constabulary with a view to obtaining an investigation of the officers refusing to investigate. Following disciplinary action of any officer failing to perform his duty, you may be entitled to compensation for which you should contact the Criminal Injuries Compensation Appeals Panel
For all Members of Sussex Police Authority

COMPLAINTS AGAINST CHIEF CONSTABLE OF SUSSEX MR KEN JONES.

MOST OF THESE COMPLAINTS COME FROM HIS COVER UP OVER THE UNSOLVED MURDER OF KATRINA TAYLOR AND FOR HIS COVER UP MAJOR CORRUPTION WITHIN SUSSEX POLICE SINCE BECOMING THE NEW CHIEF CONSTABLE. PLUS THE COVER OF THE CRIMINAL ACTIVES EX SUSSEX CHIEF CONSTABLE PAUL WHITEHOUSE EX ACC. CHIEF CONSTABLE MARK JORDAN AND NIGEL YEO.

Unsolved murder of Katrina Taylor failure to take a full statement over the murder- Failure to investigate 2 attempted murders of murder Mr Neilson-Failure to investigate Sussex Police corruption surrounding the murder of Katrina Taylor- Failure to investigate corruption inside Sussex Police Professional Standards Department-over the murder of Katrina Taylor. Failure to investigate criminal misfeasance- fraud- harassment -electoral- fraud -inside Lewes District Council. Failure to investigate criminal conspiracy of Sussex Police and Lewes District Council Failure to investigate acting together to harass Mr Neilson to cover up crimes. Failure of duty- Failure to investigate death threats made by Sussex Police Officers to stop Mr Neilson appearing as a witness at the first trial. Failure to investigate harassment and intimidation of Mr Neilson- criminal conspiracy with other persons to intimidate Mr Neilson- witness intimidation-- criminal conspiracy with other persons to cover up vital evidence concerning the murder of Katrina Taylor- harassment and intimidation of a witness "Mr Neilson" to pervert the course of justice-


Note Mr Neilson has written to him several times asking to be interviewed over the murder of Katrina Taylor and vital evidence that was removed by Sussex Police over the murder. Plus a wide area of crime and Sussex Police corruption. There has been no active response from Ken Jones.

Mr Neilson offered Ken Jones a copy set of the Katrina Tapes some 200 hours for transcription- which start before the murder of Katrina Taylor and identify corrupt police officers -plus major crimes-Lewes District Council Fraud
A - Z of Sussex officer investigations
LINKS & REFERENCE
https://en.wikipedia.org/wiki/Ken_Jones_%28police_officer%29
---
WE ACCEPT NO RESPONSIBILITY FOR THE ACCURACY OF ANY FEATURED LINKS
FAIR USE NOTICE
This site contains copyrighted material the use of which has not always been specifically authorized by the copyright owner. We are making such material available in our efforts to advance understanding of environmental, political, human rights, economic, scientific, and social justice issues, etc. We believe this constitutes a 'fair use' of any such copyrighted material as provided for in section 107 of the US Copyright Law. In accordance with Title 17 U.S.C. Section 107, the material on this site is distributed without profit to those who have expressed a prior interest in receiving the included information for research and educational purposes.
For more information go to: http://www.law.cornell.edu/uscode/17/107.shtml. If you wish to use copyrighted material from this site for purposes of your own that go beyond 'fair use', you must obtain permission from the copyright owner.
This site is protected under Article10 of the European Convention on Human Rights and Fundamental Freedoms.