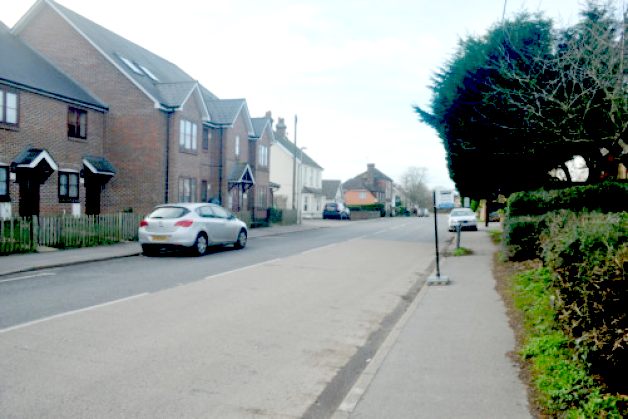 PLANNING APPLICATION REFUSED - APRIL 2013
Plans to build 30 homes in Herstmonceux have been rejected by district planners.
Members of Wealden District Council turned down the application on the grounds it failed to address infrastructure concerns and lacked affordable housing to meet the needs of the area.
Applicants Barratt Southern Counties is reviewing the plans before deciding whether to appeal the decision.
The plans to build 30 homes with associated garaging, car parking and landscaping and the demolition of a house on James Avenue to pave the way for a new access to serve the site was turned down by district planners on April 4.
The refusal was welcomed by residents who are currently writing a neighbourhood plan to outline concerns and hopes for the future of the village.
Darren Simpson, who is helping to write Herstmonceux Neighbourhood Plan, said the decision was the result they were looking for.
He said, "We were objecting because of the number of houses and they way it looked and the fact there seemed to be no real thought gone into it regarding how it would impact the area.
"We understand there's got to be 70 houses built in Herstmonceux in the next 15 years under government guidelines, and so as part of that government backed scheme we are writing a parish local plan to outline what residents feel the parish needs most.
"If we finish the plan it may outline that the area proposed by Barratt is the right one for building on. But there were 79 letters of objection registered with Wealden and that shows the strength of feeling against the application in the area.
"There's overwhelming support to produce the neighbourhood plan which Wealden councillors took on board and understand that we, as a parish, wanted to choose what type of development we have in the village.
"It's about keeping that community feeling in the village. We are obviously happy the plan did get rejected in the form it did but we are tentative to find out what [Barratt] come with next. We are obviously a little bit worried because they tend to push things through when they decide to do something."
Planners also felt the application was flawed because of the location, which was outside the development boundary in open countryside. It was believed this would risk prejudicing the preparation of the delivery and Site Allocations Local Plan and Neighbourhood Plan by pre-determining decisions about the scale, location and phasing of new development.
The application also failed to demonstrate the site could cope with the development without resulting in an overly cramped layout including failing to provide adequate parking and children's play space.
Nick Keeley, planning manager for Barratt Southern Counties, said, "Whilst we are disappointed about the refusal for planning for 30 new homes in Herstmonceux, we will need to await full feedback from the planning authorities before we can decide whether to amend and appeal our application."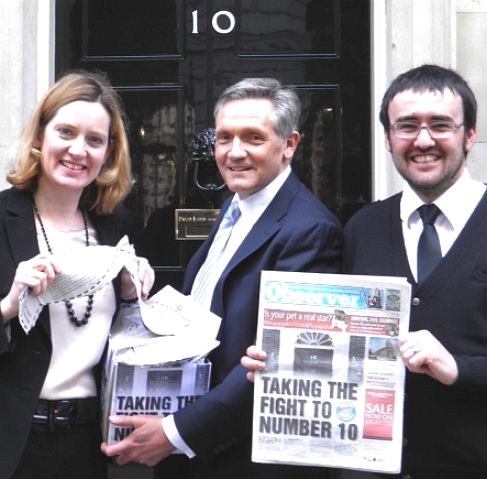 A GROSS MISCARRIAGE OF JUSTICE
The Herald article below this review is reproducer verbatim. What is interesting about this article is what is left out, and what is argued months after his trial, which was not argued at trial and should have been, if that is the accused was to receive a fair hearing as per Article 6. The conviction is the subject of an appeal to the European Court of Human Rights in Strasbourg.
Here it is mentioned for the first time that the accused had been trusted with his nieces and other youngsters for many years with those persons feeling protected, rather than threatened. It turns out that he operated a studio with many teenagers (fortunately over 16) regularly recording songs. All of those students of music were available as character witnesses to confirm that the accused was not inclined to anything like he was being accused of.
Judge Cedric Joseph made many mistakes during the trial concerning a diary (not that of the accused but the girls mother), but here in sentencing, Judge Joseph reveals for the first time that he believed that the diary belonged to the accused. The Judge then goes on the instruct the Jury that it is the diary of the accused, so presumably, not to be relied on. Whereas, it was the work diary of the girls mother, and she had hidden it in her loft so that the Police would not find it. The existence of the diary only came to light half way through the trial. Too late for the defence to make any enquiries as to the dates, which if they had, they would have found that there was no opportunity for the attacks claimed - on the word of the girl's mother, scribed in pen, that contradicted the evidence given by the girl and her mother.
Further, Judge Joseph also slips up by saying that the accused is of bad character, when that was not and should not have been accepted by the defence. Any misdemeanors that are 20 years old are not relevant, unless they show a propensity. Kruschandl had not been accused of anything like this before - in all his years around teenagers. But then, he'd never met this family before either. The evidence of his impeccable conduct with young family and other people, should have been put to the jury. It is a material consideration - that his cut-price lawyers were instructed to do, but gave negligent advice as to the consequences of calling character witnesses. It is thought that this was to do with the small sum that legal aid provide for a criminal defence - which, believe it or not is the same for a complex sex case, as for criminal damage charge.
The low fees allowed were exhausted in this case early on, when the police confiscated the computers of the accused, then refused to copy the hard drives back. Yet the evidence for the defence was on those hard drives. Some 18 months later, and two court appearances, and a Judge in the Hove Crown Court, ordered the police to copy back the hard drives. This was a deliberate stalling tactic by the Sussex Police who knew it was exhausting the funds needed for the defence. That, it seems is why the defence lawyers were giving such terrible advice and not doing any work, such as interviewing a list of 17 potential witnesses provided to them and instructing a forensic specialist to challenge - what we now know from an independent report, is that the medical evidence that the jury were instructed to consider was and is bogus. Kruschandl was convicted in February 2008 on the old 1997 RCPCH guidance - which was wrong. Revised guidance was issued in March of 2008. The police knew that this report was due to be published, so brought forward the case to be sure that Melanie Anne Liebenburg would give evidence based on out of date information. The conviction was thus obtained fraudulently, according to the Fraud Act 2006.
What is missing from all newspaper reports is that the girl claimed multiple vaginal penetrations and Judge Cedric Joseph multiplied this to 30-40 attacks for the jury to consider. This is important because the claimant was intact with no trauma. She was at the time of examination, a virgin. If she had been attacked, for each attack there is an 80% chance of trauma, but nothing in this world can make a hymen intact once there has been penetration. In other words a virgin is just that. Intact; neither stretched nor scarred. We would welcome the confidential views of any expert. We are just as concerned as the next doctor to convict sexual predators, but also concerned to prevent wrongful convictions. We wonder how that affects the integrity of Dr Liebenberg - and if this doctor has been a witness in any other dubious cases?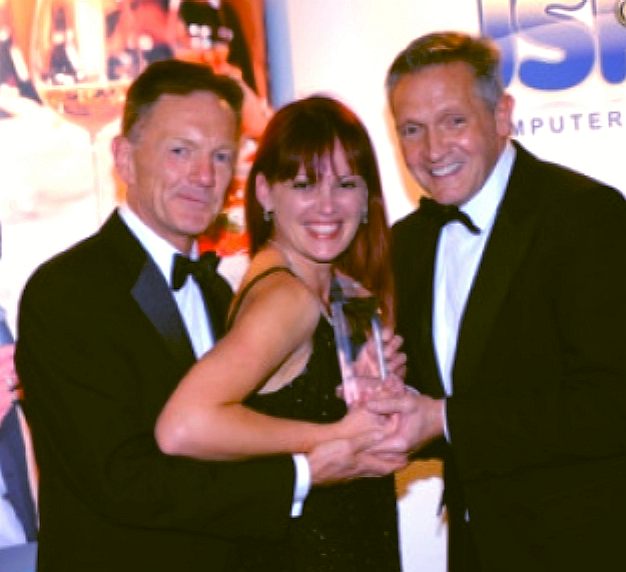 If we didn't know any better, we'd think this pose suspect.
It could be that Sussex police were feeding information to the Beckett Group to help them gain a conviction against their victim, and from what we have heard about the level of corruption in this beleaguered force, that sounds quite plausible. Giles York was the Chief Constable at the time, taking over from Paul Whitehouse after the James Ashley murder by armed police - also based on false information. Paul Whitehouse was forced to resign after David Blunkett pushed him to leave following the dreadful revelations by Hampshire and Kent police following the investigation of the shooting.
If the Sussex police were using the media in this way and if that proves to be the case, then we have a potential conspiracy to pervert the course of justice.
Rather importantly, the prosecutions chief witness, Dr Melanie Liebenberg, misled the jury as to so-called medical evidence, that it turns out was junk science. This witness for the Crown, must have known that what she was saying was false, unless she was totally incompetent. The partial notch she alluded to rape is in fact a commonly occurring feature in the hymen of all females of all ages. The jury were told by this witness that she could not think how such a mark could be present other than through sexual activity. That was a lie. She must have known from information in reports from a colleague: Dr Elizabeth Jane Carter in another case involving Sussex police, that these marks are naturally occurring. The marks that are not naturally occurring are full width lacerations of which there were none. This was only a common notch or mark that most females present with.
Having established the absence of any laceration scars and being unable to open the hymen with labial traction the next step in the examination stage is to use a colposcope to measure the hymen to vaginal wall distance. This stage uses precise measurements to establish if there has been penetration. Melanie Liebenberg must have known that this stage would reveal to a clinical standard that the claimant was intact and had not been the subject of multiple penetrations as claimed. It appears that she deliberately left out this stage, or failed to record the results and make them available to the defence, knowing it would likely lead to a conviction. She was helping the police, much the same as in the case of Sarah Ward, the woman convicted of being an IRA bomber on boot polish, where the forensic scientists failed to mention that polish gives the same result as explosives.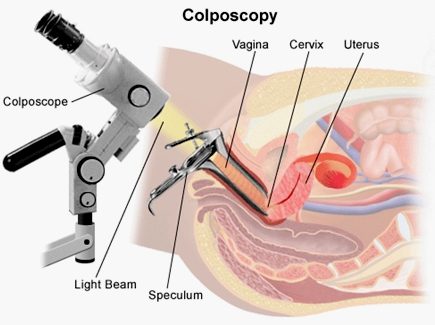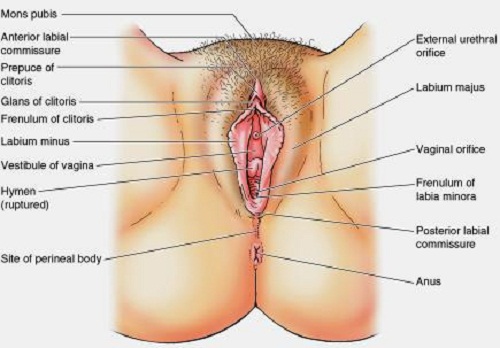 FRAUD - Tears and the like in the hymen are full width if caused by trauma, leaving scar tissue, rather than partial (a smooth small indentation) as in naturally occurring features. This was not explained to the jury, who were left believing that there was no explanation for the 'notch' other than penetrative sex. Tailoring the evidence by not completing a procedure leads to fraudulently obtained convictions.
Then if we go deeper (if you'll pardon the pun) we find that the vaginal labia could not be opened even with labial traction. Now we are not experts, but that sounds to us as though the girl was intact. I.e. a virgin. This is hardly what you'd expect to find by way of evidence where the aged Judge, Cedric Joseph, told the Jury that this was merely a sample charge or more like 30-40 sexual episodes. If there had been even one or two sexual episodes the hymen would be open. Doctor Liebenberg must have known this, but did not want to say so, or conduct any more tests that would deprive her police chums that chance of sending this poor chap to prison for something that he did not do.
The fact remains that howsoever this news group came to publish mid-trial, we now know that the mother of the complainant was the daughter of a prominent mason, a former head at Tyrian Lodge in South Street, Eastbourne, the same lodge that has many police members (it is 100 yards away from the old police station in Grove Road. Sounds suspicious? You bet.
Did you know that there is no right of appeal in the United Kingdom. That's right, we violate the fundamental principles of law in the quest to save money, forsaking those poor innocent souls who have been wrongly convicted. They call it Noble Cause Corruption. The Justice System (that it is) knows they are convicting innocent men and women, but they don't care about that 2.5%, or higher numbers, because in allowing the police to investigate only what they want to, instead of what they should, the conviction rate rises.
The Criminal Cases Review Commission (CCRC) is the only route back to the appeal court in Merry Olde England, where a single Judge filters out application to the appeal court and ticks a box on the Appeal Form to take away time served. It's a bit of a gamble for those incarcerated. In this case Sir Christopher Holland had not made it clear if he'd ticked the box. Possibly, deliberately, but the Judge/Court failed to respond in time to allow the appellant to fill in the forms that were all ready to go within the 14 days allowed. Worse, the appeal barrister Michael Harrison failed to challenge the Appeal Court who were refusing to provide certain information (transcripts) or the single judge who had fudged the box ticking. In addition, Mr Harrison had not investigated the medical issues and so did not know about the virginity issue, nor had he looked at the work diary of the psychiatric nurse to realise that that the dates were all wrong and that Cedric Joseph had wrongly summed up to the Jury as to whose diary was in question. The Judge said it was the defendant's when nothing could have been further from the truth - it belonged to the mother of the claimant, and this woman had hidden it in her loft to prevent the police seeing it.
The diary only came to light when the mother of the claimant was being questioned on the stand. At this point the Court had no choice but to order discovery. Sussex police obliterated the colour code, only providing poor quality monochrome copies, knowing that this meant the defense could not challenge other assertions as to menstruation cycles.
You could not make this stuff up. Imagine then the mental torture of the wrongly convicted as he waited in prison in the hope that right would out at some point in time. But it was never to come. Michael Harrison had not provided the transcript of Judge Joseph's summing up to the appellant, so he did not know how this Judge had misled the Jury until two years into his sentence. The first glimmer of hope was when he discovered caselaw that was on point while in prison in Norfolk, thanks to a library service where one could order books, etc.
The prison service had denied the appellant a justice laptop, bouncing him from High Down to Lewes Prison, then to Maidstone Prison, then finally to Norfolk where they continued to deprive their prisoners justice facilities, monitoring privileged documents illegally.
In maintaining his innocence, he was locked up in his cell for 23.5 hours a day, allowing him exercise and locking in the block for a time for refusing to work, where appellants are to be treated as innocent and he elected education, that was also finally denied to him.
Prison in England is no fun if you are innocent and assert your rights to be treated as such. It is much easier to go with the flow and attend so-called corrective courses, save that these course bring a person into close contact with real offenders, as they reveal details of their crimes. Indeed, such courses have been shown the increase re-offending rates, being physchobabble based.
RELEASE
Finally on release it looked like there may be an appeal in the offing, with another barrister, Stephen Field taking up the baton, though not challenging either the medical evidence or incorrect diary summing up.
Unfortunately, the CCRC openly discriminate between cases, so that where there were two near identical cases that had been referred to the appeal Court by themselves, in this case they were not consistent within their own parameters. It is of course unlawful to discriminate in the United Kingdom, being an Article 14 violation. The only explanation that we can think of for this about-face is that the CCRC may have masonic connections. Indeed, Her Majesty Queen Elizabeth is the Grand Patron of the The Royal Masonic Benevolent Fund. What hope then for anyone trying to prove innocence, where the state openly violates Articles 13 and 17 of the European Convention of Human Rights.
MOTIVE: PETITION & ROBIN HOOD ADVOCATE
Why then do you suppose the Sussex police would have it in for this defendant? If we were to tell you that this victim of injustice had fallen foul of the Gestapo like Wealden District Council (WDC) in 1986 when they enforced against residential use of a historic generating building now a Museum, lying to Inspector Raymond Portal Dannreuther (Secretary of State), then in 1997 the appellant joined with others to demand an investigation in a Petition, but that the police failed to investigate the complaints of 12 unrelated members of the public, instead providing blank police paper to this council's officers to write their own letter of exoneration. Ian Kay's father was a member of Tyrian Lodge, in Eastbourne. Ian Kay was also the Assistant District Planning officer at WDC, having involvement in the generating buildings case from a Tree Preservation matter in 1984. The TPO was another ruse by Wealden to disadvantage the incumbent.
Nothing would have come of that, but for the fact that their target kept raising the non-investigation by Sussex police as a crime - and that would appear to be the case. It is a crime not to investigate a report of a crime, making those in the Sussex police involved in such cover up, criminals.
Then in 1999 Sussex police chums, WDC, suffered a major blow to their administration when proof positive surfaced as to this council's lies to Inspector Raymond Michael in 1997. Where the corrupt council had been caught red-handed, spending taxpayer's money to nurse a lie, they were somewhat embarrassed by the revelations of an archaeological survey, but rallied in delaying planning applications to put the matter right.
Also, their victim was helping other victims of what appears to be a corrupt planning administration, winning a number of appeals against this council. So they tried to bankrupt their target in 2003, and that is where the mother of the claimant as to sexual allegations comes into the frame. The defendant had become engaged to the daughter of a councillor who cannot be named. All the while he was engaged to be married to the councillor's daughter WDC were happy to do a deal, but as soon as the engagement was called off, things turned nasty again.
No longer represented by the councillor, WDC appears to have worked with Sussex police to concoct a case based on the vulnerability of the councillor's daughter and granddaughter, who were fond of the defendant but seeking revenge for calling off the engagement, so it appears were willing to be coached as to what to say and then lie on oath. It appears that where there was no case to answer from what were unsupportable allegations, they could make it convincing if they could find a witness who was willing to overlook the virginity and say something other that what any other professional would be bound to say under the Hippocratic Code of conduct that all doctors owe to any member of the public, not just a patient of theirs.
Their luck was in. Not only would Doctor Liebenberg provide what amounts to false testimony, but a teacher had conveniently lost her notes and a school friend had wrongly put forward her interpretation of what the claimant was saying to cover up the socially awkward truth that her mother had been dumped.
To make matters worse, the claimant suffered from a disorder that made her seek attention and was prone to suggestion, such that with repeated coaching, as those around her made suggestions to correct defects in her developing story, she latched onto the suggestions, over time most likely believing the concoction herself. Coaching is of course illegal, but that is what social services did. When social services tried approaching other girls that the claimant said were also victims of abuse, such story was roundly refuted by the other girls. Memories can be implanted. They are known as Screen Memories [Loftus].
Once implanted, the false suggestions become mixed in with real memories. These are recollections of early childhood that may be falsely recalled or magnified in importance to mask another memory of deep emotional significance, such as her mum's fiancée leaving the family and calling off the engagement. The poor girl must have been in a dreadful emotional state, and that Sussex police, apparently at the behest of Wealden District Council, did their best to secure. Imagine also that if the girl started believing suggestions that were implanted, that her mother and grandparents would also believe the false allegations. Several years on it would be almost impossible to separate fiction from fact. It took two years before the trial. Also of significance, is that the investigating officers did not believe the claimant. They gave her a further two weeks to invent something more plausible, where the object of any investigation is to secure the crime scene - something they never did. The police never secured the claimant's computer or video collection, both of which would have been telling. Whether negligent or deliberate the results were devastating to the right of the defendant to a fair trial.
Desperate to reinforce what was a case that could easily have been undone, had barrister Julian Dale followed the instructions of his client to challenge the medical evidence, Sussex police enlisted the help of local radio stations and newspapers to publicise the allegation and investigation, hoping that other females might jump on the bandwagon, but nobody could jump on that bandwagon as this man was innocent. Indeed, the opposite was true, those approached were willing to testify as to the good conduct of the accused - and for that reason were not interviewed. No statements were taken from anyone who had a good word to say about the defendant. It appears that the defendant's solicitor, Timothy Stirmey may also have been in the conspiracy frame where he wrongly advised that character witnesses would not help the defendant. Would you believe that? This was said to two witnesses who wanted to give evidence, but Mr Stirmey refused to take their statements.
The CCRC said that the claimant was convincing. They did not investigate the delays in obtaining video evidence from the complainant, or the coaching of social services. The claimant's grandmother worked for social services.
EXCLUSIVE
The exclusive rights to this story are available to any media or film group, together with copies of all the documents and the victim's prison diaries.
EASTBOURNE HERALD ARTICLE - VERBATIM:
"Inventor jailed for molesting 11-year-old - Published on 02/05/2008 15:31
AN INVENTOR who sexually abused an 11-year-old girl over a two-year period has been jailed for seven years. Nelson James Kruschandl, of Lime Park, Herstmonceux, had been found guilty of four counts of indecent assault and sexual assault after a trial at Hove Crown Court in February.
The jury in the case heard the 52-year-old had abused the young girl and sent her saucy Valentine's cards.
The attacks, which took place between 2003 and 2005, began after the girl went to Kruschandl's home after school.He had a recording studio set up in the living room of The Old Steam House, a former Victorian electricity station in Lime Park.
The victim, who cannot be named, said Kruschandl asked her to go to his room 'for a cuddle'.
The girl, now 15, said on later visits he took all but their underwear off and laid next to her on his bed.
She said more intimate touching took place on later visits.
In passing sentence at a hearing in Brighton on Friday, Judge Cedric Joseph told Kruschandl his crimes were 'a gross abuse of trust'.
He said, "There was no doubt from the evidence presented to the jury you abused this child on a regular basis over a lengthy period of time.
"You were in the position of being like a father to the girl. You were trusted by her and you abused her trust."
Judge Joseph said he wouldn't increase the sentence despite Kruschandl's not guilty plea, but told the former planning consultant he had put the girl and her mother through a 'dreadful' period.
He said, "The girl and her mother were subjected to lengthy cross-examination.
"It was a dreadful experience she is never likely to forget."
At the trial, the jury heard Kruschandl had sent the girl a Valentine's Day card two years running. One of them said, "Valentine, you take my breath away, feel free to do the same with my clothes."
The sex attacks came to light after the victim told friends who informed teachers at their school in June 2006.
Kruschandl said he loved the girl like a daughter and claimed she had made up the assaults but did not know why.
He also said he had only ever given the girl a hug after picking her up from school but the jury took just under four hours to find him guilty of all four charges.
At the sentencing hearing, letters sent to the judge from Kruschandl's family and ex-partner supporting his character were read out.
His neice insisted the 52-year-old had 'always behaved impeccably' when she was alone with him.
Defending, Michael Harrison asked the judge to take into account 'the high regard in which he is held'.
He said, "He is one of the true English eccentrics in the lifestyle he leads and the cases he fights for.
"You have to accept it is a fall from grace. He accepts he will be sentence to custody.
"But he has never been involved with sexual allegations in the past with any of the young people has come into contact with before."
Judge Joseph accepted Kruschandl had no history of sexual offences but said Kruschandl had 'not been a man of previously good character'.
He was sentenced to seven years in prison, given a sexual offences prevention order to run for 10 years and will be placed on the sex offenders register.
Kruschandl appeared again in court on Monday to challenge part of the order which would have prevented him publishing details of his court experience in a book or on the internet.
Mr Harrison said the order breached Kruschandl's freedom of expression.
Judge Joseph varied the order to allow publication on condition it did not lead directly or indirectly to the identification of Kruschandl's victim or her family."
No Tweet results for: http://www.eastbourneherald.co.uk/news/local-news/inventor-jailed-for-molesting-11-year-old-1-1418804.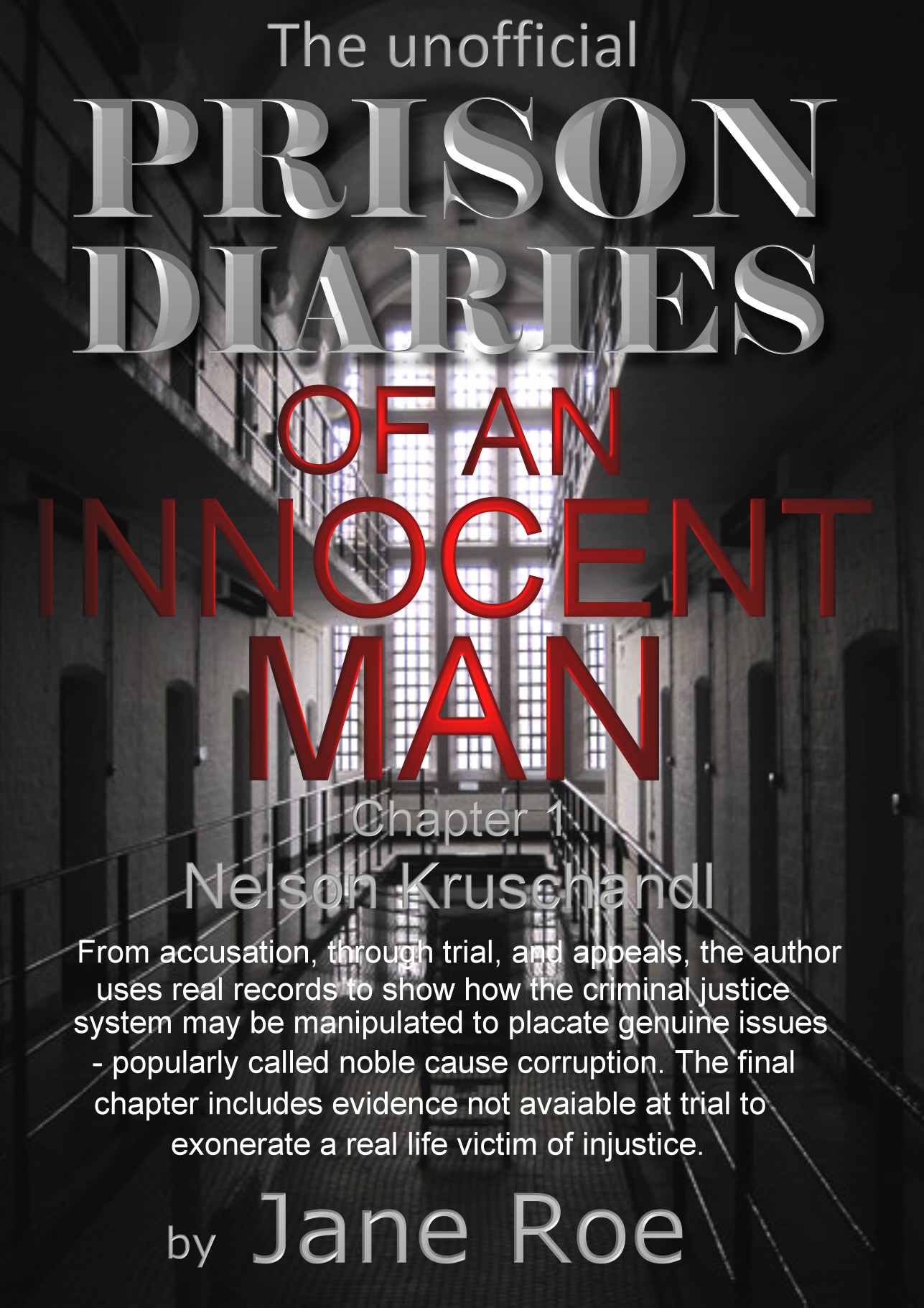 His barrister didn't challenge the so-called scientific evidence produced at trial. He should have. It was junk science. [Junk science is bogus forensic information that the police use to gain a conviction, where they have a weak case.] His barrister didn't show the jury the accused' diaries, he should have, because the girl's mother reminded the accused to send Valentines cards every year - which she, err, seems to have forgotten to mention to the court. The accused was instructed not to venture why by his barrister, but of course he has a good idea. Sadly, that cannot be revealed just yet for legal reasons. He did say he could forgive a 15 year old for some kind of unthinking hormone driven revenge for not doing what she wanted, but not a mature woman - who would have known better.
You'll have to wait for the subjects appeals in the ECHR to conclude before this book is published. Maybe then we'll see an official version in 2016/2017? European appeals take 4 years on average, from the date of lodge. But first you have to exhaust any domestic remedy. He has finally, as of February 2013.
If you would like to know more about this developing story, please Contact Us.
BECKETT GROUP BREACH COURT ORDER
It was revealed last week (6 Feb 08) that the Beckett Newspaper Group breached a Court Order preventing publication on a blanket basis, concerning the so-called Herstmonceux Bunny Boiler case. This Order was made specifically to preserve the rights of the parties, to a fair hearing. It begs the question, if such an Order was made and breached, could the parties have received a fair hearing?
It is unclear where this leaves Beckett Newspapers and what action the Police might take to ensure publication of this nature is prevented by over eager Reporters and Editors, who perhaps have an eye on sensationalism to generate headlines to sell newspapers, rather than the damage that could be inflicted on the persons affected. This is the subject of much media attention following the revelation of multiple suicides at Bridgend in Wales, in part attributed by some to the sensationalist newspaper reporting. The latest girl to take her own life by hanging being 16 year old Jenna Parry.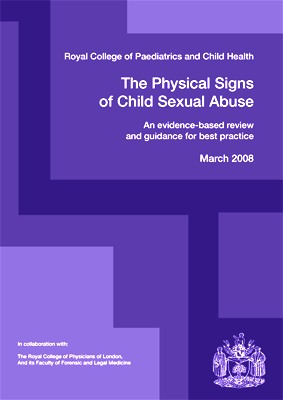 Salvation. This guidance came out one month after the farcical trial.
ROYAL COLLEGE OF PEDIATRICS AND CHILD HEALTH (RCPCH) MARCH 2008
The Physical Signs of Child Sexual Abuse - An evidence-based review and guidance for best practice.

This handbook is a revision of the 1997 Royal College of Physicians publication 'Physical Signs of Sexual Abuse in Children'. Based on the best available evidence, it has been produced by the Royal College of Paediatrics and Child Health in collaboration with the Royal College of Physicians of London and its Faculty of Forensic and Legal Medicine.

The review focuses on evidence for the physical signs of child sexual abuse (CSA) in the following areas: female genitalia; male genitalia; anal signs; oral signs; and sexually transmitted infections.
The literature search has been updated and an interim statement summarizing the findings is available to download: CSA Interim statement (PDF,53KB,6 pages) See links section below.
Readers will know the Government, after consideration of Lord Goldsmith, are considering moves to protect the identity of those accused of sexual offences, much the same as their accusers. This is because of the rise of innocent men being convicted by Juries, and only after serving considerable time in prison, is new evidence found to render guilty verdicts unsafe.
CHANGES IN THE LAW
This could leave news hounds eager for material to print, out in the cold. However, the moral implications are clear. Allegations of a sexual nature ruin lives where innocence is later proven. See the links below to sample cases in 2007, where publication and subsequent scandal have ruined lives. The accusers inevitably get away scot-free. The newspaper hounds and the editors that helped ruin lives, on occasion even sway public opinion to deliver an incorrect verdict, also find themselves in the clear. That has to change - and not just with civil damages - as in the
These are just some of the examples of women falsely accusing men who were innocent. What is wrong with our legal system?
FACT: Girls making allegations are coached. YES, this is true, they are instructed how to give evidence and cosseted, sometimes isolated via a video link to make it easier for them to appear sweetness and light. That coaching is of course illegal - but it happens as a matter of course. A girl making up a story is guided by the version that the police will accept. The police just keep asking questions and cutting off the story they don't like, until they get a story they do like - at which point they switch on the cameras.
Barristers are loath to question hard, for fear of looking like bullies to a Jury.
Music teacher cleared of rape too late - Died in Prison
Head teacher cleared of assault - 3 October 2003
CONVICTION QUASHED OVER 'MADE UP' VAMPIRE CLAIM - May 19, 2006
Man freed after girl revealed as serial liar - 12th September 2006
Woman jailed for false rape claim - 15/11/2006
My life's in ruins, says teacher cleared of having hotel sex romps with 17-year-old pupil - 4th October 2007
Man freed after six years in jail for double rape because 'accuser was
£20,000 payout for woman who falsely accused her father of rape after 'recovered memory' therapy - 19th October 2007
Taxi driver ruined after false claims of rape - 27 April 2007
BBC Rough Justice - 12 April 2007
Was another man's life ruined by a Bunny Boiler? - February 2008
Sports journalist: Henry Milward at the Eastbourne Herald
PUBLIC COMMENT
Here's what readers have had to say!
This is scandalous. I think that if the members of the jury knew just how slow the appeals process is they would be much less inclined to find people guilty when there is 'reasonable doubt'. In practice it is very difficult when people are found guilty on this kind of case where there is NO evidence; if there is no evidence in the first place then where is the 'fresh evidence' that may be required for an appeal to go ahead going to come from? These cases only seem to win on appeals when a false accuser admits to lying and that is very rare. Unfortunately as Mr Carrington-Jones has said there could be many innocent people in prison now as a result of convictions on non-evidence. Where will his compensation come from? Will the woman be charged? - Lily, Hull
Compensation is rightly due to this poor chap, but should the public pay the price of the crimes committed by these lying women? Shouldn't they be made to pay, even if it means their being financially ruined for life? And surely it cannot be the case that parole cannot be considered unless and until a prisoner "admits" the crime for which he/she has been found guilty? - Jim, London

What is wrong with British justice system where allegations of sexual assault are concerned? It all these cases it boils down to one girls word against the persons accused. Heaven forbid the accused should lead an unusual lifestyle. A Jury would not understand this!! This could be one failing of the Jury system, they are ordinary men and women. Perhaps justice is more important than to trust to Juries? The statistics speak for themselves.
News A to Z directory, please click on the links below to find your favourite news or to contact the media to tell your story:
LINKS
Eastbourne Herald planners-turn-down-proposal-for-30-new-homes-in-herstmonceux
http://www.eastbourneherald.co.uk/news/local/planners-turn-down-proposal-for-30-new-homes-in-herstmonceux-1-5009168
http://www.theargus.co.uk/news/10352143.Argus_reporter_nominated_for_top_award/
https://www.facebook.com/brightonargus?ref=stream&hc_location=stream
http://www.eastbourneherald.co.uk/news/local-news/inventor-jailed-for-molesting-11-year-old-1-1418804
Eastbourne Herald inventor jailed for molesting 11 year old
http://www.eastbourneherald.co.uk/news/local-news/man-faces-prison-for-sex-assault-1-1416322
http://gold-moneu.blogspot.co.uk/p/nelson-worked-for-time-at-jewellers.html
http://www.rcpch.ac.uk/child-health/research-projects/completed-projects/physical-signs-child-sexual-abuse/physical-signs-c
Facebook Eastbourne Herald Gazette
https://www.facebook.com/pages/Eastbourne-Herald-and-Gazette/116997308330416?v=wall&viewas=0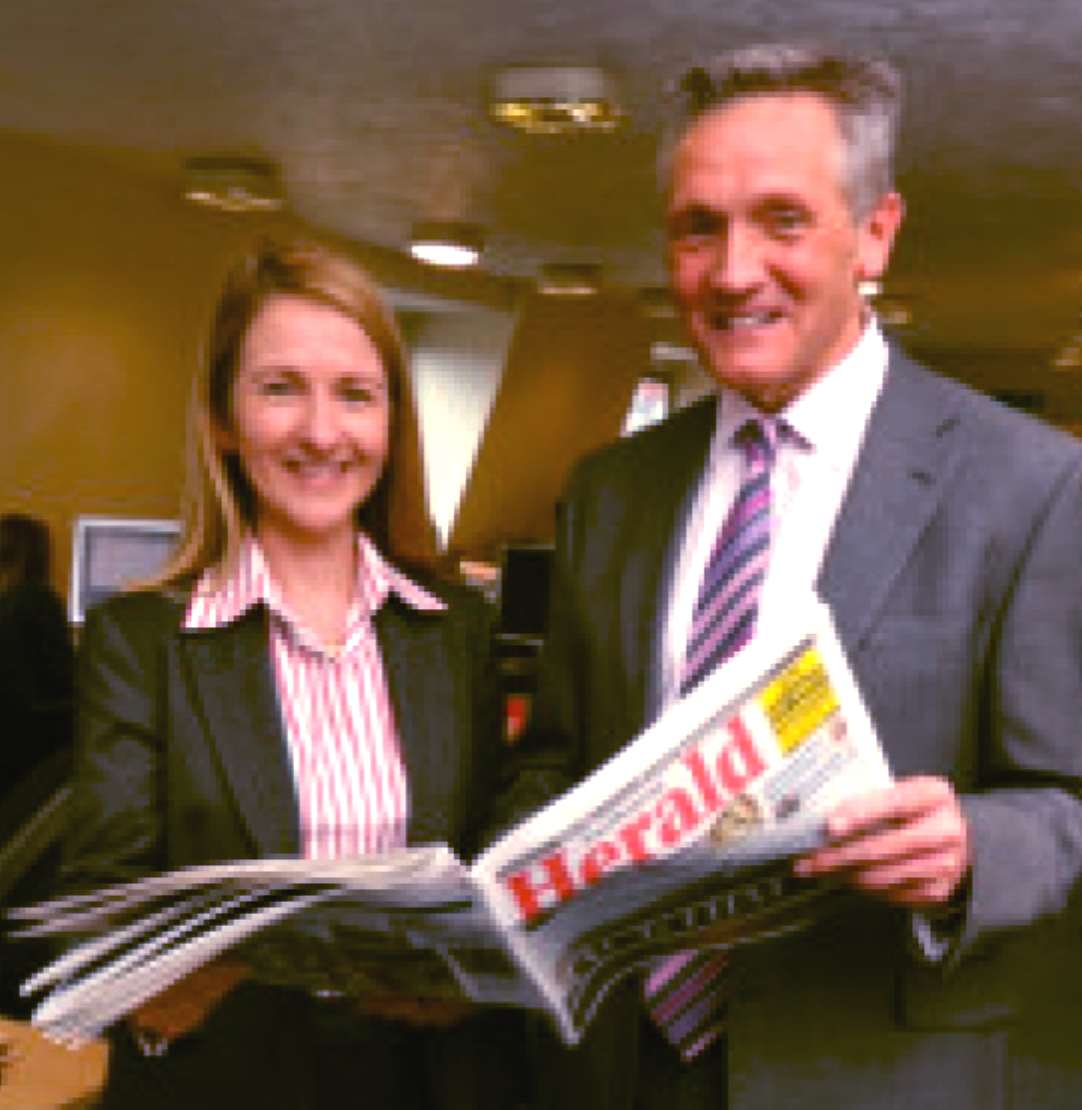 New Sussex Police Crime Commissioner Sussex, Katy Bourne
& the Beckett Group Managing Editor Keith Ridley

CRACKING ANTI-SOCIAL BEHAVIOUR - 01/04/2013 16:35
More offenders who admit to anti-social behaviour in Sussex could avoid court by facing up to their actions.

Sussex Police and Crime Commissioner, Katy Bourne, admitted that tackling anti-social behaviour in the county was one of the key parts of her new police and crime plan which will be published next week.

One area of dealing with this is through community resolution, said Mrs Bourne.

Community resolution works on similar lines to the restorative justice principle, where victims tell the offenders the real impact of their crime, while the offenders themselves are held to account for what they have done - but without going to court or getting a criminal record.

The recently-elected police chief admitted that community resolution for low level crime, notably anti-social behaviour, has already been working well in Sussex.

"Anti-social behaviour, because it affects everyone's lives is hugely important," she said.

"So with community resolution, if police catch the offender and they admit the crime, police can then decide with the victim what would be the best resolution for that offence.

"We have had a lot of success with this and it prevents crime from happening again."

Next Thursday, the Sussex Police Crime Panel's will be reviewing the Commissioner's Police and Crime Plan, as well as to scrutinise key strategic decisions, and review senior appointments.

At the meeting, which will be held at County Hall in Lewes, the panel is being asked to confirm the appointment of Mark Streater as chief executive for the Sussex Police and Crime Commissioner at a salary of £82,000.

They will also be asked to confirm the appointment of John Eagles as the chief finance officer at £77,000 a year.

It brings the number of people employed by the office of the Police Crime Commissioner to 13, including Mrs Bourne on £85,000 and her new deputy Steve Waight on £45,000 a year, who was appointed in February.

Mrs Bourne has defended the additions, pointing out that compared to the previous Police Authority whose staffing cost annually over £400,000, she works with a much leaner set-up saving around £186,000.

She explained: "Sussex is a very big area with a population of 1.6 million.

"Within the first two weeks, the correspondence to our office had increased by 3,500 per cent.

"So you can she why I needed an extra pair of hands."

Sussex Police has had to find around £50million in savings by 2015, which Mrs Bourne admitted had not been easy.

However, she pointed out how crime in the county had decreased for the past seven years and she vowed to continue that trend, even with lesser resources.

"I am keen that we look at ways of keeping police officers on the beat more regularly by being smarter using new technology, for example using tablets which stop officers going back to the station to input information when they can stay at the scene of a crime for longer," added Mrs Bourne.

LIME PARK, HERSTMONCEUX
The history of Lime Park begins with Augustus Hare in 1834. Then the de Roemers generated electricity for the village from 1909. During the 2nd World War it was a hospital for wounded airmen and finally the modern Renaissance man, Nelson Kruschandl, used it to build his creations from 1982.
Today the Monument is managed by a Trust who are turning the magnificent wooden structure into a working museum. The miracle is that it survives after years of neglect - and indeed, the whole building was near collapse in 1982, when rescue works began.
Lime park is served by a drive shared with five other residential units:
In March of 1985 Wickens Estates Limited transferred management of the shared driveway to Lime Park Estates Limited, company number 01893712: Lime Park Estates Limited according to companies house this is a residents property management company, code: 98000. But that may not be strictly accurate, where many of the residents are not represented and this company works against the interests of some of those who are not represented, and who they refuse to admit to the board. In our view that is not the way a residents property management company should operate - if to be lawful.
In 2011 Lime Park Heritage Trust received information from a museum in France as to the striking similarity between the work of inventor Kruschandl and Leonardo da Vinci, to include drawings and painting.
Wickens Estates Limited changed their name in March of 1987 to:-
STORE PROPERTY DEVELOPMENTS LIMITED
41 EASTCHEAP
LONDON
EC3M 1DT (Registered Office)
Company No. 00463356

Previous Names:
Date of change Previous Name
05/03/1987 WICKENS ESTATES LIMITED

Company Type: Private Limited Company
Nature of Business (SIC):
68100 - Buying and selling of own real estate
68209 - Other letting and operating of own or leased real estate

Mortgage: Number of charges: 20 ( 0 outstanding / 20 satisfied / 0 part satisfied )
Last Members List: 27/11/2012
Two years after the incorporation of Lime Park Estate Limited Wickens Estates Limited changed their name to Store Property Developments Limited. Lime Park Estate Limited, having taken over the administration of the shared drive in Lime Park, commenced action against Nelson Kruschandl for the alleged lopping of a tree, amongst other claims. There can be little doubt from the date and timing of these company transactions, that certain owners in Lime Park, wished to acquire the power to take an action against this other owner, and to deny said other owner any say in the matter.
Only one director has been on the board since Lime Park Estate was formed in 1885: Peter Townley. Who do you think the controlling mind of this company is?
Unfortunately for Lime Park Estate Limited, the tree they were complaining about had died several years before and was dangerous, for which removal was good husbandry according to a tree specialist. Not only that, the dead holly was not even within the boundaries of Lime Park and twenty feet or more from the drive, hence they had no legal standing in the matter. Other issues were untested, where Lime Park Estate Limited refused to continue with their action - presumably to avoid costs consequences.
Wickens Estates Limited have been asked if they knew what the purpose of taking over the rive was was? But the Trust has received no answer as yet. What is unclear is consideration and indemnity, where, at the moment, access from the drive is being obstructed, a clear breach of the covenants. If Wickens Estates Limited knew nothing of the intentions of Lime Park Estate Limited then we think it is about time they did, and perhaps, Companies House might like to know what the various directors are using this so-called residents property management company for. Why they have not replied to recent correspondence is hardly helpful.
Company law provides that oppressive behaviour is unlawful, and being a residents property management company, the Human Rights Act 1998 bites, because their function is to provide access to properties - rather than seek to deprive use.
When their action failed, certain members of Lime Park Estates complained to Wealden District Council, who then used their authority at great expense to the taxpayer to have a go at Mr Kruschandl - clearly for and on behalf of certain residents. According to the Minutes of a meeting some months ago, there is clear communication from Lime Park Estate Ltd to Wealden DC.
That was not the end of the troubles. Wealden involved the police early on, but later when a warrant to enter the premises was challenged, the police cried off. A formal complaint about corruption in this council was never investigated. Why? Local police forces are (part) funded by their local authority. That might have something to do with it. There is also the matter of masonic connections. That could include chief constables, reporters and editors of newspapers.
Nelson Kruschandl joined the Wealden Action Group, actively assisting other Weald residents to win planning cases. It is no secret that he won Bushywood Animal Sanctuary appeal, then went on to defeat unlawful enforcement at this and two other locations. It would not be long before the police were knocking on Mr Kruschandl's door again ....... All they needed was an excuse ........
Now Wealden are in breach of a Consent Order. They are knowingly leaving a historic building at risk. The difference between being negligent and doing something like that knowingly, is taking misfeasance in public office to malfeasance.

LIME PARK ESTATE LIMITED
LIME HOUSE (Registered Office)
CHURCH ROAD
HERSTMONCEUX
EAST SUSSEX
BN27 1RF
Company No. 01893712

Status: Active
Date of Incorporation: 08/03/1985

Country of Origin: United Kingdom
Company Type: Private Limited Company
Nature of Business (SIC):
98000 - Residents property management
Accounting Reference Date: 31/03
Last Accounts Made Up To: 31/03/2012 (DORMANT)
Next Accounts Due: 31/12/2013
Last Return Made Up To: 15/07/2012
Next Return Due: 12/08/2013
Mortgage: Number of charges: ( 0 outstanding / 0 satisfied / 0 part satisfied )
Last Members List: 15/07/2012
The directors of Lime Park Estates Limited as at the 15th of July 2012 were:
Shelagh Claire Lambert (17-09-53 Sales Executive)

Peter Gwyn Langford and June Erben Townley (15-07-1924 - Retired)

Louise Elizabeth Jones (06-09-1959 - Receptionist BMW Hailsham)

Camille Anne-Marie De Kok (12-03-1961 - Sales Manager Camlock Systems)
| | |
| --- | --- |
| FOR RESTORATION | AGAINST |
| Lime Park Heritage Trust | Lime Park Estate Limited |
| English Heritage | Wealden Distict Council |
| Archaeology South East | |
| Sussex Industrial Archaeology Society | |
| | |
| --- | --- |
| OCCUPIER | PROPERTY |
| Shelagh Claire Lambert | |
| Peter Gwyn Langford & June Erben Marion Townley | |
| Camille Anne-Marie De Kok | |
| Louise Elizabeth Jones | |
| Clare Askaroff | |
| Lime Park Heritage Trust | |
| | East Lodge |
WE ACCEPT NO RESPONSIBILITY FOR THE ACCURACY OF ANY FEATURED LINKS