This council's special panel consisting of Lord Newton, Jack Gore and Eddie Powell, recommended their council should not accept any more petitions. It is a fact that when a second Petition with 39 signatories was later presented, Wealden District Council refused to accept it. So much for their Constitution!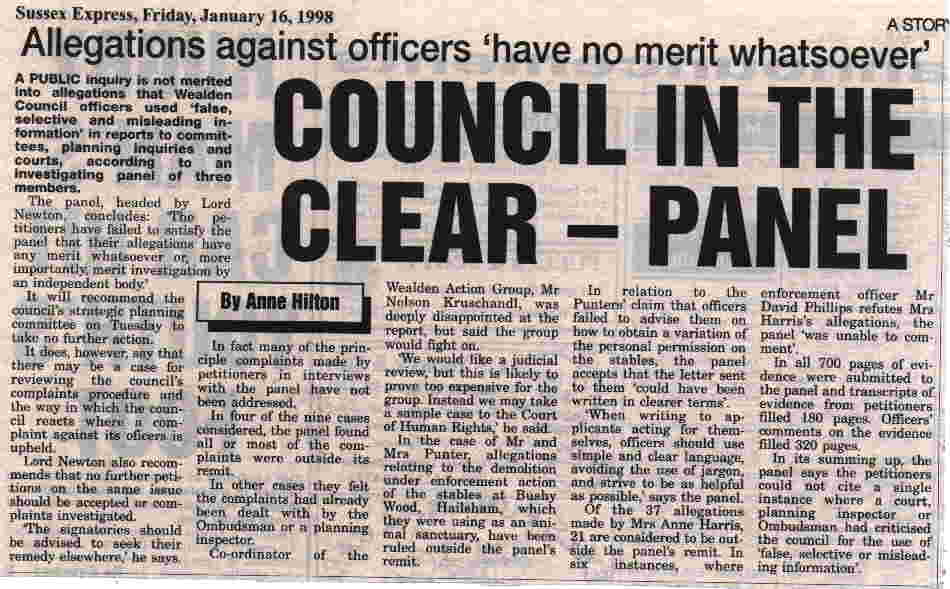 We have no idea if it is lawful to refuse to accept a Petition, but it appears so from the Council's own rules. If anyone out there knows about this subject, please contact us.
Shortly before his retirement on an enhanced pension the then Chief Executive arranged for a letter to be sent on Police headed paper, designed to fool the members and the electorate that the Police had conducted an investigation into the allegations of perjury, etc. In fact not one of the Petitioners was contacted by the Police in connection with this matter and later it was admitted by the Sussex Police, that WDC's Chief Executive was in fact the architect of the letter.
THIS SITE CONTAINS MANY EXAMPLES OF THIS COUNCIL'S UNREASONABLE BEHAVIOUR - With thanks to Action Groups across the country for the supply of real case history and supporting documents. *THAT THE PUBLIC MAY KNOW*
Vicarage Lane, Hailsham, East Sussex, BN27 2AX T: 01323 443322
Pine Grove, Crowborough, East Sussex, TN6 1DH T: 01892 653311