ANY MASONS ON YOUR BEAT? - What of Sussex Police. They have been asked if a member of the public can view their Register of Interests, with an especial leaning toward Masons. The real question is: "Do they have such a register?" If they do, will it be accurate - and if so will it reveal the links between complainants where we know that others masons who are civilians have instigated or at least pushed for the prosecution of another civilian that they have fallen out with.
According to the independent research into police Masonry, Martin Short, author of the most detailed account of modern British freemasonry, 'Inside The Brotherhood,' estimates that 20% of London officers belong to Masonic lodges. He says there is cause for concern about this and in December, he gave evidence to the Select Committee inquiry of a case he had researched recently in Lancashire which, he told them, "demonstrates just how badly the administration of justice can go wrong when police, Crown Prosecution solicitors and private citizens are all in the same Masonic lodge."

This story began one night in 1988 when two Leicester businessmen were taking a late-night drink in a hotel in Blackburn. A group of burly strangers in dinner jackets ordered them out of the bar. The Leicester men declined to go. The strangers then announced that they were policemen and proceeded to beat them up. They then called other police who arrested the two Leicester men and charged them with assaulting police officers. When the Leicester men were released on bail the next morning, they found that the hotel manager had seized their belongings until they agreed to pay for damage caused by the fight and that someone had let all the air out of their car tyres and removed their hub caps.

The Blackburn police and Crown prosecutors pursued the case to court, where the two Leicester men faced substantial jail sentences for allegedly assaulting policemen. But the case fell apart. The jury rejected all of the police evidence and found that the Leicester businessmen were not guilty of any offence at all. The judge signaled his own view by taking the unusual step of ordering that the defendants' costs should be paid out of the public purse. The two men then sued for assault, wrongful arrest, malicious prosecution, conspiracy to injure and libel. In an out-of-court settlement, they were awarded £170,000, most of which was paid on behalf of the policemen by the Lancashire force.

Martin Short told the Select Committee that freemasonry was at the heart of this case. The two Leicester men had stumbled into the tail-end of a Masonic event, a dinner organised by the Victory lodge of Blackburn. This lodge, said Short, is dominated by police officers: the policemen who were involved in the original fight, the officer who subsequently investigated the incident, a senior official in the Crown Prosecution office which handled the case, and the manager of the hotel where the dinner took place were all members of the Victory lodge.
Giles York is the chief constable of Sussex Police ....... taking over from a long chain of chief constables, including Paul Whitehouse, who was finally forced to resign after the Home Secretary insisted that he should go following the shooting of Jimmy Ashley by PC Chris Sherwood.
It is possible that Sussex Police is just a bunch of incompetent bunglers, taking our tax dollars and squirting them up the wall as they masquerade in police uniforms and enjoy driving striped cars with sirens and blue flashing lights. Sure, to many the chance to put on a uniform is irresistible. They might have joined the Fire Brigade or the Armed Forces who have equally attractive outfits - if that is their bag!
As to police work, that is another matter. It is more a case of doing ones best to fit in with other organizations who actually run the show. Some are drug dealers, some bankers, wealthy local individuals and a large number of council officers and maybe even a councillor or two.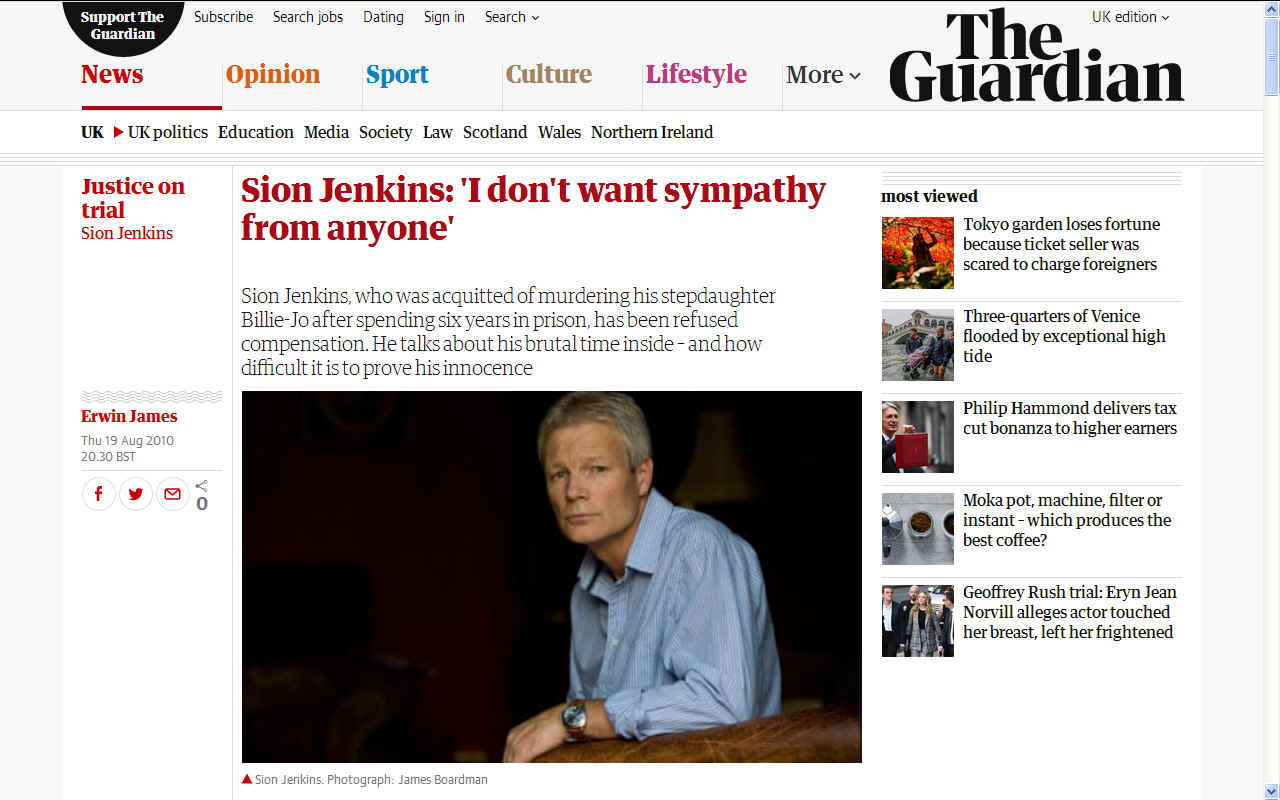 THE GUARDIAN 19 AUGUST 2010 - Sion Jenkins, who was acquitted of murdering his stepdaughter Billie-Jo after spending six years in prison, has been refused compensation. He talks about his brutal time inside – and how difficult it is to prove his innocence. Once again the investigating officers crafted the evidence to suit their theories, not investigating the crime scene impartially as per their Code of Conduct.
The police case against Siôn Jenkins was always flawed, relying on innuendo rather than evidence. Sussex Police can no longer rely on that innuendo.

Today in 2017, facts are what matter. There are facts, still known by some today, that went unmentioned in 1997. They would have shed a very different light on the interpretation of events.

In the words of Linda Watson, victim of another major miscarriage of justice by Sussex Police in 1996, "truths that were so obvious were so deliberately misconstrued".

There is still a profound need for a review of the investigation into Billie Jo's murder, in the wider context of the performance of Sussex police in the last decade of the twentieth century.

The conduct of Sussex Police in the case of Siôn Jenkins has always been a contentious matter. It has to be hoped that the day will come when the truth of what took place over nine years will be disclosed.
The way this works is by manipulating the level of investigation - what one chooses to investigate, or not investigate to achieve a desired outcome. You do not need to plant evidence as many believe, simply look that other way when you find something that proves the target is innocent.
Many people will think that the Crown Prosecution Service (CPS) call the shots, but in fact the real power is downstream, when conducting investigations, though orders to pull punches may come from upstream, it is the sappers on the ground who do all the basic dirty work, where other dirty tricks come from the chiefs and CPS civil servants. The integrity of police investigating officers is therefore of paramount importance, but their jobs and career prospects hinge on pleasing the bosses.
Any investigating officer can bury inconvenient evidence, turn a blind eye to other inconvenient evidence, ask a state witness to lose contradictory evidence or simply fabricate evidence as in the cases of the Guildford Four and Birmingham Six, not forgetting the James Ashley murder. That is why there is a Code of Conduct, that unfortunately, and despite several re-issues and re-vamps, is largely ignored by corrupt forces.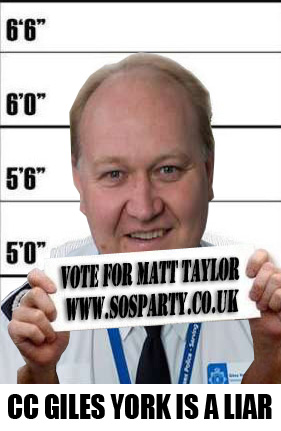 BIAS & THE CODE OF CONDUCT
Not many people get a reply to their correspondence even when reporting serious crimes, but this force will spend £10,000 of public money attempting to prosecute a person for goods to the value of £19.99, where that person is a thorn in the side of their chums at Wealden District Council.
On the other side of the coin, this force appear hesitant to investigate complaints involving £ hundreds of thousands of pounds in connection with land fraud and manipulation of land values, totally ignored by the crime commissioner, Katy Bourne.
WEALDEN DISTRICT COUNCIL MALFEASANCE
In December of 2016 two members of the public independently reported serious abuses of positions of trust at this Council. So far those informants have not received replies from this Chief Constable, let alone notification of his intention to investigate the allegations.
A historic case of ingrained misuse of public office comes from Mr Chester Hudson reporting serious fraud involving Ian Kay and Mr Kay's father in law.
A crime that is in progress as of 12th December 2016 comes from Nelson Kruschandl reporting serious fraud involving documents obtained by deception being lodged on the Local Land Charges Register to cause loss, contrary to Section 4 of the Fraud Act 2006. The officers concerned include David Whibley, George White and in the background, Ian Kay, David Phillips, J Douglas Moss and Thomas Hoy.
F.A.O. Giles York
The Chief Constable RECORDED POST
Sussex Police Headquarters
Church Lane, Lewes
East Sussex, BN7 2DZ
13 December 2016

Dear Chief Constable,
FORMAL COMPLAINT - SUSPECTED MALFEASANCE IN PUBLIC OFFICE
Please find attached copy of my letter to Wealden District Council dated the 9th of December 2016, together with exhibits, the content of which is self explanatory and may also to be taken as a Witness Statement, since I am willing to attend any Court to give evidence against the officers of Wealden District Council in any prosecution.

This is a formal complaint asking you to investigate the obvious fraud, perversion of the course of justice and the removal of incriminating documents as identified by Mr Chester Hudson and I understand has been reported to you separately.

I look forward to hearing from you in due course as to the proposed course of action you intend taking


Yours faithfully,





Nelson Kruschandl (Complainant and Victim)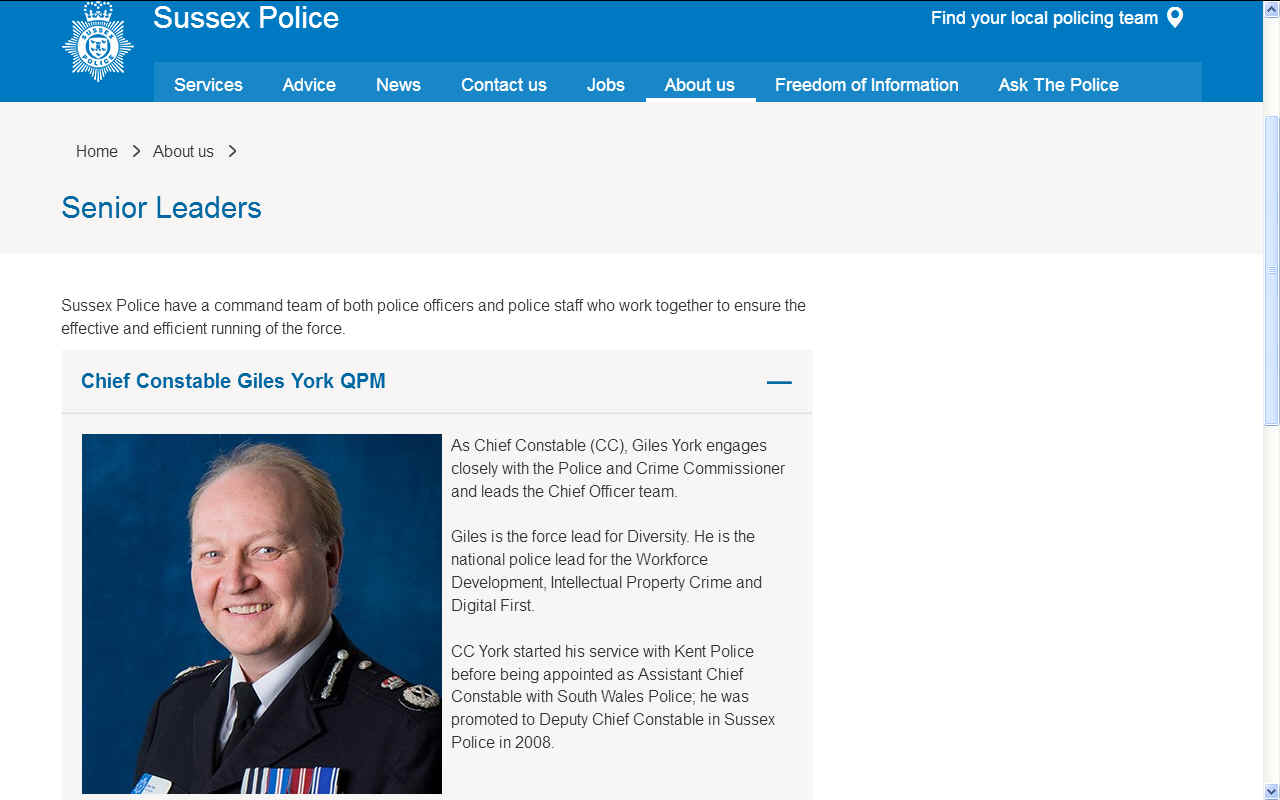 SIMILAR FACT EVIDENCE
There are too many cases that demonstrate failures in investigations, for this to be a coincidence. Certain individuals that fall foul of Wealden District Council almost invariably end up being wrongly imprisoned or otherwise with a criminal record, or facing some kind of charge. This is one of Weaden's favourite ploys for disposing of cases where they have been caught red-handed tampering with or otherwise falsifying evidence in neighbour disputes, where Wealden DC have taken the side of the more influential citizen - instead of investigating matters impartially and honestly.
JOHN HOATH & CHRISTOPHER (CRIPPS HARRIES) HALL
The wrongful imprisonment of John Hoath is one of the most incredible miscarriages of justice occasioned by the Sussex Police ..... it is alleged, involving this force granting a gun license or certificate to a known criminal. Katy Bourne is now trying to shut Mr Hoath up using Surrey police solicitor Gilly Jones (Weightmans) and threatening an injunction, citing the case of Matt Taylor by way of what looks like an attempt to intimidated Mr Hoath.
MISFEASANCE & MALFEASANCE
When an officer of the courts' omits to include evidence that he knows is relevant to a hearing, that is termed misfeasance in public office. Where an officer then tries to cover up his or her misfeasance (as did Ian Kay in the Stream Farm matter), that becomes malfeasance. The difference is that misfeasance is a civil wrong, whereas malfeasance is a criminal offence. The leading case precedent on malfeasance is: R. v Bowden 1995 Court of Appeal (98 1 WLR). In this case Bowden was a police officer who saw a crime in progress and walked away from it, calling in sick the next day to seek to cover up his wrongdoing.
If you are the victim of a wrongful prosecution or the police are refusing to investigate a crime you might think of taking your case to the Independent Police Complaints Commission (IPCC), we would though advise that in serious cases of institutionalized corruption, that you should first lodge copy of your complaint with the Attorney General, Lord Chancellor and the Prime Minister of the day, David Cameron, who is responsible for running our administration under a mandate from the current Ruler of the United Kingdom.
EASTBOURNE HERALD 7 JANUARY 2015
Sussex Police Chief Constable Giles York has been awarded the Queen's Police Medal in the New Year's honours.

The QPM is awarded to officers who have shown gallantry and distinguished service, acts of exceptional courage and skill and conspicuous devotion to duty.

Mr York started his service more than 24 years ago with Kent Police before being appointed as an assistant chief constable with South Wales Police.

He has served Sussex for six and a half years since he became deputy chief constable in 2008. He became chief constable in June 2014.
Mr York is the force lead for diversity and the national police lead for the High Potential Development Scheme (HPDS), intellectual property crime and national analysts.

The 47-year-old said, "It is an absolute privilege and honour to give so much to policing and to have it recognised in this way.

"Over the years I have enjoyed working with a huge number of amazing colleagues and partners who give so much to Sussex. "They have made it a pleasure to come to work every day."

Mr York will receive a silver medal that displays a profile of the Queen on one side and depicts a figure holding a sword and shield on the other.

The medal also has the words 'For Distinguished Police Service' inscribed around the edge.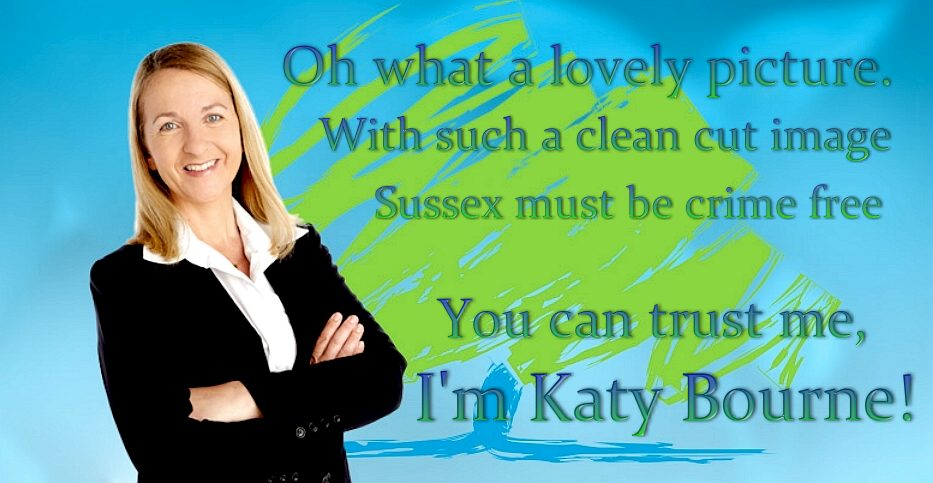 Katy Bourne was elected Crime Commissioner, taking office with an oath to serve the public interest. That is an oath that many are now questioning, where she appears to be serving Sussex Police instead of policing the organisation that has come under such flack for their blatant refusal to investigate so many complaints of malfeasance in public office.
BBC NEWS 30 JUNE 2014
Giles York has been confirmed as the new chief constable of Sussex Police, the Sussex Police and Crime Panel have announced.

The recruitment process began in April after Martin Richards retired from the position.

Mr York was appointed temporary chief constable in March, having been in the deputy position since 2008.

He had been the proposed candidate of Katy Bourne, the police and crime commissioner for Sussex.

Ms Bourne said she was "delighted that the panel has approved my decision to appoint Mr York as the next Sussex chief constable".

SPECIAL BRANCH

She praised Mr York for his "exceptional experience of policing".

"I have every confidence in his capabilities to lead Sussex Police in the future and I look forward to working with him to deliver the priorities within the Police and Crime Plan 'Safer in Sussex'," she added.

Mr York started his service with Kent Police in 1990 where he served as area commander of Medway and the head of Special Branch within the force.

Before moving to Sussex, Mr York was the assistant chief constable for South Wales Police, so presumably, knows quite a bit about sheep and male choirs, from his travels.
SUSSEX POLICE A - Z OF OFFICER INVESTIGATIONS
IPCC CONTACTS
Independent Police Complaints Commission
PO Box 473
Sale, M33 0BW
Switchboard: 0300 020 0096
Email: enquiries@ipcc.gsi.gov.uk
Hard of hearing: 18001 0207 166 3000

LINKS & REFERENCE
http://www.eastbourneherald.co.uk/news/local/queen-s-police-medal-honour-for-chief-constable-1-6504564
http://www.bbc.co.uk/news/uk-england-sussex-28091706
https://www.ipcc.gov.uk/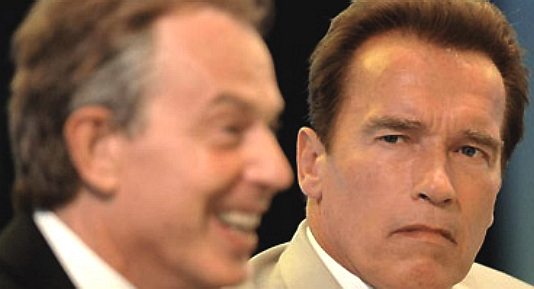 Vicarage Lane, Hailsham, East Sussex, BN27 2AX T: 01323 443322
Pine Grove, Crowborough, East Sussex, TN6 1DH T: 01892 653311
LINKS & REFERENCE
http://bentlawyersandcops.com/bent_cops_list.htm
https://www.sussex.police.uk/about-us/senior-leaders/
Shadow Sussex Police crime commissioner blogspot UK 2016 January three new cases to rock the Bill
http://shadowsussexpolicecrimecommissioner.blogspot.co.uk/2016/01/three-new-cases-to-rock-sussex-police.html
http://www.royalmail.com/
http://www.sussex.police.uk/
http://www.wealden.gov.uk/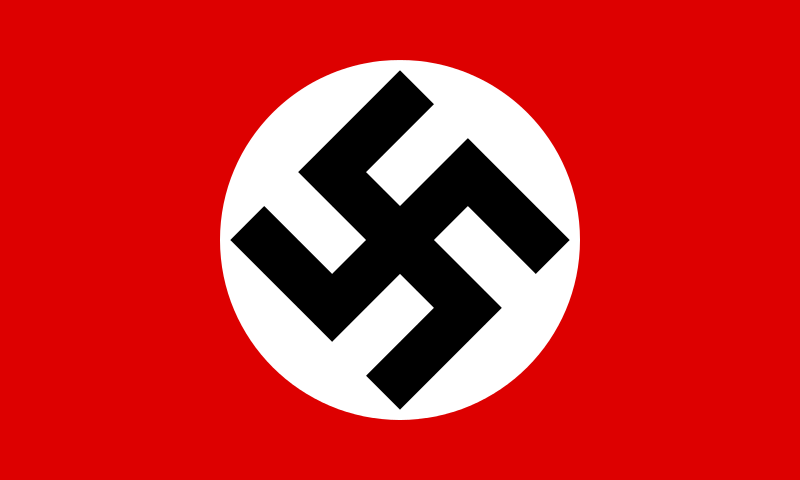 Paul Whitehouse (1993-2001) Ken Jones (2001-2006) Joe Edwards (2006-2007) Martin Richards (2008-2014) Giles York (2014 >>)