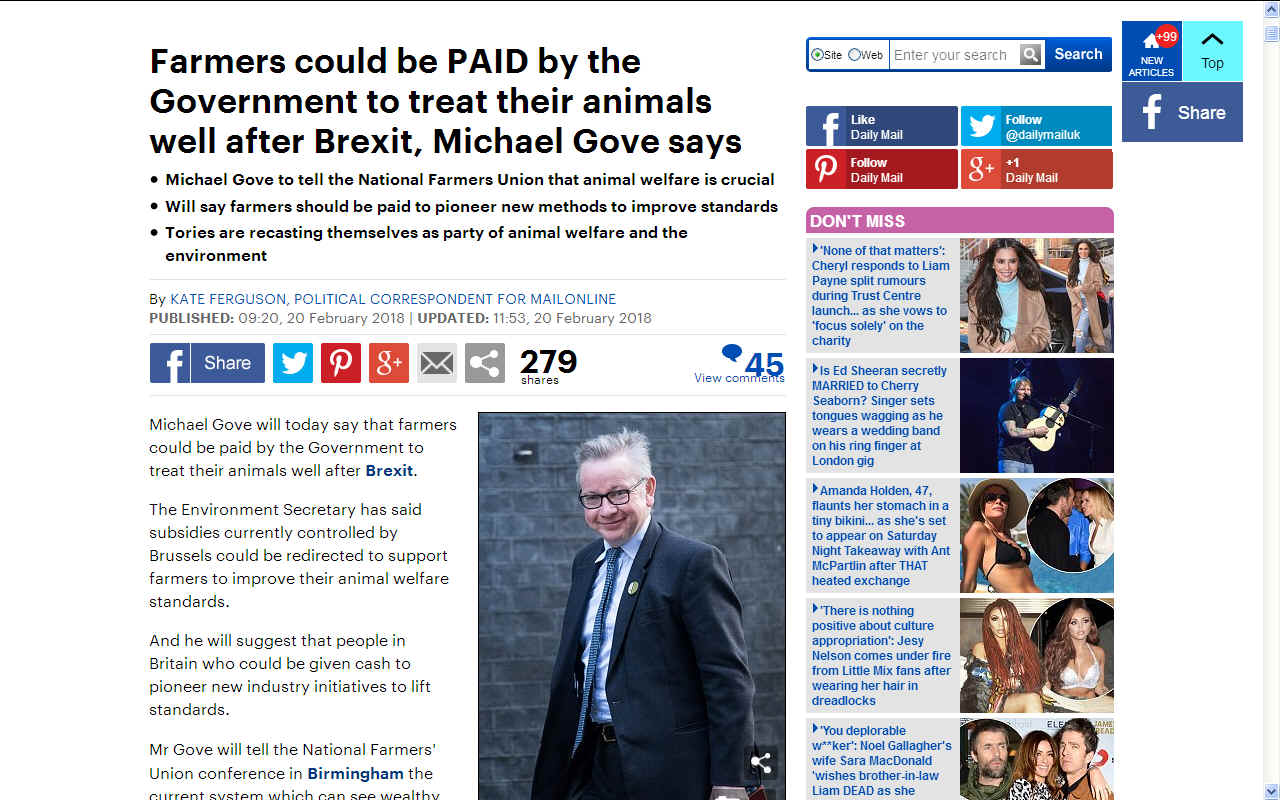 ECO WARRIOR - Good on you Michael, anyone who is looking out for animal welfare is alright by us.
Michael Gove is the Secretary of State for the environment at DEFRA, the Department for the Environment Food and Rural Affairs. The Department for Environment, Food and Rural Affairs is the government department responsible for environmental protection, food production and standards, agriculture, fisheries and rural communities in the United Kingdom of Great Britain and Northern Ireland. Concordats set out agreed frameworks for co operation, between it and the Scottish Government, Welsh Government and Northern Ireland Executive, which have devolved responsibilities for these matters in their respective nations.

Defra also leads for Britain at the EU on agricultural, fisheries and environment matters and in other international negotiations on sustainable development and climate change, although a new Department of Energy and Climate Change was created on 3 October 2008 to take over the last responsibility.
DAILY MAIL FEBRUARY 2018
Michael Gove will today say that farmers could be paid by the Government to treat their animals well after Brexit.

The Environment Secretary has said subsidies currently controlled by Brussels could be redirected to support farmers to improve their animal welfare standards.

And he will suggest that people in Britain who could be given cash to pioneer new industry initiatives to lift standards.

Mr Gove will tell the National Farmers' Union conference in Birmingham the current system which can see wealthy landowners paid vast subsidies just one the basis of how much land they own should end.

And he will that instead Britain should invest the money in landowners who produce a 'public good'.

Mr Gove will say: 'Preserving profitable farm businesses in those communities is just as much a public good as investment in anything I know.

'I also believe investing in higher animal welfare standards and investing in improved training and education for those in agriculture and food production are clear public goods.

'We have a high baseline for animal health standards, which we will continue to enforce.

'However, we could also support industry-led initiatives to improve these standards, especially in cases where animal welfare remains at the legislative minimum.'

He will suggest the introduction of pilot schemes to pay farmers delivering higher welfare outcomes, or running trial approaches to boost animal wellbeing.

He will say that he beautiful rolling hills of Devon and Somerset is shaped by their dairy farmers.

And that Cumbria, Northumberland, the Pennines and Yorkshire Dales would not be 'breathtakingly beautiful' and resilient without upland farmers.

Some farmers have voiced fears that barriers to trade and free movement could hit the agricultural sector as workers like fruit pickers from other parts of Europe stop coming to the UK.

While others have viced fears that free trade deals with countries like the US could see standards plummet and the introduction of cheap imports of produce such as chlorinated chicken and hormone-fed beef.

But Mr Gove, who has recast himself as an eco-warrior since being brought back to the Cabinet last year, will insist that animal welfare standards will not be cut when Britain quits the bloc.

And he will repeat his support for funding measures such as planting woods to stop flooding and creating wildlife habitats.

But he will also say future methods of agricultural support should preserve the heritage and culture of farming communities which maintain precious landscapes.
LINKS & REFERENCE
https://www.gov.uk/government/organisations/department-for-environment-food-rural-affairs
http://www.dailymail.co.uk/news/article-5412109/Gove-Farmers-PAID-treat-animals-well.html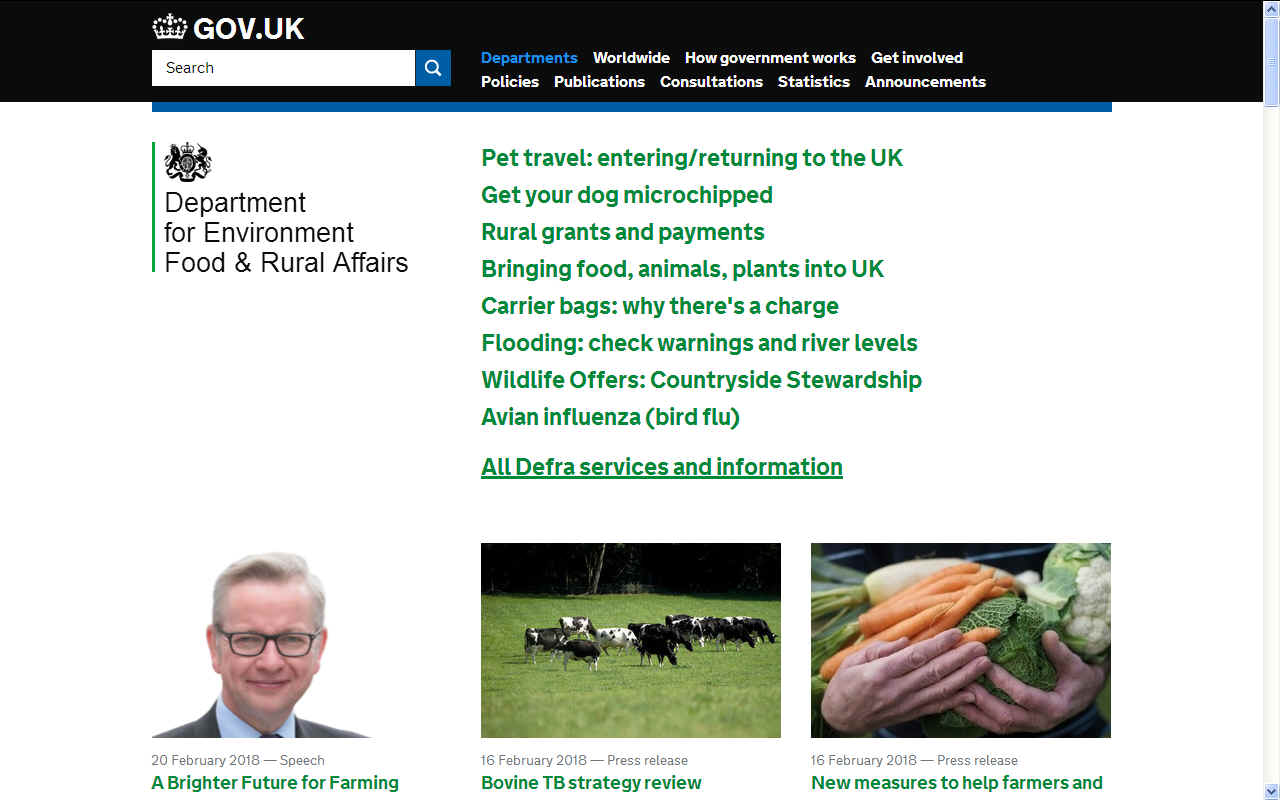 DEFRA - Deals with rural grants, climate change and agriculture. It's a mixed bag that gives the Secretary of State a lot of interesting ways of doing some good for the country.

CONSERVATIVE MPs 2018

CAROLINE ANSELL - CAROLINE LUCAS - CHARLES CLARKE - CHARLES HENDRY - CHRIS GRAYLING - DAVID BLUNKETT
DAVID CAMERON - DAVID MILIBAND - ERIC PICKLES - GEOFFREY JOHNSON-SMITH - GEORGE OSBORNE - GORDON BROWN
GREG CLARK - GREGORY BARKER - HUW MERRIMAN - JACK STRAW - JOHN GUMMER - JOHN PRESCOTT - KENNETH CLARKE
KIM HOWELLS DR - MARGARET BECKETT - MARGARET THATCHER - MARIA CAULFIELD - NICK CLEGG - NORMAN BAKER - NUS GHANI
PATRICIA HEWITT - PHILIP DUNNE - PHILIP HAMMOND - SAJID JAVID - STEPHEN LLOYD - TERESA MAY - TESSA JOWELL