On top of that some police forces are guilty of institutional discrimination, being more than willing to lend councils a hand if trying to stitch up challenging members of the public, especially ones that are getting the hang of public appeals and have already won a few that have embarrassed them, as the involuntary advocate showed how vile their administrative practices were, to include bulldozing and animal sanctuary before the hearing of an appeal, doing their level best to devalue land owned by a builder who was in competition with a mason who was the son-in-law of am assistant district planning officer.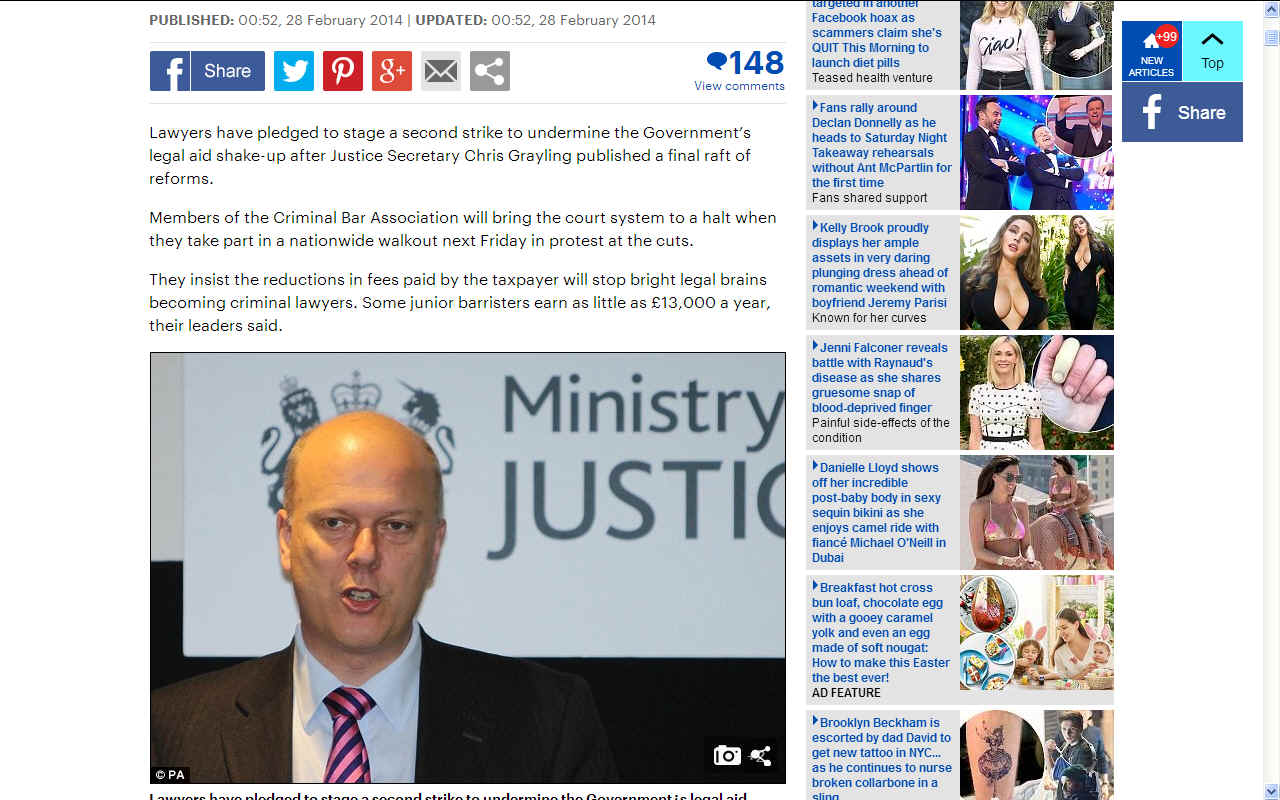 CHRIS GRAYLING - Former justice minister tightened up the screws a few more notches in 2014 with his legal aid cutbacks, further damaging the right of a person who cannot afford to mount his own legal defence, to a fair trial. More on this Pothole Politics as other cases come to light. Mr Grayling is now the transport minister (at time of writing). He is lucky to have escaped the consequences of Johnson V Youden KBD 1950, in that he was not formally asked to review Sussex police handling of various cases - hence may not have become a criminal accessory, except that his staff are almost sure to have read this page, so leaving a digital fingerprint for forensic scientists.
DAILY MAIL FEBRUARY 2014 - BARRISTERS TO STRIKE AGAIN OVER LEGAL AID SHAKEUP
Lawyers have pledged to stage a second strike to undermine the Government's legal aid shake-up after Justice Secretary Chris Grayling published a final raft of reforms.
Members of the Criminal Bar Association will bring the court system to a halt when they take part in a nationwide walkout next Friday in protest at the cuts.
They insist the reductions in fees paid by the taxpayer will stop bright legal brains becoming criminal lawyers. Some junior barristers earn as little as £13,000 a year, their leaders said.
Lawyers on strike outside the Old Bailey last month were branded the most elite picket line in the history of British industrial relations.
Their cause was undermined after one young barrister was pictured clutching a £1,100 Mulberry handbag, though she later claimed it had been a gift from her mother.
Legal hackles are up because the Ministry of Justice is slashing £215million from the annual £2.1billion legal aid bill. The cuts target the fees paid to barristers defending criminals.
Among the most contentious proposals is a 17 per cent cut in litigators' fees to be phased in from next month.
Yesterday barristers lashed out at the Government for pressing ahead with 'significant' legal aid cuts.
Nicholas Lavender, chairman of the Bar Council, which represents barristers in England and Wales, said: 'We are bitterly disappointed that, despite a sustained campaign emphasising that these proposals are contrary to the public interest, the Government is pressing ahead with significant cuts to legal aid for advocacy in the Crown Court.
'These cuts are financially unnecessary, will cause significant damage to the justice system and to our international reputation for upholding the rule of law, and will drive skilled and experienced advocates away from publicly-funded criminal work.'
Alongside plans to cut legal aid fees, Mr Grayling announced measures aimed at supporting lawyers through the period of transition.
They include plans to overhaul fees paid to defence lawyers so they no longer lose out when a case heard in the Crown Court, which could have been heard in the magistrates' court, is dropped by the prosecution.
Mr Grayling also announced plans to bring in interim payments to help with lawyers' cash flow in long trials.
He said: 'This Government is dealing with an unprecedented financial challenge and I have no choice but to look for the savings I have to make across the full range of the Ministry of Justice's work.
'I cannot exempt legal aid from this but that doesn't mean I don't understand how challenging these reductions will be.'
Shadow justice secretary Sadiq Khan said: 'Legal aid is a lifeline to many of the most vulnerable in our society. A civilised society needs a system of legal aid to ensure access to justice for everyone.'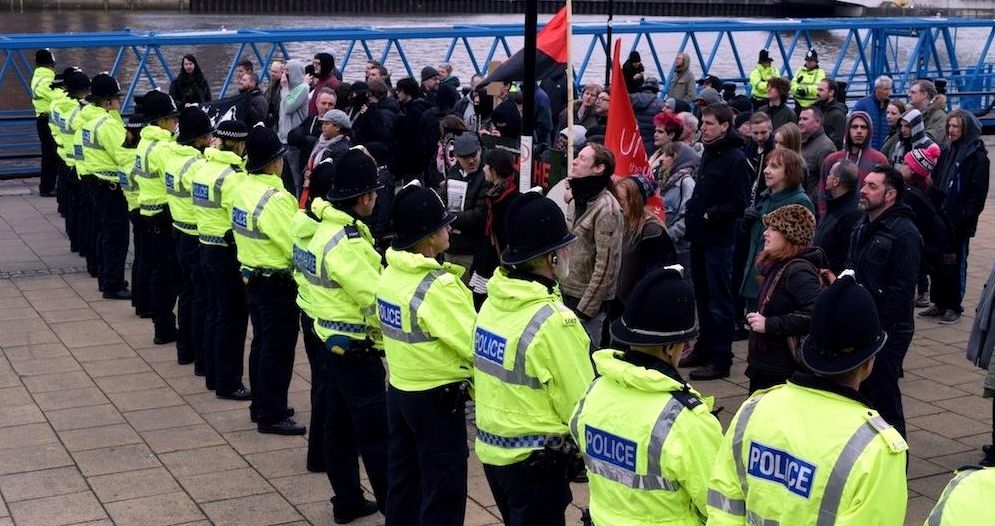 SILENCING OPPOSITION - Articles 9 and 10 are supposed to protect a person's right to challenge authority. It is hardly surprising where councils pursue what amounts to eugenics agendas in secret sessions, that. Because of this secrecy institutional discrimination is rife and flourishing. Hitler used his SS and Gestapo in exactly the same way, but more directly.
One of the problems with the British justice system is that the Criminal Cases Review Commission appear to be part of the subtle eugenics programme that has taken a hold, leading to many convictions that are unsound to say the least. The injustice is perpetuated in some cases by the Courts who are not as independent as they are supposed to be or as you might believe.
Indeed, the CCRC, CPS and High Court Judges are infested with masons who refuse to declare this impediment to impartiality.
Where a brother Judge has steered a trial to gain a conviction for a brother mason and is caught out later by the evidence, or the fact that there was not full disclosure, or that disclosure was prevented because the police failed to secure the crime scene, in some cases deliberately to secure a conviction, the CCRC will look the other way.
The CCRC can do this at the moment because their remit is not Article 14 compliant. Three High Court Judges are quoted as saying that the Commission are: "entitled to take a view." What they were saying then is that the CCRC are exempt from Article 14 discrimination and that they can treat one person differently to another person in near identical circumstances.
In one case that we have information of that person had called off an engagement to the daughter of a mason. The man in question was threatened by his former fiancé and her daughter that if he dared to leave their family that they would get him.............
The Sussex Police did not secure the crime scene, not securing a video collection of The Bill and Casualty episodes that the daughter had built up, nor their computers, and most especially not the work diary of the woman who had been jilted.........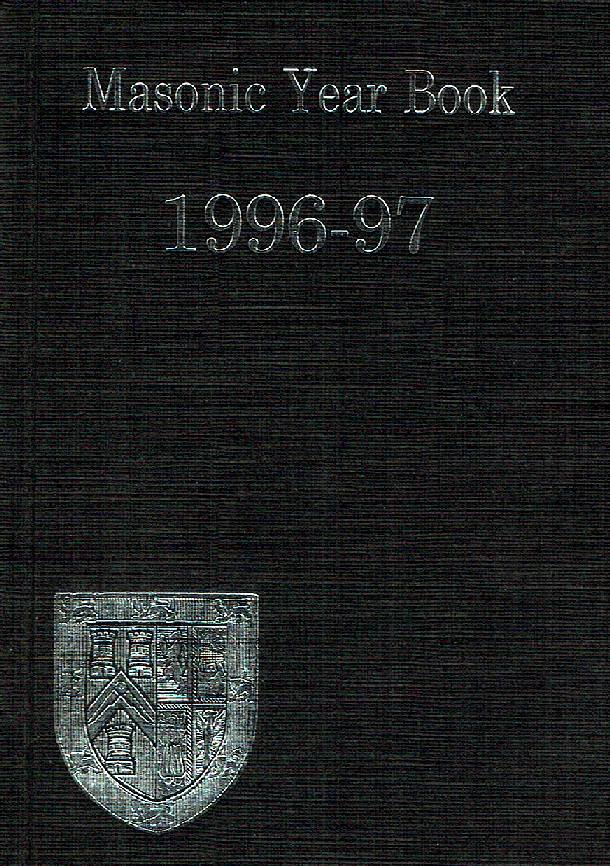 By way of contrast, the Sussex Police did secure the defendant's computer, but having done so in the hope of finding something incrimination, then failed to disclose to the Jury that there was nothing on it other than a profile of the defendant that revealed nothing other than his conservation concerns and battles with his local council.
Several emails between the claimant and her mother and the defendant, that damaged their case were also not revealed by the Sussex Police in their rush to convict a man on no evidence other than the say so of the claimant.
Another flaw in their argument was that the girl had claimed multiple vaginal penetrations, but that her hymen was intact. In this regard the jury were most obviously deceived by the so-called expert that the police called to give evidence at the trial. An authoritative study of marks that were presented the Jury in this case as suspicious, tells that the marks the State's expert relied on were naturally occurring.
The revision of Sex Laws by David Blunkett and Harriet Harman guaranteed higher conviction rates by denying those accused a fair trial and reversing the burden of proof in sex cases. That coupled with the reductions in public funding for defendant's on Legal Aid, ensured that disclosure and other issues related to the sealing of crime scenes and proper investigation, etc., would disadvantage the defence further. From any angle, looking at cases such as this you may care to agree that the British justice system is so far removed from a level playing field as to be a virtual kangaroo court.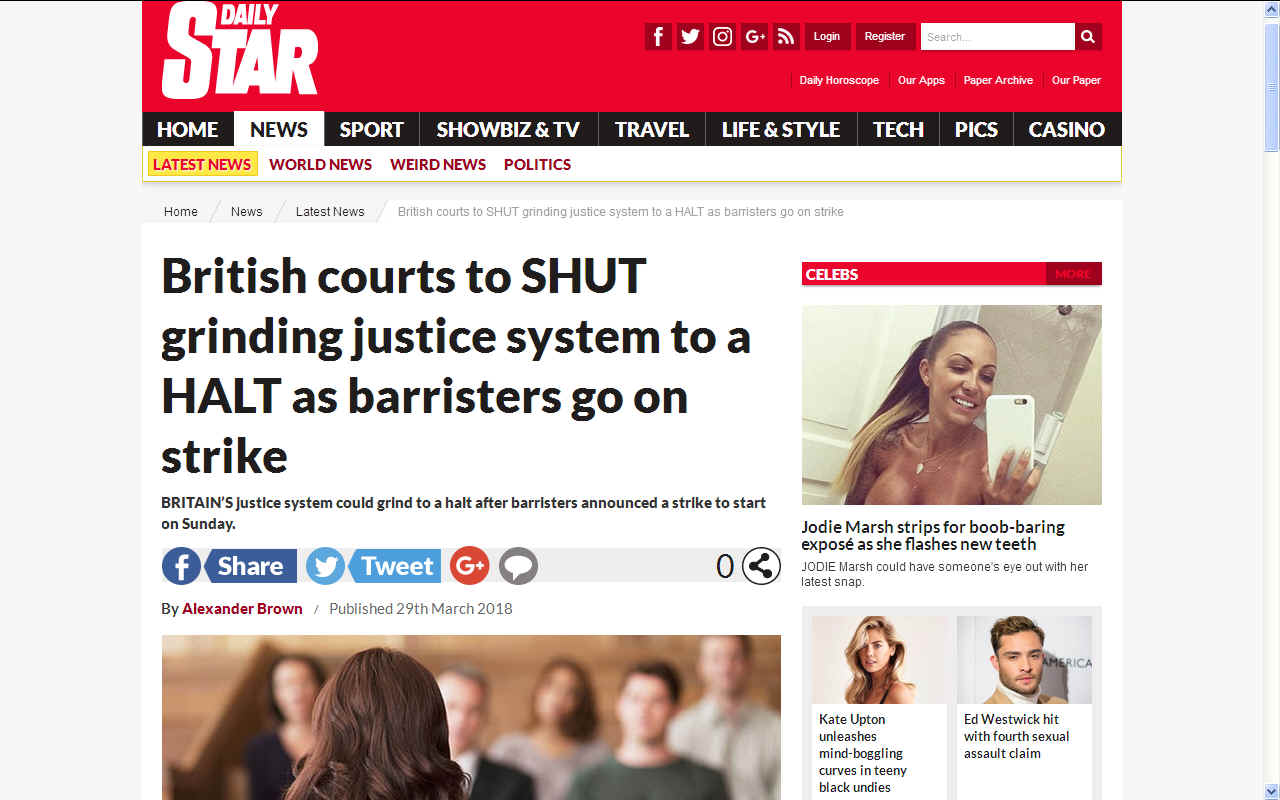 DAILY STAR MARCH 29 2018 - BRITISH COURTS SHUT GRINDING JUSTICE SYSTEM TO A HALT
BRITAIN'S justice system could grind to a halt after barristers announced a strike to start on Sunday.
They are angry at the Government's cuts to the legal aid budget.
A massive 90% of barristers backed "direct action" to stop courts falling apart and allowing crooks off the hook.
The Criminal Bar Association claimed it was forced to take action.
Chairwoman Angela Rafferty said yesterday that the decision had been made with "heavy hearts", adding: "The system is desperate – as are we.
"For years the criminal justice system has been held together by the professionalism and goodwill of judges, court staff and lawyers. But the supply of sticking plaster has run out.
"Meanwhile the poor and vulnerable in society are being denied access to justice."
The strike is also over a new scheme, which will see lawyers not get paid for going through thousands of computer and phone messages.
Already under the current system, some barristers earn less than the minimum wage.
The Ministry of Justice has also closed 258 courts since 2010.
A Ministry spokesman said: "Our reforms will reflect the actual work done in court, representing better value for the taxpayer, and will replace an archaic scheme under which barristers were able to bill by pages of evidence."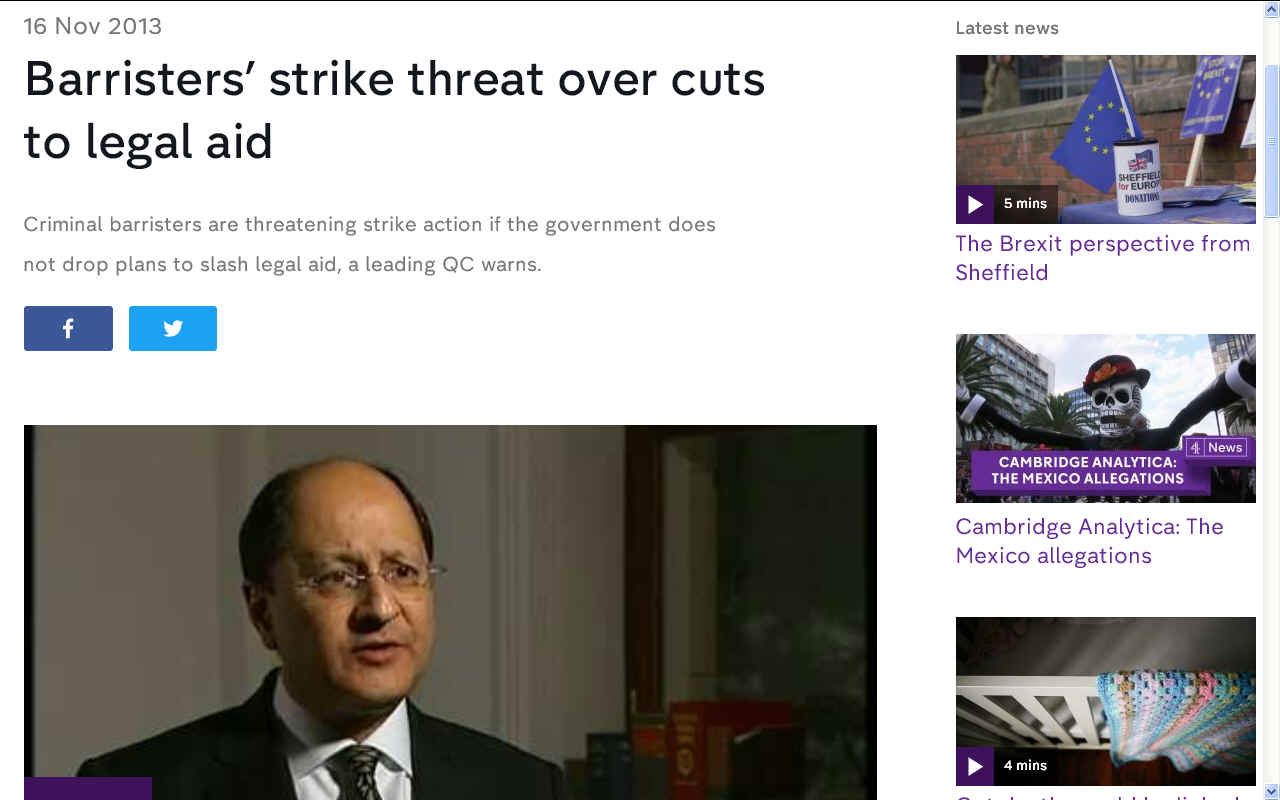 CHANNEL 4 NEWS 16 NOVEMBER 2013 - BARRISTERS STRIKE THREAT TO LEGAL AID CUTS
Criminal barristers are threatening strike action if the government does not drop plans to slash legal aid, a leading QC warns.

The Criminal Bar Association (CBA), a union of more than 4,000 lawyers, has unveiled a new campaign poster as part of a protest against the proposed cuts held in London on Saturday.

Nigel Lithman QC, chairman of the CBA, said the public show of defiance – illustrated by the threat of unprosecuted paedophiles and murderers – could be a precursor to industrial action as early as January 2014.

He said: "If the rally doesn't work, then more drastic action has to be taken. The criminal bar is not prepared to work in the face of these cuts."

Plans for a strike were reportedly discussed at the rally outside Lincoln's Inn on Saturday, where lawyers marched against plans to slash £220m from legal aid.

Justice Secretary Chris Grayling moved to cut a further 30 per cent from the £1bn-a-year legal aid bill in April despite a 40 per cent reduction in funding since 1997, a decision that Mr Lithman said would cripple criminal trials.
'Not prepared to work on that basis'

He said: "The most serious cases are collapsing. Barristers are going to court, telling the judge that the government has changed the terms of their contract. They're not prepared to work on that basis, nor are they prepared to take future cases on that basis.

"This is the most immediate problem the bar and the government faces; how they manage to arrange representation of those people whose barrister's position has been made untenable by the government.

"People are not only walking away from the profession, but other people won't come into the profession. Without them it will be impossible to prosecute serious criminals or defend the innocent ones."

According to the CBA, 98 per cent of British barristers are not prepared to work under the proposed changes.

It reports that 60 per cent of those now face working for fees of less than £20 a day.
Rates of pay 'driven down'

Mr Lithman continued: "People coming to the bar will be facing debts of £72,000 – and scholarships granted by chambers won't be offered because the rates of pay are being driven down. The criminal bar will become closed to people from a working class background.

"In any event, why would people want to come to one part of the legal profession where a commercial counterpart would earn in an hour what they earn in a week.

"The bar is not about a dozen people that have earned handsomely, it is about the 5,000 that makes the court tick and do so with standards of excellence that are disappearing."
WHO WE WERE FIGHTING AGAINST FROM 1939 TO 1945
Adolf Hitler

German Chancellor

Herman Goring

Reichsmarschall

Heinrich Himmler

Reichsführer

Joseph Goebbels

Reich Minister

Philipp Bouhler SS

NSDAP Aktion T4

Dr Josef Mengele

Physician Auschwitz

Martin Borman

Schutzstaffel

Adolph Eichmann

Holocaust Architect

Rudolf Hess

Commandant

Erwin Rommel

The Desert Fox

Karl Donitz

Kriegsmarine

Albert Speer

Nazi Architect
WEALDEN'S OFFICERS FROM 1983 TO 2018
Ian Kay

Assist. Dist. Plan.

Charles Lant

Chief Executive

Victorio Scarpa

Solicitor

Timothy Dowsett

Dist. Secretary

Christine Nuttall

Solicitor

David Phillips

Planning

Daniel Goodwin

Chief Executive

J Douglas Moss

Policy

Kelvin Williams

Dist. Planning

Trevor Scott

Solicitor

David Whibley

Enforcement

Christine Arnold

Planning

Beverley Boakes

Legal Secretary

Patrick Coffey

Planning

Julian Black

Planning

Ashley Brown

Dist. Planning

Derek Holness

Former CEO
Abbott Trevor - Alcock Charmain - Ditto - Arnold Chris (Christine) - Barakchizadeh Lesley - Paul Barker - Bending Christopher
Black Julian - Boakes Beverley - Bradshaw Clifford - Brigginshaw Marina - Brown Ashley - Coffey Patrick - Douglas Sheelagh
Dowsett Timothy - Flemming Mike - Forder Ralph - Garrett Martyn - Goodwin Daniel - Henham J - Holness Derek
Hoy Thomas - Johnson Geoff - Kavanagh Geoff - Kay Ian - Kay I. M. - Barbara Kingsford - Lant Charles - Mercer Richard
Mileman Niall - Moon Craig - Moss Douglas, J. - Nuttall Christine - Pettigrew Rex - Phillips David - Scarpa Victorio - Scott Trevor
Kevin Stewart - Wakeford Michael. - Whibley David - White, George - Williams Kelvin - Wilson Kenneth - White Steve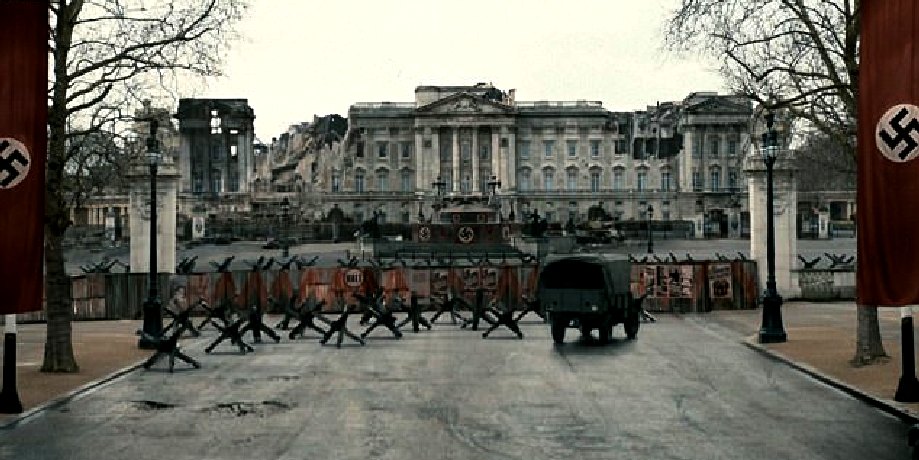 LINKS & REFERENCE
https://www.channel4.com/news/legal-aid-cuts-chris-grayling-barristers-strike-protest
https://www.dailystar.co.uk/news/latest-news/692542/British-justice-system-barristers-strike-legal-aid-budget
http://www.dailymail.co.uk/news/article-2569831/Barristers-strike-legal-aid-shake-Justice-Secretary-Chris-Grayling-publishes-final-raft-reforms.html
https://www.telegraph.co.uk/news/2018/03/30/barristers-go-strike-protest-collapsing-criminal-justice-system/