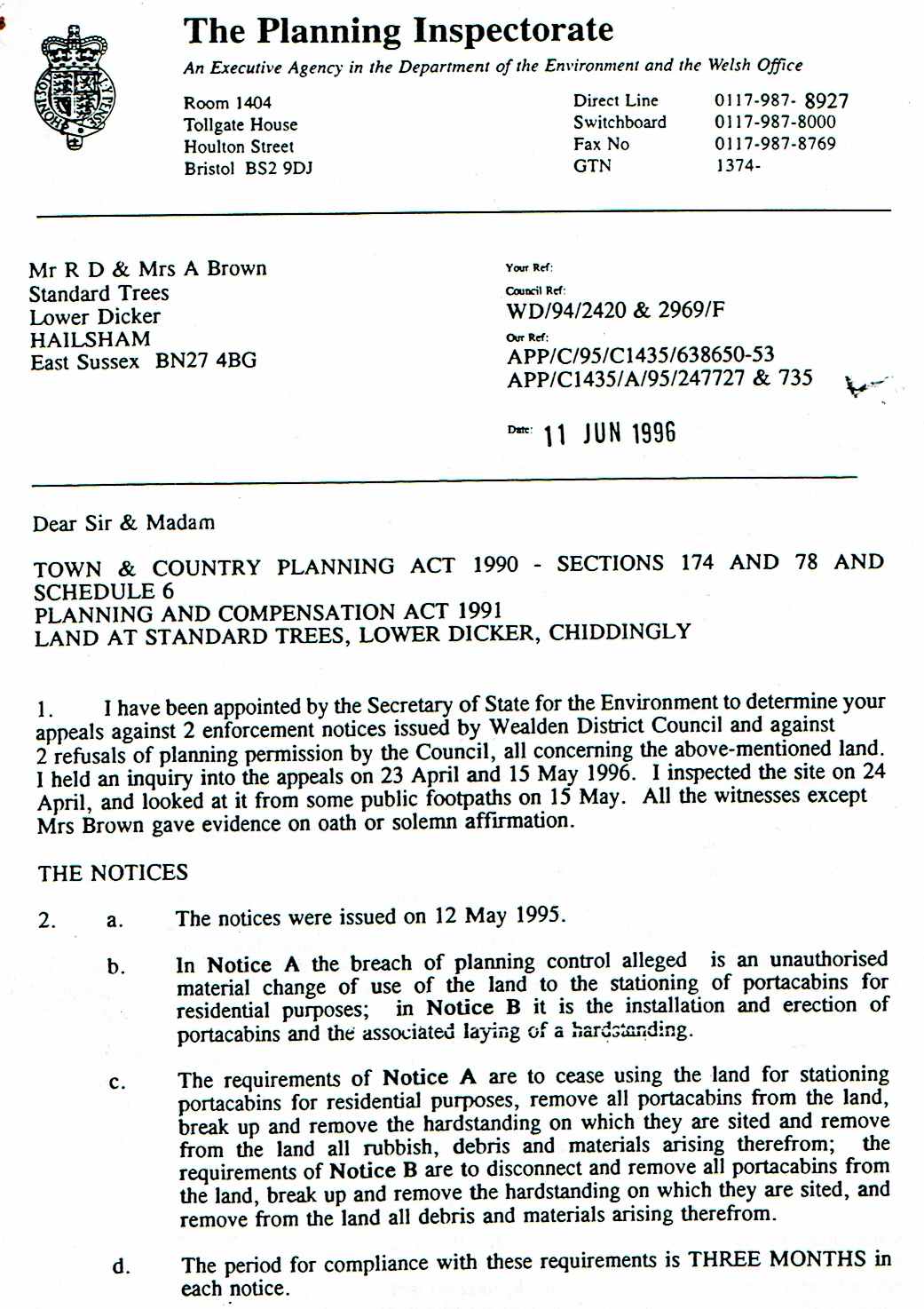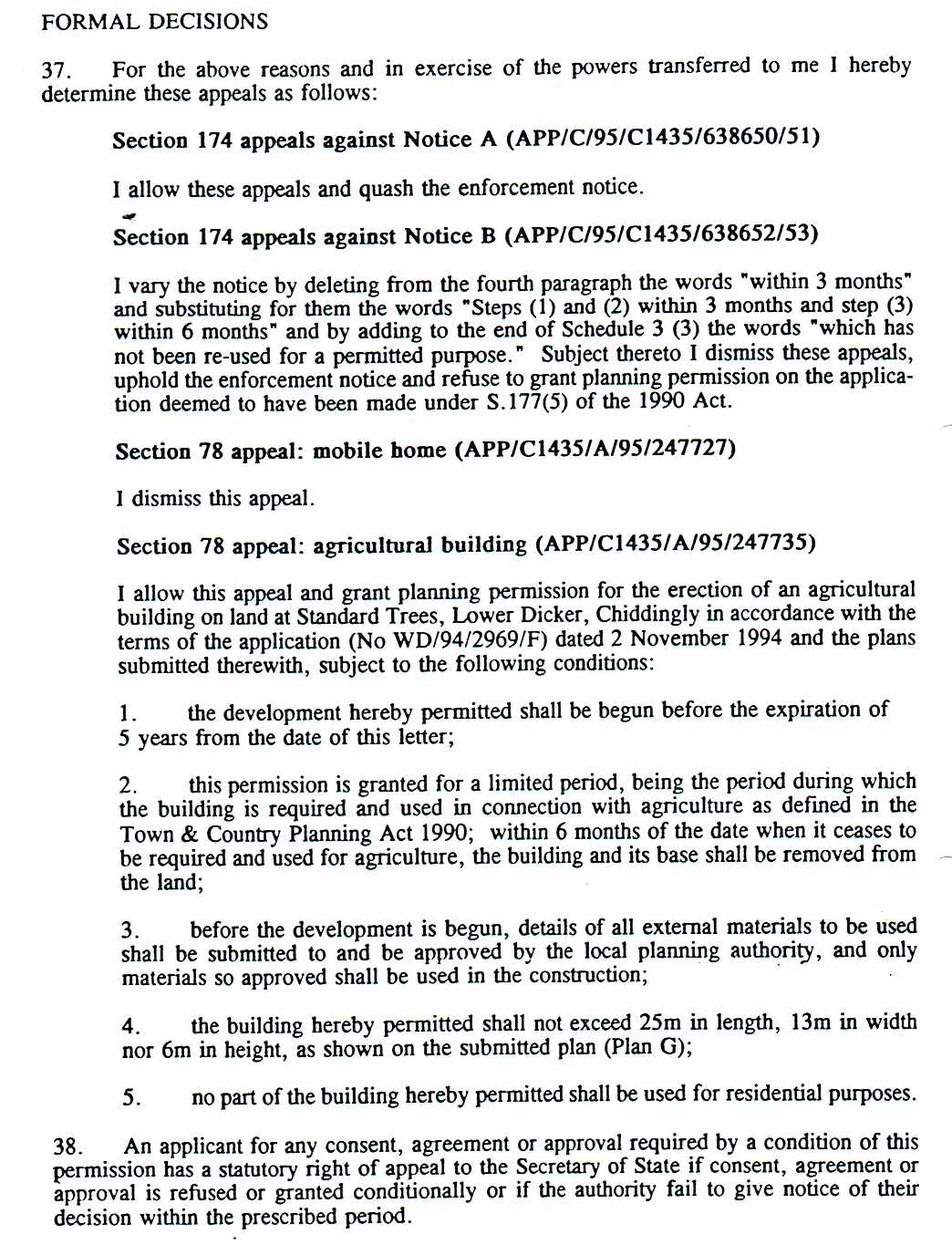 Roger Brown (deceased) was a farmer/horticulturist growing trees for supply to nurseries around the country.
It appears that Wealden District Council may not have wanted development on his side of the A22, because we can think of no reason why a local authority should seek to enforce to secure removal of a building, when once it was taken down, Mr Brown had to re-erect the same units to comply with the Health & Safety Regulations 1992.
So it was that Wealden caused significant loss to a local farmer who was minding his own business and contributing to the local economy - and acting lawfully and reasonably.
You'll not be surprised to learn that the enforcement officer was David Phillips, aided and abetted by Victorio Patrick Scarpa and more than likely, Ian Kay, in that he was the Assistant District Planning Officer working under the wing of Ashley Brown.
The matter of falsifying evidence and malicious prosecution was reported to Sussex police by way of inclusion as a Petitioner. Roger was never contacted by Detective Sergeant Keith Lindsay for his statement or to take his evidence.
A failure to investigate a crime is a crime. That makes DS Lindsay a suspected conspirator in a cover up where Sussex police are said to have provided Wealden's planners with a sheet of blank headed paper to write their own letter of exoneration.
The Crown Prosecution Service appear to be implicated, in that if indeed they were contacted by Sussex police, they would have known from the lack of statements and other evidence that should have been collected, that there was no investigation.
WEALDEN'S OFFICERS FROM 1983 TO 2018
Ian Kay

Assist. Dist. Plan.

Charles Lant

Former CEO

Victorio Scarpa

Solicitor

Timothy Dowsett

Dist. Secretary

Christine Nuttall

Solicitor

David Phillips

Enforcement

Daniel Goodwin

Former CEO

J Douglas Moss

Policy

Kelvin Williams

Dist. Planning

Trevor Scott

Solicitor

David Whibley

Enforcement

Christine Arnold

Planning

Beverley Boakes

Legal Secretary

Patrick Coffey

Planning

Julian Black

Planning

Ashley Brown

Former DPO

Derek Holness

Former CEO
Abbott Trevor - Alcock Charmain - Ditto - Arnold Chris (Christine) - Barakchizadeh Lesley - Paul Barker - Bending Christopher
Black Julian - Boakes Beverley - Bradshaw Clifford - Brigginshaw Marina - Brown Ashley - Coffey Patrick - Douglas Sheelagh
Dowsett Timothy - Flemming Mike - Forder Ralph - Garrett Martyn - Goodwin Daniel - Henham J - Holness Derek
Hoy Thomas - Johnson Geoff - Kavanagh Geoff - Kay Ian - Kay I. M. - Barbara Kingsford - Lant Charles - Mercer Richard
Mileman Niall - Moon Craig - Moss Douglas, J. - Nuttall Christine - Pettigrew Rex - Phillips David - Scarpa Victorio - Scott Trevor
Kevin Stewart - Wakeford Michael. - Whibley David - White, George - Williams Kelvin - Wilson Kenneth - White Steve
WE ACCEPT NO RESPONSIBILITY FOR THE ACCURACY OF ANY FEATURED LINKS