NICK ELLWOOD SAID: "MOVE YOUR HOME AND WE'LL SAVE YOUR STABLES"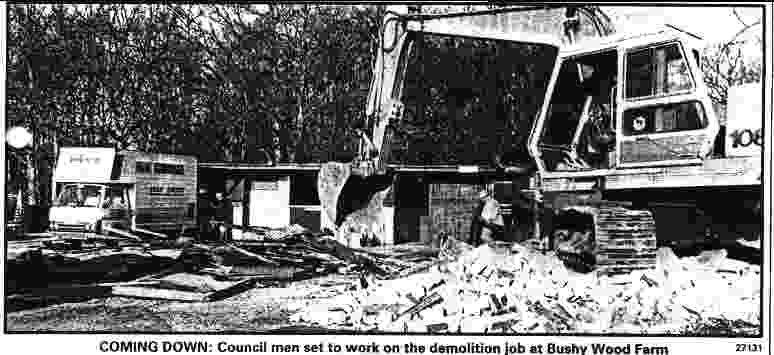 February 26th 1997
Having already been tricked into moving their home (thanks Nick). Mick and Val Punter watched in horror as the stables bought with their life savings was smashed by a ten strong team of workmen using pickaxes and bulldozers.
Council officers led by Wealden's chief enforcement officer lied to Wealden's planning committee when they advised the members the stables breached planning rules. The stables were a permitted development and acknowledged as such by the Council in writing. All the Punters needed was a change of a planning condition. However, the officers failed to mention this to Mick or Val or their committee when asking for authorisation to enforce.
Enforcement (if that was appropriate) should have taken the form of an injunction. This would have left the stables to be used for their permitted agricultural purposes and given the Punters a chance for a fair hearing. However, Wealden's chief enforcement officer, assistant district planning officer and principle solicitor knew injunctive proceedings would fail when any Court saw what was going on. Wealden District Council are not renowned for giving people a fair hearing. So demolish it was!
Article 8 of the Human Rights Act prohibits interference such as this by a local authority. This Council's actions were not only unreasonable and unlawful, but also malicious - at which point they became illegal.
For the full story to this picture why not visit the Sussex Express website: