The field next door to the west, has no such problems and is far more suitable for accommodating new houses, with access to the A271 via an entrance that is much safer on a compare and contrast basis. Planners should be looking for the most suitable sites, not grasping any proposal that comes along no matter what obstacles would normally prevent development.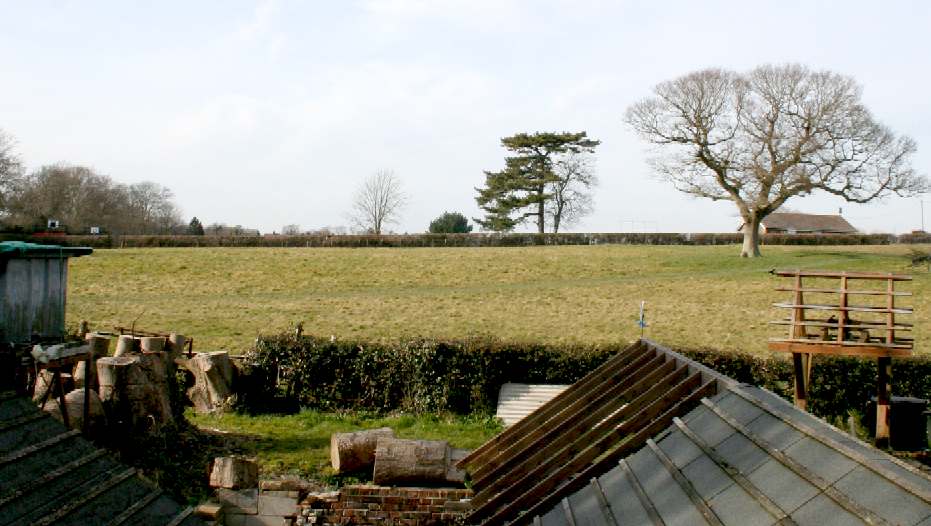 View from the balcony facing into Lime Park, looking sideways into the field at Lime Cross. Once again, all of the houses that might be built on the south-west end of the field will be overlooked from a significantly higher vantage point.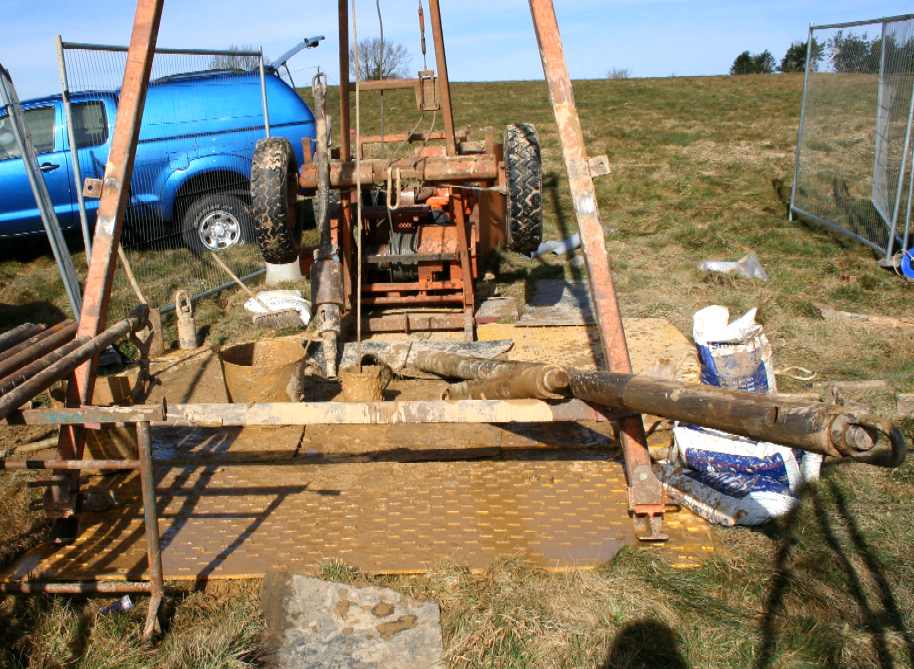 Lime Cross, Herstmonceux March 2015 - Surveyors drive home a borehole. The water table was confirmed here on site as being 4 meters from the surface, meaning that this area of land also shares the water with Herstmonceux Museum. Herstmonceux Museum does not have mains water supplies, but relies on an ancient well adjacent to the field the subject of this planning application. It seems from this that any houses built here are bound to cause long term contamination to the water table. Imagine a leak from the soil system into the water table. How would that affect those locally that depend on water from wells? Poisoning, or attempting to poison, or annoy any person by poison, is a criminal offence under the Offences Against the Person Act of 1861.
INCOME FROM TOURISM
Tourism is a long term earner for Herstmonceux. It is well known that tourists plan holidays according to a theme. The theme in London, or London's top ten include:
4. Tate Modern
5. London Eye
10. Madame Tussauds
Herstmonceux's top ten theme tour of the UK might include:
1. Science Museum, London
2. Battersea Power Station, London
3. Amberley Museum
4. Rudyard Kipling's Batemans
5. Jubilee Walk & (proposed) Edison Trail
6. Herstmonceux Museum, Lime Park (from the Cuckoo Trail)
8. The Truggery
9. Herstmonceux Observatory
10. RAF Wartling
SUSSEX INDEX A - Z
CHIDDINGLY - HORSE SHOW and GYMKHANA
CUCKMERE VALLEY - EXCEAT
HERSTMONCEUX - MUSEUM - COSTS SCANDAL - PARISH COUNCIL - ACTION GROUP -
TWISSELLS MILL, OLD HEATHFIELD
HERSTMONCEUX & PARISH COUNCIL CONTACTS
COUNCIL OFFICERS HAVING CONDUCT OF PLANNING MATTERS RELATING TO HERSTMONCEUX MUSEUM
COUNCIL MEMBERS SITTING ON - AREA PLANS SOUTH
Andrew Long - (no email address)
David White - cllr.david.white@wealden.gov.uk
Diane Dear - cllr.dianne.dear@wealden.gov.uk
Charles Peck - cllr.charles.peck@wealden.gov.uk
Chris Hardy - cllr.chris.hardy@wealden.gov.uk
Chris Triandafyllou - cllr.chriss.triandafyllou@wealden.gov.uk
Daniel Shing - daniel.shing@wealden.gov.uk
Dick Angel - cllr.dick.angel@wealden.gov.uk
Barby Dashwood-Morris - cllr.barby.dashwood-morris@wealden.gov.uk
Barry Marlowe - cllr.barry.marlowe@wealden.gov.uk
Bill Bentley - cllr.bill.bentley@eastsussex.gov.uk
Brian Jarman (deceased)
Brian West - (retired)
John Blake - cllr.john.blake@wealden.gov.uk
Lin Clark - cllr.lin.clark@wealden.gov.uk
Nigel Coltman - cllr.nigel.coltman@wealden.gov.uk
Nigel McKeeman - cllr.nigel.mckeeman@wealden.gov.uk
Raymond Cade - cllr.raymond.cade@wealden.gov.uk
Ron Cussons - cllr.ron.cussons@wealden.gov.uk
Stephen Harms - cllr.steve.harms@wealden.gov.uk
Stephen Shing - cllr.stephen.shing@wealden.gov.uk
Susan Stedman - cllr.susan.stedman@wealden.gov.uk
LOCAL NEWSPAPERS CONTACTED
Sussex Express - sussex.express@jpress.co.uk
amie.morrell@jpress.co.uk
Eastbourne Herald - eastbourne.herald@jpress.co.uk
The Argus - lucy.pearce@theargus.co.uk
emily.walker@theargus.co.uk

LINKS & REFERENCE
http://www.eastbourneherald.co.uk/news/local/more-water-works-set-for-rural-village-1-5310560
http://www.sussexmillsgroup.org.uk/
http://www.nationaltrail.co.uk/
https://www.gov.uk/government/organisations/department-for-culture-media-sport
http://www.english-heritage.org.uk/