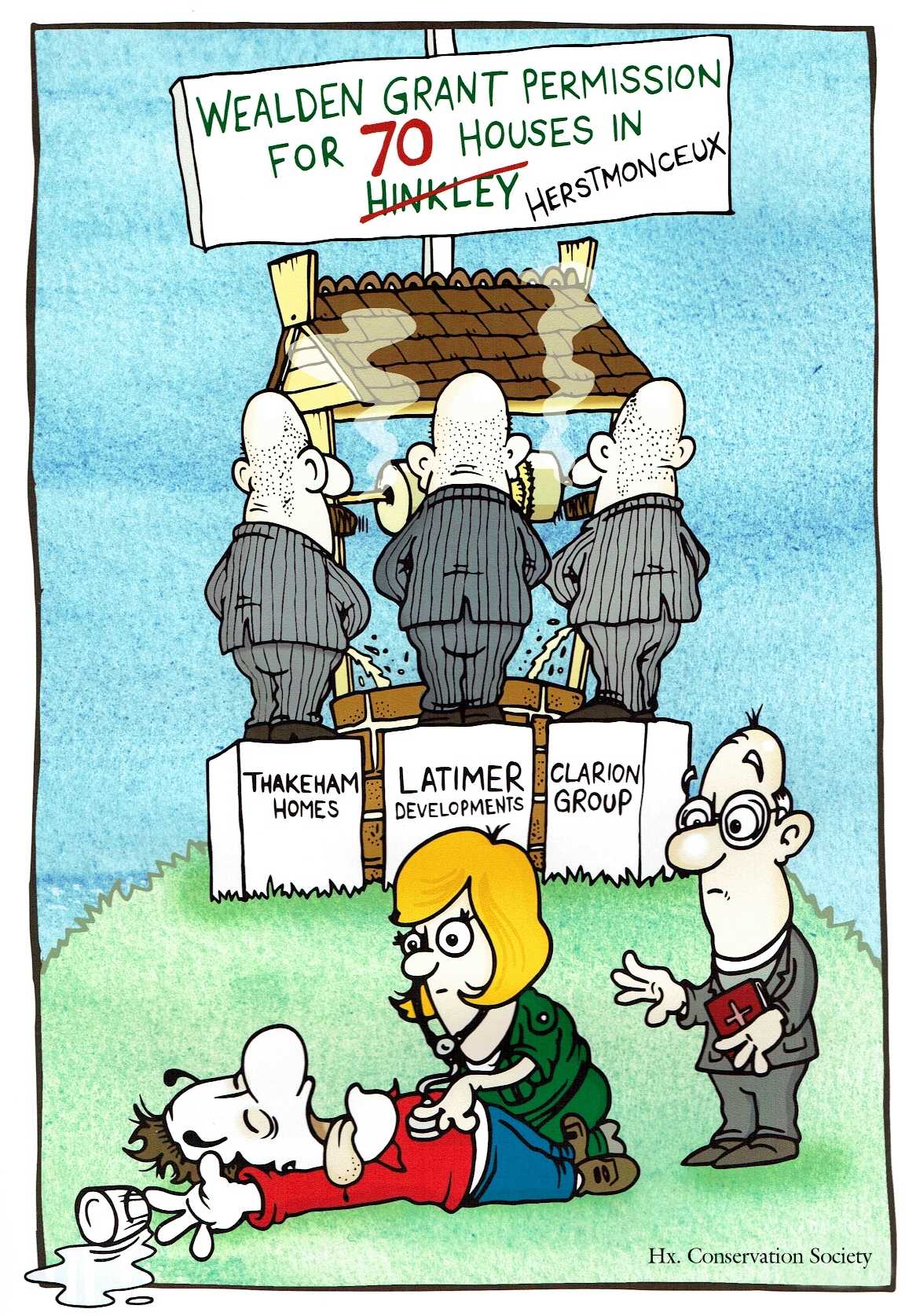 WATER CONTAMINATION OFFENCES - If houses are built on the hill that supplies the last surviving well in Herstmonceux, all of those who presently enjoy a sustainable water supply are likely to be poisoned by pesticides from the gardens of the proposed housing. In addition, where the hard standings of the proposed 70 houses are to be gully drained to a point lower than the twin wells, soakage that supplies the wells will be diverted away potentially starving the wells of water, save that from the garden areas. The amusing cartoon above portrays the situation that perhaps the developers were not aware of, when they bought into a situation that they should have been able to rely on. Unfortunately, the council concerned and the advisers to the original applicants appear to have been less diligent than they might have been in the rush to profit from a windfall situation.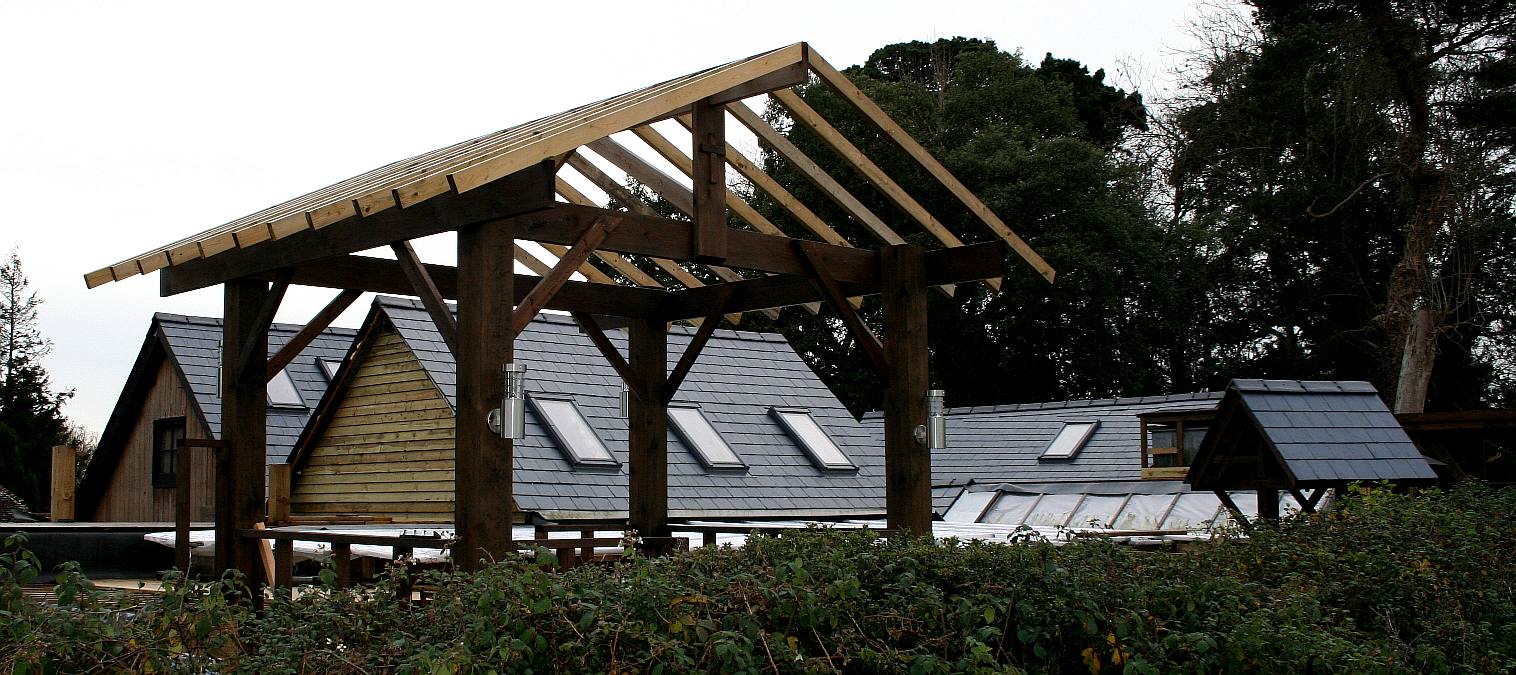 Top left, Herstmonceux generating works, East Sussex in 1997 clad in corrugated iron from the 2nd World War. Top right, Herstmonceux Museum finally relieved of iron cladding in 2012. No restoration, but conversion to a working museum was planned (2013) with open days being considered to raise funds for further works to include sustainable energy harvesting as per the Climate Change and Sustainable Energy Act 2006. English Heritage confirmed they could not assist with funds for typical 'conservation' works due to policies that only work to protect selected historic buildings. Look at the difference it makes when the corrugated iron is removed and all the nuisance trees have gone.
The original timber building is revealed for the fist time since 1943. Developed between 1900-1909 this unique electricity generating station was clad in iron as a means to prevent fire damage from the Luftwaffe dumping bombs as they returned to Germany, from bombing raids over England. This complex was used as a makeshift hospital for wounded airmen during hostilities, mainly because Charles de Roemer was a major in the RAF. Charles also had a love of flying where he was the financier of the Eastbourne Aviation Company in 1911. As a working museum the Lime Park Heritage Trust can showcase old and new sustainable technology. Bottom center, micro generation using solar photovoltaic panels, heat collectors and a wind turbine. This is the only way the unit could realistically meet the 2050 targets set by the Climate Change Act 2008. The introduction of an electric car, also helped to reduce the Museum's carbon footprint.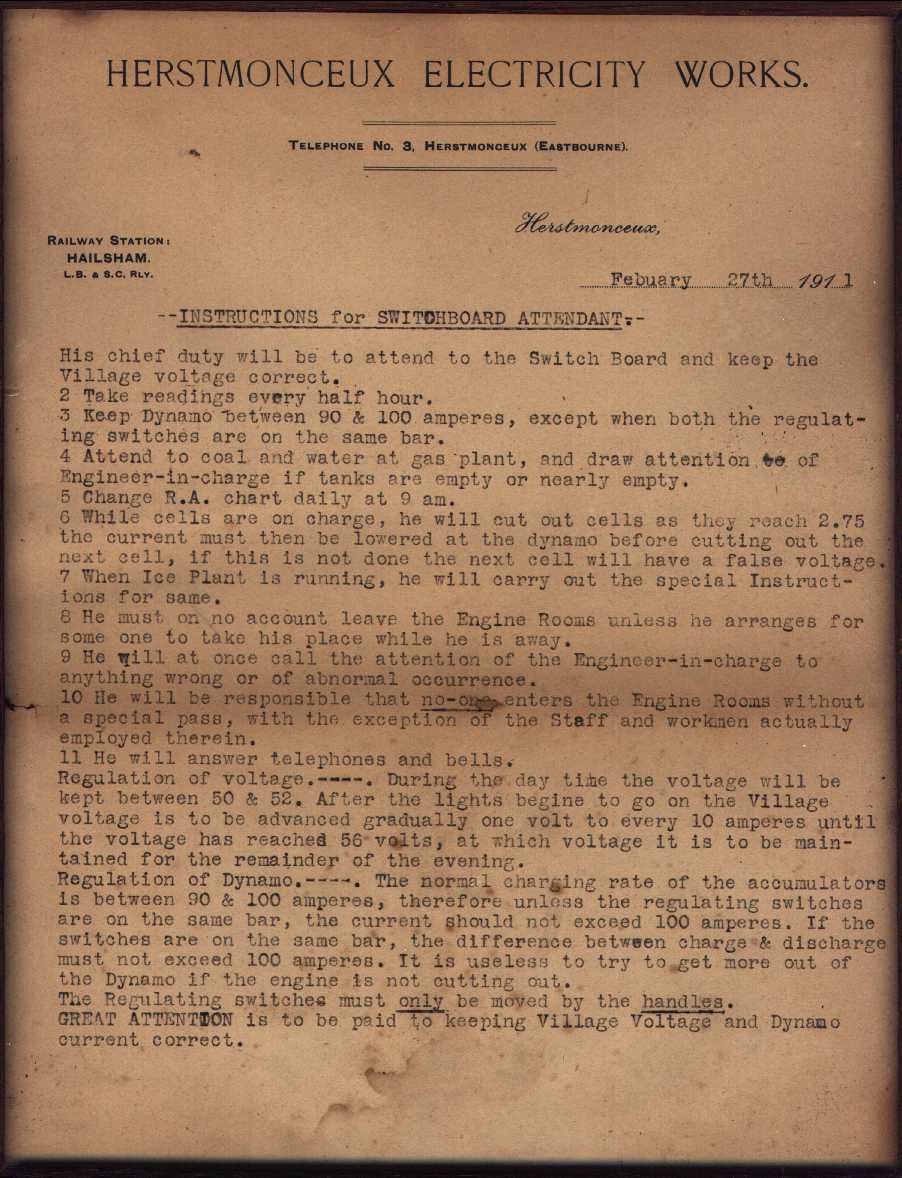 Where the local authority appear to be working hand in glove with a few nearby residents to block the nation having access to this unique archaeological asset, the Trust that occupies the building have elected to develop a virtual reality museum experience in immersive 3D using some of the latest technology on the market to create a virtual experience that is educational and entertaining at the same time - without the public needing to be anywhere near the historic asset, one day maybe even online. This removes council's from the equation, even where planning consent is not required to stage an event for several days a year.
Herstmonceux Museum, is a relatively modern building constructed of timber between 1900 and 1909. Charles de Roemer designed the buildings for the specific purpose of generating electricity for Lime Park and for the village nearby. By 1913, Charles de Roemer, an entrepreneur, was giving cooking demonstrations in the village using electric ovens. After 1936, generation ceased with supplies coming from the Weald Electricity Supply Company, leaving the buildings redundant. Then in 1939 came the second world war came along thanks to Adolf Hitler, when the generating rooms formed a makeshift hospital and communications outpost for the RAF that would make an interesting 3D virtual reality experience - as the user goes back in time to 1909 when horses and carts were the main form of transport - coming forward to WWII and then back to today.
After cessation of hostilities in 1945, the buildings were again redundant and became neglected, slowly rotting away. The cast iron gutters fell off and several parts of the buildings collapsed. It would not have been long before total subsidence. But a miracle came along in the form of Nelson Kruschandl. He had been enlisted by Nikolia (Nick) and Clare Askaroff to help them restore Lime House. Nelson spotted the dilapidated buildings, and a sucker for old industrial buildings, he bought the ruin from the Askaroffs in 1982 - so opened a new chapter.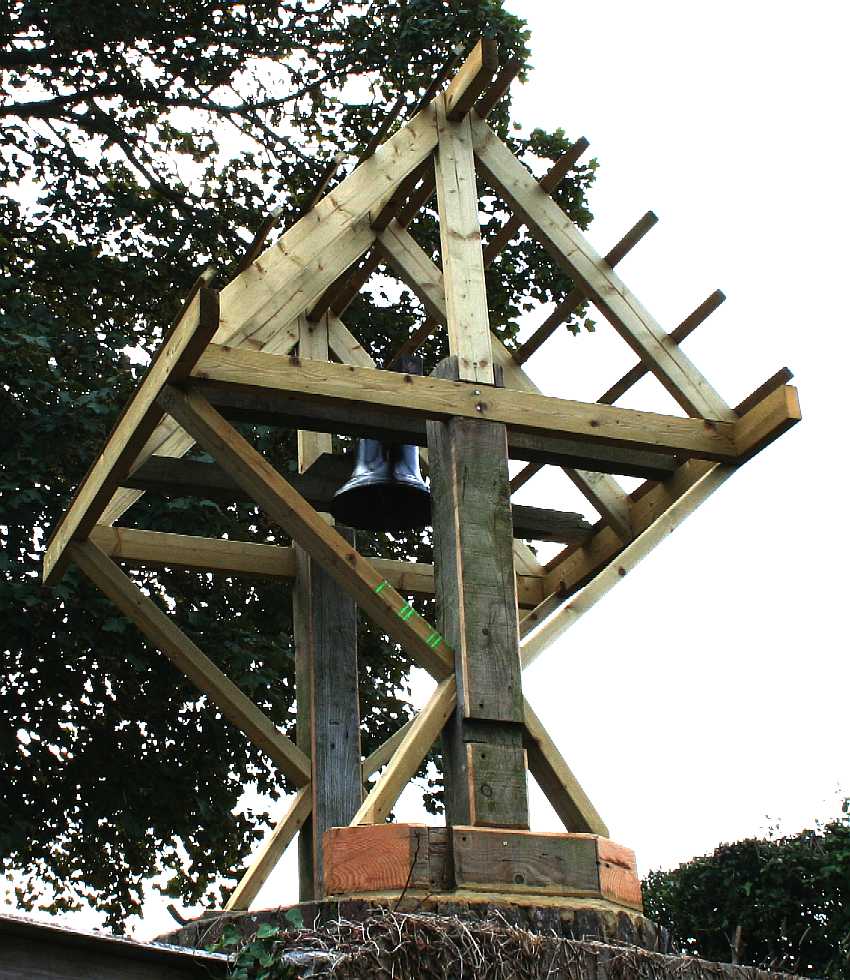 During July of 2013, this superb timber roof and belfry was reconstructed on site using 30 year old 6"x6" timbers, hand carved with full reconditioning of the original well-bell dating from 1898. You can see the location of the well in the conceptual sketch below on the far right - as part of the planned conversion to a working technology in-action showcase.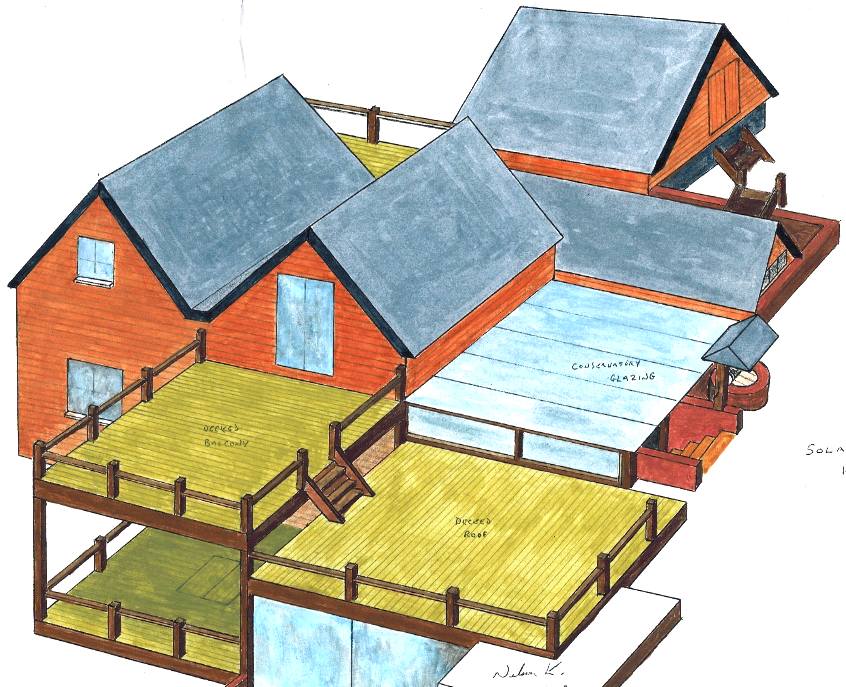 ENERGY SELF SUFFICIENCY - It is planned to take full advantage of the local inventor's suggestions for an energy self-sufficient building formula, to include a solar conservatory, as a means to capture heat from the Sun, to store that heat in insulated tanks, and then to release that heat at night - as a reversal of the energy capture process. The cooled water is then fed back into the water storage tanks ready to be heated the next day by the Sun. These innovations will reduce the energy running costs to virtually zero. In fact, we may sell electricity back to the grid for a slight gain.
The idea is for the occupiers to also run an electric car on green energy harvested from within the grounds. This could be a condition of use imposed by the Trust on any future user. For example, environmental researchers.
It turned out that Nelson was more than just a handy builder, he was also prolific inventor. Something that possibly persuaded the Askaroff's to selling the far corner of the Park to their (at the time) favoured decorator.
In 1982 Nelson was in the middle of building a giant robot ant. Even before the robot was completed, Nelson was already constructing a joystick controlled car. This car was completed in 1986, when many other sports car designs were coming off his drawing board. There followed a submarine patent application. Then came a couple of wind tunnels and in 1991 his first electric car with instant refueling. From 1993 several solar powered boats appeared, finding their way to boat shows from 1994. Then other electric car designs rolled off the board and in 1998 a city car was converted to take his battery cartridge (instant) recharging system. Several more solar boat designs were tested from 1999 until we arrived at an autonomous robot boat, that is also solar powered - his latest patent.
In amongst all of this, Nelson was sketching and drawing his concepts. He had a brief encounter with paints, which skill has not been developed, but clearly he has the ability to produce art in the form of oil paintings, which newly extends to book cover graphics - for which he's had no formal training.
So it is that the building which already had a history has now become associated with this multi-talented conceptual genius. The fact that many of his creations survive makes the building all the more interesting because it can be filled with original works. And the fact that the building itself is an ongoing project for another energy harvesting patent - is also an exciting development - which although such endeavourer might intrude slightly upon the fabric of the original generating structure. One should remember that if it was not for Nelson Kruschandl stepping in to repair the structure in the first place, there would be no building at all to argue over.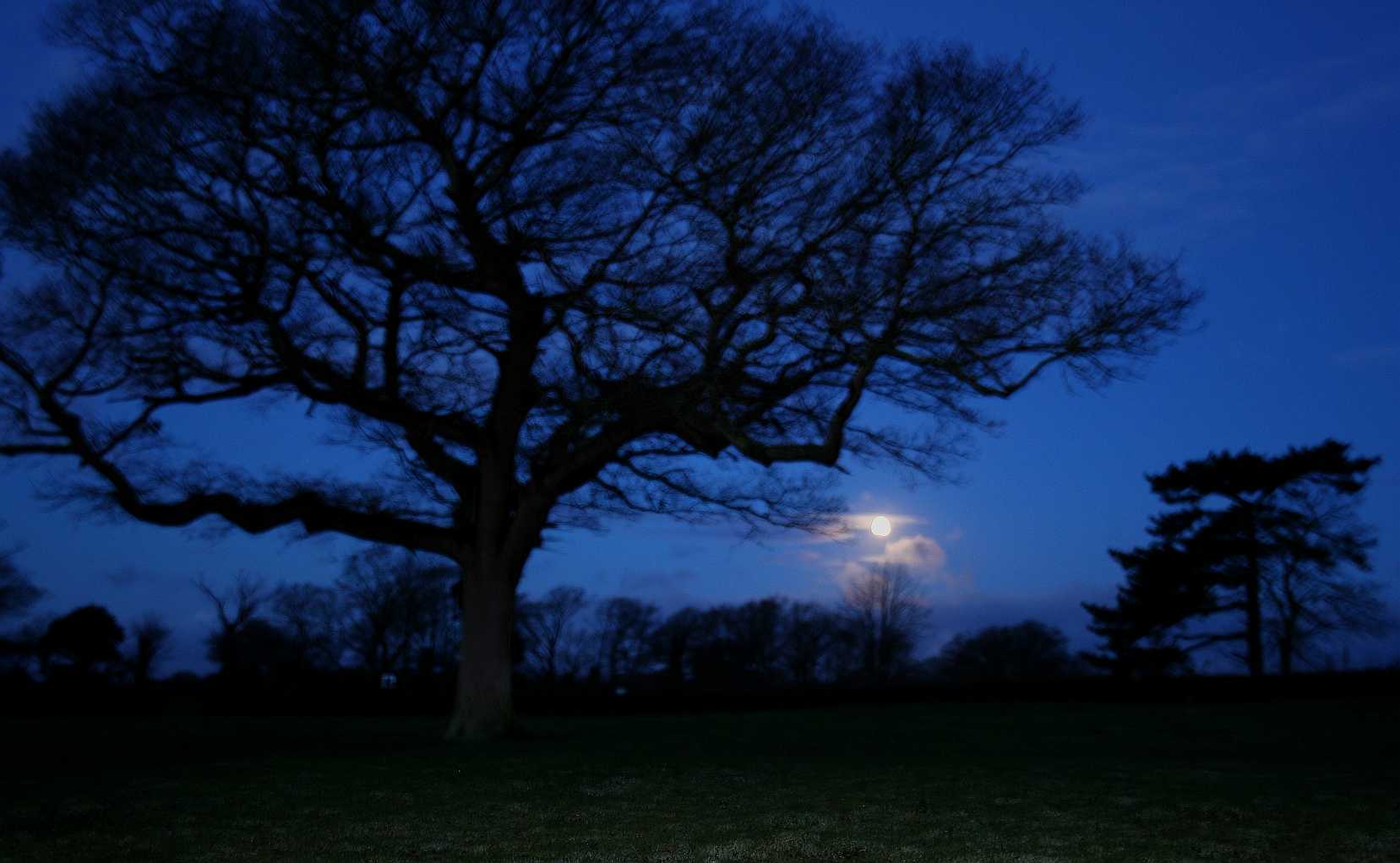 The old oak tree in Herstmonceux (Jubilee Walk) on a moonlit morning - view from Herstmonceux Museum to Hailsham. This tree is only 25 feet from a public footpath, with boughs overhanging and one branch dangling dangerously overhead. It should be protected by a TPO. Wealden have been asked to consider it, but so far ignored the suggestion. At the same time as refusing to protect this tree, Wealden in 2014, began
threatening to take direct action to remove a tree that is some 90 feet from the same public footpath and not overhanging into the field adjacent. Do you get the feeling that there is an alternative agenda? You are not alone. Such inequality in dealings is a potential Article 14 violation.
HERSTMONCEUX MUSEUM
For this reason, The Old Steam House, is now being converted by the Lime Park Heritage Trust, to become Herstmonceux's one and only working museum, in honour of one of the most creative people alive today. The building is possibly also, one of the smallest museums in the world, but it joins a long list of museums that are going over to virtual reality to bring their exhibits to life.
The generating building was included on a Monument Protection Program (MPP) in 1999 since it had fallen into a state of disrepair, much as the windmill at Windmill Hill, had been allowed to deteriorate to the stage where that almost fell down. The windmill was saved with the help of a £500,000 grant from the Heritage Lottery fund. English Heritage (South East Area) confirmed in March of 2013, that no funding was available for restoration works to Herstmonceux Museum.
LIME PARK
Other buildings of note in the locality include Lime House and Lime Cottage. Lime Cottage is a grade 2 listed building. Lime House is the manor house previously owned by the Baron de Roemer. It was his son Charles who built the generating building and supply network which gave electricity to Herstmonceux in advance of other towns. Charles also built aircraft at the Crumbles in Eastbourne for the Royal Navy as the Eastbourne Aviation Company.
For more information on this interesting building, see: ARCHAEOLOGY
The Old Generating Works (know locally as The Old Steam House), which together with Rudyard Kipling's Batemans, is the only surviving evidence of the early electricity generating industry in Sussex.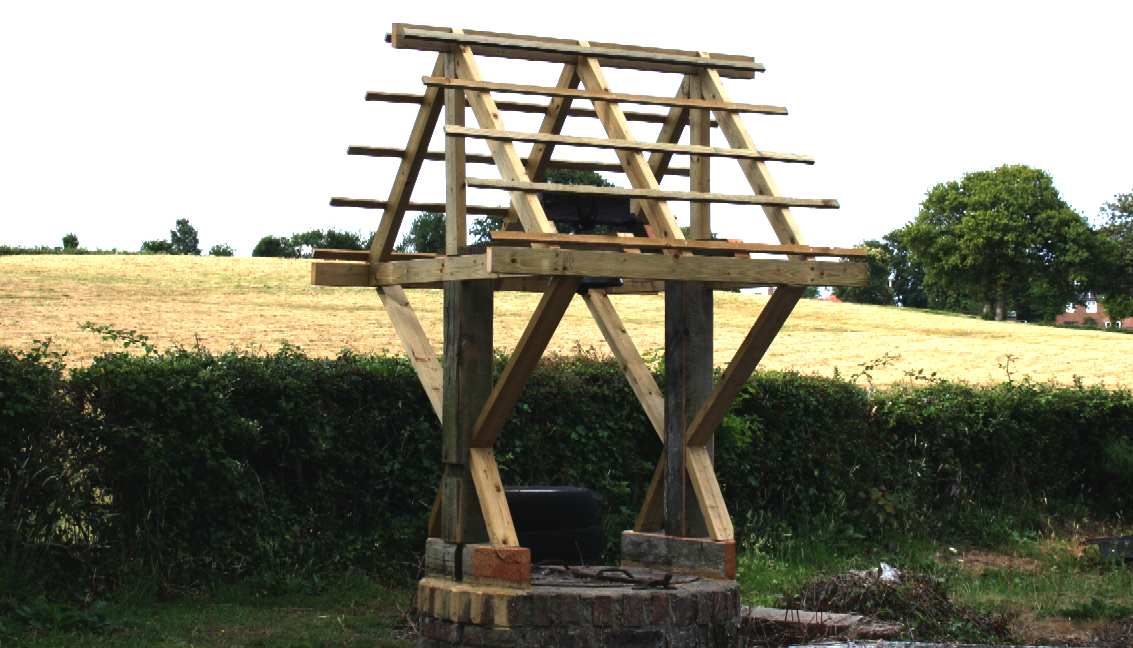 The reconstructed well head 2013 adds something to this view across the adjoining field toward Herstmonceux from Lime Park. This is a well known Ramblers walk, who often remark on the Generating building, as a landmark feature. The Trust is looking forward to removing the remaining iron cladding as soon as practicable, so restoring harmony to the rural scene. This open countryside, a view much enjoyed by villagers, and hikers for hundreds of years has been under threat since 2014, where it is suggested that 70 houses could be crammed onto the hillside. There are serious doubts as to safety and access, not too mention loss of privacy and the potential for vandalism if this becomes a housing estate.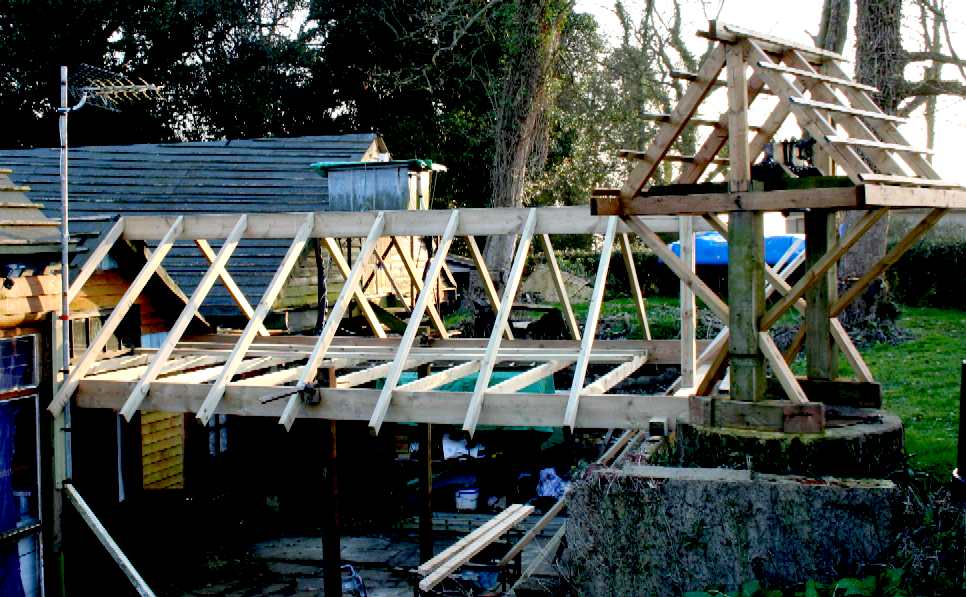 Scientific experiment in Sussex. Still without any recognized beneficial use, in 2014 the Trust are making use of the building to collect data for eventual sustainable timber housing as flatpacks. This is a solar conservatory. It will collect heat from the sun using water filled radiators, that will then be pumped into an underground chamber (formerly a condensation tank) to the rear of the building. The experiment is to find out how much glass area is needed to heat a home. Other structures may be added to concentrate the heat. The aim is to eliminate the need for gas or oil fired, wood burning, or other heating methods. This is another step towards cleaner air for a healthier world.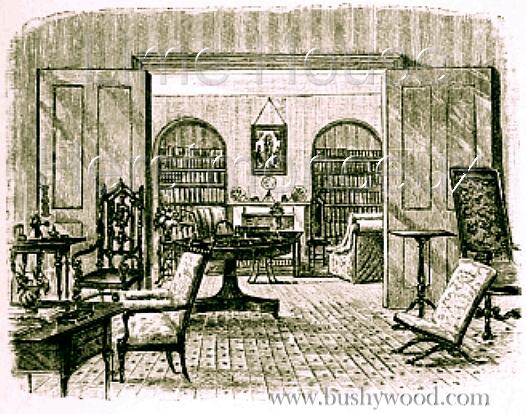 Lime House, Lime Park, Herstmonceux - drawing by Augustus Hare
LOCAL COUNCILS & ENGLISH HERITAGE
Since 1999 the Museum has been on a Monument Protection Programme - as you can see from the official entries below. Unfortunately, two local authorities, including Wealden District Council and Herstmonceux Parish Council consistently fail to recognize the monument status of this unique site, not even taking the trouble to compile a Local List, whereas with Eastbourne, Hastings and Brighton councils, protecting the historic built environment is a high priority. Take a look at the letter below in answer to a request for help from council leader Robert Standley. Before our Trust was formed, Herstmonceux Museum was previously known as the Old Steam House, presumably, a name taken from the generating machinery. A more correct name would be Herstmonceux Power Station.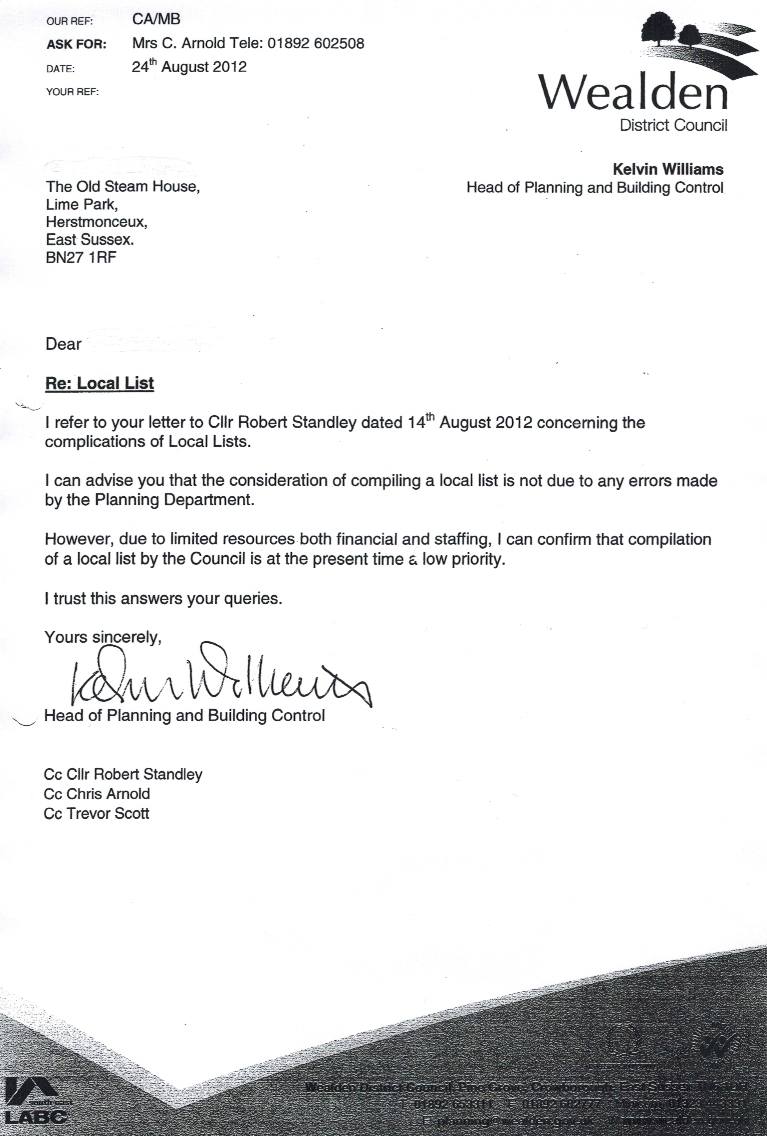 "Forgive them father for they not not what they do"
CONSERVATION AND DESIGNATED AREAS
Where there is extreme pressures on local councils to build the houses that they have not been building, the hypocrites are simply ignoring all of their existing policies and scooping up windfall opportunities, without a care in the world for areas that should have been conserved long ago. you may consider that to be gross negligence, or abandonment of duty, but then councillors and council officers are a law unto themselves. The fact that there are so many heritage assets in the Wealden District, and that they could not give a fig about them, not even producing a Local List, is proof of their high-handed attitude. There is thus no chance of locals seeing a conservation or designated area - at least not coming from the Parish or the District Council.
DESIGNATION

Some local planning authorities have chosen to rely on additional forms of local designation to manage their local historic environment. These generally take the form of areas of special local character, designed to capture historically important areas that fail to meet the criteria for designating conservation areas. Although such areas of special character are generally used to identify areas based upon their architectural or townscape merits, they may also deal with other elements of the historic environment such as locally important landscapes or archaeology.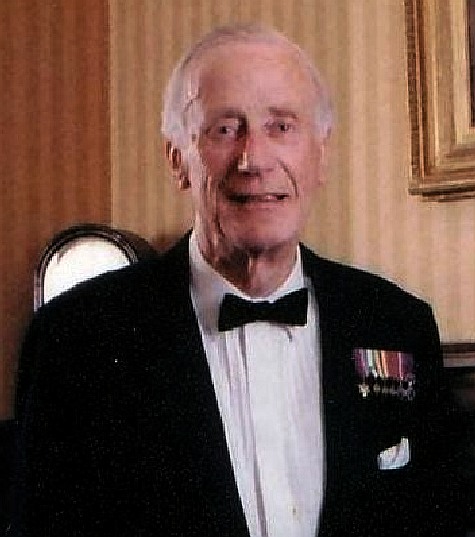 DUPED - This is a photograph of the Inspector for the Secretary of State who was duped by council officers in 1987 into believing that the generating buildings were constructed during the Second World War of corrugated iron. Raymond Portal Dannreuther was led to believe that the original wooden construction from the turn of the century had been demolished during hostilities to build a hospital for wounded airmen. R. P. Dannreuther served in the Royal Navy and is the author of "Somerville's Force H" a record of the Navy's Gibraltar based fleet from June 1940 to March of 1942.
We cannot help wondering if when serving in the Navy, if RP was so easily fooled by an enemy action. We say this because there was substantial evidence internally that did not tally with Wealden's argument. It must have been that the site visit was relatively short and he had to listen to arguments at the same time as taking notes - rather than taking the time to observe archaeological features for himself. We are told that the appellant took a shine to Raymond, and that given that he was being battered by several council officers all working together to pull off the deception, he did what he could to give time for the then occupier to make alternative arrangements. It is likely that Dannreuther knew Peter and June Townley who at the time lived in the Old Rectory, where Peter Townley served in the Royal Marines. Hence, they were both ex-servicemen from the Hastings area for many years.
SHOWCASING DESIGNATION

Identifying heritage through designation is an essential part of our heritage protection system. EH's work can roughly be divided into two main areas:

1. 'reactive and threat-driven' casework, and
2. strategic designation projects.

Increasingly EH are moving towards the latter. Between April 2013 and March 2014, nearly 70% of designation outcomes came from strategic projects. This prioritisation allows EH to focus their limited resources on the buildings and sites that are most in need.
SPOT LISTING
EH also have the ability to react to adhoc applications - sometimes known as applications to 'spot-list' - and this allows them to address singular areas of concern.

English Heritage deal with two different types of projects:

1. defined area surveys, where they look at a selection of buildings and sites within a geographic area, and
2. thematic projects, where they look at a particular building or site type across the country.

The subjects of these projects vary greatly. Recent work has included projects as diverse as: post-war houses and offices; transport structures such as signal boxes and buildings on the Midland Mainline; interwar pubs in the Midlands; deserted medieval villages; pre-1840 ships and boats; former HM prisons; and rock art in the north east.
CURRENT PROJECTS 2015

English Heritage have a strategic work programme for 2014-15 to include work on various themes. If you would like more information on a specific theme follow the link below to the relevant NHPP activity webpage or email designation@english-heritage.org.uk
http://www.english-heritage.org.uk/caring/listing/nhpp-designation-projects-2014-15/
http://www.english-heritage.org.uk/caring/listing/showcase/
English Heritage nhpp designation projects 2014-15
English Heritage showcase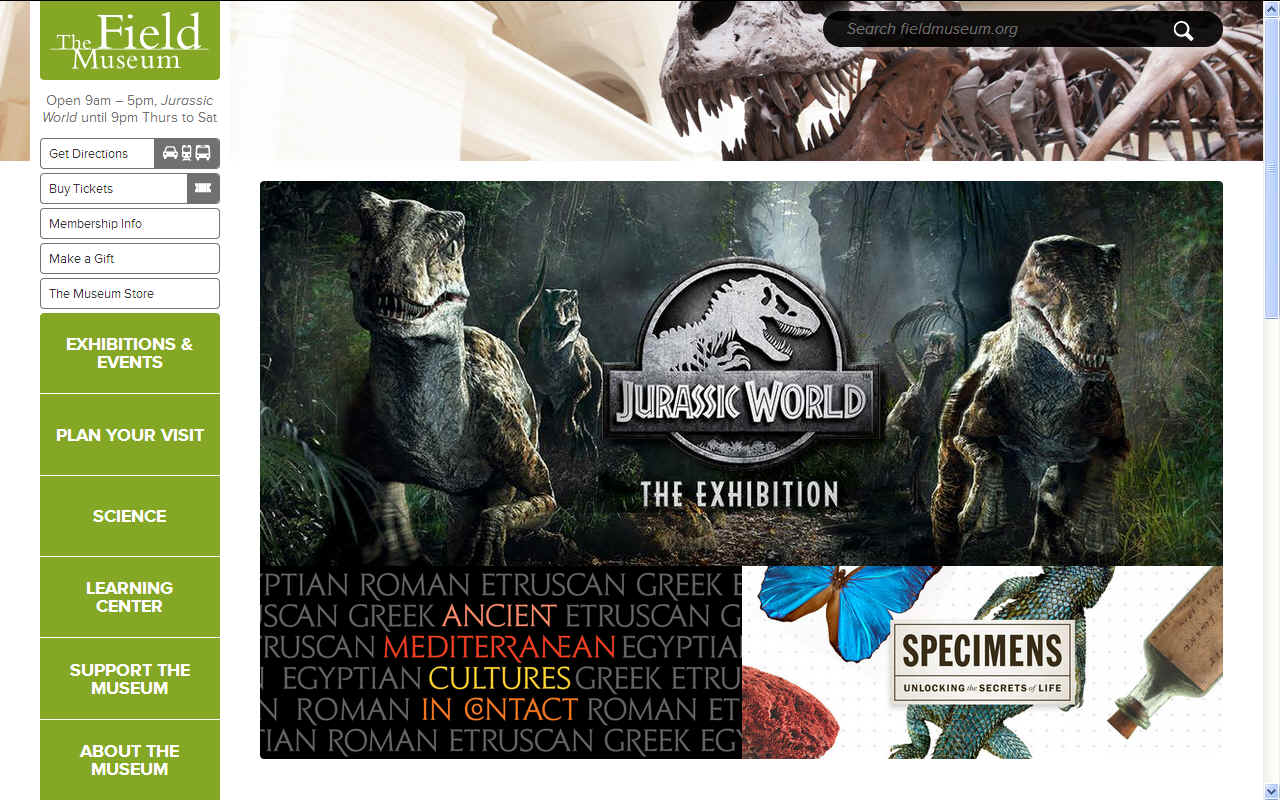 BATTERSEA POWER STATION - ENGLISH HERITAGE MMP
Battersea power station has for years been in a dilapidated state of disrepair, simply because there was no financial incentive for the owners to repair the building. Lime Park Heritage Trust are in exactly the same position with Herstmonceux Museum. There is no financial mechanism that would secure funding for the trustees to be able to effect repairs. The fact that Battersea power station is on the same MMP as Hx Museum, seems to have escaped the powers that be.
BATEMANS - RUDYARD KIPLING - ENGLISH HERITAGE MMP
The reason that Batemans has survived and is included on the same MMP as Herstmonceux Museum, is not because of the electricity generating facility, but because of the famous author who lived there and was in any case wealthy from publishing the Jungle Book, and other wonderful stories.
Classic and Modern designs - design is design
OTHER DESIGN MUSEUMS
DESIGN MUSEUM - LONDON
The Design Museum is in London at the Shad Wharf. They believe that without better design, better use of scarce resources, and more innovation, the future will be bleak. Design is an integral part of every aspect of life: a way to understand the world around us, and to make it a better place to live.

Terence Conran first established the Museum 24 years ago to champion creative thinking and inspire problem solving. The Museum celebrates the talent of the world's best designers and architects.
The museum was chosen by Puma to show the world Yves Behar's ground breaking packaging for its shoes that cut carbon emissions by half, it gave Zaha Hadid her first solo show in Britain and showed what Jonathan Ive could do before he went to Apple.

The museum has welcomed five million visitors, 400,000 school children, staged over 100 exhibitions and established a leading education programme. They have built an important collection of contemporary design.

The Design Museum is open as usual in its current location until the move to Kensington High Street in November 2015.

OPENING HOURS

Daily 10am - 5.45pm
Last admission 5.15pm

The Design Museum is open on all bank and national holidays, except 25 and 26 December. On 24 December, the museum closes 2pm.

PHOTOGRAPHY

Photography without flash is allowed in the current exhibitions.
For press or commercial photography enquiries contact

ADMISSION + TICKETS

Tickets include entry to all current exhibitions:

£12.40 Adult
£9.30 Student
Entrance is free to members and children under 6

This includes a 10% voluntary charitable donation. Your donation will help the museum raise funds for future exhibitions and learning programmes. Please say when buying your ticket if you do not wish to make this charitable donation

E tickets@designmuseum.org
T 020 79408783
W Ticketweb

GROUPS

Discounts are available for pre-booked groups of 10 or more. Education groups book on 020 7940 8782 or email learning@designmuseum.org media@designmuseum.org


ACCESS

All areas of the Design Museum are accessible by level access or by lift. Wheelchair-accessible toilets are located on the ground floor of the museum. A wheelchair is available from Admissions.

There are two disabled parking bays located on Shad Thames behind the museum, but these are not able to be reserved.

Please contact us Monday - Friday on info@designmuseum.org or 020 7403 6933 if we can assist your visit in any way. On Saturdays and Sundays please contact 020 7940 8783 or
CONTACTS

Design Museum
Shad Thames,
London SE1 2YD
Tel: 020 7403 6933
General Information info@designmuseum.org 020 7940 8790

Ticket Office tickets@designmuseum.org 020 7940 8783

Education and school group visits learning@designmuseum.org 020 7940 8782

Press enquiries media@designmuseum.org 020 7940 8787

Design Museum Shop shop@designmuseum.org 020 7940 8775

Design Museum Membership membership@designmuseum.org 020 7940 8763

Supporting the Design Museum development@designmuseum.org 020 7148 6874

Hiring the Design Museum events@designmuseum.org 020 7940 8262/8766

Touring exhibitions touring@designmuseum.org 020 7940 8756

Volunteering volunteer@designmuseum.org 020 7148 6883
Amberley: Electricity hall and Battery Vehicle Society event
AMBERLEY MUSEUM - ARUNDEL
Amberley Museum & Heritage Centre is a 36 acre site set in the South Downs National Park. The Museum is dedicated to the industrial heritage of the South East. Exhibits include a narrow-gauge railway and bus service (both provide free nostalgic travel around the site), Connected Earth telecommunications hall, energy electricity hall, printing workshop and much more. The Museum is also home to traditional crafts people, such as the blacksmith and potter, plus a fabulous restaurant, gift shop and numerous picnic areas where stunning surroundings can be enjoyed.
THE ENERGY ELECTRICITY HALL

The Energy Electricity Hall comprises a fascinating variety of electrical equipment, ranging from heavy engineering plant for the mains supply system to small domestic appliances. For academics, there is an extensive library of reference and archival material (by appointment only).
CONTACTS

Contact the Museum on 01798 831370 with any enquiries you may have, or write to them.

Amberley Museum & Heritage Centre
Houghton Bridge
Arundel
West Sussex
BN18 9LT
http://www.amberleymuseum.co.uk/
office@amberleymuseum.co.uk
OPENING TIMES 2014

Saturday 15 to Sunday 23 February - half term

Wednesday 12 March - open for the season

Monday 7 to Monday 21 April - Easter holidays

Monday 5 May - Bank Holiday

Monday 26 May to Sunday 1 June - half term

Thursday 24 July to Sunday 31 August - summer holidays

Monday 27 October to Sunday 2 November - half term

Sunday 2 November - last day of the season
Normal opening will be Wednesday to Sunday (10am to 5pm – last entry 3.30pm) inclusive with seven day opening for school holidays. The Museum will also open on Bank Holiday Mondays between 12 March and 2 November. Santa Fun Days will run in December as usual (the three weekends before Christmas).
AMBERLEY LINKS
DESIGN MUSEUM LINKS
Oscar Medley Whitfield + Harry
Tim Berners-Lee Flaminio Bertoni
Tord Boontje Ronan + Erwan Bouroullec
David Chipperfield Wells Coates
Jock Kinneir + Margaret Calvert
Maureen Mooren + Daniel van der Velden
Isamu Noguchi norm Chris O'Shea

The Royal Observatory was founded by King Charles II in 1675. Its purpose was a practical one: to reduce shipwrecks. At that time mariners had no accurate way of working out their position when out of sight of land. They could find their latitude (north-south position) by observing the sun or stars, but not their longitude (east-west position). As a result many sailors' lives were lost when their ships struck rocks unexpectedly. By the 1770s the problem of longitude had been solved. One answer was for a ship's captain to carry a reliable clock to keep 'Greenwich Time' throughout the voyage. Alternatively he could use the Moon as a clock by measuring its position in the sky, relative to nearby stars, and referring to a detailed set of tables prepared annually at Greenwich. Armed with either of these timekeepers, or preferably both, mariners could make their own astronomical observations on board ship, and use them to work out their position anywhere on Earth.


The Observatory Science Centre

In 1990 The Royal Greenwich Observatory closed its doors at Herstmonceux and moved to Cambridge, leaving the historic telescopes behind. Five years later the Equatorial Group came back to life as The Observatory Science Centre, under the aegis of Science Projects. An extensive programme of repair and upgrading of the buildings and telescopes was completed in 2004 with the aid of a substantial grant from the National Heritage Lottery Fund. It is now a Grade II* listed monument. Along side the historic telescopes there are over 100 interactive hands-on exhibits and exhibitions.

The Observatory Science Centre
Herstmonceux
Hailsham
East Sussex
BN27 1RN
Tel: 01323 832731
Fax: 01323 832741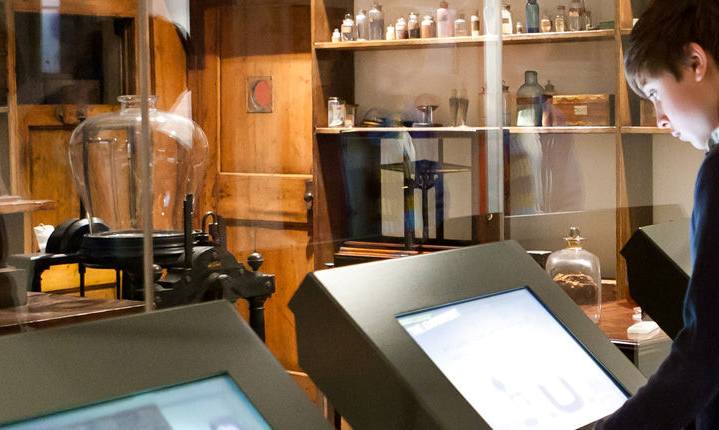 ......
.....
.....
100 years old - the Detroit electric car from 1914
HISTORIC ELECTRIC VEHICLE FOUNDATION
With more than 100,000 electric cars on U.S. roads--and thousands more added each month--advocates and historians are turning their attention to the last time cars with plugs rolled out of U.S. factories, almost 100 years ago.

But as far as we know, there's no single museum or entity in the U.S. whose sole mission is to present the history of plug-in electric cars.

That may be about to change, if a post in electric-vehicle forum Electrifying Times by collector and historian Roderick Wilde is any indication.
"I came back from Croatia in February to restore one of my electric micro cars, a circa 1960 Electric Shopper, for an exhibit at the Peterson Automotive Museum in Los Angeles. The title of the show is: Fins, Form without Function. It is a yearlong exhibition. My car will be the only electric and only one of two cars presented on a raised platform. Well I figured I would just slap a paint job on it but when we went to replace a rotten piece of plywood in the trunk we discovered major body damage that had been improperly repaired. Now a few months after opening that can of worms and doing a ground up restoration, including powder coating the frame to match the paint color, I am finally leaving for Los Angeles in the morning. My wife has been quite upset with the time this has taken but she is also very understanding to a point. I miss her a great deal and can't wait to head home after I return from this trip.

In January I founded a nonprofit corporation titled the Historic Electric Vehicle Foundation with the sole purpose of building the world's first International Electric Vehicle Museum. It will most likely to be located here in the northwest. Over a period of eight months I gathered together a group of very talented individuals for the Board of Directors and we will soon have our fed 501c3. We are already committed to doing a joint exhibition with the NHRA later this year to be held at the NHRA Motorsports Museum in Pomona, California. I will let you all know once our web site is up and our Facebook page as well."

Roderick Wilde, Executive Director
Historic Electric Vehicle Foundation


We wish Wilde well in his venture, and hope that the history of U.S. and global electric-car production--both current and past--will become better known by car buyers at large as more plug-in vehicles travel our roads.

Cars like the Detroit Electric were a significant part of the nation's fleet in the early 1900s, and there were many experimental battery-electric and series hybrid electric cars built before 1920 or so.

What vehicles would you expect to see in the collection of an electric-car museum?
http://www.greencarreports.com/news/vehicle-foundation-set-up-to-preserve-electric-car-history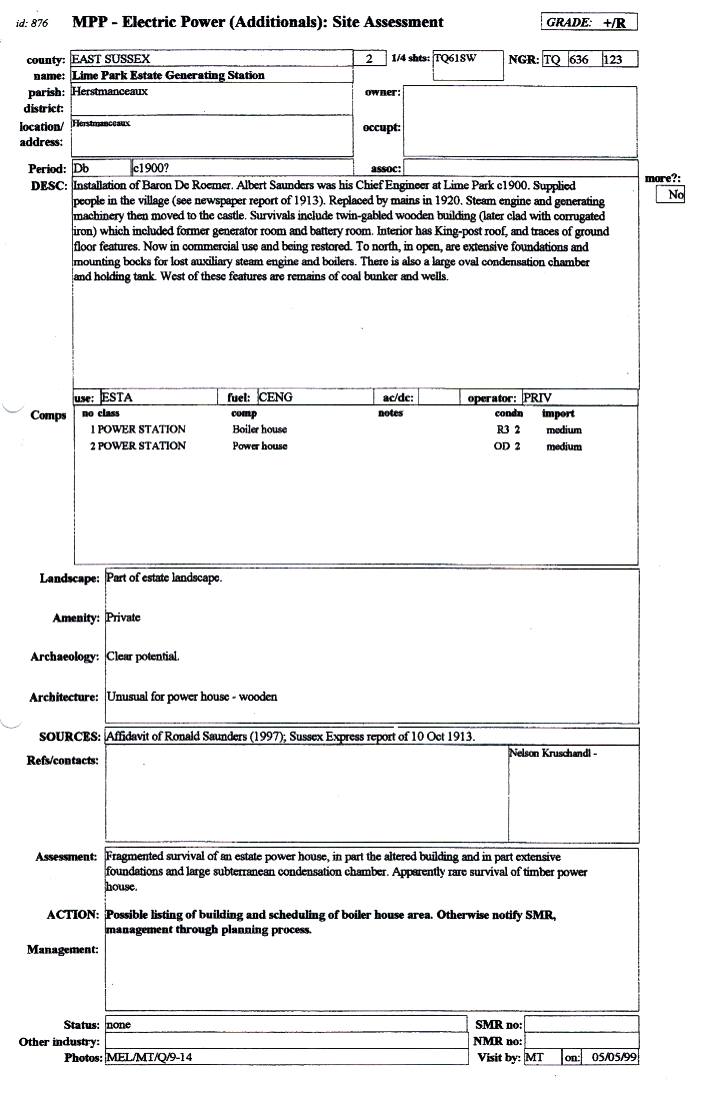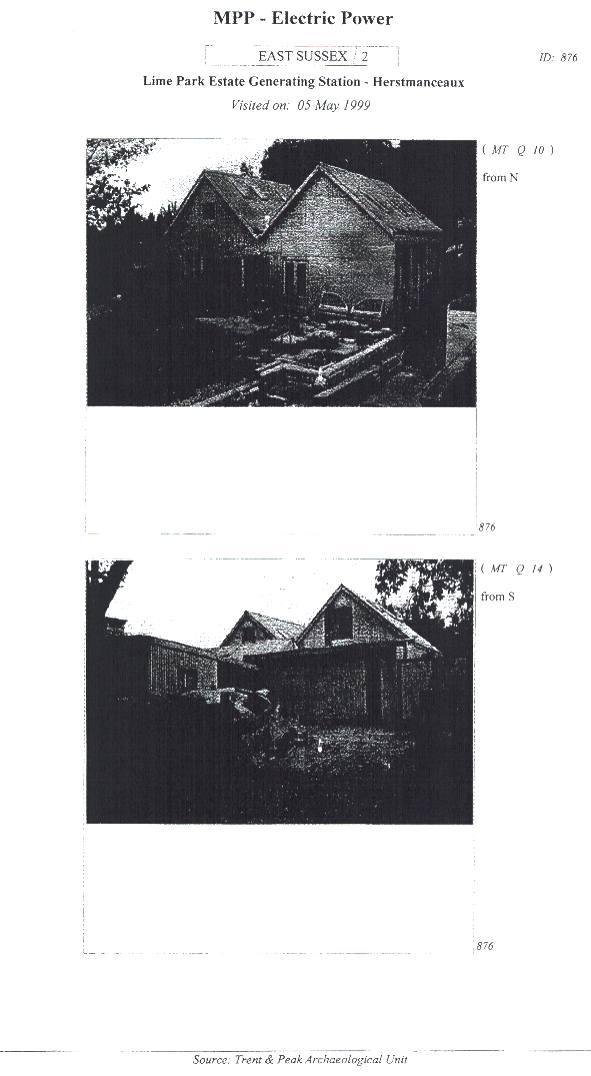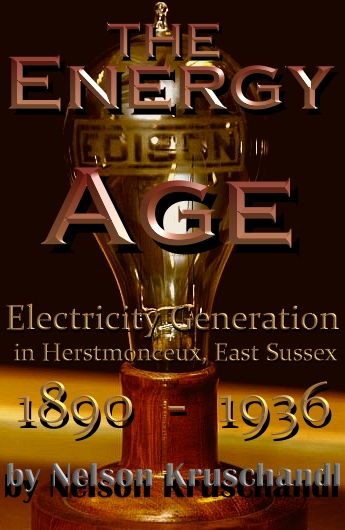 We take electricity for granted, but without these pioneers we would not have lighting or computers. Published by Lime Park Heritage Trust (all proceeds go toward the restoration of this monument and conversion to a museum)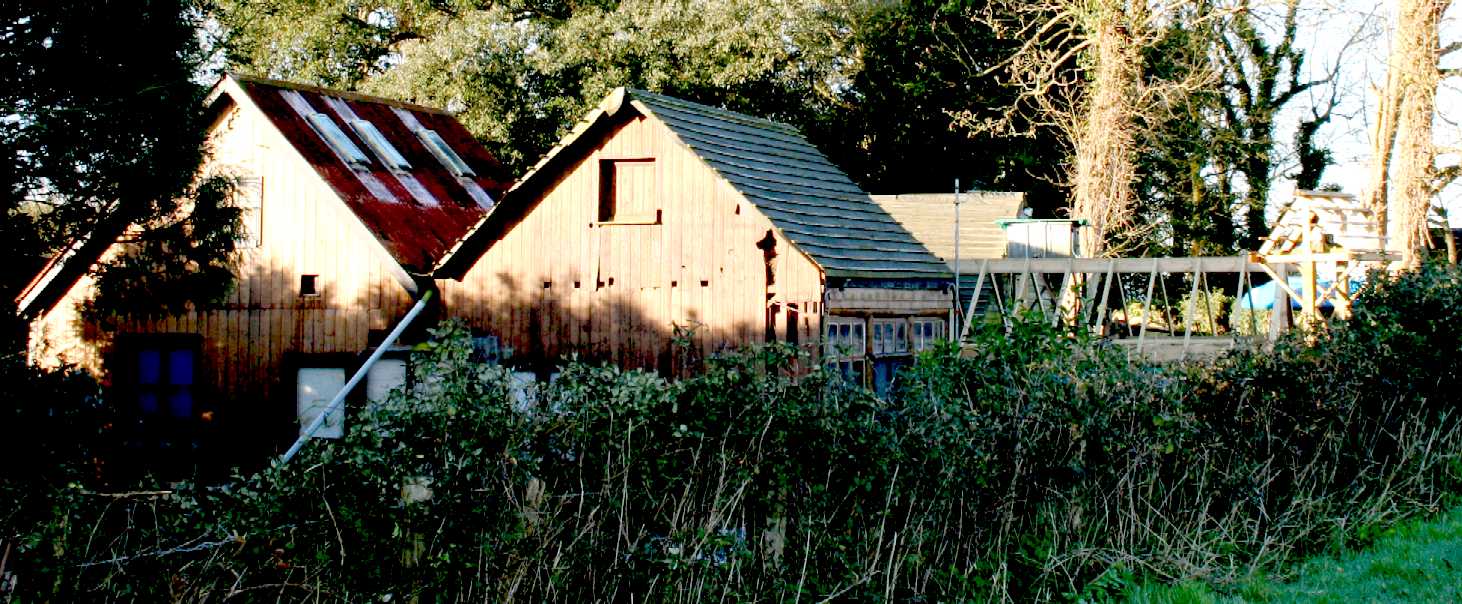 As you can see from this picture taken one sunny Sunday morning in March 2014, much work is needed to bring this unique wooden building back to life. Hedges need trimming, the grass needs cutting and the building needs a new roof and rainwater goods. It is a seemingly hopeless situation for a conservationist. You cannot operate without the funds to purchase materials or employ builders. With the proposal to build houses on the adjacent field, the view that makes this building so special in the context of the village and the windmill that produced the flour for the bakery - will be lost - in one stroke consigning the building to obscurity. And that is that. There will never be a reason to protect the building, because nobody will ever be able to see it.
SUSSEX INDEX A - Z
CHIDDINGLY - HORSE SHOW and GYMKHANA
CUCKMERE VALLEY - EXCEAT
HERSTMONCEUX - PARISH COUNCIL - MUSEUM - ACTION GROUP - WD/2014/2663/MAO - 70 HOUSES
TWISSELLS MILL, OLD HEATHFIELD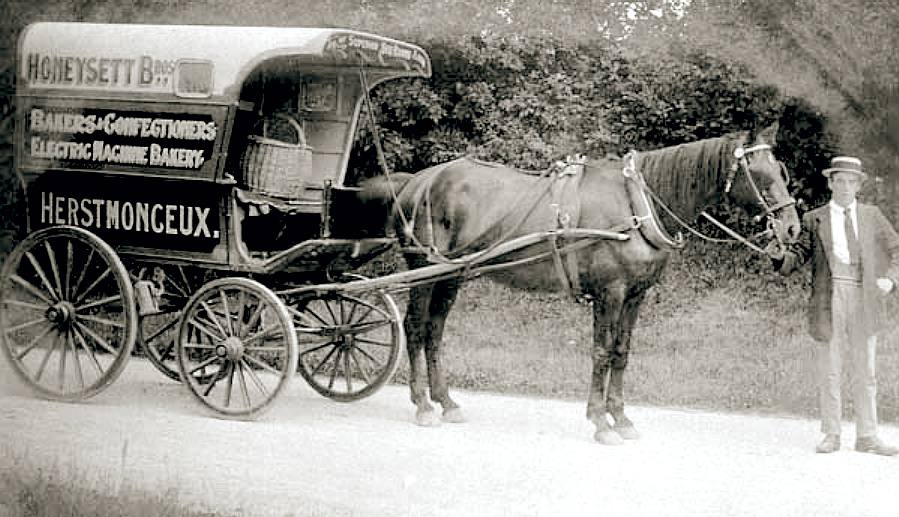 BAKING BREAD - An amazing archaeological find. This picture confirms that the old Bakery that was operated by the Honeysett Brothers between 1900 - 1914, baked their loaves using electricity that could only have come from Herstmonceux Museum at the time. Wow! The carriage may not have survived, but the building is seen in the winter scene below.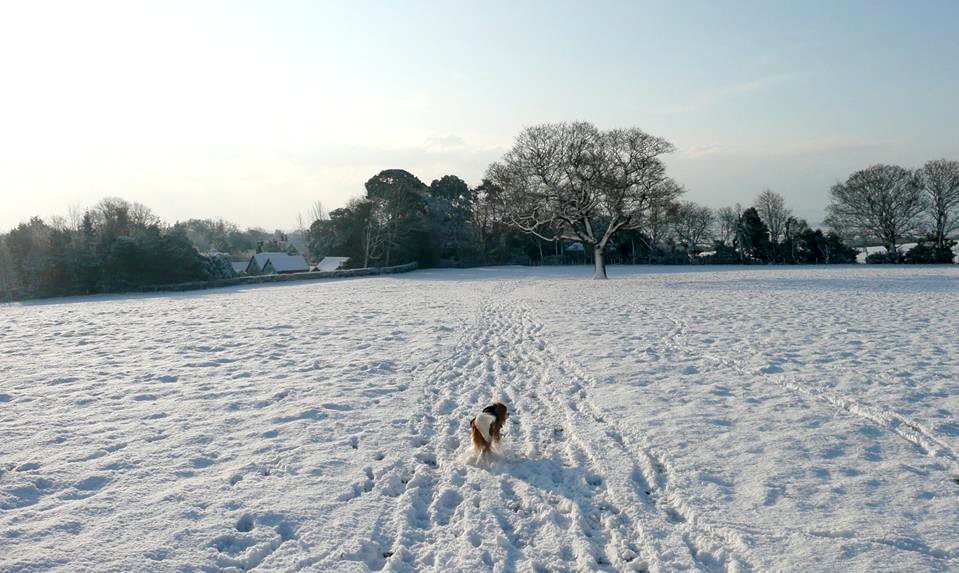 PUBLIC FOOTPATH - And here is the building that generated all that electricity for Herstmonceux village, seen in the distance on the left. The tree in the middle of this field, just to the right of the footpath, is a landmark that everyone in the village knows and loves. This is an historic view that could soon disappear forever if the current planning gold rush grips the councils members and officers hard enough in the wallet. There's enough money in the kitty to grease a few palms. Declarations of interest please!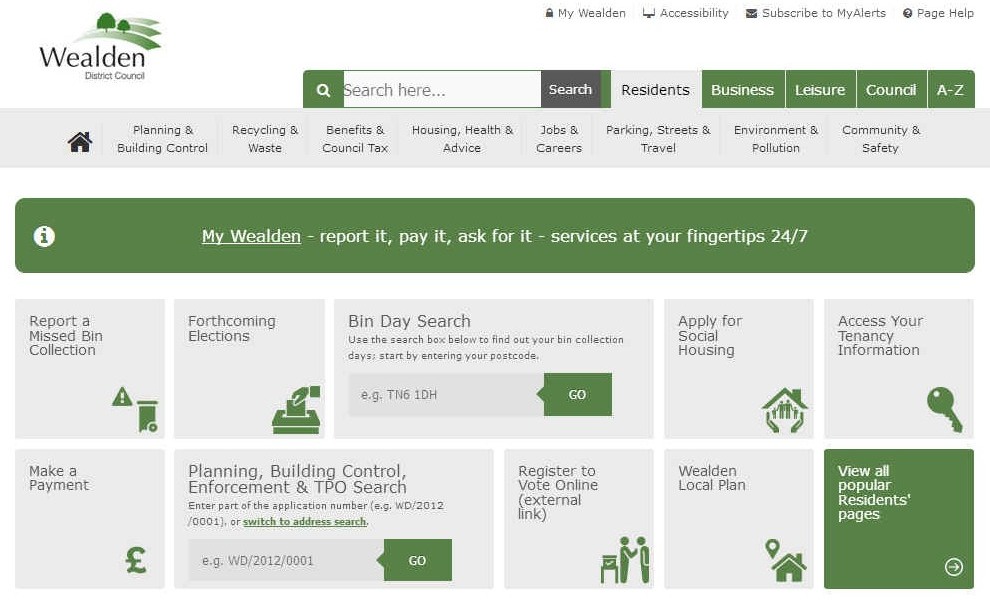 COUNCIL OFFICERS HAVING CONDUCT OF PLANNING MATTERS RELATING TO HERSTMONCEUX MUSEUM
COUNCIL MEMBERS SITTING ON - AREA PLANS SOUTH
Andrew Long - (no email address)
David White - cllr.david.white@wealden.gov.uk
Diane Dear - cllr.dianne.dear@wealden.gov.uk
Charles Peck - cllr.charles.peck@wealden.gov.uk
Chris Hardy - cllr.chris.hardy@wealden.gov.uk
Chris Triandafyllou - cllr.chriss.triandafyllou@wealden.gov.uk
Daniel Shing - daniel.shing@wealden.gov.uk
Dick Angel - cllr.dick.angel@wealden.gov.uk
Barby Dashwood-Morris - cllr.barby.dashwood-morris@wealden.gov.uk
Barry Marlowe - cllr.barry.marlowe@wealden.gov.uk
Bill Bentley - cllr.bill.bentley@eastsussex.gov.uk
Brian Jarman (deceased)
Brian West - (retired)
John Blake - cllr.john.blake@wealden.gov.uk
Lin Clark - cllr.lin.clark@wealden.gov.uk
Nigel Coltman - cllr.nigel.coltman@wealden.gov.uk
Nigel McKeeman - cllr.nigel.mckeeman@wealden.gov.uk
Raymond Cade - cllr.raymond.cade@wealden.gov.uk
Ron Cussons - cllr.ron.cussons@wealden.gov.uk
Stephen Harms - cllr.steve.harms@wealden.gov.uk
Stephen Shing - cllr.stephen.shing@wealden.gov.uk
Susan Stedman - cllr.susan.stedman@wealden.gov.uk
LOCAL NEWSPAPERS CONTACTED
Sussex Express - sussex.express@jpress.co.uk
amie.morrell@jpress.co.uk
Eastbourne Herald - eastbourne.herald@jpress.co.uk
The Argus - lucy.pearce@theargus.co.uk
emily.walker@theargus.co.uk