WD/2015/0090/ HERSTMONCEUX VILLAGE CONDITIONS A - Z INDEX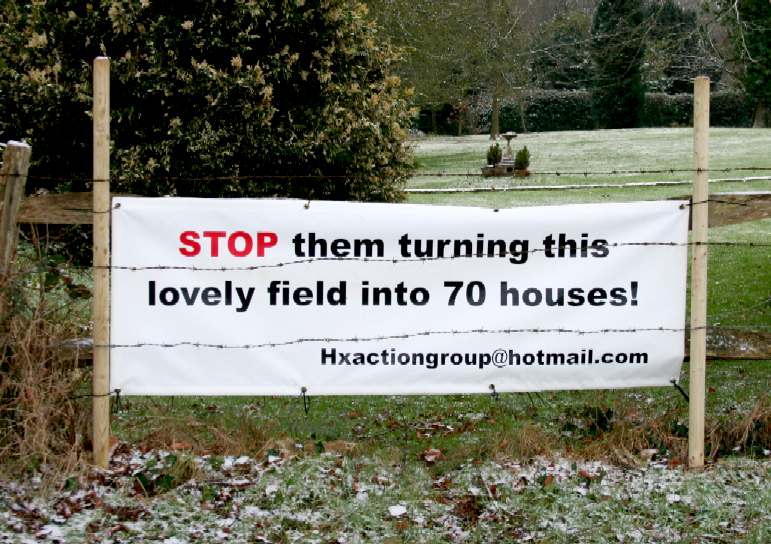 Banner put up in support of the protest by the Wealden Action Group, on the North facing garden fencing of the Old Rectory. The owners of the Rectory building are potentially one of the most affected by application: WD/2014/2663/MAO, now WD/2015/0090/MAO. Having enjoyed this view for nearly 30 years, why should they not continue to do so. https://www.facebook.com/Herstmonceuxactiongroup
HERSTMONCEUX ACTION GROUP
There has never been an action group representing the interests of so many residents in this peaceful Sussex backwater. To date, planning battles have been contained, such that local people were content to let close neighbours object to smaller residential developments.
This all changed when a former estate agent was seen surveying Lime Cross and speaking to neighbours about his intention (or the intention of family members) to apply for planning consent for upwards of 70 houses, where for many years Wealden District Council and the Parish Council have been saying there should be no development.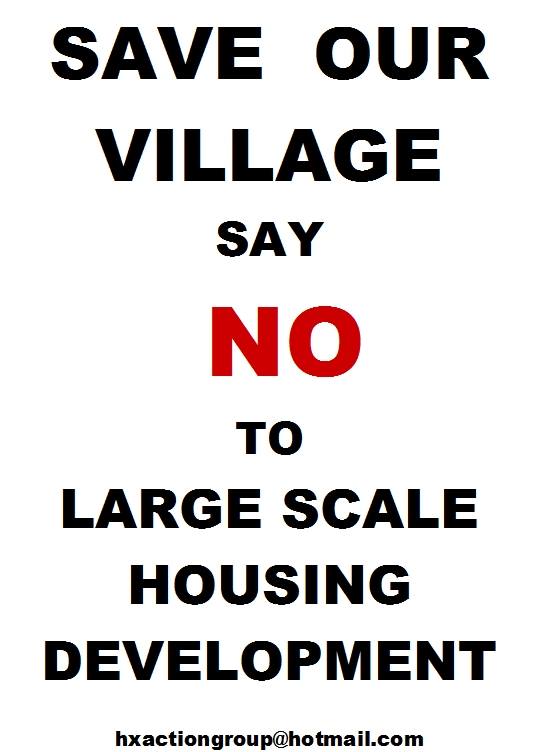 If you want to see some splendid video footage showing how bad the traffic is at the proposed entrance onto the A271, please visit that HX Action Group's Facebook webpage by clicking on the poster above:
https://www.facebook.com/Herstmonceuxactiongroup
WD/2014/2663/MAO - GLEESON DEVELOPMENTS LTD
This application is not only contrary to the Local Plan, but is considered by many to be downright dangerous.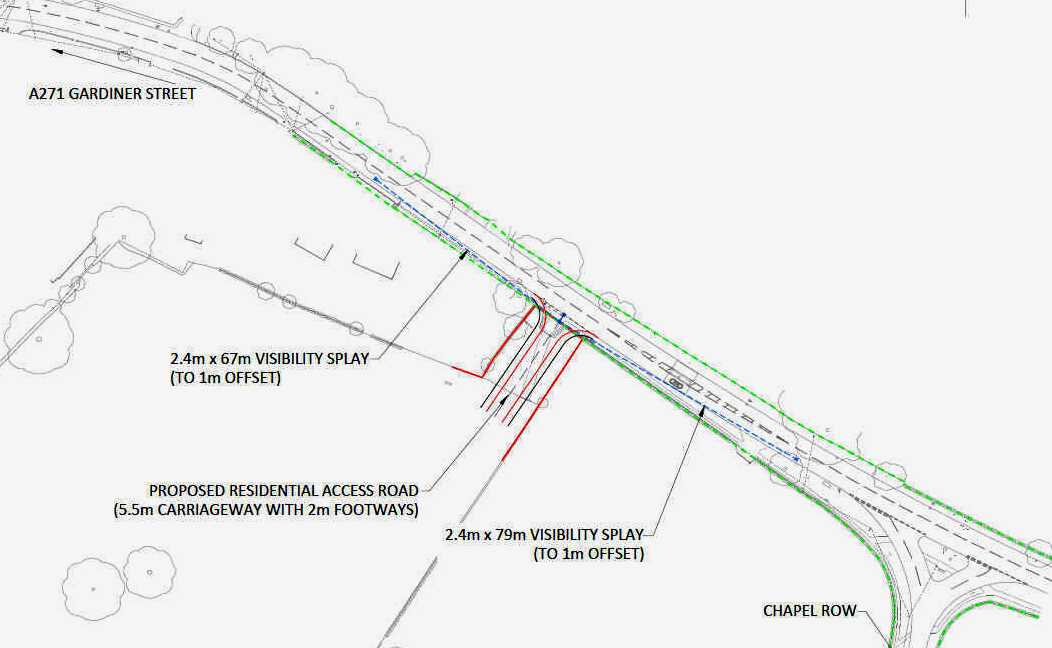 Proposed entrance to Lime Cross for access to 70 new houses. The A271 is already a busy road. What is not clear from this plan is that the entrance shown in red is just a few yards away from a sign telling people to slow down. That sign is half way up a hill, that has been the site of accidents on the other face. You can imagine the carnage with family vehicles trying to exit from this entrance, which is very narrow. There is no real visibility splay. Vehicles traveling west into the village from Hastings, will be unable to see cars trying to get to school to pick up their children because of the hedge that is not in the applicant's ownership. It is even worse with vehicles heading east out of the village, now coming down a hill - and once again the angle prevents any real advance warning, with just the nose of a car protruding - only visible at the last moment.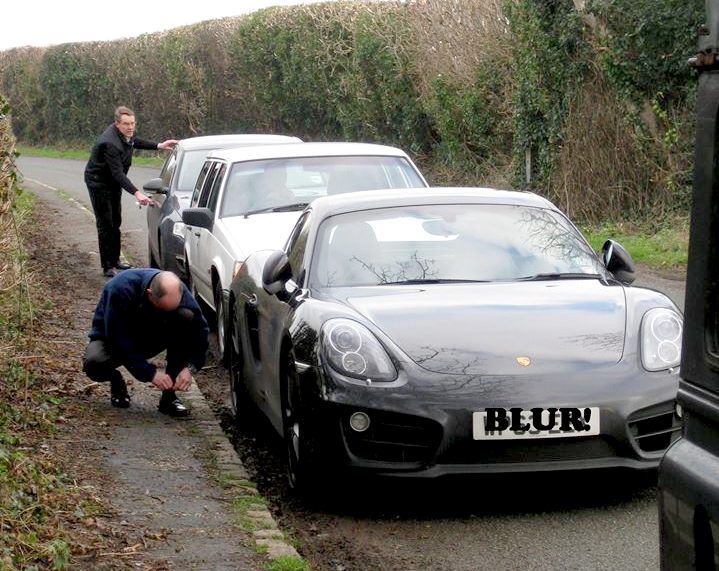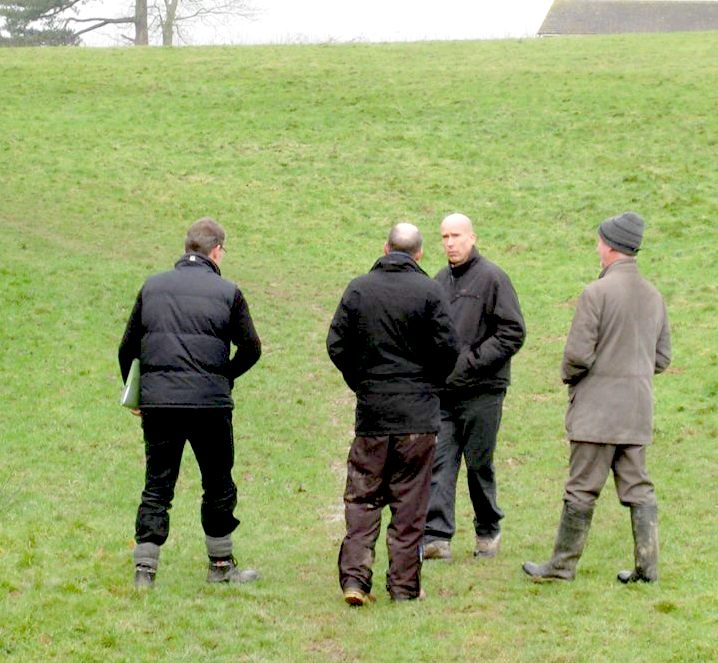 The applicant's agents visit the site in Herstmonceux, parking in Church Road: Barton Willmore. info@bartonwillmore.co.uk 7 Soho Square, London, W1D 3QB. Barton Willmore http://www.bartonwillmore.co.uk/ T: 020 7446 6888 F: 020 7446 6889
Nick Sweet, Design Partner. Iain Painting, Planning Partner

This is a quote from their website: "The impact that development has on the environment is increasingly the subject of scrutiny. While policy supports positive growth which balances environmental, economic, and social progress, a key risk to gaining consent for major development often relates to the robustness of the environmental assessment undertaken and compliance with national and local sustainable development policy." Really. Where was the environmental assessment relating to heritage and tourism then?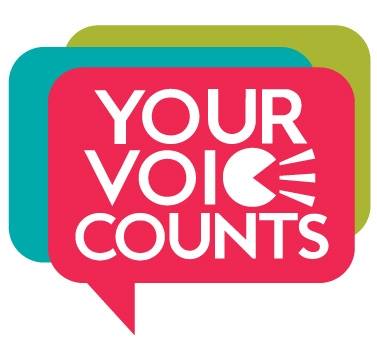 PARISH COUNCIL CONTACTS
Mrs Janet McInnes
The Parish Office
Herstmonceux Village Hall
Hailsham Road
Herstmonceux BN27 4JX

Tel: 01323 833312
Mob: 07889 159824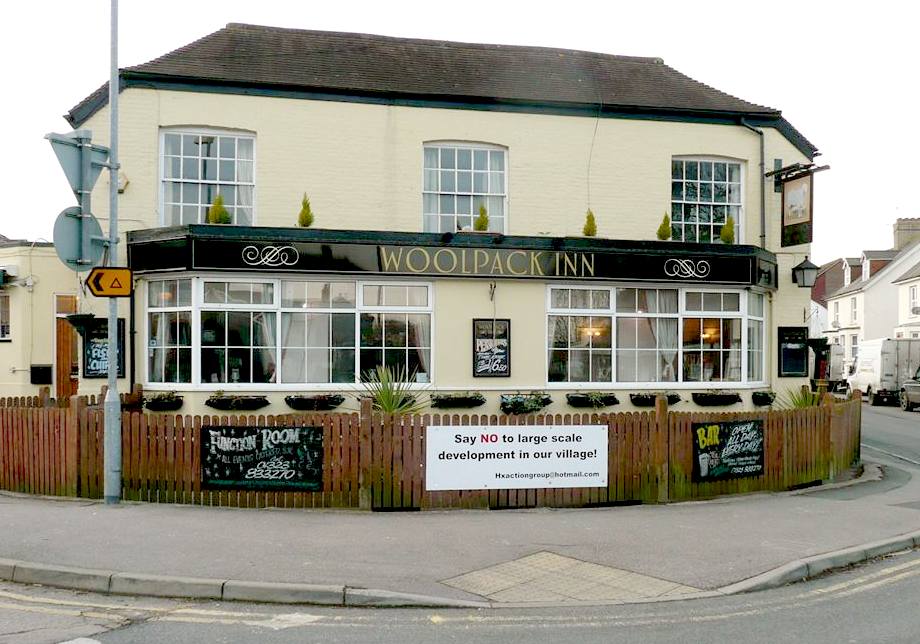 The Woolpack - Gardner Street, Herstmonceux, East Sussex BN27 4LJ Tel 01323 833270 Fax: 0115 914 2235, Fax: 0870 050 9635 Website: Facebook. This local Inn is famously pictured in several historic paintings and black & white photographs.
https://www.facebook.com/pages/The-Woolpack-Inn-Herstmonceux/104482524842

Other nearby hostelries:
Brewers Arms - Gardner Street, Herstmonceux, BN27 4LB
The Sundial - A La Carte Menu Fine Dining Menu Sunday Roast Wine List
Gardner Street, Herstmonceux, BN27 4LA
The Horseshoe Inn - Windmill Hill Road, Herstmonceux, East Sussex BN27 4RU
01323 833265
The Smugglers Wheel - Boreham Street, BN27 4SQ
SUSSEX INDEX A - Z
CHIDDINGLY - HORSE SHOW and GYMKHANA
CUCKMERE VALLEY - EXCEAT
HERSTMONCEUX - MUSEUM - COSTS SCANDAL - PARISH COUNCIL - 70 HOUSES
TWISSELLS MILL, OLD HEATHFIELD
WD/2015/0090/ HERSTMONCEUX VILLAGE CONDITIONS A - Z INDEX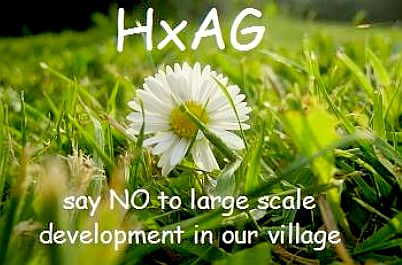 Organisation
Venue and time
Contact
Telephone
Age Concern:
Hailsham, Hellingly and Herstmonceux, Charles Hunt Centre, Vicarage Field, Hailsham
Dave Snoxell, Centre Manager
844398 or email
Cardiac Support Group
4th Thursday of the month at 2 for 2:30-4 at the Emmanuel Church, Hawkswood Road, Hailsham
Philip Ford
cardiacgroup1@btinternet.com
www.cardiacsupportgroup.co.uk
Extend (over 60s exercise club)
Mrs Cassie Harris
832358
Friends of Herstmonceux Castle
Ann Friar
a_friar@bisc.queensu.ac.uk
834460
Friends of Herstmonceux School
Richard Moon
832362
Herstmonceux Amateur Theatrical Society (HATS)
Click here for their website
Sue Stewart
833450
Herstmonceux Farmers' Club
J Plumley (Hon Sec)
764625
Herstmonceux Gardener's Club

Derek Creasey (secretary)
833006 or email
Herstmonceux Local History Group
Alan Brown
831754
Herstmonceux Luncheon Club
Mrs Angela Webster
833141
Herstmonceux Sequence Dance Club
F Beeney
832587
Herstmonceux Walking Club
Herstmonceux Women's Institute
Sue Stewart
833450
Merrie Harriers Bonfire Society

Mary Ann Gordon (secretary)
833749
Merrie Harriers Ladies Darts & Social Group
Niamh Layberry
831753
Ray & Sheldon Club (over 60s)
Miss Hazel Jarvis
833373
TLC Group
John King
Rev Richard Steven (from July 2011)
832997
833124
Varengeville Link
Alan McInnes
833306
Windmill Hill Horticultural Society
Marian Harding
832150
Windmill Hill Windmill Trust
Click here for their website
Mrs Bee Frost
833033
Place of Worship
Address
Contact
Telephone

All Saints
Church Road
Herstmonceux



Rev Richard Steven
833124
Gerald Stone (churchwarden)
833976
Mrs Melinda Stone (PCC secretary
833976
Mrs Jocelyn King (PCC treasurer, Herstmonceux )
832997
Mrs Jean Dryden (treasurer, Friends of All Saints)
833774
Assistant Curate Mrs Jean Manning
831105
Lay Reader Mr John King
832997
Mrs Pam Kendall Churchwarden
833079
Verger Mrs Pam Kendall
833079
Free Church
Click here for their website
the Village Chapel, Chapel Row
Mrs J. Taylor (secretary)
832266
Herstmonceux Quaker Meeting (Religious Society of Friends)
Meeting House, West End, Herstmonceux
Mrs J. Fairbrother
844269 or email
St Mary Magdalene
Wartling
Revd Richard Steven (Rector)
833124
David Harding (churchwarden)
832150
John King (churchwarden)
832997
Miss Stella Hardwick (PCC secretary)
833445
Mrs Jocelyn King (PCC treasurer)
833654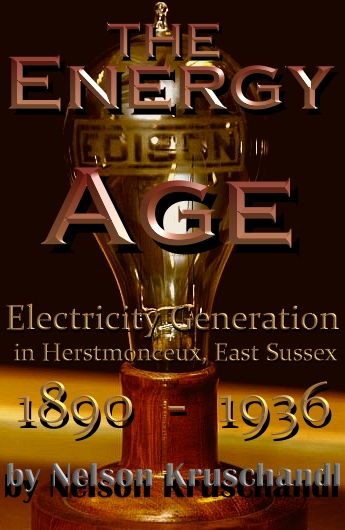 We take electricity for granted, but without these pioneers we would not have lighting or computers. Published by Lime Park Heritage Trust (all proceeds go toward the restoration of this monument to a modern design genius).