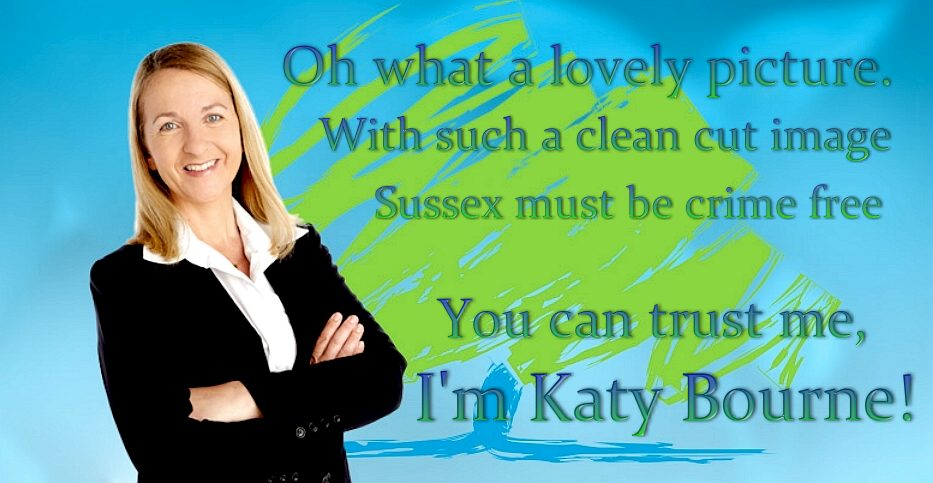 Katy Bourne was elected Crime Commissioner, taking office with an oath to serve the public interest. That is an oath that according to many media articles and a number of residents in Sussex many are now questioning, where she appears to be serving Sussex Police instead of policing the organisation that has come under flack for their blatant refusal to investigate so many complaints of malfeasance in public office, such as the Petition presented to Wealden District Council in 1997 - where there was no investigation at all by Sussex Police as to 12 independent allegations that Lord Newton's panel referred to the police for investigation, but there is no crime number.
Not all of this can be laid at Katy's feet, some of the alleged crimes that we know about and are following were committed before she took office, but when taking office, the clock does not start ticking from when you walk into the job. The clock has already been ticking for many years before that because there is no statute of limitation on fraud, murder or sex crimes. In fact, they have made it easier than ever to obtain a conviction on an allegation that can be invented for a so-called incident that happened 10 or even 20 years ago, but only provided it is a sex crime and gets the voters going by virtue of the reversal of the burden of proof as per the Sexual Offences Act 2003, courtesy of David Blunkett and Tony Blair's Labour Government.
That kind of British disregard for Human Rights as embodied in Lord Kitchener's concentration camps during the Boer War, and with medals being handed out left right and centre for turning a blind eye to serious crimes against the person, who would want the task of trying to straighten out a bent police force. Not us, because we know just how discriminatory this English institution really is from reading of some of the Wealden Action Group's files.
THE CC ELECTION RESULTS

Katy Bourne, Conservative: 59,635 votes

Godfrey Daniel, Labour: 40,765 votes

Ian Chisnall, Independent: 38,930 votes

Tony Armstrong, UKIP: 29,327 votes

David Rogers, Liberal Democrat: 20,579 votes
We imagine that the other candidates will be pleased that they got back their £5,000 five thousand pounds deposit and just as glad that they did not win - having read more about Sussex police.
If it is an unlawful shooting by a Sussex Police officer, this force will deny it was unlawful and the officers concerned will carry on serving for many years, siphoning off taxpayers money that could be better spent, even though the officers concerned lied about intelligence with evidence concocted to authorise the raid that killed James Ashley. Wealden's officers use the same methods to authorise unlawful site visits and demolitions.
Sometimes inconvenient evidence goes missing from police files. One of the favourite tricks of Sussex Police is to throw away their Criminal Investigation Code and only look for evidence that might secure a conviction, maybe even destroying any part of video evidence that should be available to a defence to prove innocence, or not securing inconvenient evidence at a crime scene such as video tapes, computers or a work diary. Such examples are on record, with the Judge wrongly telling the Jury that a work diary of a psychiatric nurse belonged to the accused and in another case involving the same target, not to worry about the vital missing video evidence.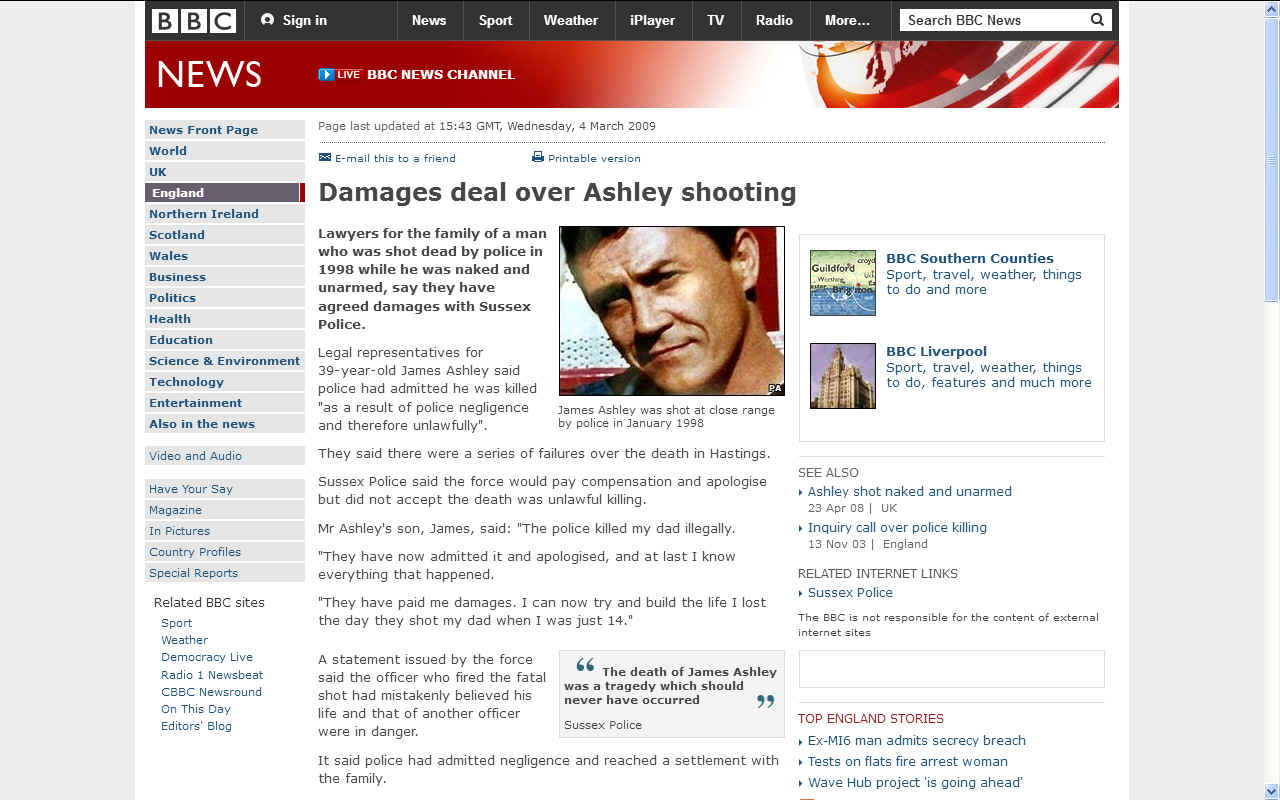 Katy should know that a failure to report or investigate a crime is in itself a crime, and that includes failing to investigate life threatening situations such as Shana Grice as well as serious fraud, in the manipulation of property values by fraudulent data entries or plain and simple misrepresentation of the facts.
In the interests of balanced reporting, where this crime commissioner may not be looking at Sussex Police to account for their refusal to investigate corruption within Wealden, she is using her position of trust to push for other reforms as covered by the Press, that we are including here for media review purposes. It seems to us that Ms Bourne goes out of her way to use the media to generate news about issues that get her role noticed and present may Sussex Police in a good light as struggling to cope with limited funding, but is not so keen on media reports that cast doubt on her ability to rein in Sussex Police where they are caught out.
The inquiry about the James Ashley shooting and how it was that John Hoath was wrongly convicted are also matters that involve Sussex Police. The family of James Ashley finally received an apology but so far none of the Petitioners have had a look in, though the crimes of some are ongoing.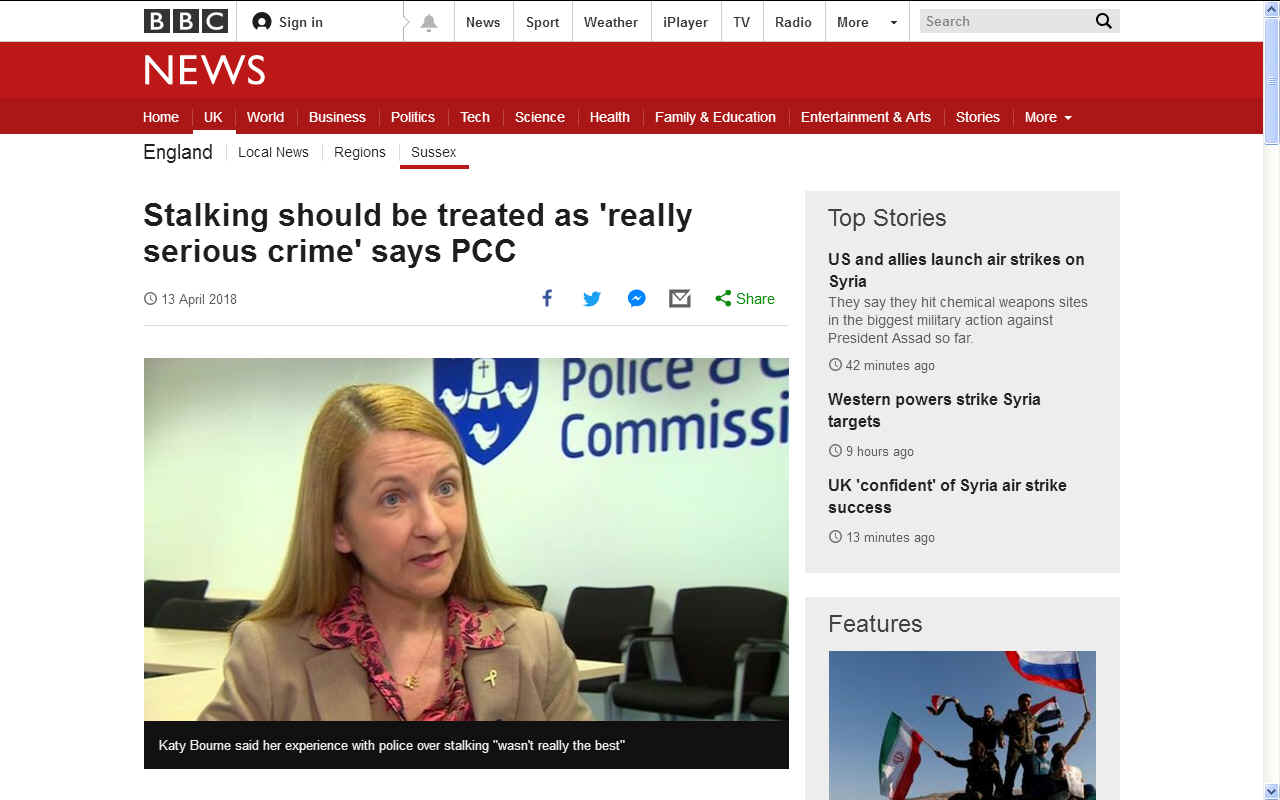 BBC NEWS APRIL 13 2018 - A police and crime commissioner has called on fellow PCCs to take the crime of stalking more seriously.

Sussex PCC Katy Bourne said she was left "frustrated" by the legal system after she was stalked for five years. She urged PCCs to adopt measures such as those she had introduced in Sussex, including a specialist support service for victims of stalking,

"I want all PCCs to step up the plate and take this on board as being a really serious crime," she said. "I have been a victim and I do know how it feels."

'Fixated and obsessed' The stalking of Ms Bourne, a Conservative, began after she was elected as PCC. The man became "really fixated" and obsessed, but she ignored it, hoping "it would go away", she said. "He wasn't just going to take me down professionally; he was going to take me down personally. "I reported it to police and I have to say my experience wasn't really the best." Her complaint was handled by another force, which, she said, "took a while" to understand the situation.

"My great frustration was the Crown Prosecution Service said that, despite nearly five years of evidence, there was no case to answer," she said. Ms Bourne then took out an injunction against her alleged stalker. The CPS has not yet responded to a request for a comment.

Three years ago Ms Bourne carried out a review and, finding no support for victims of stalking, funded with Sussex Police a new specialist support service.

'Victims let down' She said officers and prosecutors CPS were now also being trained to understand the effects of stalking.

Previously officers had recorded individual instances, but not always seen them as part of a "bigger picture", she said. "It's a pattern of behaviour that escalates over time. That's what makes it so dangerous," she said.

Since the review, she said. there had been an eight-fold increase in cases reported to Sussex Police, while the number solved had risen by two-thirds.

"If this is happening in Sussex, what worries me is that this crime is also happening elsewhere and other forces aren't giving it the attention that it needs," she said. "Victims are out there being let down nationally."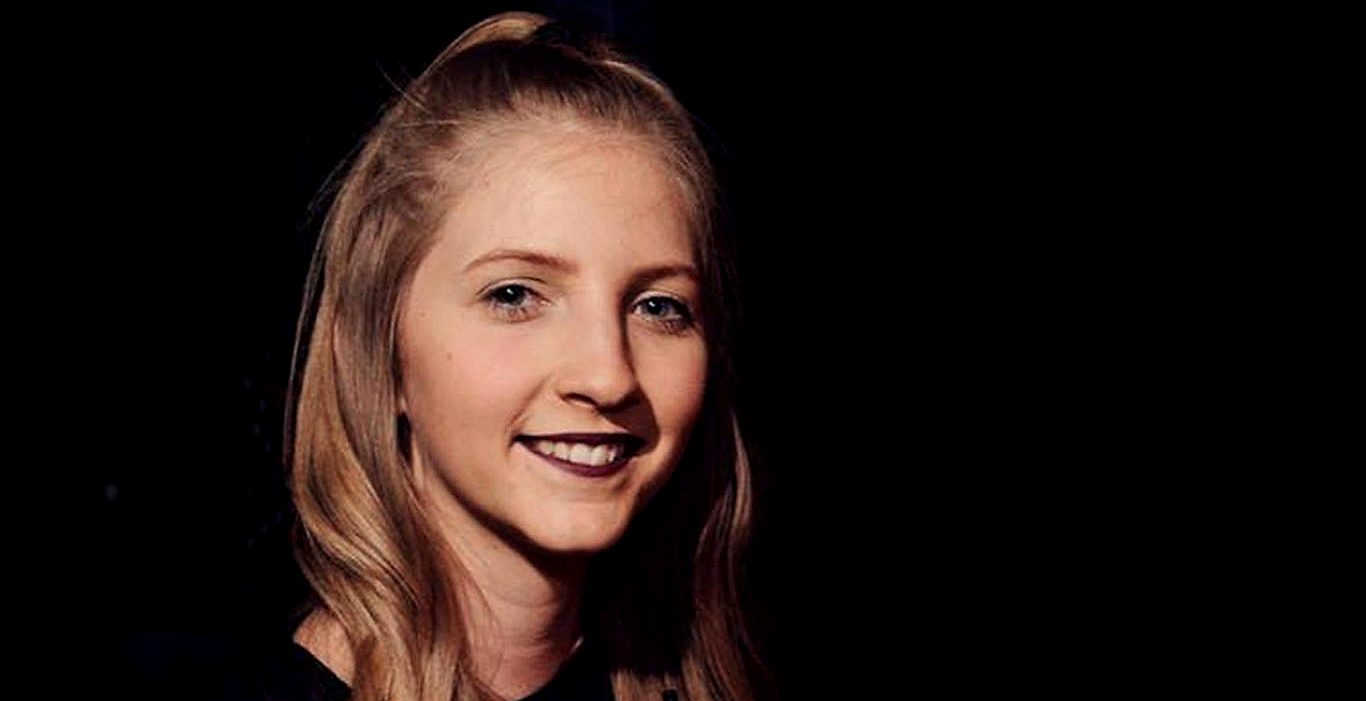 THE SUN - A TEENAGER who reported her ex-boyfriend to police was fined for wasting police time months before he allegedly slit her throat and set fire to her bedroom, a court heard. Shana Grice, 19, made repeated calls to cops over fears she was being followed by Michael Lane, 27, up to a month before she was killed – but it was deemed "low risk", the jury was told.
ARGUS 4 APRIL 2017
The Sussex police and crime commissioner claims she was subjected to a "relentless campaign" of stalking and harassment which resulted in her facing prosecution.

Katy Bourne said she endured "malicious allegations" for five years from a "particular individual".

Her comments came in response to news she would not face criminal prosecution over claims she had made a false statement about expenses during her 2016 re-election campaign.

Ms Bourne told The Argus yesterday: "I was always confident the facts would speak for themselves and I am pleased the Crown Prosecution Service (CPS) has determined there is no case to answer.

"For almost five years I have been subjected to a relentless campaign of harassment, stalking and malicious allegations from a particular individual."

She was investigated by the Independent Police Complaints Commission (IPCC) after a member of the public complained about a comment she had made online.

The watchdog was contacted after Ms Bourne posted on Facebook that she had not claimed expenses during her term. She had in fact claimed £385, according to the complainant.

The Sussex police and crime panel considered the complaint and referred it to the IPCC.

The watchdog found a criminal offence may have been committed under the Representation of Peoples Act 1983 and asked the CPS whether Ms Bourne would face charges.

An IPCC spokesman said: "[The IPCC investigation] formed an opinion that a criminal offence may have been committed. A referral was made to the CPS.

"The CPS informed the IPCC of its decision that there was insufficient evidence for a realistic prospect of conviction and that no further action would be taken."

A report into the IPCC investigation will be published in due course. By Flora Thompson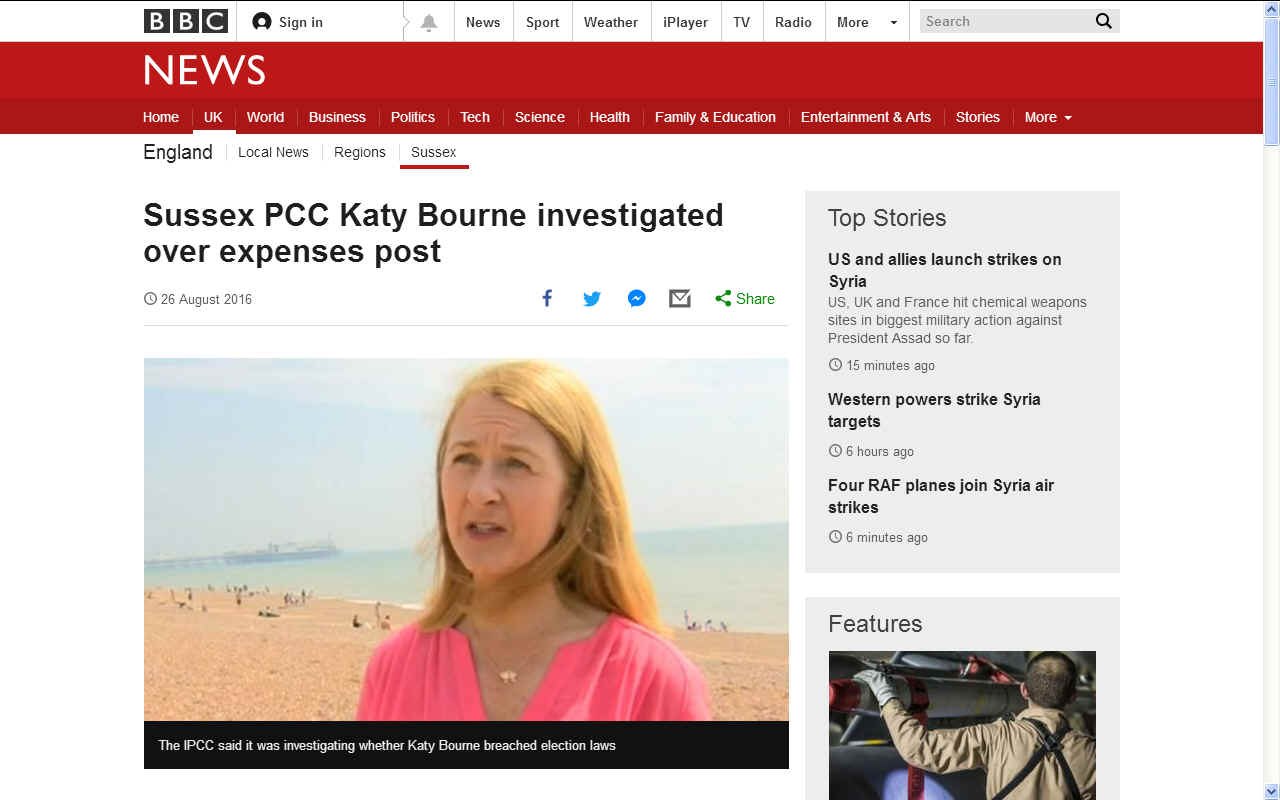 BBC NEWS AUGUST 2016 - A complaint that the electorate was misled over the Sussex Police and Crime Commissioner's (PCC) expenses is being investigated by the police watchdog.

The Independent Police Complaints Commission (IPCC) said it was looking into a social media post by Katy Bourne during the 2016 PCC election period.

A member of the public complained she stated she had not claimed any expenses during her previous four-year PCC term.

The complaint alleged she had in fact filed expense claims of about £385.

The claims were filed between November 2012 and October 2013, it was alleged.

"As Mrs Bourne is a Police and Crime Commissioner, the IPCC will investigate whether she made a false statement during the 2016 election," said IPCC deputy chair Sarah Green.

"On completion of the investigation we will decide whether any matters should be referred to the Crown Prosecution Service for its consideration."

PCCs are referred to the IPCC only when there is an indication of a possible criminal offence.

The IPCC said it would investigate whether there was a criminal breach of s106 of the Representation of the Peoples Act 1983
BRIGHTON & HOVE INDEPENDENT 23 MARCH 2017 - SHANA GRICE
Sussex Police and other forces have an 'awful lot to learn', Katy Bourne has said after Michael Lane was today sentenced to 25 years in jail for murdering Shana Grice.

The Sussex Police and Crime Commissioner reiterated the force's apology to Miss Grice's family after it emerged during the trial that the 19-year-old was fined for 'wasting police time' after reporting that she was being stalked by Lane.

Miss Grice was murdered by Lane in her home in Chrisdory Road, Portslade, on Friday August 25, 2016.

Speaking on Thursday, March 23, the day Lane was handed a life sentence at Lewes Crown Court, Mrs Bourne said:
"Shana's murder was a tragedy and my thoughts are with her family and friends at this time.

"Sussex Police has apologised to the family, the recognise that they may not have done the very best that they could, which is why they've referred themselves to the Independents Complaints Commission, who are going to look at how Sussex Police dealt with the incidents involving Shana leading up to her murder.

"Sussex Police have reviewed all the aspects of how they deal with cases of stalking and harassment but I want to ensure that those are fully implemented, which is why I'm commissioning HMIC, Her Majesty's Inspectorate of Constabulary, to do a further inspection around how Sussex Police deal with cases of stalking and harassment, which will probably be later in the year.

"A key challenge is supporting front-line police officers to recognise stalking as a serious crime when it's first described to them, and also it's important that police must keep victims engaged with stalking investigations to ensure that evidence is secured to support prosecutions where appropriate.

"So there's an awful lot here for Sussex Police to learn, but police forces nationally as well, how they deal with victims of stalking and harassment.

"This is a hugely serious time, but of course my thoughts remain with Shana's family."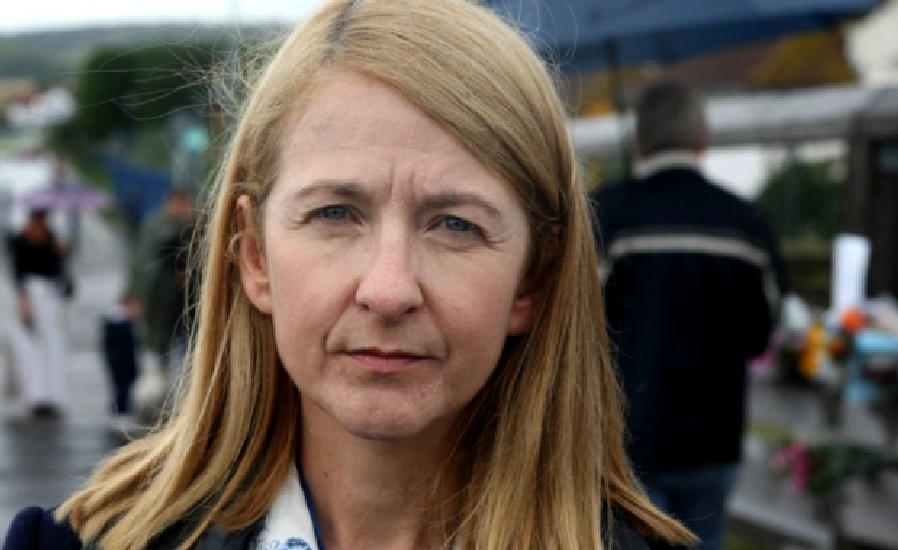 THE ARGUS 29 MARCH 2017 - SCANDAL OF THE CONMEN TRICKING OUR ELDERLY

Fraudsters are stealing millions of pounds from elderly victims.

In a 12-month period to November last year, 332 people lost more than £4.25 million, according to figures released by the Sussex Police and Crime Commissioner.

The average loss was around £13,000 and the highest was £350,000.

A study carried out in January also found half the 3,200 Sussex residents questioned in the survey knew someone who had been a victim of fraud.

Two thirds of those said money had been taken.

In 127 of the cases mentioned, each person lost at least £10,000, totaling £1.27 million.

The news comes as commissioner Katy Bourne launched a campaign to tackle exploitation of the elderly.

Jean Holmwood, 67, of Heathfield, who fell victim to an online fraud in 2013, said: "I felt pathetic.

"I like to think of myself as being quite on top of things, especially when it comes to computers and the internet, and that's where I went down.

"I was quite disgusted at myself, embarrassed.

"It's just degrading, it's an insult to your intelligence and you feel so stupid."

Results from the survey carried out by the Sussex Elders' Commission and Neighbourhood Watch showed nine out of ten people felt being old and living alone made you more susceptible to fraud.

Eight out of ten said it would be safer to live with a companion.

Separate figures showed in the year to November, Sussex Police officers were called to visit 651 vulnerable people, the majority of who were over 75.

Ms Bourne said: "Just because somebody is smooth-talking your grandmother out of her life savings over the phone instead of mugging her in the street doesn't make it a less serious offence.

"These results prove that criminal gangs are grooming our vulnerable, lonely and often elderly residents, robbing them of their life savings and potentially the ability to look after themselves."

The majority of the survey's participants said they would report being a victim of fraud but fewer believed they would do this if they had been scammed.

Some 16 per cent felt it was their responsibility to learn from their mistakes and not repeat it.

Another 15 per cent felt police were too busy to be troubled, 14 per cent were not sure how to report it and 11 per cent didn't think it would achieve anything.

Separate figures released by the PCC said men were more likely to fall victim to investment fraud and being contacted by telephone. The figures showed the average amount lost for that type of fraud was £65,000.

Ms Bourne added: "We need clearer messages that everyone can understand.

"It's no use having 20 different phone numbers for people to contact if they're the victim of fraud.

"We want to find out what else can be done to prevent this epidemic of elder exploitation."

A crime summit on the subject, which took place last week, found many people were keen for banks to train staff to spot unusual cash withdrawals and transfers.

Most felt staff should contact their customers if they spotted this on an account.

People can find out more at sussex-pcc.gov.uk.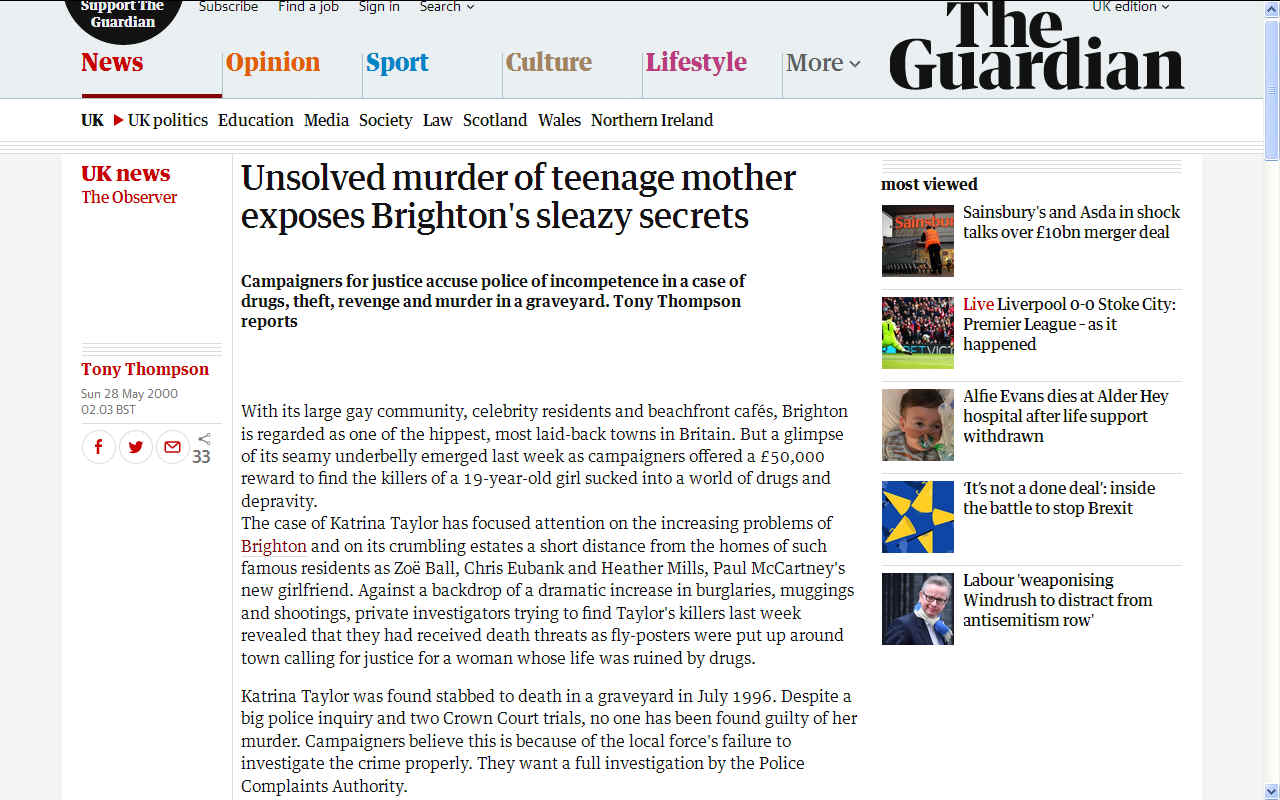 38 DEGREES

To acknowledge the mounting evidence that Sussex Police & Crime Commissioner Katy Bourne, has failed in her duty to hold the Sussex Police Chief Constables to account.

Evident in Brighton's The Argus newspaper:

"It is not the first time Mrs Bourne's performance and accountability meetings – regularly talked up by Mrs Bourne and praised by the Home Secretary – have failed to live up to their name.

Far from providing the rigorous scrutiny of the force expected of the newly created commissioner role, her meetings often appear more of a platform for police to have their say or to explain things to the public. Whether this reflects Mrs Bourne's overall robustness in holding Sussex Police to account is a question that will only grow with elections for her office looming."

Read more: http://www.theargus.co.uk/news/14290770.Deputy_chief_constable_defends_police_begging_tactics/

Compounded with the allegations of misconduct made by Matt Taylor, the Shadow Sussex Police and Crime Commissioner, which have never been reputed or challenged by either Sussex Police or Katy Bourne; the residents and voters of Sussex must acknowledge the failure of Katy Bourne to hold the police to account and take the appropriate action to rectify it.

Reference:
http://shadowsussexpolicecrimecommissioner.blogspot.co.uk/2016/02/katy-bourne-fails-in-her-duty-to-hold.html

Why is this important?

The Conservative government introduced elected PCC's to hold the Chief Constable of each police force in Great Britain to account. Promising transparency and accountability, each PCC is paid up to £85K a year and is provided a team of between 15-20 people costing the tax payers over £1million a year.

Having taken an oath to hold the Chief Constable to account, it is alleged that Katy Bourne has failed to explain why she allowed ex Chief Constable Martin Richards to retire early.

Allegations of misconduct have been made against Martin Richards, to which Katy Bourne tasked her Chief Executive Officer, Mark Streater to investigate. Its worthy of note that Mark Streater is alleged to have been a personal friend of Martin Richards and an ex-Sussex Police officer of nearly 30 years. He found no "substantiating" evidence to back up the 14 charges of misconduct made against Martin Richards in his final year in charge.

Reference: https://gettingreadyfor2015.wordpress.com/2014/02/13/martin-richards-why-he-really-retired/

Sussex Police must be seen to serve and protect the residences of Sussex. It is Katy Bourne's duty to hold the Chief Constable to account if and when cases of police corruption or police misconduct arise.

Having exposed serious police corruption and misconduct since 2012, and considering Katy Bourne's silence in addressing these charges, the writer called on concerned citizens to sign a petition.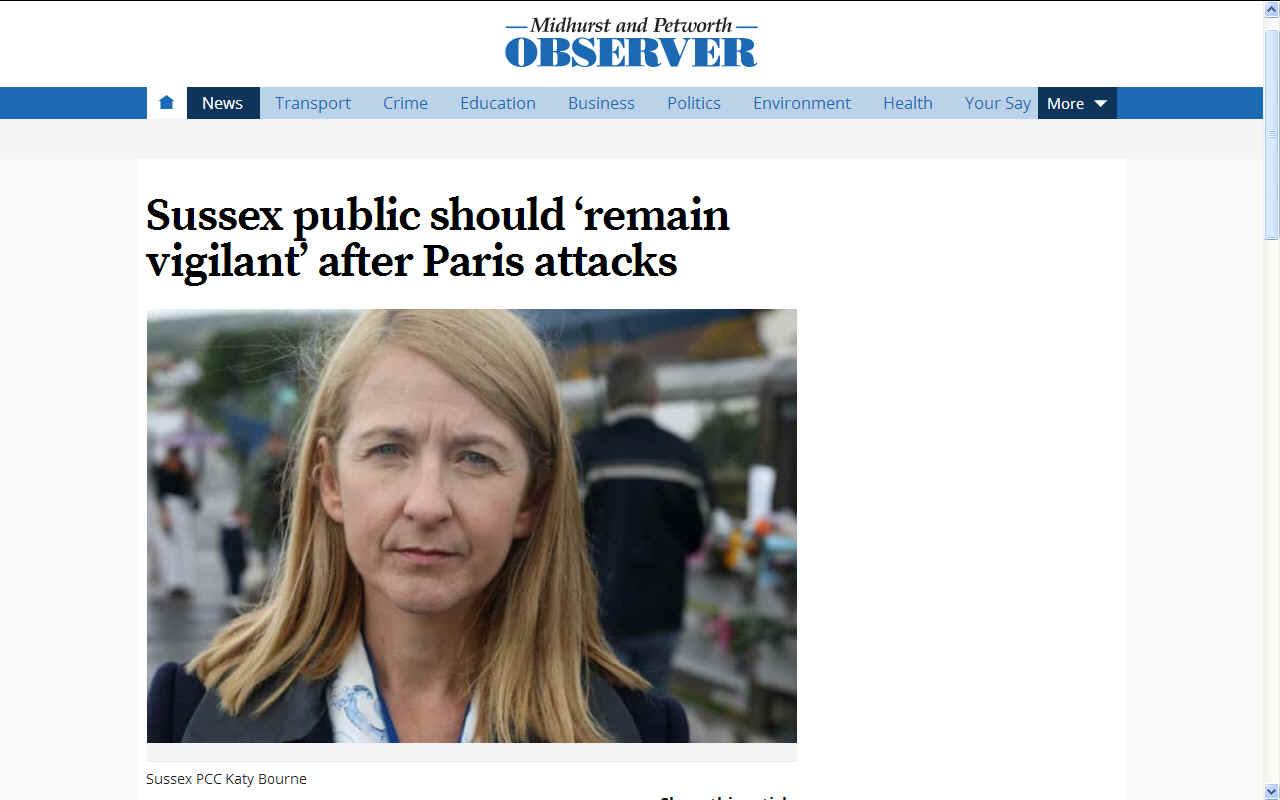 MIDHURST & PETWORTH OBSERVER 15 NOVEMBER 2015

Sussex residents should 'remain vigilant' after the terror attacks in Paris, the county's Police and Crime Commissioner (PCC) has urged.

At least 129 people died and hundreds were wounded as gunmen and suicide bombers targeted a concert hall, stadium, bars and restaurants in the French capital on Friday night.

Sussex PCC Katy Bourne will discuss the security implications for the county at her monthly Performance & Accountability Meeting with Chief Constable Giles York on Friday November 20 from 1pm.

Mrs Bourne said: "I joined people around the world in observing the minute's silence for the victims of the Paris attacks and my thoughts remain with those affected by these horrific events.

"In the UK, the current threat level remains severe and it's important that the police – and the public – continue to remain vigilant and to report any suspicious behaviour or activity immediately.

"I will be asking the Chief Constable what impact these kind of events have locally, both in terms of the demand on local policing and in tackling any community tensions.

"I will also be seeking assurances that the force is prepared and ready to contribute to any nationally co-ordinated response should the need arise."

Other topics due to be discussed at the November PAM include:

· Progress under the new Local Policing Programme;

· Restorative Justice;

· Burglary prevention;

· Closer working between the police and academia.
KATY ON WIKIPEDIA
..........
VOTES
Tony Armstrong, UKIP 29,327 votes (15%)
Katy Elizabeth Bourne, The Conservative Party Candidate - 59,635 votes (32%)
Ian Chisnall, Independent 38,930 votes (21%)
Godfrey Daniel, Labour Party Candidate - 40,765 votes (22%)
David Rogers, Liberal Democrat 20,579 votes (11%)

As no candidate got over 50% of the first choice votes, the second choice votes for Katy Elizabeth Bourne and Godfrey Daniel are counted.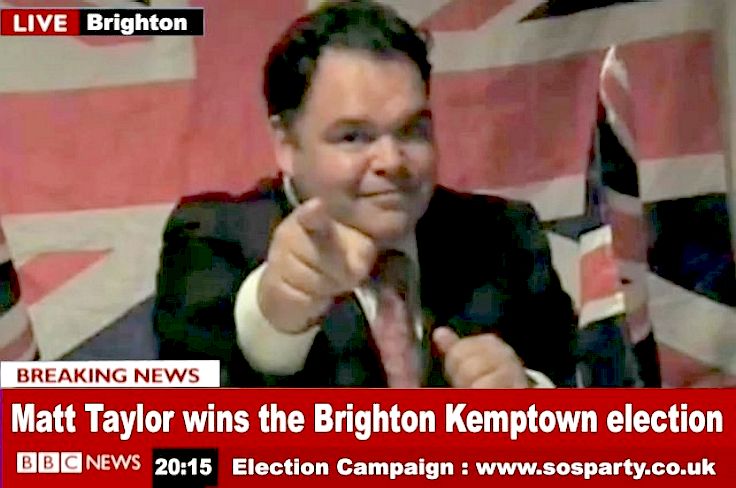 MATT TAYLOR - INDY MEDIA

SUSSEX POLICE IN DISARRAY

THE LAST RITES OF KATY BOURNE SPCC

"SCANDALOUS" SCREAMS THE ARGUS.

The façade of competence can no longer be maintained. Even The Argus newspaper has to admit that Sussex Police are 'SCANDALOUS.'

The failure of Martin Richards, Katy Bourne (her Team) and Giles York is clear to see. Their failure to police Sussex has been exposed and laid bare to the readers of The Argus newspaper.

The Argus sub-headline: The most serious crimes in Sussex are being investigated by unqualified officers because of a 'critical shortage' of police.

Read more: Unqualified Officers working in CID.


This is why Surrey Police have been called in to take over, as I reported in Surrey Police rescue Sussex Police.

The Argus has been forced to report the news after a Detective Constable working in Brighton CID contacted The Argus and claimed there was a "critical shortage of police officers across the entire Brighton and Hove division."

The Argus has been forced to report what I've been reporting since I first became involved with Sussex Police during the Police and Crime Commissioner election of 2012.

There is something wrong at the heart of Sussex Police.

The DC said, "It is not uncommon to see my colleagues on the verge of tears because they are under so much pressure and stress and have more work than they can cope with.

This is nothing short of scandalous and not only puts the public at increased risk but the officers themselves."

Katy Bourne has put the Public at increased Risk of Crime.

I was one of the very few people who got to see the real Katy Bourne, Martin Richards and Giles York up close and personal.

As a prospective candidate for the Police and Crime Commissioner elections in 2012, the democratic process (of which I'm eternally grateful for) entitled me to be present at events, hustings and meetings which mere members of the public were not invited to.

I knew from the off-set and with the files of David Joe Neilson (the main witness in the Katrina Taylor murder cover-up), that Sussex Police were rotten to the core and is actively working with criminals to cover-up their own crimes.
SERIOUS FRAUD - Of particular concern in an age where there is a shortage of affordable housing, is the allegations of property value manipulation and malfeasance in public office, where offices of Wealden District Council have lied to their members, the Secretary of State, and failed to declare interests in land because of conflicts of interest - where such matters constitute serious fraud as defined by the Serious Organised And Police Act 2005. Make no mistake, that when one authority aids and abets the continuation of fraud - by failing to investigate and prosecute, that granting such immunity from prosecution constitutes ORGANISED crime.
I AM AN EXPERT IN SUSSEX POLICE CORRUPTION AND HAVE LAID MY LIFE ON THE LINE TO WIN YOUR VOTE.

EVERYTHING I DO; I DO IT FOR YOU!

Make no mistakes, Katy Bourne will soon resign and resign in disgrace.

"SCANDALOUS' The Argus screams.

Only two days ago it was clear The Argus was losing patience with Katy Bourne and Sussex Police when they ran the headline:

Vandals trash Lewes community centre located between police HQ and Police and Crime Commissioner's office

They ridiculed Katy Bourne as I have done for the last two years. Katy Bourne refuses to answer the obvious:
SUSSEX POLICE IS A DANGEROUS PLACE TO LIVE.

Mindless vandals caused thousands of pounds of damage to a community centre located between Sussex's police headquarters and the office of the Police and Crime Commissioner and got away without being seen.


Read that again to understand the severity of the situation. This is not funny.

Mindless vandals caused thousands of pounds worth of damage to a building in the heart of Sussex Police headquarters.

Is the irony lost or is it shouting loud and clear. The symbolism is undeniable. Sussex Police are rotten to the core because crime can be committed at their heart and they still haven't the ability to apprehend the perpetrators.

They are the Criminals.

Made no mistake in what I am about to say.

Katy Bourne pretends to everyone she is making Sussex safer for everyone, when in fact she's the biggest criminal in Sussex.

Katy Bourne is the biggest Drug Dealer in Sussex.

Just watch this video where she is formally opening the South East Business Crime Conference in 2013 and boosts what a great industry Security is and how much it generates.

What she doesn't mention is that the Crime Lord Mark Slade aka Marcel Sulc used security firms to run his crime empire, with the full knowledge of Sussex Police.

Read more from the Guardian: King of the slums
Landlord Marcel Sulc has got rich by throwing people out of their homes.

Crime-Lord Mark Slade used dozens of Security firms to run drugs, traffic people, commit fraud, smuggle stolen goods etc etc.

The full extent of Crime-Lord Mark Slade's crimes may never be known, but the fact that Katy Bourne is aware of the scandal of Mark Slade, the cooperation of Sussex Police with Mark Slade and the continuing cover-up of the Katrina Taylor murder which was committed by members of Mark Slade's gang confirms that Katy Bourne is [allegedly] the biggest drug dealer in Sussex.

Katy Bourne pretends that Sussex is safer, but as she pointed out during her first year YouTube video, she knows that Sussex will not be safe for everyone.

"I can't promise Sussex will be safe everywhere," she said.

These are just three examples of one day in Sussex, all taken from the Sussex Police website.

13 May 2014

· Woman raped by man in cemetery in Littlehampton
The 44-year-old victim was sitting on a bench in Littlehampton Cemetery, off Horsham Road, when a man attacked her and forced himself on her.

13 May 2014

· Efit of man connected to Hove rape
At around 10.30pm on Tuesday (April 29) the victim, a 51-year-old man, was walking home from a pub on Brunswick Street West when he met a man at the junction with Western Road and Lansdowne Street. They got chatting and they went back to the victim's nearby flat where he was raped.

13 May 2014

· Man glassed outside Brighton railway station
The 31-year-old from Croydon had been out with friends but was walking in Upper Gloucester Road towards Brighton railway station to get a train home when he was attacked by two men at about 9pm on Sunday 4 May.

Read more: Sussex Police news stories.

Within months of Katy Bourne taking office I knew she wasn't fit for purpose. I even published this picture of her promoting her very first live interaction which the Sussex people which quickly turned into a Face book farce.

I accused Katy Bourne of ensuring paedophiles and Masons are all safer in Sussex. I can now add "RAPISTS & VANDALS" to the sentence.

"Katy Bourne is about as useful as a chocolate teapot," a member of the public said in The Argus comment box.

"Too many overpaid/over promoted Chiefs and not enough Indians. A common problem in any public sector organisation," said another.

I predict, that following The Argus "SCANDALOUS" headline and the welcome fact that Detective Constable's in Sussex Police are whistle-blowing about their conditions of work, Katy Bourne will either resign or be sacked by Home Secretary Theresa May, within 14 days.

Read more: Matt Taylor lays down the Law to Sussex Police.

You should have voted for me; but hey, at least I'm still your Shadow Sussex Police and Crime Commissioner.

Read more: Taylor for Sussex Police and Crime Commissioner.

Allow me to remind you of my plan for a safer Sussex.
(please note that this is a quote from another website that is unchecked for accuracy and that you should not rely on any of the above unless you have checked the subject matter with the author, it was though published and is review-able, should anyone wish to comment or provide further clarification)
Giles York is the chief constable of Sussex Police taking over from a long chain of chief constables, including Paul Whitehouse (1993-2001), who was finally forced to resign after the Home Secretary insisted that he should go. Whitehouse was replaced by Ken Jones (2001-2006). Then Joe Edwards (2006-2007) stepped in the breach followed by Martin Richards (2008-2014) - all apparently receiving the Queens Police Medal for either taking the job or for previous difficult locations, possibly also involving corrupt areas and practices.
CITIZENS ON PATROL

Citizen on Patrol Units (C.O.P) based on US/Canadian models.

Made up of volunteers from the community, they will have the full support of Sussex Police but without the powers of arrest.

I will aim to create 70 units across Sussex, amounting to about 1800 volunteers, devoting 135,000 hours per year.

These police volunteers will be brought together from all walks of life, ages and backgrounds. Each patrol will be identified by a simple uniform, made up of patrols of two.

Training and equipment will be provided by Sussex police and the £30 criminal record search will be waived for all C.O.P volunteers.

Each volunteer will devote shifts of 2-3 hours once a week. They will be community minded, nice people, positive role models, keeping their families and neighbourhoods safe.

As a Police Chief from America told me, 'That's a great deal of "eyes and ears" time that can assist the police to solve problems, as well as freeing their time to work on more serious issues.'
FORGET ABOUT KATY'S SPECIAL CONSTABLES

West Sussex – 16
Brighton & Hove – 12
East Sussex - 7

My Citizen's on Patrol would have numbered:

West Sussex – 600
Brighton & Hove – 600
East Sussex - 600
You should have voted for me.

· A mother wouldn't have been raped in a cemetery in Littlehampton because citizens would have been on patrol.

· A father wouldn't have been raped in Kemptown because citizens would have been on patrol.

· And a community centre in-between the offices of Sussex Police and it's Sussex Commissioner wouldn't have been vandalized because the police station would have been manned with real police men and women.

As a member of the public commented in response to The Argus "Scandalous" headline.

"This does not surprise me, I also think the 13% drop in crime is fiddled figures just to justify police cuts. I think crime has NOT gone down its just that we have fewer police on duty especially after dark to record any. In Hove we used to often see a police car at night which gave a sense of security but now with the police station closed down and only part time in council offices we are on our own. The public cant easily report crime as the part time police station is closed at night in hove, plus as I found when reported a crime on the police online form you get a email saying they have received the report then that's it you hear no more. Luckily the nightlife now provides its own private security backup for door-staff in effect our police are partially privatized. Its pointless reporting anything that's not serious to our police they simply don't have to numbers to respond."
KATY BOURNE: THE END GAME

Watch the Youtube Video, its cool!

Katy Bourne responds to The Argus 'SCANDALOUS' headline with, "Should I find any evidence that officer and staff resilience is affecting police performance I will hold the Chief Constable to account for this on behalf of Sussex residents."

GET REAL SUSSEX.

Katy Bourne has done nothing on behalf of Sussex residents, but everything on behalf of Sussex criminals, paedophiles, rapists and vandals.

WAKE UP SUSSEX; KATY BOURNE HAS FAILED TO HOLD HERSELF TO ACCOUNT, LET ALONE THE CHIEF CONSTABLE.


CONTACT KATY BOURNE
Katy Bourne & Sussex Conservatives
5 Hazelgrove Road
Haywards Heath, RH16 3PH
Email: campaign@katybourne.com
Tel: 0800 023 5793
Twitter: @katybourne

http://www.katybourne.com/

https://www.indymedia.org.uk/en/2014/05/516679.html
MISFEASANCE & MALFEASANCE
When an officer of the courts omits to include evidence that he knows is relevant to a hearing, that is termed misfeasance in public office. Where an officer then tries to cover up his or her misfeasance (as did Ian Kay in the Stream Farm matter), that becomes malfeasance. The difference is that misfeasance is a civil wrong, whereas malfeasance is a criminal offence. The leading case precedent on malfeasance is: R. v Bowden 1995 Court of Appeal (98 1 WLR).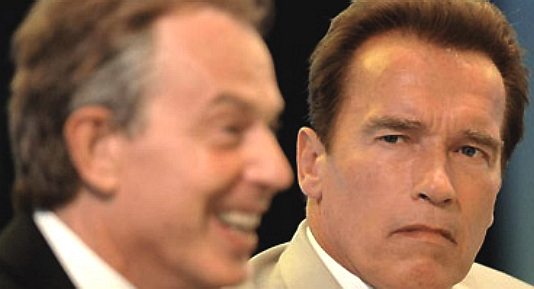 Vicarage Lane, Hailsham, East Sussex, BN27 2AX T: 01323 443322
Pine Grove, Crowborough, East Sussex, TN6 1DH T: 01892 653311
LINKS & REFERENCE
https://www.midhurstandpetworth.co.uk/news/sussex-public-should-remain-vigilant-after-paris-attacks-1-7068838
http://www.bbc.co.uk/news/uk-england-sussex-43756483
http://www.bbc.co.uk/news/uk-england-sussex-37193011
http://www.theargus.co.uk/news/15188336.Scandal_of_the_conmen_tricking_our_elderly/
https://you.38degrees.org.uk/petitions/katy-bourne-has-failed-to-hold-sussex-police-chief-constables-to-account
http://www.theargus.co.uk/news/15188336.Scandal_of_the_conmen_tricking_our_elderly/
https://you.38degrees.org.uk/petitions/katy-bourne-has-failed-to-hold-sussex-police-chief-constables-to-account
http://www.brightonandhoveindependent.co.uk/news/crime/katy-bourne-sussex-police-has-an-awful-lot-to-learn-from-shana-grice-s-murder-1-7882120
http://www.brightonandhoveindependent.co.uk/news/crime/katy-bourne-sussex-police-has-an-awful-lot-to-learn-from-shana-grice-s-murder-1-7882120
http://www.theargus.co.uk/news/15176741.Michael_Lane_jailed_for_25_years_for_the_murder_of_Shana_Grice/
http://www.theargus.co.uk/news/15176741.Michael_Lane_jailed_for_25_years_for_the_murder_of_Shana_Grice/
https://www.thesun.co.uk/news/3128165/murdered-shana-grice-fined-for-wasting-police-time/
https://www.thesun.co.uk/news/3128165/murdered-shana-grice-fined-for-wasting-police-time/
https://www.theguardian.com/uk-news/2017/mar/23/shana-grice-trial-judge-criticises-sussex-police-for-failing-her
https://www.theguardian.com/uk-news/2017/mar/23/shana-grice-trial-judge-criticises-sussex-police-for-failing-her
http://www.independent.co.uk/news/uk/crime/shana-grice-murdered-teenager-girl-michael-lane-ex-boyfriend-portslade-east-sussex-lewes-crown-court-a7640931.html
http://www.independent.co.uk/news/uk/crime/shana-grice-murdered-teenager-girl-michael-lane-ex-boyfriend-portslade-east-sussex-lewes-crown-court-a7640931.html
https://www.brighton-hove.gov.uk/content/council-and-democracy/voting-and-elections/sussex-police-and-crime-commissioner-election
Shadow Sussex Police crime commissioner blogspot UK 2016 January three new cases to rock the Bill
http://shadowsussexpolicecrimecommissioner.blogspot.co.uk/2016/01/three-new-cases-to-rock-sussex-police.html
http://www.sussex.police.uk/
http://www.wealden.gov.uk/
Paul Whitehouse (1993-2001) Ken Jones (2001-2006) Joe Edwards (2006-2007) Martin Richards (2008-2014) Giles York (2014 >>)