All is not what it seems from this picture. It looks for all the world like a series of gently rolling hills in the Sussex countryside, but actually, the hill on the right is Wartling Hill and on the left is RAF Wartling, or Bunker Hill. You can just make out the bungalow on the brow of the hill and another (modular) building, designed to look like a cow shed from the air, actually also a lift for taking supplies to the lower levels. In WW2 and through some of the Cold War period, Wartling was an important location in the defence of Great Britain - a fact seemingly overlooked by Wealden District Council and Natural England when it suits them.
1939 HISTORY
RAF Wartling was a Royal Air Force station located near the village of Wartling in East Sussex. It was a Second World War and later Cold War Ground Controlled Interception (GCI) station built to complement and supercede the nearby Chain Home station at RAF Pevensey that was technologically out of date.
PEVENSEY LEVELS = PYLON FARM
An East Coast Chain Home radar station was built on the Pevensey Levels in 1939; it was one of the original 20 Air Ministry Experimental Stations. Chain Home was at the forefront of a reporting network resulting in warning data being forwarded to the Fighter Command filter room at Bentley Priory where it was analyzed and displayed on the Fighter Command operations table. The information was then told to the Fighter Group HQ's from where the controller allocated the raids to be intercepted from sector airfields and controlled by the sector operations centre during the day and the fledgling GCI radar stations during darkness.
This innocuous rendered brick hut, is the entrance to the underground bunker at Wartling. One telltale sign of actual use is the louvers that suggest significant ventilation. The other sign is the concrete roof.
The modulator building at the top of Bunker Hill at Wartling, now a residential conversion, seen here in 2004. Gratefully, the works to change to a character cottage have managed to retain the original RAF look, no doubt with thanks from the archaeological community. Well done to the owners.
RAF WARTLING

To compliment RAF Pevensey, a new GCI station, RAF Wartling, was built on the opposite side of the marsh road, becoming operational in 1941. RAF Pevensey acted as an early warning station, detecting hostile aircraft. The station reported to the filter room at Bentley Priory and thence to 11 Group HQ at RAF Uxbridge (responsible for the SE corner of England) who would scramble the nearest aircraft for RAF Wartling to control. The Ground Controller working from his PPI (Plan Position Indicator) display screen would be able to talk directly to the pilots of the fighters they were controlling, giving them directions to intercept the enemy aircraft that were within the range of the aircraft's own intercept radar.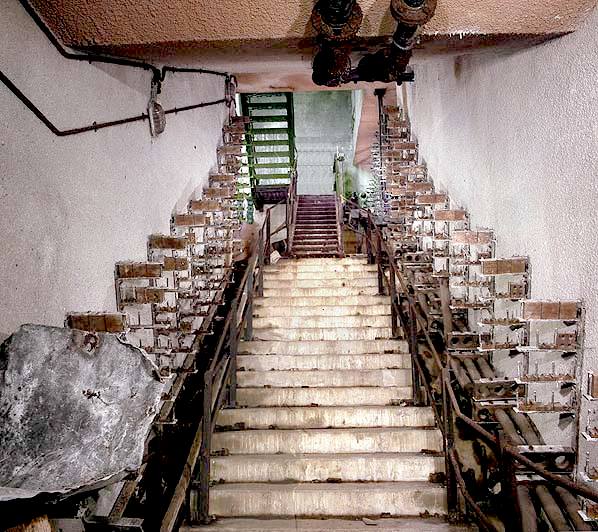 This is one of the entrances to the bunker - seen in the diagram below at the bottom left. There is a block built shed above ground leading to the steel staircase, then the concrete steps. Note the rows of empty cable support brackets, now stripped of electrical cables. Pity.

1941 SECOND WORLD WAR

Wartling became operational in 1941 and was used to control fighter aircraft and guide them towards approaching German aircraft. Originally based in caravans the station had a brick-built operations block that came into operation in July 1943. Wartling helped track and destroy 380 German V1 flying bombs. Although the nearby RAF Pevensey had closed in December 1945, Wartling remained open as one of the few remaining GCI stations in the South of England.
The GCI station was established in three stages: 'mobile', 'intermediate transportable' and 'final'. Early stations (from 1940) had equipment on wheeled caravans and temporary wooden hutting; these were replaced by intermediate stations which had the aerial arrays mounted above and below a wooden gantry, with operations carried out from wooden huts.

Final stations, built from 1942, had brick operations blocks, known as 'Happidromes'. These stations had a single Type 7 rotating aerial array with the transmitter and receiver housed in a well underneath. The happidrome became fully operational at Wartling in July 1943.

It is recorded that a total of 380 German V1 'doodlebug' flying bombs (see below) were tracked and destroyed following detection and interception by RAF Wartling personnel.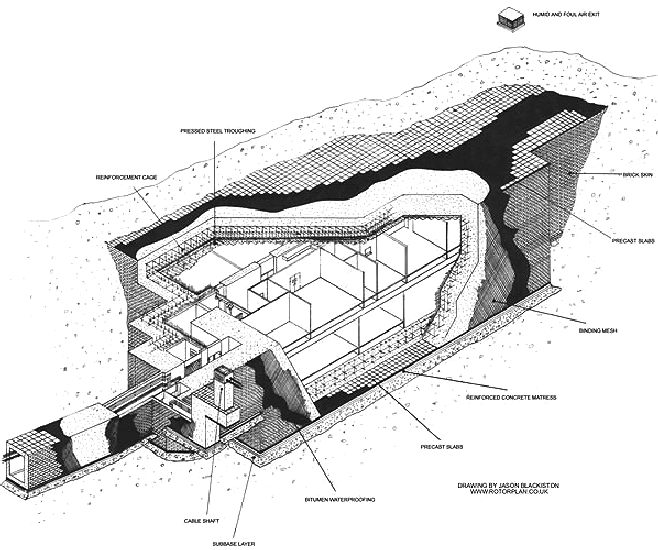 A nice drawing of the underground bunker at Wartling by Jason Blackstone. The author recalls entering the complex by a series of steel staircases shown at the bottom left, then going down concrete steps, turning left into the main corridor, via twin swing doors. It is a shame that this interesting industrial complex was not preserved intact for viewing by schools and colleges, etc.
1945 POST WWII CARETAKING

By December 1945, RAF Pevensey had been taken off line and was described as 'caretaking' (Air 25/686 Appendix A). The GCI station at Wartling remained operational and by 1947 was one of the few remaining GCI stations in the south of England and its Happidrome had been suitably enlarged to enable the station to fulfill this role.

By 1950, the threat of the Atomic bomb had caused a serious rethink in the organisation of air defence and a plan, codenamed ROTOR, was instituted to replace many of the existing stations with new protected underground operations rooms.
LEFT: Intercept room after flooding in 2004. RIGHT: Intercept room during World War Two

1951 COLD WAR
With the threat of attack using nuclear weapons the station was used as part of the ROTOR air defence radar system and a protected underground operations rooms was built at Wartling. Construction started at the end of 1951 but was not completed until February 1955. In 1956 a new Decca Type 80 search radar was installed to replace the earlier equipment. With the increased range of the Type 80 radar other radar stations in the South East began to close and in April 1958 it became a Master Radar Station responsible for all British airspace South of the Thames. In 1959 it supplied the last known radar trace to accident investigators following the fatal crash of the prototype Handley Page Victor B.2 serial number XH668. When other Master Radar Stations were modernised in the 1960s Wartling went out of use and finally closed on 3 December 1964.
The R3 was never intended to survive a direct hit from a nuclear weapon but was designed to withstand a near miss from Russian pattern bombing with 2,200lb armour piercing high explosive bombs (BRAB) dropped from 35,000 feet. It was decided to rebuild the GCI station at Wartling underground with a new two level R3 operations building alongside the old Happidrome. Due to the location being barely above sea level, the trial test bores sunk to determine the site of the R3 indicated that the building would be liable to serious flooding if this location was chosen.

The transmitter block was converted to a residential cottage not long after 1989, in so doing losing all of its character and industrial interest. What a shame. This could have been a very interesting and unusual conversion.
It would have been too expensive to overcome this problem, so an alternative site was found on higher ground with the Type 7 radar scanner remaining at the old site as this was more suited for its performance. This radar was mounted above the underground operations room designated as an R7. During construction of the new station, the Happidrome remained fully operational and RAF Pevensey was reactivated as one of 15 stations promoted to a 'readiness chain home'. The station's radar was upgraded as part of the first phase of the Rotor 1 programme.

Construction started over the winter of 1951/2 excavating the hole with a dragline shovel. The hole had to be large enough to accommodate the R3 structure, some 200' long by 120' wide on two levels. It was constructed as a box with walls, floor and ceiling in 10' thick concrete reinforced with tungsten steel rods every six inches throughout. The contractors were Trollope & Colls who had worked on other MOD sites. Shifts ran throughout the day and night and a regular convoy of trucks took away tons of earth, much of it going to the Crumbles in Eastbourne to reinstate pebble excavated areas.

Following completion of the structure the fitting out phase commenced with skilled ladies employed by Marconi's W/T Company busy creating the complex wiring loom for the new station. RAF Wartling was not completed until 28th February 1955, two years behind schedule. It would appear that there may have been serious problems with water seepage during construction, which delayed completion. On this date it was handed over to the RAF Signals Sections for four weeks 'running up' before becoming fully operational on 28th March when RAF Wartling was transferred over to the underground R3 operations building.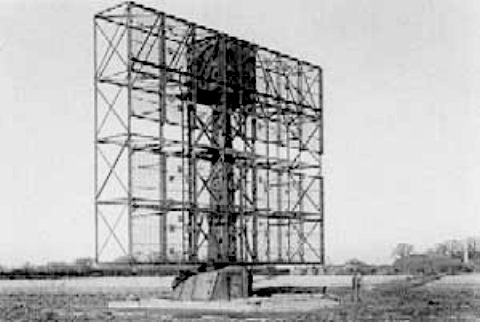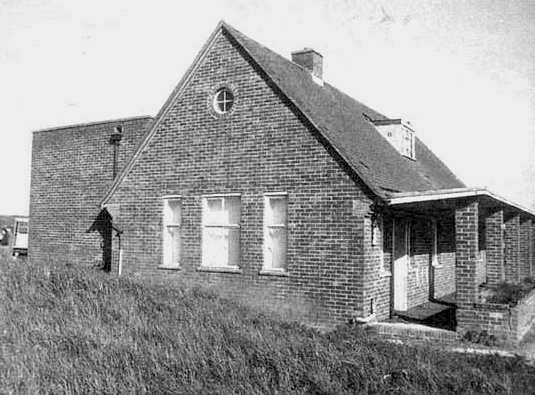 LEFT: A rotating T7 radar aerial on the Pevensey marshes, linked to the operations rooms at Wartling. This was an important location in the defence of Great Britain. In WW2 the ground controller at Wartling had direct contact with the fighter aircraft they were controlling and in addition It is also recorded that a total of 380 German V1 'doodlebug' flying bombs were tracked and destroyed following interception by RAF Wartling personnel. RIGHT: The guardhouse at Wartling. Note the similarity in design to the building above the Beachy Head entrance, opposite the public house of the same name.


As built the following radars were fitted at RAF Wartling:

1 Remote Type 7 Mk III above an R7 well with a T79 IFF
1 Type 11 (M) Mk VII
3 Type 13 MK VII mounted on 9' high concrete plinths
2 Type 13 Mk VI mounted on 12' high concrete plinths
1 Type 14 Mk VIII on a 25' gantry
1 Type 14 Mk IX on a plinth
1 Type 14 Mk 9 mounted on a 25' gantry
1 Type 54 Mk 3 mounted on a 200' tower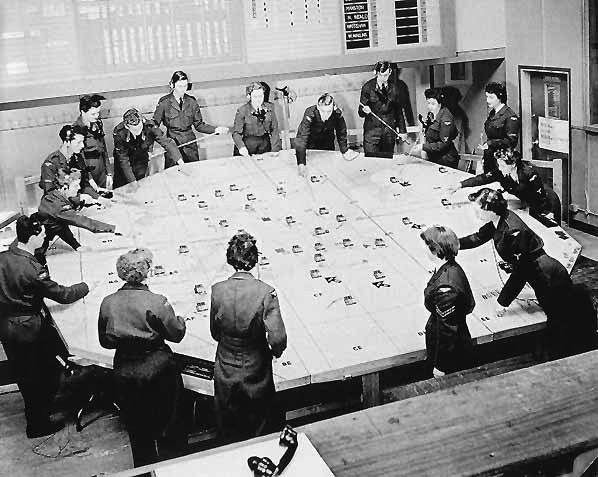 1976 DISPOSAL OF WARTLING
When sold by the MOD in 1976 the bunker was still in excellent internal condition. When inspected in 1970 the power was still connected; the lights worked and although stripped of most of its equipment all the teak flooring was still in place on both levels. The unit was also watertight.

When visited between 1985 and 1988 the bunker had deteriorated badly with serious flooding. Visits is subsequent years showed that the water level was rising consistently, even with a small pump, that could not cope. The bunker had been badly damaged by vandals. All of the toilet fittings had been smashed. The glass windows looking into the two level operations room had been broken and the table were floating in green water. A lot of wiring had been stripped out and all the copper had been removed from the mains transformer. All the teak flooring on the upper level had been removed.

The lower level was flooded to a depth of three feet in the corridor corresponding to a depth of five and a half feet in the AC plant room and operations room neither of which had raised false floors. It was impossible to determine the state of the floorboards in other parts of the lower level, so no attempt was made to enter any of those rooms. It was pretty creepy at times, like finding an abandoned space station. Subsequently we discovered that the floorboards had not been removed from the lower level. When the bunker was eventually pumped out most of the floorboards had collapsed into the void below but in a few rooms they are in place in reasonably good condition. Tread carefully. There is no lighting, making a powerful torch a very good friend. Without a lantern, it is absolutely pitch-black.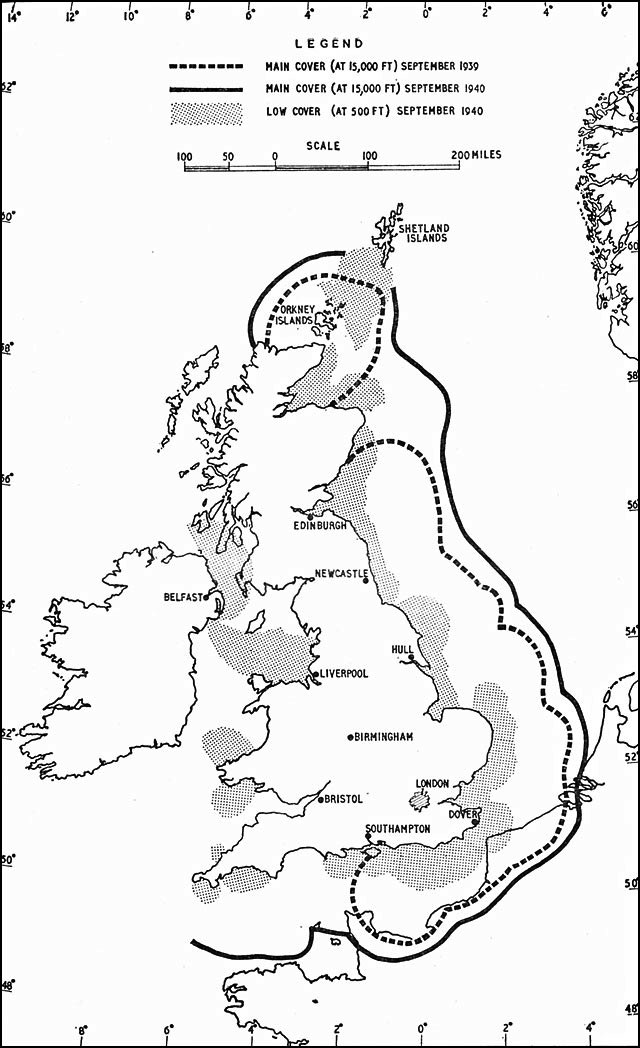 A map of the United Kingdom showing how the east coast was ring-fenced with GCI radar stations during World War Two. The only way for the German Luftwaffe to fly west past Southampton, in so doing reducing the range of their aircraft.
1996 SITE VISIT

The main bunker was visited by members of Subterranean Britannica in 1996, when it was noted that the water in the lower level had risen to seven and a half feet above the level of the lower corridor which was now almost completely submerged. Thank heavens for the exertions of this group of volunteers.

The bunker and surrounding land was sold for a second time in 1989 but vandalism continued unabated and eventually a new secure steel door was fitted to the emergency exit to prevent further illegal entry.

There were plans to pump the bunker out in 1996. The water was tested by the Environment Agency and was found to be sufficiently clean to pump directly onto the surrounding land. The water level was reduced by several feet but the pumps were insufficient to reduce the level to much below the 1987 level. It was a hopeless situation and pumping was abandoned leaving the bunker to continue to flood.
A Google map of the levels at Pevensey showing Radar Farm (A), Lion Farm (B) and the ex-MOD bunker on the hill in red (C). We have rotated the map clockwise by ninety degrees, so that south is east and north is west. Compare to the map below if you need to get your bearings. The point of this exercise is to show that the electrical conduits from Radar Farm (A) to the MOD bunker [Bunker Hill] (C) are more or less in straight line. It follows from this revelation that service roads, tracks and paths would have been along the line of excavations, with tracks at intervals running from Wartling road to the conduit line. RAF Pevensey is further south and west. On this map higher up and not visible.
A Google map of the levels at Pevensey and the Wartling road, with correct north-south orientation.
2004 SUBTERRANEA BRITANNICA

In the spring of 2004 the owner on the bunker was approached by Subterranea Britannica, when it was agreed that a further attempt should be made to pump the bunker dry. It was decided to wait until later in the year when the ground would be at its driest and a start date of 11th of August was set for the 'big pump'.

By the time the pumps were turned off on the morning of Sunday 22nd August some 2.75 million litres of water and been pumped onto the surrounding farm land. Incredibly, the water level had been reduced to no more than 6 inches at the lowest point in the operations room.

The 'big pump' had been a huge success and that afternoon the bunker was open to all members of Subtrerranea Britannica who had subscribed to the scheme.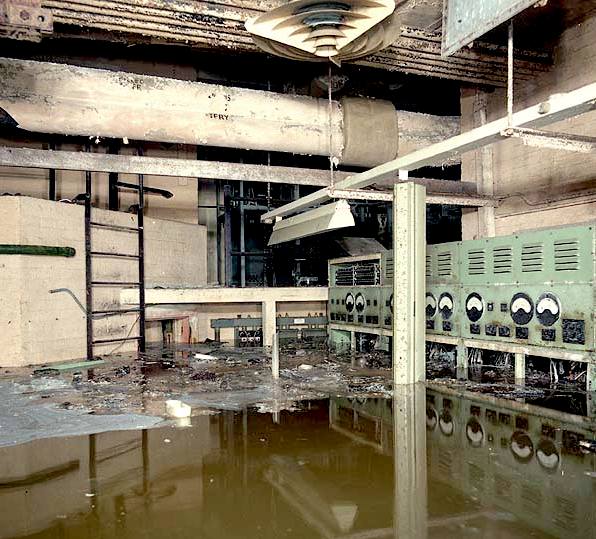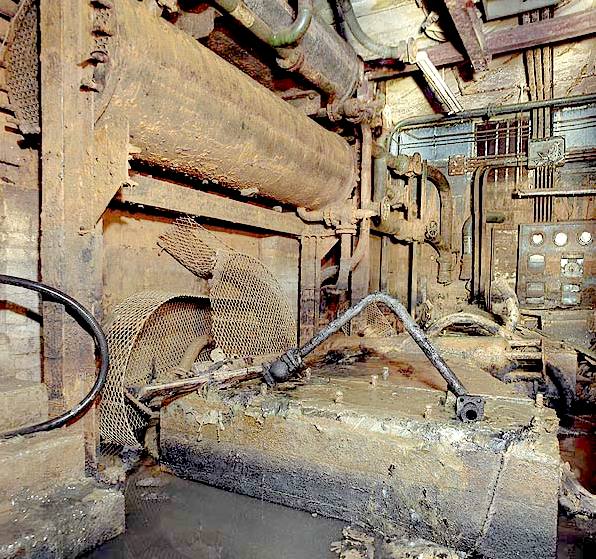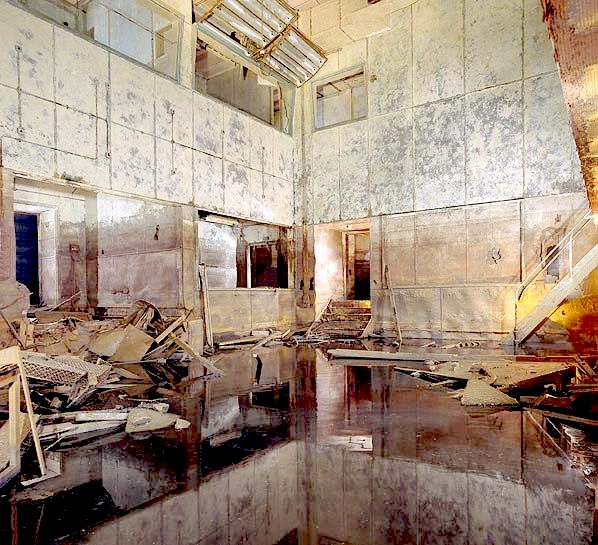 The above series of photographs taken by members of the Subterranae Britannica organization, have been slightly digitally enhanced to better show the utter devastation of what could have been a national scientific treasure. Full marks to the volunteers who gave their time to record as much as they could in a short timeframe. The author has visited similar installations at Beachy Head and Newhaven, not Newhaven Fort.

2004 REPORT

On the main technical site little now remains above ground, both the rotor guardhouse and the Type 80 modulator building have been converted into private dwellings and are not included in this report. All the radar plinths and the Type 14 twenty five foot steel gantry have been removed and have left no trace. The only standing structure is a small square concrete building with louvered vents around four sides with a heavy steel door in the north face. This is the emergency exit and intake ventilation shaft and is now the only way into the bunker. Following the 'big pump' the bunker will be allowed to flood once again and the steel door has been welded shut to prevent all future access to the R3.

Close to the emergency exit a small patch of brambles hides the concrete cap to the condenser water discharge shaft and 100 yards to the south a buried septic tank with two lockable hatches can be seen close to the field boundary. There were originally two rotary contactor beds alongside but these have now gone. In Wartling village the small sub station still stands at the end of a row of houses in Boreham Lane; it still had electrical switchgear inside in 1989 but this has gone and the building been converted into a lock up garage.

Once inside the main entrance door, there is a cast iron stairway dropping twenty feet down a vertical shaft to a small landing, from there concrete steps slope down to the upper spine corridor, a further thirteen feet below. Alongside the stairs steel cable hangers, now devoid of all cables, are fixed to both walls. At the bottom of the stairs these hangers continue downwards to a five foot high cableway that runs directly below the main upper spine corridor.

Close to the bottom of the stairs, the sewage ejectors are in a small room on the left hand side. There is some electrical switchgear remaining fixed to the wall, two small concrete plinths for compressors on the floor with the ejector pumps in a sump below. The sump is partially flooded but the pumps can still be seen below water level. There was originally a compressed air vessel in the room but this has gone.

One of two mains transformer sits in the middle of the corridor close to the bottom of the stairs, this has been dragged out of a small alcove with a concertina metal gate at a dog leg in the corridor. It is now little more than a steel frame with porcelain insulators at one end all the copper having been stripped out for scrap.
LEFT - Above is the RAF Memorial Plaque situated in Wartling Church. RAF Wartling opened on 30th October 1941 and closed on 30th April 1964. RIGHT - The Local History Group at Wartling hold regular events to celebrate and educate visiting members of the public.
GROUND CONTROLLED INTERCEPTION (GCI)

Ground-controlled interception (GCI) an air defense tactic whereby one or more radar stations or other observational stations are linked to a command communications centre which guides interceptor aircraft to an airborne target. This tactic was pioneered during World War II by the Royal Air Force with the Luftwaffe to follow closely. Today, GCI is still important for most nations, although Airborne Early Warning and Control, with or without support from GCI, generally offers much greater range due to the much more distant horizon.

Today the term GCI refers to the style of battle direction, but during World War II it also referred to the radars themselves. Specifically, the term was used to describe a new generation of radars that spun on their vertical axis in order to provide a complete 360 degree view of the sky around the station. Previous systems, notably Chain Home (CH), could only be directed along angles in "front" of the antennas, and were unable to direct traffic once it passed behind their shore-side locations. GCI radars began to replace CH starting in 1941/42, allowing a single station to control the entire battle from early detection to directing the fighters to intercept.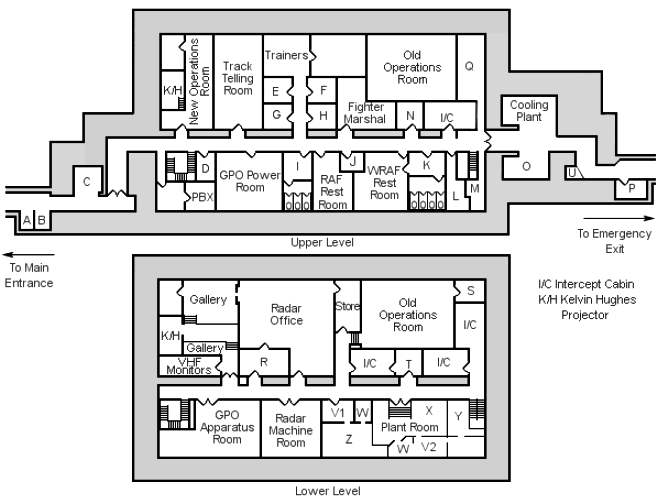 PLAN KEY:

A Cable Shaft
B Switchgear
C Transformer
D GPO Store
E Chief Controller
F Unknown Office
G Operations Office
H Technical Officer
I RAF Cloakroom & Toilet
J Kitchen
K WRAF Cloakroom & Toilet
L WRAF Officers Toilet
M RAF Officers Toilet
N Chief Controller
O Gas Filtration Plant Room
P Sewage Ejection
Q Officers Rest Room
R Radar Workshop S Store
T Projector Room
U Transformer
V1 Apparatus Fan
V2 Air Conditioning Fan
W Filters
X Compressors
Y Filters and humidifiers
Z Chillers
WORLD WAR TWO

In the original Dowding system of fighter control, information from the Chain Home coastal radar stations was relayed by phone to a number of operators on the ground floor of the "filter room" at Fighter Command's headquarters at RAF Bentley Priory. Here the information from the radar was combined with reports from the Royal Observer Corps and radio direction finding systems and merged to produce a single set of "tracks", identified by number. These tracks were then telephoned to the Group headquarters that would be responsible for dealing with that target. Group would assign fighter squadrons to the tracks, and phone the information to Section headquarters, who were in direct contact with the fighters.

Because the Chain Home radar stations faced out to sea, once airborne intruders had crossed the British coast they could no longer be tracked by radar; and accordingly the interception direction centres relied on visual and aural sightings of the Observer Corps for continually updated information on the location and heading of enemy aircraft formations. While this arrangement worked acceptably during the daylight raids of the Battle of Britain, subsequent bombing attacks of The Blitz demonstrated that such techniques were wholly inadequate for identifying and tracking aircraft at night.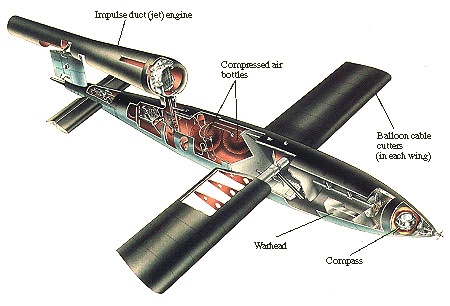 The first V-1 was launched at London on 13 June 1944), one week after (and prompted by) the successful Allied landing in Europe. At its peak, more than one hundred V-1s a day were fired at south-east England, 9,521 in total, decreasing in number as sites were overrun until October 1944, when the last V-1 site in range of Britain was overrun by Allied forces. After this, the V-1s were directed at the port of Antwerp and other targets in Belgium, with 2,448 V-1s being launched. The attacks stopped when the last launch site was overrun on 29 March 1945.

Experiments in addressing this problem started with manually directed radars being used as a sort of radio-searchlight, but this proved too difficult to use in practice. Another attempt was made by using a height finding radar turned on its side in order to scan an arc in front of the station. This proved very workable, and was soon extended to covering a full 360 degrees by making minor changes to the support and bearing systems. Making a display system, the "Plan Position Indicator" (PPI), that displayed a 360 degree pattern proved surprisingly easy, and test systems were available by late 1940.

Starting in 1941 the RAF began deploying production models of the GCI radar, first with expedient solutions, and then permanent stations. Unlike the earlier system where radar data was forwarded by telephone and plotted on a map, GCI radars combined all of these functions into a single station. The PPI was in the form of a 2D top-down display showing both the targets and the intercepting night fighters. Interceptions could be arranged directly from the display, without any need to forward the information over telephone links or similar. This not only greatly eased the task of arranging the interception, but greatly reduced the required manpower as well.

As the system became operational the success of the RAF night fighter force began to shoot up. This was further aided by the introduction of the Bristol Beaufighter and its AI Mk. IV radar which became available in numbers at the same time. These two systems proved to be a potent combination, and interception rates doubled every month from January 1941 until the Luftwaffe campaign ended in May.

The Germans were quite slow to follow in terms of PPI and did not order operational versions of their Jagdschloss radar until late in 1943, with deliveries being relatively slow after that. Many were still under construction when the war ended in 1945.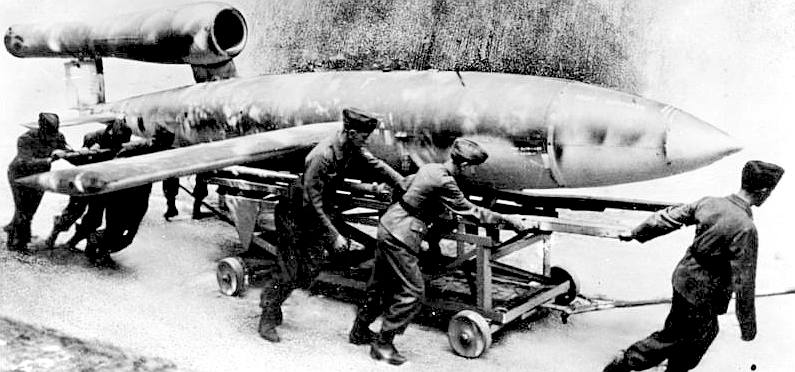 The ingenious V-1 flying bomb (German: Vergeltungswaffe 1)—also known to the Allies as the buzz bomb, or doodlebug, and in Germany as Kirschkern (cherrystone) or Maikäfer (maybug) — was an early pulse-jet-powered predecessor of the cruise missile. The V-1 was developed at Peenemünde Army Research Centre by the German Luftwaffe during the Second World War. During initial development it was known by the codename "Cherry Stone". The first of the so-called Vergeltungswaffen series designed for terror bombing of London, the V-1 was fired from launch sites along the French (Pas-de-Calais) and Dutch coasts.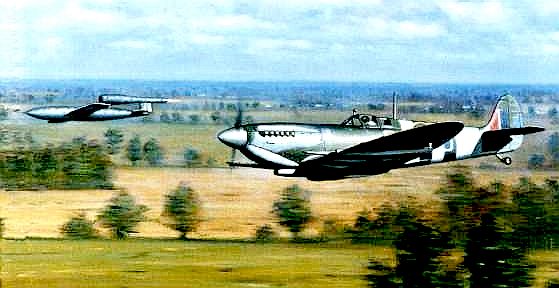 Equally adaptive, the British operated an arrangement of defences (including guns and fighter aircraft) to intercept the bombs before they reached their targets as part of Operation Crossbow, while the launch sites and underground V-1 storage depots were targets of strategic bombing. Spitfire pilots would tip the wings of the buzz bombs to make them crash on empty targets. During times of war, more radical ideas are employed than might be conceived in peacetime. In times of peace, the military simply make more of the same. Germany may have been led by a madman, but some of their scientists were geniuses.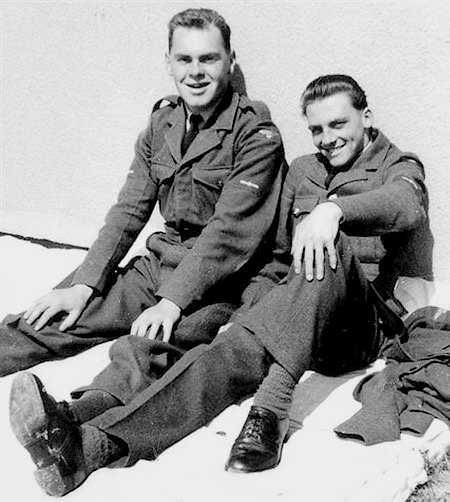 Michael Montegue - Melbourne, Australia - A former RAF Wartling veteran e-mailed a request to renew contacts with former colleagues: "My name is Michael Montague (Mike, Monty), and I have been living for many years in Melbourne, Australia. During the period 1952 - 54 I was based at RAF Wartling, on the site now occupied by the UAE Technical Training Project campus at Upper Barnhorn, working as a Fighter Plotter in the Radar Section. On behalf of myself and several contemporaries with whom I am in contact, I ask your readers: were you, a member of your family or a friend stationed at the camp or know anyone who was based there, especially during that period, and do you have any memories or photos from that time? I have many remembered names to exchange."
The photo above shows Michael Montegue (left) with friend Colin Warnett from Maidstone. "I played football for Little Common F.C. for the 1953 season, and was briefly associated with the Bexhill Swimming Club (Egerton Park) and Hastings and St Leonards Swimming Club. I would be particularly glad and grateful if anyone in Bexhill can help me with this request. I can be contacted by email at: emem@alphalink.com.au and/or my postal address: Villa 36 Burnside Village, Nicol Avenue, Burnside, Victoria, 3023, Australia. I also have a local (Eastbourne) contact: Mr Ron Ward on 769245 who will pass on any information."
LAND OWNERSHIP & WEALDEN DISTRICT COUNCIL
Wealden has an awful reputation when it comes to discrimination. The pattern emerging seems to be that they target foreigners who own land. The tactics involve using as many agencies (MAPPA) working together as they can muster, to apply pressure to the unlucky recipient. This is of course an abuse of authority, but routine malpractice in many regions, in denial of Article 14. In the words of Winston Churchill: "We will fight them on the beaches." This to eradicate discrimination. Why did we bother fighting two world wars and sign up to the European Convention of Human Rights and Fundamental Freedoms, and still allow one farmer more freedoms than another, simply because of nationality and status? MAPPA, operates a bit like the Nazi Gestapo and includes these and other agencies:
Local Council
Inland Revenue
Natural England
Probation Service
The objective of these agencies, just like the Gestapo, is to use any pretext to incarcerate their victims, or otherwise cause financial or other harm. There is a list which, once a victim has been targeted, all of the agencies attack, one after another - save for those that might protect the interests of the target. A secondary aim is to weaken the resolve of the individual, especially if he or she is outspoken or dares to question the legality of local authority. This is ironic, given that RAF Wartling was a means to prevent a dictator taking over what should be a democratic UK, but that the dictators are now the civil service - enemy (of the public) within - suggestive that we might have been better off under Nazi rule.
Natural England's agenda is to ignore any archaeology that may be present on or under the land, in order to increase habitats for species, even where conservation of archaeology is a material consideration to protect irreplaceable remains. The local authority - in this case Wealden District Council, frequently neglect their duty to contact the County Archaeologist and/or English Heritage, when it is inconvenient to their agenda to harass targeted farmers. That particular duty just kind of slips their minds. It may also be that as officers of the court, that Natural England's solicitors and barrister also become absent minded when it comes to ensuring that proper procedure is followed by their client, in the rush to put in a massive bill, just in time for Christmas. Seen above are: Andy Hopkin (centre), Browne Jacobson LLP, solicitors Jonathan Mitchell (right), Ropewalk Chambers.
OUT OF DATE SSSIs = NEGLIGENCE
The Pevensey site has not been surveyed for historic remains, nor updated as to SSSI validity since about 2011.
It is unclear if the 1977 notification was reassessed in 1990 - with the benefit of proper collated figures as to actual levels of populations, or, whether the notification was simply rubber stamped for convenience. It appears to us that they were simply rubber stamped unchecked as to accuracy, hence, any litigation, etc, might be described as a fraud upon a power.
Either way, where prosecutions are being based on out of date statistics and use, those prosecutions are poorly founded and may well be an abuse of process.

Pevensey Levels - Should this be an area of special scientific interest, or should archaeology be given more importance? For sure some parts of the land are special for their World War II archaeology. Much of the land in this region has been artificially manipulated as a result of emplacements and radar, early warning stations. How then can the whole site be classed as natural - rather it is man-made - so not natural - indeed unnatural. Why then is Natural England involved? Natural England of course refuse to seek advice from the experts such as English Heritage, even though there is a duty to protect industrial archaeology. The officers dealing with this case are Sue Beale and Cath Jackson. James Cross in the new chief executive and Allan Drewitt is the in-house ornithologist.
INDUSTRIAL ARCHAEOLOGY
Industrial archaeology (IA) is the systematic study of material evidence associated with the industrial past. This evidence, collectively referred to as industrial heritage, includes buildings, machinery, artifacts, sites, infrastructure, documents and other items associated with the production, manufacture, extraction, transport or construction of a product or range of products. The field of industrial archaeology incorporates a range of disciplines including archaeology, architecture, construction, engineering, historic preservation, museology, technology, urban planning and other specialties, in order to piece together the history of past industrial activities. The scientific interpretation of material evidence is often necessary, as the written record of many industrial techniques is often incomplete or nonexistent. Industrial archaeology includes both the examination of standing structures and sites that must be studied by an excavation.

The field of industrial archaeology developed during the 1950s in Great Britain, at a time when many historic industrial sites and artifacts were being lost throughout that country, including the notable case of Euston Arch in London. In the 1960s and 1970s, with the rise of national cultural heritage movements, industrial archaeology grew as a distinct form of archaeology, with a strong emphasis on preservation, first in Great Britain, and later in the United States and other parts of the world. During this period, the first organized national industrial heritage inventories were begun, including the Industrial Monuments Survey in England and the Historic American Engineering Record in the United States. Additionally, a number of regional and national IA organizations were established, including the North American-based Society for Industrial Archeology in 1971, and the British-based Association for Industrial Archaeology in 1973. That same year, the First International Conference on the Conservation of Industrial Monuments was held at Ironbridge in Shropshire. This conference led, in 1978, to the formal establishment of The International Committee for the Conservation of the Industrial Heritage (commonly known as "TICCIH") as a worldwide organization for the promotion of industrial heritage. The members of these and other IA groups are generally a diverse mix of professionals and amateurs who share a common interest in promoting the study, appreciation and preservation of industrial heritage resources.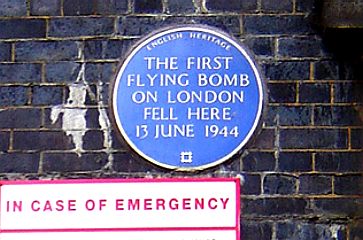 A commemorative plaque installed by English Heritage at the Mile End Road, London, which was the site of the first V1 bombing.
GCI RADAR STATION SITES IN THE UK - A to Z
Aird Uig

WIU

NB 047390

R10 CEW Type 80

Anstruther

NO 568808

R3 Type 80

Barnton Quarry

MHA

NT 203748

R4 SOC Caledonian

Bawburgh

WRK

TG 165080

R4 SOC Eastern, SRHQ4.1, RGHQ4.1

Bawdsey

PKD

TM 347388

R3 GCI(E)

HEB

TV 590959

R1 CEW Type 80

Bempton

RMF

TA 192736

R1 CEW

Boulmer

EZS

NU 240125

R3 GCI Type 80

Box

ST 850690

SOC Southern

Buchan

GBU

NK 113408

R3 GCI Type 80

Calvo

NY 144545

R8 GCI

Charmy Down

ST 768702

R8 GCI

Chenies

HAM

TQ 015997

R8 GCI

Cold Hesledon

IDW

NZ 417468

R1 CEW / CHEL

Comberton

SO 968461

R8 GCI

Crosslaw

HCV

NT 880680

R2 CHEL

Danby Beacon

NZ 732097

CH

Douglas Wood

NO 488415

CH

Drone Hill

NT 845665

CH

Drytree

SW 732218

CH

Dunkirk

TDE

TR 076595

CH Type 80

Fairlight

GWB

TQ 862113

R2 CHEL(A)

Faraid Head

RAI

NC 389714

R10 CEW Type 80

Folly

SM 858195

CH

Foreness

TR 385710

CHEL

Gailes

FUL

NS 327361

R8 GCI type 80

Goldsborough

JEX

NZ 830138

R2 CHEL(A)

Hack Green

HAK

SJ 647483

R6 RGHQ

Hartland Point

HAT

SS 237277

R8 GCI

Hayscastle Cross

CHX

SM 920256

CH Type 80

High Street

TM 411720

CH

Hill Head

NJ 947616

CH

Holmpton

VQJ

TA 367225

R3 GCI(B) Type 80

Hope Cove

HOP

SX 716374

R6

Hopton

TOH

TM 540990

R2 CHEL(B)

Inverbervie

LGZ

NO 841734

R1 CEW

Kelvedon Hatch

XSL

TQ 561995

R4 SOC Metropolitan

Kilchiaran

ECK

NR 207616

R11 CHEL

Langtoft

LAT

TF 155129

R6 GCI Type 80

Longley Lane

LOA

SD 541365

SOC Western

Neatishead

TG 346184

R3 GCI SOC

Netherbutton

BNT

HY 464045

CH

TQ 644073

CH

Poling

TQ 043052

CH

Portland

NIB

SY 696735

R1 CEW

Prestatyn

SYP

SJ 079819

R11 CHEL

Ringstead

SY 751817

CH

Rye

TQ 968232

CH

Sandwich

YTM

TR 303574

R3 GCI Type 80

Saxa Vord

AXA

HP 629165

R10 CEW Type 80

Scarinish

FLY

NM 032456

R8 GCI Type 80

School Hill

HSL

NO 908982

CH

Seaton Snook

DYR

NZ 519280

R3 GCI Type 80

Sennen

SW 376246

CH

Shipton

KFY

SE 542618

R4 SOC Northern

Skendleby

TF 438709

R3 GCI

Snaefell

MOI

SC 397869

R11 CHEL

Sopley

AVO

SZ 163977

R3 GCI type 80

St Annes

SD 348303

R8 GCI

St Margarets

AGC

TR 370451

R1

St Twynnells

TWY

SR 944976

R6 GCI Type 80

Staxton Wold

TA 023778

Stenigot

TF 256827

CH

Stoke Holy Cross

TG 257028

CH

Swingate

TR 335429

CH

Trelanvean

SW 762193

CH

Treleaver

SW 766174

R6 GCI(B) Type 80

Trerew

RTW

SW 812585

CH

Trewan Sands

TES

SH 322754

R8 GCI

Trimingham

QLE

TG 290385

R1 CEW Type 80 CHEL

Truleigh Hill

TQ 224109

R2 CHEL

Ventnor

OJC

SZ 565784

CH, R1 CEW, type 80

Wartling

ZUN

TQ 662088

R3 GCI type 80

West Beckham

TG 142389

CH

West Myne

ZEM

SS 928486

R11 CHEL

West Prawle

SX 771374

CH

Wick

IKA

ND 326537

R8 GCI
Radar Farm is screened by fencing and trees, but the archaeology is for the most part well preserved, thanks to the company operating it being in tune with conservation ideals.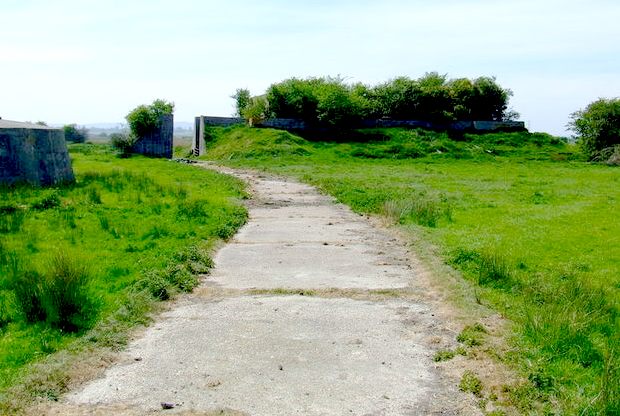 Typical of the tracks on the marshes that were made to be able to build the structures and also to be able to service the installations.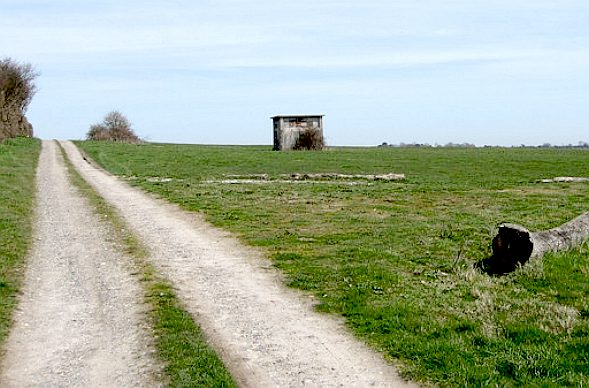 This is the track leading up to the GCI entrance on Bunker Hill. Once again demonstrating that this area was criss-crossed with access paths and the like - many of which have become overgrown and forgotten.
YOUTUBE
LINKS & REFERENCE
Subterranea Brittanica Wartling RAF GCI radar_station
Wikipedia ground-controlled_interception
http://en.wikipedia.org/wiki/ROTOR
http://www.pamdoodes.com/wartling-news-and-views.php
https://www.google.co.uk/maps
http://en.wikipedia.org/wiki/V-1_flying_bomb
http://en.wikipedia.org/wiki/Industrial_archaeology
http://industrial-archaeology.org/
http://www.rafmuseum.org.uk/
http://www.rafmuseum.org.uk/about-us/partners/raf-historical-society.aspx
http://www.english-heritage.org.uk/
https://www.gov.uk/government/organisations/natural-england
http://www.newhavenfort.org.uk/
http://en.wikipedia.org/wiki/Luftwaffe
http://en.wikipedia.org/wiki/Multi-Agency_Public_Protection_Arrangements
http://www.eastsussex.gov.uk/
http://www.pamdoodes.com/wartling-news-and-views.php
http://en.wikipedia.org/wiki/Wartling
http://en.wikipedia.org/wiki/Ground-controlled_interception
http://www.subbrit.org.uk/rsg/sites/w/wartling/
http://en.wikipedia.org/wiki/ROTOR
http://en.wikipedia.org/wiki/RAF_Wartling
http://www.naturalengland.org.uk/
Spitfire Site Sgt Jean (Sally) Semple early-radar-memories
http://spitfiresite.com/2010/04/early-radar-memories.html/2
Subbrit wartling_gci_radar_station
http://www.subbrit.org.uk/sb-sites/sites/w/wartling%28raf%29_gci_radar_station/index.shtml