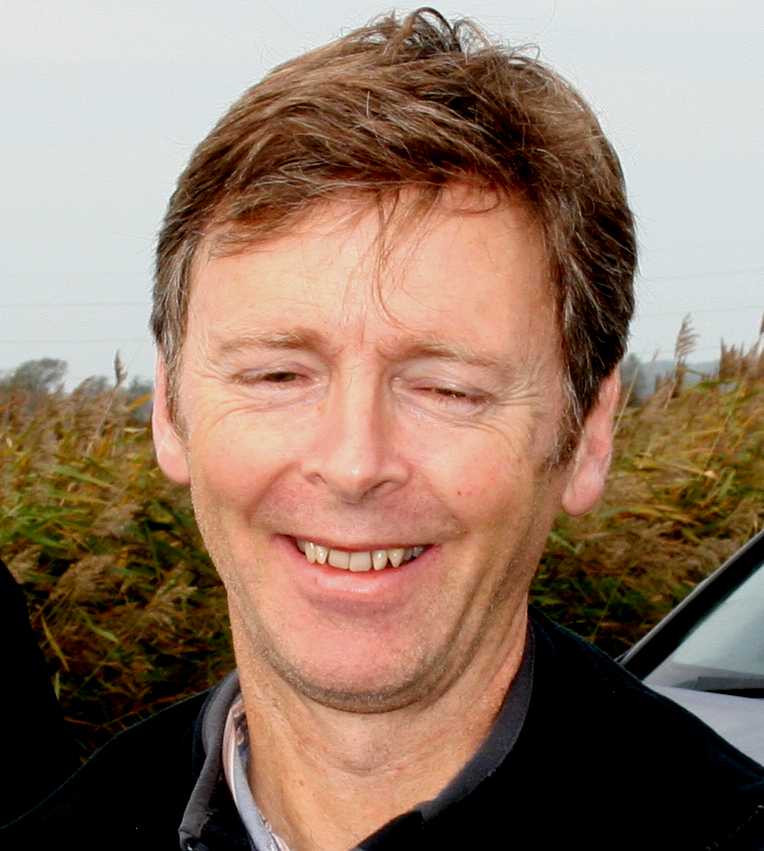 Allan Drewitt, Natural England officer, on site October 22 2014. Allan is an ornithologist working for Natural England. He has been asked to compile a report on the state of the land at Lion Farm on the Pevensey Marshes. Lion Farm is situated between Radar Farm and Bunker Hill at RAF Wartling. RAF Pevensey is further west along the Wartling Road heading towards Pevensey. The subject of the report is Lapwings, where the land concerned did not have lapwings on site from 2011 before purchase by the then owner, and it appears, may not have resident lapwings on site today. Our concern, and no disrespect to Mr Drewitt, is the potential for conflict of interest, where an independent report may have been more appropriate. This of course is Natural England's call and no blame for that decision rests with Mr Drewitt, who is recognized as a general expert on the subject, rather than a specialist dealing exclusively with lapwings. This was Allan's first visit to the site.
NATURAL ENGLAND'S - ORNITHOLOGISTS and OBVIOUS BIAS
Allan Drewitt , a senior ...
www.britishbirds.co.uk, 20 Mar 2012 [cached]
Allan Drewitt, a senior ornithologist with Natural England, said: "There is currently no accurate estimate of the Ring Ouzel's population - this survey will tell us how many are left and where they are, and that gets us one step closer to understanding why they're disappearing and how we can help bring them back.'
Allan Drewitt , Senior ...
www.gardenbirdwatch.org.uk, 1 Jan 2012 [cached]
Allan Drewitt, Senior Ornithologist at Natural England said: "The evidence from the Wetland Bird Survey is invaluable.
Did you forget to mention about the Magpies Allan?
NATURAL ENGLAND and FRAUD
The NE Board has corporate responsibility for ensuring that Natural England fulfils the aims and objectives set by the Secretary of State. The main roles of the Board are to establish Natural England's strategy, approve direction and review performance of the organisation. As a local and national authority, they are bound by Section 6 of the Human Rights Act 1998, being that they must not violate any of the Articles of the European Convention. In particular they must act without discrimination and fairly, such as to comply with Articles 14 and 6.
There have though been cases where bias has been a feature of case handling. We are following a live case at the moment, being handled by Cath Jackson and Sue Beale, where permissions had been agreed and a landowner at great financial cost made adjustments, but then having agreed those adjustments would be acceptable, Natural England then sought to prosecute the landowner, even where he had permission from the local council for certain works, and there was no danger to any wildlife being caused by other works, which were to protect grazing animals, that otherwise might escape and either drown, or become a danger to nearby road users.
The burning question is, do any members of staff or the Board have any financial interests in the Wartling area? We will be writing to Natural England seeking assurances and clarification if necessary.
ORNITHOLOGY
Ornithology is a branch of zoology that concerns the study of birds. Etymologically, the word "ornithology" derives from the ancient Greek ὄρνις ornis ("bird") and λόγος logos ("rationale" or "explanation"). Several aspects of ornithology differ from related disciplines, due partly to the high visibility and the aesthetic appeal of birds. Most marked among these is the extent of studies undertaken by amateurs working within the parameters of strict scientific methodology.

The science of ornithology has a long history and studies on birds have helped develop several key concepts in evolution, behaviour and ecology such as the definition of species, the process of speciation, instinct, learning, ecological niches, guilds, island biogeography, phylogeography and conservation. While early ornithology was principally concerned with descriptions and distributions of species, ornithologists today seek answers to very specific questions, often using birds as models to test hypotheses or predictions based on theories. Most modern biological theories apply across taxonomic groups and the number of professional scientists who identify themselves as "ornithologists" has therefore declined. A wide range of tools and techniques are used in ornithology, both inside the laboratory and out in the field, and innovations are constantly made.
FRAUD EXAMPLE CASE: ERIC DONALD HUNTER October 2011
FORMER solicitor has been struck off and ordered to pay £35,000 in costs for dishonestly overcharging clients.

The sanctions were made in June against Eric Donald Hunter, formerly of Blythe Liggins in Leamington, following hearings held by the Solicitors Disciplinary Tribunal. Mr Hunter, who lives in Warwick, has now lodged an appeal against the sanctions.

The tribunal found allegations made against Mr Hunter proven that during his time as a partner at Blythe Liggins he had transferred funds from the client account to the office account on probate matters, prepared bills of costs on probate matters that were excessive, failed to properly send bills of costs to entitled parties and prepared round sum bills in probate matters, all of which were contrary to the Solicitors Accounts Rules.

In one probate case given for overcharging, the bills of costs over a five-and-a-half-year period amounted to £14,695, which were judged "manifestly disproportionate to the work on the file" and the overcharge "significant" when a reasonable cost for handling the matter assessed by a law costs draftsman would have been about £4,059.

In another case, bills prepared by Mr Hunter totalling £17,725 were assessed by the law costs draftsman to be £6,896 - an over-charge of more than £10,000.

In all five probate cases cited at the hearing, the tribunal was satisfied there had been culpable over-charging and that Mr Hunter had been dishonest in rendering bills of costs on probate matters which were excessive. Mr Hunter had denied those allegations.

The tribunal cited the case of Salsbury v the Law Society in which Lord Justice Coulson said that any solicitor who overcharged in bills of costs was a danger to the public.

Richard Thornton, joint senior partner at Blythe Liggins, said a routine inspection by the Solicitors Regulation Authority (SRA) had taken place in 2006.

Mr Thornton added: "In the course of that inspection, the SRA reviewed a number of Mr Hunter's trust/administration files dating back several years.

"They felt that eight matters relating to fees over that period required further investigation, even though no complaints of any kind were - or have been since - made by the clients or the beneficiaries involved.

"Mr Hunter left the firm at the beginning of 2009.

"Compliance with the rules of our professional body is something we take very seriously.

"That's why, since taking over as joint senior partners four years ago, David Lester and I have introduced new governance, better supervision, new codes of practice, greater transparency and more training courses to ensure that this could not happen again."

At the time of going to print Mr Hunter was unavailable for comment.
http://www.leamingtoncourier.co.uk/news/business/ex-solicitor-to-appeal-strike-off-sanction-1-3154480
The Pevensey Levels have not been surveyed since at least 2009 and it is unclear as to what that survey revealed. We tried to obtain copy of the data for this area and were told:-
EMAIL REPLY TO REQUEST FOR DATA 19-9-2013
This is an automatically generated message from the NBN Gateway - DO NOT REPLY
The administrator of the dataset "SxBRC Full dataset for Environment Agency and Natural England use only.", held on the NBN Gateway, has not granted you access. You made a request access to this dataset on 19 Sep 2013.
Thank you for your data request via the NBN Gateway. We're unable to allow access to all species data for the whole of Sussex to you but will be more than happy to provide you with desktop biodiversity reports for the sites that you need data for.

We ask that all data requests are submitted via our information request form for the site(s) in question, the form can be found on our website: http://sxbrc.org.uk/data-requests/ and you will need to pick 'Commercial user'.

You can see what is included in a desktop biodiversity report if you download the demo report from this webpage: http://sxbrc.org.uk/data-requests/data-request-options/

Although the data itself is free we do charge a fee to cover our administration of the data.

All best wishes, Penny NBNGateway@nbn.org.uk
Andy Hopkin, Browne Jacobson LLP, solicitors
LINKS
http://en.wikipedia.org/wiki/Ornithology
http://www.linkedin.com/profile/view?id=42272322&auth
http://www.linkedin.com/profile/view?id=62906924&auth
http://www.linkedin.com/profile/view?id=185913337&auth
http://www.linkedin.com/pub/allan-drewitt/28/a56/8b6
http://www.naturalengland.org.uk/ourwork/regulation/enforcement/default.aspx#priorities
http://www.naturalengland.org.uk/freedom_of_information/class6.aspx
http://www.naturalengland.org.uk/about_us/ourpeople/neboard/default.aspx