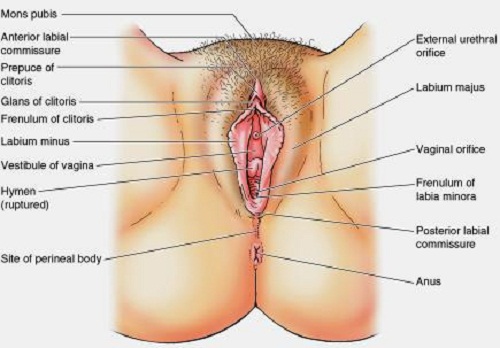 In the case we are following where a man was convicted of rape of a young girl, apart from the fact that the girl was "tightly closed", there was also no signs of tearing of the fourchette, or other trauma associated with digital penetration (without foreplay = dry). The girl claimed regular assaults of this type that would have produced scars and the like in 83% of cases, but there were no scars, a finding which is clearly inconsistent with her claims. It appears then as if she was either lying or subject to false memories by way of fantasy or suggestion.
A partial notch was found in the hymen, but it is now known that such findings are normal. Tears and the like in the hymen are full width if caused by trauma, leaving scar tissue, rather than partial (a smooth small indentation) as in naturally occurring features. This was not explained to the jury, who were left believing that there was no explanation for the 'notch' other than penetrative sex, when in fact it was a naturally occurring feature in all females of all ages. Yet, an innocent man was sent to prison by the system. In this case the so-called expert used her position of trust to mislead the Jury, by way of helping the police to gain a conviction of a dissident resident who was making waves as to this force failing to investigate crime in Wealden District Council. One way of neutralising political opponents is to discredit them with a sexual allegation. After that, nobody is likely to believe anything they say.
Cunt is a vulgar word for the vulva or vagina and is also used as a term of disparagement. Reflecting different national usages, cunt is described as "an unpleasant or stupid person" in the Compact Oxford English Dictionary, whereas Merriam-Webster states that it is a "usually disparaging and obscene" term for a woman or an "offensive way to refer to a woman" in the United States. The Macquarie Dictionary of Australian English gives "a contemptible person". In Britain, New Zealand, and Australia, it can also be used as a neutral or, when used with a positive qualifier (e.g., good, funny, clever), a positive way of referring to a person.

The earliest known use of the word, according to the Oxford English Dictionary, was as part of a placename of a London street, Gropecunt Lane, c. 1230. Use of the word as a term of abuse is relatively recent, dating from the late nineteenth century. The word appears not to have been taboo in the Middle Ages, but became taboo towards the end of the eighteenth century, and was then not generally admissible in print until the latter part of the twentieth century. The term has various derivative senses, including adjective and verb uses. Feminist writer and English professor Germaine Greer argues that cunt "is one of the few remaining words in the English language with a genuine power to shock."

Some American feminists of the 1970s sought to eliminate disparaging terms for women, including "bitch" and "cunt". In the context of pornography, Catharine MacKinnon argued that use of the word acts to reinforce a dehumanisation of women by reducing them to mere body parts; and in 1979 Andrea Dworkin described the word as reducing women to "the one essential – 'cunt: our essence ... our offence'".

Despite criticisms, there is a movement among feminists that seeks to reclaim cunt not only as acceptable, but as an honorific, in much the same way that queer has been reappropriated by LGBT people and nigger has been by some African-Americans. Proponents include Inga Muscio in her book, Cunt: A Declaration of Independence; artist Tee Corinne in The Cunt Coloring Book (1975); and Eve Ensler in "Reclaiming Cunt" from The Vagina Monologues.

Germaine Greer, the feminist writer and professor of English who once published a magazine article entitled "Lady, Love Your Cunt" (anthologised in 1986), discussed the origins, usage and power of the word in the BBC series Balderdash and Piffle, explaining how her views had developed over time. In the 1970s she had "championed" use of the word for the female genitalia, thinking it "shouldn't be abusive"; she rejected the "proper" word vagina, a Latin name meaning "sword-sheath" originally applied by male anatomists to all muscle coverings (see synovial sheath) – not just because it refers only to the internal canal but also because of the implication that the female body is "simply a receptacle for a weapon". But in 2006, referring to its use as a term of abuse, she said that, though used in some quarters as a term of affection, it had become "the most offensive insult one man could throw at another" and suggested that the word was "sacred", and "a word of immense power, to be used sparingly"

MODERN USAGE

Merriam-Webster states it is a "usually disparaging and obscene" term for a woman, and that it is an "offensive way to refer to a woman" in the United States. As a broader derogatory term, it is comparable to prick and means "a fool, a dolt, an unpleasant person – of either sex". This sense is common in New Zealand, British and Australian English, where it is usually applied to men or as referring specifically to "a despicable, contemptible or foolish" man.
During the 1971 Oz trial for obscenity, prosecuting counsel asked writer George Melly "Would you call your 10-year-old daughter a cunt?" Melly replied "No, because I don't think she is." In the 1975 film One Flew Over the Cuckoo's Nest, the central character McMurphy, when pressed to explain exactly why he does not like the tyrannical Nurse Ratched, says, "Well, I don't want to break up the meeting or nothing, but she's something of a cunt, ain't she, Doc?"

In American slang, the term can be used to refer to "a fellow male homosexual one dislikes".

Australian scholar Emma Alice Jane describes how the term as used on social media is an example of what she calls "gendered vitriol," and an example of misogynistic e-bile.

OTHER MEANINGS

It can also be used to refer to something very difficult or unpleasant (as in "a cunt of a job"), or (in British, Irish, New Zealand, and Australian English) with no negative connotations to refer to a (usually male) person. In this sense, it may be modified by a positive qualifier (funny, clever, etc.). For example, "This is my mate Brian. He's a good cunt."

In the Survey of English Dialects the word was recorded in some areas as meaning "the vulva of a cow". This was pronounced as [kʌnt] in Devon, and [kʊnt] in the Isle of Man, Gloucestershire and Northumberland. Possibly related was the word cunny [kʌni], with the same meaning, at Wiltshire.

The word "cunty" is also known, although used rarely: a line from Hanif Kureishi's My Beautiful Laundrette is the definition of England by a Pakistani immigrant as "eating hot buttered toast with cunty fingers", suggestive of hypocrisy and a hidden sordidness or immorality behind the country's quaint façade. This term is attributed to British novelist Henry Green.

In the United States, "cunty" is sometimes used in cross-dressing drag ball culture for a drag queen that "projects feminine beauty" and was the title of a hit song by Aviance. A visitor to a New York drag show tells of the emcee praising a queen with "cunty, cunty, cunty" as she walks past.
CUNTISH REGIME 1939 TO 1945
Adolf Hitler

German Chancellor

Herman Goring

Reichsmarschall

Heinrich Himmler

Reichsführer

Joseph Goebbels

Reich Minister

Philipp Bouhler SS

NSDAP Aktion T4

Dr Josef Mengele

Physician Auschwitz

Martin Borman

Schutzstaffel

Adolph Eichmann

Holocaust Architect

Rudolf Hess

Commandant

Erwin Rommel

The Desert Fox

Karl Donitz

Kriegsmarine

Albert Speer

Nazi Architect
CIVIL SERVANTS INVESTIGATED FOR POSSIBLE ISSUES 1983 TO 2018
Ian Kay

Assist. Dist. Plan.

Charles Lant

Chief Executive

Victorio Scarpa

Solicitor

Timothy Dowsett

Dist. Secretary

Christine Nuttall

Solicitor

David Phillips

Planning

Daniel Goodwin

Chief Executive

J Douglas Moss

Policy

Kelvin Williams

Dist. Planning

Trevor Scott

Solicitor

David Whibley

Enforcement

Christine Arnold

Planning

Chris Bending

District Planning

Beverley Boakes

Legal Secretary

Patrick Coffey

Planning

Julian Black

Planning

Ashley Brown

Dist. Planning

Derek Holness

Former CEO
Abbott Trevor - Alcock Charmain - Ditto - Arnold Chris (Christine) - Barakchizadeh Lesley - Paul Barker - Bending Christopher
Black Julian - Boakes Beverley - Bradshaw Clifford - Brigginshaw Marina - Brown Ashley - Coffey Patrick - Douglas Sheelagh
Dowsett Timothy - Flemming Mike - Forder Ralph - Garrett Martyn - Goodwin Daniel - Henham J - Holness Derek
Hoy Thomas - Johnson Geoff - Kavanagh Geoff - Kay Ian - Kay I. M. - Barbara Kingsford - Lant Charles - Mercer Richard
Mileman Niall - Moon Craig - Moss Douglas, J. - Nuttall Christine - Pettigrew Rex - Phillips David - Scarpa Victorio - Scott Trevor
Kevin Stewart - Wakeford Michael. - Whibley David - White, George - Williams Kelvin - Wilson Kenneth - White Steve