This site is protected under Article10 of the European Convention on Human Rights and Fundamental Freedoms. https://www.theguardian.com/uk/2000/may/28/tonythompson.theobserver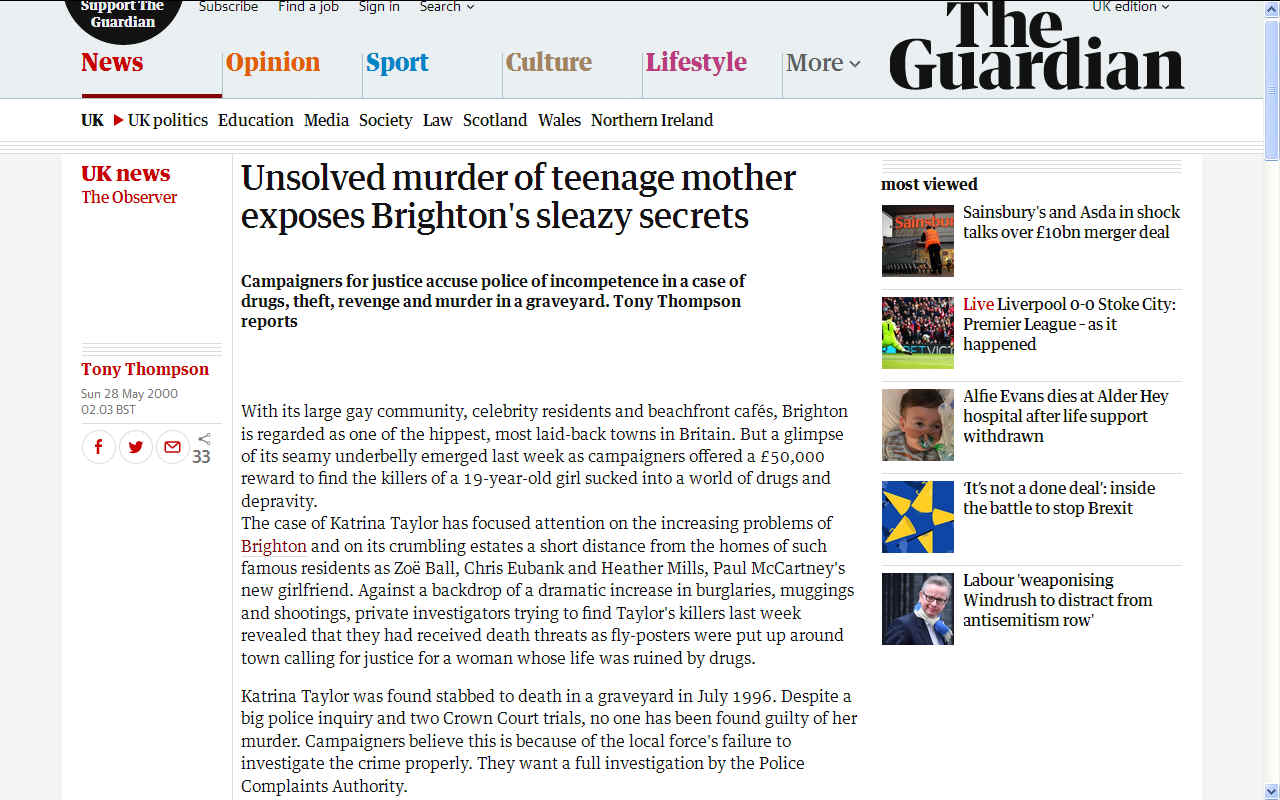 THE GUARDIAN 28 MAY 2000 - UNRESOLVED TEENAGE MURDER EXPOSES SLEAZY BRIGHTON

With its large gay community, celebrity residents and beachfront cafés, Brighton is regarded as one of the hippest, most laid-back towns in Britain. But a glimpse of its seamy underbelly emerged last week as campaigners offered a £50,000 reward to find the killers of a 19-year-old girl sucked into a world of drugs and depravity.

The case of Katrina Taylor has focused attention on the increasing problems of Brighton and on its crumbling estates a short distance from the homes of such famous residents as Zoë Ball, Chris Eubank and Heather Mills, Paul McCartney's new girlfriend. Against a backdrop of a dramatic increase in burglaries, muggings and shootings, private investigators trying to find Taylor's killers last week revealed that they had received death threats as fly-posters were put up around town calling for justice for a woman whose life was ruined by drugs.

Katrina Taylor was found stabbed to death in a graveyard in July 1996. Despite a big police inquiry and two Crown Court trials, no one has been found guilty of her murder. Campaigners believe this is because of the local force's failure to investigate the crime properly. They want a full investigation by the Police Complaints Authority.

Last week they began distributing a list of Sussex officers who are accused of varying degrees of incompetence, from allegedly failing to investigate the background of key witnesses to failing to respond to information about the whereabouts of the accused. The campaigners have uncovered evidence that they say links the murder to a fraud gang operating out of nearby Peacehaven and claim this has not been properly investigated.

The murder attracted great publicity when it was discovered that the victim had taken part in a police murder reconstruction in 1986, posing as nine-year-old Nicola Fellows who had been found strangled in a Brighton park along with a friend. Ten years later, Katrina was struggling to bring up her baby daughter and fund her £200-per-week heroin habit.

Late in the evening of 8 May 1996 she agreed to act as lookout while her boyfriend Mattie Laurie and friend John Cosham burgled a house belonging to Neisha Williams, the former girlfriend of a drug dealer. As well as stealing personal belongings, the thieves set fire to furniture and flooded two rooms. After using her contacts to find out who had been responsible, Williams formed a posse which rampaged through Brighton hellbent on revenge.

Among the members of the gang were her ex-boyfriend Trevor Smith, a white Londoner obsessed with black culture who had a string of previous convictions. He called his flatmate, Fergal Scollan, who had previous convictions for assault and actual bodily harm. With Smith he had begun a large-scale operation growing super-strong 'skunk' cannabis. Williams's brother, Simon, was also in the posse.

Laurie could not be found - he had already been arrested for the robbery - so the posse tracked down Cosham. He was beaten and stabbed in both legs with a screwdriver. A friend who was found with him was stabbed in the face, beaten with a hammer and repeatedly kicked in the head. The posse then moved on to track down Katrina Taylor. They forced their way into her family home and attacked her sister, but Katrina was nowhere to be found.

The following day Katrina was arrested for her part in the burglary. Detectives asked magistrates to remand her in custody, but she was granted bail to look after her eight-month-old daughter. Nearly two months later Simon Williams spotted her outside a hotel. He persuaded her to go with him to 77 Centurion Road, the council house to which Neisha Williams had moved. Williams called Smith and Scollan who rushed back to Brighton from London. The evening began with a shouting match; at one point a knife was held to Katrina's throat and she agreed to pay for the damage caused by the burglary at the rate of £10 per week from her unemployment benefits. At 11.15pm screaming was heard in a graveyard a short walk from Centurion Road. Katrina's body was found the next morning by a man walking his dog. According to the pathologist's report, she had been held from behind and stabbed from the front by either one or two people.

Within weeks, a team of 50 detectives and 15 forensic experts had gathered 400 exhibits - including the murder weapon, which Simon Williams had disposed of down a drain in Peacehaven - and 150 statements. Neisha and Simon Williams, along with Smith and Scollan, were arrested and charged with murder.

At the trial at Lewes Crown Court in June 1997 Neisha and Simon Williams claimed Katrina had left the flat that evening with Scollan and Smith, who later returned saying she was dead. Scollan and Smith claimed she had left with the Williamses and that the exact opposite was true. Both men said they believed Simon Williams had killed Katrina and they had gone into hiding. Simon Williams admitted trying to dispose of the murder weapon.

Neisha was found guilty of false imprisonment but she and her brother were cleared of murder. Smith and Scollan were found guilty. Smith and Scollan launched an immediate appeal claiming the judge had misdirected the jury over aspects of the evidence. The Court of Appeal ordered a retrial which began at the Old Bailey in October 1999.

For legal reasons, Neisha and Simon Williams did not give evidence. Lawyers for Smith and Scollan successfully argued that there was no case to answer, and the judge directed that both men be acquitted of murder because of insufficient evidence. Scollan had a charge of false imprisonment dropped. Smith admitted the same charge and was sentenced to 30 months but walked free because of time served.

Katrina's mother, Kathy, told The Observer : 'I am disgusted how this has turned out. It has destroyed my faith in the justice system and the police. My daughter was stabbed to death and no one has been made to pay. I won't rest until they are.'

Kathy will meet campaigners this week to discuss options for moving forward. A spokesperson for Sussex Police said: 'The police thoroughly investigated this murder. The file remains open, and if anyone has information we would urge them to come forward.' By Tony Thompson
SUSSEX ANTI-CORRUPTION ALLIANCE
It is alleged that Sussex Chief Constable KEN JONES covered up the unsolved murder of Katrina Taylor. A witness to the event, Mr. Neilsons, claims the Police would not take a statement and refused copies of the Katrina tapes and other photographic evidence.
If this is true and the evidence which it is claimed, has been suppressed is an important factor, then Ken Jones may be guilty or party to a conspiracy to pervert the course of justice. The KATRINA TAYLOR murder remains unsolved.
The information below is quoted from a website directly. Apart from the misfeasance complained of, Mr Neilson claims the SUSSEX POLICE AUTHORITY have harassed and intimidated himself.
There are other cases in Sussex where the Police have been accused of failing to investigate. Most notably back in 1997, when 12 Petitioners complaints to Wealden District Council about Wealden District Council, were referred to the Sussex Police, and subsequently the Police did not investigate. Then a letter written by Derek Holness (WDC's Chief Executive) on Police headed paper, was read out to the Full Council as if it had come from the Police. Naturally, this fictional work found Wealden's planning department and others were blameless. This is a prime example of perverting the course of justice. Shortly after which, Derek Holness retired on an enhanced pension!
LISTEN TO EDDY PRESTON SOLICITOR IN RETRIAL
OF KATRINA TAYLORS KILLERS

MP3 file
---
SO WHO KILLED MY GIRL THEN? Sat 23 October 1999
THE mother of murdered Brighton teenager Katrina Taylor today demanded justice after two men were cleared of the crime. Kathy Taylor spoke out after London drug dealers Trevor Smith and Fergal Scollan, convicted and jailed for life at Lewes Crown Court in 1997, were cleared after a retrial at the Old Bailey.
She said: "I'm disgusted how this has turned out and it has destroyed my faith in the justice system and the police. "My daughter was stabbed to death three years ago and no one has been made to pay. "I want to know who killed my daughter, and I want them behind bars. "I won't rest until they are."
Smith and Scollan's barrister successfully argued there was no case to answer. Katrina had been stabbed to death in the graveyard of Brighton's parish church of St Nicholas in Dyke Road in a revenge attack for her part in a burglary. But the defence argued there was no evidence of what happened in the churchyard and nothing to point to who was holding the murder weapon.
The Common Serjeant Judge Neil Denison QC agreed and directed the jury to acquit the pair.
The judge placed a reporting embargo on the case until now because there was still a prospect of the pair facing retrials on their other convictions of imprisoning Katrina. Yesterday, the false imprisonment charge was dropped against Scollan while Smith admitted it. He was jailed for 30 months, but walked free because of the time he has already spent on remand.
The court heard that one way or another Smith, 27, and Scollan, 25, had already served the equivalent of a five-year jail term. Smith's girlfriend Neisha Williams, whose home in Bolney Road, Moulsecoomb, Brighton, Katrina had helped burgle and wreck, was cleared of murdering Katrina in 1997 but sentenced to two years for false imprisonment. Her brother Simon was cleared of the same charge and of murdering Katrina during the same trial.
The court heard during both trials how Katrina had stood look-out during the burglary as two others stripped Neisha's house.
Smith and Scollan were alleged to have held Katrina prisoner in Neisha's new home in Centurion Road, Brighton, until she was taken to the nearby St Nicholas churchyard and murdered. Katrina, whose daughter Kyia celebrated her fourth birthday yesterday, was described in court as very slight and frail. She had been tracked down by a gang of violent vigilantes.
Today, Det Insp Steve Fowler, who helped lead the murder inquiry, said: "The police thoroughly investigated the tragic murder of Katrina Taylor. "In 1997 four defendants stood trial for her murder for which two were convicted. "Through no fault of the prosecution case, a retrial was ordered by the Court of Appeal. "During the retrial it was ruled there was insufficient evidence to proceed with the case and both defendants were found not guilty. "The last three-and-a-half years have been an extremely difficult time for the Taylor family and my feelings go out to them. "The Katrina Taylor murder file remains open and if anyone has information about her murder who we haven't already spoken to, I would urge them to come forward and contact the police."
We tell Kyia her mummy's in heaven with Jesus Chris
LITTLE Kyia Taylor went to bed on her fourth birthday last night and blew a kiss to her murdered mother. "Good night mummy," she said. "God bless.
"I love you and I hope Jesus is looking after you." It is a ritual she performs every night at her home in Pankhurst Avenue, Brighton. The four-year-old was just a baby when her mother was stabbed to death in a Brighton churchyard.
Kyia, now adopted by Katrina's mother, Kathy, talks to her mum when visiting her grave in Bear Road or the scene of the murder in the grounds of St Nicholas's Church. She takes Katrina sweets or little teddy bears and leaves them alongside the wooden cross in Bear Road or the tree close to where she died at the church, a tree that is now a shrine.
Determined
Kathy says Kyia knows what happened and will learn more as she grows: "I've kept every cutting from the Argus to show her. I don't know how it will affect her later but I'm determined she sees everything. "She talks a lot about Katrina. She tells her friends 'My mummy lives with Jesus'. She wants to be like her friends who have mummies at home."
Kathy is so angry and bitter that she stopped taking Kyia to school recently, frightened of people asking her about the trial and upsetting her. She lashed out at a policeman at her home one night when she called them during one outburst of frustration. "I kicked him in the groin. I'm really sorry about it now. It wasn't his fault but I get so angry. "If police had acted differently when the whole thing started then Katrina would be here now."
Officers were called to her former home in Bolney Road when a gang burst in looking for Katrina in connection with the burglary across the road. No charges were laid and two months later Katrina was murdered. Kathy, 43, said: "I have lost my daughter and Kyia has lost her mummy. And the killer or killers are still out there." Police fitted extra security to Kathy's home after a series of vandals attacks. But she wants the security removed: "I hope whoever killed my daughter comes after me - I will attack them."
Described as lively, extrovert and sometimes loud, Katrina attended Falmer School where she did well in sport, especially netball. But she had a troubled youth, a time when she was sexually abused by one of her mother's ex-boyfriends. Not surprisingly, she left school, where she crossed teachers and was below average academically, as soon as she could with few qualifications. From there she started on a dangerous road of drugs, dabbling first in soft substances and then heroin.
Before her death, she was taking three "shots" a day, costing nearly £200 a week. Katrina sometimes financed her habit through crime, mainly thefts and burglaries. She stole for a quick fix, taking risks just to pay for the next hit in a community dogged by widespread drug-taking. And it was by taking part in one burglary that she paved the way for her brutal killing.
A house across the street from her family home in Bolney Road was ransacked on May 9, 1996. The 1997 trial at Lewes Crown Court heard how the house was the home of Neisha Williams, a former partner of mechanic Trevor Smith, who sold drugs from the house, drugs Katrina went looking for on the night of the ill-fated break-in. Smith, a Londoner who loved everything black and who adopted a Caribbean patois, dated Williams, a black Brighton woman. They had a turbulent relationship.
Split
The jury heard how they lived at 10, Bolney Road, Moulescoomb, but split up in 1995. They kept in touch and Smith also made contact with Williams' brother Simon, who was growing cannabis from his house in Centurion Road.
With information supplied by Williams, Smith and close friend Fergus Scollan set up their own "skunk" growing concern at their home in Cricklewood, London. They soon had big ideas and expected to earn £120,000 from their operation.
But when thieves smashed their way into Neshia Williams' house, they were hell-bent on revenge, Lewes Crown Court was told. The thieves, of which Katrina was one, were especially vindictive. Besides stealing valuables, the offenders smashed up furniture, piled clothes in a room and set fire to them and pulled a washing machine out from the wall, leaving the house to flood. Katrina, who stood as watch during the break-in, later sold some of the haul of jewellery, for a paltry £20 heroin fix.
A month later, Katrina was charged with the burglary and, as the police continued their investigation, so-called "heavies" launched their own probe into the raid on one of their own. The heavies were Smith and his henchman Scollan, the first trial was told. A gang carried out house-to-house inquiries the find the culprits and were ruthless with anyone who refused to co-operate, beating and stabbing anyone reluctant to talk.
Katrina's aunt, Susan Tully, said men from London were looking for Katrina. She said: "They banged on the door and told her mum Kathy they wanted to get her. They said they were going to kill her." Police wanted Katrina remanded in custody for her own safety but magistrates granted her application for bail. She had an eight-month-old daughter and wanted to see her.
Katrina lived at a Brighton hostel, constantly in fear of the hounds who terrorised a whole neighbourhood in their search for her. Two months after the burglary, she was spotted at the Sheridan Hotel in King's Road by Neisha's brother Simon. Katrina pleaded with him not to hurt her as she was driven to his house in Centurion Road. It was there, for the first time, that she stood, facing Neisha, the woman whose home she helped trash. The same "heavies" who marched through Katrina's neighbourhood were summoned to the house.
Katrina was terrorised as she sat on a couch in the lounge. Scollan sat one side of her while Smith held a large serrated knife to her throat, it was alleged in court. She wept, offering to pay back money from her dole money. Neighbours heard no sound as Katrina took the short walk late at night to the nearby graveyard at St Nicholas Church. The route took her through a dark, tree-lined narrow twitten past St Paul's Primary School, across Church Street and into the cemetery of Brighton's parish church. There she was stabbed six times, once through an arm and five times in the chest.
The Lewes trial heard how it was Scollan and Smith who committed the murder, a charge they always denied. Katrina's body was left slumped by a tree near a tombstone. The next day, dog walkers made the grim discovery which prompted Operation Rambler, a top-level murder inquiry led by Det Chief Insp George Smith. They quickly began the task of slotting pieces of the jigsaw together, battling against a frightened community too scared to talk.
The Argus was later praised for helping police in their investigation by publishing Katrina's description just hours after her killing, prompting vital witnesses to come forward.
Staff at the Sheridan Hotel remember her getting into a white Renault. Police checks later revealed Simon Williams drove a white Renault and officers were on the trail. Katrina's death was as ironic as it was savage.
Reconstruction
Soon after her stabbed body was found in a Brighton cemetery it emerged she had taken part in a police reconstruction to find the killer of "Babes in the Wood" Nicola Fellows and Karen Hadaway. As a nine-year-old, she appeared in the Wild Park reconstruction to help police retrace the girls' last steps. They were found strangled in woods in 1986, ten years before Katrina's own body was discovered in St Nicholas's churchyard in Dyke Road in July 1996.
No one could have predicted that Katrina would also become a murder victim.
But soon after she was found dead, Lianne Martin, who starred with Katrina in the unsuccessful reconstruction, told how she was left devastated when she heard what had happened. Most of the evidence from the first trial was heard by the Old Bail jury but there one important difference.
For legal reasons, neither Neisha or Simon Williams gave evidence at the retrial, taking out pieces of what was a prosecution puzzle built on circumstancial evidence. In the end, the judge decided there was insufficient evidence to continue. Smith and Scollan were innocent of murder.
---
S.A.C
WE ARE A NEW GROUP COVERING THE SUSSEX POLICE AREA
OUR ELECTED REPRESENTATIVES DON'T ACT IN OUR INTERESTS
COUNCILS AND OTHER AUTHORITIES
ARE A LAW UNTO THEMSELVES,
SUSSEX POLICE AUTHORITY ACTING OUTSIDE OF THE LAW AND THEIR REMIT
THEY ARE NOT A PUBLICLY ELECTED BODY
SUSSEX POLICE ARE TOTALLY OUT OF CONTROL AND NOT ANSWERABLE OR ACCOUNTABLE TO THE PEOPLE OF SUSSEX
We are looking for committed persons to make this group grow we need --website builders --amateur journalists-- people with media experience-- writers typists-- computer experienced persons-
SAC NEEDS YOUR INFORMATION ON ANY CORRUPTION IN SUSSEX PLEASE E-MAIL ONE OF OUR GROUPS
CAMPAIGN FOR JAMES ASHLEY
OUR MAIN CAMPAIGN IS TO BACK THE ASHLEY FAMILIES CALL FOR A PUBLIC INQUIRY IN TO THE SHOOTING OF JAMES ASHLEY BUT WE WANT IT TO COVER POLICING IN SUSSEX TO EXPOSE ALL POLICE & COUNCIL CORRUPTION IN SUSSEX
Add corruption to your search you will be most surprised what you find
THIS GROUP IS NOT AFFILIATED TO ANY POLITICAL PARTY OR GROUP
WE STAND ONLY UNDER THE HUMAN-RIGHTS ACT
See these sites for more details of Sussex police corruption
WE FEEL SORRY FOR THE ABATANS NIGEL YEO PERVERTED THE COURSE OF JUSTICE OVER KATRINA TAYLOR'S MURDER
ASSISTANT CHIEF CONSTABLE NIGEL YEO
WHY IS HE STILL WORKING IN SUSSEX POLICE FORCE KEN JONES MR CLEAN UP
Sir John also roughed up one of the assistant chief constables, Nigel Yeo, against whom he said there was evidence of criminal misfeasance and falsehood over the press release; and the deputy chief constable, Mark Jordan, against whom he said there was evidence of criminal misfeasance, neglect of duty, discreditable conduct, and aiding and abetting the chief constable's false statements.
COUNCIL AND POLICE CORRUPTION WORKING TOGETHER
Wealden Action Group - Investigating and lobbying against council and police corruption
More council and police corruption in Sussex
www.dr.des.turner.mp.human-rights.org/
CAMPAIGN JUSTICE FOR KATRINA
www.katrina.taylor.murder.brighton.human-rights.org/
SUSSEX POLICE AUTHORITY ACTING OUTSIDE OF THE LAW
LEWES DISTRICT COUNCIL CORRUPTION FRAUD AND MURDER
JUSTICE FOR JAMES ASHLEY CAMPAIGN
The Justice for James Ashley Campaign was launched on Saturday the 18th of August. The meeting was attended by about 200 people. James Ashley was shot dead by an Armed Response Unit (ARU) from Sussex Police in 1998. The trial at the Old Bailey was a total travesty and a the Officer responsible for shooting James, P.C. Sherwood was acquitted, along with the other four officers later at a similar trial in Wolverhampton. The Judge Injustice Rafferty presided over the case; this is the same Injustice Rafferty who sent Michael Stone to Jail, Surprise Surprise.
The Family and Campaign have vowed to carry on the fight for Justice for James Ashley. The meeting decided that they will carry the fight to the door of the Labour Party conference on the 30th September, Brighton is the heart of the Sussex Police, so we can do both at the same time. Sussex Chief Constable Ken Jones went to Liverpool in an attempted to stop the Ashley's from demanding a public inquiry.
IF YOU HAVE ANY INFORMATION OVER JAMES ASHLEY'S KILLING CONTACT US
CAN YOU HELP KATRINA TAYLOR MURDER TRIAL IN 1997 DO YOU KNOW ANYTHING OF A MAN WHO SAT ON THE JURY WHO MAY HAVE DIED OR WENT MISSING IN 1999
---
Family quits home where Katrina was held Friday 27th Feb 1998.
A COUPLE who moved into a house where murder victim Katrina Taylor was held before she died left after 24 hours, claiming it was unsafe.
Mathew Mahkonen, 23, and his wife Sadie, 28, were delighted when housing officials found them a home in Centurion Road, Brighton. The house, owned by Brighton and Hove Council, was newly-decorated and seemed ideal for them and their two young children, Taylor and Connor, aged eight and two. But on their first day a heavy plaster ceiling collapsed, a bay window came away from the outside wall, and they found damp patches. They also discovered their living room floor was held up by metal poles.
Katrina Taylor, 19, spent her last moments at the home before being stabbed to death in nearby St Nicholas churchyard on July 4, 1996. Mathew and Sadie were the first people to move into the house after the trial. Mathew, who works for a timber merchant, said: "While we were out shopping the heavy plaster ceiling collapsed in the lounge. "When I discovered the living room was held up by props, and the upstairs bay window was an inch away from the wall I knew the place was unsafe and we had to move out." The couple, who spent only one night there, have now taken their furniture and belongings back to their old home in Thompson Road, Hollingdean. Acouncil spokesman said: "The property was checked by a surveyor and what has happened cannot be put down to the police investigation." "The repairs to the property have now been put out to tender and we are trying to find the couple another property. "We were not aware of damp problems. The props in the basement are perfectly safe." Two London drug dealers Trevor Smith and Fergal Scollan are serving life sentences for Katrina's murder.
---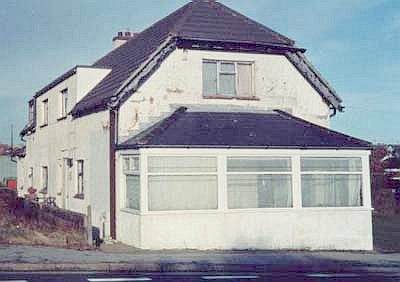 318 South Coast Road, Peacehaven, East Sussex
WE ACCEPT NO RESPONSIBILITY FOR THE ACCURACY OF ANY FEATURED LINKS