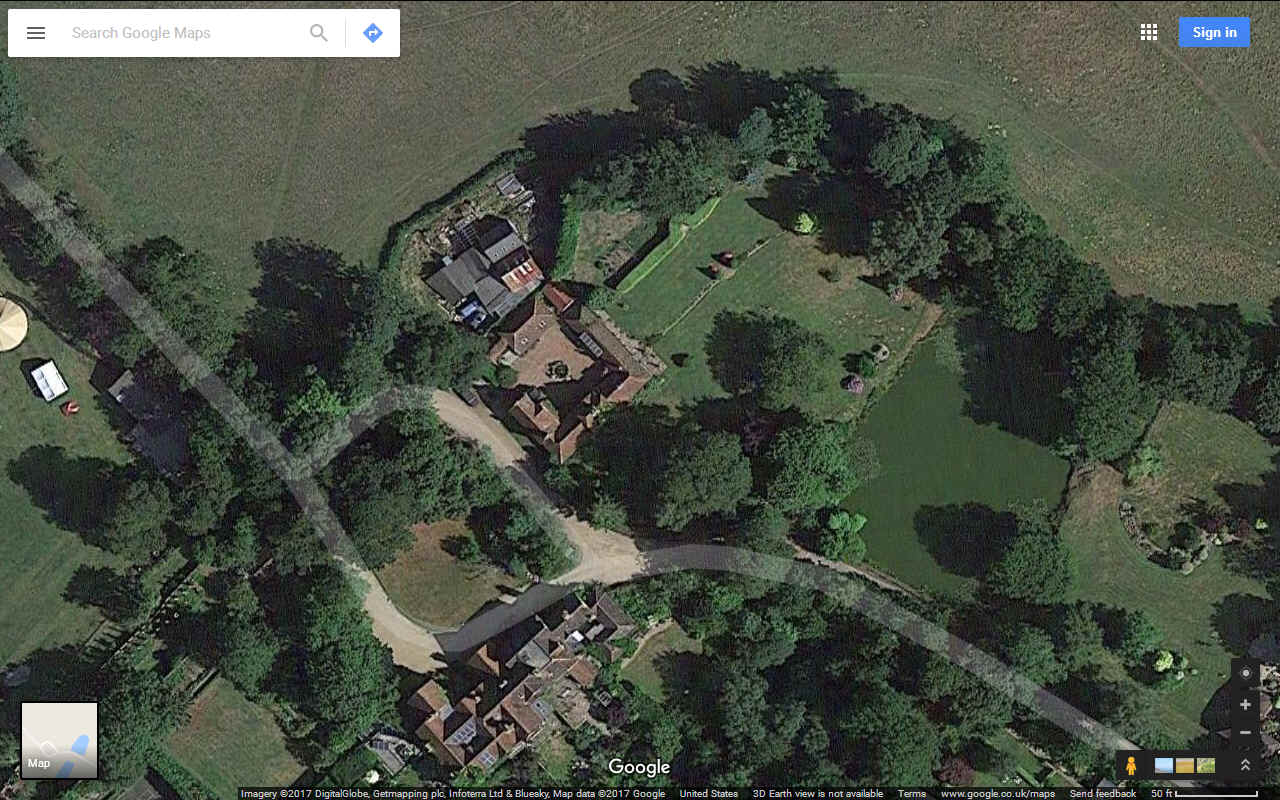 The following is a chronological history of planning related matters relating to The Old Rectory in Lime Park from 1981 to 2019 :-
This property was owned by a church until around 1983 when it was sold to a private buyer with a large family. It was sold again quickly to another large family who sold again to Peter and June Townley. The Rectory was renamed "The Old Rectory".
At this point the only boundary between the old stable unit and the old generating buildings was the remains of an iron fence. The general rule was applied as to distance from extant buildings and emplacements, as had been the case since 1948 when the stables were converted for residential use.
As of 2019, the owner of the Old Rectory in Lime Park is Peter Townley. Peter Townley and Henry Arnell were instrumental in forming Lime Park Estate Limited around 1985.
Lime Park Estate Limited took possession of the shared drive from Wickens Estates Limited.
Lime Park Estate Ltd began litigation shortly thereafter with what looks to have been the intention to prevent tree surgery and other works against Nelson Kruschandl. This was in connection with a dead holly tree and boundary issues where the new company was concerned with operation of the shared drive only, but no other land. The limits of operation being restricted to that transferred in law as shown on a Land Registry map at that time.
The tree litigation was pursued in conjunction with tree preservation orders that Wickens Estates, Nikolai Askaroff, and others in Lime Park, had been instrumental in working with Wealden District Council to obtain. In essence, many of the more prominent residents in Lime Park appear to have ganged up on Kruschandl to force the local authority to take action. For their part, this Council appear to have enjoyed helping those in Lime Part to assert their power over their victim, leading to appeals where Wealden's officers were prepared to lie on oath to gain advantage - all of which was in denial of their duty to protect the historic asset.
NICE NEIGHBOURS - Immediately after June and Peter Townley moved into Lime Park, they began making trouble for the occupier of the adjacent historic buildings. Eventually, Peter Townley asked his neighbour directly how much he wanted to sell up. This was after receipt of umpteen anonymous offers to buy via estate agents. The Tenth of the 10 Commandments is not to covet your neighbour's house. That being the world of God, Peter and June Townley were sinners in seeking to acquire The Old Steam House, a property that they clearly coveted.
The object of denying the history attaching to the generating buildings appears to have been to be able to purchase the premises at an undervalue. Planning blight is often used for this purpose. With the eager help of the local authority - and in particular with the help of Christine Nuttall, David Phillips and Victorio Scarpa, it is alleged that Peter Townley conspired with Wealden District Council to deny the history, forcing the occupier to multiple appeals where it must have been agreed between parties that the council would tell the Secretary of State that there was no history for the Department of Culture, Media and Sport to consider. Wealden are well known for soliciting complaints and then fostering a relationship with their stooges, in some cases supplying confidential documents to any person who might be able to apply pressure on their adversaries in any other arena.
In order to be able to carry this off and continue to act with one eye shut, Wealden refused to compile a list of local historic buildings. If they had done so, they would not have been able to carry on deceiving the Secretary of State, the County Archaeologist or many of the Members of their Council who were and are honest. Many councillors are not honest, having become tempted by the potential to make money from the planning system.
INJUNCTIONS
Peter and June Townley instigated litigation to obtain an injunction to prevent trespass, but continued to trespass on Old Steam House land, ending with Peter Townley finally being caught red-handed with his arm in his neighbours' post box. The litigation was thus a fraud, making a mockery of the legal process, because injunctions bite both ways in genuine cases. In trespassing on the neighboring land, Peter Townley demonstrated that the reasons given for seeking the injunction were not real, but rather a ruse to gain an advantage against the occupiers of the Steam House.
It is of course a criminal offence, to interfere with Her Majesty's Royal Mail as it is to lie on oath to obtain court orders. We are advised that the post box incident was reported to Sussex police, but that no action was taken in the matter. We presume that Peter Townley was cautioned as to any repeat offending.
Between 1986 and 1987 Peter Towley provided information as an interested neighbour to Inspector Raymond Dannruether. Inspector Dannruether was formerly a Royal Navy officer during World War Two. Peter Townley was a Royal Marine in WW2. Both men lived in and around Hastings and Bexhill for many years before the appeal. This was in connection with a planning appeal to the Secretary of State where the key issue was whether or not the generating buildings were the original generating buildings.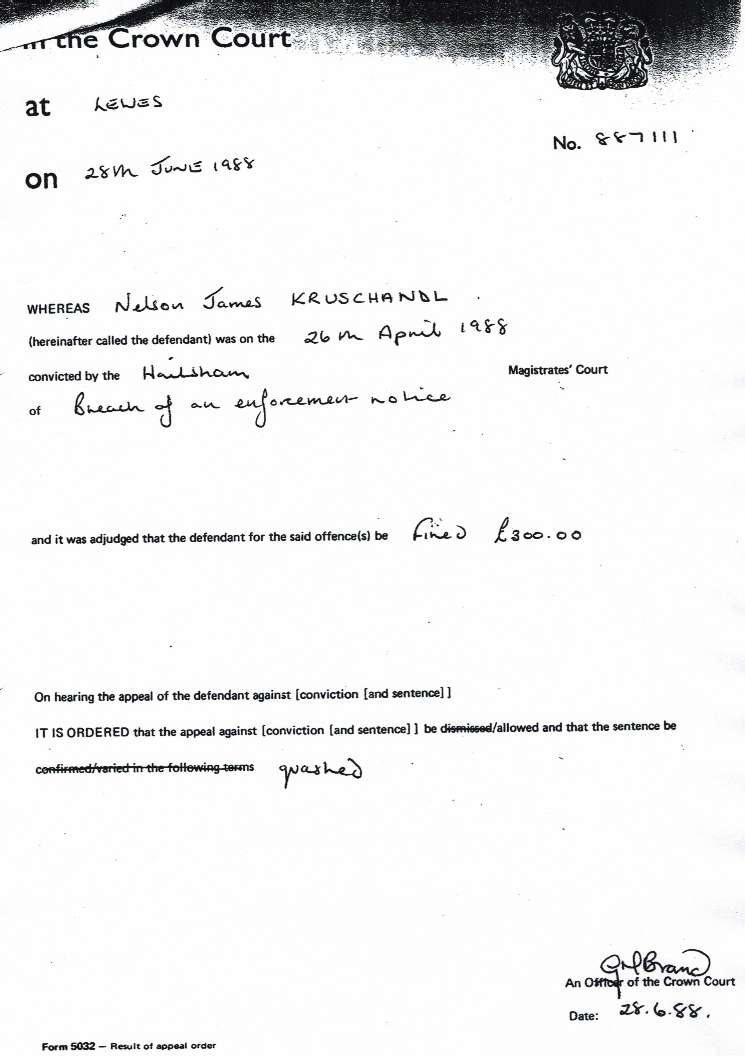 LEWES CROWN COURT - On the 26th of April 1988 (as a newly wed) Nelson Kruschandl was convicted by magistrates who ignored their clerk to return a guilty verdict in the Hailsham Magistrates Court. He was fined £300 pounds for allegedly breaching the (defective) enforcement notice. The strange thing is that Nelson was living at Polegate at the time with his new wife - so why would Wealden bother spending taxpayers money trying to obtain a conviction? Barrister Price Lewis represented the Council (taking instructions from Hibbit & Sanders, Wishdown, Wadhurst, East Sussex, TN5 6HN). Of course it was a malicious prosecution. It backfired.
Kruschandl appealed to the Crown Court calling witnesses and questioning Mr Peter Townley, a neighbour who lives at The Old Rectory in Lime Park. Peter Townley had been this Council's stooge, it is alleged, mainly because he was interested in purchasing the generating buildings - obviously, if he could blight the object of his desire, it would cost less to buy. What the Court heard and saw was that the enforcement notice did not cover the brick built building to the right of the generating buildings. He heard from witnesses that this was used as accommodation along with another underground building, but clearly the enforcement notice was defective, leaving HH Judge Clay with little option but to quash the Magistrates Court conviction. The Council had scored an own goal. The verdict effectively undid the 1986 enforcement notice by airing the cracks in public. From this point on Wealden could no longer use the criminal courts to foster their evil ambitions. Instead, they tried the High Court for injunctions - each time hiding the fact that the enforcement notice was defective - and that they'd lied to Inspector Dannreuther about the history of the building.
Council's frequently refuse to abide by the decisions of the Courts and will try anything to get around the law, such as Health & Safety legislation - another inconvenient hurdle that this Council failed to mention to the Court below Dame Butler Sloss.
In 1988 Peter Townley gave evidence in the Crown Court in a case where Wealden District Council alleged breach of an enforcement notice. His evidence was designed to assist Wealden to gain a conviction. It is alleged that Mrs and Mrs Townley knew about the generating history attaching to the extant buildings - as did the Council that they were aiding and abetting. If that is the case, as logic would dictate, Townley and his wife were guilty of an offence under the Accessories and Abettors Act of 1861. There is no statute of limitations on crimes involving deceiving the Secretary of State. Peter Townley is though of advanced age and may be seen as unfit to stand trial. We presume that this is the reason that their victim has not pursued the matter.
BANKRUPTCY & CHRISTOPHER LETHAM
Between 1993 and 1995 Peter and June Townley attempted to use a costs order in relation to the trespass injunction that he routinely breached, to bankrupt his neighbour and acquire the premises at an undervalue. This is set against the evidence that he provided to the Secretary of State, the Crown Court and again to the Secretary of State in 1997, that was misleading, in that all of these tribunals were told that the buildings adjacent to the Old Rectory were of no historic value and were not the old generating buildings. When as a matter of fact and degree they are, according to an authoritative Report from 1999.
This raises the issue of a conspiracy to pervert the course of justice existing between any and all parties concerned in the denial of the archaeological origins of the generating complex.
In 1997 Peter Townley gave evidence to Raymond Michael in another planning appeal to the Secretary of State. It is alleged that he knew that he was party to Wealden's deception, but that having been one of the complainants, he was sure to want to add any weight that he could to assist the Council in their efforts to dupe the planning inspector. Henry Arnell was also at the public inquiry.
GRANNY ANNEX
In 2016 Peter and June Townley applied for planning permission to convert two garages and other outbuildings to a granny annex. Reference: WD/2016/0809/F.
This was to be the final straw that broke the camel's back. In the making of this application Peter Townley made a number of mis-declarations. He failed to mention the Party Wall Act and that his application for works to his outbuildings came under this heading, also invoking the duty of care to the heritage asset that was now recognised by the County Archaeologist.
In addition the East Sussex Act bit on the application where Mr Townley proposed destroying two garages in his courtyard to make way for a Granny Annex, so creating the need for more parking spaces in Lime Park, an area that was already crowded at certain times, making it near impossible for fire and garbage trucks to negotiate access.
In that conditions were imposed on the application that was granted by Wealden District Council, Peter Townley - and indeed - any future owner of The Old Rectory, could never avoid the consequences of compensation in relation to any building works and the requirement to instruct a surveyor prior to commencement of structural alterations.
This means that any owner of The Old Rectory past 2016 is bound by a general duty to protect the generating works, including repairing any defective rainwater goods that might cause water build up in the adjacent passage. Equally, any effort to obstruct the occupiers of the historic asset, in making repairs or improvements, would fall to be considered as a failing in this general duty.
Whereas, the support wall to the north of The Old Rectory is not tanked on the outside to prevent water penetration and with defective rainwater goods, is most likely to suffer from damp internal walls. The most immediate cure for this is to repair and allow to be repaired any defective rainwater goods. The second cure for any residual internal damp would be to tank the walls internally. The alternative, to excavate and rebuild the supporting wall is likely to be prohibitively expensive - where once again any buildings works would be the subject of surveyors and compensation to the occupiers of the adjacent historic asset.
One can see from this why it was that Peter and June Townley were so keen to acquire the historic generating buildings at a knock down price, and of course to hide the archaeological revelations for fear of invoking the Party Wall Act and the need to pay compensation, allied to the expense of surveyors. Thus it was that planning application WD/2016/0809/F became the straw that broke the camel's back.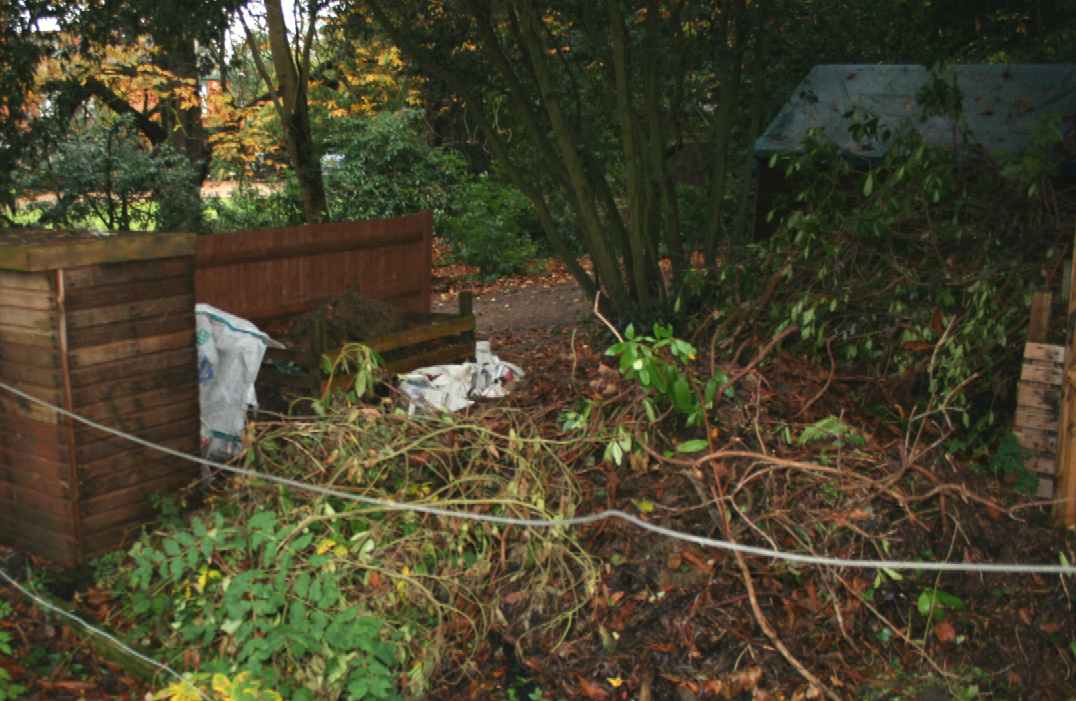 LIGHTING OF BONFIRES - Another deliberate act allegedly designed to cause loss, or expose the historic buildings as to potential fires and vermin infestation, was the lighting of bonfires in close proximity to the historic generating buildings. This small parcel of land was used to store plant material and branches that was then lit, just feet away from a boundary. At the time the parcel of land was owned by Camille de Kok. According to the fround workers, fires were lit under instruction of Louise Jones and Peter Townley, as directors of Lime Park Estate Limited.
The occupiers of the historic buildings complained to the local authority and the Fire Brigade. In the end the fires had to cease because Russell Pike was not covered against fire risk with adjacent buildings being so close. The fencing seen here was removed by Lime Park Estate Limited after it was pointed out that it caused an obstruction to enjoyment of the shared drive. Camille de Kok and Louise Jones sold up and moved shortly after this episode in the vendetta that was unfolding.
ANTI SOCIAL BEHAVIOR
Willful neglect is failing to carry out routine maintenance, or otherwise preventing another from doing what is required to keep grounds or buildings in good order. If the acts done in pursuing such a course of action cause a neighbour loss, then the Fraud Act 2006 may kick in.
Peter and June Townley engineered a situation where land adjacent to the historic buildings could not be accessed by themselves or anyone else, where they trained leylandii and holly to block east and west access points. Brambles grew up to a height of nine feet or more with thick stems, proliferating in the division unchecked and causing significant damage via persistent penetration, to include destroying cast iron guttering on the rear of the Old Rectory buildings. Ivy and nettles were also encouraged, bringing their own problems.
Where the previous occupiers had planted a row of evergreens, the Townleys failed to keep them in good order, encouraging them to grow to an excessive height. In 2011/12, Peter Townley asked Russell Pike or Perfect Gardens to reduce the height to four meters, knowing that the height should be two meters. This was/is because Section 8 of the Antisocial Behaviour Act 2003 had by now become law in the United Kingdom, dealing with high hedges and loss of light.
In the Anti-Social Behaviour Act 2003, "high hedge" means 'so much of a barrier to light or access as:

(a) is formed wholly or predominantly by a line of two or more evergreens; and

(b) rises to a height of more than two metres above ground level.'

These guidelines apply to evergreen hedges. They have not been designed to be applied to individual trees, groups of trees or woodlands. In this case the evergreens were towering above a historic building being some less than two meters away at the closest point, adjacent to a water filter, historic wall and significant underground emplacements of historic value. Clearly, the height at which the Townley's hedge was maintained could only be to cause loss of light to occupiers of The Old Steam House. It is alleged that this act was deliberate and calculated to cause loss to their neighbours.
In an age where Climate Change is a hot topic and solar power is a valuable means to reduce energy consumption, an intelligent neighbour would know that in allowing a row of evergreens to grow to such as height as to obscure collection of sunlight, would be, or would become a real concern to anyone trying to harvest either solar heat or light for photovoltaic panels. The Climate Change Act 2008 imposed targets on local authorities to reduce greenhouse gases. The Permitted Development Order of 2015 emphasizes that planning consent is not required to install solar harvesting devices, presumably as a means to allow householders to help the UK Government to meet their United Nations sustainability targets.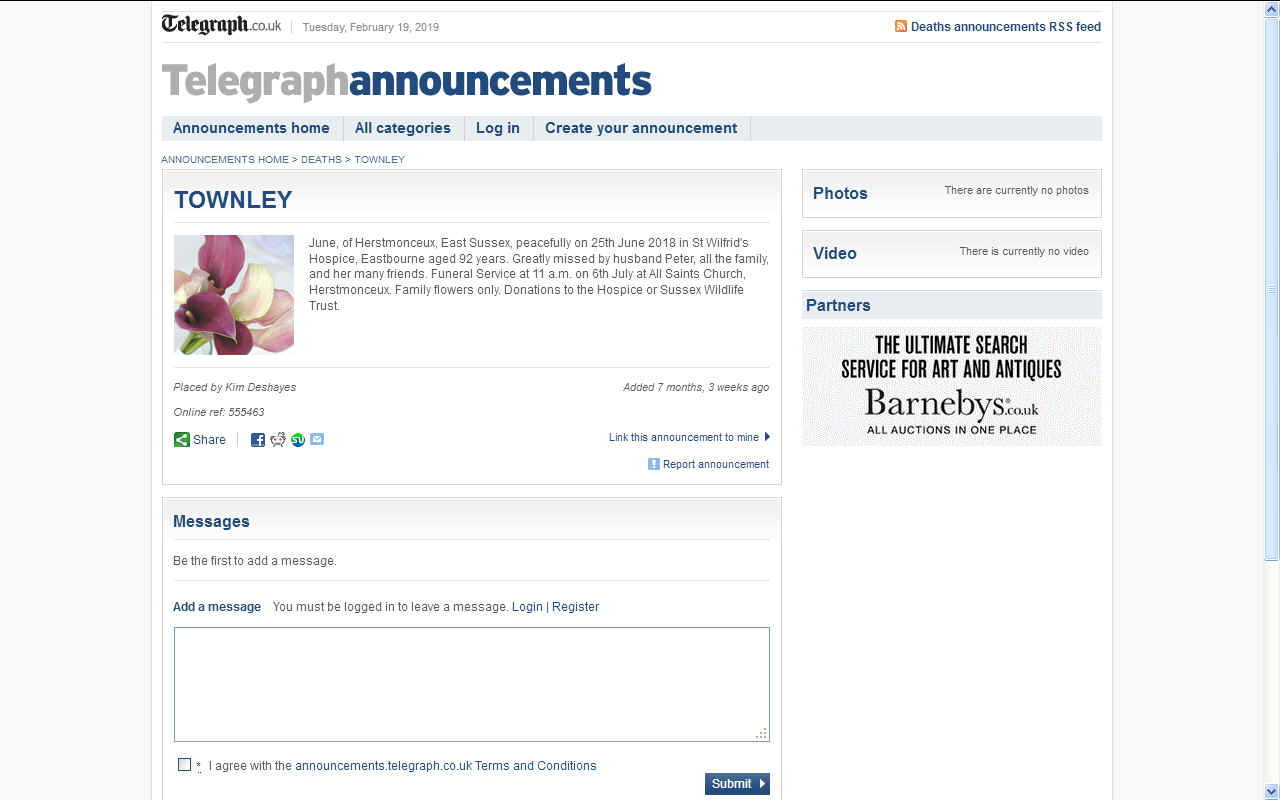 OBITUARY - June, of Herstmonceux, East Sussex, peacefully on 25th June 2018 in St Wilfrid's Hospice, Eastbourne aged 92 years. Greatly missed by husband Peter, all the family, and her many friends. Funeral Service at 11 a.m. on 6th July at All Saints Church, Herstmonceux. Family flowers only. Donations to the Hospice or Sussex Wildlife Trust.
The minutes of the company make interesting reading. If considering moving into Lime Park, make sure the drive maintenance company provides you with a full set, from which you will be able to determine for yourself if you want to become party to the ongoing discrimination.
The company appears to have been operating in violation of their fiduciary duty to all of those who use the drive in the park. This single factor tends to prove that the formation of the Lime Park Estate Ltd was to enable jointly funded actions against those who were not directors of the company, in violation of Article 14 and the Fraud Act 2006.
The stated trading code of the company is as a Residents Property Management. This is a misstatement and it is not negligent, it was deliberate. In fact it is a "selected residents" property management company for the express purpose of disadvantaging one occupier in the park. Such disadvantage where it causes loss, or the risk of loss, constitutes criminal fraud.
It is unfortunate, that where the lead directors Henry Arnell and Peter Townley are no longer active, that they have created a situation where follow on directors may be guilty of a criminal offence simply for carrying on as the company started - without any corrective mechanism. This may be an issue for Companies House and the potential disqualification of the present directors, unless they put the matter right.
The directors of Lime Park Estates Limited as at the 15th of July 2012 were:
* Shelagh Claire Lambert (17-09-53 Sales Executive)
* Peter Gwyn Langford Townley (15-07-1924 - Retired)
* Louise Elizabeth Jones (06-09-1959 - Receptionist BMW Hailsham)
* Camille Anne-Marie De Kok (12-03-1961 - Sales Manager Camlock Systems)
This directors changed when Peter Townley became too old to remain the controlling mind of the company, Henry Arnell having passed away some years previously. According to the public record, June Townley passed away in 2018.
New directors in 2018 included:
* Phillip Gallagher
* Harriet Vogt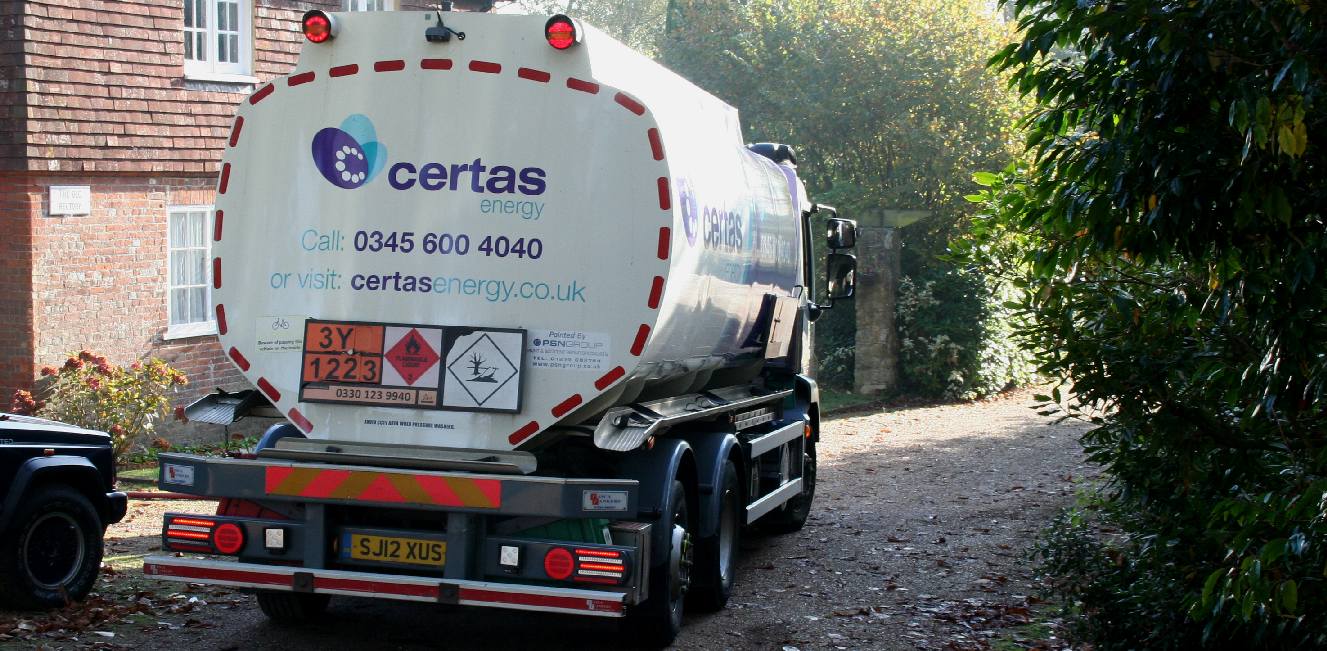 FOSSIL FUEL USAGE STUDY - Deliveries of fuel oil and gas in Lime Park are frequent. Older properties were not designed to be energy efficient. This is the proof. One reason that the Church sold the Rectory in the early 1980s, was the high cost of heating oil for a house that is poorly insulated. There is though much scope for improvement. Added to the cost of the fuel oil is the cost in terms of transport for each delivery and the carbon miles this generates.
On site water heating and solar panels for electricity would help enormously in the battle to contain a warming planet. We hope that any new occupiers will do something about this - and that unlike next door, Wealden may actually encourage the owners. Maybe there should be a law about energy efficiency upgrades at exchange, where the vendor and purchaser agree to contribute to improvements that are agreed by an expert. If a unit has already been upgraded, then no contribution is necessary. Fuel for thought. Below are some of the civil servant officers that appear not to have their eye on the climate change issue, some of which might be more concerned with keeping buildings in the hands of preferred people - contrary to Articles 8 and 14 and Article 1 of Protocol 1. Any violation of a persons Human Rights by a council is of course unlawful and may become illegal if it is a prolonged assault on a person, when Article 3 also comes into play.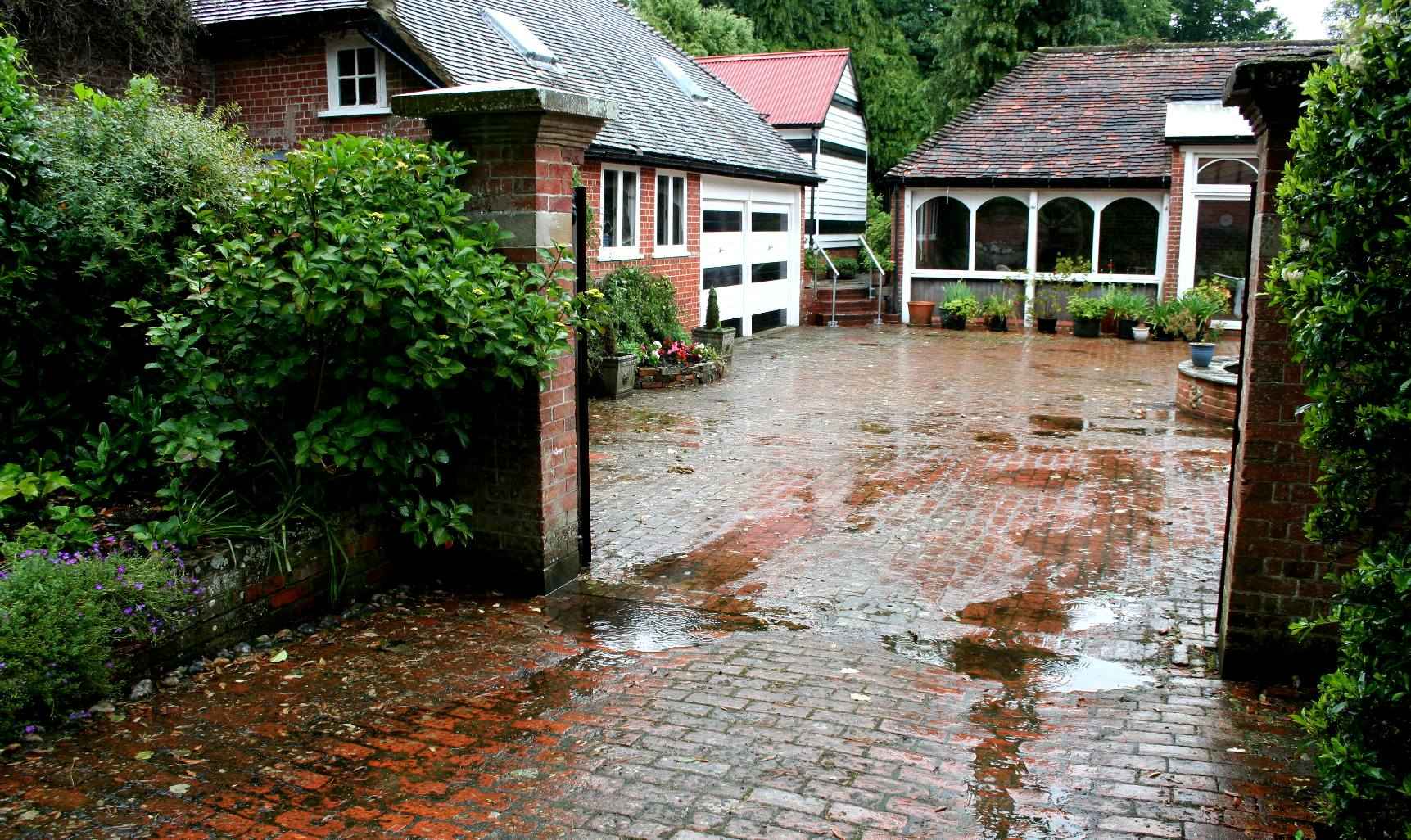 FLOODING JUNE 2019 - Water from the shared gravel drive enters the courtyard through these brick pillars. Water also comes from the field incline above Herstmonceux Museum from the north-west, though some of this is catered for, the soil carries water subsurface, that nothing can prevent from meeting the retaining wall behind the subject buildings. One can only seek to reduce that water. Unfortunately, over a time span of some 30 years, Mr and Mrs Townley have neglected their guttering such, that it fell away from the building. The passage between the Rectory and Museum was allowed to grow unchecked, with nettles, ivy and giant brambles causing significant damage to both building by way of a statutory nuisance. The passage was eventually cleared of fauna by volunteers, so assisting the Rectory occupiers to limit damage that they would have been liable for. Had there been litigation to resolve the issue. Litigation is something that may be coming to the fore, where one of their builders appears bent on preventing essential maintenance, also being verbally abusive into the bargain, it is alleged. The builder must though be acting on the instructions the occupier, who is known to have made libelous remarks in the past, as did another director of Lime Park Estate, before putting her property on the market and leaving England.
ABOUT THE OLD RECTORY
The Rectory was the old stable building (now converted to residential use) serving the original Lime House estate. Stables were very important before the motor car. Large courtyards were necessary to dispose of the horse dung. Other buildings stored hay and straw as part of a comprehensive stable complex. The groom had a cottage as part of the courtyard complex.
It's a nightmare keeping such conversions warm, reflected by the considerable heating oil bills. Such brick buildings could benefit from ground source heat pumps. The grounds are kept in very good order, thanks to regular tending by several local gardeners. A ride on mower is a must. The Rectory, so named because the Church once owned the site and installed a Rector, is adjacent to Herstmonceux Museum, a working museum, to be open to the public on specified weekends at some point in the future, but remaining a virtual museum interim.
WICKENS ESTATES
STORE PROPERTY DEVELOPMENTS LIMITED
41 EASTCHEAP
LONDON
EC3M 1DT (Registered Office)
Company No. 00463356

Previous Names:

Date of change Previous Name
05/03/1987 WICKENS ESTATES LIMITED

Company Type: Private Limited Company
Nature of Business (SIC):
68100 - Buying and selling of own real estate
68209 - Other letting and operating of own or leased real estate

Mortgage: Number of charges: 20 ( 0 outstanding / 20 satisfied / 0 part satisfied )
Last Members List: 27/11/2012
The date of incorporation of Lime Park Estate Limited is just 3 days after Wickens Estates Limited changed their name to Store Property Developments Limited, shortly after which Lime Park Estate Limited, having taken over the administration of the shared drive in Lime Park, commenced action against Nelson Kruschandl for the lopping of a holly tree, amongst other claims. There can be little doubt from the date and timing of these company transactions, that certain owners in Lime Park, wished to acquire the power to take an action against this other owner, and to deny that other owner any say in the matter.
Unfortunately for Lime Park Estate Limited, the tree they were complaining about turned out to be dead, for which removal was good husbandry according to a leading local tree specialist. Not only that, the dead holly was not even within the boundaries of Lime Park. Other issues were untested, where Lime Park Estate Limited failed to continue with their action - presumably to avoid costs consequences. The case was won by Mr Kruschandl where Lime Park Estate Ltd refused to pursue their action knowing that they would secure a finding against them.
We wonder if Wickens Estates Limited knew what the intention of Lime Park Estate Limited was?
| | |
| --- | --- |
| OCCUPIERS PAST & PRESENT | PROPERTY |
| Shelagh Claire Lambert | |
| Peter Gwyn Langford & June Erben Marion Townley | |
| Camille Anne-Marie De Kok (SOLD July 2014) | |
| Louise Elizabeth Jones (SOLD October 2013) | |
| | |
| Lime Park Heritage Trust | (now) Herstmonceux Museum |
| | East Lodge |
LINKS & REFERENCE
http://announcements.telegraph.co.uk/deaths/225352/townley