Harriet Harman became the new deputy leader of the Labour Party, after a seven-week contest to replace John Prescott.
The 56-year-old justice minister pipped favourite Alan Johnson and four other MPs to win the ballot of party and union members, Labour MPs and MEPs.
She got 50.4% of votes to Mr Johnson's 49.6% after all the other contestants' second preferences were reallocated.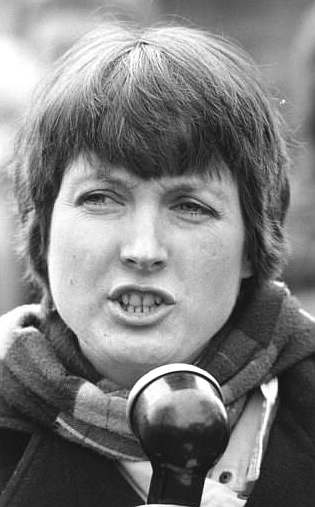 Harriet Harman
She will also become party chairwoman, Gordon Brown announced as he succeeded Tony Blair as Labour Party leader.
Mr Brown, who takes over as prime minister on Wednesday, paid tribute to Ms Harman as he accepted the leadership unopposed.
The deputy contest used a complicated system where the last place candidate was eliminated in a series of rounds, and their second preferences reallocated until one contender got more than 50% of the vote.
In the first round she was first choice among Labour Party members, second choice among MPs and MEPS, but the fifth choice of union members.
Ms Harman did not take the lead or pass the 50% mark until the fifth round of voting when she overtook Mr Johnson, as more of Jon Cruddas's backers put her down as their second choice.
Political comeback
She told the BBC: "It was a close race, but I'm delighted to have won it."
Ms Harman, the wife of senior Transport and General Workers' Union official - and Labour Party treasurer - Jack Dromey, has close links to Mr Brown.
Her election completes a remarkable comeback from 1998 when she was sacked from Mr Blair's first Cabinet after public disputes with her minister Frank Field.
Despite that setback she managed to return to the Labour frontbench in 2001 when she became the first female solicitor general. She told the conference it was an "honour and a privilege" to be elected and to serve alongside Mr Brown.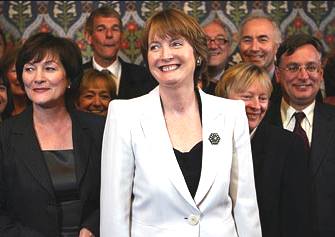 Prescott tributes
Ms Harman talked about the achievements of the Labour government over 10 years, paid tribute to Mr Blair and her predecessor Mr Prescott, who she said would be a "very difficult act to follow" and thanked her fellow contenders.
She also told the conference the government should acknowledge the anger felt over Iraq, but at the same time support British troops.
She pledged to be "relentlessly focused" on winning the next general election, by appealing to a broad base of voters, from Middle England to Labour's heartlands.
And she added: "Labour is and must remain the party of the family. I have always tried to be a champion for women and as deputy leader that is what I will do."
Later she told the BBC that the victory had meant a "great deal" to her, adding: "I always thought that the right leadership team for the Labour Party was one that encompassed the north and south, that was the balanced team of a man and woman working together."
During the deputy leadership campaign she had called for an end to the "culture of spin".
'New leaf'
On Sunday she reiterated calls to make announcements to Parliament first, adding: "I think it is really important that we turn over a new leaf now."
Mr Johnson, who came a close second, told the BBC he was not disappointed for himself, but was disappointed for his campaign team.
He said Ms Harman would be a "very good deputy leader" adding: "I think there was a big view in the party that it needed to be a woman."
Earlier Mr Prescott, who has been both deputy leader and deputy prime minister, said his successor should concentrate on revitalising the party - not on holding a Cabinet post.
It is seen as unlikely that the two roles would be combined again.
Indications are that Commons leader Jack Straw - who has run Mr Brown's leadership campaign - would get some of the responsibilities of the deputy prime minister's job, but there would not be a deputy PM.
While Mr Brown was the sole contender to replace Mr Blair, there was a more crowded field for the position of deputy leader.
International Development Secretary Hilary Benn, Labour chairwoman Hazel Blears, backbencher Jon Cruddas, Northern Ireland Secretary Peter Hain and Education Secretary Alan Johnson all took part in the contest.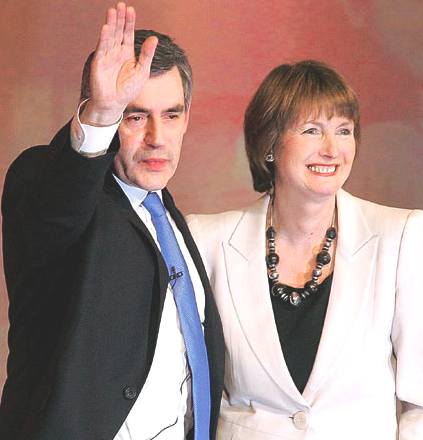 Harriet Harman campaigns for the Labour Party deputy leadership
He discusses neo-endogenous growth theory, she talks about her "foolproof" recipe for asparagus tart. He is the state school-educated son of the manse, she has aristocratic links and went to private school. He talks about his moral compass, she belongs to a group of women ministers who call themselves The Volupts. "Gordon Brown is Radio 4," says Harriet Harman, "I am Radio 2. Together we make 360 degrees."
Miss Harman does not have any T-shirts saying: "Hats off to Hattie" or a heart-rending working class heritage but she is the rising star of the Labour deputy leadership contest. A poll of swing voters showed that she and Mr Brown were the most appealing combination. "Different people talk to different audiences," she says. "There are Labour Party members in Bournemouth and Winchester, not just the cities, Scotland and Wales."
Brownites, including Yvette Cooper, Ed Balls and Douglas Alexander, are backing her but she insists she is not the Chancellor's favourite. "I'm standing as a woman in my own right," she says. "I've spoken less to Gordon recently than I have for 25 years. The country needs Gordon to be prime minister and Gordon needs me to be his deputy."
When Miss Harman won her Parliamentary seat in 1982, she was pregnant with her first child - "I was one of 10 women Labour MPs, now there are 97," she reminds us. Now, her children have left home and she has time on her hands. There is no spin-doctor at HHHQ, as Miss Harman calls her tiny office. The justice minister answers her own phone and texts journalists with campaign updates. "Jack [her husband Jack Dromey, a trade union leader] is not waiting for there to be dinner in front of him or he'd be well starving," she says. "There must be a woman in the top team. You can't say you want equality but not at the top."
As deputy leader, she would try to bring out the Chancellor's feminine side. "Gordon will never be shallow, he won't ever be fluffy, but he will show himself," she says. "Politicians discussing their underwear and being touchy feely should be banned - do you want to be touched and felt? But that doesn't mean politicians don't have to show themselves. People need to be able to see Gordon, they want to know their prime minister, and he will understand that."
After the criticisms of Cherie Blair, she feels sorry for Sarah Brown. "It's difficult for people to work out the role of prime minister's wife. Whichever way you do it you are in the wrong. If you work you're a failure as a mother, if you stay at home you're dowdy. But they don't need a dress allowance for goodness sake, they can go to Primark."
If Miss Harman becomes deputy leader, her spouse will not insist on driving a few yards to protect his hair, as Pauline Prescott once did. "Jack hasn't got any hair to blow around, I'm afraid," she says. Nor will the MP for Camberwell and Peckham be caught playing croquet at Dorneywood - "I don't think we should have any grace and favour houses." Mr Brown would no doubt approve. Miss Harman believes the next prime minister's austerity will appeal to voters turned off by cash-for-peerages and freebie holidays. "People will be thinking - what are things like for my family, at the school or hospital? They want their prime minister to tackle the big issues. For the other stuff they can have Paris Hilton."
She admits that Mr Brown's emphasis on duty may become a bit exhausting, but she says: "He's not saying people have to have a moral compass, he's saying he has one."
There must be a change of style in No 10 when Mr Brown arrives, according to Miss Harman. "It's got to be no spin, no briefings, no secrets, no factions, respect for Parliament." This could be difficult for a man described by colleagues as a control freak. "Gordon does listen, he's hungry for new ideas. There have been enough times when I've been right and Gordon hasn't that I can stand up to him. If he sometimes doesn't look laid back that's because he's restless for change."
As Labour's in-house feminist, she has been campaigning for 25 years on issues including child-care, maternity leave, flexible working hours and domestic violence. "People always said don't focus on that sort of stuff, you'll be stereotyped but I can't help it."
Now she is turning her attention to the pressures on people caring for children and elderly relatives. She says there should be a right to paid time off work to look after old relatives. "Women who in the previous generation wouldn't have worked are now working full or part-time, they haven't got as much time to pop in every day to see the elderly mum is all right. We've got to help people find time to support the older generation and bring up children."
Miss Harman does not mind if she is not made Deputy Prime Minister. In fact, she says: "I don't think the job of deputy leader is compatible with a big department \u2026 There are certain jobs - leader of the House, Cabinet Office, chairman of the party - which you could combine." This may be because, by her own admission, her time running a department - as social security secretary - was not her most memorable achievement. "Across people's lives there are some times when things have worked well and some times when things have worked less well," is how she puts it.
She was, though, furious to discover that a Cabinet minister had questioned her intelligence. "What matters is not your intellectual formulation but whether you do things that make a difference. Women are used to being called stupid, you don't feel belittled by it, you just have to shrug and get on with it."
For her, being deputy leader would be the perfect way to carry on her campaigns. "I don't want to have to explain it all to a new leader and deputy leader, I know what needs to be done, I just want to do it."
The Volupts: "Women of a certain age who are worried about our weight, who've forgotten what colour our natural hair is - but we're voluptuous," she says, throwing her head back and laughing uproariously.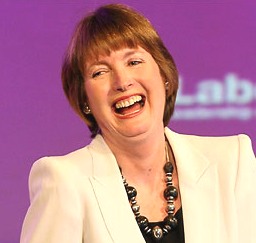 Harriet Harman on Women and Equality
Send the innocent down regardless and covering up these misdeeds with no criminal case reviews
BIOGRAPHY
The Right Honourable Harriet Ruth Harman QC MP (born 30 July 1950) is a British solicitor and Labour politician. Since 24 June 2007, she has been the Deputy Leader and Party Chair of the Labour Party. On 28 June 2007 she was appointed Leader of the House of Commons, Lord Privy Seal and Minister for Women and Equality, and later also Secretary of State for Equalities on 26 July 2007. She still however retains her role as Minister for Women bringing her total number of jobs to five.

Harman has been the Member of Parliament (MP) for Camberwell and Peckham since 1997, having previously been MP for Peckham since 1982.

Early life

She was born in London to the physician John Bishop Harman FRCP (who was an expert witness in the trial of suspected serial killer John Bodkin Adams) and his wife Anna, a solicitor, the only child of Group Captain Malcolm Spicer, RAF, son of James Spicer of Eltham, who was a member of the paper manufacturing family and a brother of the Liberal MP Sir Albert Spicer and also a brother of the surgeon and campaigner for women's rights, Louisa Martindale. Her parents both came from non conformist backgrounds- her grandfather Nathaniel Bishop Harman was a prominent Unitarian and the Spicer family were well known congregationalists. Between 1978 and 1982 she was legal officer for the National Council for Civil Liberties and as such was found in contempt of court in the important civil liberties case Home Office v. Harman [1983] 1 A.C. 280, 308, before becoming MP for Peckham in a by-election in 1982.


Family connections

She has significant family connections. Her father was a brother of Elizabeth Longford, the writer who biographed, amongst others, Queen Victoria and Wellington. Lady Longford was married to Francis Pakenham, 7th Earl of Longford, the lawyer and social reformer. Harman's first cousins include the writers Thomas Pakenham, Rachel Billington and the historian Antonia Fraser. Fraser is married to Harold Pinter, and was once married to the politician Sir Hugh Fraser and is the mother of Flora Fraser, another writer. Also, Harman's great-grand-parents were Arthur Chamberlain and Louisa Kenrick. Arthur Chamberlain was the brother of Joseph Chamberlain, the social reformer and radical politician who served under Gladstone and Salisbury. Louisa's cousin Harriet married Joseph Chamberlain and they were the parents of Sir Austen Chamberlain, who served as Chancellor of the Exchequer and Foreign Secretary. Louisa Kenrick's sister Florence married Joseph Chamberlain after Harriet's death and they were the parents of Neville Chamberlain, Prime Minister of the United Kingdom from 1937-1940.


Member of Parliament

In the bye election held on October 28th 1982, she was elected Member of Parliament for Camberwell and Peckham with a majority of 3,931 votes. She became Labour's front-bench spokesperson for Social Services in 1984, and then Health in 1987. After the 1992 general election she was promoted to the Shadow Cabinet and became shadow Chief Secretary to the Treasury, then Shadow Secretary of State for Health. She was involved in a media controversy when she sent her eldest son to a grant maintained school, then her younger son to St Olave's Grammar School, Orpington. Labour policy opposed these forms of education, but she retained office with the support of the Labour leader, Tony Blair.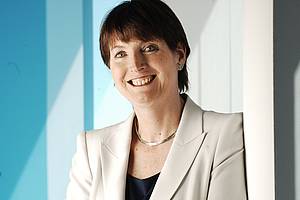 In government

After Labour's victory in the 1997 general election, she became Secretary of State for Social Security and was given the task of reforming the Welfare State. However, she made little progress and fell out with her junior minister, Frank Field. During this period Harman became regarded as an over-promoted 'New Labour' apparatchik, and she was called 'Harriet Harrperson' by her fellow Labour MP Austin Mitchell. Both Harman and Field were sacked in a reshuffle in 1998.

She made a return to the front bench after the 2001 general election with her appointment to the office of Solicitor General, thus becoming the first female Solicitor General.


Voting record

Harman has supported the Labour government, and voted with the party in all but a few instances. Like most Labour MPs she supported the Iraq war, although during the Deputy Leadership campaign, she claimed that she would not have voted for it had she been in full possession of the facts, specifically about the non-existence of weapons of mass destruction.


Minister of Justice or Injustice?

After the 2005 general election she became a Minister of State in the Department for Constitutional Affairs with responsibilities including constitutional reform, legal aid and court processes. During this time she was made an honorary silk (Queen's Counsel), gaining the letters "QC" after her name.

On 16 March 2006, Harman relinquished her ministerial responsibilities for electoral administration and reform of the House of Lords. She stated that this was to avoid any potential conflict of interest after her husband, the Treasurer of the Labour Party, announced that he would be investigating a number of loans made to the Labour Party which had not been disclosed to party officers. She retained her other responsibilities.

The Department for Constitutional Affairs was reorgainised into the new Ministry of Justice on 9 May 2007, where she became Minister of State. She officially relinquished the role when the government, led by Tony Blair, resigned on 27 June 2007.


Bid for Deputy Leadership

Harriet Harman announced her intention to stand for Deputy Leadership of the Labour Party when Tony Blair stood down as Prime Minister. On 27 November 2006 Patrick Wintour reported that she had commissioned an opinion poll which found that she would be more popular with the electorate than any of the other likely candidates. She used this point to argue that she should become the next Deputy Prime Minister of the UK in an interview with the BBC. Before this she suggested a woman and man leadership team was best for the electorate and this country.

On 24 June 2007, Harriet Harman won the contest and became Deputy Leader of the Labour Party.

She received 50.43% of the vote in the final round of a closely-fought contest. Alan Johnson had led in all but the first of the previous rounds, but the members' votes after re-distribution in each of the 4 elimination rounds - particularly the votes re-allocated from Jon Cruddas according to second preference - led her to narrowly beating Johnson in the final round.

Despite her win, since Harman did not have the support of any major unions, she had to take out a personal loan to fund her campaign for deputy leadership, which her opponents did not. As a result compared to other glossy leaflets sent out by her rivals Harriet Harman had to use pretty basic campaign tools.


Return to cabinet

Harman is known as a key Brownite and has been closely associated with him since the 1980s. She was appointed to sit in newly-appointed Prime Minister Gordon Brown's cabinet as Lord Privy Seal and Leader of the House of Commons (combining these post with the Deputy Leadership and Chairmanship of the Labour Party). She also holds the post of Secretary of State for Equalities as well as Minister for Women the result being that she has five roles. She attacked the Conservative Party at the Labour Party Conference 2007, referring to them as the nasty party and suggesting that there will be little competition at the next election. http://news.bbc.co.uk/1/hi/uk_politics/7016326.stm


Controversy over the Iraq War

Harman has been accused of going back on a pledge to apologize for its policy on Iraq. During the deputy leadership campaign Harman had participated in a live debate on Newsnight with the other deputy leadership candidates. Jeremy Paxman asked the candidates whether, if knowing what they knew now, any of the candidates would have voted against the war, Harman responded by saying that "if I'd have known if there weren't weapons of mass destruction I wouldn't have voted for the war. Clearly it was a mistake. It was made in good faith. But I think with a new leadership we have to acknowledge the bitterness and anger that there has been over Iraq and that we were wrong."

Later, when asked by Paxman if the Labour Party should say sorry for what happened, Jon Cruddas said that it should; Harman replied "Yep, I agree with that". When Cruddas further said that the Labour Party could "rebuild a sense of trust and a dialogue with the British people" by acknowledging its culpability in the situation in Iraq, Harman replied "and I agree with that". On June 25, her first day in the job, Harman appeared to backtrack on BBC Radio 4's Today Programme and asked for evidence to be provided of where she had stated that the party should apologise.


Speeding conviction

Harman was fined £400 and banned from driving for seven days after being convicted of driving at 99mph on a motorway. The sentence was widely criticised given that Harman's salary at the time was £115,989 plus full parliamentary pay.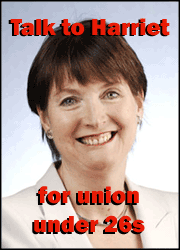 Family: Married, three children
School: St Paul's Girls School, London
Political hero: Rosa Parks
Good night out/in: Get together with the family, with me cooking
Hobbies: Cooking, family get-togethers
Favourite book: We Need To Talk About Kevin, by Lionel Shriver
Bad habits: Watching the news too much
Something we don't know about you: After 25 years in politics there is very little
ANATOMY OF A STITCH UP:
Set against a background of increasing pressure to gain convictions, many police officers fail to investigate fully for fear of finding inconvenient truths, which they will then have to pass to a defense team during the discovery process.
The fact is it is all too easy to put an innocent man behind bars where a blunderbuss serious of charges, often used in sexual assault cases, make it all but impossible to mount a defense with alibis for specific events claimed.
In most cases an allegation grows like a pyramid, once the system kicks in. Unfortunately, at each stage of the process, the allegation grows as it is passed from one person in the chain to another, each adding their own interpretation and filling in the blanks, so to speak.
Where an allegation has been made (which is often the case) by a young girl or boy who may find him or herself in an uncomfortable family situation, which could be a combination of loneliness, stress from school work, social stresses from friends, or lack of them, not feeling important or feeling ignored. Sometimes just being bored or mischievous, or simply bearing a grudge - the child will often pander to the attention they are suddenly receiving, and sometimes they are simply bunny boilers, out to ruin someone they feel abandoned by...... It's a win, win situation for the accuser, with no comeback at all if found to be lying!!! They can simply move onto the next target, or go about life as usual - since nobody knows who they are. Should there not be a register of accusers?
The policies of Labour's Harriet Harman, Minister of State for Women, are designed to raise conviction rates is sex related cases, regardless of evidence. This has resulted in many more appeals and innocent men being freed, having been convicted on little or no evidence. It begs belief that such cases are brought, considering the irreversible harm caused to the victim, in these case the person defendant.
In many cases (number unknown) innocent men are rotting in jail, since there is no appeal for them unless fresh evidence surfaces, which may only happen once a bunny boiler repeat offends. Otherwise, there is no justice for men. A point overlooked by Harriet in her rush to up statistics for voters.
ALLEGATION
|
TEACHER
-----
FRIENDS
----
SOCIAL WORKERS
|
CHILD PROTECTION UNIT
|
2nd OFFICER
INVESTIGATING OFFICER
3rd OFFICER
|
PATIENTS DOCTOR
MEDICAL EXAMINATION
PSYCHOLOGIST
FRIENDS
CPS WITNESSES
FAMILY
|
DEFENDANT
|
FRIENDS
DEFENSE WITNESSES
FAMILY
|
COURT
SOLICITOR
BARRISTER
JURY
BARRISTER
SOLICITOR
JUDGE
VERDICT
JUSTICE
|
INJUSTICE
APPEAL

A - Z of Sussex officers
References
Forthcoming Marriages, The Times, February 26, 1946

Births, The Times, August 1, 1950

Louisa Martindale, Spartacus Educational

Obituary, The Times, December 8, 1945

"Voting Record — Harriet Harman MP, Camberwell & Peckham", The Public Whip.

"Full Voting Record — Harriet Harman MP, Camberwell & Peckham", The Public Whip.

"Harman gives up Lords reform role", BBC Website, Thursday, 16 March 2006.

"Harman intends Labour deputy bid", BBC Website, Friday, 15 September 2006.

Wheeler, Brian. "Interview: Harriet Harman", BBC Website, 8 March 2007.

Sellman, Mark, Sam Coates. "Harriet Harman elected deputy leader of Labour Party", Times Online, June 24, 2007.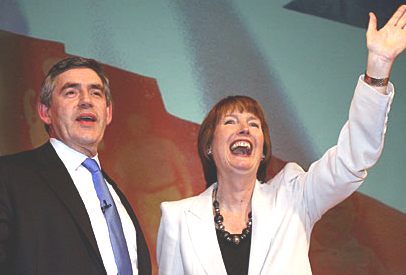 CONSERVATIVES
LABOUR PARTY
Baroness Sharmi Chakrabarti CBE
Baroness Angela Smith of Basildon
Keir Starmer KCB QC
Lord Steven Bassam of Brighton
LIBERAL DEMOCRATS
This site is protected under Article10 of the European Convention on Human Rights and Fundamental Freedoms.
FAIR USE NOTICE
This site contains copyrighted material the use of which has not always been specifically authorized by the copyright owner. We are making such material available in our efforts to advance understanding of environmental, political, human rights, economic, scientific, and social justice issues, etc. We believe this constitutes a 'fair use' of any such copyrighted material as provided for in section 107 of the US Copyright Law. In accordance with Title 17 U.S.C. Section 107, the material on this site is distributed without profit to those who have expressed a prior interest in receiving the included information for research and educational purposes.