Councillor Daniel Shing
Councillor
Party: Conservative
Ward:

Contact Information

Eastbourne
East Sussex
Phone: 01323
Email:
Committee appointments

* Planning Committee South
Terms of office

WEALDEN'S AREA PLANS SOUTH COMMITTEE 2015
Andrew Long - (no email address)
David White - cllr.david.white@wealden.gov.uk
Diane Dear - cllr.dianne.dear@wealden.gov.uk
Charles Peck - cllr.charles.peck@wealden.gov.uk
Chris Hardy - cllr.chris.hardy@wealden.gov.uk
Chris Triandafyllou - cllr.chriss.triandafyllou@wealden.gov.uk
Daniel Shing - daniel.shing@wealden.gov.uk
Dick Angel - cllr.dick.angel@wealden.gov.uk
Barby Dashwood-Morris - cllr.barby.dashwood-morris@wealden.gov.uk
Barry Marlowe - cllr.barry.marlowe@wealden.gov.uk
Bill Bentley - cllr.bill.bentley@eastsussex.gov.uk
John Blake - cllr.john.blake@wealden.gov.uk
Lin Clark - cllr.lin.clark@wealden.gov.uk
Nigel Coltman - cllr.nigel.coltman@wealden.gov.uk
Nigel McKeeman - cllr.nigel.mckeeman@wealden.gov.uk
Raymond Cade - cllr.raymond.cade@wealden.gov.uk
Ron Cussons - cllr.ron.cussons@wealden.gov.uk
Stephen Harms - cllr.steve.harms@wealden.gov.uk
Stephen Shing - cllr.stephen.shing@wealden.gov.uk
Susan Stedman - cllr.susan.stedman@wealden.gov.uk
LOCAL NEWSPAPER CONTACTS
Sussex Express - sussex.express@jpress.co.uk
amie.morrell@jpress.co.uk
Eastbourne Herald - eastbourne.herald@jpress.co.uk
The Argus - lucy.pearce@theargus.co.uk
emily.walker@theargus.co.uk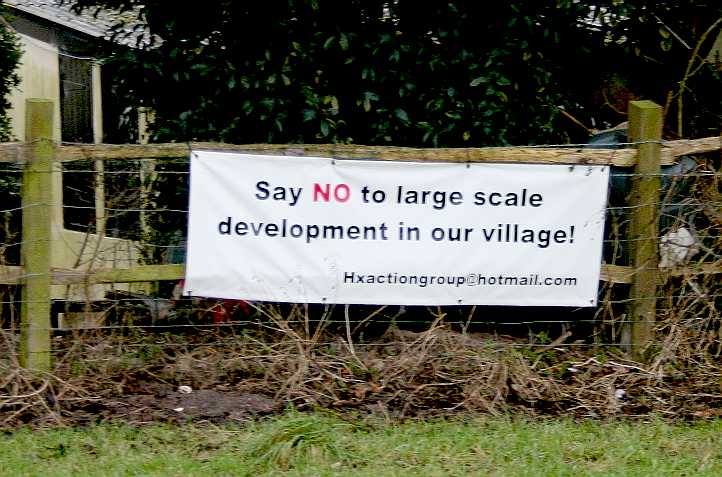 THE 70 HOUSE FORMULA - In 2015, Councillor Peck will be called to look at a major proposal for 70 houses on a site considered by many to be unsuitable, witness the signs posted all about the village. Up and down the country there are dozens of similar applications going in, taking advantage of a windfall situation - or a loophole in the law if you'd prefer. This loophole must be plugged, perhaps with a windfall tax where sites have long been deemed unsuitable - according to local policies.
The 70 house formula is favored by many planning agents in this case: Barton Willmore. info@bartonwillmore.co.uk 7 Soho Square, London, W1D 3QB. Barton Willmore http://www.bartonwillmore.co.uk/ T: 020 7446 6888 F: 020 7446 6889
Since councils stopped building affordable housing for the common man, it has fallen to property developers to slash their profits - which of course they are not willing to do. And that is why they are receiving huge bribes, in the form of permission to build where previously they would not be allowed. It is a national scandal, not just a Wealden phenomenon. It is though a practice that left unchecked makes houses even harder to aspire to, for youngsters starting out in life - making a new generation of Britain's slaves to the wealthy and financiers. The only difference is that you cannot see the whips and chains.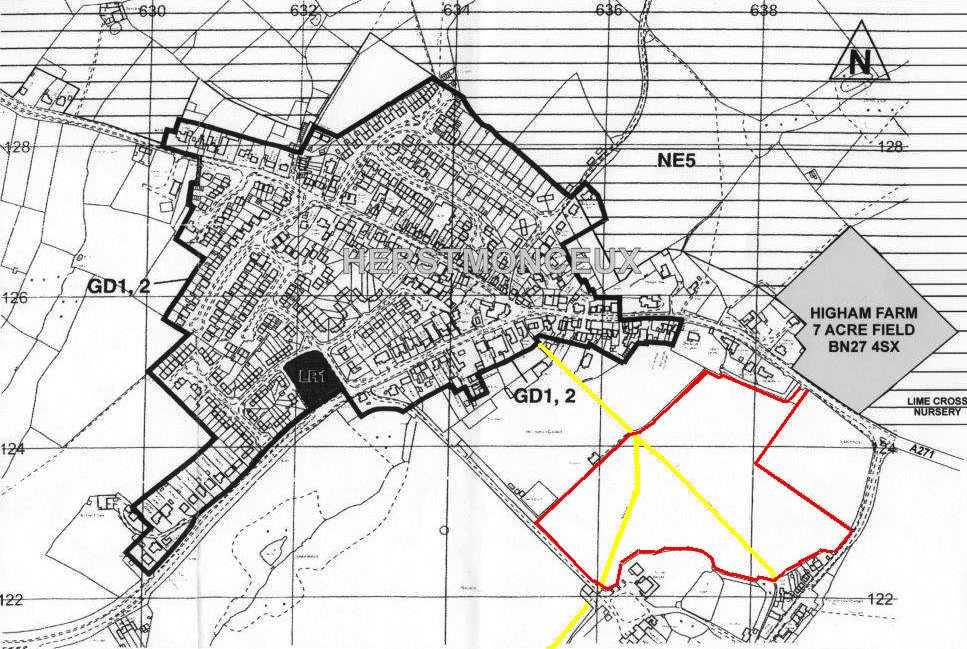 The site plan for a planning application at Herstmonceux that will be practically another village in size. Ignoring for now the access and drainage problems, and the lack of local school (infrastructure) places for so many, the con is that the so-called "affordable" housing, will not be affordable. To qualify as affordable, a working man should be able to afford to buy the house on a mortgage not more than 4 times his salary. The "affordable" tag is thus reliant on local wages, if the object is to cater for locals who work locally. That is a sustainable practice. What we do not want is houses that are affordable for Londoners who commute to the City to earn salaries many times that it is possible to achieve within a sensible travel radius.
Let us hope that the officers of this council are able to stay on track, without introducing discrimination or character issues into the fray. The matter should be decided on National Planning policies and the adopted plans that have held sway for years, with exceptions only in respect of agriculture or genuine social issues. Tourism and heritage issues must be dealt with, also as part of the National Planning Framework. Conservation and economic experts should have their say, especially concerning long-term conservation as it benefits the nation as a whole in the long term.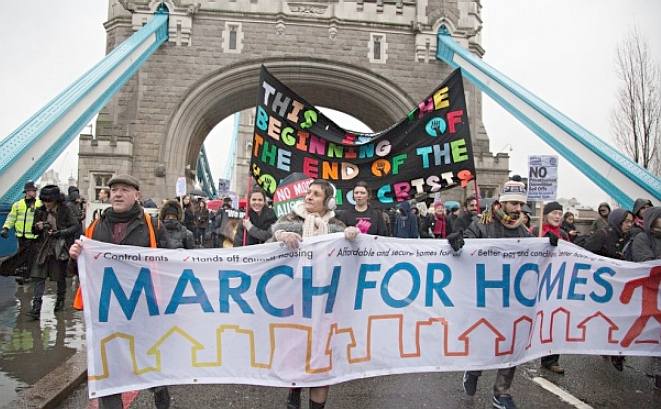 WANTED: A SENSIBLE POLITICAL PARTY WITH THE GUTS TO CLAMP DOWN ON FINANCIAL SLAVERY - Average house prices in London are now far beyond even bankers and others on £100,000-a-year salaries. This is a pattern that is being repeated in the countryside - and is sure to lead to political unrest, where the needs of the people are not being addressed. Put simply, successive governments that were mainly concerned to get re-elected, have been borrowing to maintain the illusion that under their leadership things were better, than with the competition. It's political fraud - plain and simple.
LINKS
COUNCILLORS SERVING IN 2017 INTO 2018

Councillor Dick Angel

Heathfield Nth & Cenrl - Cons


Councillor Kevin Balsdon

Pevensey and Westham - Cons


Councillor Jo Bentley

Hailsham South and West - Cons


Councillor Bob Bowdler

Heathfield East - Cons


Councillor Lin Clark

Pevensey and Westham - Cons

Deputy Chairman Standards


Councillor Nicholas Collinson

Hailsham Central & North - Cons

Portfolio Community Leadership Human Resources


Councillor Nigel Coltman

Hailsham Central and North - Cons

Chairman of Licensing


Councillor Dianne Dear

Pevensey and Westham - Cons

Dep Chair of Planning South


Councillor Phil Dixon

Rotherfield - Conservative

Dep Chair of Audit Finance


Councillor Pam Doodes

Ninfield & Hooe with Wartling

Conservative - Vice-Chairman


Councillor Claire Dowling

Uckfield Central - Cons

Dep Ldr Public Health Safety


Councillor Jan Dunk

Heathfield North & Central - Conservative


Councillor Philip Ede

Alfriston - Conservative


Councillor Helen Firth

Uckfield New Town - Cons


Councillor Jonica Fox

Cross-in-Hand/ Five Ashes - Conservative


Councillor Roy Galley

Danehill/ Fletching/ Nutley - Cons

Portfolio Economic Dev & Waste Man


Councillor Richard Grocock

Hailsham South and West - Cons


Councillor Chris Hardy

Hartfield - Cons- Chairman


Councillor Jim Hollins

Crowborough West - Cons


Councillor Peter Holloway

Forest Row - Conservative


Councillor Johanna Howell

Frant/ Withyham - Cons

Ch Planning North


Councillor Toby Illingworth

Buxted & Maresfield - Cons


Councillor Stephen Isted

Crowborough Jarvis Brook - Independent


Councillor Andy Long

Herstmonceux - Cons


Councillor Michael Lunn

Buxted & Maresfield - Cons


Councillor Philip Lunn

Crowborough East - Cons


Councillor Barry Marlowe

Uckfield Ridgewood - Cons

Dep Ch Licensing


Councillor Rowena Moore

Forest Row - Conservative


Councillor Kay Moss

Crowborough St Johns - Cons

Dep Chair Overview & Scrutiny


Councillor Douglas Murray

Willingdon - Conservative


Councillor Ann Newton

Framfield - Cons

Portfolio Planning & Dev


Councillor Amanda O'Rawe

Hailsham East - Conservative


Councillor Mark Pinkney

Hellingly - Conservative


Councillor Dr Brian Redman

Mayfield - Conservative

Chairman of Standards Committee


Councillor Ronald Reed

Crowborough North - Conservative


Councillor Carol Reynolds

Uckfield North - Cons


Councillor Greg Rose

Crowborough East - Cons

Chair Overview & Scrutiny


Councillor Peter Roundell

Danehill/ Fletching/ Nutley - Cons

Chairman Audit Finance


Councillor William Rutherford

Frant/ Withyham - Cons


Councillor Daniel Shing

Polegate South - Ind Democrat


Councillor Oi Lin Shing

Polegate North - Ind Democrat


Councillor Raymond Shing

Willingdon - Independent Democrat


Councillor Stephen Shing

Willingdon - Independent Democrat


Councillor Angela Snell

Polegate North - Conservative


Councillor Robert Standley

Wadhurst - Conservative

Leader of the Council


Councillor Susan Stedman

Horam - Conservative

Chair Planning South


Councillor Roger Thomas

Heathfield North & Central - Cons


Councillor Jeannette Towey

Crowborough West - Cons


Councillor Chriss Triandafyllou

Hailsham South and West - Cons


Councillor Peter Waldock

Uckfield North - Cons


Councillor Neil Waller

Crowborough North - Cons

Dep Chair Planning North


Councillor David Watts

Chiddingly & East Hoathly - Cons


Councillor Graham Wells

Wadhurst - Cons

Portfolio Housing & Benefits


Councillor David White

Hellingly - Independent


Councillor John Wilton

East Dean - Conservative
Dick Angel - Jo Bentley - John Blake - Bob Bowdler - Don Broadbent - Norman Buck - Raymond Cade - John Carvey - Lin Clark
Nicholas Collinson - Nigel Coltman - Ronald Cussons - Barby Dashwood-Morris - Dianne Dear - Phil Dixon - Pam Doodes
Claire Dowling - Jan Dunk - Louise Eastwood - Philip Ede - Helen Firth - Jonica Fox - Roy Galley - Richard Grocock - Chris Hardy
Steve Harms - Jim Hollins - Peter Holloway - Johanna Howell - Stephen Isted - David Larkin - Andy Long - Michael Lunn
Barry Marlowe - Nigel McKeeman - Huw Merriman - Rowena Moore - Kay Moss - Douglas Murray - Ann Newton - Ken Ogden
Amanda O'Rawe - Charles R Peck - Diane Phillips - Mark Pinkney - Major Antony Quin RM - Ronald Reed - Dr. Brian Redman
Carol Reynolds - Greg Rose - Peter Roundell - William Rutherford - Daniel Shing - Oi Lin Shing - Raymond Shing - Stephen Shing
Robert Standley - Susan Stedman - Bill Tooley - Jeanette Towey - Stuart Towner - Chriss Triandafyllou - Peter Waldock
Neil Waller - David Watts - Mark Weaver -Graham Wells - David White - John Wilton
THIS SITE CONTAINS EXAMPLES OF WEALDEN D C'S UNREASONABLE BEHAVIOUR - With thanks to Action Groups across the country for the supply of real case history and supporting documents. *THAT THE PUBLIC MAY KNOW*
Vicarage Lane, Hailsham, East Sussex, BN27 2AX T: 01323 443322
Pine Grove, Crowborough, East Sussex, TN6 1DH T: 01892 653311