Wednesday, April 17 2007
The Virginia Tech massacre was a university shooting that unfolded as two separate attacks, approximately two hours apart, on Monday, April 16, 2007 on the campus of the Virginia Polytechnic Institute and State University in Blacksburg, Virginia, United States. A gunman killed thirty-two people and injured another twenty-nine before committing suicide, making it the deadliest mass shooting in modern U.S. history.
Cho Seung-hui, identified by authorities as the gunman, was born in South Korea and grew up in Northern Virginia. He had permanent residence status and was a fourth-year English major at Virginia Tech.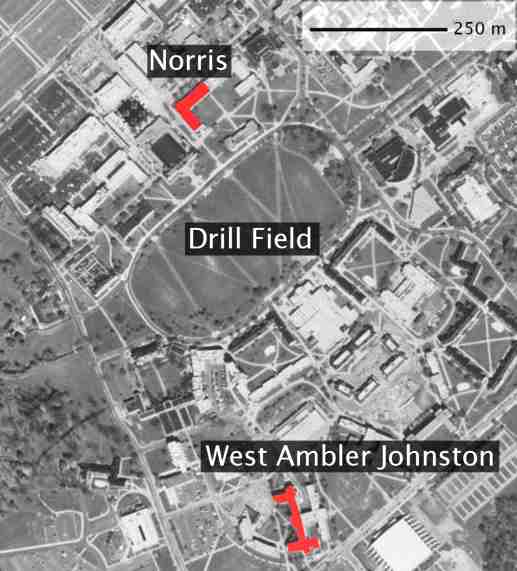 Aerial photo showing location of Norris and West Ambler Johnston Halls
Attacks
There were two attacks in two buildings. The first was in the West Ambler Johnston building, starting at 7:15 a.m., where two died, and the second at Norris Hall, where 31 died.
West Ambler Johnston shootings
Authorities believe that Cho shot his first victims at around 7:15 a.m. EDT in West Ambler Johnston Hall, a co-ed dormitory that houses 895 students. A young woman, Emily J. Hilscher of Woodville, Virginia, and a male resident assistant, Ryan Clark of Martinez, Georgia, were killed.
Norris Hall shootings
Approximately two hours after the initial shootings, shots were reported in a classroom at Norris Hall, an engineering and science building that houses the Engineering Science and Mechanics program. A ballistics test later showed that the same gun was used in both campus shootings.
An eyewitness told a Collegiate Times reporter that a gunman shot about nineteen people attending a German class in Norris Hall including the professor. Only four people emerged unscathed from the German class, with the rest either killed or wounded. Erin Sheehan, one of the four, said the shooter "peeked in twice, earlier in the lesson, like he was looking for someone, somebody, before he started shooting."
Twenty-seven gunshots can be heard in video footage captured with a cell phone by student Jamal Albarghouti, later broadcast on many news outlets.
Student Nikolas Macko described to BBC News his experience at the center of the shootings. He had been attending a math class (near the German class) and heard gunshots in the hallway. Three people in the classroom barricaded themselves inside the room using a table. At one point, Macko said, the shooter attempted to break down the door of the classroom and then shot twice into the room; one shot hit a podium and the other went out the window. The shooter reloaded and shot into the door again, but the bullet did not penetrate into the room. He stated there were "many, many shots" fired.
High winds prevented emergency medical services from using helicopters for the evacuations. Victims injured in the shooting were treated at Montgomery Regional Hospital in Blacksburg, Carilion New River Valley Medical Center in Radford, Carilion Roanoke Memorial Hospital in Roanoke, and Lewis-Gale Medical Center in Salem.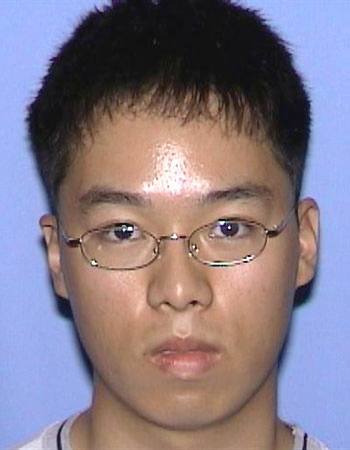 Seung-hui Cho
Cho Seung-hui
Background
The shooter was identified as 23-year-old Cho Seung-hui (hangul: ), a South Korean national living in Virginia as a permanent resident. In 1992, at the age of eight, Cho and his family entered the US through Detroit, Michigan. His current permanent address was listed as Centreville, a suburb of Washington, D.C. in Fairfax County, Virginia. He last renewed his green card in 2003. The university reported he was living in a campus dormitory, Harper Hall, another dormitory just to the west of West Ambler Johnston Hall dormitory.
He attended and, in 2003, graduated from Westfield High School in Chantilly, Virginia. Victims Erin Peterson and Reema Samaha graduated from Westfield in 2006, but it is not known if Cho knew either of them. He was an undergraduate student in his senior year, majoring in English. A spokesman for Virginia Tech has described him as a "loner," stating that the University was having difficulty finding information about him. Blacksburg police confirm Cho was investigated in late 2005 in connection with stalking complaints, but no prosecution resulted.
Possible motives
Cho's motives for the killings remain unclear. Early reports suggested that the killing was the result of a domestic dispute between Cho and previously alleged girlfriend Emily Hilscher, who was later revealed to have had no prior relationship with Cho.
When police investigated Cho's dorm, they found a paper describing how his life was hell and his plan of suicide. In it he laid out a list of grievances including "rich kids" or "debauchery" and "deceitful charlatans" on campus. Another sentence in the paper read "you caused me to do this." The words "Ismail Ax" were found written on his arm in red ink, although a later report gave the spelling as "Ismale Ax" and stated that the words were tattooed on his arm. In the package of information that Cho sent to NBC, he wrote his sender's name as "A. Ishmail".
Lucinda Roy, Cho's former creative writing professor says she was disturbed by the student's behavior and writing to the point of warning campus police and other officials about him, but was told they could not do much as no direct threat was involved, and they did not wish to violate his rights of free speech. Roy told ABC News that Cho seemed "extraordinarily lonely — the loneliest person I have ever met in my life." She said he always wore sunglasses and a cap inside, spoke in a whisper, and took cell phone pictures of her. Deeply concerned, she arranged to work one-on-one with Cho, and asked him to go to counseling, but he apparently never went.
Professor Nikki Giovanni told CNN about Cho's writing, "It was not bad poetry. It was intimidating... there was something mean about this boy. It was the meanness — I've taught troubled youngsters and crazy people — it was the meanness that bothered me. It was a really mean streak."
Professor Giovanni insisted that Cho be removed from her class in 2005 because he had intimidated other students by photographing them and by writing obscene, violent poetry. "I was willing to resign before I would continue with him," she said.
University officials said the school had obtained a "temporary detention order" from a local magistrate that allowed them to refer Cho to an off-campus medical facility. Based on the complaints of his two female classmates that indicated they had received threatening messages from him. Cho was admitted to Carilion St. Albans Psychiatric Hospital in December 2005. According to Virginia law, "A magistrate has the authority to issue a detention order upon a finding that a person is mentally ill and in need of hospitalization or treatment. "The magistrate also must find that the person is an imminent danger to himself or others," says the guideline from Virginia's state court system.
Shortly after Cho's identification as a suspect, a copy of a play by Cho entitled "Richard McBeef" began circulating online. The short play deals with topics of molestation and violence involving chainsaws, and ends with the title character delivering "a deadly blow" to his thirteen-year-old stepson. Cho also wrote a second play, entitled "Mr. Brownstone"; the play is named after a Guns N' Roses song and contains lyrics copied verbatim from the song.
An unnamed professor who taught Cho characterized his work as "very adolescent" and "silly," with attempts at "slapstick comedy" and "elements of violence."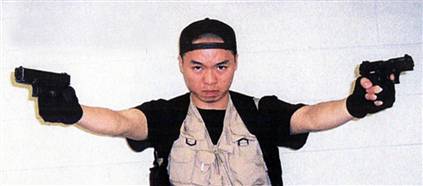 Photograph taken by Cho Seung-hui
Preparation
Officials believe he used a 9 mm Glock 19 and a .22 caliber Walther P22 handgun. Cho purchased his first gun, the .22 caliber Walther P22 on February 9, 2007 at a pawnbroker in Blacksburg. On March 13, 2007, Cho purchased a second handgun, a semiautomatic 9 mm Glock 19, at Roanoke Firearms. In Virginia, permanent legal residents of the United States who are 21 years of age or older are eligible to purchase handguns provided they have not been convicted of any felonies or have other disqualifications. Both guns were found with their serial numbers filed off, a felony offense, federal law enforcement officials said. The owner of Roanoke Firearms was reported to have been 'devastated' when he heard news that one of his weapons was used in the incident. According to former FBI agent Brad Garrett, "This was no spur of the moment crime. He's been thinking about this for several months prior to the shooting."
It is not known what, if any, previous firearm experience or training Cho had completed before the massacre. It is not known where or how Cho obtained the chain with which he locked the doors at the stairway in the engineering classroom building.
At 9:01 a.m. EDT, after the first shooting and before the second, Cho mailed a timestamped package to NBC containing dozens of images of him with weapons, a 1,800 word manifesto and some 23 video clips in which he alludes to the killings saying "You had a hundred billion chances and ways to have avoided today." and '"I didn't have to do this. I could have left. I could have fled. But no, I will no longer run. It's not for me. For my children, for my brothers and sisters that you fuck — I did it for them". It is not known if he was referring to the shootings prior to committing them or if he had already killed Emily Hilscher and Ryan Clark.
One of the guns was used in both incidents. An official added that Cho was "heavily armed and wearing a vest."
Shooter's message to NBC News
On April 18, NBC News received a package from Cho timestamped between the first two shootings and the rest of the massacre two hours later. It contained an 1,800-word manifesto, pictures, and 23 videos. In the videos, sent in QuickTime format, Cho discussed his religion and his hatred of the wealthy. He also said in one of the videos, "You had a hundred billion chances and ways to have avoided today...But you decided to spill my blood. You forced me into a corner and gave me only one option. The decision was yours. Now you have blood on your hands that will never wash off."
Copycat
Several copy-cat threats have been received, including those at:
Victims
West Ambler Johnston Hall Dormitory (first shooting)
Norris Hall Engineering Building (second shooting)

Students
Faculty
Timeline - Responses to the incidents
University response
Virginia Tech cancelled classes for the rest of the week and closed Norris Hall for the remainder of the semester. The University is offering counseling assistance for students and faculty and held an assembly on Tuesday, April 17, 2007. Additionally, the Red Cross has dispatched several dozen crisis counselors to Blacksburg to help Virginia Tech students cope with the tragedy.
Virginia Tech President Charles Steger stated at the first news conference that authorities initially believed the first shooting at the West Ambler Johnston dormitory was a domestic dispute and that the shooter had left campus.
Steger indicated in a second press conference at around 5pm EDT on the day of the attack that several thousand students were already on their way to class:
| | | |
| --- | --- | --- |
| " | You have to remember that of the 26,000 [students] that we have, over 9,000 are on campus. When the classes start at 8:00 A.M., thousands of people are in transit. The question is, where do you keep them where it is most safe? We concluded that the incident at the dormitory was domestic in nature. These other events occurred two hours later. | " |
Steger further noted:
| | | |
| --- | --- | --- |
| " | It is very difficult, because we are an open society and an open campus. We have 26,000 people here. The best thing that we can do is to have people report anything that they saw that was suspicious. We obviously cannot have an armed guard in front of every classroom every day of the year. …What we try to determine is are they kept out of harm's way by staying in the dorms or staying in the academic buildings. We send out communications by e-mail, we have an emergency alert system to get the word to our students as quickly as we can. With 11,000 people driving in to campus, it is extremely difficult if not impossible to get the word out instantaneously. | " |

Virginia Tech students mourn their fallen friends at a candlelight vigil
Criticism of university response
Some students, parents, and commentators in the media blamed the University, saying that administrators should have done more to notify others and lock down the campus immediately.
Authorities identified a "person of interest" in the first shooting, Karl Thornhill, who was Emily Hilscher's boyfriend. Hilscher's roommate, Heather Haugh, told authorities that Thornhill owned firearms and had taken both girls to a shooting range. Thornhill was pulled over while leaving Tech's campus after the first shooting, and made authorities suspicious by contradicting Haugh's account. Because authorities quickly apprehended him, they determined that the threat of further violence was minimal and consequently did not justify additional action by the University. However, as they were questioning Mr. Thornhill, reports of widespread shooting at Norris Hall came in, suggesting that the threat had not been contained. Thornhill has subsequently been released, but remains an important witness in the case, according to police.
At an afternoon news conference, Governor Timothy Kaine of Virginia indicated that Charles Steger (the president of Virginia Tech) had asked him to appoint a committee to examine the university's response to the shootings and help answer any remaining questions. In an interview with CNN, Governor Kaine indicated that W. Gerald Massengill, former superintendent of Virginia State Police, would conduct the review.
Student response
Some Virginia Tech students questioned why the University had not been locked down after the first shooting. After becoming aware of the incident, students communicated with their family and peers about their conditions, using telephones or social networking websites such as Facebook or MySpace. Many students created Facebook memorial pages for some of their fellow students. Fearing retribution from other students, Kim Min-kyung, a South Korean student at Virginia Tech, said South Korean students were gathering in groups "as it could be dangerous."
Lee Seung-wook, head of Virginia Tech's Korean Student Association, said "I am worried about possible racial prejudices that this horrible incident may bring to Asians, especially Koreans".
Law enforcement response
After the second attack, the Virginia Tech Police, along with the Blacksburg Police Department, Montgomery County Sheriff's Office and the Virginia State Police immediately responded following their active shooter protocols. Local SWAT teams were activated and responded. In addition to the Virginia Tech campus police, the Federal Bureau of Investigation has joined the investigation. Bureau spokesman Richard Kolko stated there was no immediate evidence to suggest a terrorist incident, but that the agency is exploring all avenues. The Virginia State Police are also investigating. The Bureau of Alcohol, Tobacco, Firearms and Explosives (ATF) immediately responded to the incident with 10 agents on-scene identifying the weapons and performing forensics.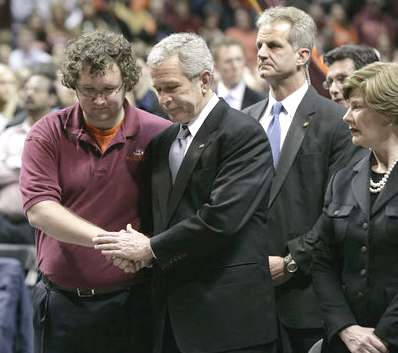 President George W. Bush shakes the hand of the Virginia Tech Student
Government Association's President James Tyger
following his speech at the school's convocation
Government response
Virginia's U.S. Senators John Warner and Jim Webb have both offered their condolences. Virginia Governor Tim Kaine returned early from a trip to Tokyo, Japan and declared a "state of emergency" in Virginia, allowing the governor to immediately deploy state personnel, equipment, and other resources to help out in the aftermath of a tragedy.
On Monday, the U.S. House of Representatives and the Senate observed a moment of silence in remembrance of the victims. The Senate also approved a resolution on Monday night extending condolences to the victims of the shooting. Senate Judiciary Committee chairman Patrick Leahy postponed by two days the scheduled April 17, 2007 testimony of Attorney General Alberto Gonzales concerning the firings of eight United States prosecutors. In a statement, Gonzales said that the Justice Department would provide support and assistance to the local authorities and victims as long as they were needed.
Immediately following the news of the tragedy, White House spokesman said President George W. Bush was horrified by the rampage and offered his prayers to the victims and the people of Virginia. In response to questioning, Deputy White House Press Secretary Dana Perino said, "The president believes that there is a right for people to bear arms, but that all laws must be followed." Bush also stated that the nation was "shocked and saddened" by the shooting. He added that "schools should be places of safety and sanctuary and learning. When that sanctuary is violated, the impact is felt in every American classroom and every American community." He also pledged assistance to law enforcement and the local community. President Bush and his wife Laura also attended the convocation at Virginia Tech on Tuesday. Bush ordered the White House flag lowered to half staff and requested all flags be so lowered until sundown on Sunday, April 22, 2007.
The Internal Revenue Service and Virginia Department of Taxation are granting six month extensions to individuals affected by the massacre. The extensions are "available to shooting victims and their families, emergency responders, Tech students and university employees."
Other schools' responses
There have been official responses from many universities, both inside of the United States and abroad, regarding the massacre, reflecting widespread public horror and concern, expressing shock, sympathy, and condolences to the Virginia Tech community.
Florida State University Vice President for Student Affairs Mary Coburn released an email on April 17th, stating that the university, in response to the Virginia Tech massacre, had instituted an emergency cellular phone contact plan via text message, in the event of a similar situation. Florida State University president T. K. Wetherell issued a statement of condolence, in which he outlined the university's disaster response plans in a similar situation. Florida State University is a sister ACC institution of Virginia Tech.
The Ohio State University President Karen A. Holbrook released a statement that is linked from the university's homepage since the day of the shootings and that was sent out in a campuswide email to students and faculty on Wednesday, April 18, 2007 shortly before campus cable networks began practicing new emergency broadcast tests. She asserts that "Ohio State stands ready to provide any assistance to Virginia Tech that they may identify in the days to come." Furthermore, OSU police released information on their preparedness for dealing with similar situations that featured local news coverage and front page newspaper coverage.
The University of Virginia has offered psychological support services and medical assistance to the victims and afflicted at Virginia Tech Radford University is providing free temporary housing for the Virginia State Police officers investigating the incident.
In response to the death of Wake Forest University faculty member Kevin Granata and the injury of faculty director Wally Grant at Virginia Tech in the joint Virginia Tech-Wake Forest University School of Biomedical Engineering and Sciences, Wake Forest has offered physical assistance, and has sent grief counselors including Professor Samuel Gladding, chairman of WFU's counseling department. Clemson University, a sister ACC land grant school, to Virginia Tech, released a statement stating that they were offering grief counseling from their counseling center to Virginia Tech, as well as other offers of assistance. Georgia Tech, Virginia Tech's sister polytechnic institution, released a statement from president Wayne Clough, a prior Virginia Tech faculty dean. The statement noted that Clough once was Dean of Engineering at Virginia Tech and held an office in Norris hall; he offered any requested assistance to Virginia Tech president Steger.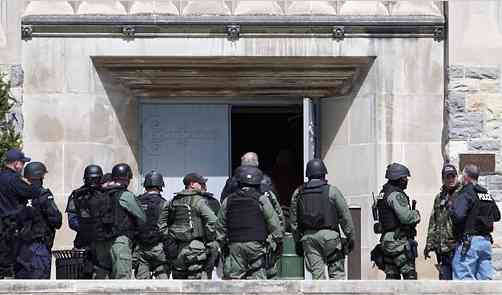 Virginia Tech Special Weapons Tactical unit
Sporting tributes
The Washington Nationals, during their April 17, 2007 game against the Atlanta Braves, wore Virginia Tech baseball caps in memory of the victims.
International reaction
There was a widespread international response, including condolences and sympathy from many countries including officials in Australia, Canada, People's Republic of China, France, Germany, India, Iran, Japan, Mexico, Pakistan, the Philippines, and the UK, as well as from Pope Benedict XVI. The Secretary-General of the United Nations and former South Korean foreign minister Ban Ki-moon also offered condolences, condemning the massacre as "rampant killing of innocent citizens and children".
Australian Prime Minister John Howard said in response to the killings that "America's gun culture was costing lives."
In the Republic of Korea, President Roh Moo-hyun expressed his deepest condolences, saying, "I was so shocked and it was so unthinkable, and I would like to express, on behalf of South Korean people, our deep condolences to the families of the innocent victims and to those who were injured" right after the Virginia news. After the further news that the killer was identified as a South Korean student, he again expressed South Koreans' sincerest condolences on Tuesday night (Korean time) to the victims and to their families, and to all US citizens. Their foreign minister, Song Min-soon, also mentioned that safety measures have been established for Koreans living in the US. He appeared to be referring to the possibility of reprisal attacks against Korean communities within the United States. A ministry official also stated that he hoped the shooting would not "stir up racial prejudice or confrontation."
On April the 18th, President Traian Băsescu of Romania posthumously conferred the national honor The Star of Romania with the rank of Grand Cross on Professor Liviu Librescu, as "a sign of high appreciation and gratitude for the entire scientific and academic activity, as well as for the heroism shown in the course of the tragic events which took place on April the 16th, 2007, in the Campus of Virginia Polytechnic Institute and State University, Blacksburg, the United States of America, through which he saved the lives of his students, sacrificing his own life."
On April 18, 2007, China said it was regrettable that some US media reports were quick to blame a Chinese student for the Virginia Tech massacre. "Some US media made irresponsible reports on the Virginia Tech shooting before finding out the truth, which violated their professional ethics," Foreign Ministry spokesman Liu Jianchao said, according to Xinhua News Agency.
On April 17th, Canadian Prime Minister Stephen Harper spoke in the Canadian House of Commons: "We learned that a Canadian is among the victims in Virginia and Mr. Speaker, I can say that the prayers, thoughts and condolences of each and every one one us here in the House are with that family," the prime minister said in French. "It's really almost impossible to comprehend why an individual would take his own life and that of so many others in this way but I think we can all say that our thoughts are with all of the victims, their family and the community," he continued in English. Liberal leader Stephane Dion expressed condolences. Deputy Liberal leader Michael Ignatieff said, "We extend our sympathy to the families and loved ones of those who lost their lives and to the students and staff of the university whose lives have been altered forever by this tragedy. For those who have been injured, we offer sincere wishes for a swift recovery." New Democratic Party leader Jack Layton expressed condolences to Canadian victim Jocelyne Couture-Nowak as well as the families of the other victims.
Historical context
The incident is the deadliest shooting on a college campus, exceeding the sixteen deaths of the University of Texas shooting by Charles Whitman in 1966. It is the second deadliest school-related killing in U.S. history, behind the 1927 Bath School disaster which claimed forty-five lives, including thirty-eight school children, through the use of explosives.
With a death toll of thirty-two victims plus the killer, this is the deadliest single-perpetrator civilian shooting in United States history, surpassing the Luby's massacre of 1991, in which twenty-four people were killed. Internationally, it is surpassed by the 1982 massacre of fifty-seven South Koreans by off-duty police officer Woo Bum-Kon and the 1996 Port Arthur massacre in the Australian state of Tasmania where thirty-five people were killed by gunman Martin Bryant.
The shooting has been likened to the Columbine High School massacre, the April 20, 1999 school massacre in which two senior students killed twelve students, one teacher, and wounded twenty-four others before turning the guns on themselves.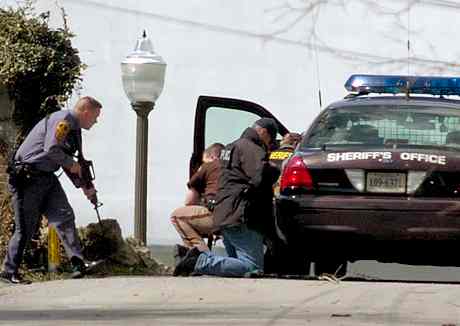 Virginia Tech shooting massacre Sheriff's Office in action
Untruthful media reports
Chicago Sun-Times columnist Michael Sneed reported several hours after the incident that the shooter "was a Chinese national who arrived in the United States last year on a student visa" and "arrived in San Francisco on a United Airlines flight on Aug. 7, 2006, on a visa issued in Shanghai", a claim which was widely used by media, including FOX News, MSNBC, ABC News, sina and sohu, and one that turned out to be false and was later removed unceremoniously by Chicago Sun-Times, but not before websites that carried these stories were temporarily blocked by the PRC governmen.
Gun control debate
The massacre reignited the gun control debate in the United States, with proponents of anti-gun legislation claiming guns are too accessible (and hence Cho readily acquired them) and proponents of gun rights and the Second Amendment claiming guns are not accessible enough (and hence none of Cho's victims were armed in the gun-free "safe zone", so none of them were able to defend themselves from his attacks). Note that the much-debated federal Gun-Free School Zones Act of 1990 is not an issue in this incident; that law applies only to elementary and secondary schools, not to colleges and universities.
Background
Law enforcement officials have described finding a purchase receipt for at least one of the guns used in the assault and note that permanent residents in Virginia may legally purchase firearms with proof of residency; in addition, federal law requires a criminal background check for handgun purchases from licensed firearms dealers. Virginia has a law limiting purchases of handguns to one every 30 days. The shooter had apparently waited one month after buying his .22 caliber before he bought his second gun, a Glock 19.
Virginia Tech has a policy forbidding unauthorized possession or storage of firearms on campus, even by state licensed concealed weapons permit holders. This policy has been challenged in recent years. In April of 2005, a student licensed by the Commonwealth of Virginia to carry concealed weapons was discovered possessing a concealed firearm in class. While no criminal charges were filed, it is unknown whether disciplinary action was taken by the school for violating Tech policy due to student confidentiality.
University spokesman Larry Hincker, in response to challenges over the authority of the university to enforce such a policy, said "We think we have the right to adhere to and enforce that policy because, in the end, we think it's a common-sense policy for the protection of students, staff and faculty as well as guests and visitors."
Virginia bill HB 1572, intended to prohibit public universities from making "rules or regulations limiting or abridging the ability of a student who possesses a valid concealed handgun permit … from lawfully carrying a concealed handgun" was introduced into the Virginia House of Representatives by delegate Todd Gilbert. The university opposed the bill, which died in subcommittee in January of 2006. Spokesman Larry Hincker responded "I'm sure the university community is appreciative of the General Assembly's actions because this will help parents, students, faculty and visitors feel safe on our campus."
Prior to the shootings, Bradford B. Wiles, a graduate student at Virginia Tech, published an editorial in 2006 in the Roanoke Times calling for a change in Virginia Tech's policy prohibiting the carrying of licensed firearms.
Media response
The response to how gun control affected the massacre was predominantly split—while some believe the university's ban on students carrying concealed weapons contributed to the massacre as students were unable to defend themselves against the perpetrator, others believe that the United States', and Virginia's, relatively liberal gun control laws allowed the gunman to purchase the guns and ammunition that allowed the shootings to take place.
The Brady Campaign to Prevent Gun Violence, an American gun control group, said that it was easy for an individual to get powerful weapons and called for "common-sense actions to prevent tragedies like this from continuing to occur". The New York Times ran an editorial calling for more gun control: "Yesterday's mass shooting at Virginia Tech—the worst in American history—is another horrifying reminder that some of the gravest dangers Americans face come from killers at home armed with guns that are frighteningly easy to obtain."
On the other side of the issue, the Conservative Voice contrasted the Virginia Tech massacre with the Appalachian School of Law shooting in 2002, when a disgruntled student killed two students before he was subdued by two other students with personal firearms they had retrieved from their vehicles, declaring that "All the school shootings that have ended abruptly in the last ten years were stopped because a law-abiding citizen—a potential victim—had a gun."
The Washington Post described both sides of the gun control debate in an editorial, asking how and when the shooter obtained his weapons, but also asking if the tragedy would have occurred if Virginia law did not prohibit the carrying of lawfully concealed weapons on college campuses. After reviewing recent U.S. history regarding shootings, The Economist magazine concluded, "The Columbine killings of 1999 failed to provoke any shift in Americans' attitudes to guns. There is no reason to believe that this massacre, or the next one, will do so either."
Virginia Governor Tim Kaine condemned this debate in the press and elsewhere as occurring at an inappropriate time. "People who want to take this within 24 hours of the event and use it as a political hobbyhorse — I only have loathing for them," Gov. Kaine said during an evening press conference on April 17, 2007. "To those who want to make this into some sort of crusade, I say take this elsewhere."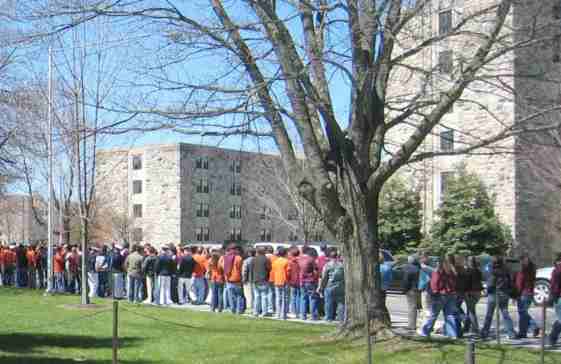 Virginia Tech shooting massacre students outside university halls
References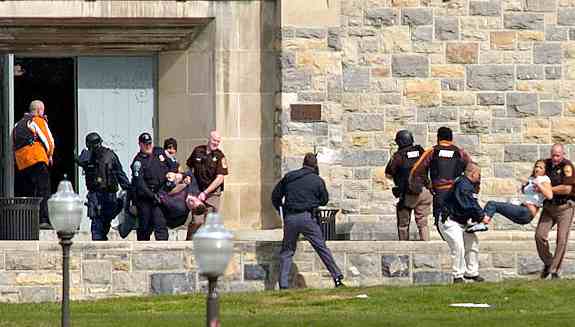 Virginia Tech student victim evacuation
---
A - Z of Sussex officer investigations
The above is just a few of a number of persons likely to be investigated in respect of certain cases brought against Wealden Action Group members, on the instigation of known Masons, councillors, or planning officers, many of which are themselves Masons.
---
CONVICTION QUASHED OVER 'MADE UP' VAMPIRE CLAIM


Paul Lewis - Friday May 19, 2006
The Guardian

A man who was sentenced to eight years in prison in 2004 after a teenager falsely alleged he repeatedly raped her in "vampire" rituals had his conviction quashed yesterday.
Leon Benjamin Forde, 21, of Lincoln, was jailed 18 months ago after the girl claimed he subjected her to a sex ordeal two years previously, when she was 13. But he won his freedom at the appeal court after the prosecution accepted the girl's testimony was undermined by evidence uncovered from a computer diary which suggested she had "made it all up".
Mr Forde later said his time in prison had been "hell".
---
TEACHER CLEARED OF RAPE TOO LATE

Graeme Paton - Published: 21 April 2006

A teacher who died in prison after being convicted of raping one of his pupils has been posthumously cleared by the Court of Appeal.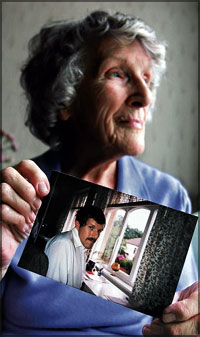 Molly Gee, 88, who has been awarded £62,493 by the appeal court
after battling to clear her son Darryl's name


Darryl Gee was jailed in 2001 despite scant evidence to corroborate his accuser's claims, which related to alleged incidents more than a decade earlier.
The music teacher, who protested his innocence, died in his cell from an undiagnosed blood cancer. He had served 18 months of an eight-year sentence.
This week, campaigners described the case as one of the worst miscarriages of justice they had seen after the Court of Appeal in London quashed his conviction.

It comes as government guidance designed to speed up investigations into alleged abuse of pupils is introduced in schools. Unions say this will reduce the risk of innocent teachers being smeared by false allegations.
Chris Keates, general secretary of the NASUWT, said: "This is an extreme and tragic illustration of the consequences of malicious allegations and underlines the need for these new procedures."
Mr Gee's 88-year-old mother, Molly, awarded £62,493 costs by the court, said the case should be a warning to other teachers.
"It all boiled down to one girl's word against his, and the jury believed her," she said. "That's all it took to send my son to prison and it has left me very angry and grief stricken. I don't think anyone should have to work alone with a child – it is just too easy for an allegation like this to be made."
Mr Gee, a supply teacher who taught brass instruments, was found guilty at Leeds crown court in January 2001 after being accused of raping and indecently assaulting a pupil in a Huddersfield school in 1989. He died aged 55 in August 2002, a month after a second appeal failed.
His conviction was eventually quashed when his mother alerted the Criminal Cases Review Commission, which asked a leading psychiatrist to report on his accuser. The study cast doubt on her mental state. It also emerged that the girl, now 26, made similar allegations against another man, whose conviction was quashed earlier this year.

Read more in the TES including the story of Charlie King. A jury took just half an hour to find him not guilty of sexually assaulting three of his pupils. So why did it take 13 months for the case to reach court?
---
SEX ATTACK LIAR NAMED BY PEER
19th October 2006
A woman with a long history of crying rape who sent an innocent man to jail was named in Parliament amid calls for a change in the law.
Shannon Taylor was unmasked by a peer who told the House of Lords her lies had put father-of-two Warren Blackwell behind bars for more than three years.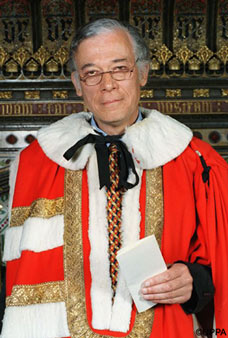 Lord Campbell-Savours
Lord Campbell-Savours used Parliamentary privilege to expose her identity and lambast the 'shabby' police investigation that saw Mr Blackwell imprisoned.
Legal experts praised his decision to speak out to prevent other men falling victim to fake sex attack allegations.
Mr Blackwell, 36, whose loyal wife Tanya never doubted his innocence, was dramatically cleared at the Appeal Court last month after Miss Taylor's background as a serial fantasist was exposed by a Criminal Cases Review Commission investigation.
But although his name was blackened, anonymity laws meant his accuser's was automatically protected, and she became known only as Miss A.
Even the appeal judges wanted to name her - but were powerless to do so - to warn other blameless members of the public.
The Daily Mail led calls for her identity to be revealed before she put another innocent man through torment.
Yesterday, Lord Campbell-Savours - said to be motivated by 'outrage' at the case - stood up and publicly did so.
He asked fellow peers: "Is not the inevitable consequence of the workings of the law, as currently framed, that we will carry on imprisoning innocent people like Warren Blackwell, who was falsely accused by a serial and repeated liar, Shannon Taylor, with a history of false accusations and multiple identities?
"As a result of her accusations, he spent three and a half years in prison following a shabby and inadequate police investigation, and was only exonerated when the Criminal Cases Review Commission inquiry cleared him and exposed her history."
The Labour peer added: "Shouldn't mature accusers who perjure themselves in rape trials be named and prosecuted for perjury?"
Miss Taylor's own daughter backed the decision to disclose her name, saying: "She is a danger and the public needs to be warned. She needs prosecuting for what she did. She is every man's worst nightmare."
Mr Blackwell's ordeal began when his accuser, now 38, claimed she had been seized with a knife outside a village club early on New Year's Day 1999, taken to an alley and indecently assaulted.
She later picked him out of an identity parade and a jury found him guilty, even though there was no forensic evidence against him and he had no previous convictions.
Eventually, the case was investigated by the Criminal Cases Review Commission which found that the woman had made up at least seven other fake allegations of sexual and physical assault, including against her own father. She frequently changed her name and police forces did not realise they were dealing with the same woman.
Her own mother has described her as "a persistent liar, very manipulative and a bully" who frequently claimed to have been beaten, sexually attacked and raped - all of which were untrue. She has a history of mental illness and self-harm.
The original investigation by Northamptonshire Police was exposed as shoddy, with Mr Blackwell's lawyers claiming that normal safeguards and procedures were completely ignored. He plans to sue.
Yesterday, a friend of 63-year-old Lord Campbell-Savours explained why he decided to speak out. He said: "He named her because he was outraged. He doesn't think it's got anything to do with the issue of rape, he thinks it's an issue of perjury.
"This woman made up the story and told lies and he can't see why a person who has perjured themselves should be protected, irrespective of the type of offence.
"Sometimes people have to stick their heads above the parapet in cases where the law is clearly an ass and needs to be reformed.
"He thinks the law around anonymity, particularly where false accusations have been made, needs to be changed."
Welcoming the development, Mr Blackwell, from Woodford Halse, Northamptonshire, said: "It's absolutely fantastic. I didn't think anybody would have the guts to name her.
"This woman needs to be stopped. The fact is, she remains free to carry on crying rape and up till now has been enjoying the full protection of the law. It's absolutely crazy that she could not be named and shamed, because innocent men need to be warned to avoid her like the plague.
"Now I hope she will go on to be prosecuted." But she is unlikely to face charges for perjury or perverting justice.
Northamptonshire Police yesterday claimed there was "insufficient evidence", while Crown Prosecution sources have cited her mental illness as a barrier.
But Mr Blackwell's barrister Anne Johnson said: "There is a clear public interest in her being prosecuted for perjury or the very least wasting police time.
"It's fantastic that somebody of authority has finally come out and named this woman. The issue needs to be aired otherwise nothing will be done."
At Mr Blackwell's appeal last month, Mr Justice Tugendhat admitted that similar tragic cases could follow because of the lies of the 'Miss A', adding that Parliament had not seemed to have considered this possibility when framing the law. Last night the judge said he did not wish to comment on yesterday's twist.
In the 1970s, the Daily Mail campaigned for women in sex cases to be granted automatic anonymity, to protect genuine victims of genuine crimes. Although Miss Taylor has now been publicly named, there is nothing to stop her changing her identity yet again.
Callers to her most recent address were told by her boyfriend that she no longer lived there.
Here's what readers have had to say so far. Why not add your thoughts below?
It is unfortunate that in my opinion women seem to be able to make allegations and men are treated as guilty unless proven innocent. This spills over into family law where this happens all the time. It is time for laws to be changed and the system to be exposed for what it is. I take my hat of to the judge for naming this women. It is about time that more professional people i.e. judges and lawyers started looking at what is right and wrong instead of either following there own political agenda or lining their own pockets.


- Lisa Lipscombe, Burlington, Canada
The sentencing for false accusations of rape should be as harsh, and enforced as harshly, as rape itself.


The USA also needs to wake up to the many false allegations of rape that are putting innocent men in jail.


- Denis, Boston, MA USA
Warren Blackwell and wife Tanya - Guilty until Proven Innocent
Man freed but serial rape accuser remains anonymous
12th September 2006
An innocent man jailed for a sex attack was dramatically cleared after it emerged that his 'victim' is a serial liar with a long history of crying rape.
But because of laws that protect her anonymity, judges are powerless to name and shame her, leaving her free to make more false accusations against blameless members of the public.
Mr Blackwell, 36, hugged his loyal wife Tanya and wept as the Appeal Court quashed his conviction.
He described his accuser as "every man's worst nightmare".
Mr Justice Tugendhat admitted, however, that similar tragic cases could follow because of the lies of the woman, Miss A.
"Parliament does not seem to have contemplated this situation.
"There appears to be no means of displacing her entitlement to anonymity."
In the 1970s, the Daily Mail campaigned for women in sex cases to be granted automatic anonymity, but now there are questions about whether the law has gone too far.
Warren Blackwell's nightmare began when Miss A, now 38, claimed she had been seized with a knife outside a village club early on New Year's Day 1999, taken to an alley and indecently assaulted.
She later picked Mr Blackwell out at an identity parade.
There was no forensic evidence against him and he had no previous convictions.
'She needs to be stopped'
Yet Mr Blackwell, from Woodford Halse, Northamptonshire, was found guilty and spent three years and four months behind bars.
Eventually the case was referred to the Criminal Cases Review Commission (CCRC) which assigned Detective Chief Inspector Steve Glover, to investigate. He discovered that the woman:
• Has made at least five other fake allegations of sexual and physical assault to police in three separate forces.
• Was married twice and made false allegations against both husbands - one of whom was a policeman.
• Once accused her own father of sexual assault, but police concluded she had made it up.
• Accused a boy of rape when she was a teenager, only for a doctor to discover she was still a virgin.
• The CCRC concluded that in the case of Mr Blackwell, she had "lied about the assault and was not attacked at all, her injuries being self-inflicted".
The Crown Prosecution Service did not oppose the appeal.
David Farrell QC, for the Crown, said: "This conviction is unsafe. What has come out of the woodwork paints a picture of a woman with immense personal problems with serious difficulties in distinguishing between truth and lies."
If this information had been known at the time of the trial, he added, "this case would not have made it off the ground".
Mr Blackwell said: "Clearly something has to be done about this woman. She needs to be stopped. The prosecution say she is psychiatrically disturbed, but insane people who murder are tried and if found guilty put away."
Mr Blackwell, who plans to sue police over his ordeal, will now have his name removed from the Sex Offender Register.
His accuser has a history of mental illness and self-harm - once inscribing the word 'HATE' on her body with scissors.
However, because she has changed her name at least eight times, and moved between addresses in at least three counties, it seems police never realised they were dealing with the same woman.
For Mr Blackwell, her accusations meant he missed more than three years of family life. His son Liam, ten, and stepdaughter Holly, 16, were three and nine when his ordeal began.
His 36-year-old wife said: "I never doubted him for a second. We were together six years before it happened, and ever since."
By SAM GREENHILL
---
F.A.C.T. (Falsely Accused Carers and Teachers)
PO Box 3074
Cardiff CF3 3WZ
Tel: 029 2077 7499
E-mail: info@factuk.org
Website: www.factuk.org
Campaigning organisation and support group which provides help and advice to falsely accused and wrongly convicted carers and teachers throughout the UK. The website contains a range of information, leaflets, books and links.
Guidance for education staff and volunteers in schools
Website: www.lg-employers.gov.uk/conditions/education/allegations
This website has guidance on: 1) staff facing an allegation of abuse; 2) preventing 'abuse of trust' for education staff; and 3) the conduct of education staff working with young people.
---
LINKS and REFERENCE
30 Sep 99 Americas - Gunmaker can be sued over shooting
11 May 99 Americas - Charge over Columbine gun
22 Apr 99 Americas - Massacre 'could have been prevented'
21 Apr 99 Americas - Denver massacre reignites gun debate
21 Apr 99 Americas - Timetable of terror
National Centre Educational Statistics: Violence & Discipline Problems US Schools
Columbine High School Information Centre
---
This site is protected under Article10 of the European Convention on Human Rights and Fundamental Freedoms.
FAIR USE NOTICE
This site contains copyrighted material the use of which has not always been specifically authorized by the copyright owner. We are making such material available in our efforts to advance understanding of environmental, political, human rights, economic, scientific, and social justice issues, etc. We believe this constitutes a 'fair use' of any such copyrighted material as provided for in section 107 of the US Copyright Law. In accordance with Title 17 U.S.C. Section 107, the material on this site is distributed without profit to those who have expressed a prior interest in receiving the included information for research and educational purposes.
For more information go to: http://www.law.cornell.edu/uscode/17/107.shtml. If you wish to use copyrighted material from this site for purposes of your own that go beyond 'fair use', you must obtain permission from the copyright owner.