WEDNESDAY OCTOBER 13 1999
The Columbine High School massacre occurred on Tuesday, April 20, 1999, at Columbine High School in unincorporated Jefferson County, Colorado, near Denver and Littleton. Two teenage students, Eric Harris and Dylan Klebold, carried out a shooting rampage, killing twelve students and a teacher, as well as wounding twenty-four others, before committing suicide. It is the third-deadliest school shooting in United States history, after the 2007 Virginia Tech massacre and the 1966 University of Texas massacre.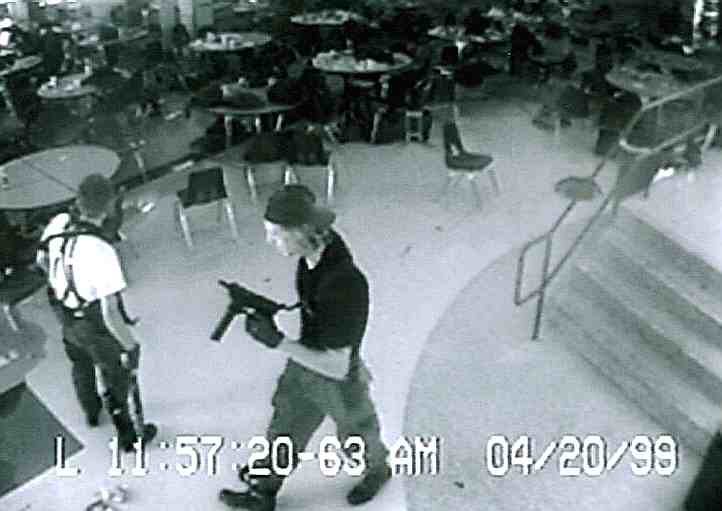 Eric Harris and Dylan Klebold caught on the high school's security cameras in the cafeteria shortly before committing suicide
The massacre provoked debate regarding gun control laws, the availability of firearms in the United States, and gun violence involving youths. Much discussion also centered on the nature of high school cliques, subcultures and bullying, as well as the role of violent movies and video games in American society. Several of the victims, who were portrayed as having been killed for their religious beliefs, became a source of inspiration to others, and some lamented the decline of religion in public education and society in general, often blaming the tragedy on insufficient government endorsement of religion. The shooting also resulted in an increased emphasis on school security, and a moral panic aimed at goth culture, social pariahs, the use of pharmaceutical anti-depressants by teenagers, violent films, teen internet use, and violent video games.
Warning signs
Early warning signs began to surface in 1996, when Eric Harris first created a private website on America Online. The original site was set up to host Doom levels that he and Dylan Klebold had created, mainly for friends. Harris also began a blog on the site, which included jokes and small journal entries concerning his thoughts on parents, school, and friends. By the end of the year, the site contained instructions on how to cause mischief, as well as instructions on how to make explosives, and logs of the mischief he and Klebold were causing. Beginning in early 1997, the blog postings began to show the first signs of Harris' ever-growing anger against society.
Harris' site had few visitors, and it did not become an issue until late 1997, when Jefferson County Sheriff's Office investigator Michael Guerra was notified of the site after the parents of Harris' former friend, Brooks Brown, discovered that Harris was posting death threats aimed at their son. Guerra discovered the website also contained violent threats directed at the students and teachers of Columbine High School. Other material included blurbs Harris had written concerning his hatred of society in general and his desire to kill those who annoyed him. As the date of the shooting neared, Harris also began noting the completion of pipe bombs on his site, as well as a gun count and "hit list" of individuals he wished to target, although it never mentioned his overall plot. As Harris had admitted to having explosives, Guerra decided to write a draft affidavit for a search warrant of the Harris household, but it was never filed. The existence of the affidavit was concealed by Jefferson County and not revealed to the public until September 2001, as the direct result of an investigation by the television show 60 Minutes.
After the release of the affidavit, a series of grand jury investigations were launched into the cover-up activities of the Jefferson County officials. The investigation revealed that high-ranking officials of Jefferson County had come together a few days after the massacre to discuss the release of the affidavit to the public. It was decided that because the affidavit's contents lacked the necessary probable cause to have supported the issuance of a search warrant for the Harris household by a judge, it would be best not to disclose the affidavit's existence at an upcoming press conference, although the actual conversations and points of discussion were never revealed to anyone other than the Grand Jury members. Following the press conference, the original Guerra documents disappeared. In September 1999, a Jefferson County investigator failed to find the documents during a secret search of the county's computer system. A second attempt in late 2000 found copies of the document within the Jefferson County archives. The documents were reconstructed and released to the public in September 2001, but the original documents are still missing. The final grand jury investigation was released in September 2004.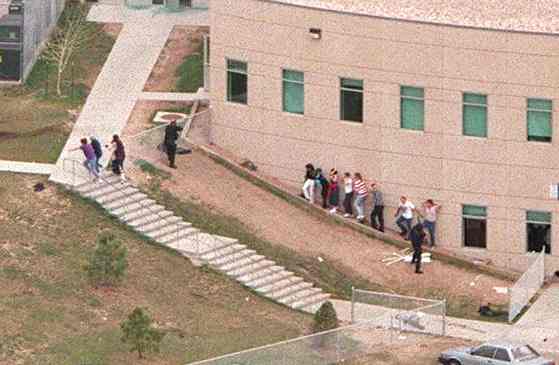 Evacuating Columbine high school during shooting massacre
Crime, punishment, and retaliation
On January 30, 1998, both Eric Harris and Dylan Klebold were caught with computer equipment that had been stolen, moments earlier, from a parked van near Littleton, Colorado. Both were arrested and attended a joint court hearing, where a judge decided that, because of their lack of moral judgment, the two needed psychiatric help. They attended a support group. Both were released from the program early due to their good behavior. Harris wrote an ingratiating letter to the owner of the equipment they stole, offering not just apologies, but empathy. During this time he would often boast in his journal entries about faking regret, and applauded himself at his deception. It is believed that shortly after being released from psychiatric care in April 1998, Harris and Klebold began to plot the attacks as a form of retaliation; the pair felt as if they were "at war" against society and needed to take action towards those they hated.
During his evaluation by doctors at the program, Harris was prescribed the anti-depressant Zoloft. Shortly afterwards, Harris reported having suicidal and homicidal thoughts to his doctor. But instead of being taken off anti-depressants completely, Harris was switched to the very similar drug Luvox. Some analysts have argued that this medication may have contributed to Harris' actions, and claimed that side-effects of these drugs include increased aggression, loss of remorse, depersonalization and mania.
Shortly after his and Klebold's court hearing, Harris' blog disappeared and his website was reverted to its original purpose of posting user-created levels for the game Doom. It was at this time that Harris began to write out his thoughts and plans in a paper journal. Despite this, Harris still dedicated a section of his website to posting his progress on the collection of guns and the building of the bombs used in the attack. After its existence was released to the public, AOL permanently deleted the website from its servers.
Journals and videos
Both Harris and Klebold began keeping journals of their progress soon after their release from the psychiatric center. The pair also documented their arsenal with video tapes which were kept secret.
Journal entries revealed that the pair had an elaborate plan for a major bombing rivaling that of Oklahoma City. The entries contained blurbs about ways to escape to Mexico, hijacking an aircraft at Denver International Airport and crashing into a building in New York City, as well as details about the attacks. The pair hoped that after setting off bombs in the cafeteria, they would rampage through the school and shoot any survivors, then continue their attack on surrounding houses as neighbors came out to see the commotion; this original plan failed when their main explosives did not detonate. The pair also kept videos that were used mainly as documentation of explosives, ammunition, and weapons they had acquired illegally. In these videos, the shooters also revealed all the elaborate and creative ways the two had thought up to hide their arsenals in their own homes, as well as the ways they would deceive their parents about their activities. Some videos contained footage of the pair doing target practice in nearby foothills, as well as shots of the areas of the high school they planned to attack. A few days before the shootings, a final video had the pair saying goodbye and apologizing to their friends and families.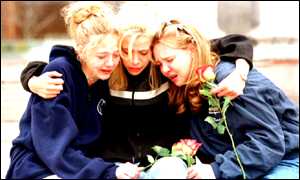 Friends of the victims comfort each other during a memorial service
Firearms
In the months prior to the attacks, Harris and Klebold acquired two 9 mm firearms and two 12-gauge shotguns. A rifle and the two shotguns were bought in a straw purchase in December 1998 by a friend, Robyn Anderson. Harris and Klebold later bought a handgun from a friend, Mark Manes. Manes was jailed after the massacre for the offense of selling a handgun to a minor, as was Philip Duran, who had introduced the duo to Manes.
With instructions from the Internet, they also built 99 improvised explosive devices of various designs and sizes. They also sawed the barrels and butts off their shotguns in order to make them easier to conceal. The two perpetrators committed numerous felony violations of state and federal law, including the National Firearms Act and the Gun Control Act of 1968, even before the massacre began.
Eric Harris
12 gauge Savage-Springfield 67H pump-action shotgun Serial No: A232432

Hi-Point 995 Carbine 9 mm semi-automatic rifle with thirteen 10 round magazines fired 96 times

The shotgun was the primary weapon used by Harris and was fired a total of 25 times

Harris committed suicide with the shotgun
Dylan Klebold
9 mm Intratec Tec-9 Semi-automatic handgun manufactured by Navegar, Inc. with 32 round magazines

12 gauge Stevens 311D double barreled sawed-off shotgun Serial No: A077513

The Tec-9 handgun was the weapon primarily used by Klebold and was fired a total of 55 times.

Klebold committed suicide with the Tec-9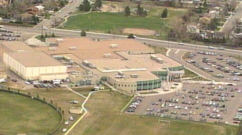 An aerial shot of Columbine High School on the day of the massacre
April 20, 1999: shooting at Columbine High School
Note: All times are in Mountain Daylight Time
At 11:10 a.m. on Tuesday, April 20, 1999, Eric Harris and Dylan Klebold arrived at Columbine High School in separate cars. Harris parked in the Junior student parking lot and Klebold in the Senior student parking lot at spaces not assigned to them. From these spots, both of them had excellent views of the cafeteria's side entrance and each one was covering a main exit of the school. Shortly before arriving at Columbine, Harris and Klebold had set up a small fire bomb in a field half a mile away from the school. The bomb was set to explode at 11:14 a.m., and is thought to have been placed there as a diversion for emergency personnel. The bomb did partially detonate, and caused a small fire that was extinguished by the fire department.
At Columbine, the pair met near Harris' car and armed two 20 pound (9 kg) propane bombs before entering the cafeteria a few minutes before the "A" lunch shift began, placing the duffel bags carrying the bombs inside; each bomb was set to explode at approximately 11:17 a.m. At the moment they entered the cafeteria, a custodian removed the security camera video tape, rewound it, and placed a new tape in the slot, so the act of placing the bombs was not recorded. However, once the new tape was started the bags could be seen clearly. The bombs had enough explosive power to destroy the entire cafeteria and bring the library above crashing down. Each shooter then returned to his car to wait until the bombs exploded. They intended to open fire on students fleeing the school through the main entrances once the cafeteria bombs detonated. As they returned to their cars, Harris encountered Brooks Brown in the parking lot. Having recently patched up their friendship, Brown approached Harris and scolded him for having missed a test. Harris replied to him by saying "Brooks, I like you. Now get out of here. Go home.", before continuing on his way. Several minutes later, students departing Columbine for lunch noticed Brooks Brown heading down South Pierce Street away from the school. Meanwhile, Harris and Klebold armed themselves by their cars and waited for the bombs to explode.
Shooting begins
When the cafeteria bombs failed, Harris and Klebold met near Harris' car, armed themselves with two sawed-off shotguns, a 9 mm Hi-Point carbine, and a 9 mm TEC-9 semi-automatic pistol (all placed in a duffel bag), and walked toward the cafeteria. They went to the top of the West Entrance steps, which was the highest point on campus. From this vantage point, the cafeteria's side entrance was at the bottom of the staircase, the school's main West Entrance was to their left, and the athletic fields to their right (See the lead photograph at the top of this page for an image of the staircase in question).
Injuries and deaths in initial incident
1. Rachel Scott killed by shots to the head and chest on a grassy area next to the West Entrance of the school.
2. Richard Castaldo shot in the arm, chest, back and abdomen on the same grassy area.
3. Daniel Rohrbough killed by a shot to the chest on the West Staircase.
4. Sean Graves shot in the back and abdomen on the West Staircase.
5. Lance Kirklin shot with wounds to the leg, neck and jaw on the West Staircase.
6. Michael Johnson escaped from the grassy knoll with wounds to his face, arm and leg.
7. Mark Taylor shot in the chest, arms and leg on the grassy knoll.
8. Anne-Marie Hochhalter shot in the chest, arm, abdomen, back, and left leg near the cafeteria's entrance.
9. Brian Anderson injured near the West Entrance by flying glass.
10. Patti Nielson hit in the shoulder by shrapnel near the West Entrance.
11. Stephanie Munson shot in the ankle inside the North Hallway.
12. Dave Sanders died of blood loss after being shot in the neck and back inside the South Hallway
At 11:19 a.m., a witness heard Eric Harris yell "Go! Go!" At that moment the gunmen pulled out their shotguns and began shooting at Rachel Scott and Richard Castaldo, who were sitting on a grassy knoll to their left (next to the West Entrance of the school), eating lunch. Both were hit and critically injured. After the initial shots, one of the shooters shot Scott again, killing her. It is unclear who shot first and who killed Scott. Rumors that the shooters first asked Scott if she believed in God, then killed her after she answered 'you know I do', circled around for much time alongside other rumors concerning the causes for the ordeal, and the possible targeting of Christians, though this rumor was later debunked after testimony from Richard Castaldo indicated the shooters did not interact with him or Scott at any time before or during the ordeal.
Next, Harris took off his trench coat and took out his 9 mm semi-automatic carbine, aiming it down the West Staircase. Daniel Rohrbough and his two friends, Sean Graves and Lance Kirklin, were walking up the staircase directly below the shooters. Kirklin reported seeing them standing at the top, when suddenly they began shooting at him. Shot in the chest, Rohrbough fell back onto Graves; a bullet pierced Graves's foot. The shooters then turned their guns on Kirklin, standing across from them. All three students fell wounded. Harris and Klebold then turned and began shooting south (away from the school) at five students sitting on the grassy knoll adjacent to the steps, opposite the West Entrance of the school. Michael Johnson was hit but kept running and escaped. Mark Taylor fell to the ground, crippled, and played dead. The other three escaped uninjured. As the shooting continued, Sean Graves stood up and limped down the staircase into the cafeteria's side entrance, where he collapsed in front of the door. Klebold began walking down the steps heading toward the cafeteria. As he descended, he shot Lance Kirklin once more in the face, wounding him critically. Daniel Rohrbough began to struggle down the steps towards the bottom of the staircase. Seeing this, Klebold walked up to him and shot him in the back at close range, killing him. He then continued down the staircase and stepped inside the cafeteria, walking over the injured Sean Graves, who lay at the cafeteria entrance. It is speculated that Klebold did this because he was checking to see why the propane bombs had failed to explode. As Klebold stepped into the cafeteria, Harris began to shoot down the steps at several students sitting near the cafeteria's entrance, wounding Anne-Marie Hochhalter as she attempted to flee. After a few seconds, Klebold returned back up the staircase to meet with Harris at the top.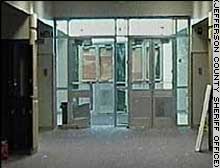 The West Entrance of the school after the shooting
The two then attempted to shoot at students standing near the soccer field a few yards away, but did not hit anyone. They then threw pipe bombs at the parking lot, roof, and hillside to the east; none of which detonated. Inside the campus, teacher Patti Nielson, seeing the commotion, walked towards the West Entrance with student Brian Anderson. She wanted to walk outside and tell the two students to "knock it off", as she thought they were shooting a video or pulling a prank. As Anderson opened the first set of double doors, Harris and Klebold shot out the windows. Anderson was injured by flying glass and Nielson was hit in the shoulder by shrapnel. Reacting in fear, she quickly stood up and ran down the hall into the library where she began to alert students inside, demanding they duck beneath desks and remain silent. She then dialed 9-1-1 and concealed herself beneath the library's administrative counter. Brian Anderson remained behind, caught between the exterior and interior doors.
Meanwhile, a deputy sheriff arrived at the scene and began shooting at Harris and Klebold, distracting them from the injured Brian Anderson. Anderson staggered out of the area and made it into the library where he ran into an open staff break room, remaining there until the ordeal ended. Harris fired ten shots at the officer, who then radioed in a Code 33 (officer in need of emergency assistance). When his gun jammed, Harris ran inside the school with Klebold. The pair then proceeded down the main North Hallway shooting at anyone they saw and throwing pipe bombs. While doing so, they shot student Stephanie Munson in the ankle. She was able to walk out of the school and make it to a house across the street. The pair then proceeded to shoot out the windows to the East Entrance of the school. After going through the hall several more times, shooting at any students they saw (but not injuring any), they headed back towards the West Entrance and turned to the Library Hallway.
Moments earlier, Coach William "Dave" Sanders had evacuated the cafeteria through a staircase leading up to the second floor. The staircase was around the corner from the Library Hallway in the main South Hallway. He and a student turned the corner and were walking down the Library Hallway when they saw the shooters coming around the corner from the North Hallway. The two quickly turned around and ran the other way (it is believed, but not confirmed, that Sanders was heading for the library to help evacuate the students there). The shooters came around the corner and shot at both of them, hitting Dave Sanders in the chest as he reached the South Hallway but missing the student. The student ran into science classroom SCI-1 and alerted the teacher inside. Meanwhile, the shooters returned back up the North Hallway. Sanders struggled over to the science area where the teacher took him into an empty science classroom SCI-3. Two students administered first aid there and attempted to contact police outside. However, Sanders died at approximately 3:00 p.m.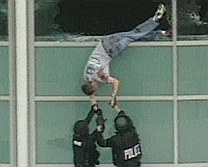 Library victim Patrick Ireland being pulled from
library windows after the massacre
The library massacre
As the shooting unfolded, Patti Nielson was on the phone with the emergency services, recounting her experience, and trying to get students to take cover under desks. According to transcripts, her call was received by the 9-1-1 operator at 11:25:05 a.m. The time period between when the call was answered and when the shooters entered the library was four minutes and ten seconds. Before entering, the shooters threw two pipe bombs into the cafeteria from the staircase in the South Hallway, both of which exploded (one of which can be seen on the security tapes). They then threw another in the Library Hallway which also exploded, damaging some lockers. At 11:29 a.m., the pair walked through the heavy doors of the library where 52 students, three library staff, and Ms. Nielson were hiding under desks and inside exterior break rooms.
Injuries and deaths in the library
13. Evan Todd sustained minor injuries from the splintering of a desk he was hiding under.
14. Kyle Velasquez killed by gunshot wounds to the head and back.
15. Patrick Ireland shot in the arm, leg, head, and foot.
16. Daniel Steepleton shot in the thigh.
17. Makai Hall shot in the knee.
18. Steven Curnow killed by a shot to the neck.
19. Kasey Ruegsegger shot in the hand, arm and shoulder.
20. Cassie Bernall killed by a shot to the head.
21. Isaiah Shoels killed by a shot to the chest.
22. Matthew Kechter killed by a shot to the chest.
23. Lisa Kreutz shot in the shoulder, hand and arms.
24. Valeen Schnurr injured with wounds to the chest, arms and abdomen.
25. Mark Kintgen shot in the head and shoulder.
26. Lauren Townsend killed by multiple gunshot wounds to the head, chest and lower body.
27. Nicole Nowlen shot in the abdomen.
28. John Tomlin killed by multiple shots to the head and neck.
29. Kelly Fleming killed by a shot to the back.
30. Jeanna Park shot in the knee, shoulder and foot.
31. Daniel Mauser killed by a shot to the face.
32. Jennifer Doyle shot in the hand, leg and shoulder.
33. Austin Eubanks shot in the head and knee.
34. Corey DePooter killed by shots to the chest and neck.
As he entered, Harris shot out a display case at the opposite end of the administrative counter, injuring student Evan Todd who was hiding under a copier adjacent to the display case. Harris then yelled for everyone to "Get up!" so loudly that he can be heard on the 9-1-1 recording (at 11:29:18) . Staff and students hiding in the library exterior rooms said they heard the gunmen utter things such as "Everyone with a white cap or baseball cap, stand up!" and "All jocks stand up! We'll get the guys in white hats!" (wearing a white baseball cap at Columbine was a tradition amongst sports team members). When no one stood up, Eric was heard to say: "Fine, I'll start shooting anyway!" The two then made their way down to the opposite side of the library, to two rows of computers. Evan Todd used the time to conceal himself behind the administrative counter. Kyle Velasquez was sitting at the north (or upper) row of computers; he had not ducked down below the desk. Klebold shot him first, hitting him in the head and back, killing him. The shooters then set down their duffel bags, filled with ammunition, at the south (or lower) row of computers and began reloading their weapons. They walked to the windows facing the outside staircase where they had just been a moment ago. Noticing police evacuating students, they began to shoot out the windows; police returned fire.
After a few seconds, Klebold turned away from the windows and fired his shotgun at a nearby table, injuring Patrick Ireland, Daniel Steepleton, and Makai Hall, then took off his trench coat. Harris grabbed his shotgun and walked over to the lower row of computer desks, firing his gun underneath the first desk in the row without looking to see who was under it. The shot killed Steven Curnow, who was hiding underneath it. He then shot under the next computer desk, injuring Kasey Ruegsegger.
Official reports state that Harris then walked over to the table across from the lower computer row, slapped the top twice with his hand, knelt down, and said "peek-a-boo" before shooting Cassie Bernall in the head. The recoil from the weapon hit his face, breaking his nose. Although it is popularly believed that Bernall was the individual who was asked "Do you believe in God?", the official investigation has attributed this remark not to Bernall but to a surviving student, Valeen Schnurr (see below). Three students who witnessed Bernall's death, including the person who was hiding under the table with her, have testified the exchange did not occur. Nevertheless, others who were in the library asserted the exchange occurred, though none of these students physically witnessed it. They may instead have heard the latter exchange between Klebold and Schnurr and been misled by news reports attributing the words to Bernall. This misunderstanding sparked much debate as to whether the official investigation thoroughly assessed all possibilities.
Harris then turned to the next table, where student Bree Pasquale sat next to the table rather than beneath it (she had not hidden underneath as there was not enough room to hide). Harris asked her if she wanted to die to which Pasquale responded with a plea for her life. Witnesses report that Harris was disoriented as this occurred, possibly from the wound to his face, which was bleeding heavily. As Harris taunted Pasquale, Patrick Ireland began to administer first aid to one of the two injured near him; seeing this, Klebold shot at him, hitting him twice in the head and once in the foot. The shot to his foot blew his shoe off. He was knocked unconscious, but remarkably survived.
Next, Klebold proceeded to walk toward another set of tables, discovering Isaiah Shoels, Matthew Kechter, and Craig Scott (all popular athletes at the school, the last of whom was Rachel Scott's brother) hiding under one. He attempted to pull Isaiah out from underneath the table, but was unsuccessful. He then called to Harris, who left Bree Pasquale and joined him. Klebold and Harris taunted Shoels for a few seconds; witnesses claim Klebold made a racial comment towards him. Harris then knelt down and shot him in the chest at close range, killing him. Klebold also knelt down and opened fire, hitting and killing Matthew Kechter. Remarkably, Craig Scott remained uninjured as he lay in the blood of his friends, pretending to be dead. Harris then turned and threw a CO2 bomb at the table where Hall, Steepleton, and Ireland were. Hall threw the bomb back out where it exploded farther south (away from the shooters).
Harris walked to the book cases between the west and center section of tables in the library. He jumped on one of the book cases and shook it, then shot at something in that general area (it is not known what he shot at, since no one could see him at this point). Klebold walked through the main area past the first set of bookcases, the central desk area, and a second set of bookcases into the east area. Harris walked past the central area meeting up with him there. Klebold proceeded to shoot out a display case next to the door, then turned and shot at the closest table to him, injuring Mark Kintgen. He then turned to the table to his left (east) and shot at it, injuring Lisa Kreutz and Val Schnurr with the same bullet. He then approached the table and fired again, killing Lauren Townsend.
Harris, in the meantime, went over to another table where two girls were hiding, bent down and looked at them, and dismissed them as "pathetic". The pair then went over to an empty table and began to reload their weapons. Schnurr, who had been hurt badly, began to cry out at that point, "Oh, God help me!" Klebold went back to her and asked her if she believed in God. She floundered in her answer, saying no and then yes, trying to get the answer "right". He asked her why; she said it was because it was what her family believed. He taunted her then walked away. This incident eventually led to the Cassie Bernall controversy, as some believe the eyewitnesses who continue to back the Bernall claim may have wrongfully attributed the Schnurr/Klebold remark to Bernall due to possible similarities in voice and appearance.
Harris then moved to another table and shot twice underneath it, injuring both Nicole Nowlen and John Tomlin. When Tomlin tried to crawl out, Klebold came around the corner and kicked him. Harris taunted his attempt at escape and then Klebold shot him repeatedly, killing him. Harris walked back over to the other side of the table where Lauren Townsend lay. Behind it, Kelly Fleming, like Bree Pasquale, sat next to the table rather than beneath it. Harris shot at her with his rifle, hitting her in the back, and killing her instantly. He continued to shoot at the table behind her, hitting Townsend and Kreutz again, and wounding Jeanna Park (an autopsy revealed that Townsend had already been killed by the first shot).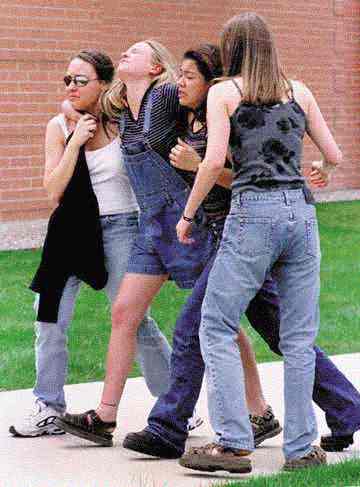 Students gather following the Columbine High School massacre,
part of the photography for which the Denver Rocky Mountain News
won the 2000 Breaking News Photography Pulitzer
At 11:37 a.m., the shooters moved to the center of the library, where they continued to reload their weapons at a table midway across the room. Klebold noticed a student nearby and asked him to identify himself. The student was John Savage, an acquaintance of Klebold's. Savage asked Klebold what they were doing, to which Klebold replied, "Oh, just killing people." Savage then asked if they were going to kill him. Klebold hesitated, and then asked him to leave the library. Savage fled immediately, making a safe escape through the library's main entrance.
After Savage was gone, Harris turned and fired his carbine at the table directly north of where they'd been, hitting Daniel Mauser in the face at close range, killing him. Both shooters then moved south from there and fired randomly under another table, critically injuring Jennifer Doyle and Austin Eubanks, and fatally wounding Corey DePooter. DePooter, the last victim of the massacre, was said to have been instrumental in keeping his friends calm during the ordeal.
At this point, several witnesses heard Harris and Klebold comment on how they no longer found a thrill in shooting their victims. Klebold was quoted to have said "Maybe we should start knifing people, that might be more fun." Both shooters then moved away from the table and began heading toward the library's main counter. Harris threw a Molotov cocktail toward the southwestern end of the library as he went, but it failed to explode. He then came around the east side of the counter and Klebold joined him from the west, both converging near where Evan Todd had moved to after the copier incident. The shooters made fun of Todd and debated killing him, but eventually walked away. Klebold then turned and fired a shot into an open library staff break room, hitting a small television. Klebold slammed a chair down on top of the computer terminal that was on the library counter, directly above the bureau Patti Nielson was hiding under. The two then walked out of the library at 11:42 a.m., ending the brutal massacre.
Almost immediately after the shooters left the library at 11:42 a.m., 34 uninjured and 10 injured students evacuated the room through the north door, which led out to the sidewalk adjacent the west entrance where the rampage had begun. Patrick Ireland, who had been knocked unconscious, and Lisa Kreutz, who was unable to move, remained in the building. Patti Nielson ran into the exterior break room Klebold had shot into earlier, joining Brian Anderson and the three library staff already inside; they locked themselves in and remained there until they were freed at approximately 3:30 p.m.
Suicide of the shooters
After leaving the library, the pair went into the science area and threw a small fire bomb into an empty storage closet. When the bomb exploded, they ran off. A teacher in the adjacent room put out the fire. They then proceeded towards the South Hallway, stopped, and began shooting into an empty science room (SCI-8) at the end of the hall. Next, they went down the staircase into the cafeteria where they were first caught by the security cameras. The recording shows Harris attempting to detonate one of the propane bombs, without success; he then took a sip from one of the drinks left behind by fleeing students. Another Molotov cocktail was thrown, but it too failed. The two then left the cafeteria and went back up the stairs. As they did so, the cocktail exploded (this can be seen in the security tapes) causing a fire that was extinguished by the fire sprinklers; they left the cafeteria at around 11:50 a.m. Once back on the upper level, they walked around the main North and South Hallways of the school without any direction, shooting aimlessly. They walked through the South Hallway, past the Social Studies section, and into the main office before proceeding back onto the North Hallway. Several times they looked through the small windows on the classroom doors and even made eye contact with students, but never attempted to enter the rooms. After leaving the main office, the pair went up to a bathroom entrance and began taunting students inside, saying such things as "we know you're in there" and "let's kill anyone we find in here", but never actually entering the bathroom. At 11:55 a.m., the two returned to the cafeteria and entered the kitchen briefly, only to return back up the staircase, and into the South Hallway, at 11:58 a.m.
Deaths of the shooters
Eric Harris committed suicide by a single shot to the head.
Dylan Klebold committed suicide by a single shot to the head.
At 12:05 p.m. the shooters entered the library again, but it was empty of all living students except for the unconscious Patrick Ireland and Lisa Kreutz (who played dead). It is not known what they did between the time they left the cafeteria and the time they re-entered the library. Once inside, they attempted to shoot out the windows at policemen, without success. They then moved over to the table next to where Matthew Kechter and Isaiah Shoels lay; there, they shot themselves, committing suicide. At 2:38 p.m., Patrick Ireland regained consciousness and crawled over to the windows, where he attempted to exit. He was then taken out of the school through the library windows by SWAT team members, in a famously televised scene. Lisa Kreutz remained injured in the library until police entered the scene at 3:25 p.m.; she was then removed, along with Ms. Nielson, Brian Anderson, and the three staff.
Shooting ends
By noon, SWAT teams were stationed outside the school and ambulances started taking the wounded to local hospitals. Meanwhile, families of students and staff at the school were asked to gather at nearby Leawood Elementary School to await information.
A call for additional ammunition to police officers in case of a shootout came at 12:20 p.m. However, the killers had ceased shooting just minutes earlier. SWAT teams began to thoroughly check every room in the high school examining desks and backpacks by 12:45. Authorities reported pipe bombs by 1:00 p.m., and SWAT teams started to free hidden students by 2:30 p.m. All students, teachers, and school employees were taken away, questioned, and then offered medical care in small holding areas before being bussed to meet with their family members at Leawood Elementary. Officials found bodies in the library by 3:30 p.m.
By 4:00 p.m. the sheriff made an initial estimate of twenty-five dead students and teachers; his estimate was ten over the true count but closer to the total count of wounded students. He also stated that police officers were searching the bodies of Harris and Klebold in the library. At 4:30 p.m. the school was declared safe; however, at 5:30 p.m. additional officers were called in as more explosives were found in the parking lot and roof. By 6:15 p.m., officials had found a bomb in a car in the parking lot. The sheriff then decided to mark the entire school as a crime scene; thirteen of the dead, including the shooters, were still inside the school at the time. At 10:45 p.m., the car bomb detonated when an officer tried to defuse it. None were injured, but the car was damaged.
Victims
In the end, twelve students and one teacher were killed and twenty-four other students were injured as a direct result of the massacre; three more were injured indirectly as they attempted to escape the school. Harris and Klebold are thought to have committed suicide about forty-five minutes after the massacre began.
Immediate aftermath
On April 21, bomb squads combed the high school. The official death toll was announced at 8:30 a.m. At 10:00 a.m., the bomb squad declared the building safe for officials to enter. By 11:30 a.m., a spokesman of the sheriff declared the investigation under way. Thirteen of the bodies were still inside the high school as investigators photographed the building.
At 2:30 p.m., a press conference was held by Jefferson County District Attorney David Thomas and Sheriff John Stone, saying that they suspected others had helped plan the shooting. Formal identifications of the dead had not yet taken place, but families of the children thought to have been killed had already been notified. Throughout the late afternoon and early evening, the rest of the bodies were gradually removed from the school and taken to the Jefferson County Coroner's Office to be identified and autopsied. By 5:00 p.m., the names of the dead started to be known. An official statement was also released stating that there were fifteen confirmed deaths and twenty-seven injuries related to the massacre.
On April 30, 1999, high-ranking officials of Jefferson County and the Jefferson County Sheriff's Office met to decide if they should reveal that Investigator Guerra knew of the Harris website two years prior to the massacre. They decided not to disclose this information at a press conference held on April 30, nor did they mention it in any other way. Over the next two years the original Guerra documents were lost; their existence was not revealed to the public until September 24, 2001.
Third shooter theory
Shortly after the massacre, reports from five to seven witnesses at Columbine claimed that a third shooter was present. Other reports from around the neighborhood stated that at approximately 10:40 a.m., Klebold's BMW, carrying up to four people, was spotted a few blocks from the school. It was followed by a tan sedan carrying two people. Officials decided to look further into these claims as they believed it was impossible for Harris and Klebold to carry so many explosives into the building themselves.
Columbine student Chris Morris, a friend and bowling teammate of both shooters, was arrested on April 20 and charged with possible involvement. He was later released after his alibi was verified. Witnesses at the school reported to have seen a third shooter in the North Hallway, though ballistics and eyewitness reports from the parking lot and library attribute the attack to only two people. A 911 call made by Morris was also viewed with suspicion during the investigation because he had knowledge of the guns, clothing, and actions of the shooters as the massacre unfolded and was also able to immediately identify the perpetrators with certainty. Morris had heard the pair mention the idea of going on a killing spree once, but thought they were just kidding around. After his release, Morris was interrogated several times and given a polygraph test, which he passed; a search of his home revealed no evidence of involvement.
Nathan Dykeman, a close friend and bowling teammate of both shooters, was for a while considered to be the third shooter after failing two polygraph tests. He was later removed from the list of suspects after several witnesses confirmed that he had left Columbine prior to the actual massacre and was spotted being away from the school as the massacre unfolded. The timing of his 9-1-1 call as well as several calls to Tom Klebold (Dylan's father) also conflicted with the time of the massacre, making it impossible for him to have been in the school.
Another conflicting report was that of a sniper on the roof. This rumor surfaced after several police officers and students witnessed a figure moving around on the roof of the library as the massacre unfolded. It was later discovered to have been a roofing repairman who was scheduled to do maintenance on the library's roof and had remained hidden there during the ordeal.
Aftermath and the search for rationale
In the aftermath, there was a great deal of debate about what motivated the killers and whether anything could have been done to prevent the crime. Unlike most other school shootings, the fact that both shooters committed suicide made this one particularly haunting, as answers would be slow in coming, and there would be no arrests or trial through which the victims could vent their outrage. The reality of social cliques in high schools was a frequent topic of discussion. Many argued that the pair's isolation from the rest of their classmates prompted feelings of helplessness, insecurity and depression, as well as a strong desire for attention. Some schools also began programs to expose and stop school bullying, which many charged had fueled anger and resentment within Harris and Klebold.
Some commentators charged that school administrators and teachers at Columbine had long condoned a climate of bullying by the so-called "jocks" or athletes, allowing a "toxic climate" of outright intimidation and resentment to fester which, they claimed, could have helped trigger the perpetrators' extreme violence.
In the weeks following the shootings, media reports about two students who portrayed them as part of a "goth cult" and outcast "nerds". Later, such characterizations were found to be untrue as both Harris and Klebold are documented to have had a close circle of friends and a wider informal social group; by no means were they isolated. It was also reported that homophobic remarks were frequently directed at them. As for claims of their ties to "goth cult", Harris and Klebold were for a time thought to be part of an informal school club called the Trenchcoat Mafia; this allegation was later proven false, although they were friends with some of its members. Nevertheless, both students and administrators across the country backlashed against the "goth" subculture.
Due to the uncertainty and ambiguity in their planning, many theories still exist about the choice of date. One theory states that the original date chosen was April 19 because it was a date on which Robyn Anderson, one of the people who purchased the guns and a close friend of Klebold, would not be present. Due to delays in the making of the propane bombs, the date was moved to April 20. Some analysts noted that the date of the shooting coincided with Adolf Hitler's birthday and was one day after the anniversary of the Oklahoma City Bombing and the immolation of the Branch Davidians in Waco, further strengthening the theory that the original intended date was set for April 19, as both shooters mentioned in videos that they had hoped to outdo both these events. It is also believed that the shootings were perhaps plotted for these days because of their proximity to the end of the year activities.
Both Harris and Klebold were fans of video games such as Doom and Wolfenstein 3D. Harris often created levels for Doom that were widely distributed, and can still be found on the Internet as the Harris levels. Rumors that the layout of these levels resembled that of Columbine High School circulated but have been debunked. Some analysts argued that part of the killers' problem may have been desensitization due to their constant exposure to violent imagery in such video games, as well as music and movies, theorizing that their obsession with these forms of media may have led them to depersonalization. American media compared the massacre to a fantasy sequence from the 1995 film The Basketball Diaries in which protagonist Leonardo DiCaprio wears a black trench coat and shoots six classmates in his school's hallways. Some eyewitnesses at the school compared the events to scenes from the 1999 film The Matrix. Several unsuccessful lawsuits against video game manufacturers were filed as a result by parents of some of the victims. Harris and Klebold were reported as fans of the movie Natural Born Killers, using the film's acronym as a code in their home videos and journals. The rants in Eric Harris' journal entries bear many similarities to character Mickey's philosophy that he is only human, and humans are animals that rely on their animalistic instincts.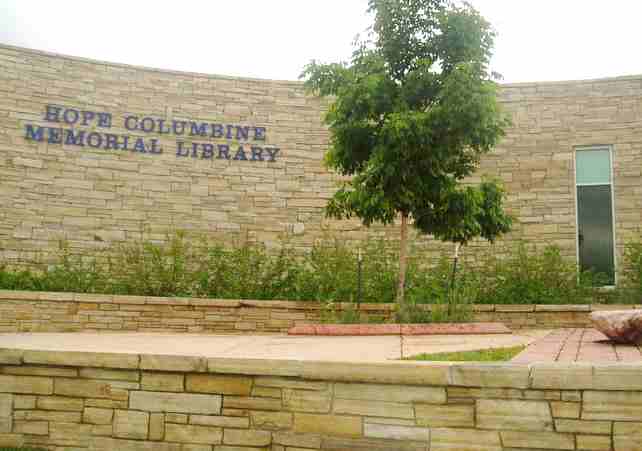 The HOPE Columbine Memorial Library now stands as a memorial at the High School. Partially built at the site where the massacre began, it replaced the older library where most of the massacre unfolded
Blame for the shootings was also directed at Marilyn Manson and other 'gothic' music groups. Manson stated on a VH1 interview that he cancelled three concerts in memoriam of the tragedy. When asked what he would have told the killers, Manson stated, "I wouldn't say a thing. I would just listen to them... and that's what nobody did". Manson has also written a song Target Audience (Narcissus Narcosis) criticizing the media which blamed him for the tragedy. A review of Harris' website showed both shooters disliked Manson and most other mainstream music. Close friends of the pair who testified confirmed that they were fans of German industrial music bands, such as Rammstein. Upon release of this information, Rammstein came under heavy criticism from conservative and Christian groups in the United States, who claimed (amongst other things) that lead vocalist Till Lindemann's rolling Teutonic Rs were an imitation of Adolf Hitler's diction. In response, the band issued this statement:
"The members of Rammstein express their condolences and sympathy to all affected by the recent tragic events in Denver. They wish to make it clear that they have no lyrical content or political beliefs that could have possibly influenced such behavior. Additionally, members of Rammstein have children of their own, in whom they continually strive to instill healthy and non-violent values."
Some people assume that the shooters were inspired by lyrics from the Rammstein song 'Weißes Fleisch' (lit. 'White Flesh'):
Lyrical excerpt:
"Du auf dem Schulhof, Ich zum Töten bereit, und keiner hier weiß von meiner Einsamkeit. Rote Striemen auf weißer Haut. Ich tu dir weh, und du jammerst laut"
Translation:
"You, in the schoolyard, I am ready to kill. And nobody here knows of my loneliness. Red welts on the white skin. I hurt you, and you cry loudly."
German industrial rock band KMFDM received similar criticism. Harris' website featured lyrics to KMFDM songs and the shooting occurred on the release date of their album Adios. KMFDM frontman Sascha Konietzko released a statement to the press the day following the shooting, expressing his own grief at the shooting, and emphasised their music is "a statement against war, oppression, fascism and violence against others" and that "while some of the former band members are German as reported in the media, none of us condone any Nazi beliefs whatsoever."
Marilyn Manson continued to voice his concerns over the media connecting the massacre to the entertainment industry. He contributed a column to Rolling Stone magazine and was an interviewee in Michael Moore's film Bowling for Columbine. The blame by the media and parents for the shooting was the inspiration, in part, for Manson's fifth album, Holy Wood (In the Shadow of the Valley of Death), the songs of which focus largely on the relationship between death and celebrity in America. Some also blame the film Natural Born Killers, which the shooters were said to have watched many times.
It was also rumoured and reported by The Village Voice and National Public Radio that on the day of the shooting, Klebold wore a t-shirt with the name of a New York hardcore band, Indecision, during the shooting rampage. Thus spurring another music group to issue a press release denouncing the horrible crime under the intense scrutiny of conservative and Christian groups in the United States.
In July 1999, the FBI organized a major summit on school shooters in Leesburg, Virginia. They brought in many of the world's leading psychologists and psychiatrists, and representatives from each of the recent school shootings, including a large Columbine contingent. Attorney General Janet Reno was also in attendance. The FBI eventually published a major report on school shooters, though it steered clear of causes on any individual case. However, on the fifth anniversary of Columbine, the FBI's lead Columbine investigator and other top psychiatrists went public with their conclusions in a Slate story entitled The Depressive and the Psychopath. They diagnosed Harris as a clinical psychopath and Klebold as a depressive, and saw that the plan was masterminded by Harris. He had a messianic-level superiority complex, and hoped to illustrate his massive superiority to the world.
A thorough study of all U.S. school shootings by the U.S. Secret Service warned against the belief that a certain "type" of student would be a perpetrator. Any "profile" would fit too many students to be useful, and may not fit the potential perpetrators. "The researchers found that killers do not 'snap.' They plan. They acquire weapons. They tell others what they are planning. These children take a long, planned, public path toward violence. And there is no profile. Some lived with both parents in 'an ideal, All-American family.' Some were children of divorce, or lived in foster homes. A few were loners, but most had close friends." Instead of looking for traits, the Secret Service urges adults to ask about behavior: "What has this child said? Does he have grievances? What do his friends know? Does he have access to weapons? Is he depressed or despondent?"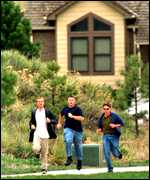 Students run away during evacuation of the school
Long-term impact
In response to concerns over the causes of Columbine and other school massacres, many schools instituted new anti-bully policies as well as so-called "zero tolerance" approaches to weapons and threatening behavior. Despite the horrific nature of the Columbine incident, some social science experts feel the zero tolerance in schools has gone overboard. In the months following the shooting, considerable attention was focused on Cassie Bernall, who was reported to have been asked "Do you believe in God?" by one of the shooters, and to have responded "Yes" before being killed. However, Valeen Schnurr claims that this exchange was with her, and Emily Wyant, the only living witness to Bernall's death, confirms that Bernall did not have this discussion. Both Bernall and Rachel Scott were regarded as Christian martyrs by many. The official investigation attributed the statement to survivor Valeen Schnurr. Despite this conclusion, student witness Joshua Lapp maintains that it was Cassie Bernall who was asked about her beliefs and responded 'yes' before being shot, although Lapp was unable to correctly point out the table or location where Bernall was located and was himself closer to Schnurr during the shootings. Another witness, Craig Scott, whose sister Rachel Scott was also portrayed as a Christian martyr, claimed that the discussion was with Cassie Bernall, but when asked to point to where he heard the conversation coming from, pointed to where Schnurr was shot.
Since the shooting, "Columbine" or "the Columbine incident" has become a euphemism for a school shooting. Charles Andrew Williams, the Santana High School shooter, reportedly told his friends that he was going to "pull a Columbine", though none of them took him seriously. Many foiled school shooting plots mentioned Columbine and the desire to "outdo Harris and Klebold." Since the Columbine shooting, schools across the United States have been instituting new security measures such as see-through backpacks, metal detectors, and security guards. Some schools have implemented school door numbering to improve public safety response. Several schools throughout the country resorted to requiring students to wear computer-generated IDs. At the same time, police departments began to reassess their tactics and train for Columbine-like situations after criticism over the slow response and progress of the SWAT teams during the shooting.
However, in its study of all U.S. school shootings, the U.S. Secret Service found that schools were taking false hope in physical security, when they should be paying more attention to the pre-attack behaviors of students. Zero-tolerance policies and metal detectors "are unlikely to be helpful," the Secret Service researchers found. Why rely on SWAT teams, they ask, when most attacks are over before police arrive? Why focus on kids who fit a profile or show warning signs, when there is no profile that fits all those who kill? Why expel students immediately for the most minor infractions, when expulsion was just the spark that pushed some students to come right back to school with a gun? Why buy software to evaluate threats, when the killers rarely make direct threats, and the software is not based on a study of school shootings? Why rely on metal detectors and police officers in schools, when the shooters often make no effort to conceal their weapons?
The shooting also resulted in calls for more gun control measures. In 2000, federal and state legislations were introduced that would require safety locks on firearms as well as ban the importation of high-capacity ammunition magazines. Though laws were passed that made it a crime to buy guns for criminals and minors, there was considerable controversy over legislation pertaining to background checks at gun shows. There was concern amongst the gun lobby over the further erosion of Second Amendment rights in the U.S.
Cultural references
Due to its massive cultural impact in the United States and elsewhere, the massacre has often been referenced in media, inspiring music, literature, films, and a controversial PC game.
LINKS and
REFERENCE
World: Americas - Columbine shooting footage aired on TV
Pictures taken by security camera during the Columbine High School shootings have been aired on American television, despite protests by officials from the school.
In April, two teenage gunmen went on the rampage at the school, killing 12 of their fellow students and a teacher before taking their own lives.
CBS aired clips of the videotape on Tuesday, which showed one of the gunmen opening fire in the Columbine cafeteria.
Barbara Monseu, the school district administrator in Jefferson County, Colorado, said school officials had tried unsuccessfully to stop the tape from being broadcast.
The silent, grainy video shows students bustling around the cafeteria at around lunchtime.
Students scatter
It then shows what appears to be a gunman diving for cover moments before one of his bombs explodes.
Students are seen frantically scattering and colliding as they try to duck under tables for safety.
Later, a second gunman appears, kneels on the floor, steadies himself and opens fire on what is believed to be a huge propane bomb.
Authorities said no bodies were shown in the snippets aired on television.
Bad for the families
The clips had only previously been shown at a training seminar to help school officials prepare for bomb threats.
Colorado authorities say they were outraged by the decision to air the footage and tried to stop it going out.
The Jefferson County sheriff's department, which had kept a copy of the videotape, said no authorisation had been given for it to be aired.
"The bad thing is for the victims' families," said spokesman Steve Davis. "They are being notified as we speak that some stations have chosen to air this."
One station defended its decision by arguing the footage had news value. Another said it was up to the viewers to decide whether to watch the footage or not.
But some stations chose not to air the clips, with one explaining to its viewers that editors had weighed up its journalistic merits.
---
A - Z of Sussex officer investigations
Melanie Ann Liebenberg (Doctor)
The above is just a few of a number of persons likely to be investigated in respect of certain cases brought against Wealden Action Group members, on the instigation of known Masons, councillors, or planning officers, many of which are themselves Masons.
Full details of this case will be available for publishing in newspapers from 25 April 2008 subject to confirmation. This will include full disclosure of all factors relied on photographs of the officers concerned, the CPS staff, expert witnesses, teachers and the subjects of the allegations, the defendant, alleged victim and family and others, video footage, transcripts and an exclusive from the defendant. The case is to be heard in September 2007 at a Crown Court in Sussex, which we will advise of closer to the time.
Newspapers are warned that interim, they should be exceptionally careful about reporting this matter, due to a Section 39 Order. Those in attendance at Court will already know the identity of the girl and that a Not Guilty plea has been entered on all counts.
Armed with the name of the girl, newspaper reporters will be able to investigate the matter for themselves, for the purposes of balanced reporting at the appropriate time, but should take special care where allegations are already on the table with the police investigating the possibility that such reporting is likely to reveal the identity of the girl concerned to the general public.
This case looks set to be every bit as exciting as the BBC 'The Verdict' drama. It is bound to raise a whole raft of questions as to social issues, how the system works, who it protects, who it doesn't protect and what might have gone wrong within the family concerned. Just who the victim is in these cases is sometimes hard to define.
It could be that the defendant deliberately set out to abuse a young girl, or he could be the victim in the wrong place at the wrong time. It could be the young girl feels the need for attention she is not getting at home, and this is a cry for help. Indeed, there are a number of possible explanations, but one thing is for sure, the trial is bound to explore the situation and the jury deliver a verdict.
As for the players, what will happen to them? How will this affect their lives, their family and future, and what are the lesson to be learned? See below for details.
---
A DYSFUNCTIONAL FAMILY - GUILTY UNTIL PROVEN INNOCENT
We are following this case in Sussex, England, since the law has changed. The allegations follow the break up of a 3 year long relationship with a single parent mother claiming suicidal thoughts in the early stages of the relationship, with reminders. Some three months after the girl believed her mother's boyfriend was not coming back, and after another rejection by her absent natural father, the 14 year old daughter alleged assault, which she claims took place in the preceding years, but chose not to mention at the time.
Is this an attention seeking cry for help, a mental disorder, blackmail, or did these events take place? PA 20-11-06 (Full and exclusive rights to this story available)
The mother and single male had known each other for a couple of years prior to getting together, having been introduced by the mother's father. The relationship began to get serious when the family invited the single male to a birthday party, after which the man began dating the mother. Pretty soon the lady had talked the gent into moving in with her and her two children, a boy and a girl, on a temporary basis. With a promise they would move to his home once repairs had been effected.
They enjoyed weekend family outings like any other. The girls father had shown up on a couple of occasions in the first year, but did not keep this up. In fact it is somewhat incredible that the mother allowed this, since the breakup had been particularly bitter, involving a break-in (simulated burglary) and other terror tactics. The girls natural father was prone to affairs and in fact has several children with different mothers all out of wedlock.
As the long term plan was for the family to move in with the bloke, to begin with the family unit would spend weekends at the chaps home, so everyone would get used to the idea. Apart from the companionship of country walks and shopping outings, he was particularly good with his hands, able to make things for the children, but he was also an entrepreneur with plans to expand his business. However, he was also kindly disposed to teaching the children various skills and went out of his way to think of projects which might interest them.
The long term plan faded into a distant memory, as the mother and her family applied pressure for him to abandon his home. It transpired the mother did not own her own home at all, but it was owned or managed by her parents. This too came as something of a shock to the male, since he was led to believe otherwise and that they would eventually pool resources.
Undeterred, he continued to live with the family and they became engaged, hoping things would turn out for the best. With the short hours he was now forced to work, his business development slowed to a crawl. All his money went on outings and travel. Although the mother at first supported him in his endeavors, her demands of his time began taking its toll. To make matters worse the mother's family did not understand his business at all. They kept trying to make him change his career, to support their daughter and forget all that he'd worked on for the past 12 years. They also made it plain they did not want their grandchildren living anywhere, but the home they managed for their daughter.
Indeed, they expected their daughters partner to abandon his home and questioned him on every occasion when he spent money at this location, or on anything other than the family. Things finally came to a head when the children's grandfather rowed with their daughter's suitor for the first time, the older man accusing the single male of not contributing enough to the running of his daughter's home, not picking up the children from school and continuing with his business plans, rather than change to a career they preferred.
BONDING
Inevitably, the substitute father became good friends with the children. The girl would confide her day to day troubles and would expect attention, as would any daughter. The boy took to the various projects like a duck to water. He became quite adept at making things and his school performance improved from the practical experience. He too demanded a high level of attention.
The girl was not as easy to please, since the man could not sew or dance and did not fancy walking dollies in prams, etc. So he concentrated on sport and coached her during phases of her wanting to be a pop star. He had special clothes made to try and make them feel part of his world. He arranged for the girl to be with horses, until she lost interest in this also, when she got into sport in a big way. In fact sport, dancing and acting took over her life, to the point where she wanted to start a dancing school. Previously, she had wanted a stables.
His presence was required at nearly all parties, functions and outings and he genuinely felt part of the family and wanted to see the children do well. He actively promoted them, bought them a computer each, all of which they enjoyed and must have added to their confidence. Naturally, he was by this time very much in love with his partner, confiding that he trusted her completely. They almost never had a cross word. But would rather bottle up their emotions.
The girl continued to have problems at school and with certain friends. At this time she entered puberty, which of course made things worse and mood changes became apparent, which the bloke admits, he had trouble coping with. There were now two potentially moody females to cope with. If the girl was having a bad day or not getting her way, she would take it out on him, since she could not treat her mother in that manner. The bond they had developed, now became something else. He became the emotional punch-bag. The only friendly face for the bloke was the young lad.
RAIN CHECK
After the row between her father, the chap felt he could not live up to the expectations they had of him. He felt inadequate and unable to cope, where all he could do to salvage some dignity and self respect, was to return to his home. This might also give him the opportunity of recovering financially and effecting repairs to the building, by now more urgent than the two or so years ago he had left them.
He offered to return at weekends to continue the relationship, enjoy outings, etc as before. He did not want to abandon the family or leave his partner is a state where she might do something silly. It seems his partner did not appreciate the demands she had made on him and he had not appreciated what would be demanded of him. He bought a large tv and other electrical devices and was frequently called upon to sort administrative issues, his partner appeared not to be able to cope with - mend this and that. He became the repair man. He also went on a holiday with the family, which he could ill afford, and to a location he'd rather not.
During the weekdays at home he missed the family. But, when he returned at the weekend, things were not the same. The children, who'd previously enjoyed many hours on a one to one basis, only got minutes. They were rushed to bed, or to some other event and the family unit began breaking down. The mother was on edge during these weekends, possibly due to feeling neglected but also due to work and financial pressures, and medical problems.
Unfortunately, just when things were beginning to get better, the mother had a serious car accident, which unfortunately was her fault, in the process wiping out two other vehicles. This incident appeared to unbalance her judgment on unrelated issues. Perhaps, one straw too many. Despite the fact she was also on a tight budget, she went on a spending spree. The bloke offered her a free car - she insisted on a newer, better one than his. There were other significant purchases. Where the chap had been holding off on several business items, just in case there were other emergencies, he now felt justified in making the investment.
Undoubtedly, during this troubled time the girl lost the father figure. Homework too, had started getting more demanding and her sport was just about an everyday after school matter of fact, or therapy. The boy too did not get any time, and in fact the mother deliberately kept them apart, despite part completed projects crying out to be finished. One can imagine the confusion in the minds of the children. It may have seemed to them they had become pawns in a pre-marital tussle. The engagement was called off.
One weekend not long after this, the mother attacked the bloke and threw him out of her house. Rejection was hitting them both hard. Contact became less and less. The bloke tried to one last ditch attempt to get things back on the rails at Christmas 05, but just as he was limbering up to ask for her hand in marriage again, the mother staged a fight about almost nothing. It might have seemed like nothing to the bloke, but she'd obviously been storing up issues they never talked about and finally let fly. At this point the bloke collected up his belongings and left, having been completely degraded in front of her whole family. If you want to end a relationship, this is one certain way to go about it.
Her parents tried to get them together again, but it didn't work. There were a few outings, which were very awkward, and during which the chap wondered why he was there at all. Finally, the mother told him she had a new relationship and that was that. Shortly after this, the girl made her allegations.
OTHER ISSUES
Other factors to be taken into consideration are that the mother is a trained psychiatric nurse. The Mother and daughter live next door to a policeman. The accusers grandfather is a mason, a district councillor and sits on a local police committee. This is only interesting after learning the officer conducting a taped interview admitted they would not normally follow up on such a claim. It is interesting because most senior police officers are masons - and masons sometimes do favors for each other! However, that may not be an issue unless the grandparents are not called to give evidence.
Quite often false allegations are levied at defenseless single males. They become the victims of their own kindness, if they join and support, then decide to leave the family. They are especially vulnerable where a young girl is part of the family group and where the girl is between the ages of puberty and leaving school, perhaps does not have much luck with the opposite sex (no boyfriend). Such girls sometimes hang out with teachers during lunch breaks. In this case we are advised the girl would spend lunch breaks with a male teacher.
GRIEF
The bloke remains devastated at the break up, and despite all he's gone through still feels deeply for the family. He is now faced with a grueling series of court appearances, where he has no alternative but to defend himself and reveal all the details he believes should be held forever private.
Already, the police have put him in an awkward position, by publishing the allegations, including the girls name, for all to see. Indeed, this may not have been the proper thing to do and we will be looking into this aspect of the proceedings in due course. The press to are contributing to these issues, where previously published web articles may (according to the Police) identify the girl. Hence, we are taking every precaution not to reveal the girls name or address. This will of course change when she is no longer a minor.
The single man is still somewhat confused as to why the girl felt it necessary to pursue such a desperate course, when if any of the family had wanted attention, they had only to telephone. He says he'd not abandoned the family and had hoped it would be possible to recover the situation given time. Yet it seems as if the girl wants more than attention. It might be she wants to punish someone, or maybe something else? But what is her lot and why? Is she a deprived child. Apparently not. Her grandparents are relatively wealthy.
So, who is/are the victim(s) here. The bloke, the mother, the boy, the girl, or all of them................................... to be continued.
---
CONVICTION QUASHED OVER 'MADE UP' VAMPIRE CLAIM


Paul Lewis - Friday May 19, 2006
The Guardian

A man who was sentenced to eight years in prison in 2004 after a teenager falsely alleged he repeatedly raped her in "vampire" rituals had his conviction quashed yesterday.
Leon Benjamin Forde, 21, of Lincoln, was jailed 18 months ago after the girl claimed he subjected her to a sex ordeal two years previously, when she was 13. But he won his freedom at the appeal court after the prosecution accepted the girl's testimony was undermined by evidence uncovered from a computer diary which suggested she had "made it all up".
Mr Forde later said his time in prison had been "hell".
---
TEACHER CLEARED OF RAPE TOO LATE

Graeme Paton - Published: 21 April 2006

A teacher who died in prison after being convicted of raping one of his pupils has been posthumously cleared by the Court of Appeal.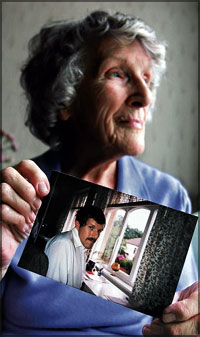 Molly Gee, 88, who has been awarded £62,493 by the appeal court
after battling to clear her son Darryl's name


Darryl Gee was jailed in 2001 despite scant evidence to corroborate his accuser's claims, which related to alleged incidents more than a decade earlier.
The music teacher, who protested his innocence, died in his cell from an undiagnosed blood cancer. He had served 18 months of an eight-year sentence.
This week, campaigners described the case as one of the worst miscarriages of justice they had seen after the Court of Appeal in London quashed his conviction.

It comes as government guidance designed to speed up investigations into alleged abuse of pupils is introduced in schools. Unions say this will reduce the risk of innocent teachers being smeared by false allegations.
Chris Keates, general secretary of the NASUWT, said: "This is an extreme and tragic illustration of the consequences of malicious allegations and underlines the need for these new procedures."
Mr Gee's 88-year-old mother, Molly, awarded £62,493 costs by the court, said the case should be a warning to other teachers.
"It all boiled down to one girl's word against his, and the jury believed her," she said. "That's all it took to send my son to prison and it has left me very angry and grief stricken. I don't think anyone should have to work alone with a child – it is just too easy for an allegation like this to be made."
Mr Gee, a supply teacher who taught brass instruments, was found guilty at Leeds crown court in January 2001 after being accused of raping and indecently assaulting a pupil in a Huddersfield school in 1989. He died aged 55 in August 2002, a month after a second appeal failed.
His conviction was eventually quashed when his mother alerted the Criminal Cases Review Commission, which asked a leading psychiatrist to report on his accuser. The study cast doubt on her mental state. It also emerged that the girl, now 26, made similar allegations against another man, whose conviction was quashed earlier this year.

Read more in the TES including the story of Charlie King. A jury took just half an hour to find him not guilty of sexually assaulting three of his pupils. So why did it take 13 months for the case to reach court?
---
SEX ATTACK LIAR NAMED BY PEER
19th October 2006
A woman with a long history of crying rape who sent an innocent man to jail was named in Parliament amid calls for a change in the law.
Shannon Taylor was unmasked by a peer who told the House of Lords her lies had put father-of-two Warren Blackwell behind bars for more than three years.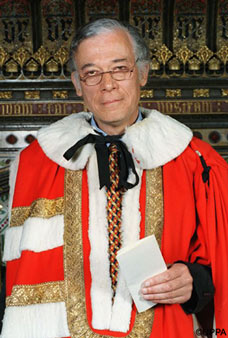 Lord Campbell-Savours
Lord Campbell-Savours used Parliamentary privilege to expose her identity and lambast the 'shabby' police investigation that saw Mr Blackwell imprisoned.
Legal experts praised his decision to speak out to prevent other men falling victim to fake sex attack allegations.
Mr Blackwell, 36, whose loyal wife Tanya never doubted his innocence, was dramatically cleared at the Appeal Court last month after Miss Taylor's background as a serial fantasist was exposed by a Criminal Cases Review Commission investigation.
But although his name was blackened, anonymity laws meant his accuser's was automatically protected, and she became known only as Miss A.
Even the appeal judges wanted to name her - but were powerless to do so - to warn other blameless members of the public.
The Daily Mail led calls for her identity to be revealed before she put another innocent man through torment.
Yesterday, Lord Campbell-Savours - said to be motivated by 'outrage' at the case - stood up and publicly did so.
He asked fellow peers: "Is not the inevitable consequence of the workings of the law, as currently framed, that we will carry on imprisoning innocent people like Warren Blackwell, who was falsely accused by a serial and repeated liar, Shannon Taylor, with a history of false accusations and multiple identities?
"As a result of her accusations, he spent three and a half years in prison following a shabby and inadequate police investigation, and was only exonerated when the Criminal Cases Review Commission inquiry cleared him and exposed her history."
The Labour peer added: "Shouldn't mature accusers who perjure themselves in rape trials be named and prosecuted for perjury?"
Miss Taylor's own daughter backed the decision to disclose her name, saying: "She is a danger and the public needs to be warned. She needs prosecuting for what she did. She is every man's worst nightmare."
Mr Blackwell's ordeal began when his accuser, now 38, claimed she had been seized with a knife outside a village club early on New Year's Day 1999, taken to an alley and indecently assaulted.
She later picked him out of an identity parade and a jury found him guilty, even though there was no forensic evidence against him and he had no previous convictions.
Eventually, the case was investigated by the Criminal Cases Review Commission which found that the woman had made up at least seven other fake allegations of sexual and physical assault, including against her own father. She frequently changed her name and police forces did not realise they were dealing with the same woman.
Her own mother has described her as "a persistent liar, very manipulative and a bully" who frequently claimed to have been beaten, sexually attacked and raped - all of which were untrue. She has a history of mental illness and self-harm.
The original investigation by Northamptonshire Police was exposed as shoddy, with Mr Blackwell's lawyers claiming that normal safeguards and procedures were completely ignored. He plans to sue.
Yesterday, a friend of 63-year-old Lord Campbell-Savours explained why he decided to speak out. He said: "He named her because he was outraged. He doesn't think it's got anything to do with the issue of rape, he thinks it's an issue of perjury.
"This woman made up the story and told lies and he can't see why a person who has perjured themselves should be protected, irrespective of the type of offence.
"Sometimes people have to stick their heads above the parapet in cases where the law is clearly an ass and needs to be reformed.
"He thinks the law around anonymity, particularly where false accusations have been made, needs to be changed."
Welcoming the development, Mr Blackwell, from Woodford Halse, Northamptonshire, said: "It's absolutely fantastic. I didn't think anybody would have the guts to name her.
"This woman needs to be stopped. The fact is, she remains free to carry on crying rape and up till now has been enjoying the full protection of the law. It's absolutely crazy that she could not be named and shamed, because innocent men need to be warned to avoid her like the plague.
"Now I hope she will go on to be prosecuted." But she is unlikely to face charges for perjury or perverting justice.
Northamptonshire Police yesterday claimed there was "insufficient evidence", while Crown Prosecution sources have cited her mental illness as a barrier.
But Mr Blackwell's barrister Anne Johnson said: "There is a clear public interest in her being prosecuted for perjury or the very least wasting police time.
"It's fantastic that somebody of authority has finally come out and named this woman. The issue needs to be aired otherwise nothing will be done."
At Mr Blackwell's appeal last month, Mr Justice Tugendhat admitted that similar tragic cases could follow because of the lies of the 'Miss A', adding that Parliament had not seemed to have considered this possibility when framing the law. Last night the judge said he did not wish to comment on yesterday's twist.
In the 1970s, the Daily Mail campaigned for women in sex cases to be granted automatic anonymity, to protect genuine victims of genuine crimes. Although Miss Taylor has now been publicly named, there is nothing to stop her changing her identity yet again.
Callers to her most recent address were told by her boyfriend that she no longer lived there.
Here's what readers have had to say so far. Why not add your thoughts below?
It is unfortunate that in my opinion women seem to be able to make allegations and men are treated as guilty unless proven innocent. This spills over into family law where this happens all the time. It is time for laws to be changed and the system to be exposed for what it is. I take my hat of to the judge for naming this women. It is about time that more professional people i.e. judges and lawyers started looking at what is right and wrong instead of either following there own political agenda or lining their own pockets.


- Lisa Lipscombe, Burlington, Canada
The sentencing for false accusations of rape should be as harsh, and enforced as harshly, as rape itself.


The USA also needs to wake up to the many false allegations of rape that are putting innocent men in jail.


- Denis, Boston, MA USA
Warren Blackwell and wife Tanya - Guilty until Proven Innocent
Man freed but serial rape accuser remains anonymous
12th September 2006
An innocent man jailed for a sex attack was dramatically cleared after it emerged that his 'victim' is a serial liar with a long history of crying rape.
But because of laws that protect her anonymity, judges are powerless to name and shame her, leaving her free to make more false accusations against blameless members of the public.
Mr Blackwell, 36, hugged his loyal wife Tanya and wept as the Appeal Court quashed his conviction.
He described his accuser as "every man's worst nightmare".
Mr Justice Tugendhat admitted, however, that similar tragic cases could follow because of the lies of the woman, Miss A.
"Parliament does not seem to have contemplated this situation.
"There appears to be no means of displacing her entitlement to anonymity."
In the 1970s, the Daily Mail campaigned for women in sex cases to be granted automatic anonymity, but now there are questions about whether the law has gone too far.
Warren Blackwell's nightmare began when Miss A, now 38, claimed she had been seized with a knife outside a village club early on New Year's Day 1999, taken to an alley and indecently assaulted.
She later picked Mr Blackwell out at an identity parade.
There was no forensic evidence against him and he had no previous convictions.
'She needs to be stopped'
Yet Mr Blackwell, from Woodford Halse, Northamptonshire, was found guilty and spent three years and four months behind bars.
Eventually the case was referred to the Criminal Cases Review Commission (CCRC) which assigned Detective Chief Inspector Steve Glover, to investigate. He discovered that the woman:
• Has made at least five other fake allegations of sexual and physical assault to police in three separate forces.
• Was married twice and made false allegations against both husbands - one of whom was a policeman.
• Once accused her own father of sexual assault, but police concluded she had made it up.
• Accused a boy of rape when she was a teenager, only for a doctor to discover she was still a virgin.
• The CCRC concluded that in the case of Mr Blackwell, she had "lied about the assault and was not attacked at all, her injuries being self-inflicted".
The Crown Prosecution Service did not oppose the appeal.
David Farrell QC, for the Crown, said: "This conviction is unsafe. What has come out of the woodwork paints a picture of a woman with immense personal problems with serious difficulties in distinguishing between truth and lies."
If this information had been known at the time of the trial, he added, "this case would not have made it off the ground".
Mr Blackwell said: "Clearly something has to be done about this woman. She needs to be stopped. The prosecution say she is psychiatrically disturbed, but insane people who murder are tried and if found guilty put away."
Mr Blackwell, who plans to sue police over his ordeal, will now have his name removed from the Sex Offender Register.
His accuser has a history of mental illness and self-harm - once inscribing the word 'HATE' on her body with scissors.
However, because she has changed her name at least eight times, and moved between addresses in at least three counties, it seems police never realised they were dealing with the same woman.
For Mr Blackwell, her accusations meant he missed more than three years of family life. His son Liam, ten, and stepdaughter Holly, 16, were three and nine when his ordeal began.
His 36-year-old wife said: "I never doubted him for a second. We were together six years before it happened, and ever since."
By SAM GREENHILL
---
F.A.C.T. (Falsely Accused Carers and Teachers)
PO Box 3074
Cardiff CF3 3WZ
Tel: 029 2077 7499
E-mail: info@factuk.org
Website: www.factuk.org
Campaigning organisation and support group which provides help and advice to falsely accused and wrongly convicted carers and teachers throughout the UK. The website contains a range of information, leaflets, books and links.
Guidance for education staff and volunteers in schools
Website: www.lg-employers.gov.uk/conditions/education/allegations
This website has guidance on: 1) staff facing an allegation of abuse; 2) preventing 'abuse of trust' for education staff; and 3) the conduct of education staff working with young people.
---
LINKS and REFERENCE
30 Sep 99 Americas - Gunmaker can be sued over shooting
11 May 99 Americas - Charge over Columbine gun
22 Apr 99 Americas - Massacre 'could have been prevented'
21 Apr 99 Americas - Denver massacre reignites gun debate
21 Apr 99 Americas - Timetable of terror
National Centre Educational Statistics: Violence & Discipline Problems US Schools
Columbine High School Information Centre
---
This site is protected under Article10 of the European Convention on Human Rights and Fundamental Freedoms.
FAIR USE NOTICE
This site contains copyrighted material the use of which has not always been specifically authorized by the copyright owner. We are making such material available in our efforts to advance understanding of environmental, political, human rights, economic, scientific, and social justice issues, etc. We believe this constitutes a 'fair use' of any such copyrighted material as provided for in section 107 of the US Copyright Law. In accordance with Title 17 U.S.C. Section 107, the material on this site is distributed without profit to those who have expressed a prior interest in receiving the included information for research and educational purposes.
For more information go to: http://www.law.cornell.edu/uscode/17/107.shtml. If you wish to use copyrighted material from this site for purposes of your own that go beyond 'fair use', you must obtain permission from the copyright owner.