Robert Roy Mac Gregor became an outlaw after being set up over a loan. His land was seized, his house burnt and his wife raped by the officers of .................................. These are the tactics still employed today by certain Council's against private citizens simply fighting for their rights and justice............................. While modern day Council's don't rape women or burn homes, they might as well. For partnerships are torn apart and financial ruin follows an uphill struggle sometimes over many years, often leading to bankruptcy of the intended victim.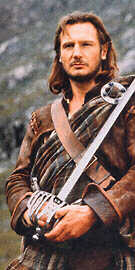 Liam Neeson as Rob Roy

Jock Watson's detailed biography of Rob Roy . Though lacking a bibliography, this is to my mind the best out there.
Amazon. Rob Roy MacGregor : His Life & Times by W. H. Murray. Three online reviews, including:
W.H. Murray has given a well-researched, well-documented look at highland life that enables the reader to step into the shoes (or lack thereof) of the Scottish highlander. Everything from the clan structure, rivalries, English oppression, how to carry a handful of oats dipped in a stream for daily ration; it's all there.
Blurb and brief excerpt from W. H. Murray's Rob Roy MacGregor.
Frequently Asked Questions about the historical Rob Roy from Stronvar House an inn described as "a Country House Hotel on the shore of Loch Voil overlooking the Braes O' Balquhidder in the heart of Rob Roy country." History of Stronvar House, owned by Ian Dubh MacGregor until his death in 1603.
Related subjects
"A Slice of Highland History," background information on the clan system and the persecution of the Gregors in the 16th and early 17th century. From The Gathering of the Clans
The Clan Gregor from The Gathering of the Clans.
The Clan Campbell (Rob Roy's mother's clan and the clan he was forced to take up) from The Gathering of the Clans.
"The Jacobite and Cary's Rebellions" from About.com.
"Culloden: April 16th, 1746" Web directory from Famous Scottish Battles - the whole truth!
International Society for Eighteenth-Century Studies.
Pocket biographies
"Rob Roy: Highland Hero" a short but good biography from The Gathering of the Clans.
Scottish Historical Figures: Robert "Roy" MacGregor from the Scotsmart web directory. See also their History of Strathearn, 1700 -1746 with information on the Jacobites, Rob Roy and Bonnie Prince Charlie.
Famous Scots short bio and links.
Famous Scotts: Rob Roy MacGregor from the elegant and jam-packed See-Scotland.com. The also have a page on Sir Walter Scott.
Short bio from the Clans and Tartans of Scotland.
Brief bio of Rob Roy , with beautiful photo of Balquhidder, by Blythe Spirit.
Other
More genealogical information by John Ward.
Rob Roy's grave at Balquhidder Church, Perthshire, Central, Scotland. Photos courtesy "Find A Grave"
"Rob Roy -- Miscellaneous." A brief bio, the Rob Roy tartan and suchnot.
Larger tourist photo of Rob Roy's grave taken by the Hunt family. See their other British images.
Rob Roy Movie (1995)


Sir Walter Scott's Rob Roy


Other Literature and Movies


Miscellaneous


Scotland Links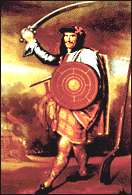 Robin Hoods of the World
Robin Hood is often considered the archetypal outlaw hero. As a result, many cultural heroes are referred to as the Robin Hoods of their respective countries.
These sites are about Robin Hood-like characters from different countries. These heroes and villains can be real, legendary and completely fictional. It should also be noted that these legends are in no way inferior or subordinate to the Robin Hood legend. Some of these tales predate Robin's adventures.
| | |
| --- | --- |
| William Wallace | Scotland's national hero and the basis of Braveheart , starring Mel Gibson. Some believe Wallace's adventures influenced the Robin Hood legend. |
| Rob Roy | Another -- albeit much later -- Scottish hero. He also inspired films and novels. |
| Boudicca | Also known as Boadicea, this queen of the Celtic Iceni fought the Roman invaders of Britain. |
| Ned Kelly: Australian Iron Outlaw | Australia's "Robin Hood". |
| Juraj Janosik | "The Slavic Robin Hood". |
| William Tell | The legendary Swiss archer. |
| Louis Riel | An important and controversial figure in Canadian history. |
| Billy the Kid | A real-life outlaw and murderer from the "Old West" of the United States. His legend has some Robin Hood elements. |
| The Phoolan Devi | India's late real-life Bandit Queen. |
| Zorro | This Spanish Californian hero is the fictional creation of Johnston McCulley. |
| Shuihu Zhuan / Suidoken -- The Outlaws of the Marsh | Also known as the legend of the Water Margin, Shuihu Zhuan is a classic of Chinese literature set in the 10th century and stars "Robin Hood-like" men and women. It's also popular in Japan, where it's known as Suikoden. |
GENERAL HISTORY
MARITIME HISTORY