Jailed for standing up for decency - 26 JUNE 2006
A 69-year-old devout Christian was behind bars last night after refusing to pay her council tax in protest over her drug-infested street. Frail pensioner Josephine Rooney was led away in handcuffs to begin a three month sentence after claiming her local authority had done nothing to prevent the once picturesque area from being overrun by drug dealers and prostitutes.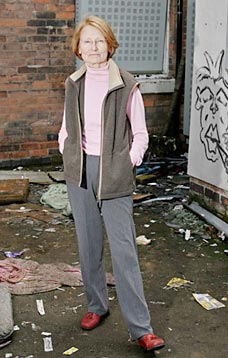 Josephine Rooney - seen here at 'syringe alley'
jailed for protest 26 June 2006
Background
Miss Rooney - recently given a Home Office award for her community work - has repeatedly ignored Derby City Council's requests to settle the outstanding £798.97 debt in protest at the state of her neighbourhood.
She told the city's Magistrates' Court she had to take 'drastic action' because the council had failed in its duty to tackle anti-social behaviour and poor housing conditions in Derby's Hartington Street area.
The street has been dubbed 'Crack Alley' and 1,100 used needles were found there in one weekend alone last month.
In a statement handed into court shortly before she was taken to the cells, the ex-wartime evacuee issued a challenge to Tony Blair over the anti-social behaviour blighting Britain.
It said: "Recently, our Prime Minister has been the proponent of respect in the community. I am appealing to him to help achieve it on our street." Miss Rooney was led down to the cells in handcuffs amid boos and catcalls from around 20 supporters who packed the courtroom.
The defiant pensioner has suffered from increasingly high blood-pressure and general poor health since beginning her fight with the council 18 months ago.
But, at a time when the Government seems to be taking every opportunity to stop sending genuine criminals to jail - and once inside, releasing them as early as possible - she will spend the next three months mixing with drug addicts and murderers after being sent to New Hall prison near Wakefield in West Yorkshire.
The jail, which was opened in 1933, holds nearly 400 women prisoners of all categories, including young offenders. Last night, the sentence provoked outrage from the pensioners' supporters. Christine Melsom, founder of the IsItFair? campaign group, said: "I am staggered that Josephine has been jailed when every day scores of real criminals are set free by the courts.
"Josephine is a respectable woman who has battled to improve the condition of her neighbourhood. "It is the council, the Government and the local police who should be in the dock for failing to do the same."
Miss Rooney has refused to pay her council tax since November 2004 in protest over what she sees as the city council's failure to clean up the Derby road she has lived in for 20 years.
In 2002 the street, and others nearby, was given Renewal Area Status with over £600,000 in council and European funding allocated to improve the fabric of the area. But Miss Rooney claims the Labour-run council spent the money on refurbishment grants to attract absentee landlords and unsuitable tenants.
The bespectacled pensioner had been handed the three-month sentence when she appeared at Southern Derbyshire Magistrates Court in Derby last month after she admitted non-payment of council tax.
But it was suspended until yesterday to give Miss Rooney a final chance to pay the bill in unpaid tax and costs. In her statement handed in to the court and media, but not read, she added: "When people are pushed into a corner and their rights are taken away, there comes a time when one has to take drastic action.
"I have always believed we live in a free a democratic country and yet I see current policies set by our local authority that are in conflict with these principles."
She was jailed after a five minute hearing following confirmation that her tax bill remained unpaid. As guards took the pensioner down, district judge Joanne Alderson told the pensioner she would be freed at any stage if the debt was paid in full. There is nothing to stop well-wishers or relatives paying the debt on her behalf.
In September 2005 Exeter pensioner Sylvia Harding was jailed for a week for non-payment, but was released soon after when a mystery well-wisher paid her debt.
But unlike many other offences where prisoners are released on licence at the half-way point of their sentence, there is no remission for non-payment of council tax - meaning the pensioner must serve the full three-month term if the debt is not paid.
Afterwards her brother, Father Liam Rooney, a 66-year-old Catholic priest, said : "My sister is a resolute and principled woman. She was making a stand and I think she was doing the right thing. "If nobody ever stood up to councils in situations like this, nothing would ever get changed."
Neighbour Mary Beadsmoore, 81, said: "It is dreadful it has come to this. It is shocking. Josephine has already vowed to do this again next year if she has to, and I wouldn't put it past her. "She's a very determined lady." So far, at least three other pensioners, including Mrs Harding, have been jailed for non-payment of council tax.
In September last year, retired Vicar Alfred Ridley, 69, was jailed for a month at Towcester Magistrates' Court in Northamptonshire. He branded Miss Rooney's sentence 'a disgrace'. He said: "This woman has done nothing but good in her community. It is terrible that she has been sent to prison. "But I know from experience she will receive nothing but respect from the other prisoners over what she has done."
Derby City Council deputy leader Dave Roberts said afterwards that the council had spent £750,000 on improvements to the street over recent years. He said the pensioner had refused to work with the council. "The council has no wish to send anyone to jail. Miss Rooney had ample opportunity to pay her council tax, but she has steadfastly refused. Her sentence is the court's decision, not ours. "Taking people to court for not paying is a last resort for us, but we do have a legal duty to collect council tax to avoid penalising people who do pay."
By ANDY DOLAN & MICHAEL SEAMARK 26th June 2006
Source: http://www.dailymail.co.uk/pages/live/articles/news/news.htm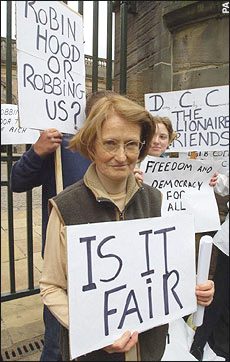 INDEPENDENT COMMENTS FROM 53 DAILY MAIL READERS:
The police that took Miss Rooney to the cells are no doubt the same ones who turned up in force (four of them) when the next door meighbour of a police sergeant refused to return a football, kicked by one of the sergeant's children that had smashed his greenhouse, until he had an undertaking from the sergeant to try to prevent balls being kicked into his garden again.
It shows the sense of values of the judiciary and the police in Britain today. Only easy cases are prosecuted and only soft targets sent to prison.
As to the council, I expect that their 'improvements' to the street are intended to make it easier for the addicts and pushers rather than to prevent them. The police of course are away checking on footballs kicked over fences.

- Ian W, Port Orange, Florida
Councils no longer appear to have any power over what goes on in local areas. We are entitled to live in a decent environment, perhaps not the right way to go about it, breaking the law, but if it is the only way to get some action what choice is there?

- Rose Howard, Milton Keynes England
Let's hope she is treated with the respect she deserves in prison by both inmates and warders. Good luck to her, may she only gain from this experience, she can tell us what life is like in jail and hopefully a national newspaper will take up her story.

- Carol Farrell, Worcestershire
It is the council, the police and the Government who should be in the dock for this. Their failure to clean up the streets leads decent but desperate people to take such drastic action.
Three cheers for this courageous lady. I hope that this case comes to the notice of our out of touch Prime Minister. Perhaps he should take this as a wake up call because I am sure there are plenty more people tempted to do the same.

- Carole Macnaughton, Haywards Heath, W.Sussex
This lady did what she did for a justified reason and one that would benefit all in her community. Prescott evaded paying his council tax. When is he going to jail?

- Richard Crow, Bialystok, Poland
So, while our troops fight for the freedom of Iraqis, our own government imprisons little old ladies. It would be so nice if the government showed the same concern for its own citizens.

- Richard North, Bradford West Yorkshire
What about the human rights of every decent person in Britain to live in peace, within their own neighbouhoods?
I think Miss Rooney is a brave lady. The government should be ashamed that it resorts to jailing people like her, when all sorts of criminals are free to roam the streets making life miserable for others.

- D. Large, Australia
What a sick society we live in where Magistrates can put pensioners in prison for such trivial offences, but let thieves, muggers and rapists off time after time! I don't know how that magistrate can sleep at night.

- Len, Romford, Essex
How about instead of sending the pensioner to jail, the council actually put their energy into arresting the junkies and prostitutes. But I guess there's no financial gain in doing that. Funny how the Government tend to value money more than people!

- Marleen, London, UK
Could Dave Roberts confirm that no other citizens have defaulted in paying Council Tax? Or, perish the thought, could it be true that bully boy techniques are employed to 'encourage' compliance by the rest of us? The council has done nothing wrong by upholding the law, other than make themselves look like the unimaginative, bureaucratic bully boys they are. The magistrate has complied with guidelines. Everybody is in the right, except Miss Rooney, who has little other resource with which to make her case. Great democracy we have, don't you think? I'd advocate everyone in Derby witholding tax in sympathy and see what that produces.

- Michael Dunn, Milton Keynes
Why isn't John Prescott in the same prison or situation as this lady? So much for British Justice.
This is an absolute disgrace!

- Anne Smith, Gloucestershire
Just more evidence of how the Judiciary and government local or otherwise are out of touch with reality. This woman should be given a community service award not a prison sentence. Oh Where have we all gone so wrong!

- Peter Webb, Benfleet Essex
I guess the geniuses in charge of our protection decided it best that murderers and rapists find prisons with no vacancies.

- Steve Jones, London, UK
Tough on crime and tough on the causes of crime Mr Blair? How many of the Poll tax dodgers have been sent to jail? Mind you they were encouraged by labour not to pay at the time.
The level of service from the council seems very poor, £750,000 spent on what? It is the council that should have been in the dock for wasting public money.

- John Stretton, Albrighton, Wolverhampton
Sorry but we all have to pay taxes for things that we do not like. If we all did what this woman did there would be chaos!

- John, Bridgend,Wales
I admire this lady for taking a stand. Someone has to. It is a disgrace that she has been sent to prison for doing something which she believe in, speaking out about the destruction of our society. This is an example of decent people being punished while the thugs and criminals walk free.

I live in Camden which is swamped with drugs. Yet the Council and Police ingnore this problem. We pay some of the highest Council Taxes and sevice charges in the UK yet nothing is done about the gangs of evil drug dealers who nightly patrol our streets openly selling drugs. Youngsters are being targeted all the time, our community has warned the Council about this also the police but they continue to ingnore the problem. So I admire this lady for taking a stand.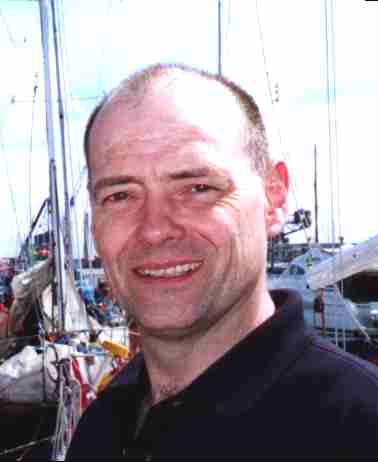 Nelson says: It is your right to protest peacefully and sometimes actions speak louder than words.
Josephine Rooney will never be forgotten.
Maybe she should seek a judicial review? Where is all her council tax going - is it being used to provide services effectively and can she argue in counterclaim for negligence?

- Bill, Camden
Will she be put into the same cell as Prescott?

- Eileen Mitchell, Spain
Here we go again. What possible threat to the community is Miss Rooney? Yobs roam the streets while a pensioner is banged-up for taking a stand against an inept council.

- Barb, Sussex
"Her sentence is the courts decision not ours". So that is how Dave Roberts and Co. can sleep at night is it and no doubt judge Joanne Alderson feels she was only 'following guidelines' to clear her conscience too. Everyone is free and clear except for the hardened criminal that needed to be led away in hand cuffs. The English legal system disgusts me.

- S. Margaritis, Greece
It seems that not paying your council tax has become the most serious of offences! Heaven help us if OAPs en-mass refuse to pay and force this government to release hundreds of murderers, rapists, muggers and sex offenders to free up places to keep them locked up for their full term! At least then Blair can stand up at PMQ's and honestly claim he is now being tough on crime!

- Peter, UK
Why is it that principled and honest people like Miss Rooney, who only want the best for their neighbours and community are jailed and yet dishonest and unprincipled people who have no respect for their neighbours are allowed to walk free? I don't recall Prescott spending any time in jail and his bill was larger and outstanding for longer. The Miss Rooney's of this world should be praised and not Buried

- A.Wilson, St. Sebastien, France
I believe the law has to be obeyed for the good of all. In this case the lady is correct to withhold her payment. Maybe the Council should be in court for not providing the service for which the lady has paid. The charge should be obtaining money under false pretences. The so called democratic system does not work. Councils are a closed shop. Maybe we should all refuse to pay in support.

- Gordon Sturman, Sutton, UK
Derby City Council are to blame big time!
I left Derby last year to keep my sanity, I took them to the Ombudsdman three times and won, but the harassment made me ill, they should not be allowed to get away with this. Just as a matter of interest, what is the figure in Derby City for arrears in council tax? Are all these people going to be jailed?

- Cherrill Andrews, UK
Good luck Miss Rooney, all right-thinking people will be behind you. I tried a similar protest when the Poll Tax came into effect years ago but lost my nerve when I became pregnant and thought I would not be given proper food in prison. May God give you strength. Good for you, someone has to take a stand!

- Liz, Brighton,UK
First time burglars get a caution, the government lets dangerous criminals out onto the streets and yet an old lady making a stand against a council who have no idea what affect on her life the problems in the area are having and who will probably never sort them out is jailed. Perhaps we should all refuse to pay in protest against such idiotic antics.

- Allan Thornton, Mold
How about her Human Rights to be allowed to live in a clean and healthy environment?

What a disgrace!

- Charles, Maidstone, Kent
Do the people who sympathise with this lady advocate only paying the taxes we choose?
The saddest thing is, whether she is right or wrong, in 6 months nobody will remeber her. She is not the first to go to jail over council tax.

- Chris Downing, Rothwell, England
It is said that the Judge in this case had no option other than to jail this lady. Is that really true?

- John. B., Surrey
She needs a good human rights lawyer.

- Dorothy Stokes, Birmingham
Tony Blairs Britain. Is it any wonder decent people are leaving, eventually all that will be left will be the PC do gooders, jobsworth council officials, football chasing police and of course Criminals. Tony has certainly taken the Great out of Britain.

- Robert Feal-Martinez, Swindon, England
Lock up generally law-abiding and decent people and let the crooks go free. Now we will see whose side politicians are on.

- David Norris, Hednesford, Staffordshire
I take it that Dave Reynolds would be happy paying for services that he did not receive because that is what he is expecting others to do.
I will make a note to look for his name on a ballot paper in future.

- John Phillips, Derby
Is this your idea on getting tough on crime Mr Blair?
If it is shame on you!

- Mike Adams, UK
Oh you've gone and done it now Josephine. The junkies and hookers of Hartington Street will need counceling, compensation, human rights, you name it for their unfortunate publicised embarrassment.

- Richard Sixsmith, Belgrade, Serbia
The only way this government will respond is when millions of people refuse to pay this abominable tax.

- Barry Johnston, Huntingdale, Western Australia
Landlords in Hartington Street lined their pockets over the years. Grants were given by the City Council and the landlords got away with bodged work due to poor inspection by red faced council officials. The result is the council bleating about the hundreds of thousands lost on the taxpayers behalf. Miss Rooney has campaigned for many years and Councillors have ignored her. The architecture of this tree lined road rivals many London townhouses. If cleaned up along with the Arboretum St this would be a showcase for Derby and provide many housing units. Well done Miss Rooney for making this a National issue. This Round goes to injustice and a bone idle council. This fight must continue.

- Stephen M, Derby UK
Good for her and what she has done. If that was me I would not want to pay my council tax either. Those sorts of communities make house prices plummet and when you have worked hard all your life to invest in something you don't want it going to the dogs.
At least she can now have a few decent nights kip and 3 meals a day without worrying about trampling on a needle. A holiday at her majesty's service let's say. It's unfair and unjust but I have respect for this lady and I would have done the same.

- Helen Harvey, Colchester
I agree with previous comments - why hasn't Prescott been prosecuted?
I also think that where a valid reason for refusing to pay has been put forward, then the council in question should have to prove that the money they have put into an area was properly spent and achieved the aims required to improve that community. Only if a court is satisfied that improvements have been achieved could any tax payer be sent to jail for non payment. How else can a community make its voice heard?
It does seem that, since the courts were told not to use the term 'common sense', then common sense has just gone out of the window for all actions of government, local and central.

- Lynne, Tiverton, UK
It,s about time we all stood up against the council tax.
Could they lock us all up?
The legal system in this country stinks.

- Anthony, Cheshire UK
Congratulations to this lady for having the courage to speak out about the ever deteriorating standards within this once proud country.

She is quite right to complain since her area is now a tip but, although working class, it was not always that way.

It is a pity that the wrong people are jailed in Blair's Britain.

Well done Derby City Council too, a home goal if ever there was one.

- Mike, Norfolk
Yet another example of an easy target whilst the true criminals and yobs get off scot free. Why didn't some human rights lawyer step in and claim her rights had been infringed!

- Alan, Sudbury UK
Where was that champion of human rights, Cherie Blair, when Miss Rooney needed her?

- Don, Cheltenham
No one should ever be sent to prison who is not a violent offender, or physical threat to other people. Do we not have baliffs anymore?
The point that this lady was making, is that her council was basically useless, and the government also useless for not enforcing laws that already exist to keep ordinary citizens safe. That's what she was supposed to be paying the council tax for. If any other business was not providing the service it was meant to, we wouldn't pay them either.
I hope this lady will be all right in prison.
In the end, the old adage stands true. The law is an ass.
I thought sending old ladies to prison ended when Margaret Thatcher was upended because of the unfair Poll Tax.
The more things change, the more they stay the same.
Shame on you Mr Blair.

- Ellie, Leicester
My first thought was: I'll pay, just let her go home. But then I realized, that she is far bigger than this. What a strong minded woman. If only Britain had more people like her that would dare to stand up for what is right it would not take long to put things back to normal again.

- Gabi, Stuttgart, Germany
So should we let this woman off for breaking the law? Should she have immunity because she's 69 and not in perfect health?
Someone now will pay her bill for her. But why don't the rest of us not pay because we're not happy with something in our comunity.

- Paul L Wheelan, Spain
John Bridgend - I think you're wrong - if you all had the same bottle as this lady and followed her example then something would finally get done.
What are they going to do - sentence you all to 3 months in jail? - I don't think so!
The actions of this lady puts the rest of you, who constantly whinge and do nothing, to shame!

- Ian Webb, Juzanvigny, France
I do realise there are a minority of people who purposefully avoid paying their dues to society. But this lady is not one of those people. Woe betide you not to pay your taxes, AND in the name of morals! I'm suprised she's not been locked in the tower by now. Where's Robin Hood when we need him?!

- El, Kent, UK
What a pity and shame! This old lady pensioner has got all my sympathy.

- Anthony, Victoria, Malta
Refering to John of Bridgend Wales comments, there's already chaos that's why Miss Rooney is doing what she deems necessary.

- David, Chester, UK
Derby City Council should be ashamed of what it has done to this good woman. This country has more law than Justice.

- John, Farnborough, UK
The judge was the one to sentence her, you can't blame Maggie Thatcher either this time!

- Stephen Wiltshire, Sydney Australia
She broke the law. Simple as that.


- Ben, Kent, UK
If we all stopped paying our council taxes perhaps the Government might listen to the concerns of the general public. They couldn't jail us all!

- Glenis, Bury, UK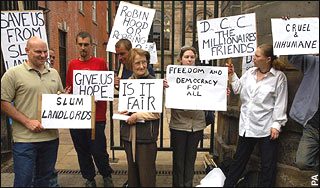 Josephine Rooney: 'This has been hanging over me for such a long time
that I welcome the closure'
Woman, 69, jailed for council tax protest over 'Crack Alley'
By Nick Britten Telegraph 28/06/2006
A pensioner was jailed for three months yesterday for refusing to pay her council tax in protest against living conditions in her crime-plagued street, dubbed "Crack Alley" because of the drug users who congregate there.
Josephine Rooney, 69, of Hartington Street, Derby, will spend the next 12 weeks at New Hall jail in Wakefield, West Yorks, but vowed to carry on her fight after she is released.
A fortnight ago she was awarded £1,000 by the Government's Taking a Stand programme for her work in the community where she provides food and drink for the needy.
After a five-minute hearing before magistrates, the district judge, Joanne Alderson, said she was "sadly" left with no option but to impose a suspended sentence handed down last month after Rooney reiterated her refusal to pay. Rooney, looking frail and nervous, was handcuffed and led away.
She will have to serve the full three months because there is no remission on non-payment of fines. She will only be let out early if her £798.97 bill is paid. Before being jailed, Rooney said: "This has been hanging over me for such a long time that I welcome the closure and am fully prepared to spend my time in jail.
"My faith will be a great comfort and I'm sure I will get through it. I am nervous, I don't know what to expect in jail but I feel I have to take a stand. I hope it makes the council do something about Hartington Street." Her brother, Father Liam Rooney, a Catholic priest, added: "She is a principled person and is sticking with those principles. She may look frail but she is made of strong stuff and will be OK. "But it's very sad to see your sister taken away in handcuffs."
Rooney has refused to pay her council tax since November 2004. Hartington Street was once one of the most desirable addresses in Derby but has deteriorated in the last 20 years. The formerly splendid Victorian terrace houses have been split up into flats and bedsits, with many properties boarded up and covered in graffiti, while litter and fly-tipped rubbish are also major problems. A recent cleaning of the alleyway behind the street recovered 1,100 needles which had been left there over one weekend.
In the last six months the pressure has taken its toll on Rooney. Her blood pressure has increased, she has lost weight and her general health has suffered. But she said that "as long as nothing is being done, I will carry on the fight".
She said she had packed some toiletries, a prayer book and a picture of Jesus. She has been paying the monthly £45 she owes into a holding account, and said she would settle up once the council helps the drunks and drug addicts that hang around and clears up the street.
In a letter handed to Mrs Alderson, Rooney, who represented herself at Southern Derby magistrates' court, called on Tony Blair and the Government to help. She wrote: "Recently our Prime Minister has been the proponent of 'respect in the community'; I am appealing to him to help us achieve it in our street."
She told the judge that "when people are pushed into a corner and their rights are taken away there comes a time when one has to take drastic action". But, she said, in allowing absentee landlords to buy many properties, Derby city council had "failed miserably in their stated aims" to help the needy.
She added: "I feel this is the only way that I can demonstrate my desperation at the way this council discriminates against and intimidates the poor, the homeless and the elderly in our community." The judge replied that none of those reasons was a defence in law for non-payment.
Rooney, a devout Roman Catholic, received support at court from a dozen Hartington Street residents, many of whom she helps. Earlier this year Derby city council, which brought the prosecution, commended her for her tireless work to regenerate the community.
Dave Roberts, its deputy leader, said: "Miss Rooney had ample opportunity to pay her council tax, but she has refused. We are sorry she has taken this route."
He said the council had spent £750,000 on Hartington Street and was tackling anti-social behaviour.
One of Rooney's supporters, Michael Gorman, 41, who lives in a hostel in Hartington Street, said: "Miss Rooney is an angel. The things she does for the homeless are fantastic. This woman doesn't deserve to go down - the council does."
Christine Melsom, who runs the IsItFair? campaign against council tax rises, said: "She has our support. If she feels the council is not doing what she expects it to do then she has the right to protest."
A spokesman for the Department for Communities and Local Government, which is responsible for council tax policy, said jail was a last resort but if councils "do not do everything they can to make those who can pay the charge pay, then it is simply unfair to all those who have paid their bill".
LINKS
9 June 2006: 1,100 drug needles found in council tax rebel's street
31 May 2006: Tax rebel pensioner faces jail
19 May 2006: Why should I pay council tax when my street has been turned into Crack Alley?
---
** res judicata — A rule of civil law that once a matter has been litigated and final judgment has been rendered by the trial court, the matter cannot be relitigated by the parties in the same court, or any other trial court. A court will use res judicata to deny reconsideration of a matter. Cf. res integra.
Please send your comments and general feedback about our site to customer services: customerservices@voa.gsi.gov.uk

If you have a technical query i.e. you cannot access certain sections of our site or the Rating list application is not working, please email our IT support desk at it_support.vo@voa.gsi.gov.uk

Head Office
New Court
48 Carey Street
London WC2A 2JE
Tel: 020 7506 1700
Fax: 020 7506 1998

Birmingham Group
Regent Court
14 - 17 George Road
Edgbaston
BIRMINGHAM
B15 1NU
Tel: 0121 410 3700
Fax: 0121 410 3799

Email: birminghamgroup.vo@voa.gsi.gov.uk

East Anglia Group
London House, New London Road,
Chelmsford, Essex CM2 0QL
Tel: 01245 541200
Fax: 01245 541299
Email : eastangliagroup.vo@voa.gsi.gov.uk

East Midlands Group
Block 5, Government Buildings
Chalfont Drive, Nottingham NG8 3RT
Tel: 0115 980 0900
Fax: 0115 980 0998
Email: eastmidlandsgroup.vo@voa.gsi.gov.uk

Leeds Group
42 Eastgate
Leeds LS2 7JL
Tel: 0113 388 4500
Fax: 0113 388 4603
Email: leedsgroup.vo@voa.gsi.gov.uk

Liverpool Group
72 Church Street
Liverpool L1 3AY
Tel: 0151 802 1000
Fax: 0151 802 1099
Email:liverpoolgroup.vo@voa.gsi.gov.uk

London City Group
New Court, 48 Carey Street
London WC2A 2JE
Tel: 020 7530 7200
Fax: 020 7530 7299
Email:londoncitygroup.vo@voa.gsi.gov.uk

London North Group
Chase House
305 Chase Road
Southgate
London N14 6LZ
Tel: 020 8276 2700
Fax: 020 8276 2799
Email:londonnorthgroup.vo@voa.gsi.gov.uk

London South Group
2nd Floor
1Francis Grove
Wimbledon
London SW19 4DT
Tel: 020 8276 8600
Fax: 020 8276 8699
Email: londonsouthgroup.vo@voa.gsi.gov.uk

London Westminster Group
Wingate House
93/107 Shaftesbury Avenue
London WID 5BU
Tel: 020 7445 0500
Fax: 020 7445 0699
Email: londonwestminstergroup.vo@voa.gsi.gov.uk

Manchester Group
Portland Tower
Portland Street
Manchester M1 3LD
Tel: 0161 245 4200
Fax: 0161 245 4298
Email: manchestergroup.vo@voa.gsi.gov.uk

Newcastle Group
Eagle Star House
Regent Centre
Gosforth
Newcastle-upon-Tyne NE3 3TW
Tel: 0191 220 7000
Fax: 0191 220 7099
Email: newcastlegroup.vo@voa.gsi.gov.uk

North Wales Group
Regent House
Regent Street
Wrexham LL11 1PR
Tel: 01978 200000
Fax: 01978 200099
Email:northwalesgroup.vo@voa.gsi.gov.uk

North West Group
104 Lancaster Road
Preston
Lancashire PR1 1LX
Tel: 01772 405700
Fax: 01772 405799
Email: northwestgroup.vo@voa.gsi.gov.uk

Reading Group
Kings Wharf
20 - 30 Kings Road
Reading RG1 3ER
Tel: 0118 980 4800
Fax: 0118 980 4899
Email: readinggroup.vo@voa.gsi.gov.uk

Scotland Group
Allan Ainslie BSc (Hons), FRICS
Chief Valuer Scotland
50 Frederick Street
Edinburgh EH2 ING
Tel: 0131 465 0701
Fax: 0131 465 0799
Email: scotlandse.vo@voa.gsi.gov.uk
N.B. In Scotland council tax and business rates are dealt with by the Scottish Assessors

Sheffield Group
Cathedral Court
1 Vicar Lane
Sheffield S1 1HD
Tel: 01142 894600
Fax: 01142 894689
Email: sheffieldgroup.vo@voa.gsi.gov.uk

South East Group
Union House
Eridge Road
Tunbridge Wells TN4 8HF
Tel: 01892 796700
Fax: 01892 796799
Email:southeastgroup.vo@voa.gsi.gov.uk

South Wales Group
Ty Rhodfa
TY Glas Road
Llanishen Cardiff CF14 5GR
Tel: 02920 806800
Fax: 02920 806899
Email:southWalesgroup.vo@voa.gsi.gov.uk

South West Group
Broadwalk House
Southernhay West
Exeter
Devon EX1 ITS
Tel: 01392 606900
Fax: 01392 606998
Email: southwestgroup.vo@voa.gsi.gov.uk

St Albans Group
St Peters House
45 Victoria Street
St Albans AL1 3WZ
Tel: 01727 774700
Fax: 01727 774799
Email: stalbansgroup.vo@voa.gsi.gov.uk

Wessex Group
Overline House
Central Station
Blechynden Terrace
Southampton SO15 1GW
Tel: 023 8053 8500
Fax: 023 8053 8599
Email: wessexgroup.vo@voa.gsi.gov.uk

West Midlands Group
Crown House
Birch Street
Wolverhampton, WV1 4DS
Tel: 01902 438300
Fax: 01902 438399
Email: westmidlandsgroup.vo@voa.gsi.gov.uk

Western Group
6th Floor Temple Gate House,
Temple Gate, Bristol, BS1 6PD
Tel: 0117 930 2200
Fax: 0117 930 2269
Email: westerngroup.vo
---
WE ACCEPT NO RESPONSIBILITY FOR THE ACCURACY OF ANY FEATURED LINKS