This site is protected under Article10 of the European Convention on Human Rights and Fundamental Freedoms.
John Whitaker "Jack" Straw (born August 3, 1946, Buckhurst Hill) is a British Labour Party politician. He was Home Secretary from 1997-2001, becoming Foreign Secretary after the 2001 UK general election. He has been the Member of Parliament for Blackburn since 1979.
COMMENT
We hope you will all agree, that no matter what the character of a person is, and no matter how he conducts himself in society, there is no justification for taking the life of anyone. NK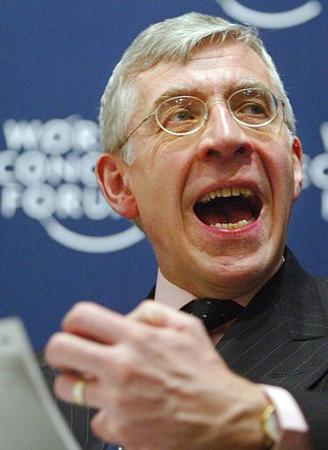 Jack Straw - So many lives for so little oil
Secretary of State
In office after the 1997 UK general election, he brought forward the Regulation of Investigatory Powers Act 2000, increased police powers against terrorism and proposed a reduction in the right to trial by jury. These policies were deemed excessively authoritarian by his former students' union which in 2000 banned him from the building - a policy which lapsed in 2003. However, he also incorporated the European Convention on Human Rights into British law and pressed for action on institutionalised racism in the police revealed by the Stephen Lawrence case. He was embarrassed by newspaper revelations that his teenaged son Will Straw was dealing cannabis. William was cautioned by police after his father turned him in. Further embarrassment to Straw occurred in 2000 when his brother, also named William, was convicted of sexually assaulting a 16 year old girl.
Expected by commentators to be demoted to Transport Secretary after the 2001 UK general election, there was some surprise when he was instead appointed Foreign Secretary succeeding Robin Cook. Within months Straw was confronted by the September 11, 2001 Terrorist Attacks. He was initially seen as taking a back seat to Tony Blair in the 'war against terrorism'. According to polls, Straw is - along with Tony Blair, Gordon Brown and John Prescott - one of the few British government ministers who is recognised by a majority of the British public. On November 26, 2003, he made an unannounced visit to Iraq.
In the run up to the 2005 UK general election Straw faced a potential backlash from his Muslim constituents over the Iraq war - the Muslim Public Affairs Committee attempted to capitalise on anti-war sentiment with 'operation Muslim vote' in Blackburn but Straw was re-elected on just a slightly reduced majority despite their best efforts. Speaking moments after his re-election during the BBC's election night coverage Jack Straw called MPAC an 'egregious group' and expressed disappointment at their campaign tactics, which he saw as overly aggressive. Straw enjoys a reputation for involved local campaigning in his constituency despite his cabinet post, often spending many hours in the run up to elections literally standing on a soapbox in a high street area taking questions from the crowd and responding to criticism with a microphone.
On October 13, 2005 Straw took questions from a panel of (mostly anti-war) individuals in a Newsnight TV special on the subject of Iraq, addressing widespread public concerns about the exit strategy for British troops, the insurgency in Iraq and inevitably the moral legitimacy of the war. On several occasions Straw reiterated his position that the decision to invade was in his opinion the right thing to do, but said he did not 'know' for certain that this was the case. He said he understood why public opinion on several matters might differ from his own - a Newsnight/ICM poll showed over 70% of respondents believed the war in Iraq to have increased the likelihood of terrorist attacks in the United Kingdom, but Straw said he could not agree based on the information presented to him. He stated he could not 'know' the answer to this question with certainty either.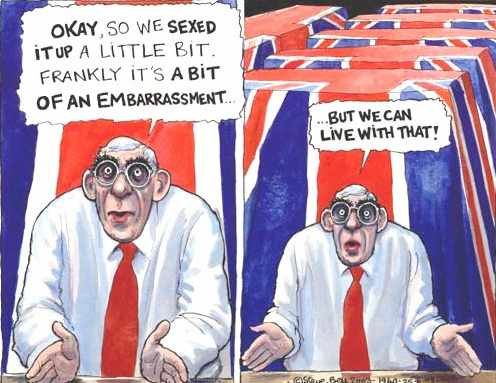 I'm okay Jack
IRAQ DECEPTION
The 45-minute claim was false - Wednesday October 13, 2004
After two years, one war and at least 16,000 deaths, the Government finally admits to lie.
Humiliating climbdown: Jack Straw,
Britain's Foreign Secretary, formally withdrew the infamous 45-minute claim
Tony Blair's claim that Iraq was within 45 minutes of launching weapons of mass destruction ­ a central plank of his case for war ­ fell apart yesterday as the Foreign Secretary formally withdrew the infamous claim and revealed MI6 had abandoned its source for the bogus intelligence.


In a humiliating climbdown, Jack Straw told MPs in a special Commons statement that MI6 has severed ties with the sources for both the 45-minute claim and intelligence that Saddam Hussein had produced a biological weapons agent in 2000.


The decision to lay to rest the most notorious intelligence claim in the case for war increased pressure from Labour and opposition MPs for the Prime Minister to make a full personal apology for the decision to invade Iraq "on a false premise".


Sir Menzies Campbell, the Liberal Democrat deputy leader, said: "The withdrawal of the 45-minute claim drives a horse and cart through government credibility."


"The building blocks of the Government's case for military action are crumbling before our eyes."


The party's leader, Charles Kennedy, wrote to the Prime Minister yesterday accusing him of "avoiding answering" questions on the absence of WMD following the conclusion by the Iraq Survey Group that Saddam Hussein possessed none and may have destroyed his stockpiles a decade earlier.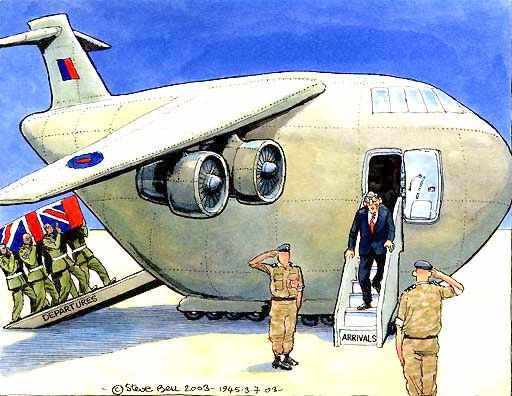 Oil be alright Jack!

Mr Kennedy called on Mr Blair to make a personal statement today on the findings, when he appears at the dispatch box to answer Prime Minister's questions.


"The Iraq Survey Group Report shows beyond doubt that we went to war in Iraq on a false premise. The Prime Minister must not avoid these questions any longer and he should not bypass Parliament," he said.


Mr Straw said yesterday the Prime Minister had accepted in his speech at the Labour party conference that "some of the information on which we based our judgements was wrong" but he defended the dossier and assessments of the Joint Intelligence Committee (JIC).


"That dossier accurately reflected the views of the JIC at the time that it was signed off by them," he said. "Far from the dossier being some confection, it was based on the best judgements not just of ourselves but of the wider international community. Everybody assumed Saddam had these weapons."


The withdrawal of the claim caps a remarkable fortnight of backtracking by Governments on both sides of the Atlantic. At the Labour Party conference, Mr Blair went some way towards apologising for the faulty intelligence used to justify the war. Donald Rumsfeld, the US Defence Secretary, said there were no concrete links between Iraq and al-Qa'ida. And last week, Patricia Hewitt, the Trade Secretary, went even further by actually saying "sorry" for the way intelligence such as the 45-minute claim was used.


Yesterday, the Foreign Office also took the extraordinary step of releasing a document indicating that Dr Hans Blix, the former UN chief weapons inspector, believed a draft of the UK's 2002 dossier on Iraqi weapons may have understated the extent of Saddam's chemical weapons capacity.


According to an internal memo dated September 2002 about a discussion with Dr Blix about a draft of the dossier he thought the document, two weeks before its publication, "did not exaggerate the facts".


But the decision to publish the internal memo from the UK mission to the United Nations in New York was seen at Westminster as a diversionary tactic and an attempt to "undermine" the inspector who became a vocal critic of the Government's case for war.


Robin Cook, the former foreign secretary, pointed out that Dr Blix did not return to Iraq for inspections until the end of November 2002."What he is saying in September reflects what was around in the ether at the time. But not his subsequent statements after he was in Iraq," Mr Cook said.


Sir Menzies Campbell, the Liberal Democrat deputy leader, said: "By releasing this document the Government is seeking to undermine Dr Blix. But this is hardly likely to wash with public opinion in this country. If the people of Britain are asked who they believe over the subject of WMD in Iraq then Dr Blix is likely to come top of the poll."


Yesterday, in a Commons statement Jack Straw said John Scarlett, the MI6 Chief, had formally dropped the source of intelligence on the 45-minute claim and a "liaison service" which came up with the false claim that Saddam Hussein had produced a biological weapons agent in 2000. The same liaison service had passed on information from a source reporting that Iraq had developed mobile facilities to produce biological weapons agents, which was also subject to doubt.


Mr Straw told MPs: "The Chief of SIS (Secret intelligence Service) has now written to the Intelligence and Security Committee (ISC) to inform the committee that, as a result of further investigation by SIS, both these lines of intelligence reporting have been formally withdrawn."


The formal climbdown follows criticism in the Butler report on intelligence published in July of the 45-minute claim. Lord Butler disclosed that M16 had withdrawn the intelligence from a source as it was now considered unreliable.


Information about Iraqi production of biological agent - believed to have been passed to MI6 by the intelligence service of another undisclosed country - was also criticised in the Butler Report as "seriously flawed".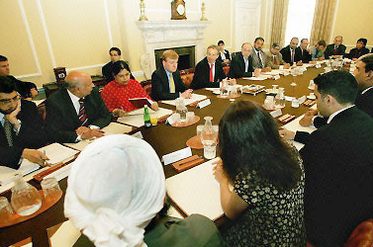 FAIR USE NOTICE
This site contains copyrighted material the use of which has not always been specifically authorized by the copyright owner. We are making such material available in our efforts to advance understanding of environmental, political, human rights, economic, scientific, and social justice issues, etc. We believe this constitutes a 'fair use' of any such copyrighted material as provided for in section 107 of the US Copyright Law. In accordance with Title 17 U.S.C. Section 107, the material on this site is distributed without profit to those who have expressed a prior interest in receiving the included information for research and educational purposes.
For more information go to: http://www.law.cornell.edu/uscode/17/107.shtml. If you wish to use copyrighted material from this site for purposes of your own that go beyond 'fair use', you must obtain permission from the copyright owner.
---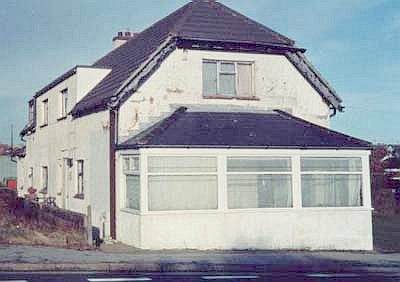 318 South Coast Road, Peacehaven, East Sussex
LINKS:
WE ACCEPT NO RESPONSIBILITY FOR THE ACCURACY OF ANY FEATURED LINKS