2 May 2006 - PRESCOTT TO GO ON TV
JOHN Prescott is ready to confess all on TV about his affair with diary secretary Tracey Temple, it emerged last night.
BBC chiefs are negotiating to get the Deputy Prime Minister to agree to an in-depth interview with Andrew Marr next weekend.
Friends hope this will help draw a line under the scandal. One said: "We've been talking with the BBC for a little while now about this. We think it's the best way forward."
Insiders also hope that by keeping Mr Prescott quiet until after Thursday's local elections the impact of the affair on voters will be limited.
Sunday, 30 April 2006 - Prescott angry at lover's claims
Deputy Prime Minister John Prescott has hit back after allegations were made by his former lover in an interview with a Sunday newspaper.
Mr Prescott said much of Tracy Temple's recollections in the Mail on Sunday were "simply untrue" and "motivated by a desire to maximise financial gain".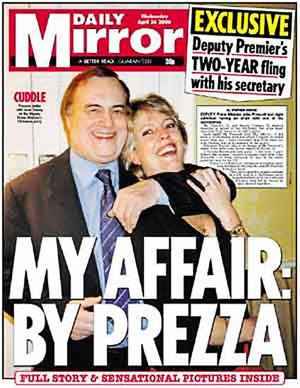 Johnny and Trace - 2 year hush puppy
Ms Temple, his diary secretary, said she felt she was used as a "scapegoat".
Mr Prescott admitted he had "acted stupidly" and appealed for privacy as he tried to rebuild his marriage.
Fighting for his political life and showing no signs he intended to resign from the government, Mr Prescott issued a statement in which he admitted he had had "intimate relations" with Ms Temple.
But he said "much of her recollections in the Mail on Sunday are simply untrue and are clearly motivated by a desire to maximise financial gain".
"It is totally unacceptable for the Mail on Sunday and other newspapers to trawl through a long list of people - some hardly known to me - ex-staff members, family and friends, offering large amounts of money to make allegations without substance," he said.
Sir Alastair Graham, Chairman of the Committee on Standards in Public Life, said Mr Prescott may have broken the ministerial code.
"There are some question marks in relation to these allegations that have been made or the detail that's come out and possible breaches of the ministerial code."
But he added it was up to Tony Blair to decide what Mr Prescott's political future is.
"The issue that the prime minister has to consider is to whether the public duties as a minister of the deputy prime minister got unreasonably mixed up with his private life," he told BBC News.
He added that the ministerial code said ministers of the crown were expected "to behave to the highest standards of constitutional and personal conduct".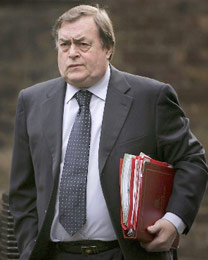 Secretary in a State, but David Blunkett also had an affair with his secretary at the same time as introducing the Sexual Offences Act 2003. Talk about hypocrites.
Transport Secretary Alistair Darling said it had been a "pretty bad" week for the government, with Home Secretary Charles Clarke fighting off calls to resign over revelations over the release of foreign prisoners and after Health Secretary Patricia Hewitt was booed by nurses at a conference.
"Each one of these things on their own is bad, the bringing of together all three together is very bad for the government.
"None of these things are helpful," he told Andrew Marr on BBC One's Sunday AM.
"It's not the first time politicians have had affairs of this sort... but we as a government have to concentrate on those things that we were put into power to sort out."
Mr Prescott said he intended to take the matter to the Press Complaints Commission.
"I admit that I have acted stupidly and caused great distress to my wife and family. Pauline and I would now like to request the media to give us the privacy space and time to allow us to try to re build our marriage," he said.
Ms Temple was speaking in an interview with the Mail on Sunday newspaper for which she was paid in excess of £100,000.
Mr Prescott, MP for Hull East, has said he regretted the affair and it had left his wife Pauline "devastated".
'Lucky not to be caught'
Ms Temple told the newspaper she felt she had been abandoned by him when news of the affair came out and had received just one phone call from her ex-lover.
"I feel I have been used and am being used as a scapegoat. They have abandoned me and hung me out to dry," she said.
She told the newspaper she had regular sexual encounters with Mr Prescott in his office with the door open while other civil servants worked outside.
They also had sexual encounters in the Mr Prescott's tax-payer funded flat in Admiralty Arch and in the Admiralty Boardroom, she said. The pair were "lucky" to not have been caught, she added.
In a video statement released on Saturday night, a tearful Ms Temple said:
"I've had to live with the lies and the misinformation that was actually written about me, causing damage to my reputation and possibly my future career.
"Therefore, as a result, I felt I needed to tell my side of the story and let people know the truth."
'Private matter'
One of Mr Prescott's friends, Sports Minister Richard Caborn, told BBC News the deputy prime minister was "very depressed" over his "huge mistake" and that wife Pauline was "greatly saddened".
Prime Minister Tony Blair has refused to discuss the affair saying it was "a private matter".
But former Deputy Prime Minister Lord Heseltine told Sunday Live on Sky News: "It is legitimate to say that a private affair is private, but we are not talking about the affair, we are talking about the behaviour of the Deputy Prime Minister.
"You simply cannot have a senior member of a government bringing that government into ridicule and contempt by the way in which that person behaves. That is what has happened."
Shadow home secretary David Davis said it was likely Mr Prescott felt he had lost face and wanted to resign.
"In his own words, he's made himself a laughing stock. And I think, actually, he probably wants to go himself now," Mr Davis told Sky News.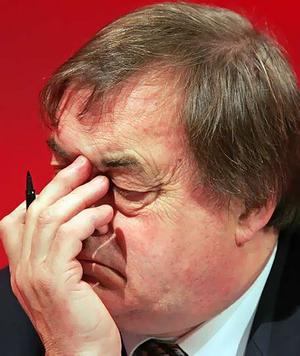 Mr Prescott imitates an Ostrich
(I'll never get away with this)
Deputy PM admits TWO-YEAR fling with his secretary
JOHN Prescott last night said he deeply regretted his fling with a secretary - and admitted it had left his wife Pauline distraught.
The 67-year-old Deputy Premier confessed the fling with 43-year-old Tracey Temple, saying: "I did have a relationship with her which I regret. "It ended some time ago. I have discussed this fully with my wife Pauline who is devastated by the news.
"I would be grateful if Pauline and I can now get on with our lives together."
Friday, 26-28 April 2006 - Prescott admits affair with aide
Deputy Prime Minister John Prescott has admitted he had an affair with one of his secretaries.
The MP for Hull East said he regretted the relationship with Tracey Temple, 43, which had ended "some time ago".
"I have discussed this fully with my wife Pauline who is devastated. I would be grateful if [we] can get on with our lives together," a statement said.
Tony Blair's spokesman said Mr Prescott had strong support and was a "real benefit" to the country and government.
The spokesman added that Mr Prescott, 67, played "an absolutely vital role".
Downing Street had earlier said it was a "private matter", a message repeated by Home Secretary Charles Clarke when he appeared on BBC Radio 4's Today programme.
Mr Prescott and Ms Temple started meeting in secret at his Whitehall flat after a two-year relationship began at an office party in 2002, the Daily Mirror reported.
The pair began working together when Ms Temple was appointed as Mr Prescott's assistant private secretary, responsible for organising his diary, said the paper.
She had reportedly previously worked as a personal diary secretary for former Northern Ireland Secretary Mo Mowlam, who died of cancer last year.
The PM's spokesman said Mr Prescott had not offered to resign, nor had he abused his position by having an affair with a civil servant.
Ms Temple's boyfriend, lorry driver Barrie Williams, 46, told the Daily Mirror: "I just can't believe that my darling Tracey has been sleeping with John Prescott behind my back.
"How dare he split up my relationship with the woman I'd planned to marry!"
Mr Williams, of Bordon, Hants, said Ms Temple asked him to marry her just two days after she began a relationship with Mr Prescott.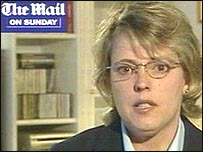 Tracey Temple - kiss and tell
Political ramifications
"I'm just glad we hadn't got round to tying the knot," he said. The Daily Mirror's associate editor, Kevin Maguire, said the affair had "some political ramifications, although... it would be wrong to overstate them".
"It's embarrassing for the government because of its current problems with cabinet ministers of one sort or another. It's very embarrassing for John Prescott publicly," Mr Maguire said.
"It will undermine his 'honest John' image to some extent and perhaps even make more difficult that broker role he's playing between Gordon Brown and Tony Blair."
Uniformed police were stationed outside the Prescott house in Hull on Wednesday and the gates were shut, with no sign of John or Pauline Prescott.
They have been married for more than 44 years and have two children. The Daily Mirror's assertion that the affair was common knowledge in Mr Prescott's department was dismissed by local government minister Phil Woolas.
"I think it is a private matter for the Deputy Prime Minister," he said. "I have worked for him for many years and I have every confidence in his ability, not just as a public spokesperson for the government but as the chair of Cabinet committees and as deputy to the Prime Minister and standing in for him, and in leading his department."
LINKS:
A private affair?
John Prescott scandal poses a difficult problem for the PM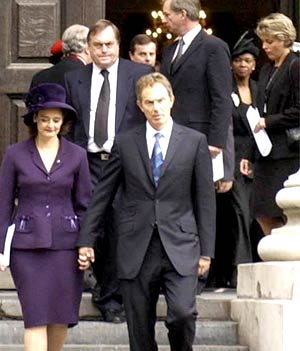 Prescott and Temple - the happy couple
Prescott scandal to rumble on
Scotsman, United Kingdom - Apr 28, 2006
... about the private life of John Prescott, the deputy ... his civil service secretary, Mr Prescott has been ... concede that yet more personal scandal could seriously ...
Faces of the week BBC News
What works matters, and voters see it isn't working Guardian Unlimited
Prescott poses with his wife for newsletter and boasts of how he' ... Glasgow Daily Record
BBC News - Daily Mail - UK
Incompetent, in trouble, in flagrante and in denial
Scotland on Sunday, UK - 1 hour ago
... proclaiming it is enjoying its "best year yet"; and John Prescott has been ... can either decide this according to whatever is the latest scandal [or] controversy ...
Blair's government reeks with the stench of decay Scotsman
Blair braced for more on jails debacle Gulf Times
Blair in crisis after release of convicted immigrants World Peace Herald
Scotland on Sunday - Houston Chronicle
Lost: A government in meltdown
Sunday Herald, UK - 2 hours ago
... Patricia Hewitt and Deputy Prime Minister John Prescott were mired in, respectively, a public display of evaporating authority and a sex scandal involving his ...
Triple scam lands Blairís party in crisis Navhind Times
Blair needs to reshuffle the Cabinet Ö including getting rid of ... Sunday Herald
Shamed Prescott due back at work Leeds Today
ic Birmingham.co.uk - Telegraph.co.uk
New Labourís bit of rough gone wrong
Times Online, UK - 2 hours ago
... horrors of the Home Office foreign prisoner scandal. New Labour can at least clutch at one positive achievement. It has found a proper job for John Prescott. ...

A government on borrowed time Times Online
Crisis? It's just another day at the office, dear TMCnet
Blair battles to re-gain political credibility Euronews.net
Bonfire of a presposterous man's vanities
Times Online, UK - 3 hours ago
... who hurled stones of righteous anger at John Majorís ... is something different about the question of Prescottís privacy in this scandal: he violated ...
A demeaning week in British politics
Daily Mail - UK, UK - 6 hours ago
... us. In the wake of the sex offenders scandal, are you worried about your children's safety at school? ... But John Prescott? Anyone ...

Dave's on a road to nowhere, as we bypass Tories
Times Online, UK - 3 hours ago
The House of Blair teeters set to collapse into a sea of scandal. ... is responsible: like the foreign murderers padding along our streets or John Prescottís paw ...
The first rule of the politician's wife should be: Never leave ...
Telegraph.co.uk, United Kingdom - 3 hours ago
... Entitled Scandal '63 and published in the autumn of that year, its concluding ... through Paddy Ashdown and Tricia Howard in 1992, to John Prescott and Tracey ...
Gordon is much too smart to enjoy any of this
Telegraph.co.uk, United Kingdom - 3 hours ago
... bald man with a distinctive beard - is embroiled in a nationwide prison scandal. ... respectively, of Charles Clarke, Patricia Hewitt and John Prescott cannot be ...
Prescott's 2-year affair with secretary adds to Blair woes
Scotsman, United Kingdom - Apr 26, 2006
... Labour's predicament with the twilight days of the scandal-plagued Conservative government led by John Major. One minister conceded that Mr Prescott "had let ...
Baroness Sharmi Chakrabarti CBE
Baroness Angela Smith of Basildon
Keir Starmer KCB QC
Lord Steven Bassam of Brighton
WE ACCEPT NO RESPONSIBILITY FOR THE ACCURACY OF ANY FEATURED LINKS
FAIR USE NOTICE
This site contains copyrighted material the use of which has not always been specifically authorized by the copyright owner. We are making such material available in our efforts to advance understanding of environmental, political, human rights, economic, scientific, and social justice issues, etc. We believe this constitutes a 'fair use' of any such copyrighted material as provided for in section 107 of the US Copyright Law. In accordance with Title 17 U.S.C. Section 107, the material on this site is distributed without profit to those who have expressed a prior interest in receiving the included information for research and educational purposes.
For more information go to: http://www.law.cornell.edu/uscode/17/107.shtml. If you wish to use copyrighted material from this site for purposes of your own that go beyond 'fair use', you must obtain permission from the copyright owner.
This site is protected under Article10 of the European Convention on Human Rights and Fundamental Freedoms.