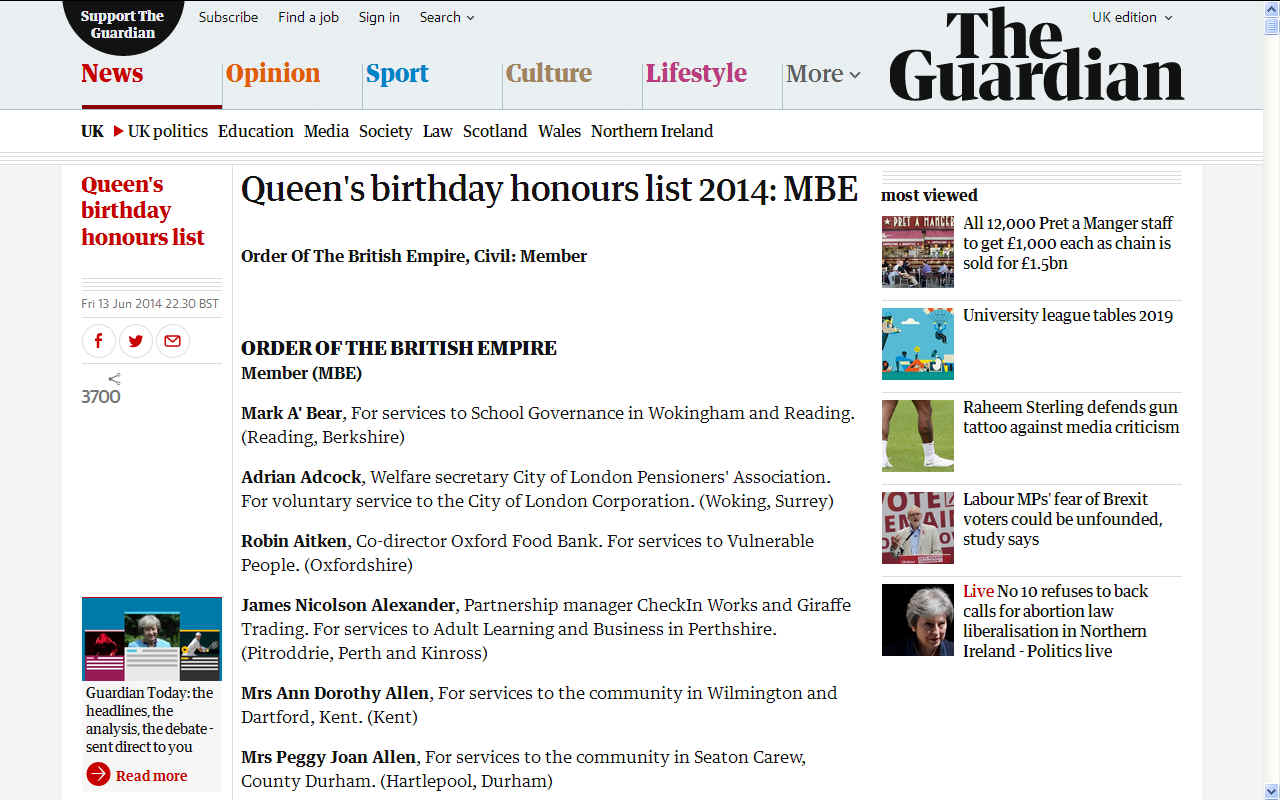 BIRTHDAY HONOURS LIST 2014 (MBE) - ORDER OF THE BRITISH EMPIRE MEMBER

Mark A' Bear, For services to School Governance in Wokingham and Reading. (Reading, Berkshire)

Adrian Adcock, Welfare secretary City of London Pensioners' Association. For voluntary service to the City of London Corporation. (Woking, Surrey)

Robin Aitken, Co-director Oxford Food Bank. For services to Vulnerable People. (Oxfordshire)

James Nicolson Alexander, Partnership manager CheckIn Works and Giraffe Trading. For services to Adult Learning and Business in Perthshire. (Pitroddrie, Perth and Kinross)

Mrs Ann Dorothy Allen, For services to the community in Wilmington and Dartford, Kent. (Kent)

Mrs Peggy Joan Allen, For services to the community in Seaton Carew, County Durham. (Hartlepool, Durham)

Mrs Kelly Ann Alleyne, Child Protection Officer, Child Exploitation and Online Protection. For services to Child Protection. (Hemel Hempstead, Hertfordshire)

Dr Winifred Nora Anderson, For services to the communities in West Quantoxhead and West Somerset. (Taunton, Somerset)

Dr Robert Samuel Andrews, Commercial director EW Simulation Technology Ltd. For services to the Defence Industry. (Farnham, Surrey)

John Leonard Anthony, Regional Project director London Fire Brigade. For services to the Fire and Rescue Service. (St Ives, Cambridgeshire)

Dr Malcolm Appleby, Engraver. For services to Hand Engraving. (Perthshire, Perth and Kinross)

Mrs Jennifer Ellen Archer, Athletics Coach. For services to Disabilty Athletics. (London)

Ms Hedi Argent, Volunteer and Trustee PAC. For services to Children and Families. (London)

Kenneth John Arnold, Senior Scientific Officer Forensic Science Northern Ireland, Department of Justice, Northern Ireland Executive. For services to Fire Investigation in Northern Ireland. (Belfast)

Robert Anthony Atkin, Chief Superintendent Metropolitan Police Service. For services to the Care of Police Survivors charity. (Lenham Heath, Kent)

James Alan Atkinson, Administrator Police Service of Northern Ireland. For services to Policing and Delivery of the 2013 G8 Summit. (Belfast)

Wing Cdr Graham Ifor August, R.A.F. (Rtd.) Senior Executive Officer, Ministry of Defence. For services to Defence and International Relations.

Mrs Roberta Austin, Centre manager, Build Up, Blackpool and The Fylde College. For services to Vocational Education.

Muhammad Ayyub, For services to Asian Music in the UK. (Birmingham, West Midlands)

Miss Sally Frances Badham, (Mrs. Sutton) president, Church Monument Society. For services to the Conservation of Church Monuments.

Dr Jayshree Bagaria, Health Adviser Department for International Development. For humanitarian services in South Sudan. (London)

Roy Eric Bailey, Honorary Senior Lecturer University of Essex. For services to Economics Education. (Colchester, Essex)

Mrs Candy Florence Gwendoline Baker, Chair, League of Friends for Cornwall and the Isles of Scilly, Peninsula Community Health. For services to the community. (Bude, Cornwall)

Nigel Clifford Lewis-Baker, Founder and chairman Topic of Cancer, Surrey. For voluntary service to People with Cancer. (Little Bookham, Surrey)

Lt Col Ian Ballantyne, Chief executive Scottish Veterans Residences. For services to Ex-Service Personnel in Scotland. (By Arbroath, Angus)

Anjan Kumar Banerjee, Deputy managing director Pope Woodhead Associates, and Honorary consultant Surgeon, Bedford Hospital, NHS Trust. For services to Patient Safety. (Peterborough, Cambridgeshire)

Mrs Joanna Margaret Barker, Chairman, Target Ovarian Cancer. For services to People with Cancer. (Bray, Berkshire)

Neil Barnfather, For services to the Telecommunications Industry and People with Visual Impairments. (Milton Keynes, Buckinghamshire)

Mrs Suzann Seonaid Barr, For services to the community in the Highlands, particularly Vulnerable Children. (Inverness-shire)

John Scot Barrowman, For services to Light Entertainment and to charity. (London)

Michael James George Bartlet, Parliamentary Liaison secretary Society of Friends in Britain. For services to Equality and Social Justice. (St Albans, Hertfordshire)

Mrs Paula Bartlett, Area Operational Delivery manager, Crown Prosecution Service, Wessex. For services to Law and Order and to the community in Portsmouth, Hampshire. (Portsmouth, Hampshire)

Mrs Sarah Khan Bashir, For services to the community in Bradford, West Yorkshire. (Bradford, West Yorkshire)

Ms Elizabeth Baskerville, Regional chairman Conservative Party. For voluntary political service. (Great Barton, Suffolk)

Dr Stephen Arthur Battersby, President Chartered Institute of Environmental Health. For services to Environmental Health. (London)

Dr Denise Barrett-Baxendale, Chief executive Officer Everton in the Community. For services to the community in Merseyside. (Liverpool, Merseyside)

Mrs Susan Beaman, Headteacher, Red Gates Special Educational Needs School, Croydon. For services to Special Needs Education. (Kent)

Mrs Jean Mary Bedford, Volunteer, Bedford and District Handicapped Riders Association. For services to People with Disabilities in Bedford. (Willington, Bedfordshire)

Alan Bell, For voluntary service to the community in Glen Urquhart Highland Region. (Drumnadrochit, Inverness-shire)

Miss Ruth Margaret Bell, JP, Senior Executive Officer Ministry of Defence. For services to Defence. (Bedfordshire)

Mrs Miriam Elizabeth Bennett, Foster Carer, Leeds. For services to Children and Families. (Bridlington, East Riding of Yorkshire)

Victor Bennett, Foster Carer Leeds. For services to Children and Families. (Bridlington, East Riding of Yorkshire)

Amrik Singh Bhabra, Chief executive ADECS and president, Coventry and Warwickshire Chamber of Commerce. For services to Business and the community. (Coventry, West Midlands)

Martin Binks, Conductor and Artistic director Leeds Symphony Orchestra. For services to Music. (Leeds, West Yorkshire)

Ms Helen Iranette Bishop, Head of Community Investment Rolls-Royce. For services to Industry and Communities. (Matlock, Derbyshire)

Mrs Rosemary Bishton, For services to the communities in Oxenton, Gotherington and Woolstone and to the Women's Institute in Gloucestershire. (Cheltenham, Gloucestershire)

Charles David McLean Black, For services to Young People through The Duke of Edinburgh's Award in Edinburgh. (Edinburgh)

Ms Cleo Lisa Blackman, Strategy Adviser Department for International Development. For services to Development in Helmand Province, Afghanistan. (Gravesend, Kent)

David Richard Blagrove, Volunteer. For services to Restoration of the UK Waterways. (Stoke Bruerne, Northamptonshire)

Mrs Patricia Ann Blair, For services to the National Association of Women's Clubs for Liverpool and District and to the community in Liverpool, Merseyside. (Liverpool, Merseyside)

Katy Kam Har Tse Lady Blair, Chief executive Officer and Fundraising director, Islington Chinese Association. For services to the community in London. (Liverpool, Merseyside)

Mrs Ann Marie Majella Blanking, Key Stage 3 Science Co-ordinator, St. Mary's College, Londonderry. For services to Education and the community in Northern Ireland. (Lisaghmore, Londonderry)

The Reverend Shuna Jane Body, Chair British Disabled Fencing Association. For services to Wheelchair Fencing. (Romney Marsh, Kent)

Mrs Jane Elizabeth Bond, Director of Property Services, Metropolitan Police Service. For services to Policing. (Caterham, Surrey)

Capt Robert Anderson Bonner, Chairman Museum of the Manchester Regiment. For services to Military Heritage. (Knutsford, Cheshire)

Alistair Borland, Special Superintendent Thames Valley Police Special Constabulary. For services to Policing. (Milton Keynes, Buckinghamshire)

Ian Borthwick, Councillor Dundee City Council. For services to Local Government and the community in Dundee. (Dundee)

Ms Valerie Bott, Chair William Hogarth Trust. For services to Heritage and Conservation. (London)

John Boyd, Milliner. For services to the Fashion Industry. (London)

Willliam Britnell, Director Clwyd Powys Archaeological Trust. For services to Archaeology and Conservation in Wales. (Shrewsbury, Shropshire)

Ms Gail Broadhurst, Head of Hotel and Catering Babcock Marine. For services to Royal Navy Personnel. (Helensburgh, Dunbartonshire)

Michael Demster Brook, Senior Officer Digital Education Service Designer, London, HM Revenue and Customs. For services to Tax Work. (Overton, Hampshire)

Mrs Jan Vanessa Brown, For voluntary service in Argyll. (Lochgilphead, Argyll and Bute)

Mrs Margaret Brown, Higher Executive Officer, Work Services Directorate, Department for Work and Pensions. For services to Unemployed People and to the Samaritans. (Southend-On-Sea, Essex)

Phillip Geoffrey Brown, Managing director and Founder Benchmark Building Supplies and Chair, Tameside Enterprise Board. For services to Business in North West England. (Stockport, Cheshire)

Mrs Eveleigh Finola Margaret Brownlow, For voluntary service to the community in Portaferry, Northern Ireland. (Newtornards, Down)

Councillor Samuel John Brush, BEM, Councillor Dungannon District Council. For services to the community in County Tyrone, Northern Ireland. (Ballygawley, Tyrone)

Ms Jacqueline Margaret Buffton, Vice Chair of Governors City of Bath College and Facilitator, Bath and North East Somerset Learning Partnership. For services to Further Education. (Bath, Somerset)

Professor Fiona Bull, Director Centre for the Built Environment and Health. For services to Public Health. (Abroad)

Stephen Alexander Bunyan, TD, DL, For voluntary service in East Lothian. (Dunbar, East Lothian)

Mrs Christine Burditt, Foster Carer, Sheffield City Council. For services to Children and Families. (Sheffield, South Yorkshire)

Harry Burditt, Foster Carer Sheffield City Council. For services to Children and Families. (Sheffield, South Yorkshire)

Walter Victor Burley, For voluntary political service. (Walsall, West Midlands)

Councillor Ian Burns, Councillor Banbridge District Council. For services to Local Government and the community in Northern Ireland. (Craigavon, Armagh)

Mrs Sheila Burston, For services to People with Diabetes and their Carers. (London)

Ms Rosemary Butcher, Choreographer. For services to Contemporary Dance. (London)

Gary Buxton, Chief executive Young Advisors. For services to Young People in England. (Droylsden, Greater Manchester)

Mrs Margaret Patricia Byrne, Chair of Governors, Mousehole Primary School, Cornwall. For services to Education and to the community in Mousehole and Paul. (Penzance, Cornwall)

Thomas David Cairns, Co-director Oxford Food Bank. For services to Vulnerable People. (Islip, Oxfordshire)

Miss Jean Evelyn Campbell, For services to Piping. (Glasgow)

William Robert Henry Carson, For services to the community in Armagh Northern Ireland. (Armagh)

John Cartwright, National Organisational Support Officer Fire and Rescue Service and Chair, Fire Services Youth Training Association. For services to the Fire and Rescue Services. (Swinton, Lancashire)

Ms Eliza Carthy, Musician. For services to Folk Music. (North Yorkshire)

Mrs Anne Cawthorn, Macmillan Nurse and Psychotherapist, Blythe House Cancer Care Centre. For services to Cancer Patients in Manchester and Derbyshire. (High Peak, Derbyshire)

Maurice Kingston Chappell, For services to Adults and Children with Severe Learning Disabilities and their Families in South Holland Lincolnshire. (Spalding, Lincolnshire)

Mrs Anne Elisabeth Child, Senior Medicines Management Mental Health Lead Adviser, NHS Kent and Medway. For services to People with Dementia. (Meopham, Kent)

Ms Beryl Clark, Volunteer Lancashire Constabulary. For services to Policing and the community in Preston. (Preston, Lancashire)

Mrs Sharon Clark, Operational Administrative Officer, Hull Port, Border Force, Home Office. For services to UK Border Security and voluntary service to Children and Families. (East Riding of Yorkshire)

Mrs Nicola Vivian Alexandra Clarke, Chair, Military Wives Choirs Foundation. For services to Military Families. (Pewsey, Wiltshire)

Peter Vernham Clarke, Volunteer The Farming Community Network. For services to Farmers and the community in Cornwall. (Devon)

Mrs Angela Cobbin, Theatrical Wig Designer. For services to the Theatre and to the community in Clapham, London. (London)

Mrs Rebecca Cobbin, Family Delivery manager, Bristol Civil Justice Centre, HM Courts and Tribunals Service. For services to the Administration of Justice. (Shepton Mallet, Somerset)

Edward Brian Cooper, Project Officer Natural Environment Research Council. For services to Marine Science. (Vale of Glamorgan)

Dr Jane Elizabeth Cope, Director National Cancer Research Institute. For services to Cancer Research. (London)

John Dawson Cotton, Chairman John Cotton Group. For services to Business in West Yorkshire. (Harrogate, North Yorkshire)

The Reverend Colin Charles Malcolm Coward, Director Changing Attitude. For services to Equality. (Devizes, Wiltshire)

Luing Henry Cowley, For services to the community in Milton Keynes Buckinghamshire. (Milton Keynes, Buckinghamshire)

The Reverend Paul William Cowley, Executive director Caring for Ex-Offenders. For services to Ex-Offenders. (London)

Mrs Melanie Anne Craddock, Unit Welfare Officer, Ministry of Defence. For services to Armed Forces Personnel and Families. (Hampshire)

Ms Lesley Craze, Founder Lesley Craze Gallery. For services to Contemporary Jewellery and Silversmithing. (London)

Dr Glenn Crocker, Chief executive BioCity Nottingham. For services to the Biotechnology Industry. (Derbyshire)

John Richard Cutmore, Underwriter Aerospace, UK Export Finance. For services to Export in the Aerospace Industry. (London)

Ms Carole Frances Damper, Chief executive E. C. Roberts Centre, Portsmouth. For services to Children and Families. (Chichester, West Sussex)

Dr Kumarendra Das, Associate Specialist in Trauma and Orthopaedics Friarage Hospital, North Yorkshire. For services to Trauma and Orthopaedic Surgery. (Northallerton, North Yorkshire)

Ms Eileen Kirkpatrick Davidson, For political service. (Colchester, Essex)

Mrs Jean Dalrymple Davidson, For services to the community in Worcester. (Worcestershire)

Brynley John Davies, Principal Ystrad Mynach College, Caerphilly. For services to Further Education, Community Learning and Enterprise. (Wells, Somerset)

Miss Carole Ann Davies, Cystic Fibrosis Nurse Specialist Llandough Hospital, Cardiff. For services to Nursing. (Dinas Powys, Vale of Glamorgan)

Ms Ruth Davis, Chief Policy Adviser Greenpeace. For services to the Environment. (London)

Mrs Sheenagh Davis, Manager, HOPE Family Centre, Bromyard, Herefordshire. For services to Children and Familes. (Bromyard, Herefordshire)

Councillor Trudy Dean, Councillor Kent County Council and chairman, West Malling Parish Council. For services to the community in West Malling. (West Malling, Kent)

Duncan Macdonald Alexander Dennett, Manager Citizens' Advice Bureau, Clackmannanshire. For services to the community in Clackmannanshire. (Alloa, Clackmannanshire)

Leighton Jack Denny, For services to the Nail and Beauty Industry. (London)

Dr John Devaney, Senior Lecturer in Social Work Queen's University, Belfast. For services to Social Work in Northern Ireland. (Saintfield, Down)

Mrs Harriet Devlin, For services to Heritage and the Historic Environment. (Shrewsbury, Shropshire)

Mrs Mary Anne Devlin, Head, Clinical Education Centre for Health and Social Care in Northern Ireland. For services to Nursing and Health and Social Care in Northern Ireland. (Belfast)

Dr Nirmal Chandra Dhar, For services to Community Cohesion in the West of Scotland. (Renfrewshire)

Miss Amanda Carroll Dickens, Constable South Yorkshire Police. For services to Policing and the community in Rotherham. (Doncaster, South Yorkshire)

Ms Judith Dimant, Producer Complicite. For services to Theatre. (London)

Miss Ruth Diver, Teacher Sheringham Woodfields School, Norfolk. For services to Education. (Sheringham, Norfolk)

The Reverend Campbell Boyd Dixon, District Policing Partnership manager Newtownabbey Borough Council. For services to the community in Newtownabbey. (NewtownabbeY, Antrim)

Nigel Dixon, For voluntary service to Sport in Blackburn. (Blackburn, Lancashire)

The Reverend Canon Charles Philip Dobbin, For services to Community Cohesion in Leeds West Yorkshire. (Leeds, West Yorkshire)

Fraser Doherty, Founder SuperJam. For services to Business. (Edinburgh)

Jon Francis Doney, Senior consultant Course Designer British Showjumping Association. For services to British Showjumping. (Tewkesbury, Gloucestershire)

Dr Mark Drayton, Consultant Neonatologist Cardiff and Vale University Health Board. For services to the All Wales Neonatal Network. (Cardiff)

Ms Susan Campbell Duncan, Inspection Support Officer HM Inspectorate of Constabulary Division, Scottish Government. For services to Public Administration and to the community. (Edinburgh)

Ms Julia Eccleshare, For services to Children's Literature. (London)

David Roland Elleray, Chairman Referees' Committee, Football Association. For services to Football. (Kingswood, Surrey)

Ms Irene Ellis, For services to the community in Smethwick West Midlands. (West Bromwich, West Midlands)

Steve Etches, For services to Palaeontology. (Wareham, Dorset)

Ms Charlotte Evans, Guide to Paralympic Gold Medallist Skier Kelly Gallagher. For services to Paralympic Sport. (Chatham, Kent)

Professor William David Evans, Consultant Physicist and head of Medical Physics and Clinical Engineering Cardiff and Vale University Health Board. For services to the NHS in Wales and Overseas. (Cardiff)

Mrs Christine Margaret Eyden, Primary School Teacher, Charlton Church of England Primary School, Dover. For services to Education. (Deal, Kent)

Clenton Farquharson, Director Healthwatch Birmingham. For services to Disabled People and the community in the West Midlands. (Birmingham, West Midlands)

Miss Julie Margaret Farrell, JP, For services to the Administration of Justice in Blackpool. (Blackpool, Lancashire)

Leslie Fawcett, For services to the community particularly Elderly People in Middlesbrough. (Middlesbrough, North Yorkshire)

Ms Shirley Elaine Fewings, Manager Dawlish and East Teignbridge Volunteer Service. For voluntary and charitable services. (Dawlish, Devon)

Mrs Sheila Finch, Administrative Officer, Specialist Personal Tax, HM Revenue and Customs. For services to Tax Compliance and voluntary service to Young People in Greater Manchester. (Wigan, Lancashire)

John Flanner, Administrative assistant Personal Tax Operations, HM Revenue and Customs, Birmingham. For services to Diversity and Equality. (Solihull, West Midlands)

Miss Jill Elizabeth Fletcher, Statistics and Evaluation Adviser Department for International Development. For services to Reconstruction and Development in Afghanistan. (London)

Scott Jonathan Fletcher, Founder ANS Group. For services to Business and the community in the North West of England. (Hale, Cheshire)

Ralph Franklyn John Flower, For services to the British Engineering Industry and to the community in Devizes Wiltshire. (Devizes, Wiltshire)

Ms Patricia Foley, Senior Crime Scene Investigator North Wales Police. For services to Policing. (Penmaenmawr, Conwy)

Mrs Andrea Susan Fox, For services to Young People and the community in Belper, Derbyshire. (Belper, Derbyshire)

Dario Franchitti, For services to Motor Racing. (London)

Mrs Ann Barbara Fraser, For services to the Equestrian and Leisure Industry in the Scottish Borders. (Jedburgh, Borders)

Dr Howard Michael Freeman, JP, General Practitioner London. For services to Primary Care. (Chipstead, Surrey)

Ms Marion Friend, Director Junior Department, Trinity Laban Conservatoire of Music and Dance. For services to Music Education. (London)

Mrs Margaret Elizabeth Fulford, For services to the Mothers' Union and to the community in Knowle, West Midlands. (Solihull, West Midlands)

Ms Christine Fyfe, Librarian and Pro-vice-Chancellor Students, University of Leicester. For services to Higher Education. (Leamington Spa, Warwickshire)

Miss Kelly Marie Gallagher, For services to Sport for People with a Visual Impairment. (Bangor, Down)

Mrs Jaya Chakrabarti Gallemore, Founder and chief executive Officer, Nameless. For services to the Creative and Digital Industries and to the community in Bristol. (Bristol)

Ian Galletley, Regional chairman Conservative Party. For voluntary political service. (Darlington, Durham)

Brian Robert Gambles, Assistant director of Culture Birmingham City Council. For services to Libraries. (Solihull, West Midlands)

Professor Anne Strachan Garden, Head Lancaster University Medical School. For services to Medical Education. (Arnside, Cumbria)

Ms Julie Gardner, Senior vice president Scripted Projects, BBC Worldwide America. For services to the Economic Development of the Television Industry in Wales. (Abroad)

David Mitchell-Gears, For services to Bowls. (Clacton-on-Sea, Essex)

Thomas Patrick Geddes, University Ombudsman University of Winchester. For services to Higher Education. (Winchester, Hampshire)

Mrs Kathleen Beatrice Giles, For services to People with Disabilities and to the community in Ceredigion. (Aberystwyth, Ceredigion)

Ms Caroline Lesley Gitsham, Director Gentoo Living. For services to Business in the North East of England. (Houghton le Spring, Tyne and Wear)

John Bruce Glover, Head of Humanities and Duke of Edinburgh Co-ordinator Knights Templar School, Baldock, Hertfordshire. For services to Education. (Baldock, Hertfordshire)

Miss Honor Elizabeth Godfrey, Curator Wimbledon Lawn Tennis Museum. For services to Tennis. (London)

Terence John Paul Golding, For services to the communities in Willesborough and Ashford Kent. (Ashford, Kent)

Mrs Muriel Good, For services to the community in Omagh, Northern Ireland. (Omagh, Tyrone)

Mrs Florence Carole Elizabeth Graham, Chief commissioner, Ulster Girlguiding. For services to Young People in Northern Ireland. (Tempo, Fermanagh)

Edison Wilson Graham, Chairman Ulster Youth Choir. For services to Music and Young People in Northern Ireland. (Belfast)

Mrs Mary Margaret Grant, Head of Science, Newry High School. For services to Education and to the community in Northern Ireland. (Newry, Down)

Kenneth Edward Green, Manager Care Management Activity Service. For services to Young People with Special Needs in Manchester. (Stalybridge, Cheshire)

Anthony David Griffin, Dental Technologist Leicestershire. For services to Dental Technology. (Leicestershire)

Miro Griffiths, Founder Miro Consultancy and Deputy Chair, Equality 2025. For services to People with Disabilities. (Wirral, Merseyside)

Dr Roger Phillip Griffiths, Head of Novel Systems MBDA UK Ltd. For services to the Armed Forces and the Defence Industry. (Bristol)

Ms Jennifer Gunn, Vice-Captain England Women's Cricket Team. For services to Cricket. (West Bridgeford, Nottinghamshire)

Mrs Margaret Emily Haddock, Deputy chief executive, Orchardville Society and Chair, Northern Ireland Union of Supported Employment. For services to People with Disabilities.

Ms Margaret Hall, For voluntary political service and services to the community in Northumberland and Tyne and Wear. (Whitley Bay, Tyne and Wear)

Ms Tracy Halliwell, Director of Business Tourism and Major Events London and Partners. For services to Business Tourism. (London)

Mrs Catherine Hamilton, For services to the Development of Mental Health Care in Tayside. (Dundee)

Gavin Harding, Founding Member and Co-Chair National Learning Disability Programme Board. For services to People with Learning Disabilities. (Selby, North Yorkshire)

Ms Stella Lindsay West Harling, Founder Ashburton Cookery School. For services to the Hospitality Industry in Devon. (Ashburton, Devon)

Gary Peter Andrew Harris, Senior Executive Officer Ministry of Defence. For services to Military Operational Capability. (Gloucestershire)

Mrs Santuzza Roseanne Harris, For services to improving the lives of carers and to the community in Hall Green, Birmingham.

George Percival Harrison, For services to Athletics. (Abbots Langley, Hertfordshire)

Robert Berkeley Harrison, For services to the community in Denbighshire particularly through the Cae Dai Trust. (Denbighshire)

Mrs Helen McDonald Hart, For services to Bereavement Counselling in Scotland. (Gloucestershire)

Ian Hart, Chair Children's Panel Chairmen's Group. For services to the Children's Hearing System in Scotland. (Milngavie, Glasgow)

Mrs Elsie Harvey, For services to Education and to the community in Seghill, Northumberland. (Cramlington, Northumberland)

Mrs Julie Dawn Harvey, Paediatric Physiotherapist, Abertawe Bro Morgannwg University Health Board. For services to Healthcare and charitable services to Children with Disabilities. (Neath, Neath Port Talbot)

Mrs Avril Head, Foster Carer, London. For services to Children and Families. (London)

Ronald Edwin Head, Foster Carer London. For services to Children and Families. (London)

Ms Kathleen Mary Healy, For services to the community in West London through the Dukes Meadow Trust. (Staines, Surrey)

Michael Joseph Heduan, For services to Road Safety. (London)

John Hegarty, Teacher and vice Principal Budmouth College, Weymouth and Founder, Dorset Expeditionary Society. For services to Education and Outdoor Learning. (Portland, Dorset)

Albert Henderson, Corporate director Education and Communities, Inverclyde Council. For services to Education. (Greenock, Renfrewshire)

Professor Alan Hibbert, Deputy Chair Management Committee, Armagh Observatory and Planetarium. For services to Astronomy. (Carrickfergus, Antrim)

Dr James Hickman, General Practitioner and Pre-Hospital Emergency Care Doctor Somerset. For services to Healthcare, particularly Emergency Medical Care. (Taunton, Somerset)

Dr Catherine Eryl Hicks, Consultant Radiologist Royal Glamorgan Hospital, Rhondda Cynon Taff. For services to the NHS and to the PONT Mbale Coalition against Poverty. (Cardiff)

Col David James Hill, Chairman West Midlands North Branch, SSAFA. For voluntary service to Armed Forces Veterans and their Families. (Wolverhampton, West Midlands)

Mrs Sonya Hill, The Prince's Trust Force Co-ordinator, West Midlands Police. For services to Policing and Young People in the West Midlands. (Kidderminster, Worcestershire)

Cdr David Hilton, R.N. Base Services manager Ministry of Defence. For services to the Royal Navy. (Isle of Wight)

Mrs Jennifer Mary Dixon Hirst, Founder, InDependent Diabetes Trust. For services to People with Diabetes. (Northamptonshire)

Mrs Penelope Hobhouse, Writer and Gardener. For services to British Gardening. (Bruton, Somerset)

Paul Anthony Hodges, Critical Incident Debrief Officer Warwickshire Fire and Rescue Service. For services to the Fire and Rescue Service. (Exhall, Warwickshire)

Andrew Mark Holt, Founder and managing director What More UK Ltd. For services to Manufacturing and the community in Burnley, Lancashire. (Burnley, Lancashire)

Mrs Carole Homan, Deputy Chair, Independent Monitoring Board, HM Prison and Young Offenders' Institution Isis. For voluntary service to Justice and Offenders. (London)

Robert Gerard Hornby, Project director Openreach Next Generation Access, BT. For services to Broadband Access in Rural Communities. (Warrington, Cheshire)

Mrs Anne Hornigold, Chief executive, Whitby and District Fishing Industry Training School. For services to Education in the Sea Fishing Industry. (Whitby, North Yorkshire)

Mrs Jacqueline Ray Howie, Depute Principal, Angus College. For services to Further Education in Scotland. (Barnhill, Dundee)

Shaun Nicholas Hughes, Team Leader Ethiopia, Department for International Development. For Humanitarian services in Ethiopia. (Swindon, Oxfordshire)

Mrs Susan Christine Hughes, Secretary, Gwynedd Branch, SSAFA. For voluntary service to Armed Forces Veterans and their Families. (Conwy)

Ms Jessica Huie, Founder Color Blind Cards. For services to Entrepreneurship. (London)

Ian Hunter, Chairman Civil Service Football Club. For services to Football. (London)

Majid Hussain, Executive director Accrol Papers. For services to Business and the community in the North West of England. (Accrington, Lancashire)

John Charles Hutchison, JP, For services to the Environment and the community in the Highlands and Islands. (Fort William, Inverness-shire)

Oliver Richard Hyatt, Chairman Animation UK. For services to Children's Television and the Animation Industry. (London)

Joseph Darrell Hyland, Chief executive SOS Bus Charity, Belfast. For services to the community in Northern Ireland. (Belfast)

Steven Christopher Iles, Head of Highways and Parking Services London Borough of Croydon. For services to the community during the 2014 Flooding. (Smallfield, Surrey)

Mrs Christina Judith Ineson, For services to Railway Safety. (Watford, Hertfordshire)

William Alfred Ireland, Inventor Fish Safety Knife. For services to Innovation. (Churchdown, Gloucestershire)

Javid Ibrahim Isap, Assistant Officer Benefits and Credits, Security and Information Management Team, Preston, HM Revenue and Customs. For public and voluntary service. (Preston, Lancashire)

Mrs Margaret Jessie Isherwood, For services to Adult Learning and to the community in Warrington. (Warrington, Cheshire)

Edwin Victor Jackson, Head Highfurlong Special School, Blackpool. For services to Special Needs Education. (Garstang Preston, Lancashire)

Haydn Jeffrey Winston James, Councillor Vale of Glamorgan Council. For political and voluntary service to the community in Wales particularly in the Vale of Glamorgan. (Rhoose, Vale of Glamorgan)

Barry Jeavons, HM Inspector Immigration Enforcement Returns, Home Office. For services to International Migration Partnerships. (High Wycombe, Buckinghamshire)

Dr Mohammed Jiva, General Practitioner Rochdale. For services to General Practice. (Bacup, Lancashire)

Raymond George Jobling, Lay Member General Pharmaceutical Council. For services to Pharmacy Education and Regulation. (Cambridgeshire)

Damian Peter Christian Johnson, Team Leader Ministry of Defence. For services to Defence. (London)

Laurence Reginald Ward Johnson, Composer. For services to Music. (London)

Mrs Susan Anne Jones, Lead Nurse, School Health Nursing, Abertawe Bro Morgannwg Health Board. For services to Children and Young People in Neath Port Talbot. (Port Talbot, Neath Port Talbot)

Gwilym Gwesyn Joseph, Director Swansea City Football Club. For services to Football and the Economy in Swansea. (Swansea)

James Walker Kane, Managing director J. W. Kane Engineering Ltd. For services to the Aerospace Industry in Northern Ireland. (Craigavon, Armagh)

Amrit Paul Kaushal, Vice-president Association of Indian Organisations. For services to Community Cohesion in the West of Scotland. (Giffnock, Glasgow)

John William Keeble, For services to the community in Theberton and Eastbridge and to the Environment and Heritage of East Anglia. (Leiston, Suffolk)

Mrs Eileen Mary Keeling, For services to Children with Special Educational Needs in Timperley, Greater Manchester. (Sale, Cheshire)

Mrs Petronella Gerarda Keeling, DL, Founder, Action Medical Research, Lincolnshire. For charitable services to Medical Research. (Spalding, Lincolnshire)

Christopher Kemp, Community Learning manager Middlesbrough. For services to Adult Education. (Guisborough, North Yorkshire)

Gary George Kennedy, Principal Waringstown Primary School, Craigavon. For services to Education in Northern Ireland. (Portadown, Armagh)

Mrs Linda Grace Kennedy, Higher Executive Officer, Ministry of Defence. For services to Royal Air Force Personnel. (Cornwall)

Tarron Paul Kinsella, Senior Executive Officer Special Cases Unit, Office for Security and Counter Terrorism, Home Office. For services to National Security. (London)

William John Charles Knightly, For services to the community in Conwy. (Towyn, Conwy)

Kenneth Stuart Lake, General secretary England Schools Cricket Association. For voluntary service to Cricket. (Willerby, East Riding of Yorkshire)

Mrs Suzanne Cynthia Lear, Organiser and Patron, Lisa Lear Fund, Buckinghamshire. For voluntary services to Medical Research. (Buckinghamshire)

John Leech, Founder Keyboard Charitable Trust. For services to Music and Young Musicians. (London)

Keith Ronald Leech, For services to Heritage in East Sussex. (Hastings, East Sussex)

Mrs Noretta Leech, Founder, Keyboard Charitable Trust. For services to Music and Young Musicians. (London)

Michael Robert Lees, Campaigner and Founder Asbestos in Schools Group. For services to the Wellbeing of Children and Teachers. (Holsworthy, Devon)

Mrs Emma Leigh, Project and Contract manager, NHS Cheshire. For services to Public Health. (Middlewich, Cheshire)

Dr Diana Mary Leitch, Trustee Catalyst Science Discovery Centre. For services to Chemistry. (Didsbury, Greater Manchester)

Miss Frances Leneghan, Private secretary to the Speaker Northern Ireland Assembly. For services to Community Engagement with the Northern Ireland Assembly. (Newcastle, Down)

Dr Dennis Aubrey Lewis, For services to the community in Welwyn Garden City Hertfordshire. (Welwyn Garden City, Hertfordshire)

Miss Paulette Beatrice Lewis, Interim assistant director for Community Services Harrow, Ealing Hospital NHS Trust. For services to Nursing and to Young People in Jamaica. (London)

Robert Brynmor Lewis, JP, Chair Ty Hafan Children's Hospice, Vale of Glamorgan. For voluntary service to Paediatric Palliative Care. (Radyr, Cardiff)

John Lynch, Administrative Officer Work Services Directorate, Department for Work and Pensions. For services to Young People. (London)

Mrs Evelyn Gwladys Lyons, Governor, Garston Church of England School. For services to Education and to Girl Guiding. (Liverpool, Merseyside)

Ms Emily Jayne MacAulay, Leader Devon and Cornwall Gay Police Association. For services to Equality and Diversity. (Exeter, Devon)

Alan MacDonald, Honorary Treasurer Scottish Council on Deafness. For services to Deaf People in Scotland. (Muthill, Perth and Kinross)

Ian MacIntosh, Head of Corporate Services Department for International Development. For humanitarian services in South Sudan. (Glasgow)

Mark Kenneth Mackenzie, For services to Equality. (London)

Mrs Joyce Grant MacKie, DL, For voluntary service in Aberdeenshire. (Ellon, Aberdeenshire)

Dr Karen Elaine Madden, Head of Midwifery South Eastern Trust. For services to Maternity Care in Northern Ireland. (Newtownards, Down)

Dr Julie Lynne Madigan, Chief executive The Manufacturing Institute. For services to Business and the community in North West England. (Northwich, Cheshire)

Ms Judith Helen March, Director Personal Support Unit. For services to Litigants in Person. (Buckhurst Hill, Essex)

Mrs Eileen Marchant, JP, Chair of the Bench, Kirklees Magistrates' Court, West Yorkshire. For services to the Administration of Justice and to Hockey in Yorkshire.

Mrs Sandra Matthews-Marsh, Chief executive, Visit Kent. For services to Tourism in Kent. (Kent)

William Wylie Macpherson Martin, For services to Music and charity in Scotland. (London)

Herman Martyn, Governor North West London Jewish Day School. For services to Education. (London)

Mrs Pamela Mason, Senior Officer, Personal Tax Operations, Brierley Hill, HM Revenue and Customs. For services to Young People and voluntary service through Guiding. (Dudley, West Midlands)

Mrs Sadie Fiona Edwards Mason, For services to Sport.

Brian Wood Massey, For services to the community in Hexham Northumberland. (Hexham, Northumberland)

Mrs Selina Thea Alexander Master, National Dental Lead, Virgin Care. For services to Vulnerable People and Improving Oral Health. (London)

Richard Christopher Masters, Executive Officer Ministerial and Public Communications Division, Department for Education. For services to Public Administration. (Runcorn, Cheshire)

Ms Cerys Matthews, Singer Broadcaster and Author. For services to Music. (London)

Michael Matthews, European Operations Officer and managing director Nifco UK. For services to Business in the North East of England. (Darlington, Durham)

Charles Arnold Maxsted, JP, DL, For services to Beverley Racecourse and to the community in the East Riding of Yorkshire. (Brough, East Riding of Yorkshire)

Robert Turville Constable-Maxwell, DL, For services to the Leicestershire Clubs for Young People and to the community in Leicestershire. (Lutterworth, Leicestershire)

David McArthur, Higher Executive Officer Bournemouth Jobcentre Plus, Department for Work and Pensions. For services to Unemployed People.

Ms Catriona Gibson McBeath, Constable Ministry of Defence Police. For services to Police Training in Afghanistan. (Stirling and Falkirk)

Ms Patricia Brolly Gibb McConalogue, For services to the community in Glasgow. (CastlemilK, Glasgow)

Mrs Bernadette Mary Agnes Joan McCrory, Chief Officer, Co-operation and Working Together, Cross Border Health and Social Care. For services to Healthcare in Northern Ireland and Ireland.

Mrs Cecilia Amanda Adams- McGuire, Fundraiser, Middlesex. For services to The David Adams Leukaemia Appeal Fund.

Professor Colin Robert McInnes, FRSE, Director Advanced Space Concepts Laboratory. For services to Space Research, Science and Technology. (Netherlee, Renfrewshire)

Ms Lynne Annette McIntyre, Deputy Nurse director Patient Experience, NHS England Midlands and East. For services to Nursing.

Eugene Patrick James McKeever, Managing director The McKeever Hotel Group. For services to Tourism and Hospitality in Northern Ireland. (Toomebridge, Antrim)

Kenneth McKenzie, JP, Managing director Dingwall and Highland Marts. For services to Agriculture and Charity in Scotland. (Dingwall, Ross and Cromarty)

Mrs Agnes Campbell Park McMurdo, For services to Disadvantaged and Vulnerable People in Ayrshire.

Stuart Joseph McNab, Coastguard Rescue Officer Eastbourne Coastguard Rescue Team. For voluntary service to Search and Rescue. (Eastbourne, East Sussex)

Mrs Elizabeth McNerlin, For services to Employment and the community in the Northwest of Northern Ireland.

Alfred Terence Meade, For services to the community in Sheffield. (Sheffield, South Yorkshire)

Mrs Irene Megaw, Lecturer, South Eastern Regional College. For services to Further Education in Northern Ireland. (Bangor, Down)

Ms Susan Middleton, Vice-president Corporate and UK Government Relations, GlaxoSmithKline. For services to the Pharmaceutical Industry. (Hertfordshire)

Adrian Barry Mitchell, Regional chairman Conservative Party. For voluntary political service. (Nelson, Lancashire)

Miss Anne Elizabeth Mitchell, For services to Children with Disabilities and to the community through the Barrow Farm Riding for the Disabled in High Wood Essex. (Essex)

Dr Wendy Cunningham Momen, JP, For services to the UN Entity for Gender Equality and the Empowerment of Women and to the community in Bedfordshire. (Northill, Bedfordshire)

Hugh Edward John Montgomery, DL, Secretary and Representative in Northern Ireland The Honourable Irish Society. For services to the community in County Londonderry. (Ballyclare, Antrim)

Christopher David Moore, Officer Digital Service, Newcastle upon Tyne, HM Revenue and Customs. For services to Taxpayers and Disability Groups. (Wallsend, Tyne and Wear)

John Moore, Chairman Thomas Carroll Group plc. For services to the Financial Services Sector and for charitable services to Ty Hafan Children's Hospice, Wales. (Pentyrch, Cardiff)

Ms Shelagh Moore, Deputy head Rugby High School. For services to Education. (Southam, Warwickshire)

Thomas William Morkill, School Governor Dame Alice Owen's School, Potters Bar. For services to Education. (Hertfordshire)

Mrs Jennifer Diwan Morris, Principal Policy Officer, Chartered Institute of Environmental Health. For services to Environmental Health. (Buckinghamshire)

Ms Geraldine Morrison, Head and Chair Departmental Trade Union Side, Department for International Development. For services to Public Administration. (East Kilbride, South Lanarkshire)

John Murdo Morrison, For services to the community in the Western Isles. (Isle of Harris, Western Isles)

David Vaughan Mountfort, Headteacher Castell Alun High School, Flintshire. For services to Education in North Wales. (Mold, Flintshire)

Mrs Sheila Murphy, For voluntary political service. (Merseyside)

Mrs Ruth Myers, For services to Improving Telecommunications Access for Deaf People. (Chorleywood, Hertfordshire)

Mrs Maureen Alicia Neill, JP, For services to the community in Sheffield, South Yorkshire. (Sheffield, South Yorkshire)

John Campbell Nelson, Secretary Action for Southern Africa Scotland. For voluntary service to South Africa. (Hamilton, Lanarkshire)

Mrs Julie Newlan, Pro vice-Chancellor of Enterprise, University of Hertfordshire. For services to Higher Education. (Harpenden, Hertfordshire)

Paul Brent Newman, Police Community Support Supervisor South Yorkshire Police. For services to Policing and the community in South Yorkshire. (Sheffield, South Yorkshire)

Alan Francis Nix, For services to the community in Swindon Wiltshire. (Swindon, Wiltshire)

Mrs Pamela Margaret Noble, Chair, Board of Governors, Thornfield House School. For voluntary service to Education in Northern Ireland. (Newtownabbey, Antrim)

Rajen Odedra, Prison Officer HMPrison Belmarsh. For services to HM Prison Service and the community in Essex. (London)

Ms Sarah O'Driscoll, For services to the community and Neighbourhood Planning in Bristol. (Bristol)

Olufemi Ogunsanwo (Femi Oguns) Founder, Identity School of Acting. For services to Acting.

Carl Von Ohsen, Neighbourhood Renewal Officer Belfast Regeneration Office, Department for Social Development, Northern Ireland Executive. For services to Regeneration in Belfast. (Belfast)

William Bell Osborne, Chair Building Change Trust. For services to the voluntary and community sector in Northern Ireland. (Downpatrick, Down)

Mrs Carole Georgina Tetley O'Toole, Chair of Governors, Yale College, Wrexham. For voluntary service to Education and the community in North Wales. (Wrexham)

Dr Yvonne Eleanor Mary Owen, General Practitioner and Clinical director of LIVES Lincolnshire. For services to Public Health. (Horncastle, Lincolnshire)

Dr Andrew John Vallance-Owen, Chairman Patient Reported Outcomes Stakeholder Reference Group, Department of Health. For services to Healthcare. (Hertfordshire)

Keith Robert Mallard Page, The Duke of Edinburgh Award Leader and Co-ordinator Cowplain Community School, Hampshire. For services to Education and voluntary service to Young People. (Waterlooville, Hampshire)

Mrs Catherine Mary Margaret Parker, For services to Children and Young People suffering from Grief and Bereavement. (SullY, Vale of Glamorgan)

Andrew John Parr, For services to the community in Caterham Surrey. (Caterham, Surrey)

Dr David Parry, Chair Ty Elis Counselling Service, Porthcawl. For voluntary service to the community in Porthcawl. (Porthcawl, Bridgend)

Mrs Catherine Elizabeth Parry, General manager, Kirkgate Arts. For services to the community in Cockermouth, Cumbria. (Cockermouth, Cumbria)

Dr Jitendra Chottabhai Patel, Cardiologist Aberdeen Royal Infirmary. For services to Healthcare. (Banchory, Aberdeenshire)

Mrs Enid Bertha Patient, Divisional Superintendent, Walthamstow Nursing Cadets. For voluntary service to St. John Ambulance. (London)

Mrs Diana Patrick, Nurse and Fundraiser, Cransley Hospice, Northamptonshire. For services to Healthcare. (Kettering, Northamptonshire)

Miss Judith Ann Innes Patten, For services to Renewable Energy. (London)

Mrs Sandra Frances Carole Patricia Peacock, Foster Carer, Vale of Glamorgan Council. For services to Children and Families in the Vale of Glamorgan. (Barry, Vale of Glamorgan)

Stuart Gareth Peacock, Foster Carer Vale of Glamorgan Council. For services to Children and Families in the Vale of Glamorgan. (Barry, Vale of Glamorgan)

Mrs Marie-Antoinette Peakes, Assistant Headteacher, Miles Coverdale Primary School, Shepherd's Bush, London. For services to Education. (London)

Hallam Carter-Pegg, For services to Young People in Croydon through the Scout Movement. (London)

Christopher Hedley Pennell, For services to Heritage in the East Midlands. (Sheffield, South Yorkshire)

Andrew Jonathan Penny, Musical director and conductor Hull Philharmonic Orchestra. For services to Music. (Hessle, East Riding of Yorkshire)

Ms Patricia Pepper, For voluntary services to the community in Northern Ireland. (Newtownabbey, Antrim)

Mrs Janet Perrett, Deputy director, Careers and Employability Service, University of Nottingham. For services to Higher Education. (West Bridgford, Nottinghamshire)

Mrs Philippa Mary Anne Peters, JP, (Philippa Hawks). For services to the communities in Burrowbridge and Taunton, Somerset.

Mrs (Sarah Ann) Elizabeth Phillips, For services to Elderly People and the community in Leamington Spa, Warwickshire. (Leamington Spa, Warwickshire)

Dr Holly Jacqueline Phillips, Naval Architect. For services to Maritime Safety and the community in Swanage Dorset. (Swanage, Dorset)

Professor Nicholas Pidgeon, Professor of Environmental Psychology University of Cardiff. For services to Climate Change Awareness and Energy Security Policy. (Cardiff)

Dr Marilyn Plant, Principal General Practitioner Glebe Road Surgery, London. For services to General Practice. (London)

Simon Platford, Deputy head High Arcal School, Dudley. For services to Education. (Telford, Shropshire)

Richard Bertrand Player, Higher Executive Officer Ministry of Defence. For services to Defence Catering. (Dorset)

Mrs Sophia Mary Plender, Painting Conservator and Restorer. For services to the Arts. (London)

Lady Louisa Caroline Portal, DL, For services to Music and to Scouting in Hampshire. (Basingstoke, Hampshire)

Chris Porter, Senior Humanitarian Adviser Kenya, Department for International Development. For services to Kenya and Somalia. (London)

Mrs Joyce Mary Poulter, For services to the community in Godalming, Surrey.

Mrs Edna Maureen Pratt, Foster Carer, Leigh-on-Sea, Essex. For services to Children and Families. (Leigh on Sea, Essex)

Edward George Pratt, Foster Carer Leigh-on-Sea, Essex. For services to Children and Families. (Leigh on Sea, Essex)

Miss Hilda Price, For political service and service to the community in Wales through British Red Cross and the MS Society. (Rhayader, Powys)

Mrs Ailsa Helen Stewart Proverbs, Founder, The Big Cheese Making Company. For services to the Food Industry in East Lothian. (East Lothian)

John Francis Rainey, Chairman and managing director Denroy Group Ltd. For services to Economic Development in Northern Ireland. (Donaghadee, Down)

Julian Dennis Rand, For services to the communities in Mawgan and Helston Cornwall. (Helston, Cornwall)

Robert Rattray, Joint chief executive Askonas Holt. For services to the Music Industry. (London)

David Charles Bullen Reeves, Air Traffic Controller City of Derry Airport. For services to Aviation and the community in Northern Ireland. (Portstewart, Londonderry)

Ms Aisha Rashida Rehman, Operational Team Leader National Security Unit, Office for Security and Counter-Terrorism, Home Office. For services to Public Protection. (London)

Barrett Rennick, For services to the community in County Fermanagh Northern Ireland. (Enniskillen, Fermanagh)

Mrs Margaret Joan Rhodes, Foster Carer, Newhaven, East Sussex. For services to Children and Families. (Newhaven, East Sussex)

Peter Richard Seaton Rhodes, Foster Carer Newhaven, East Sussex. For services to Children and Families. (Newhaven, East Sussex)

Mrs Paulette Angela Riddell, Talent Management Liaison, Cabinet Office. For services to the Civil Service in Talent Management. (London)

Clive Rippon, For services to Tennis in Essex. (Chelmsford, Essex)

Ms Fiona Karen Ritchie, Radio Broadcaster. For services to Broadcasting and Traditional Scottish Music. (Dunkeld, Perth and Kinross)

Emlyn Huw Rowlands Roberts, Local Authority Leader of Education Adviser and Headteacher Oakmeadow Church of England Primary and Nursery School, Bayston Hill, Shropshire. For services to Education. (Telford, Shropshire)

Mrs Victoria Rachel Robinson, Fundraiser. For services to the Arts in Cumbria. (Bowness on Windermere, Cumbria)

David William Rogers, Founder Every Action has Consequences. For services to Young People and Prisoner Rehabilitation. (Blackburn, Lancashire)

Mark Romain, For services to the Saddlery Industry and Saddlery Training in the UK and Overseas. (Salisbury, Wiltshire)

Christopher Michael Rose, Retained Station Commander Gillingham Fire Station. For services to the community in Dorset. (Gillingham, Dorset)

James Fergus Rosie, Senior Strategic Analyst Ministry of Defence. For services to Military Operational Capability. (Derbyshire)

Ms Chrys Salt, Artistic director The Bakehouse. For services to the Arts in Dumfries and Galloway. (London)

Dr Caroline Diane Sanders, Consultant Nurse Paediatric Urology and Gynaecology, Alder Hey Children's Hospital, and Senior Researcher, UCLan. For services to Paediatric Urology and Gynaecology. (Greater Manchester)

Ms Teresa Jane Sandison, Director of Lifelong Learning and Staff Development University of Winchester. For services to Higher Education. (Winchester, Hampshire)

Mrs Kathleen Jane (Kay) Saunders, Senior Teaching assistant, Our Lady Catholic Primary School, Hitchin. For services to Education. (Hitchin, Hertfordshire)

Dr Michael Thomas Saunders, Chief executive Medical Defence Union, London. For services to Medical Practitioners and Patients. (Newbury, Berkshire)

Ms Mary Anita Savory, JP, For public and voluntary service to the communities in Weardale and Wolsingham County Durham.

Mrs Perdita Joan Sawbridge, Foster Carer, Northamptonshire County Council. For service to Children and Families. (Aynho, Northamptonshire)

Ronald Sawbridge, Foster Carer Northamptonshire County Council. For services to Children and Families. (Aynho, Northamptonshire)

Mrs Katherine Emma Saysell, Chief executive and director of Nursing, St. David's Hospice Care. For services to Voluntary Sector Health Provision in Newport, South Wales. (Chepstow, Newport)

Mrs Fauziah Scarisbrick, Head of the Department of Mathematics, Queen Elizabeth's School, Barnet. For services to Education. (Potters Bar, Hertfordshire)

Mrs Patricia Scott, Headteacher, St. Luke's High School, East Renfrewshire. For services to Education. (Kilmacolm, Renfrewshire)

Hajeet Seeboruth, Fingerprint Services manager Metropolitan Police Service. For services to Fingerprint Examination. (London)

Stephen John Selves, For services to charitable giving in the UK. (Peterborough, Cambridgeshire)

Milan Shah, Director Varani Food Products Ltd and Chair, Board of Governors, University of Northampton. For services to Business and the community in the East Midlands. (London)

David Arvin Shaw, For services to Scouting and to the community in Windsor Berkshire. (Windsor, Berkshire)

Phillip James Sheldon, Force Strategic Finance manager Derbyshire Constabulary. For services to Police Finance. (Allestree, Derbyshire)

Kevin Sinfield, Captain Leeds Rhinos Rugby League Football Club and England. For services to Rugby League. (Oldham, Lancashire)

Dilawer Singh, For voluntary service to Ethnic Minorities Sport and the community in Glasgow. (Glasgow)

Peter James Sippitt, Senior Collision Investigator Metropolitan Police Service. For services to Collision Investigation and Technology. (Amersham, Buckinghamshire)

Professor Michael Derek Slater, Senior Research Fellow Institute of English Studies, School of Advanced Study, University of London. For services to Literary Scholarship. (London)

Mrs Barbara Smith, Fundraiser, Action for Children. For services to Children. (Derby, Derbyshire)

David Michael Smith, Board Member Robust Details Ltd and president, Consortium of European Building Control. For services to Building Control and voluntary service in Suffolk. (Ipswich, Suffolk)

Mrs Elizabeth Smith, Early Years Teacher, The Forest School, Knaresborough. For services to Education. (York, North Yorkshire)

Mrs Gillian Broadfoot Smith, Director, Board for Scotland, Royal College of Midwives UK. For services to Midwifery and Partnership in Scotland. (Livingston, West Lothian)

Mrs Kathryn Smith, School Volunteer, Silkstone Common Junior and Infant School, Barnsley. For services to Education. (Barnsley, South Yorkshire)

Mrs Lynne Smith, Clinical manager and chief Clinical Physiologist, Department of Gastro Intestinal Physiology, Northern General Hospital, Sheffield. For services to Healthcare. (Sheffield, South Yorkshire)

Miss Michelle Smith, Ministry of Defence. For services to Defence. (London)

Neil Clifford Smith, For charitable services. (Woodbridge, Suffolk)

Denis Hamilton Smyth, Officer Northern Ireland Prison Service, Department of Justice, Northern Ireland Executive. For services to Prisoners and voluntary service to Ornithology. (Armagh)

David Sneddon, For services to Kilmarnock Football Club and the community in Kilmarnock Ayrshire. (Kilmarnock, Ayrshire and Arran)

David Snowdon, Managing director Pristine Condition. For services to Health and Safety at Work and for charitable services in Oxfordshire. (Henley on Thames, Oxfordshire)

Mrs Michele South, Drug and Alcohol Lead, Work Services Directorate, Department for Work and Pensions. For services to People with Substance Addictions. (Lingfield, Surrey)

Mrs Joanna Grizelda Spicer, DL, For public service to the community in Suffolk. (Bury St Edmunds, Suffolk)

Mrs Anne Primrose Popham Springman, For services to the community in the Isle of Wight. (Bembridge, Isle of Wight)

Ms Annette Standen, Administrative Officer Group Equality, Diversity and Inclusion, Home Office. For services to Diversity. (London)

Mrs Rachel Mary Starling, For services to the Rail Industry. (Caterham, Surrey)

William Alister Steele, Managing director Castle Rock Edinvar Housing Association. For services to Social Housing and Regeneration in Edinburgh. (Edinburgh)

Robin Charles Steere, School Volunteer Alder Hey Hospital School, Wirral Hospitals School and Calday Grange Grammar School, Merseyside. For services to Education. (Ormskirk, Lancashire)

Mrs Jill Stewart, Head of Housing and Property, Moray Council. For services to Council Housing in Moray. (Forres, Inverness-shire)

Dr Janet Stockdale, Social Psychologist and Dean University of London International Programmes, London School of Economics. For services to Higher Education. (London)

Dr Colin Thomas Stokes, Chairman The Prostate Project. For charitable services to the Royal Surrey Charity Hospital. (Surrey)

Mrs Liese Jane Bowers-Straw, Border Officer, Border Force, Home Office. For services to Equality and Diversity. (Kirkby-in-Asfield, Nottinghamshire)

Ms Anne Olympia Wafula-Strike, For services to Disability Sport and Charity. (Harlow, Essex)

Mrs Ann Stuart, Training manager, Sexual Offences, Exploitation and Child Abuse Command, Metropolitan Police Service. For services to Child Protection. (Epping, Essex)

Peter Legard Stubbs, Volunteer Durham Constabulary. For voluntary service to Policing. (Barnard Castle, Durham)

Howard Martin Stuchfield, JP, For services to Heritage charity and to the community in Essex. (Essex)

Philip James Sturrock, For services to Business charity and to the community in South East London. (London)

Stephen Robert Sutton, Young Fundraiser Staffordshire. For services to Teenage Cancer Trust Charity. (To be dated 13 May, 2014).

Nigel Sean Sweeny, Lifeboat Operations manager St. Catherine's Lifeboat Station. For services to Maritime Safety in Jersey. (Grouville, Channel Islands)

Councillor Howard David Sykes, Councillor Oldham Council. For services to Local Government. (Oldham, Lancashire)

Dr John Nicholas Symons, TD, Founder Cancer of Unknown Primary Foundation. For voluntary service to People with Cancer. (Newbury, Berkshire)

Anthony Melvyn Tarrant, Foster Carer Slough Borough Council. For services to Children and Families. (Burnham, Buckinghamshire)

Mrs Sarah Clare Tarrant, Foster Carer, Slough Borough Council. For services to Children and Families. (Burnham, Buckinghamshire)

Dr Richard Thomas Taylor, For services to the community in Worcestershire especially to Kidderminster Hospital. (Kidderminster, Worcestershire)

Mrs Colette Toni Thomson, For services to Netball. (Solihull, West Midlands)

Ms Moira Thomson, Committee Member Dyslexia Scotland South East. For services to Children with Dyslexia. (Edinburgh)

Mrs Sarah Rose Thorley, For services to Inter Faith Relations in South London. (London)

Mrs Amanda Jillian Thorn, Managing director, Marches Care Ltd and Chair, Shropshire Business Board. For services to Dementia Care. (Shrewsbury, Shropshire)

Professor Alan Stanley Thornton, For services to Martial Arts. (London)

Francis Anthony Toop, University secretary City University London. For services to Higher and Further Education. (London)

Dr Andrew John Treharne, Chair UK Biology Competitions. For services to Youth Engagement in Biology. (Lytham St Annes, Lancashire)

Mrs Elizabeth Jann Tucker, Chair, Cadwgan Building Preservation Trust. For services to Heritage in Ceredigion. (Ceredigion)

John Joseph Tully, Chief executive World Police and Fire Games 2013. For services to Policing and the community in Northern Ireland. (Belfast)

The Reverend Reuben Turner, For services to the Anglo-Jewish community especially to Jewish Music. (London)

Mrs Jane Leonora Type, Secretary, South Wales Girls' Golf Association. For voluntary service to Sport in Wales. (Merthyr Tydfil)

Jonathan Ullmer, Principal CATS Canterbury and director of Education, Cambridge Education Group. For services to Education. (Westcliff-on-Sea, Essex)

Miss Mary Uppington, For services to the English Schools' Swimming Association and to the community in Long Ashton North Somerset. (Bristol)

Roger Charles Upton, For services to the Cultural Heritage of Falconry in the UK and Overseas. (Marlborough, Wiltshire)

Joseph Waddington, Administration Officer International Trade, Border Force, Home Office. For services to UK Border Security. (Ashford, Surrey)

Bernard Adkins Walker, Transitional Chair Adults Faculty, College of Social Work, Independent consultant in Social Care and Health Management. For services to Social Care. (Liverpool, Merseyside)

Ms Deborah Jean Walker, Inspector West Midlands Police. For services to the Drug Interventions Programme. (Leicestershire)

Mrs Margaret Joan Walsh, Director, A Fairer Chance. For services to the Employment of Ex-Offenders. (London)

Andrew William Ward, For services to Farming Resilience in England and Wales. (Lincolnshire)

Mrs Susan Elizabeth Ward, Head of Skills for Life, Highbury College, Portsmouth. For services to Further Education and Young People with Mental Health Conditions. (Southampton, Hampshire)

William Eric Ward, For services to Young People and to Charity in Leicestershire and Rutland.

Mrs Rosemary Watterson, Chief Administrative Officer, Western Education and Library Board. For services to Education in Northern Ireland. (Strabane, Tyrone)

Royston John Watts, Chair Bluebell Railway Preservation Society. For services to Railway Heritage and Preservation. (London)

Barry Harvey Welck, Founder and chairman Langdon Foundation. For services to Education and Learning Disabled People. (Radlett, Hertfordshire)

Michael Welsh, For services to the community in Lancashire. (Chorley, Lancashire)

Mrs Sandra Wemyss, Senior Officer, Fiscal Crime Liaison Officer, Paris, HM Revenue and Customs. For services to Tackling Tax Non-Compliance. (Banstead, Surrey)

Lt Col Susan Jane Westlake, Vice president Women's Royal Army Corps Association. For services to ex-Servicewomen. (Alton, Hampshire)

Dean Weston, Senior Executive Officer Work Services Directorate, Department for Work and Pensions. For services to Young People and communities affected by gang and youth violence. (Folkestone, Kent)

Mrs Ann Rosina Whalley, Foster Carer, Warrington Council. For services to Children and Families. (Warrington, Cheshire)

Warren Alan Whalley, Foster Carer Warrington Council. For services to Children and Families. (Warrington, Cheshire)

Clyde Emanuel White, BEM, Staff Officer for Physical Development Ministry of Defence. For services to Armed Forces Sport in Germany. (Abroad)

Martin Andrew Campbell-White, Joint chief executive Askonas Holt. For services to the Music Industry. (London)

Joss Wiggins, Chief Fisheries Officer Kent and Essex Inshore Fisheries and Conservation Authority. For services to Fishing and Conservation in the Thames Estuary. (Brightlingsea, Essex)

Alan Wilkinson, Honorary Music director and Co-Founder Music in Country Churches. For services to Music and for charitable services. (Kings Lynn, Norfolk)

David Eilian Williams, Leader Search and Rescue Team and Operations manager, Aberdovey Lifeboat Station. For services to the RNLI and Mountain Rescue in Mid-Wales. (Aberdovey, Gwynedd)

David Wyn Williams, DL, For voluntary service to Business and the community in North Wales. (Deganwy, Conwy)

Mrs Deris Davies Williams, Director, Menter Cwm Gwendraeth. For services to the community, Welsh Language and Culture in the Gwendraeth Valley, Carmarthenshire. (Carmarthenshire)

Mrs Eileen Williams, Managing director, ESTC Group Ltd. For services to UK Trade and the community in Cheshire. (Nantwich, Cheshire)

(Philip) David Joseph Williams, JP, For services to the community and to charity in Northamptonshire. (East Haddon, Northamptonshire)

Ms Sybil Georgina Williams, Founder and director Pedal Power, Cardiff. For voluntary service to Children and Adults with Disabilities. (Roath, Cardiff)

Mrs Ann Wilson, Secretary, Surrey Gypsy Traveller Communities Forum, Leatherhead, Surrey. For services to the Gypsy and Traveller community. (Leatherhead, Surrey)

Antony Paul Wilson, Project director World Conservation and Exhibitions Centre, British Museum. For services to Museums. (Cuckfield, West Sussex)

Dr Richard George Wilson, Trustee Action for Sick Children and Trustee, The Lullaby Trust. For services to Vulnerable Children and Bereaved People. (Portsmouth, Hampshire)

Miss Janferie Jill Wilton, Chairman of Governors Sir Thomas Rich's School, Longlevens, Gloucester. For services to Education. (Gloucester, Gloucestershire)

The Reverend John Maurice Wood, For services to the community in Tottenham North London. (London)

(Steven) Robin Wood, For services to Heritage Crafts and Skills. (Hope Valley, Derbyshire)

Ms Emma Briony Woolf, For voluntary service to the community and to the Environment through the Friends of Cotteridge Park and Birmingham Open Spaces Forum West Midlands. (Birmingham, West Midlands)

Dr Peter David Wothers, Chair International Chemistry Olympiad Committee. For services to Chemistry. (Cambridgeshire)

Mrs Eileen Amelia Wright, For voluntary service to Education and Health in Upper Bann, Northern Ireland. (Banbridge, Down)

Andrew Henry Dickson Wynd, Chief executive Scottish Spina Bifida Association. For services to Healthcare. (Bellshill, Lanarkshire)

Miss Elizabeth Anne Yarnold, Skeleton Racer. For services to Skeleton Racing. (Bath, Somerset)

David Edwin Yates, Engineer and School Volunteer Church Lench Church of England First School, Evesham. For services to Education. (Evesham, Worcestershire)

Mrs Kay Maria Yeowart, Founder, Pulmonary Hypertension Association. For services to People with Pulmonary Hypertension. (North Chailey, East Sussex)

Mrs Patricia Anne Young, School Administration and Finance Officer, Atkinson Road Nursery School, Benwell, Newcastle upon Tyne. For services to Education. (Newcastle Upon Tyne, Tyne and Wear)

Mrs Valerie Jean Young, For services to the community in Knutsford, Cheshire. (Knutsford, Cheshire)

ABOUT THE QUEEN
Queen Elizabeth II is the second Queen of England to bear the name, the first being Queen Elizabeth I.
Elizabeth Alexandra Mary Windsor was born on the 21st of April 1926. She is the Queen of the United Kingdom, a country that is shortly to Brexit the European Union.
She is also the monarch of 15 other countries: Canada, Australia, New Zealand, Jamaica, Barbados, the Bahamas, Grenada, Papua New Guinea, the Solomon Islands, Tuvalu, Saint Lucia, Saint Vincent and the Grenadines, Antigua and Barbuda, Belize, and Saint Kitts and Nevis.

She became Queen when her father, King George VI, died on 6 February 1952. Since 9 September 2015, Elizabeth II has ruled longer than any other king or queen in the history of the United Kingdom. She has also ruled longer than any other living king or queen in the world as of the death of Thailand's Bhumibol Adulyadej on 13 October 2016.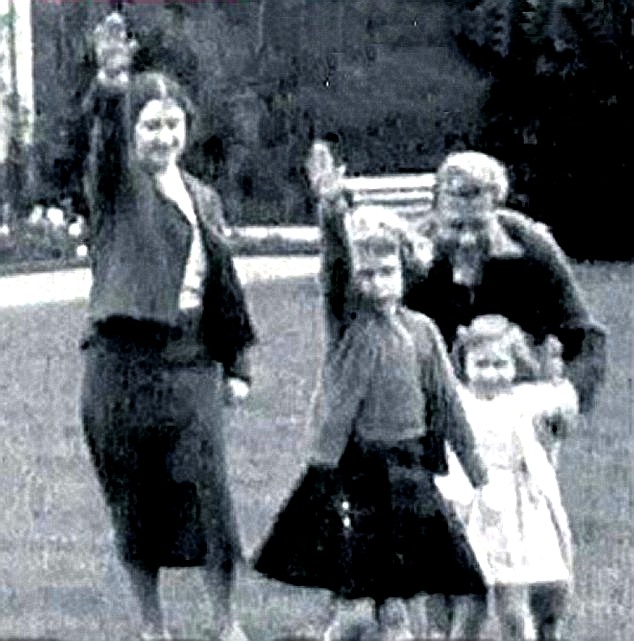 THE QUEENS BIRTHDAYS
Her Majesty Queen Elizabeth II has two birthday celebrations each year: one on her actual birth date, and the other on her "official" birthday. She was 90 in 2016.

The reason for this is down to the temperamental British weather. The tradition for monarchs to have two birthdays was started by George II back in 1748.

George was born in November and it was felt that it was too cold to host an annual birthday parade at that time.

It was decided that his birthday festivities would be combined with a military parade known as the Trooping the Colour, which was held in spring.

The tradition for two separate birthdays is still observed today.
THE SIX WIVES OF HENRY VIII
LINKS & REFERENCE
https://simple.wikipedia.org/wiki/Elizabeth_II
https://www.thesun.co.uk/news/3352901/queen-age-elizabeth-ii-birthday-dates/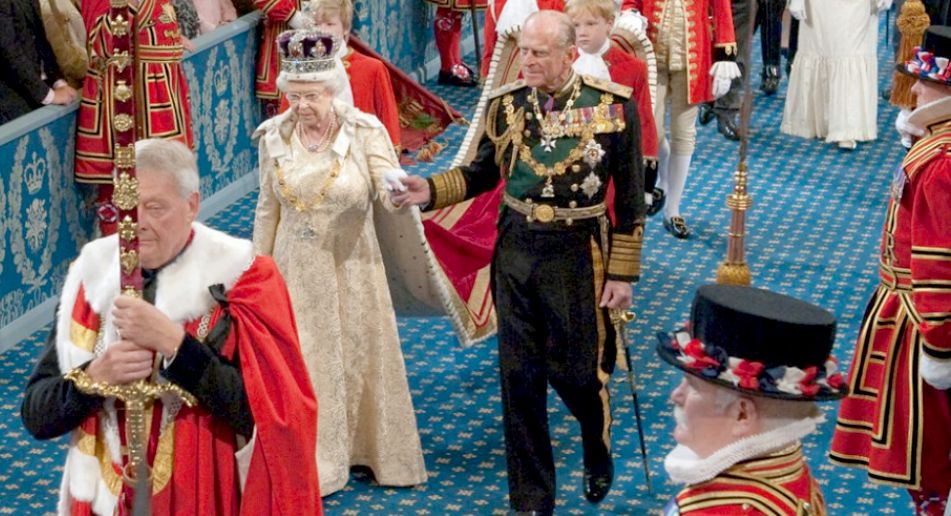 THE HEAD OF STATE - The head of State is also a Mason according to the inside leaf of many yearbooks. It was a shock to learn of this, but the revelation may go some way to explaining why it is that some people get targeted by their local authorities such as Councils and the Police.