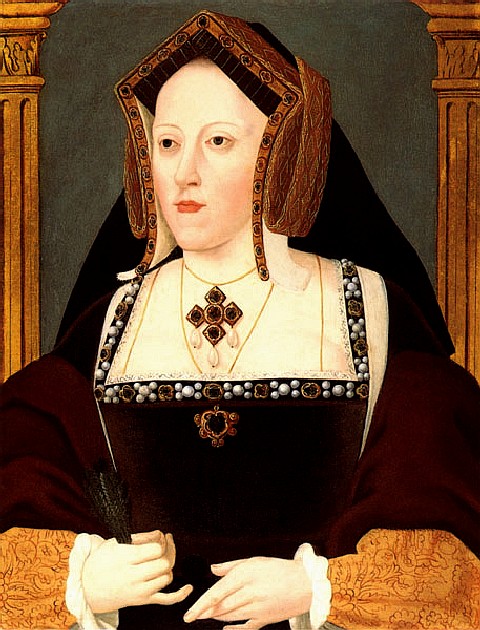 Catherine of Aragon was the first of the six wives of King Henry VIII of England.
Catherine of Aragon (Spanish: Catalina de Aragón), also spelled Katherine (16 December 1485 – 7 January 1536), was Queen of England from June 1509 until May 1533 as the first wife of King Henry VIII; she was previously Princess of Wales as the wife of Henry's elder brother Arthur.

The daughter of Isabella I of Castile and Ferdinand II of Aragon, Catherine was three years old when she was betrothed to Arthur, Prince of Wales, heir apparent to the English throne. They married in 1501, but Arthur died five months later. In 1507, she held the position of ambassador of the Aragonese Crown in England, the first female ambassador in European history. Catherine subsequently married Arthur's younger brother, the recently ascended Henry VIII, in 1509. For six months in 1513, she served as regent of England while Henry VIII was in France. During that time the English won the Battle of Flodden, an event in which Catherine played an important part with an emotional speech about English courage.

By 1525, Henry VIII was infatuated with Anne Boleyn and dissatisfied that his marriage to Catherine had produced no surviving sons, leaving their daughter, the future Mary I of England, as heir presumptive at a time when there was no established precedent for a woman on the throne. He sought to have their marriage annulled, setting in motion a chain of events that led to England's schism with the Catholic Church. When Pope Clement VII refused to annul the marriage, Henry defied him by assuming supremacy over religious matters.
In 1533 their marriage was consequently declared invalid and Henry married Anne on the judgement of clergy in England, without reference to the Pope. Catherine refused to accept Henry as Supreme Head of the Church in England and considered herself the King's rightful wife and queen, attracting much popular sympathy. Despite this, she was acknowledged only as Dowager Princess of Wales by Henry. After being banished from court, she lived out the remainder of her life at Kimbolton Castle, and died there on 7 January 1536. English people held Catherine in high esteem, and her death set off tremendous mourning.

The controversial book The Education of a Christian Woman by Juan Luis Vives, which claimed women have the right to an education, was commissioned by and dedicated to her. Such was Catherine's impression on people that even her enemy, Thomas Cromwell, said of her, "If not for her sex, she could have defied all the heroes of History." She successfully appealed for the lives of the rebels involved in the Evil May Day, for the sake of their families. Catherine also won widespread admiration by starting an extensive programme for the relief of the poor. She was a patron of Renaissance humanism, and a friend of the great scholars Erasmus of Rotterdam and Thomas More.

THE SIX WIVES OF HENRY VIII
LINKS & REFERENCE
http://www.english-heritage.org.uk/