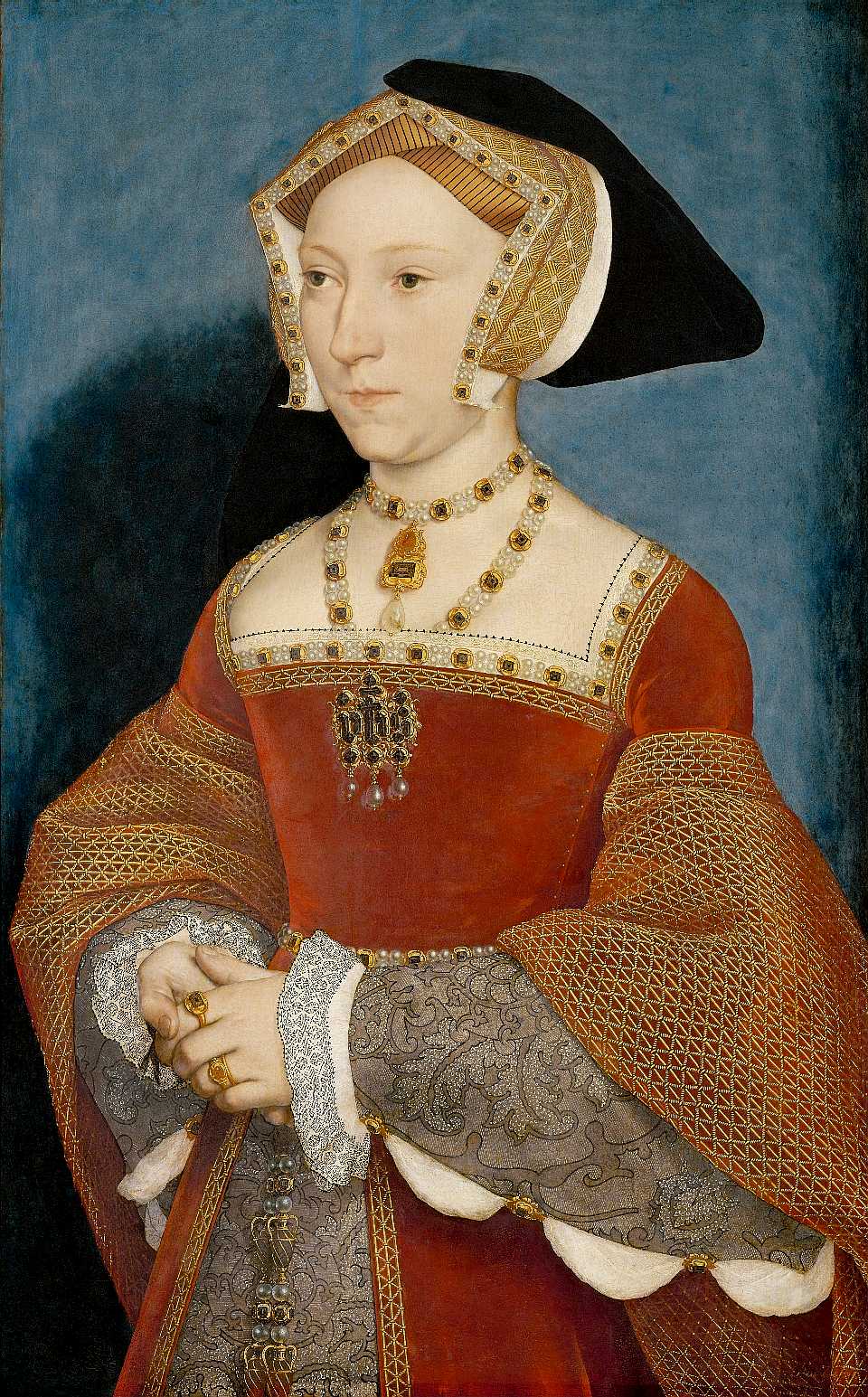 Jane Seymour was the third of the six wives of King Henry VIII of England.
The day after Anne's execution in 1536 the 45-year-old Henry became engaged to Seymour, who had been one of the Queen's ladies-in-waiting. They were married ten days later. On 12 October 1537, Jane gave birth to a son, Prince Edward, the future Edward VI. The birth was difficult, and the queen died on 24 October 1537 from an infection and was buried in Windsor. The euphoria that had accompanied Edward's birth became sorrow, but it was only over time that Henry came to long for his wife. At the time, Henry recovered quickly from the shock. Measures were immediately put in place to find another wife for Henry, which, at the insistence of Cromwell and the court, were focused on the European continent.

With Charles V distracted by the internal politics of his many kingdoms and external threats, and Henry and Francis on relatively good terms, domestic and not foreign policy issues had been Henry's priority in the first half of the 1530s. In 1536, for example, Henry granted his assent to the Laws in Wales Act 1535, which legally annexed Wales, uniting England and Wales into a single nation. This was followed by the Second Succession Act (the Act of Succession 1536), which declared Henry's children by Jane to be next in the line of succession and declared both Mary and Elizabeth illegitimate, thus excluding them from the throne. The king was also granted the power to further determine the line of succession in his will, should he have no further issue. However, when Charles and Francis made peace in January 1539, Henry became increasingly paranoid, perhaps as a result of receiving a constant list of threats to the kingdom (real or imaginary, minor or serious) supplied by Cromwell in his role as spymaster. Enriched by the dissolution of the monasteries, Henry used some of his financial reserves to build a series of coastal defences and set some aside for use in the event of a Franco-German invasion.
QUEEN OF ENGLAND
Jane Seymour (c. 1508 – 24 October 1537) was Queen of England from 1536 to 1537 as the third wife of King Henry VIII. She succeeded Anne Boleyn as queen consort following the latter's execution in May 1536. She died of postnatal complications less than two weeks after the birth of her only child, a son who became King Edward VI. She was the only one of Henry's wives to receive a queen's funeral, and his only consort to be buried beside him in St George's Chapel at Windsor Castle.

She was not educated as highly as King Henry's previous wives, Catherine of Aragon and Anne Boleyn. She could read and write a little, but was much better at needlework and household management, which were considered much more necessary for women. Jane's needlework was reported to be beautiful and elaborate; some of her work survived as late as 1652, when it is recorded to have been given to the Seymour family. After her death, it was noted that Henry was an "enthusiastic embroiderer."

She became a maid-of-honour in 1532 to Queen Catherine, but may have served her as early as 1527, and went on to serve Queen Anne. The first report of Henry VIII's interest in Jane Seymour was in February 1536, sometime before Anne's death.

Jane was highly praised for her gentle, peaceful nature, being referred to as "gentle a lady as ever I knew" by John Russell and being named as "the Pacific" by the Imperial Ambassador Eustace Chapuys for her peacemaking efforts at court. According to Chapuys, Jane was of middling stature and very pale; he also commented that she was not of much beauty. However, John Russell stated that Jane was "the fairest of all the King's wives." Polydore Vergil commented that she was "a woman of the utmost charm in both character and appearance." She was regarded as a meek, gentle, simple, and chaste woman, whose large family made her a suitable candidate to give birth to many children.

Her motto as a queen was "Bound to obey and serve."


GENEROUS DOWRY
Henry VIII was betrothed to Jane on 20 May 1536, just one day after Anne Boleyn's execution. The couple were married at the Palace of Whitehall, Whitehall, London, in the Queen's closet by Bishop Gardiner on 30 May 1536. As a wedding gift the King made her a grant of 104 manors in four counties as well as a number of forests and hunting chases for her jointure, the income to support her during their marriage. She was publicly proclaimed queen on 4 June 1536. Jane's well-publicised sympathy for the late Queen Catherine and her daughter Mary showed her to be compassionate and made her a popular figure with the common people and most of the courtiers. She was never crowned because of plague in London, where the coronation was to take place. Henry may have been reluctant to have Jane crowned before she had fulfilled her duty as a queen consort by bearing him a son and a male heir. As queen, Jane Seymour was said to be strict and formal. Jane would form a close relationship with her stepdaughter, Mary.
The lavish entertainments, gaiety, and extravagance of the Queen's household, which had reached its peak during the time of Anne Boleyn, was replaced by a strict enforcement of decorum. For example, she banned the French fashions that Anne Boleyn had introduced. Politically, Seymour appears to have been conservative. Her only reported involvement in national affairs, in 1536, was when she asked for pardons for participants in the Pilgrimage of Grace. Henry is said to have rejected this, reminding her of the fate her predecessor met with when she "meddled in his affairs".

Jane put forth much effort to restore Mary to court and to the royal succession, behind any children that Jane might have with Henry. Jane brought up the issue of Mary's restoration both before and after she became queen. While Jane was unable to restore Mary to the line of succession, she was able to reconcile her with Henry. Eustace Chapuys wrote to Charles V of Jane's compassion and efforts on behalf of Mary's return to favour. A letter from Mary to Jane shows that Mary was grateful to Jane. While it was Jane who first pushed for the restoration, Mary and Elizabeth were not reinstated to the succession until Henry's sixth wife, Queen Catherine Parr, convinced him to do so.

In January 1537, Jane became pregnant. During her pregnancy, she developed a craving for quail, which Henry ordered for her from Calais and Flanders. During the summer, she took no public engagements and led a relatively quiet life, being attended by the royal physicians and the best midwives in the kingdom. She went into confinement in September 1537 and gave birth to the coveted male heir, the future King Edward VI, at two o'clock in the morning on 12 October 1537 at Hampton Court Palace. Edward was christened on 15 October 1537, without his mother in attendance, as was the custom. He was the only legitimate son of Henry VIII to survive infancy. Both of the King's daughters, Mary and Elizabeth, were present and carried the infant's train during the ceremony.


THE SIX WIVES OF HENRY VIII
LINKS & REFERENCE
http://www.english-heritage.org.uk/