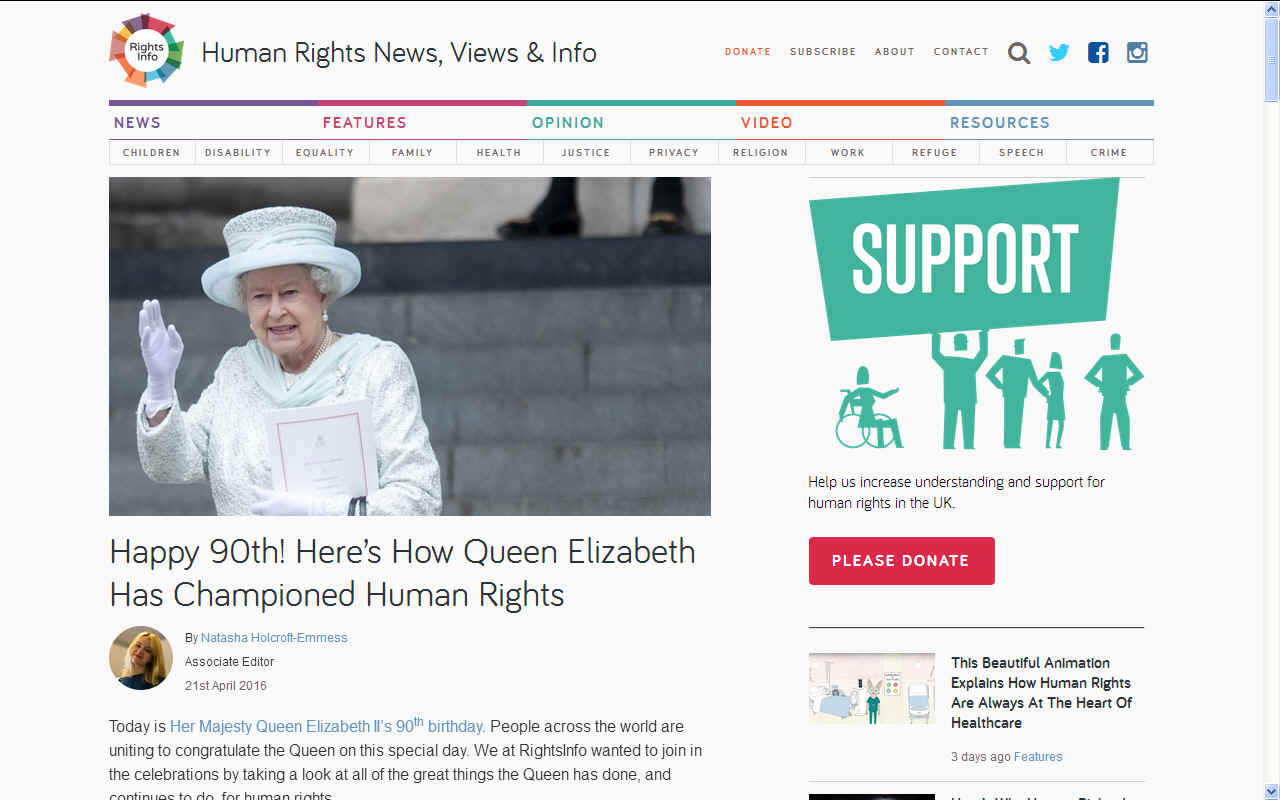 Where a Council conducts what amounts to an institutionalised vendetta or the State by their inaction allows such vendetta to continue unabated, the Human Rights of their victim are violated in many ways. Ultimately, it is the head of stage who is responsible. In this case it was Her Majesty Queen Elizabeth II, where there may be no effective remedy in the United Kingdom, the European Courts might step in save for their 6 month rule. The United Nations would be the ultimate Court should it transpire that despite the theoretical right of audience with the Queen or future King under the Bill of Rights 1689 turn out to be a damp squib.

RIGHTSINFO.ORG APRIL 21 2016
Happy 90th! Here's How Queen Elizabeth Has Championed Human Rights
Today is Her Majesty Queen Elizabeth II's 90th birthday. People across the world are uniting to congratulate the Queen on this special day. We at RightsInfo wanted to join in the celebrations by taking a look at all of the great things the Queen has done, and continues to do, for human rights.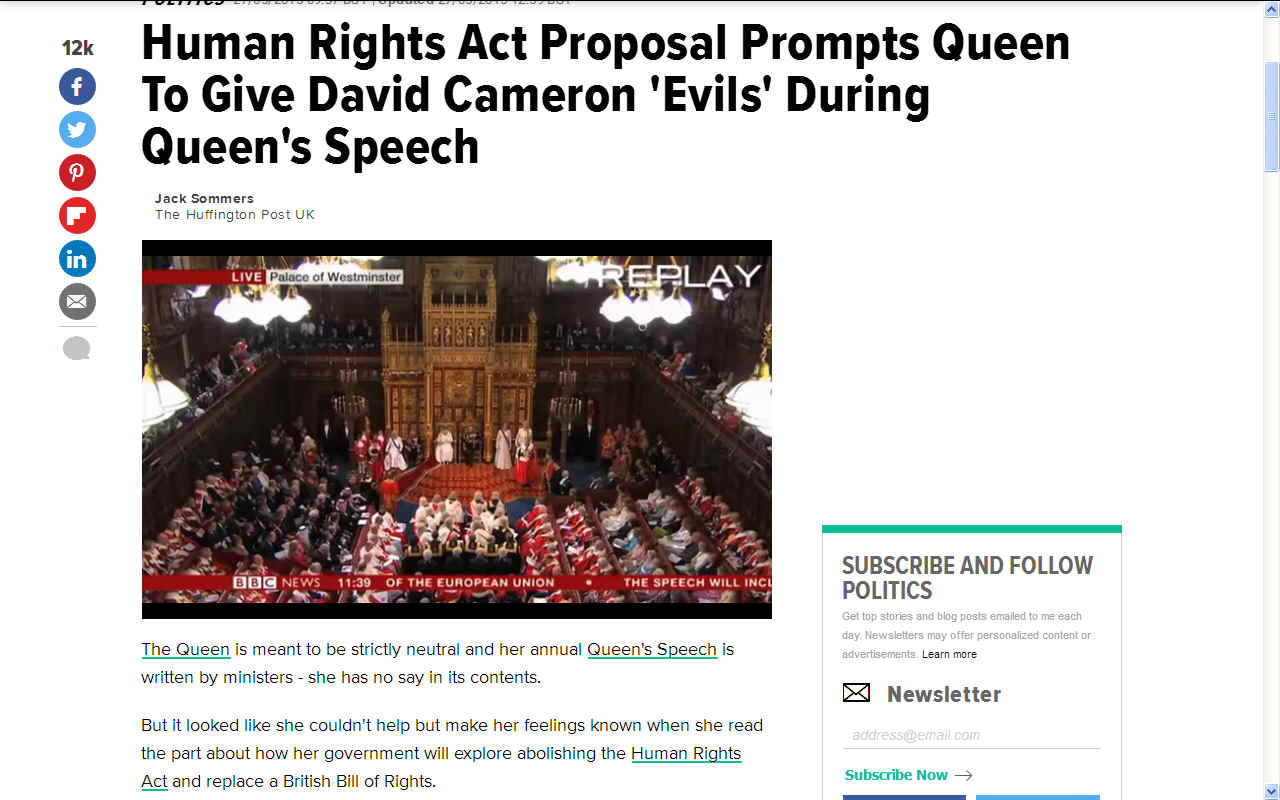 HUFFINGTON POST MAY 27 2015 - QUEEN GIVE DAVID CAMERON EVILS

The Queen is meant to be strictly neutral and her annual Queen's Speech is written by ministers - she has no say in its contents.

But it looked like she couldn't help but make her feelings known when she read the part about how her government will explore abolishing the Human Rights Act and replace a British Bill of Rights.

The speech was expected to include a commitment to do that but it was pulled at the last minute, to the outrage of the right-wing press, which has fought for the change, and to the presumed delight of a raft of celebrities who voiced their support for the Act.

The proposal to scrap that act is intended to reduce the influence of the European courts' decisions on British judges but has been criticised for being vague and misguided.

In the speech, the Queen said: "My government will bring forward proposals for a British Bill of Rights."

She then looked up, and appeared to fix her eyes on Cameron, before sighing - as you can see in this clip made by Jon Harvey.

Tweeters who oppose the abolition of the Act were delighted with the apparent gesture.

They variously described the brief moment as the Queen doing "a huff and an evil", "looking horrified" and rolling her eyes.

Former shadow home secretary David Davis told HuffPost UK: "I'm glad that they appear to have listening about the folly of abolishing the Human Rights Act in the 800th year of the Magna Carta.

"I hope that this indicates that they are thinking very carefully about the enormous constitutional ramifications of what they are planning."

His comment reflects unease among some Conservative backbenchers about their party's plans to axe the Act.

Civil liberties campaigners have also opposed the plan.

Shami Chakrabarti, director of Liberty, said: "It is heartening that a Conservative Government committed to scrapping the Human Rights Act has at least paused for thought in its first Queen's Speech. There is a long struggle ahead but time is the friend of freedom.

"The more this new Parliament understands the value of the Act for all of us in this United Kingdom and our reputation in the world, the more it is likely to understand how dangerous it would be to replace human rights with mere citizens' privileges."

Labour leadership candidate Andy Burnham defended the Act, suggesting it could have helped the families of Hillsborough, for whom he has campaigned as an MP.

Writing in today's Daily Mirror, he said: "Of course, there have been occasions when the Act has been misused - and these have been widely reported. But there are many other examples where it has helped vulnerable people stand up for themselves against government agencies, public bodies and large corporations.

"For instance, if the Human Rights Act had been in force at the time of the Hillsborough disaster, it might have given the families more ability to fight the appalling abuse of power they have suffered for 26 years." By Jack Sommers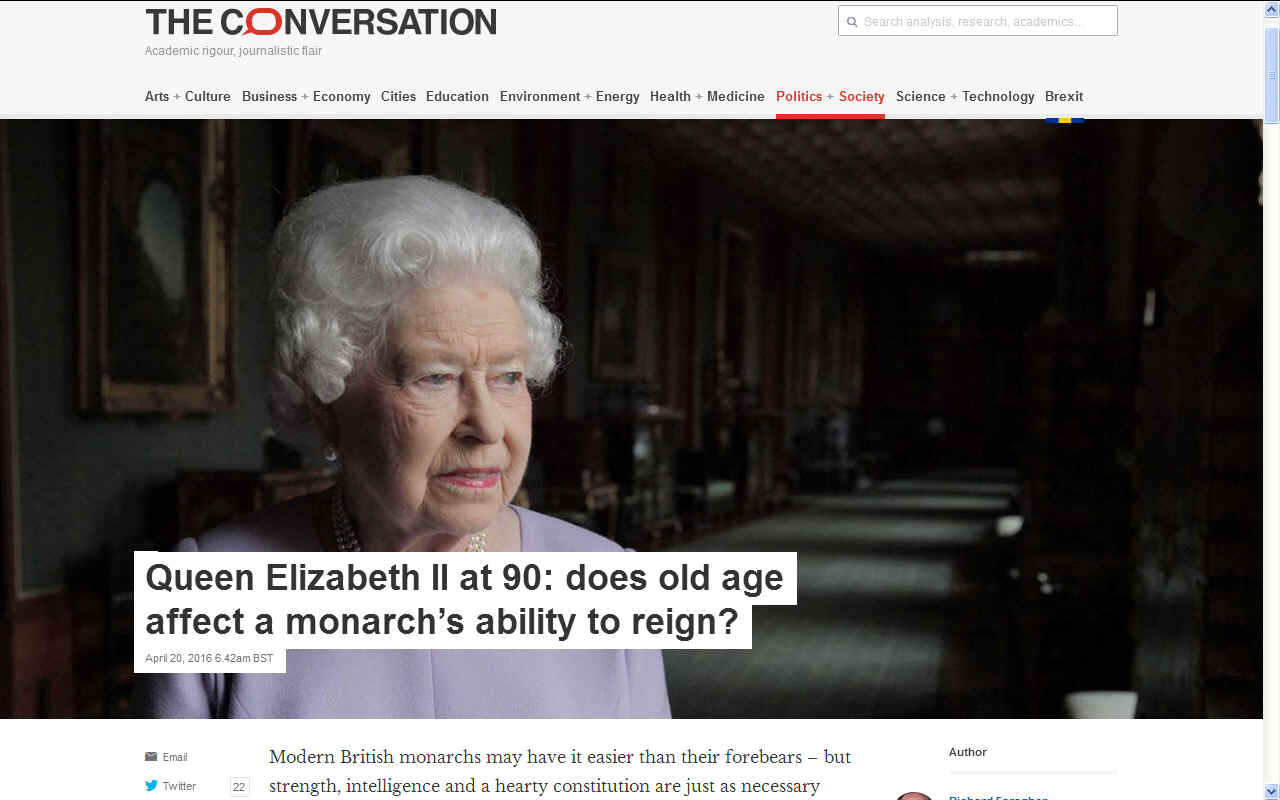 THE CONVERSATION APRIL 20 2016
Modern British monarchs may have it easier than their forebears – but strength, intelligence and a hearty constitution are just as necessary today as they were in the Middle Ages. This may seem surprising. After all, as a constitutional monarch, Elizabeth II reigns but does not rule. She may have been given the Sword of State at her Coronation "for the terror and punishment of evildoers" but she isn't expected to swing it herself.
By contrast, Richard the Lionheart (1157-1199) did so enthusiastically until a crossbowman eventually shot him. However Lionheart wasn't expected to attend about 400 engagements a year, give out the Queen's Award for Enterprise or chat to loyal subjects. Although separated by almost a millennium, both monarchs have had to manage Royal Estates as part of the job. The Queen seems the better of the two at this. Lionheart once said he would sell London if he could find a buyer.
So how well can a nonagenarian do the job of being a monarch – or, to be slightly more egalitarian, discharge the role of a constitutional head of state?
Fit for the job
Looking at her diary it seems to be a slow day when Elizabeth II doesn't have some official duties to perform. There's a lot of travel and standing around involved, so she need to be physically fit. She'll need to stay mentally alert for all those constitutional briefings and regular meetings with the prime minister. And, if she's to survive all those visits to hospitals, Elizabeth II needs a reasonable immune system.
Therefore, in social gerontology terms, the Queen needs to have the appropriate level of "work ability". In essence this is a proper balance between the capacities of the individual and the work he or she does. Work ability subsumes a wide range of factors including the right values, attitude, knowledge and skills to discharge the job (compared to most of us the Queen has the benefits of extensive prior training and considerable work experience). However health is a major determinant of work ability in general and the royal role in particular. So just how healthy are Britain's very old people?
At first sight the data is not encouraging. The Newcastle 85+ study of about 1,000 men and women which is roughly representative of the population of the UK found that about 90% of participants had at least three distinct clincial conditions (out of a possible score of 18). Women were between six and ten times more likely than men to have rheumatoid arthritis, osteoporosis and thyroid problems and overall had significantly higher levels of disability.
Many of the problems reported by 20-40% of this cohort could compromise the discharge of royal duties including incontinence, falling and visual impairment. Given that listening to politicians is an important part of the role, readers may wish to decide for themselves if advancing age has conferred an advantage or a disadvantage on the two-thirds of the cohort who report hearing difficulties.
High-class health
Thus, if she wishes to continue working, it might seem that Elizabeth II has the odds stacked against her. However she does have three potential advantages. Firstly she has blue blood, and in the general population there is an (approximately) linear relationship between healthy life expectancy and social class.
Women from social class I (doctors, chartered accountants, professionally qualified engineers, etc) can expect to live about 80 years in a fairly good state of health. In contrast, healthy life expectancy at birth for unskilled women is only about 69 years. Thus Elizabeth II has a good chance of being healthier than one of her average subjects.
Secondly, data from the 85+ study indicate there is a good chance that she feels positive about her health in general (and indeed the same study shows she is less likely than a man of the same age to develop atherosclerosis or cancer). Thus, palace coup d'état being a thing of the past, she may feel she can continue working.
Lastly, unlike those of her ancestors who continued to reign into old age such as Edward I (who died at 68) or Elizabeth I (who died at 70), Elizabeth II lives in the era of science. We now know that ageing occurs because the fundamental mechanisms which keep us in good health start to fail. Enough is already known about these to use that knowledge to improve vaccination responses in the elderly using a selective inhibitor of the TOR protein which may also be beneficial for cognitive impairment. A major study aimed at improving late life health using a cheap and simple drug – metformin – is also planned.
While an enhanced immune system is certainly a bonus to a older monarch who spends a lot of time opening hospital wards, it is equally valuable to those of us who would rather avoid them. Indeed if the full potential of the new science of ageing can be translated into clinical practice, then a time in which inclination, rather than ill health, is the primary determinant of remaining in work may be nearer than you think. Which may or may not be good news for the Prince of Wales.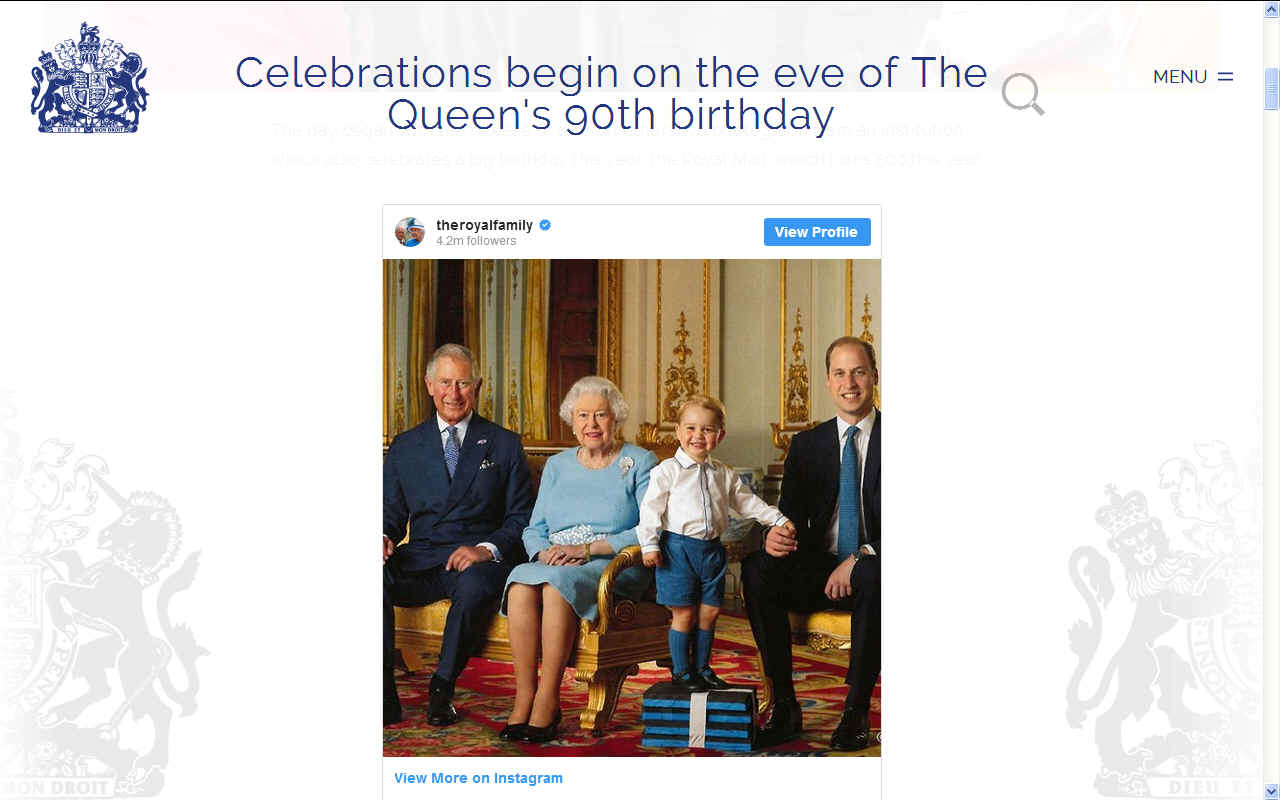 HUMAN RIGHTS AT THE CENTRE OF THE COMMONWEALTH
Queen Elizabeth demonstrates the UK's commitment to democracy, human rights and the rule of law (that is, the idea that laws should govern what we do) through her role as Head of the Commonwealth.
The Commonwealth is an organisation of 53 independent states. The Queen has stated that the Commonwealth is united by "our shared values of peace, democracy, development, justice and human rights".
The Queen signed the Commonwealth Charter in 2013. The Charter explicitly promotes freedom of expression, gender equality and the importance of young people – all values which have human rights at their heart. The Charter states:

We are committed to equality and respect for the protection and promotion of… rights… We note that these rights are universal, indivisible, and interrelated and cannot be implemented selectively…

The Queen has played a unique part as a symbol of unity and strength at the heart of the #Commonwealth https://t.co/kLiw0WNq9Z

— BritishMonarchy (@BritishMonarchy) March 14, 2016

A patron of charities promoting human rights aims

The Queen is a patron of many organisations which aim to achieve the same ideals as human rights. The Queen supports charities promoting health – such as the British Red Cross Society; charities supporting elderly and retired people – such as Friends Of The Elderly; and charities protecting children – such as Action For Children.

Human rights have been vital in promoting health, supporting elderly people and protecting children and families. Because of human rights, medical patients can determine what is in their best interests; people in private care homes are protected against abuse; and children are protected against violence from their parents, teachers and other people.
RESPONDING TO THE HORRORS OF WAR

The Queen saw the UK through times of great upheaval, when the guarantee of our human rights was precarious and protections were hard won.

During World War II, Queen Elizabeth, then an 18-year-old Princess, trained in London as a mechanic and military truck driver. She is the only female member of the royal family to have entered the armed forces and the only living head of state who served in World War II.

After the War ended, the United Nations General Assembly in 1948 adopted the Universal Declaration of Human Rights, partly in response to the atrocities committed during World War II. Human rights were recognised as essential, after the "danger and sadness" of war (to quote Princess Elizabeth), to bring freedom, justice and peace to the world.
A PATRON OF CHARITIES PROMOTING HUMAN RIGHTS AIMS

The Queen is a patron of many organisations which aim to achieve the same ideals as human rights. The Queen supports charities promoting health – such as the British Red Cross Society; charities supporting elderly and retired people – such as Friends Of The Elderly; and charities protecting children – such as Action For Children.

Human rights have been vital in promoting health, supporting elderly people and protecting children and families. Because of human rights, medical patients can determine what is in their best interests; people in private care homes are protected against abuse; and children are protected against violence from their parents, teachers and other people.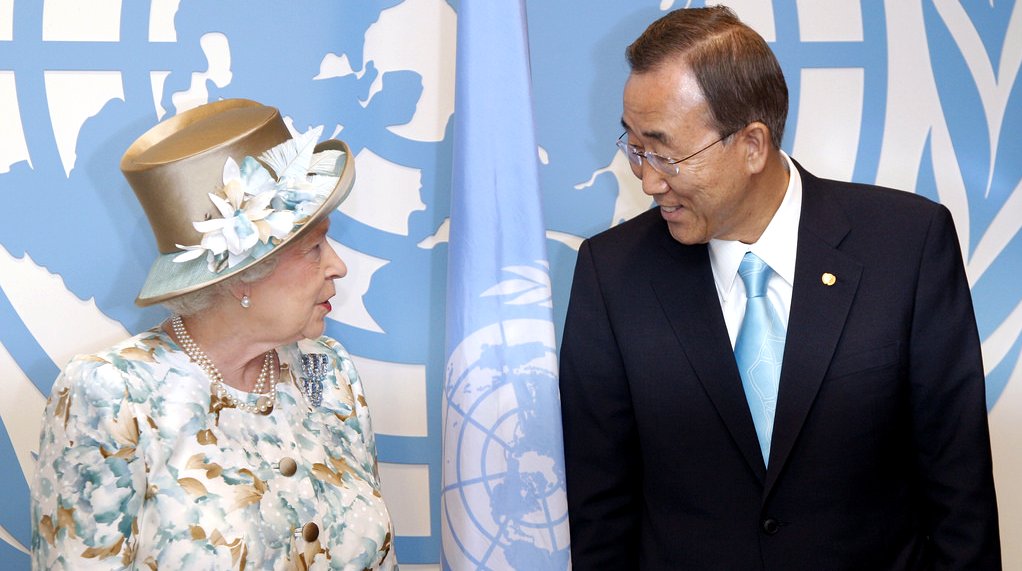 Secretary-General Ban Ki-moon (right) meets with Queen Elizabeth II of the United Kingdom.

SUPPORTING THE UNITED NATIONS

The Queen has praised the United Nations for its many achievements. The United Nations works to reduce conflict around the world. It offers humanitarian assistance to millions of people affected by natural disasters and other emergencies. It is very active in the fight to combat global poverty.

In a speech delivered at the United Nations on 6 July 2010, Queen Elizabeth said:

I have witnessed great change… But many important things have not changed… the aims and values which inspire the United Nations Charter endure: to promote international peace, security and justice; to relieve and remove the blight of hunger, poverty and disease; and to protect the rights and liberties of every citizen. By Natasha Holcroft-Emmess Associate Editor
THE INDEPENDENT APRIL 18 2016 - QUEEN'S BIRTHDAY: SIX DICTATORS & LEADERS WITH POOR HUMAN RIGHTS RECORDS

Queen Elizabeth II will turn 90 on Thursday, becoming the country's first nonagenarian sovereign.
As Britain's longest reigning monarch in history, the Queen has witnessed pivotal moments in history, from the fall of the British Empire and the Berlin Wall to the arrival and departure of 12 British prime ministers.
Since coming to the throne at the tender age of 25, Her Majesty has also come into contact with a number of key political figures of the last century. In turn, the Queen has found herself in close quarters with some of the world's most feared dictators and leaders with less than perfect human rights records.
Here is a selection of the most contentious figures the Queen has cordially shaken hands with: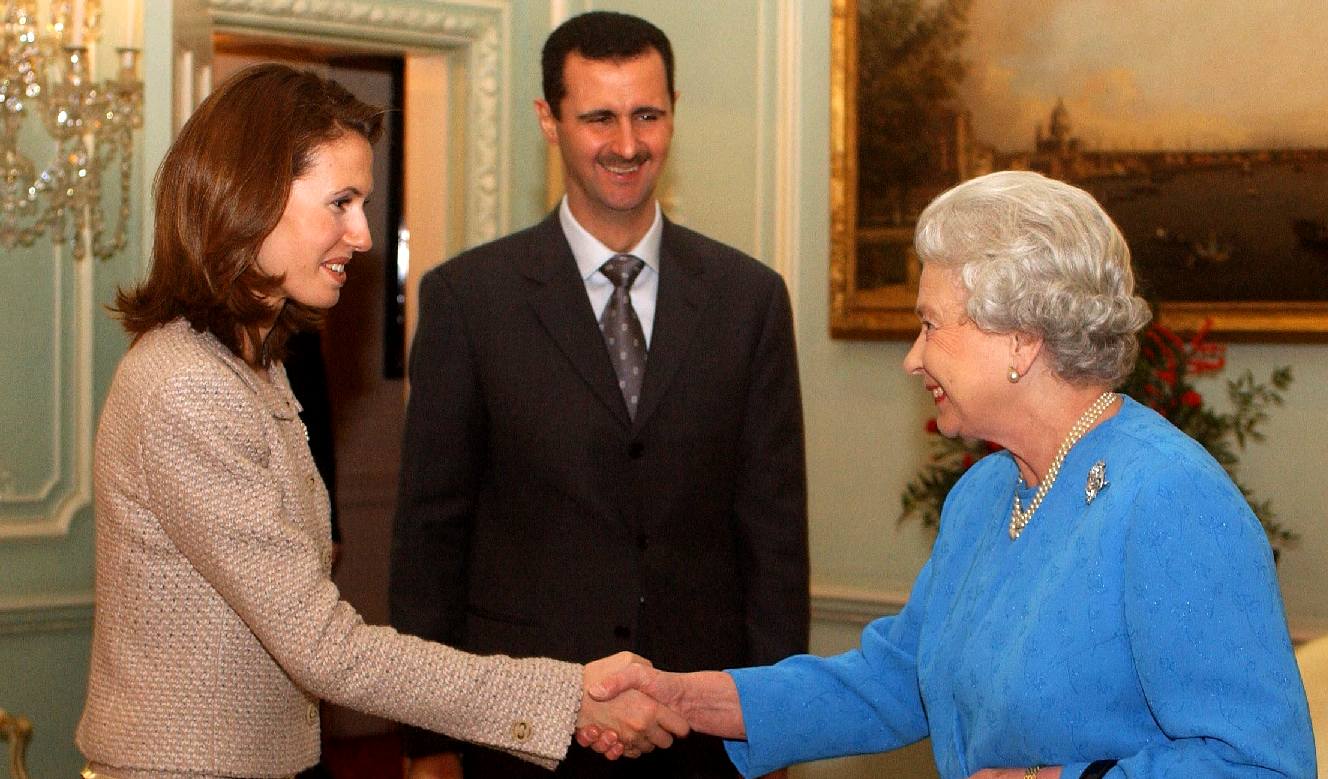 President Bashar al-Assad

The Syrian President called in at Buckingham Palace during an official three-day visit to Britain for talks with Tony Blair. He is the first and only Syrian president to have met the Queen.

Hailing from a family who have been in power for decades, Assad is the leader of an authoritarian regime and Commander-In-Chief of the Syrian Armed forces. The regime has been accused of being responsible for mass civilian casualties – with the Syrian Centre for Policy Research estimating 470,000 civilians have died in the war.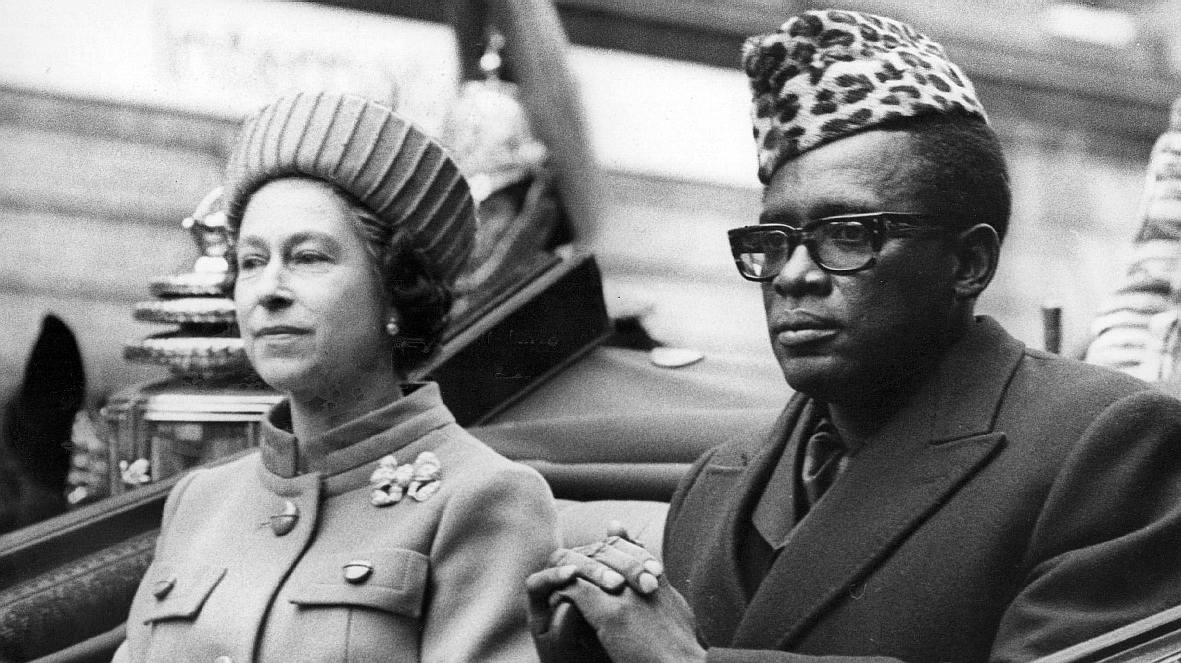 Mobutu Sese Seko

The Queen was pictured with the military dictator and President of the Democratic Republican of the Congo on route to Buckingham Palace at the start of his State Visit to Britain in the 70s. Known for his trademark leopard print hat, the despot who died in 1997 garnered substantial wealth through corruption and exploitation.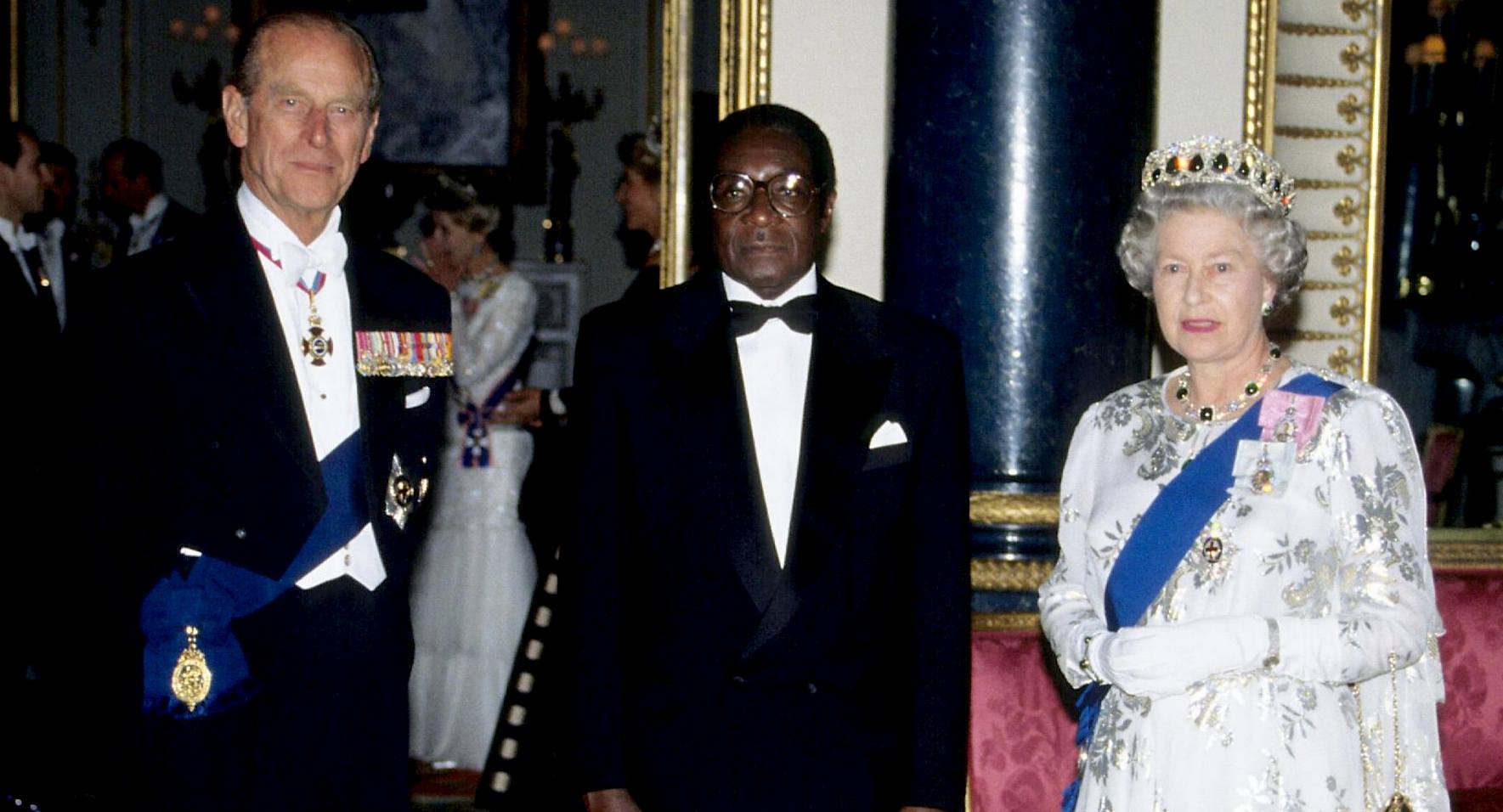 Robert Mugabe

The Queen came into contact with Mugabe when she awarded him with his honorary knighthood in 1994. But three years later the Queen stripped the President of Zimbabwe of his honour. The decision to annul the knighthood was actually made by Gordon Brown in light of the extreme nature of his regime and its treatment of opposition members.
Nursultan Nazarbayev

Her Majesty welcomed Nazarbayev into the Palace in November of last year. The President of Kazakhstan lunched with the Queen, Prince Philip and Andrew. Nazarbayev has been president of Kazakhstan for 27 years and was re-elected in April of last year with 97.7 per cent of the vote. The leader has carried out an authoritarian regime, suppressed dissent and been accused of a lengthy catalogue of human rights abuses.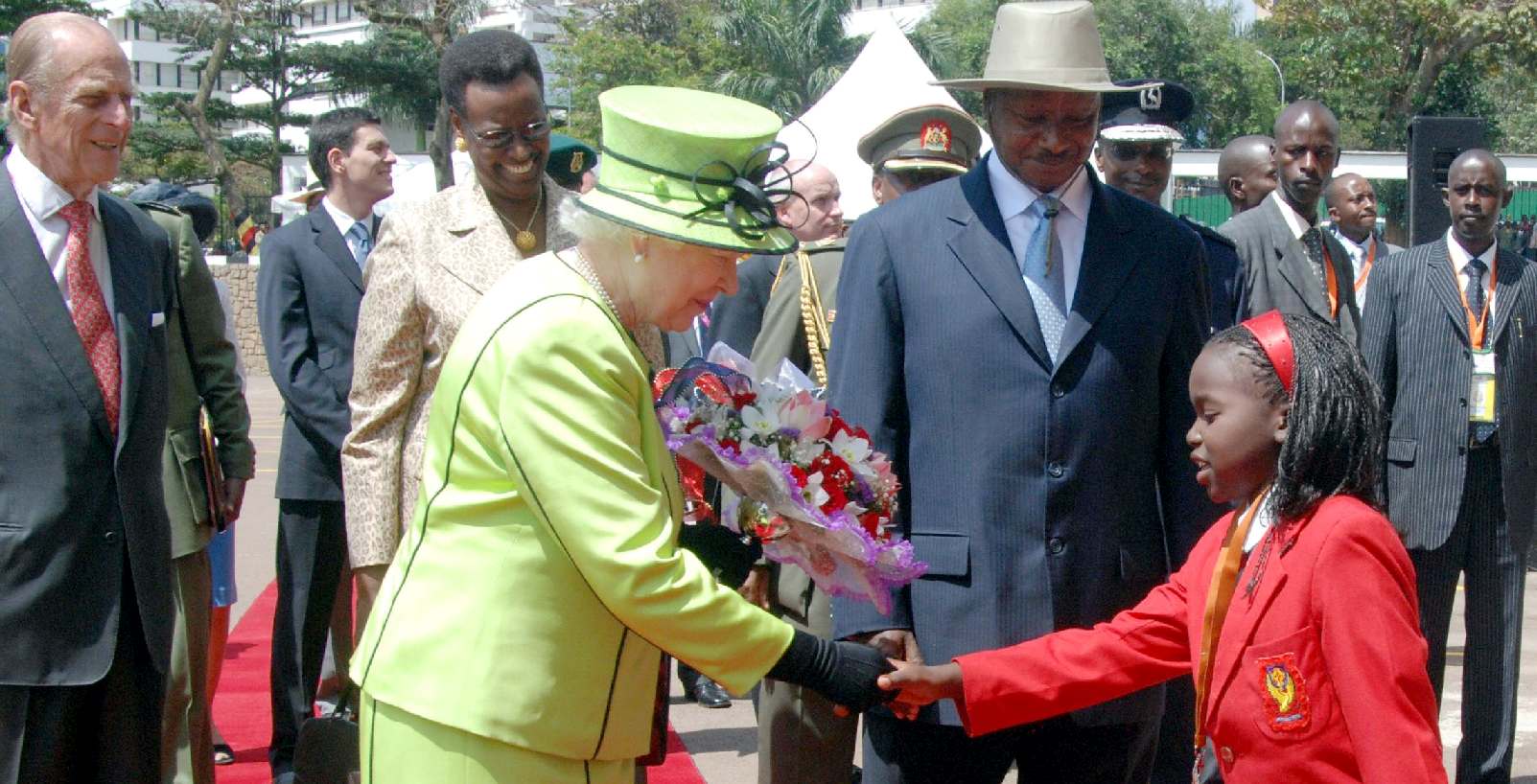 Yoweri Museveni

The Queen met with Uganda's president at a meeting of Commonwealth leaders in Malta back in November of 2015. Museveni has been accused of utilising his security forces to curb opposition to his 30-year tenure. He also signed the Anti-Homosexuality Act which originally proposed the death penalty for people in same-sex relationships. It was later ruled unlawful.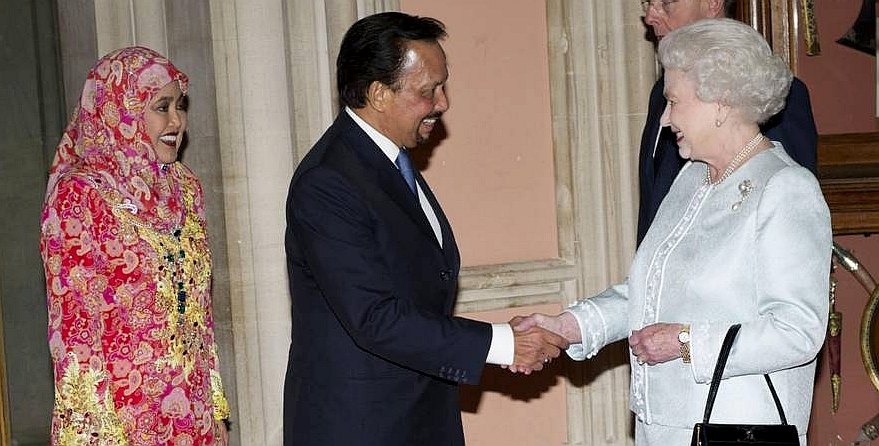 Hassanal Bolkiah

Her Majesty has met the Sultan of Brunei on more than one occasion. She has knighted both him and his father. Most recently she also met him at the meeting of Commonwealth leaders in Malta. The Sultan is the head of state, head of government and monarch of Brunei. In recent years, he has imposed sharia law and homosexuality is now punished by death by stoning.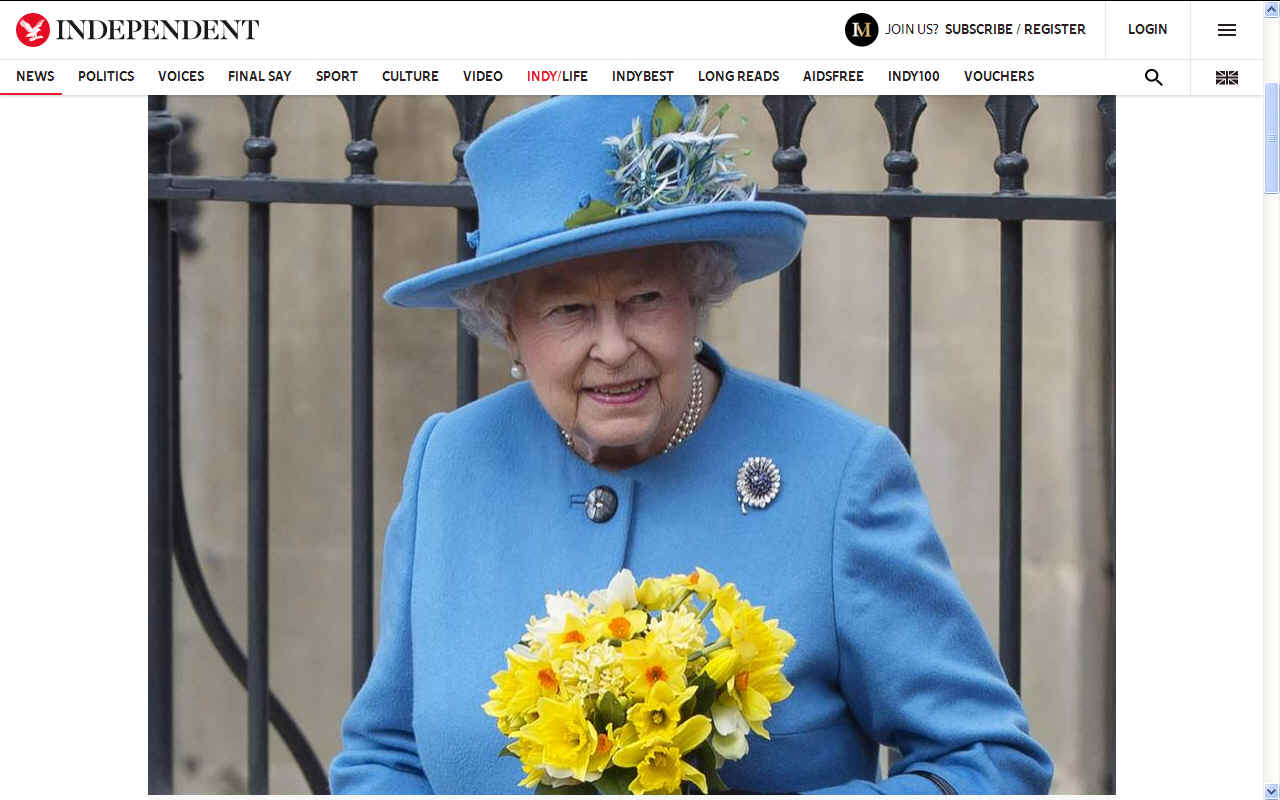 UK VIOLATIONS
In Britain we have our fair share of human rights violations. We have no Article 1 and no Article 13 in our Human Right Act 1998. We have no right of appeal from the Crown Court to the Appeal Court. We have the Sexual Offences Act 2003 that violates Article 6 in that a person is presumed guilty if accused of a sex crime, where Article 6 insists that a person should be presumed innocent. We have Legal Aid rates that are so low, that the accused may not be properly defended. Prisoners are not allowed to vote. Prisons violate anti-smoking in public places statute, violating Article 14.
This is just a small example of what is wrong with Britain. It is not so Great is it? No wonder our head of state has no problem meeting some of the butchers of the world. In some cases it might be better to just admit these abuses and resign from the United Nations.
The Queen is all right Jack. She is above the law. She cannot be prosecuted and does not have to give evidence in any court of law. Wow! Is it not time for a written constitution to level the playing field. Nobody should be above the law.
HOW OLD IS THE QUEEN?

The Queen was born in 1926, she celebrated her 90th birthday in 2016 and turned 92 in 2018. We are looking forward to many more years under our present monarch given that she is in good health and living in enlightened times. We could see some massive celebrations in 2026 when she attains the grand age of one hundred and becomes a centenarian. Who though would send her a congratulatory telegram? Most of us we suspect.
| | |
| --- | --- |
| 2019 | 93 |
| 2020 | 94 |
| 2021 | 95 |
| 2022 | 96 |
| 2023 | 97 |
| 2024 | 99 |
| 2025 | 99 |
| 2026 | 100 |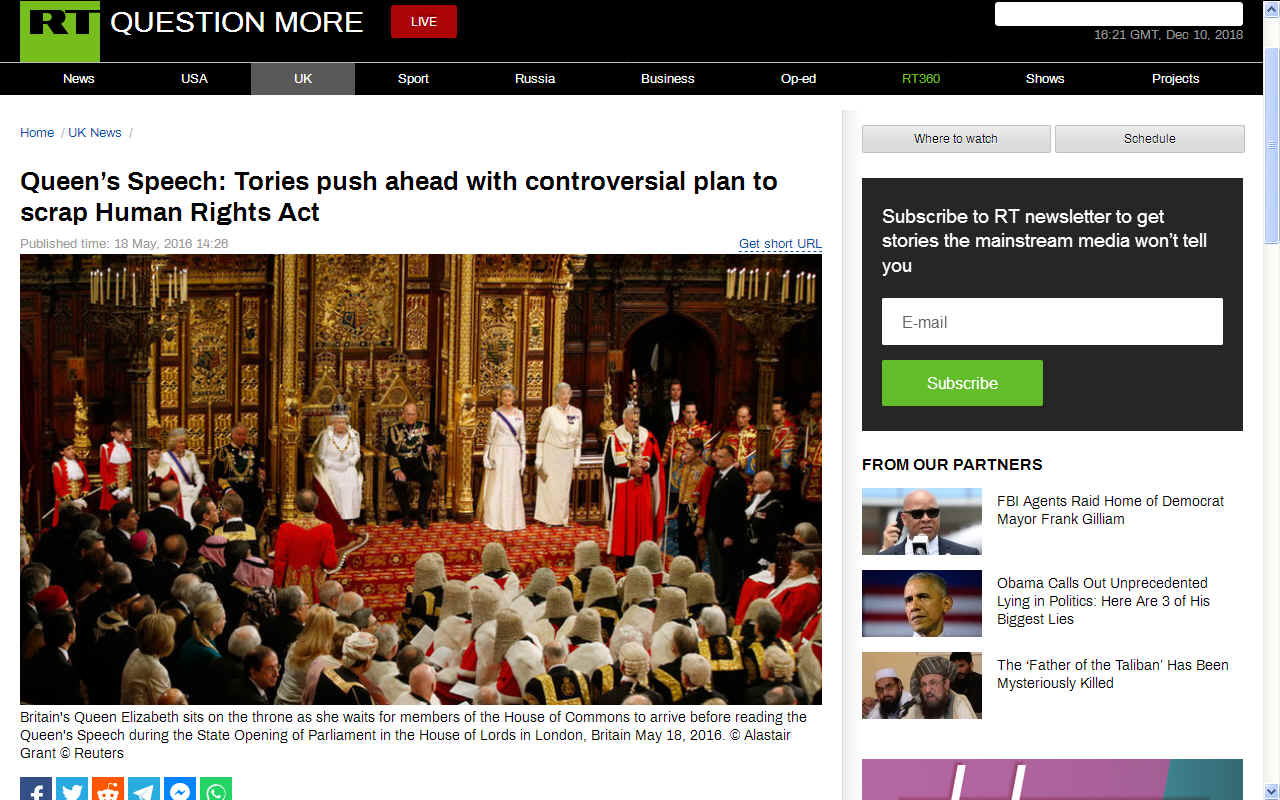 RT.COM 18 MAY 2016 QUEEN'S SPEECH HUMAN RIGHTS CONSERVATIVE BACKTRACK - Human rights groups have condemned Tory plans outlined in the Queen's Speech to scrap the Human Rights Act (HRA) and replace it with a British Bill of Rights.

Queen Elizabeth II announced the government's plans to ditch the HRA during the official state opening of parliament on Wednesday.

"Proposals will be brought forward for a British Bill of Rights," the Queen said, in the speech written by the Tory government.

Civil rights group Liberty described the move as "worthy of the Donald Trump campaign trail," while Amnesty International UK urged the government to "leave the Human Rights Act alone."

More than six years have passed since Prime Minister David Cameron first mooted the idea of scrapping the HRA. Despite gaining a majority of parliamentary seats in last year's general election, the PM sidelined the British Bill of Rights in order to focus on holding a referendum on Britain's membership of the EU.
Queen Elizabeth II is the oldest monarch to have reigned in Britain, with second place going to Queen Victoria who lived to the age of 81. With modern medicine and a good diet, who knows what age our Queen might live to.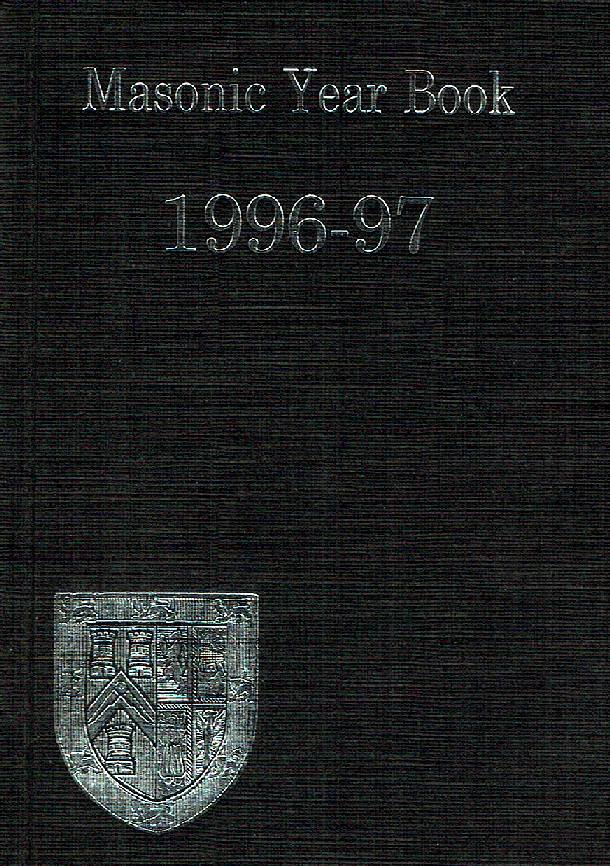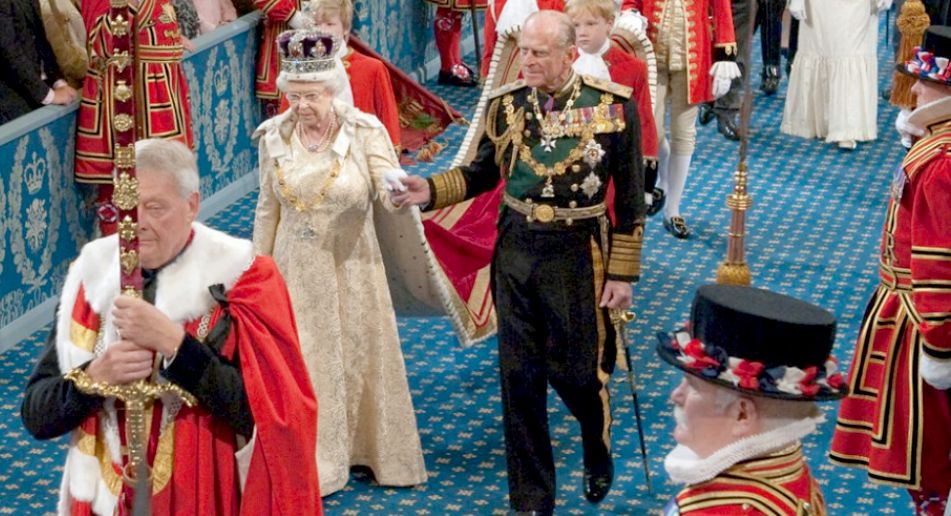 THE HEAD OF STATE - The head of State is also a Mason according to the inside leaf of many yearbooks. It was a shock to learn of this, but the revelation may go some way to explaining why it is that some people get targeted by their local authorities such as Councils and the Police.
LINKS & REFERENCE
http://theconversation.com/queen-elizabeth-ii-at-90-does-old-age-affect-a-monarchs-ability-to-reign-58024
https://www.huffingtonpost.co.uk/2015/05/27/human-rights-act-queens-speech_n_7449828.html
https://www.rt.com/uk/343440-queens-speech-human-rights/
https://www.independent.co.uk/news/people/queens-birthday-eight-of-elizabeth-iis-strangest-powers-and-privileges-a6993621.html
http://www.un.org/en/charter-united-nations/
http://www.un.org/en/index.html
http://www.un.org/apps/news/story.asp?NewsID=35249#.VxgHAyMrJ-U
http://www.bbc.co.uk/archive/princesselizabeth/6600.shtml
http://www.un.org/en/universal-declaration-human-rights/
http://www.un.org/en/ga/
http://www.history.com/news/8-things-you-may-not-know-about-queen-elizabeth-ii
http://www.bailii.org/eu/cases/ECHR/1982/1.html
http://www.bailii.org/ew/cases/EWCA/Civ/2005/1003.html
https://www.actionforchildren.org.uk/
http://www.fote.org.uk/
http://www.redcross.org.uk/
https://twitter.com/BritishMonarchy/status/709391904325050369
https://rightsinfo.org/category/speech-protest/
https://www.gov.uk/government/uploads/system/uploads/attachment_data/file/136337/Cm_8572.pdf
http://www.bbc.co.uk/news/uk-21740366
http://thecommonwealth.org/
https://www.royal.uk/celebrations-begin-eve-queens-90th-birthday
https://rightsinfo.org/90th-birthday-celebrating-queen-elizabeth-champion-human-rights/
https://simple.wikipedia.org/wiki/Elizabeth_II
https://www.thesun.co.uk/news/3352901/queen-age-elizabeth-ii-birthday-dates/