Lewes Crown Court is a Crown Court in Lewes, East Sussex, England. It is housed in the Lewes Combined Court Centre along with Lewes County Court in the High Street in Lewes.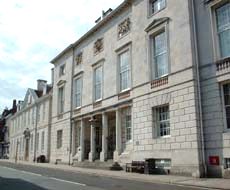 Lewes Crown Court
Woman jailed for false rape claim -
15/11/2006
A teenager whose false rape allegations led to an innocent man spending 10 weeks in prison has been jailed for six months.
Katie Davis, 18, had consensual sex with Frank Chisholm after meeting him on the street after a night out, but invented a story about being raped in an alleyway when she feared she may become pregnant.
Mr Chisholm, 24, spent more than two months in prison on remand until scientific evidence revealed no crime had been committed.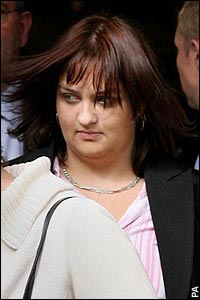 Katie Davis failed to explain the
inconsistencies in her account
Sentencing at Lewes Crown Court, Judge Richard Brown said Davis' "wicked lies" had, and would continue to have, a "dramatic affect" on her victim's life.
Davis, from St Leonards, East Sussex, showed no emotion as she was sentenced to spend six months in a young offenders' institute.
She was found guilty of perverting the course of justice after a week-long trial last month.
The jury heard how the charges against Mr Chisholm were dropped after fibres found on Davis' fleece showed it had come into direct and prolonged contact with the duvet cover of his bed.
Davis, 16 at the time of the allegations, had claimed never to have been in his house.
When confronted with the scientific evidence she refused to change her story, and was also unable to explain two witness sightings of her walking up her street with Mr Chisholm's arm round her before the alleged attack.
James Eaton, defending, said Davis had learnt her lesson despite failing to confess to her lies, and said the case had "knocked her family for six".
In a witness impact statement read after the verdict, Mr Chisholm described being charged with rape as "like a nightmare that will never end".
He said he now finds it difficult to leave the house and is wary of the company of girls.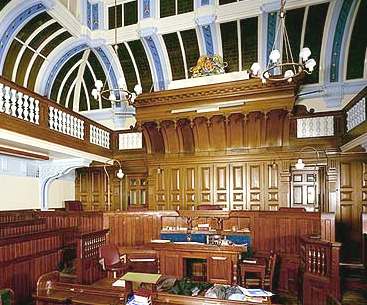 Lewes Crown Court interior
F.A.C.T. (Falsely Accused Carers and Teachers)
PO Box 3074
Cardiff CF3 3WZ
Tel: 029 2077 7499
E-mail: info@factuk.org
Website: www.factuk.org
Campaigning organisation and support group which provides help and advice to falsely accused and wrongly convicted carers and teachers throughout the UK. The website contains a range of information, leaflets, books and links.
Guidance for education staff and volunteers in schools
Website: www.lg-employers.gov.uk/conditions/education/allegations
This website has guidance on: 1) staff facing an allegation of abuse; 2) preventing 'abuse of trust' for education staff; and 3) the conduct of education staff working with young people.
---
Partners called in teacher trial - Wednesday, 21 January, 2004
Two former boyfriends of a teacher killed in a "bizarre and macabre sexual fantasy" have told a court they had "normal" relationships with her.
Graham Coutts, 35, is alleged to have strangled Jane Longhurst and then stored her body in a cardboard box after viewing a number of websites dedicated to sexual violence against women.
It is alleged he killed the 31-year-old at his Brighton flat.
Her burning body was found on 19 April 2003, five weeks after she disappeared.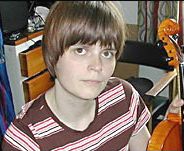 Jane Longhurst's body was found five weeks
after she disappeared
'Too upsetting'
Lewes Crown Court heard on Wednesday from Miss Longhurst's former boyfriend Lincoln Abbotts.
He told the jury they had a "normal" sex life and had never discussed asphyxia or strangulation.
In a written statement another ex-boyfriend, Michael Downe, said they also had a normal sexual relationship and had never spoken of bondage.
The court also heard how Mr Coutts broke down in tears when questioned about the death of the special needs teacher by police.
The part-time salesman and musician was said to have told detectives "it's too upsetting".
When asked directly if he killed Jane Longhurst, he said: "I don't want to talk about it."
For much of the police interview he sat in silence failing to answer questions, the court was told.
Lewes Crown Court heard from computer crime investigator David Reed who said he found more than 5,000 images on two computers taken from Mr Coutts' home.
Most of the images were of ordinary pornography, but 473 showed women being strangled and asphyxiated, while six of them were of what appeared to be dead women, he said.
---
Lewes is a local government district in East Sussex in southern England. It is named after its administrative centre, Lewes. Other towns in the district include Newhaven, Peacehaven, and Seaford. Plumpton racecourse is within the district.
The Roy Whiting murder trial was a high profile case heard at Lewes Crown Court.
Lewes Combined Court Centre

The Law Courts
High Street
Lewes
East Sussex
BN7 1YB
Tel: 01273 480400
DX 97395 Lewes 4

Work Type - Civil

Court Type - Combined Crown and County Court

Email Address
Bailiffs: bailiffs@lewes.countycourt.gsi.gov.uk
e-Filing: e-filing@lewes.countycourt.gsi.gov.uk
Enquiries: enquiries@lewes.countycourt.gsi.gov.uk
Family: family@lewes.countycourt.gsi.gov.uk
Hearings: hearings@lewes.countycourt.gsi.gov.uk

Contacts
Court Manager : Mr D. Manning
Deputy Court Manager : Mrs D. Phipps
Customer Service : Mrs D. Priest 01273 229200
Witness Service : Miss A. Hannibal
Bailiff Manager : Mr P. Hooker
Jury Officer : Ms B. Pemberton
Further Information
General Contact Numbers
| | |
| --- | --- |
| Switchboard : | 01273 480400 |
| General Fax : | 01273 485269 |
Opening Times
| | |
| --- | --- |
| Court building open : | 9.00 am |
| Court building closed : | 5.00 pm |
| Court counter open : | County Court - 10.00 am, Crown Court 9.00 am |
| Court counter closed : | County Court - 4.00 pm, Crown Court 5.00 pm |
---
Barcombe

Beddingham

Chailey

Ditchling

East Chiltington

Falmer

Glynde

Hamsey

Iford

Kingston near Lewes

Lewes

Newick

Peacehaven

Piddinghoe

Plumpton

Ringmer

Rodmell

South Heighton

Southease

St Ann Without

St John Without

Streat

Tarring Neville

Telscombe

Westmeston

Wivelsfield
Geography
Status:
District
Region:
South East England
Admin. County:
East Sussex
Area:
- Total
Ranked 157th
292.00 km˛
Admin. HQ:
Lewes
ONS code:
21UF
Demographics
Population:
- Total (2004 est.)
- Density
Ranked 238th
93,300
320 / km˛
Ethnicity:
97.9% White
Politics
Lewes District Council
http://www.lewes.gov.uk/
Leadership:
Leader & Cabinet
Executive:
Liberal Democrats
MPs:
Norman Baker, Desmond Turner
WE ACCEPT NO RESPONSIBILITY FOR THE ACCURACY OF ANY FEATURED LINKS