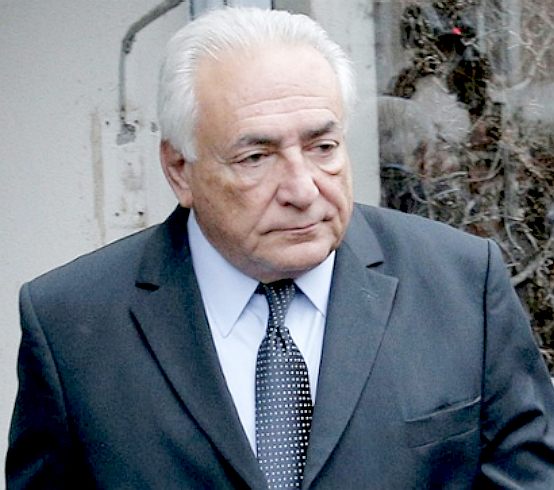 GUILTY UNTIL PROVEN INNOCENT - Mr Strauss-Khan is absolutely right that once the media get hold of a case you are portrayed as guilty before any trial. If you think that is bad, in the UK the Sexual Offences Act has now been rigged that you do not need any evidence whatsoever to prove that what a woman or man accusing you of a sexual crime is true, to obtain a conviction. The normal protections that a Judge would previously give to a Jury in this regard have been arborogated - in other words, swept under the carpet - to obtain more convictions. It is thus a free for all for revenge purposes, and a virtual witch hunt.
You'd imagine with such a situation there would be other safeguards, but then the investigating officers are not interested in justice, but massaging figures so that they have an easy life and get promotion. This is contrary to the Criminal Procedure Orders and Codes of Conduct. Dominique was lucky that he could afford to pay for decent representation and that his case was not heard in the United Kingdom, where he would for sure have been convicted.
PROSTITUTION CHARGES
Should prostitution should be a criminal offence, rather than just those organizing sex? One cannot say that the one thing is divorced from the other, where the prostitutes know that their pimps are criminals, hence, by definition they are aiding and abetting the sale of sexual favours for money. Prostitutes must therefore be aiding and abetting a criminal act. The burning question then is: should prostitution be criminalized?
Sex is a strange subject. Without sex the human race would cease to exist. Nature provides the means to procreate with females who, just as with any other species, begin to produce eggs (seeds in plants) when they are at their physical peak, though women who no longer produce eggs that will give the best chance of a healthy child, continue to enjoy sexual intercourse well into the sixties.
The average age of menarche in humans is 12–13 years, but it is can be earlier in some females that are more advanced physically. The average age of menarche is about 12.5 years in the United States, 12.72 in Canada, 12.9 in the UK and 13.06 ± 0.10 years in Iceland. Factors such as heredity, diet and overall health can accelerate or delay menarche. The cessation of menstrual cycles at the end of a woman's reproductive period is termed "the menopause." The average age of menopause in women is 52 years. This is a built in evolutionary safety factor to allow a wider time-span than the more usual 'sell by date' just in case of natural catastrophe.
These facts are recognized in many cultures that do not have science to explain and confirm statistics, but know from experience that the healthiest children are born to females from 13 years of age. Conversely, the DNA degrades for every year, until after about 30-35 years of age, and egg is considerably more liable to cause birth defects. From a scientific point of view, couples should therefore aim to reproduce as soon as possible to get the healthiest children.
This is of course prevented in some countries, which are in effect degrading the human gene pool with laws prohibiting sex until as much as 18 USA years of age and 16 (UK) - and that goes some way to explaining higher figures for abnormal births and birth defects on those countries. Whereas, other more enlightened civilizations recognize 13 as being a sensible age from which to seek to reproduce for best results.
This of course means that some countries that have it all wrong in biological terms, also have it all wrong in legal terms. It is thought by many that this is typically engineered by older women who have passed their 'sell by date', as a means of prolonging their own sexual attractiveness.
Women may not like to admit it, but they enjoy and need sex every bit as much as men. Some women, especially those more active, like what is termed "rough sex." And some women like anal penetration, much as homosexual partners consider that to be the norm.
Why then would a prostitute, who should understand these facts, complain that some men like rear entry and a good hard sexual encounter. It seems to us that those giving testimony in sex cases tend to spice up what is after all a natural activity, to offset the fact that they are willing to sell their bodies in return for a large sum of money.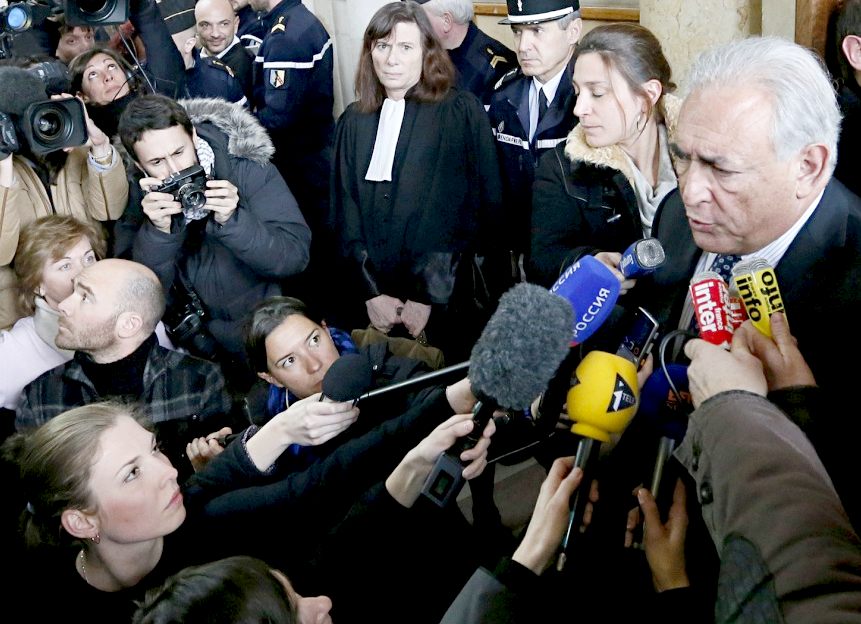 DOMINIQUE STRAUSS-KHAN - widely known as DSK, formerly France's minister of the economy and finance, ex-director-general of the International Monetary Fund, frontrunner as Socialist candidate in the presidential elections of 2012, is a broken man. Or so it would seem.
He was acquitted last week by the Lille criminal court of aggravated pimping and organising an international chain of prostitution, but his reputation is nonetheless in ruins. Ever since he was taken off an Air France flight in handcuffs by New York police in May 2011, and charged with raping a maid in the Manhattan Sofitel — a case dropped after his accuser was deemed an unreliable witness — he has been living a nightmare.
No sooner was one charge dropped than another sprang up. Back in Paris, a young female journalist accused him of attempted rape during a magazine interview. When this case too was dropped on the grounds of insufficient evidence, the pimping investigation began. A parallel charge of gang rape, carrying a maximum sentence of 20 years, was withdrawn in 2012. But in preparation for the pimping trial, two examining magistrates spent four years transcribing hundreds of pages of text messages and emails. During the three-week trial, an extraordinary picture of DSK's downtime emerged. Hours were passed in the company of a Belgian pimp called 'Dodo la Saumure', proprietor of 'le Dodo Sex Klub'. Afternoons were spent arranging meetings on the Belgian frontier, or in Madrid, or in Washington, where expensive locations were hired and his friends including a Lille CID inspector flew in with what DSK called 'the equipment' (young prostitutes).
After almost all the evidence had been heard, the public prosecutor stood up in court and announced that he was going to ask the judge to acquit the principal accused. The court had heard no evidence that DSK had organised or benefited from any of the sexual encounters, he said, and there was no evidence that he had personally paid the girls. The trial had been distorted by the charging of Mr Strauss-Kahn. It had become a political and media event. The two examining magistrates who had conducted the preliminary investigation had been blinded by DSK's eminence. The fact that he was a powerful man did not justify a presumption of guilt. The criminal court was not a court of morals. Mr Strauss-Kahn had already lost his job, his honour and his good name, and he should be acquitted. The judge followed this advice. And so Dominique Strauss-Kahn left the courtroom and repaired to Morocco, where he owns an agreeable villa. His parting words, according to some reports, were, 'Is that it? What a lot of fuss.'
THE CARLTON AFFAIR
Dominique Strauss-Kahn, the former head of the International Monetary Fund, has been cleared by a French court of "aggravated pimping".

The one-time French presidential hopeful, who has described seeking "recreation" from the stress of world politics by having rough sex with strangers at orgies in Europe and the US, was found not to have promoted or profited from the prostitution of seven women.

The judges said Strauss-Kahn was not the instigator of the orgies with prostitutes. Throughout his trial, he maintained he did not know that some of the women brought to him by businessmen friends at group-sex sessions were prostitutes, saying he thought they were merely swingers like himself. The businessmen had told the women not to say they had been paid.

Strauss-Kahn's lawyer, Henri Leclerc, said the case against him had been "totally empty", accusing investigating magistrates of a moral crusade with no legal foundation.

The wide-reaching trial in the northern French city of Lille revealed a saga of money, fame and women travelling to luxury locations for sex with powerful men against a backdrop of economic deprivation and social misery.

Known as the Carlton affair, the case began in 2011 as an investigation into an alleged prostitution network at Lille's Hotel Carlton, where women – described as "livestock" or "dossiers" – had been offered up as the "dessert course" at business lunches. Strauss-Kahn was never involved in any alleged activity at the hotel, but when his name was mentioned by sex workers in interviews with investigators, the inquiry was widened.

Thirteen other men appeared in court on pimping charges, many with no connection to Strauss-Kahn, but the high-profile coverage of the case centred on the former IMF chief and how he sought to wind down from managing the fallout from the global financial crisis by having sex with strangers brought to him at orgies by businessmen keen to curry favour.

The trial exposed not only Strauss-Kahn's secret double life but also the harrowing accounts of some of the women with whom he had sex.

Between 2009 and 2011, the years covered by the trial, Strauss-Kahn held the most senior economic job in the world in Washington, and he was convinced he would become the next Socialist president of France. He invited TV crews to document his cosy and high-profile marriage to Anne Sinclair, an influential French journalist and feminist, who has since divorced him.

During his working day, however, he would send text messages asking a businessman friend to join him at a "magnificent" swingers' club in Madrid and bring him some "equipment", a term he admitted meant women. While in Brussels for IMF meetings, he would be driven to the countryside at night for group sex with strangers on mattresses on the floor of a swingers' club. Throughout the trial, he said he never knew or suspected that there were prostitutes among the many women brought to him at the sessions.

The trial was marked by the tearful accounts of two destitute and vulnerable prostitutes who were among the women brought to locations in Paris, Brussels and Washington to have sex with Strauss-Kahn. They likened the orgies to "slaughter", "killing" and "butchery". The former IMF chief told the trial that he had regrettably discovered during the court hearings that he had "a sexuality that was rougher than the average man" but that he believed "no means no".

Mounia, a Lille sex worker whom court papers described as having been sexually abused as a child, broke down in tears as she told the court how, at an orgy in Paris, Strauss-Kahn had subjected her to anal penetration against her wishes. She said that when he saw she was crying and in pain he smiled and went ahead "with force".

Asked by the judge whether he had noticed her crying, Strauss-Kahn said: "No, I would have found it chilling." He said he did not have a precise memory of the woman, but that he had had no sense of refusal. "When someone says no, it's no," he said.

Another prostitute, Jade, who was also sexually abused as a child, described the atmosphere at one Paris hotel orgy. She said of Strauss-Kahn: "No one asked me my name, there was just a hand on my head to fellate him." She later broke down in tears as she told the court how on a different occasion Strauss-Kahn had also subjected her to anal penetration against her wishes. "I didn't have time to say no," she said.

Strauss-Kahn told the court he did not view his sexual encounter with Jade in the same way that she did. "I didn't realise," he is quoted as saying. "I'm not for doing things that are disagreeable for partners."

"I had no way of knowing she didn't want it … It wasn't my intention, I'm sorry it happened like that."

Throughout the trial, Strauss-Kahn maintained the suggestion that he had to be brought "fresh meat" by businessmen friends was a "disgrace". He insisted he never had sex with prostitutes because "I prefer a party atmosphere before, during and after". As he told one sexual partner: "I have a horror of whores."
Prostitution involving people over the age of 18 is not illegal in France, but pimping and living off the benefits is. Just as the Strauss-Kahn verdict came through, however, the French parliament voted in a second reading to criminalise prostitutes' clients, making payment for sex punishable by a fine. The bill must now return to the senate for a further reading.

Strauss-Kahn had told the court that group-sex sessions were rare "recreation" in his hectic schedule as IMF chief, taking place only four times a year because he had been very busy "saving the world from catastrophe" at the time of the US sub-prime crisis.

The two entrepreneurs from northern France who flew women to the US for orgies involving Strauss-Kahn ended their last visit on 13 May 2011, the day before he was arrested in New York over the alleged attempted rape of a hotel maid, Nafissatou Diallo.

Criminal charges against Strauss-Kahn in the Diallo case were dropped by prosecutors in New York, and he later settled a civil action with her out of court. The case marked the end of his political career in France, where he is now seen as a pariah, and his acquittal on pimping charges in the Carlton case is not expected to change that view.

Strauss-Kahn's two businessmen friends and a police chief acquaintance were also cleared of pimping charges on Friday. Dominique Alderweireld, 65 – known as Dodo la Saumure or Dodo the Pimp, and who runs brothels in Belgium – was acquitted of sending prostitutes from his establishments to Paris and the US for Strauss-Kahn.

René Kojfer, 74, the former head of public relations at the Hotel Carlton in Lille, was the only man to be convicted. He was given a one-year suspended sentence for pimping – charges which had no connection to Strauss-Kahn.
WHAT A STATE TO GET INTO
The People of the State of New York v. Strauss-Kahn was a criminal case relating to allegations of sexual assault and attempted rape made by a hotel maid, Nafissatou Diallo, against Dominique Strauss-Kahn at the Sofitel New York Hotel on May 14, 2011.
The charges were dismissed at the request of the prosecution which pointed out serious doubts in Diallo's credibility and inconclusive physical evidence. In a TV interview in September, Strauss-Kahn admitted that his sexual encounter with the maid was "a moral fault" and described it as "inappropriate" but that it "did not involve violence, constraint or aggression".
It's difficult to stay focused with such allegations ruining your career and newspapers such as the Daily Mail describing you as 'a rutting chimpanzee'.
On May 19, 2011, Strauss-Kahn was indicted by a grand jury and after posting $1 million bail and pleading not guilty he was placed under house arrest. On July 1, prosecutors told the judge that they had reassessed the strength of their case in the light of the housekeeper's diminished credibility, and the case against him was near collapse. On August 23, 2011, the judge formally dismissed all charges based on the prosecutors' assertions, including that the maid's "pattern of lies" had "made it impossible to trust her."

At the time of the alleged attack, Strauss-Kahn was the head of the International Monetary Fund (IMF) and considered to be a leading candidate for the 2012 French Presidency. Four days after his arrest, he voluntarily resigned his post at the IMF. There was widespread speculation in France after his arrest that he was the victim of a conspiracy, with that speculation being renewed after a detailed report providing new facts was published in late November 2011.
GENERAL ADVICE
Get yourself a specialist lawyer, demand to see any evidence the police have before making any comment, that way you can evaluate the bullshit claims and take advice from a solicitor. All too often the cops ask a leading question, on a presumption that what they have been told is true, when in fact what they have been told is false and you may be in possession of factual information to disprove that allegation - but if you don't know what information the police have been given, how could you know what to say? However, sometimes it is better to keep your powder dry and force the old bill to charge you then simply make an application to the trial judge of no case to answer. Don't forget that the police are out to gain convictions, they are your enemy - they are not in it for justice and they won't investigate any leads that point to your innocence - despite the fact that their Code of Conduct, in investigations say that they must.
In one case we know of a man accused of a rape was in fact in New York at the time of the allegation - which he rather foolishly told them. Instead of dropping the case, the cops simply re-adjusted the date of the claim of rape - and believe it or not gained a conviction. If the chap concerned had kept his powder dry, he would have been charged with the date he could prove was a lie - hence no case to answer. The cops don't play fair.
If you want to keep your powder dry, tell the police that you do not want to comment at this time pending your own investigations as to the facts, and that you reserve the right to introduce evidence in your defence at any trial on a without prejudice basis - that it would not be fair to comment if not apprised of all the facts. Be careful here, or your silence when questioned may be held against you. A transcript of your interview will be given to a Jury. If you don't protect your defence in this way a judge may instruct a jury that you remained silent - and from that silence an adverse inference may be drawn.
If you want any free confidential advice on this subject, you can email us, or get your solicitor to email us to remain once removed. Ask your solicitor to see any email from us in full. Also, see: http://home.vicnet.net.au/~safari/
Some of the caselaw that Safari publish have has been invaluable. For example check out the statistics of proven false allegation cases. Such information must go before a jury - if they proceed. Any jury must be made to realise that it is very likely that the allegation is false, as supported by statistics. Sexual assault claims in the Metropolitan Police are a good indicator of the true position - about 75% of which are false. This raises the necessary reasonable doubt, which you'll need after David Blunkett and other ministers took away your right to a fair hearing. Find out all you can about your accuser. Why now? Was he promised compensation? You bet.

SIMILAR CASES
This case is not a million miles away from something closer to home in the United Kingdom, that of a certain person challenging local authority, then being convicted unjustly of sexual charges - that if one looks at them closely, are completely out of character. It appears to us that given the opportunity, local and national authorities will use whatever is at their disposal to bury anyone who dares to question their administration. Freedom of speech? Yes, but for how long?
And don't forget that the system protects the claimant by hiding his or her identity, when very often that identity is the key to the public understanding why such an allegation has been made. Usually it is at the break up of a relationship, or some other event where the motive is revenge - typically, a woman who has been jilted will seek to attack the party jilting her, by making a false allegation. The sad fact is that under the present system, it matters not if someone is innocent or not. Put a person in the dock and make the accusation, especially some time after the claimed event, and there is no way of defending yourself. Then, with the judge not giving the jury guidance as to unsupported allegations, the bloke in the dock will be convicted.
OPERATION YEWTREEE

Police have arrested 12 men as part of the operation, including convicted paedophile Gary Glitter, comics Freddie Starr and Jim Davidson, presenter Rolf Harris and DJ Dave Lee Travis. All deny any wrongdoing and investigations are continuing. The arrests arise from Scotland Yard's officers working on Operation Yewtree, set up after Jimmy Savile was exposed as a predatory paedophile with more than 450 victims.
LINKS
http://www.dailymail.co.uk/news/article-2320419/Jimmy-Tarbuck-arrested-alleged-sex-attack-young-boy-1970s.htm
http://www.brisbanetimes.com.au/world/uk-police-inquiry-broadens-to-sydney-20130502-2ivze.html