26 March 2006
Notorious killer is moved to Cumbria First published 28 1 2005
Dryden, 64, was jailed for shooting Harry Collinson, chief planning officer for Derwentside District Council, when council officers moved in to demolish Dryden's illegally-built bungalow in Butsfield, near Consett, in June 1991.

He shot the father-of-two twice in the chest, and once in the head as he lay on the ground. A policeman and reporter were also wounded.

The incident was seen by millions of people after the tragedy was captured by a photographer from The Northern Echo and a BBC camera crew.

Dryden was jailed for life at Newcastle Crown Court in 1992. He was denied parole in 2001 because it was felt he showed little remorse.

The former steelworker was held in Rye Hill Prison, near Warwickshire.

A spokesman for Haverigg Prison said: "Prisoners come to us and would have to go through another two stages before being released.

"However, some of the prisoners do work in the community and many long-term prisoners will get to go out on a visit somewhere.

"Dryden will not be eligible to work in the community because his security clearance is not suitable."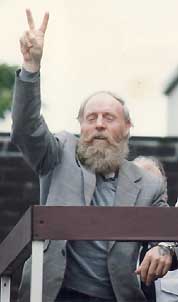 Albert Dryden - I'm Sorry
CLASSIFIEDS | MOTORS | JOBS | PROPERTY
I'm Sorry Oct 4 2003

Killer Albert Dryden has told of his remorse for the first time as he makes a plea for freedom from his prison cell. He was locked up more than 12 years ago for gunning down a council planning officer. From his cell Dryden told the Evening Chronicle how he regrets what happened and hopes to be on the streets within six months.
The 63-year-old shot planning inspector Harry Collinson at pointblank range when council officers moved in to demolish Dryden's illegally-built bungalow in Butsfield, near Consett, County Durham.
Today Roy Collinson, Harry's brother, said he did not believe Dryden was sorry for the killing and demanded he remain locked up or life. In a letter from Rye Hill Prison, Warwickshire, Dryden has told how he will learn his fate on December 11 when the Parole Board decides whether he is fit for release.
And from behind bars he has finally told how sorry he is for what he has done. Following years of negotiations with Dryden, council chiefs brought in bulldozers to flatten his property at Butsfield in June 1991. The former steelworker went on the rampage, shooting dead 46-year-old Mr Collinson and wounding a policemen and a local reporter.
He shot dad-of-two Mr Collinson twice in the chest and once in the head while he lay on the ground. Dryden says in his letter: "The Parole Board sits on the 11th of December. I have always shown great remorse. "I could be out by March. I am of no risk to anyone, never was."
He added: "I am sorry, yes I always have been sorry. I had snapped with provocation." But Roy Collinson, a farmer in Stocksfield, said: "I don't believe Albert Dryden can be remorseful. He has always talked about killing someone. "He is fascinated with firearms and explosives and he eventually killed my brother.
"He should stay in prison for the rest of his life. He says he is remorseful now, after 12 years of being inside. I've no doubt the Parole Board will eventually let him out, and Dryden will be walking about Consett with his supporters waving his banners. "I think he should spend the rest of his life behind bars."
The drama was caught on film as camera crews were at the bungalow expecting to cover a planning story. Two reporters and a photographer from the Chronicle were also caught up in the horrifying scenes. Dryden was jailed for life at Newcastle Crown Court in 1992.
After a failed release bid in 2001, Dryden is back before the Parole Board before Christmas. A decision depends on reports from the prison service, a psychiatrist and his probation officer.
George Cameron, 69, of Kilchurn, Blackhill, Consett, who has been friends with Dryden since he was a boy, said: "Albert is sorry for what he did. He is a lad who doesn't share his emotions but he feels deep inside. He has served enough time in jail. He's nearly a pensioner now."
The Parole Board also has to decide whether the prisoner carries any degree of risk of committing further offences. Jo Dobry, spokeswoman for the Parole Board, said: "We can't give out details of individual cases.
"What we can say is, in any case where someone is serving a life sentence for murder and is being considered by the board that we will be looking at all options, from release, to further time in open conditions, to remaining in the current prison.
"It is very important for the public to understand as to when someone is serving a life sentence and that person is released back into the community, they remain on licence for the rest of their lives."
---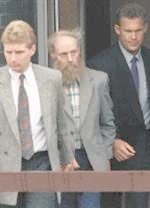 CK0635 Albert Dryden, H M Prison Rye Hill, Willoughby, Warwickshire CV23 8SZ
Nobody suggests that the killing of anyone is justified. Albert Dryden has shown regret for having discharged a pistol which killed Chief Planning Officer Collinson and injured a police constable. The policeman who was shot has stated that Mr Dryden should have been released years ago.
We were asked not to publicise details of the victimisation of Mr Dryden because Collinson was a golfing partner of Chief Constable of Durham who had to be a brother Mason. Also we were asked not to mention that a judge occupied land neighbouring Mr Dryden's land and either objected to Mr Dryden's development or coveted his land.
A brother of the judge was also a magistrate or some other low from of life. He was officially involved in Mr Dryden's affairs. A senior police officer left instructions that the police were not to become involved. Again we would repeat something that people are not prepared to believe. All corruption depends upon the blind eyes of politicians.
It is coincidence that David Blunkett is blind. He seems also to be deaf. The worst culprit is Hilary Armstrong, an MP who was selected on the strength of her father's connections. She is the government's chief whip and a more arrogant and dictatorial person would be hard to find even in the Labour badlands of the North East. Maurice Kellett too has suffered from her arrogance. Her fax number is 01388 767923 and email address hilary@hilaryarmstrong.com .


Letter from J & B Masefield Fax 01308 485729
Email john@blandamase.fsnet.co.uk
---

To The Editor of the Sunday Sun Fax 0191 201 6180 on 10 September 2003

Re Albert Dryden
Your article of Sept.7th, 2003 refers: you ask "What do you think?"
There is a CAUSE for every action: in this case, the Council's abrogation from statutory planning law over time, and perceived by Mr Dryden as a double-cross.

Planning law is governed by land use. Solicitor Mr Dunstan, acting for vendor and purchaser, conveyed the Butsfield site to M Dryden in 1984; Mr Dunstan was later instructed and consulted by the Council in the prosecution of Mr Dryden from the Department of the Environment (DoE) inquiry of 1990 onwards to the shooting incident on 20th June 1991. On that day Mr Dryden still believed that his planning appeal dated 1st April 1991 with the DoE was valid and proceeding by WRITTEN representation.
Chief Executive N.F.Johnson's Report of an Internal Enquiry of May 1992, in hindsight, is questionable; page 70, inter alia, records that Mr Collinson TELEPHONED the DoE on 13 June 1991, objecting to the validity of Mr Dryden's DoE appeal.
A DoE spokesman informed us that a decision on grounds of validity would not be taken on the basis of a telephone call. Why did the Council not follow the prescribed procedure of written representation? Did Mr Collinson act under pressure?
Dishonesty and covert manipulation at all levels of public administration on wrongdoing, have ruined many lives.

The question remains; did Mr Dryden, or did he not, have valid planning appeal/application of 1st April 1991 - to justify the Council's (to deter others) orchestrated publicity stunt of 20 June 1991, which finally provoked Mr Dryden to lose all reason?
A Public investigation into the Council's conduct, to include members, is indicated.

Yours faithfully, J & B Masefield.

Wealden District Council insure with Zurich Municipal and still have no Whistle-blowing policy in place - coincidence or not? A number of councillor's declared interests may not be what they seem.
Fatal errors of the Butsfield shooting
From the Northern Echo, first published Wednesday 27th Mar 2002.
A SENIOR firearms officer has broken his ten-year silence to launch a stinging criticism of the police handling of the North-East's most infamous murders.
Almost a decade since Albert Dryden was convicted of gunning down council official Harry Collinson, former Sgt David Blackie has revealed the inside story of the police response to the shooting.
His accusations include serious concerns among fellow tactical firearms advisors that they were not consulted before the shooting at Butsfield, near Consett, County Durham.
His criticism is contained in a book raising questions as to why the armed response vehicle was based at Consett Police Station on June 20, 1991, and not nearer the scene of the shooting. Dryden, now 61, is serving a life sentence for the murder of Harry Collinson, who was chief planning officer at Derwentside District Council.
The peaceful family man was shot at point-blank range in front of horrified reporters, council workers, and police officers as he arrived to tell the former steelworker the bungalow he had built without planning permission in remote countryside was to be bulldozed.
Extraordinary footage of the shootings, captured by a BBC television crew and Northern Echo photographer Michael Peckett, were beamed to millions across the world. PC Stephen Campbell was also shot in the lower back and BBC television reporter Tony Belmont was hit in the arm as they fled for their lives.
Mr Blackie, 48, of Barnard Castle, County Durham, was one of four firearms instructors and tactical advisors at Durham Constabulary. He was on an exercise when he was called to Butsfield within minutes of the shooting.
During the research for the book, which Mr Blackie is trying to have published, he has managed to speak to Dryden's sister Elsie, Harry's brother Roy Collinson, a number of police officers and, remarkably, Dryden himself, who granted him a jail interview.
Mr Blackie claims there had been a number of complaints to police about Dryden's violent behaviour and threats in the days leading up to June 20.
He says that disgruntled officers had to press for a police de-brief in the aftermath of the murder, which was eventually held, but police planning for the operation was not discussed.
Mr Blackie wrote: "Many felt that an opportunity had been missed for the constabulary to come to terms with the consequences of an error of judgement which might, or might not, have saved Harry Collinson's life."
Mr Blackie also claims that on-the-ground intelligence was not sought from local police beforehand or from tactical firearms advisors.
He said yesterday: "The theory is, if they had any suspicion of firearms about Dryden, they should have spoken to the people who were experts in the field.
"They were my colleagues and that wasn't done. All I wanted was for someone to stand up and say, 'We got it wrong, let's learn from it and put something in place.'"
Last night, Roy Collinson, Harry's brother, who lives in Stocksfield, Northumberland, said: "The police have said they had no reason to suspect Dryden had a gun because he didn't have a licence for them, but what about all the threats that were made?
"A lot of people just seemed to think the threats would never happen and yet he had a history of firearms. "I'm just concerned now that Dryden stays in jail."
A spokesman for Durham Constabulary refuted the criticisms and said if they felt it was necessary to have a firearms team at the scene, they would not have allowed the council to go ahead with the planned demolition.
He said officers at the scene of the shooting were local police officers and had knowledge of Dryden, but there was never any evidence the killer kept guns.
Police had viewed Dryden as an "amiable eccentric", and had the armed response vehicle stationed at Consett police station as a back-up for the "unpredictable".
---
COUNTY DURHAM
County Durham is a county in north-east England. Its county town is Durham. It is a county of contrasts: the remote and sparsely populated dales and moors of the Pennines characterise the interior; while nearer the coast the county is highly urbanised, and was once dominated by the coal mining industry.
The form of the county name is unique in England. Many counties are named after their principal town, but the expected form here would be Durhamshire. The reason it is called County Durham instead is that the Prince-Bishops of Durham historically exercised power in regions outside the county as well, so the inner part was named County Durham as opposed to the rest of the estate of Durham. Note that the form County X is standard for Irish counties, with no such significance.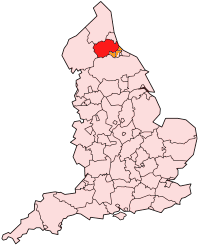 Geographical extent
County Durham is roughly bounded by the watershed of the Pennines in the west, the River Tees in the south, the North Sea in the east and the Rivers Tyne and Derwent in the north. The name County Durham, however, is used to refer to three distinct entities: the traditional, ceremonial, and administrative counties.
County Palatine of Durham
A County Palatine by immemorial custom, with the Bishops of Durham being princes until 1836. Until 1971 there were a series of courts in the county, and the offices of Chancellor, Attorney-General, Solicitor-General, Steward and Clerk of Halmotes, Deputy Steward, and Registrar of Halmotes. The Court of Chancery of Durham existed from the thirteenth century to 1971. In 1836 the separate Court of Exchequer, and Court of Admiralty were abolished. The Court of Pleas, Durham, survived until 1873.
Traditional county
The county traditionally extends to the south bank of the River Tyne and includes Sunderland, South Shields, and Gateshead. It borders the counties of Cumberland, Northumberland, Westmorland and Yorkshire. The east of the county between the Ryhope district of Sunderland and Seaton Carew in Hartlepool is the coastline of the North Sea. Several exclaves have existed in the county's history, including Bedlingtonshire, Norhamshire, Islandshire (incorporated into Northumberland in 1844), and Crayke, now in North Yorkshire. Startforth Rural District is traditionally part of the North Riding of Yorkshire. The modern unitary authorities of Hartlepool, Darlington, and Stockton-on-Tees are part of the traditional County Durham.
Ceremonial county
Durham County Council was established along with all the other English county councils in 1888. Major local government reorganisation on 1 April 1974 created the metropolitan boroughs of Sunderland, South Tyneside and Gateshead out of County Durham into the newly established metropolitan county of Tyne and Wear. At the same time, the new non-metropolitan county of Cleveland took out Stockton-on-Tees and Hartlepool. County Durham did however gain the rural district of Startforth south of the River Tees near to Barnard Castle. Since then, Cleveland has been abolished, but Stockton-on-Tees and Hartlepool have not been returned to Durham, except for the purposes of Lord-Lieutenancy. County Durham borders on the ceremonial counties of North Yorkshire, Cumbria, Northumberland and Tyne and Wear.
Durham County Council Site Map:
---
COMMENT: Where it is in us all to act directly against oppressive behaviour, this is bound to draw much attention to excessive violence. In this case Albert Dryden appears not to have been equipped to fight Durham (Derwentside) District Council using the law. It is also sad there are insufficient safety nets in the system to give persons in Albert's position an equal chance in the Courts. There is little doubt on our minds, that the system was responsible for driving Albert to extremes.
Having caused Mr Dryden to snap, society then, and only then provides him with legal assistance. But this is all too late. At this point we are only looking at the murder offence, after he has been driven to a state of temporary insanity. Legal assistance should have been given to him to fight his planning case. Tony Blair and other government, in not providing adequate equalizers in the legal system, have ensured there will be other similar cases.