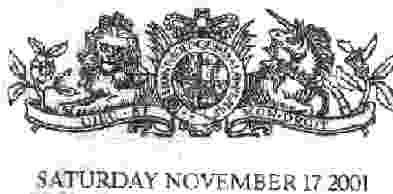 _____________________________________________________________________
£790,000 payout for race case builder
A builder accepted £790,000 yesterday in an out of court settlement after he was found to have been racially discriminated against by council officials in a planning dispute.
Kelly Davis a father of two, of Bath, won his civil action against the now defunct Wansdyke District Council last year when a Judge at Bristol County Court ruled that planning officers had "conducted themselves in a consistently unhelpful and obstructive fashion" in refusing to grant him planning permission for work on his home between 1989 and 1991.
Judge David Ticehurst said at that time: "This can only be explained by the existence of a policy regime or practice to treat him - the only black builder in Wansdyke, unfavourably."
Wansdyke District Council was abolished in 1996, leaving its replacement, Bath and North East Somerset Council, to act as defendant in the case.


"The Times" 19 November 2001
_______________________________________________________________________
COMMENT: The above case firmly established a precedent relating to discrimination and planning decisions. The Judge went further to identify consistently obstructive and unhelpful behavior as indicative of a regime, policy or practice against which a citizen may seek redress via the law. The implication are wide ranging when considering the full impact of the Human Rights Act 1998. Whereas, racial discrimination was the underlying grounds for Kelly Davis' action, in future the policies and practices employed by Council's nationwide to prejudice poorer persons in favour of wealthy land owners and developers - may now be the subject of claims for damages under Article 8. If you have experienced similar treatment from your council we would like to hear from you.