Tuesday 2 May 2006
The Not so Secret Diary of Tracey Temple, aged 43ĺ


They combine the giddiness of Bridget Jones with the naivety of Adrian Mole and the ruthless honesty of Samuel Pepys. But what do the Temple diaries really tell us about that affair? Emily Wilson gets bizi

never travel without my diary," says Gwendolen Fairfax, in The Importance of Being Earnest. "One should always have something sensational to read in the train." This Sunday all of us, diary writers and non-diary-writers alike, had something sensational to read on the train. The Mail on Sunday published extracts from the secret diary of Tracey Temple, age 43ĺ, and by golly, was it zippy.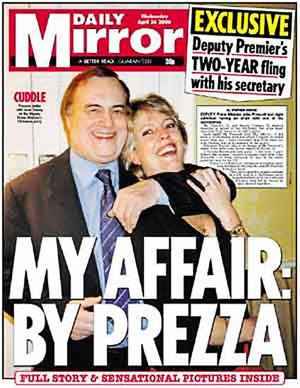 Johnny and Trace - 2 year hush puppy
Temple is no great scribe; not even her best friends would describe her as writerly. She sprinkles her prose with words such as "bizi" (busy) and "coz" - more in the manner of a carefree 12-year-old than a 43-year-old civil servant with a government department to help run. She appears uninterested in much beyond the minutiae of office life and nights out at work-relaed "do's". As a diarist, she combines the giddiness of Bridget Jones with the naivety of Adrian Mole.
But like the great Samuel Pepys, Temple is ruthlessly honest in the recording of her sexual adventures, however badly they might reflect upon her, and it's here that her diaries really shine. Pepys, of course, had other strings to his bow - but then he didn't have an affair with the deputy prime minister, did he?
At first, glancing at Temple's diaries, you are struck by the grinding ordinariness of it all. These are meant to be the best bits, you think - what else would the Mail on Sunday splash out (a rumoured) £250,000 on? Temple is like some extra from The Office ... it's all what train she managed to get to work and her boring job, and whether she'll leave her boring job to take a different boring job at Downing Street - or not.
Ms Temple, his diary secretary, said she felt she was used as a "scapegoat".
Mr Prescott admitted he had "acted stupidly" and appealed for privacy as he tried to rebuild his marriage.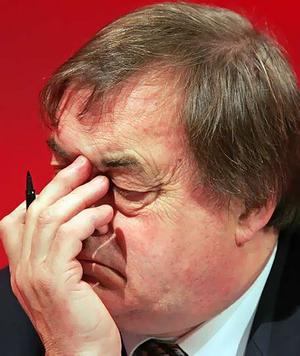 Secretary in a State
Deputy PM admits TWO-YEAR fling with his secretary
Friday, 26-28 April 2006
JOHN Prescott last night said he deeply regretted his fling with a secretary - and admitted it had left his wife Pauline distraught.
The 67-year-old Deputy Premier confessed the fling with 43-year-old Tracey Temple, saying: "I did have a relationship with her which I regret. "It ended some time ago. I have discussed this fully with my wife Pauline who is devastated by the news.
"I would be grateful if Pauline and I can now get on with our lives together."
Deputy Prime Minister John Prescott has admitted he had an affair with one of his secretaries.
The MP for Hull East said he regretted the relationship with Tracey Temple, 43, which had ended "some time ago".
"I have discussed this fully with my wife Pauline who is devastated. I would be grateful if [we] can get on with our lives together," a statement said.
Tony Blair's spokesman said Mr Prescott had strong support and was a "real benefit" to the country and government.
The spokesman added that Mr Prescott, 67, played "an absolutely vital role".
Downing Street had earlier said it was a "private matter", a message repeated by Home Secretary Charles Clarke when he appeared on BBC Radio 4's Today programme.
Mr Prescott and Ms Temple started meeting in secret at his Whitehall flat after a two-year relationship began at an office party in 2002, the Daily Mirror reported.
The pair began working together when Ms Temple was appointed as Mr Prescott's assistant private secretary, responsible for organising his diary, said the paper.
She had reportedly previously worked as a personal diary secretary for former Northern Ireland Secretary Mo Mowlam, who died of cancer last year.
The PM's spokesman said Mr Prescott had not offered to resign, nor had he abused his position by having an affair with a civil servant.
Ms Temple's boyfriend, lorry driver Barrie Williams, 46, told the Daily Mirror: "I just can't believe that my darling Tracey has been sleeping with John Prescott behind my back.
"How dare he split up my relationship with the woman I'd planned to marry!"
Mr Williams, of Bordon, Hants, said Ms Temple asked him to marry her just two days after she began a relationship with Mr Prescott.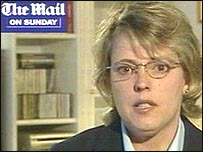 Tracey Temple - kiss and tell
---
LINKS:
A private affair?
John Prescott scandal poses a difficult problem for the PM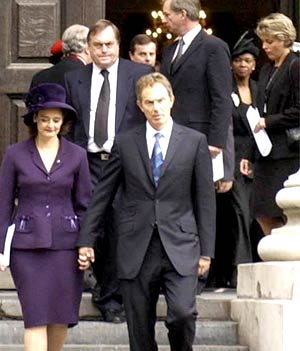 Prescott and Temple - the happy couple
Prescott scandal to rumble on
Scotsman, United Kingdom - Apr 28, 2006
... about the private life of John Prescott, the deputy ... his civil service secretary, Mr Prescott has been ... concede that yet more personal scandal could seriously ...
Faces of the week BBC News
What works matters, and voters see it isn't working Guardian Unlimited
Prescott poses with his wife for newsletter and boasts of how he' ... Glasgow Daily Record
BBC News - Daily Mail - UK
Incompetent, in trouble, in flagrante and in denial
Scotland on Sunday, UK - 1 hour ago
... proclaiming it is enjoying its "best year yet"; and John Prescott has been ... can either decide this according to whatever is the latest scandal [or] controversy ...
Blair's government reeks with the stench of decay Scotsman
Blair braced for more on jails debacle Gulf Times
Blair in crisis after release of convicted immigrants World Peace Herald
Scotland on Sunday - Houston Chronicle
Lost: A government in meltdown
Sunday Herald, UK - 2 hours ago
... Patricia Hewitt and Deputy Prime Minister John Prescott were mired in, respectively, a public display of evaporating authority and a sex scandal involving his ...
Triple scam lands Blairís party in crisis Navhind Times
Blair needs to reshuffle the Cabinet Ö including getting rid of ... Sunday Herald
Shamed Prescott due back at work Leeds Today
ic Birmingham.co.uk - Telegraph.co.uk
New Labourís bit of rough gone wrong
Times Online, UK - 2 hours ago
... horrors of the Home Office foreign prisoner scandal. New Labour can at least clutch at one positive achievement. It has found a proper job for John Prescott. ...
A government on borrowed time Times Online
Crisis? It's just another day at the office, dear TMCnet
Blair battles to re-gain political credibility Euronews.net
Bonfire of a presposterous man's vanities
Times Online, UK - 3 hours ago
... who hurled stones of righteous anger at John Majorís ... is something different about the question of Prescottís privacy in this scandal: he violated ...
A demeaning week in British politics
Daily Mail - UK, UK - 6 hours ago
... us. In the wake of the sex offenders scandal, are you worried about your children's safety at school? ... But John Prescott? Anyone ...

Dave's on a road to nowhere, as we bypass Tories
Times Online, UK - 3 hours ago
The House of Blair teeters set to collapse into a sea of scandal. ... is responsible: like the foreign murderers padding along our streets or John Prescottís paw ...
The first rule of the politician's wife should be: Never leave ...
Telegraph.co.uk, United Kingdom - 3 hours ago
... Entitled Scandal '63 and published in the autumn of that year, its concluding ... through Paddy Ashdown and Tricia Howard in 1992, to John Prescott and Tracey ...
Gordon is much too smart to enjoy any of this
Telegraph.co.uk, United Kingdom - 3 hours ago
... bald man with a distinctive beard - is embroiled in a nationwide prison scandal. ... respectively, of Charles Clarke, Patricia Hewitt and John Prescott cannot be ...
Prescott's 2-year affair with secretary adds to Blair woes
Scotsman, United Kingdom - Apr 26, 2006
... Labour's predicament with the twilight days of the scandal-plagued Conservative government led by John Major. One minister conceded that Mr Prescott "had let ...
---
WE ACCEPT NO RESPONSIBILITY FOR THE ACCURACY OF ANY FEATURED LINKS
FAIR USE NOTICE
This site contains copyrighted material the use of which has not always been specifically authorized by the copyright owner. We are making such material available in our efforts to advance understanding of environmental, political, human rights, economic, scientific, and social justice issues, etc. We believe this constitutes a 'fair use' of any such copyrighted material as provided for in section 107 of the US Copyright Law. In accordance with Title 17 U.S.C. Section 107, the material on this site is distributed without profit to those who have expressed a prior interest in receiving the included information for research and educational purposes.
For more information go to: http://www.law.cornell.edu/uscode/17/107.shtml. If you wish to use copyrighted material from this site for purposes of your own that go beyond 'fair use', you must obtain permission from the copyright owner.
This site is protected under Article10 of the European Convention on Human Rights and Fundamental Freedoms.
---