by JOE LEPPER joe.lepper@argus-btn.co.uk
G e n e r a t i n g i n t e r e s t
TO LOOK at Nelson Kruschandl's ramshackle and rundown office you would never guess it was once the most important building in town. The Inventor, from Herstmonceux, near Hailsham, has been using the office to design and build his creations for the past 18 years.
But in 1998 he made a startling discovery - beneath its rusty corrugated tin exterior hides one of Britain's earliest and last remaining electric power houses. Back in the Victorian era the building was the heart of the town, powering the street lighting and homes for miles around. Since the discovery he has fought to gain the recognition the building deserves as a historic monument.
He has had bids for listed status turned down, as well as unsuccessful planning applications to make it an education center as many did not believe its past. But now, at last, his dream to renovate his historic office looks set to come true.
He has had its status confirmed by English Heritage, which added it to its Monument Protection Programme for protected buildings. And local councillors have now decided to rethink their decision on converting the property. Nelson, 44, who also lives in Herstmonceux, said: "it's been a struggle to get recognition but it looks like that has now happened.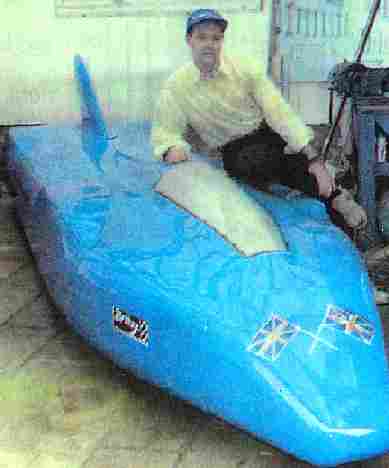 GENERATOR
"I have now also had it confirmed that this is the only remaining generator that used to power a whole village." Built in 1888, the building called the Old Steam House, was developed by a wealthy landowner in the village called Baron de Romer for his own use. It was bought by a local electricity company during the Edwardian era and remained in use until the 1930s, when the national grid took over.
Nelson said: "Then the technology was all so early and lights used to flicker in time with the engine. I try and imagine what that must have been like for the people then." For Nelson the discovery is also of great importance as he mainly designs and builds electrical creations
At the side of one of Britain's electrical masterpieces lies one of the country's latest, as Nelson is busy building what he hopes will be the worlds fastest electric car. He hopes the 22ft long, 400 horse-power contraption will reach speeds of more than 350mph and is considering testing it as early as March. Members of Wealden District Council planning committee plan to make a decision on the future of the building next month.
Welcome Login Subscribe Survey Latest Edition Preview Edition Conditions