TOWER MILL PLACE, Park Croft, Polegate. Local residents are concerned about the recent redevelopment, as the present residents of this council run home will be made homeless. We read about closures of residential homes all over the town, just because they are not making any money for the owners who prefer to put money before care.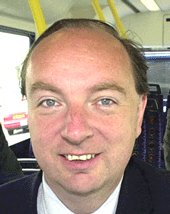 Rt Hon Norman Baker MP
Wealden District Council says the place is below standard and in need of modernisation, which means that the residents will have to move to a different wing or move out temporarily or even permanently. Rosemary Battles, whose 85-year-old mother Mary Hughes lives at Tower Mill, started a petition after being given the idea by a local resident who also started one in Wannock.
What about the people, who live there, who having had to give up their previous homes because they are unable to cope, assume they are settled for life with adequate care. The old folk find it distressing to move on elsewhere, and often suffer health problems as a result of moving.

PETITION AGAINST HOUSING SCHEME CLOSURE GAINS STRENGTH
A PETITION against the removal of elderly residents living at a sheltered housing scheme has collected more than 1,000 signatures. Residents signed the request following the news that Tower Mill Place, in Park Croft, Polegate may close.

The two similarly worded petitions, asking for the residents not to be moved if work is carried out and to support their wishes, will be handed over to Wealden District Council at a meeting on May 24. Mrs Battles, of North Close, said, "We are fighting for them to keep their homes. I was given the idea of doing a petition by a lady living near to Tower Mill.

Cllr Roy Martin

"I'm concerned about what's going to happen to my mother and the rest of the residents. I'm prepared to do anything to keep their homes for them." Some of the residents, who are in their 70s, 80s and 90s, have been living at the Wealden-run building for more than 15 years. When the Herald recently spoke to them, the residents said they didn't want to leave or move out of the area. Polegate MP Norman Baker, district councillor Andy Watkins and Polegate town councillor Roy Martin have been supporting the residents.

And at a meeting of Willingdon and Jevington Parish Council on Monday (May 8) a proposal was made to support the petition. Cllr Watkins said, "I'm supporting the residents and I think the residents needs and wishes need to come first.
"It will be nice to think that the council is going to take into account their wishes." Wealden District Council has been given advanced notice that a petition will be presented to the chairman of the council on May 24.

A spokesperson for Wealden has said that discussions have taken place with residents to discuss the review and that the welfare of its residents remained their first priority. The matter will be discussed and the options considered at a Cabinet meeting now scheduled for June 7.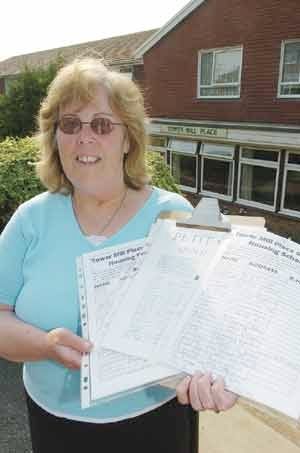 Rosemary Battles

joanne.smith@trbeckett.co.uk - 11 May 2006
---
LETTERS TO THE EDITOR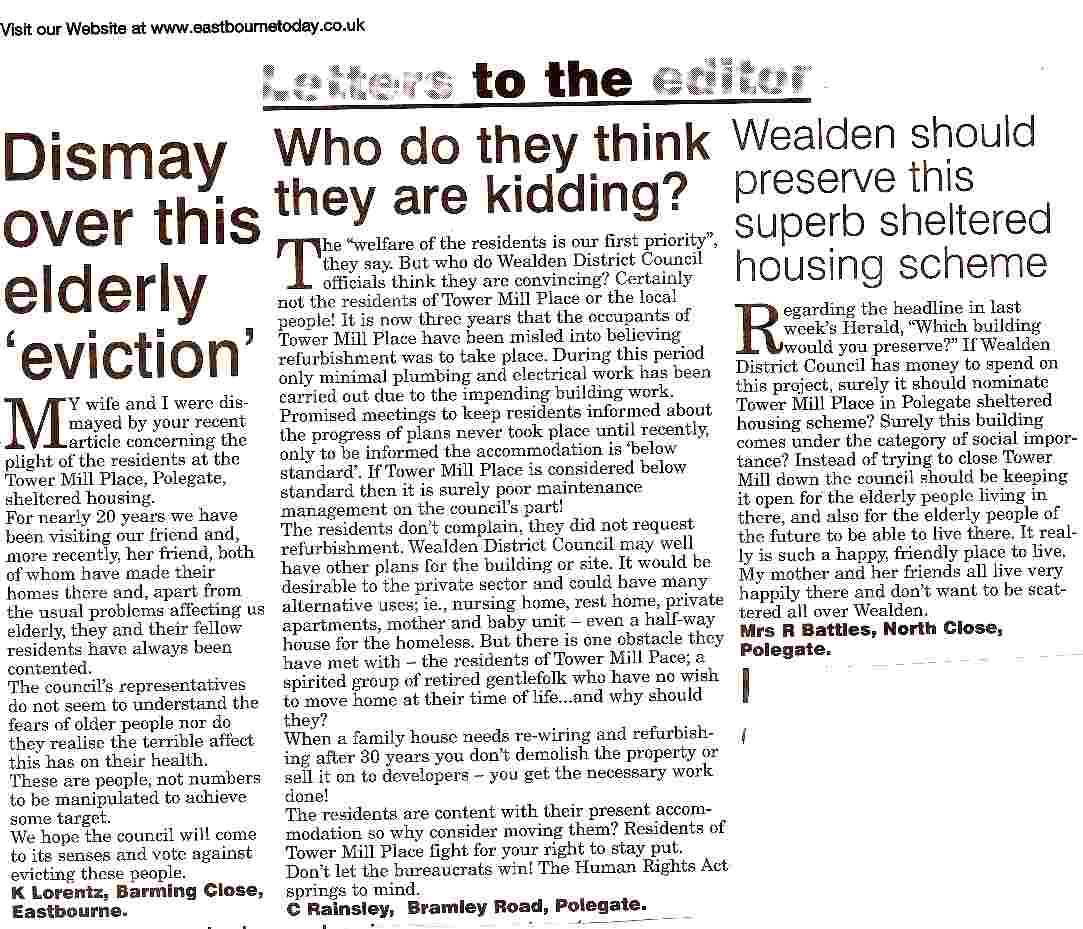 Support for Tower Mill
Oh how I support Mrs P Davis in her letter regarding Tower Mill, Polegate. The people there do not want the upheaval of moving out. Iím sure the council could update the building in stages, as it does other things. At least with Norman Baker and Roy Martin on hand Iím sure these two good fellows will do all they can to help the tenants of Tower Mill. Good luck to them.

S.Manser, Brightling Road, Polegate.
---
WE ACCEPT NO RESPONSIBILITY FOR THE ACCURACY OF ANY FEATURED LINKS