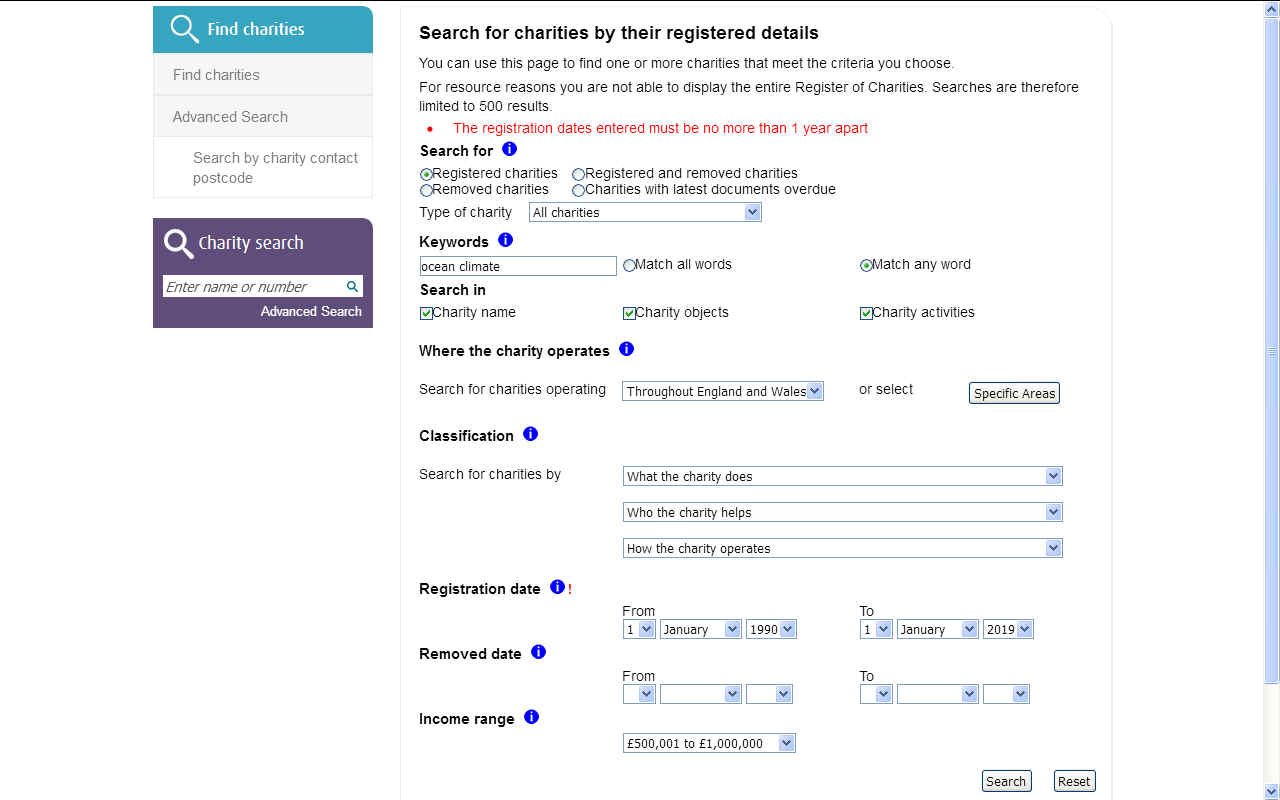 The Charity Commission has a set of rules that are applied with various degrees of stringency such that applications to be registered are decided on principles that tend to violate Article 9, Article 10 and Article 14 of the European Convention of Human Rights. It appears to depend on who your Trustees are and how well connected they might be - where some decisions are not as consistent as they could be, but where their powers of investigation may sometimes be abused or bent to assist other agencies who might have an axe to grind, or worse still may have something to cover up.
We are keeping a watchful eye on specific cases where the explanations given are insufficient in one regard or another to make us suspicious as to the circumstances of refusal. Not that refusal bars an organisation that operates on a not for profit basis to call itself a charity.
Transparency is also an issue, where the database is designed to prevent easy access contrary to SDG16. You can see how difficult the Commission make it for researchers from the screenshot above.
Biography

Baroness Tina Stowell joined the Charity Commission as Chair in February 2018.

She joined the House of Lords as a backbencher in January 2011 and was promoted to the government front bench in September the same year. She was Leader of the House of Lords and Lord Privy Seal from July 2014 until July 2016.
Education

She was educated at Chilwell Comprehensive School and Broxtowe College of Further Education. In December 2016 she received an Honorary Doctorate from Nottingham University.
Political career

After entering the House of Lords in January 2011, Baroness Stowell was promoted to the front bench as a government whip in September 2011.

As a junior minister she led the landmark Marriage (Same Sex Couples) Act through the House of Lords and was also Minister for Communities. She co-chaired the Joint Select Committee of both Houses whose recommendations for the major programme of restoration and repair works to the Palace of Westminster were accepted by Parliament in February 2018.
Career before Parliament

Baroness Stowell was a civil servant between 1986 and 1996, including at the Ministry of Defence, the British Embassy in Washington and 10 Downing Street. After leaving the civil service she worked in the private sector for a couple of years, mainly in the media sector. She also served as Deputy Chief of Staff to the Leader of the Conservative Party between 1998 and 2001. After working for the Conservative Party, she moved to the BBC and spent time in various roles, including as Head of Corporate Affairs between 2008 and 2010.
Personal life

Baroness Stowell was awarded her MBE for services to the Prime Ministerís Office in 1996. She is currently a member of the House of Lords Communications Select Committee and sits on the boards of ABTA Ltd and Impellam Group plc.
Chair, Charity Commission

The Chair is responsible for effectively and accurately representing the views of the Charity Commission Board in:

* directing the commissionís strategic development, policies and plans
* communicating the commissionís plans and achievements to charities and their users, commission staff, the government and the public
* developing the commissionís relationships with government, sector bodies and other major stakeholders

The Chair leads the board in making sure the Charity Commission:

* carries out its statutory duties and responsibilities and exercises its legal powers appropriately
* carries out the boardís plans for the future, including its contribution to legislative reform
* carries out its services in line with agreed targets
Baroness Stowel

of Beeston MBE - Chair

Helen Stephenson CBE

Chief Executive

Aarti Thakor

Dir Legal Services

Sarah Atkinson

Dir Policy & Planning

David Jones

Dir Corporate Services

Michelle Russell

Investigations & Enf.

David Holdsworth Deputy Chief Executive

Mike Ashley

Board Member

Laurie Benson

Board member

Tony Cohen

Board member

Kenneth Dibble

Board member

Nina Hingorani-Crain

Board member

Paul Martin CBE

Board member

Catherine Quinn

Board member


Ian Karet

Board member
https://www.gov.uk/government/organisations/charity-commission
The Charity Commission is established by law as the regulator and registrar for charities in England and Wales. Their stated aim is to provide the best possible regulation of charities in England and Wales in order to increase charities' effectiveness and public confidence and trust. But who watches the Charity Commission?