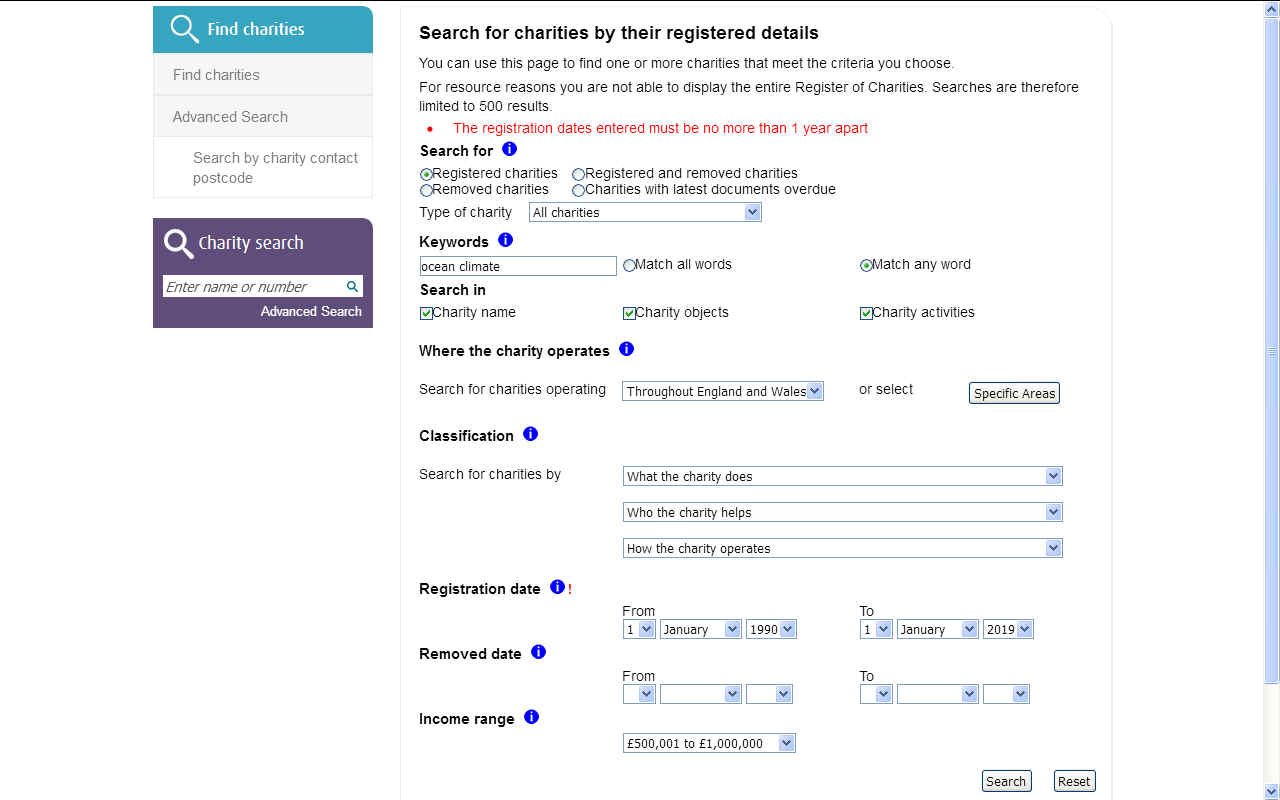 The Charity Commission has a set of rules that are applied with various degrees of stringency such that applications to be registered are decided on principles that tend to violate Article 9, Article 10 and Article 14 of the European Convention of Human Rights. It appears to depend on who your Trustees are and how well connected they might be - where some decisions are not as consistent as they could be, but where their powers of investigation may sometimes be abused or bent to assist other agencies who might have an axe to grind, or worse still may have something to cover up.
We are keeping a watchful eye on specific cases where the explanations given are insufficient in one regard or another to make us suspicious as to the circumstances of refusal. Not that refusal bars an organisation that operates on a not for profit basis to call itself a charity.
Transparency is also an issue, where the database is designed to prevent easy access contrary to SDG16. You can see how difficult the Commission make it for researchers from the screenshot above.
Biography

..
Education

..
Personal life

..
Baroness Stowel

of Beeston MBE - Chair

Helen Stephenson CBE

Chief Executive

Aarti Thakor

Dir Legal Services

Sarah Atkinson

Dir Policy & Planning

David Jones

Dir Corporate Services

Michelle Russell

Investigations & Enf.

David Holdsworth Deputy Chief Executive

Mike Ashley

Board Member

Laurie Benson

Board member

Tony Cohen

Board member

Kenneth Dibble

Board member

Nina Hingorani-Crain

Board member

Paul Martin CBE

Board member

Catherine Quinn

Board member


Ian Karet

Board member
https://www.gov.uk/government/organisations/charity-commission
Those who operate in public life and serve in institutions and that occupy a position of trust, must stand to be scrutinized as to their strict codes of conduct in the interests preserving public confidence in those institutions.
It is the duty of every member of the public to question the decisions and motives of those in public office, just as it is the duty of the Commissioners to seek to further charitable causes that benefit mankind such as the fight against global warming and plastic pollution in our oceans.
The Charity Commission is established by law as the regulator and registrar for charities in England and Wales. Their stated aim is to provide the best possible regulation of charities in England and Wales in order to increase charities' effectiveness and public confidence and trust. But who watches the Charity Commission?
Chair, Charity Commission

The Chair is responsible for effectively and accurately representing the views of the Charity Commission Board in:

* directing the commissionís strategic development, policies and plans
* communicating the commissionís plans and achievements to charities and their users, commission staff, the government and the public
* developing the commissionís relationships with government, sector bodies and other major stakeholders

The Chair leads the board in making sure the Charity Commission:

* carries out its statutory duties and responsibilities and exercises its legal powers appropriately
* carries out the boardís plans for the future, including its contribution to legislative reform
* carries out its services in line with agreed targets