Monday, 22 September, 2003
Disgraced peer Lord Archer has been released from jail after serving half of his four-year sentence.
He left Hollesley Bay open prison near Woodbridge, Suffolk, about 0815 BST on Monday, two years after being jailed for perjury and perverting the course of justice. Wearing a blue shirt, and said to be frowning as he passed the scrum of journalists gathered at the jail, Archer was driven away in his son's BMW, followed by cameramen on motorcycles.
He arrived at his £1.5m home in Grantchester, Cambridgeshire, about 0955 BST and was reunited with his smiling wife, Mary. The pair posed for photographs for the waiting media scrum, before heading into their house arm-in-arm.
There were no obvious preparations at the house for a party to mark Archer's release. Archer was later driven to his luxurious London penthouse flat by son William, arriving at 1337 BST.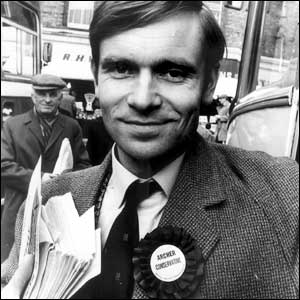 Jeffrey Archer
Archer did not speak to the press, instead hurrying into the block past two policemen. An hour later, the peer travelled to meet his parole officer in Stockwell, near Brixton, south London. There he was in trouble again as the BMW his son was driving was left parked illegally on a red line, before police asked that it be moved.
Local Labour councillor Donatus Anyanwa, who had informed on the Archer car, said: "This is illegal. It's antisocial." But Mr Anyanwa said he hoped Archer would gain from his parole experience in south London. "I hope it's a learning experience for him. I hope he'll understand that Brixton has a lot to offer."
Archer eventually emerged from the meeting with his parole officer about 1550 BST and amde his way through the crowd of journalists outside the building.
The jury at his trial found the novelist had lied under oath during his 1987 libel case against the Daily Star over allegations he had had sex with a prostitute.
On the eve of his release, the disgraced peer thanked his family and members of the public for their support during his imprisonment.
He is waiting to discover whether he will keep the right to sit in the House of Lords after calls for rules changes relating to convicted criminals. The government is being asked to close a loophole allowing peers who have been convicted of a criminal charge and jailed for more than a year to resume their seats. Archer must live in premises approved by his supervisor.
Archer, 63, is understood to have requested his multi-million pound London address to be registered as his home, although he will also want to be able to spend time at his residence in Grantchester, where his wife normally lives.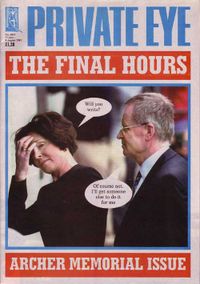 Private Eye cover shortly before jail
Penal reform
In Archer's statement on Sunday night, he said: "I want to thank my wife Mary and my sons, William and James, for their unwavering and unstinting support during this unhappy period in my life. "I should also like to thank the many friends who took the trouble to visit me in prison, as well as countless members of the public who sent letters, cards and gifts."
While he said he would not be giving interviews in the "foreseeable future," Archer confirmed he would be addressing the Howard League for Penal Reform's conference at New College Oxford in September. He also said he had accepted several requests to do charity auctions in the run-up to Christmas.
Under his conditions of release, the former deputy chairman of the Conservative Party will be under probation supervision for one year. He will remain on licence for a further 12 months until the end of his four-year sentence, but will not be the subject of supervision, Napo said. Contact with his parole officer must be weekly for the first four weeks, including a home visit in the first 10 days. Parole contact will become fortnightly and then monthly in the fourth month of his freedom.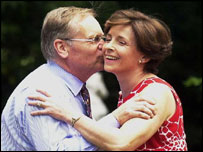 Archer reunited with his wife at home
Monday, 6 January, 2003

Archer jury sent home
The jury in Lord Archer's perjury trial is sent home after an afternoon of deliberations.

Lady Archer defends her marriage
Lord Archer's wife Mary denies they lead separate lives as she gives evidence at her husband's Old Bailey perjury trial.

Archer jury visits libel trial scene
The jury in the Lord Archer perjury trial is taken to Court 13 at the High Court - the scene of his 1987 libel battle.

Court hears Archer 'confession'
A jury hears taped telephone conversations in which Lord Archer admits he did not have the disputed 'alibi dinner' with Ted Francis.

'Secret gifts for Archer's mistress'
Lord Archer's former secretary tells a court she bought gifts for his mistress on her credit card to "protect his reputation".

Archer 'showed fake diary at trial'
Jeffrey Archer produced a fake diary in his 1987 libel case against the Daily Star newspaper, a court hears.

Jeffrey Howard Archer, Baron Archer of Weston-super-Mare (born 15 April 1940) is an English author, and a former MP and was Deputy Chairman of the Conservative Party, and was later convicted of perjury.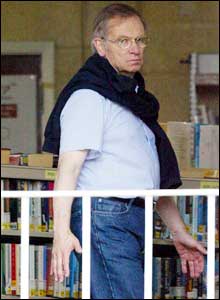 Lord Archer in prison
Biography
There has been much confusion over the details of Archer's life and there is evidence that he has exploited ambiguities or else fabricated details on many occasions - for example, he once claimed in a television interview that his father was Viceroy of Brunei. Not only is this untrue, but Brunei has never had a Viceroy. What is most peculiar is that a man with some talent and certainly proven marketing skills felt the need to fabricate, or at very least "embroider", certain facts of his life, to the point that he became a Walter Mitty-like character. Even after his prison term, there are those willing to forget and forgive.
Early life
He was born in the City of London Maternity Hospital, and most of his childhood was spent in the seaside town of Weston-super-Mare, Somerset. After leaving school with few qualifications, he worked in a number of jobs, including training with the Army, and teaching at Dover College. He also trained for the Police.
Oxford
He gained a place at Brasenose College, Oxford to study for a one-year diploma in education, though he eventually stayed there for three years. However, he is not a person who would normally be classed an "Oxford graduate", despite his claims to the contrary in later interviews, although he does hold a valid academic qualification awarded by Oxford University.
While at Oxford he was successful in athletics, competing in sprinting and hurdling. He also made a name for himself in raising money for the then little-known charity Oxfam, famously managing to obtain the support of The Beatles in a charity fundraising drive. The band accepted his invitation to visit the Senior Common Room of his Brasenose College, where they were photographed with Archer and dons of the college. It was during this period that he met his wife, Mary.
Politics and writing
After leaving university, he continued as a charity fundraiser but with no success. He also began a career in politics, serving as a councillor on the Greater London Council. At the age of 29 he was elected as a Member of Parliament for the Lincolnshire constituency of Louth, holding the seat for the Conservative Party in a by-election. Later, he would claim to have been the youngest MP ever, but he was not even the youngest in the House at the time.
In 1974, Archer became heavily insolvent after falling victim to a fraudulent investment scheme involving Aquablast, a Canadian company. Faced with likely bankruptcy, he stood down as an MP at the October 1974 general election, and turned to writing. His first book, Not a Penny More, Not a Penny Less was a success, and he ultimately avoided bankruptcy. Kane and Abel proved to be his best-selling work, reaching number 1 on the New York Times bestsellers list. It was made into a television miniseries. Archer purchased the Old Vicarage, Grantchester, a house associated with the poet Rupert Brooke.
In 1976 Archer was caught stealing coats from a store in Toronto, Canada, although no charges were made. After many years of denying that the incident took place, Archer has since admitted to its truthfulness.
Archer's political career revived once he became well known for his writing. He was made Deputy Chairman of the Conservative party by Margaret Thatcher, created a life peer in 1992 by John Major, and was selected by the party as candidate for the London mayoral election of 2000. William Hague, then leader of the Conservative Party, publicly supported him and rejected doubts about his suitability in the light of his previous career. He was forced to withdraw from the race when it was revealed that he was facing a charge of perjury (see below). Throughout his later career, he was investigated by the journalist Michael Crick, who has become semi-famous as Archer's unofficial biographer and nemesis.
On 26 February 2006, on Andrew Marr's Sunday AM programme, Archer said he had no interest in returning to politics: he would pursue his writing career instead. [1]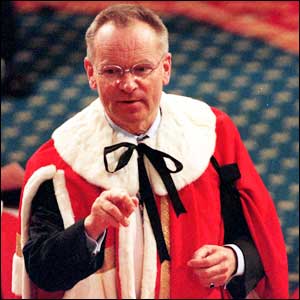 Lord Archer - house of lords
Perjury
In 1987 he sued the Daily Star for libel when they alleged that he had had sex with an Irish prostitute, Monica Coughlan. He won the case and was awarded £500,000 damages, but not everyone was convinced by the verdict. The journalist, Adam Raphael wrote an article at the time which carefully avoided libel but implied a number of things: that Archer probably had gone with a prostitute; that at the trial Archer and his lawyers had shifted attention from this issue to the tactics used by the Daily Star to trap Archer; and that the Daily Star had only themselves to blame for this.
There was also widespread astonishment caused by the description by the judge (Mr Justice Caulfield) of Mrs Archer in his summing up: "Remember Mary Archer in the witness-box. Your vision of her probably will never disappear. Has she elegance? Has she fragrance? Would she have, without the strain of this trial, radiance? How would she appeal? Has she had a happy married life? Has she been able to enjoy, rather than endure, her husband Jeffrey?" The judge then went on to say of Jeffrey Archer: "Is he in need of cold, unloving, rubber-insulated sex in a seedy hotel round about quarter to one on a Tuesday morning after an evening at the Caprice?". His clear implication was that Archer had no need of a prostitute when he had such a lovely wife.
Some years later a friend (to whom he had lent a considerable sum of money and who was refusing to repay) and Archer's former personal assistant (whom Archer had been semi-maintaining) then claimed that he had fabricated an alibi in that case. They were apparently concerned that Archer was standing as Mayor of London and doubted that he was suitable for the post. The personal secretary had apparently kept a secret diary of Archer's movements. While this formed the basis of the case against Archer, the secretary also made the surprising claim that Archer had been involved in the murder of British TV presenter Jill Dando, who, it was suggested in leaked statements, had supposedly been mistakenly killed by an assassin hired by Archer to murder a key witness in the perjury trial. Whilst this is an incredible allegation, it should be noted as fact that, in the first volume of his 'Prison Diaries', Archer recalls a prisoner offering to have his (Archer's) former secretary dealt with.
Archer was put on trial for perjury and perverting the course of justice in December 2000. A few days before the beginning of the perjury trial, Archer began performing in the star role in a courtroom play (which he also wrote) called The Accused. The play was staged at London's Theatre Royal Haymarket and concerns the court trial of an alleged murderer from beginning to end. While its plot appeared to have been largely borrowed from a 1950s film, Witness for the Prosecution (based on a novel by Agatha Christie), the play used the innovation of assigning the role of jury in the trial to the audience, with theatre-goers voting on whether Archer's character was innocent or guilty at the end of each night's performance. Archer would attend his real trial during the day and be judged in his fictional trial at the theatre in the evening.
On July 19, 2001, Lord Archer was found guilty and sentenced to a total of four years' imprisonment. These events cast considerable public doubt on the verdict of the libel case. The most ironic aspect of his trial was that he had fabricated the alibi for the wrong date.
He was originally sent to Belmarsh Prison, but was moved to the category C Wayland Prison in Norfolk on August 9, and to HMP North Sea Camp, an open prison, by October 2001. From there he was let out to work at the Theatre Royal in Lincoln, England, and was allowed occasional home visits. Reports in the media, which showed a continuing interest in him, claimed that he had been abusing this privilege by attending lunches with friends, and in September 2002 he was transferred to Lincoln Prison. In October 2002 it was reported that Archer had offered to repay the Daily Star the £500,000 damages he had received, as well as legal costs of the order of £1 million.
In July 2003 he was released on probation, after serving half of his sentence, from HMP Hollesley Bay, Suffolk. In September 2003, the government announced reforms that would prevent convicted criminals from serving in the House of Lords; supporters argued that many peers with far more serious convictions, such as Harold Wilson's friend Lord Kagan, were not stripped of their titles. Those reforms are yet to be implemented.
Many of Lord Archer's friends remained loyal to him. He and Lady Archer were invited guests to the Memorial Service for Norris McWhirter at St Martin-in-the-Fields on Thursday, October 7, 2004, where they were observed sitting in the same pew as former head of the Conservative Monday Club, Gregory Lauder-Frost, and directly in front of Lady Thatcher, who made a point of embracing Lady Archer.
In November 2005, after being expelled from the Conservative Party in 2000, he made a bid to rejoin the party once again [2]. The Independent newspaper reports of the "coincidence" that his bid to rejoin the Conservative party, and the ensuing publicity, coincides with details of his forthcoming book being released.
WE ACCEPT NO RESPONSIBILITY FOR THE ACCURACY OF ANY FEATURED LINKS